Interiors without some green are not only boring but bland and somehow lifeless. Interestingly enough in the past few years, the world has seen how palms, succulents, ferns, and other exotic plants are thriving in fashion – we see them on shirts, dresses, and even designer bags.
Needless to say, greens are obviously present in some of the finest restaurants around the globe – some even being the main attraction. As for the workplace, plants have a place of honor in the world of hi-tech where the creative design of the workspace is of the utmost importance. 
In art – natural scenery has been present for centuries, therefore, it is no wonder that in recent years we see the use of plants in our home become a real presence. What is remarkable is that scientific research has shown that including plants in the interior of a home reduces both air and noise pollution and even reduces stress, contributing to a wonderful sense of wellbeing and contentment.
Once upon a time house plants were extremely expensive. They were a luxury afforded by only the very wealthy. Today, plants are relatively inexpensive.  They come in so many shapes, sizes, are organic, and last a long time. If done properly, using plants in home décor adds just the right amount of charm, flair, elegance, and even sophistication.  
As plants have become an integral part of the work of an interior designer, embracing plants in interior design is no longer considered a trend. It is probably one of the most useful and effective design tools that an interior designer has in his arsenal to enhance the space of any room and in any home. 
So, the following are some tips on how to suitably and successfully use the magic of greenery in home design:
Often, we come across an empty corner in the living room, or in the study, or even in a family room. These are often corners that for whatever reason are hard to style. So rather than cluttering the space with an unnecessary piece of furniture, using a plant is the perfect solution. You can arrange multiple plants at different heights to provide depth to the space or go with one eyecatching statement plant.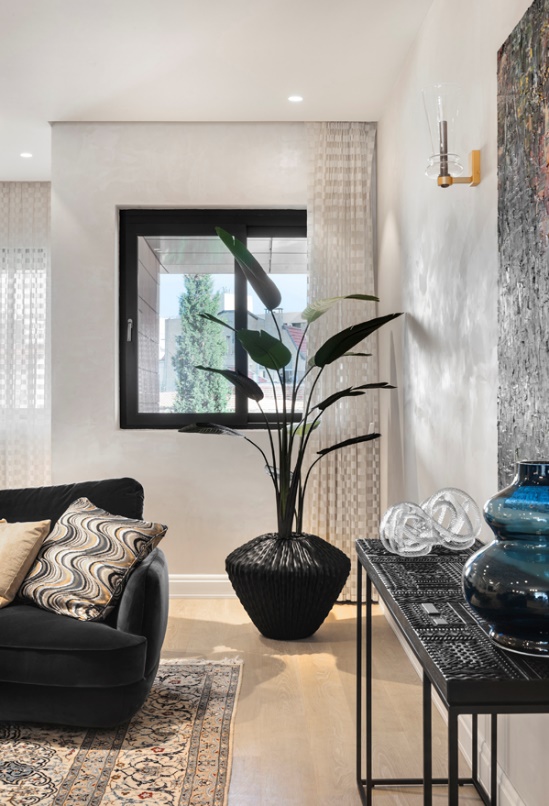 Photo: Oded Smadar 
" Here is a gorgeous plant, with a 'wow' factor, due to its elegant shape and the beautiful curve and lines of the planter" says interior designer Annette Frommer.
A startling space for a plant can be fun and gorgeous, like in a guest bathroom.  Adding a plant in such an unexpected place will put a smile on any guest's face. The addition of a living element adds life to an otherwise very boring space. 
Photo: Gilad Radat
As for mantles, tabletops, shelves, and bookcases, adding plants, even a very small plant, is an easy way to provide a touch of style and elegance. The plant pot, its size, color, and shape alongside the natural form and beauty of the plant will add a little burst of life and color making a difference to the overall space.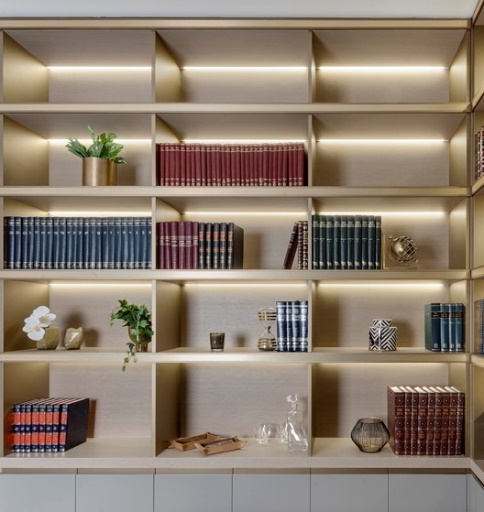 Photo: Oded Smadar 
In general, and depending on your personal style, it is important that the planter/pot properly integrates with the style of the space. In a rustic setting, baskets can be great as planters. In a contemporary setting maybe, a ceramic pot is the one to use. In a modern setting maybe a black or grey metallic pot would be most suitable. As interior designer Annette Frommer says "It does not matter what the décor style of the space is, the appropriate planter will tie the space together instantly providing it with a touch of class". 
Generally speaking, today, most people are definitely aware of the beneficial qualities of plants but are fearful of the care involved. Their lives are busy, and they are afraid that plant care will be too time-consuming.  So, some quick pointers on how to care for these green living and breathing creatures.
An easy place to start is to read up a bit on your chosen plant. It is essential to choose a plant that can live and thrive indoors and that does not need constant and direct sun. 
As Frommer says "Ensure that the flowerpot has adequate drainage and that it is filled with soil that works with the chosen plant. From here onwards, all you have to do is to provide the plant with water of course and light as needed".  Pretty basic, and quite simple.
To Conclude – Plants can beautifully fulfill the decorative functions and complete the interior space of a home with their colors, shapes, and visual beauty aesthetic while simultaneously freshening up the air you breathe and providing contentment.