Who Is Conor McGregor?
Conor Anthony McGregor, popularly known as Conor McGregor, is an Irish former mixed martial artist and boxer. McGregor is a former UFC featherweight and lightweight champion. As the time of writing (June 12, 2020), Conor McGregor was #4 in the UFC's Lightweight rankings and #8 in the UFC's Pound-for-Pound rankings.
During his UFC fighting career, McGregor has broken and set various records. He is credited for defeating Jose Aldo in just 13 seconds via a first-round technical knockout, earning himself the fastest UFC title fight victories of all time.
McGregor also holds the record for becoming the first UFC fighter to hold championship titles in two different weight categories simultaneously.
Quick Facts
| | |
| --- | --- |
| Full Name: | Conor Anthony McGregor |
| Popular Name: | Conor McGregor |
| Gender: | Male |
| Birth Date: | 14 July 1988 |
| Age: | 34 years |
| Parents: | Tony McGregor and Margaret McGregor |
| Siblings: | Erin McGregor and Aoife McGregor |
| Birth Place: | Crumlin, Dublin, Ireland |
| Nationality: | Irish |
| Ethnicity: | Irish |
| Education: | Coláiste de hÍde |
| Marital Status: | Unmarried |
| Sexual Orientation: | Straight |
| Wife/Spouse: | N/A |
| Children: | Conor Jack McGregor Jr. and Croia McGregor |
| Dating: | Dee Devlin |
| Net Worth: | 120 million |
| Source of Wealth: | Professional Mixed Martial Artist and Boxer, Endorsement Contracts, and Other Ventures |
| Height: | 5′ 9″ (1.75 m) |
| Weight: | 77 kg; In pounds: 170 lbs. |
Early Life and Career Information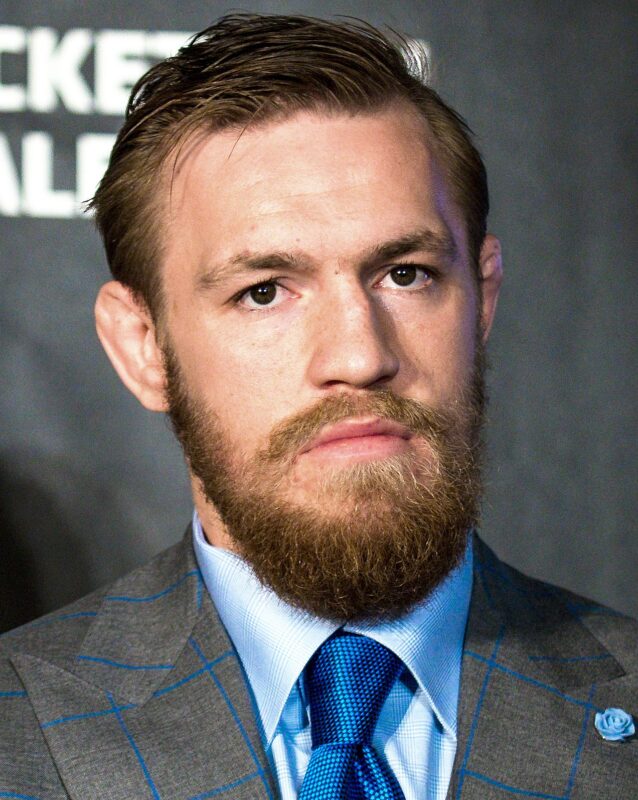 Conor McGregor was born on 14 July 1988 in Dublin, Ireland, to Tony McGregor and Margaret McGregor. McGregor attended Coláiste de hÍde where he began to nurture his sporting talent.
At the time, he was mostly interested in association football and during his youthful years, he played football for Lourdes Celtic Football Club. However, when he was 12 years, McGregor shifted his focus to boxing.
In 2006, the McGregor family moved to Lucan, where Conor met future UFC fighter, Tom Egan. The pair started training in mixed martial arts and on February 17 the following year, Conor made his amateur mixed martial arts debut by fighting Kieran Campbell.
He won the fight in the first round via technical knockout. After the fight, Conor McGregor turned professional and started training at the Dublin-based Straight Blast Gym, under the tutelage of John Kavanagh.
McGregor made his professional mixed martial arts debut on March 9, 2008 by fighting Gay Morris. He won the match on the second round via technical knockout and since then, he has never looked back. By the time of writing, McGregor's professional mixed martial arts statistics include a total of 26 fights. Out of those, he has won 22, 19 of which by knockout, 2 by decision, and 1 by submission. All the four losses were by submission.
McGregor's most memorable professional boxing match was the August 2017 fight against champion Floyd Mayweather. Though he lost the fight, he exceeded expectations by lasting longer than most boxers who had previously met Mayweather did.
Conor McGregor's Net Worth
As of 2023, Conor McGregor had a net worth of $120 million. McGregor has earned much of his wealth from his successful career as a professional mixed martial artist. Conor McGregor's highest paycheck is the roughly $100 million that he earned by fighting Floyd Mayweather on August 2017.
The following are other notable earnings by the UFC superstar:
• Earned $5 million on July 11, 2015 after defeating Chad Mendes at the UFC 189.
• Earned $12 million on December 11, 2015 after defeating Jose Aldo. This is arguably his fastest paycheck, at it took him a paltry 13 seconds to beat Aldo.
• Earned at least $10 million on March 5, 2016 after fighting Nate Diaz at UFC 196. McGregor was once again pitted against Nate Diaz at UFC 202, where he reportedly bagged $25 million.
• Earned $7 million in October 2018 after fighting Khabib Nurmagomedov.
In addition to his UFC salaries, Conor McGregor also earns from endorsement contracts. He reportedly made an estimated $14 million between June 2017 and June 2018 in endorsement deals alone. Some of the companies he has entered into endorsement partnerships with include Beats by Dre, Reebok, Monster Energy, Bud Light, Volvo, Burger King, and Anheuser-Busch.
On September 20, 2018, McGregor announced that he had negotiated an 8-fight contract with the UFC. While he did not disclose how much the deal was worth, pundits estimate that it could be upwards of $200 million.
Conor McGregor is also associated with a clothing line known as August McGregor fashion and a whiskey brand known as Proper No. 12 Irish Whiskey. He launched these ventures in 2018 but reports aren't out yet on how much he makes out of them.
Life Lessons from Conor McGregor
1. Surround yourself with people who can lift you up
Conor McGregor has always surrounded himself with a legion of dedicated fans, with whom he shares a deep connection. He hardly ever fails to acknowledge his fans after winning a fight.
2. Respect humble beginnings
Regardless of how wealthy or popular you become in life, you've got to start somewhere. Conor McGregor was not born into a mixed martial arts family, neither did he turn professional as soon as he could throw a punch. At some point, he even became a plumbing apprentice.
3. There's more to life than the glamorous media spotlight
When he is not in the ring, Conor McGregor is attending to his family needs. Despite his fame and fortune, McGregor's life doesn't revolve around the media spotlight.
The following are memorable quotes by Conor McGregor:
"Do I hate my opponents? How can I hate someone who has the same dreams as me?"
"Excellence is not a skill, excellence is an attitude."
"Failure is not an option for me. Success is all I envision."
"I have never encountered a winner that held hate towards something."
"There's no talent here, this is hard work. This is an obsession. Talent does not exist, we are all equals as human beings. You could be anyone if you put in the time. You will reach the top, and that's that. I am not talented, I am obsessed."
Conclusion
Conor McGregor is unarguably the most successful UFC fighter of his generation. He owes his success in the ring to his deep commitment and passion for his job.