Last Updated on January 20, 2022
It's really unfortunate that so many cosmetic treatments go under the radar for so many people, simply because they don't have the word "Botox" labeled on them. The truth is, there are many cosmetic treatments not getting the recognition they deserve, simply because not as many celebrities are caught by the paparazzi going in for the procedures. But they do exist and they do change lives in many ways. You'd be surprised, as you're leafing through your local clinic's catalog of treatments, just how many you've been ignoring all this time.
And hopefully, we can look through some of these and gain a better appreciation for the lesser-known treatments out there. Maybe after getting yourself familiar with these treatments you will find one the suits your needs really well. Microneedling, Cooltone and Kybela have been available in doctors' offices for a long time now, but only a few have experienced the transformations that these treatments can achieve. This information void goes back to lack of advertising by models, actors and celebrities.
But these cosmetic treatments do matter and they may soon matter a whole lot more for you. We turned to Dr. Schwarzburg at Skinly Aesthetics, an expert in cosmetic dermatology on Manhattan's Upper East side.  So let's cover all the treatments that a lot of busy people will surely appreciate.
Kybella: The Nightmare of the Double Chin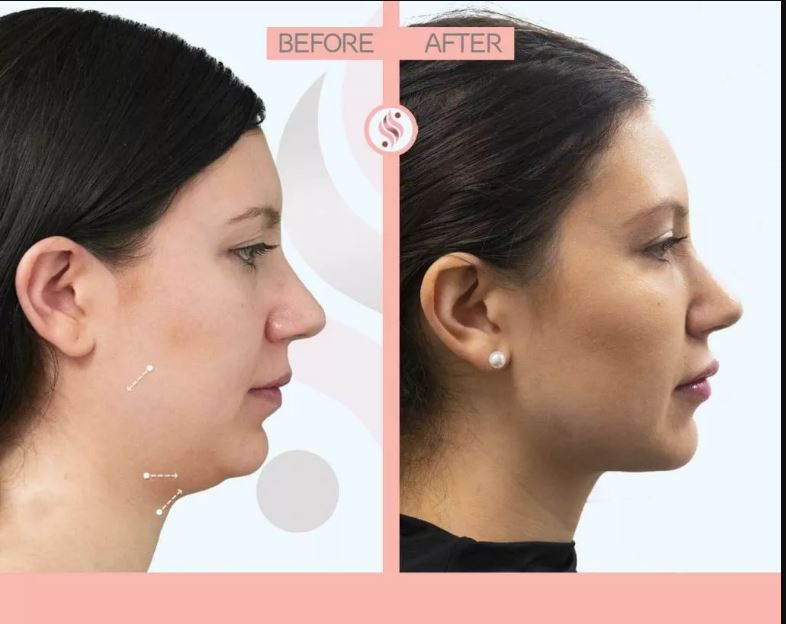 Double chins can be really distracting. Sure, they are one of the easiest places on your body for fat to settle on, but no one wants to see a second chin in a photo.
And what better way to sculpt the double chin, than by dissolving all the fat there is with an alternate version of your own stomach juices? Now, sure: this process doesn't exactly sound all that fun, but the results are surely worth celebrating.
Kybella injections utilize a synthetic version of a chemical found in our stomachs called "deoxycholic acid", which is responsible for digesting the fat that we consume with food. This means that when injected, Kybella will dissolve the fat located under the chin (also called submental fullness), without damaging any other tissues. Because it only melts fat it is a safer option than most other invasive fat trimming treatments, such as liposuction.
And since the chemical is found in our bodies naturally, you don't have to worry about allergic reactions or your skin reacting negatively to it. Many safety precautions are taken before, during, and after the procedure to make sure that the recovery is smooth and treatment outcomes are optimal. The difference before and after the treatment is enormous, as the double chin is dissolved, leaving behind a beautifully chiseled jawline and a single, attractive and picture ready chin.
Cooltone: The Power of Vibrations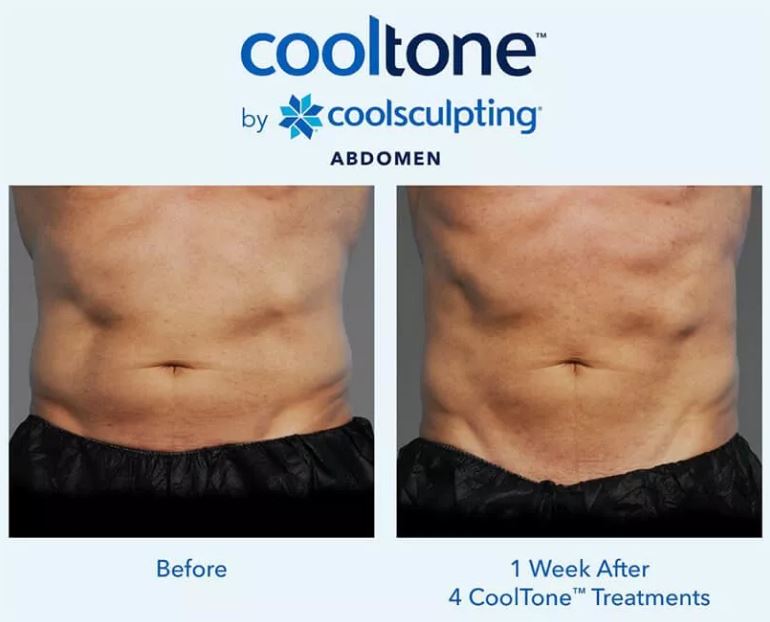 Now, you may have already heard of "Coolsculpting". But that's a completely different procedure and you shouldn't get that confused with Cooltone. Sure, the names are similar, and Coolsculpting does tone the body, but these function in completely different ways and produce wildly different results.
While Coolsculpting chisels the body by getting rid of fat, Cooltone works more on the muscles. You know how to build up your muscles, everyone does; you do exercises over and over again until that part of your body feels a little tougher. It's this repetition of movement that causes your muscles to get stronger.
How many reps can you do in a minute? Depending on the exercise, probably somewhere from 20 to 50. Now, imagine if you could do tens of thousands of reps, but in half an hour. Imagine how fast you'd be able to exercise those muscles. Physically, this is obviously impossible even for the fittest people in the world. But with the power of technology, nothing is impossible.
Thanks to special magnets tech, the Cooltone device causes these tiny vibrations in your muscles, which are essentially what you do when exercising, but it does them at an insanely fast speed. And after the treatment, the muscles become much stronger, as you would imagine. This is a perfect treatment for someone looking to treat that one specific area of the body that's lagging behind the rest or if you just want to get in shape faster, but don't have the time for it.
Microneedling: Exactly What the Name Implies
While Cooltone is a little vague as far as names go, Microneedling makes a lot more sense when you think about what it is and what it does.
Your skin, when damaged, naturally repairs itself by replacing damaged skin cells with new ones. These new ones are young, fresh and when you feel them, they are so smooth and supple. What if you could cause controlled damage to the skin, to the point where the skin would be stimulated into repairing itself, replacing all the old, weak, and shriveled up skin cells, with attractive new ones?
Well, that's exactly what Microneedling does. The needle-pen tool pokes a bunch of tiny holes in your skin, which your skin regenerates and now you have smooth and supple skin, thanks to your body's own natural abilities. No injections, no cutting, no allergies, not even a single chemical. Everything is left up to your skin to fix and as you probably already know, our skin is pretty powerful, so it has no problems replacing the damaged cells.
Now You Know Them, So Where to Look?
If you happen to live in New York, you're in a lot of luck. Because there are many clinics that have all these treatments to offer. It is paramount that you do a thorough research to make sure that doctors offering the procedures are board certified and have been performing them on a regular basis for years. It is not uncommon for a doctor to only nominally lead a medical practice, while all the work is being done by nurses and other assistants. After settling down on your favorite pick the best thing you can do now is give them a call and see when you can visit them to get treated with any of these lesser-known gems.