The symptoms caused by COVID-19 and the flu vary from person to person and can range from mild to severe illness that requires hospitalization and may result in death. Diseases that affect the respiratory system, including allergies, coronavirus, and influenza disease, often display overlapping signs and symptoms.
Coronavirus refers to a large family of contagious viruses that trigger symptoms ranging from the common cold to severe respiratory disease. COVID-19 is a newly discovered Coronavirus infectious disease caused by SARS-CoV-2.
The influenza virus, commonly referred to as the flu, is a contagious respiratory illness that triggers symptoms ranging from mild to severe. Types A and B are the two main types of influenza virus responsible for seasonal flu outbreaks each year.
Allergy symptoms, such as sneezing, coughing, and wheezing, can disguise the early signs of a highly contagious illness like the flu or COVID-19. Kathryn Edwards, MD, is one of the leading allergy doctors practicing in New Jersey and offers options that provide daily relief from allergy symptoms, which will remove this worry from your mind.
COVID-19 Overview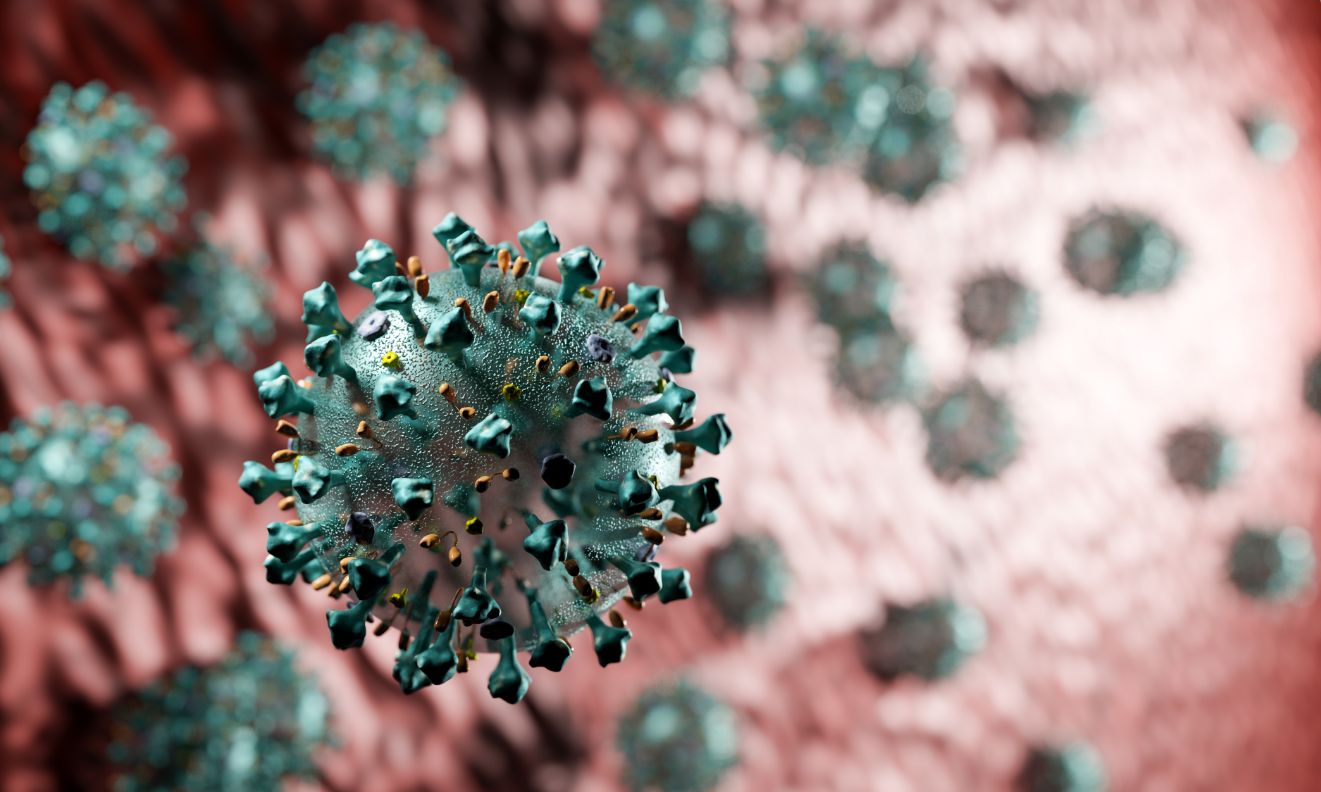 COVID-19 is a 2019 coronavirus that was first identified in Wuhan, China, and spread throughout the world, creating a pandemic. COVID-19 is a coronavirus, which is a large group of viruses that cause illnesses in humans and animals.
Coronaviruses are commonly spread in the United States and usually create a runny nose, cough, and upper respiratory symptoms. However, some coronaviruses can trigger more severe symptoms.
COVID-19 symptoms, which are similar in adults and children, are experienced in 1 to 14 days. The Center for Disease Control and Prevention recommends washing your hands frequently and following common-sense precautions to prevent the spread of COVID-19.
How Does COVID-19 Spread?
COVID-19 mainly spreads person-to-person, and there is currently no vaccine to prevent this coronavirus. The spread of viruses from person to person varies, some germs are highly contagious, while others do not spread as quickly. The virus that causes COVID-19 is easily spread.
COVID-19 pandemic studies suggest that it is spreading more quickly than influenza but not as easily as highly-contagious measles. COVID-19 can be spread by:
Close contact with someone who is ill
Touching your eyes, mouth, or nose with unwashed handed
Eating or preparing food or drinks with unwashed hands
Touching contaminated objects or surfaces
Blowing your nose, sneezing or coughing into your hands and then touching other people's hands or everyday objects.
COVID-19 Symptoms
COVID-19 is a new coronavirus, and new things are being learned every day. The following list does not include all of the positive symptoms:
Muscle or body aches
Cough
Difficulty breathing
Shortness of breath
Fever
Chills
Vomiting
Diarrhea
Loss of taste
Loss of smell
The CDC recommends that anyone experiencing the following COVID-19 emergency warning signs seek immediate medical care:
Trouble breathing
Confusion
Persistent chest pain
Persistent chest pressure
Inability to stay awake
Inability to awaken
Bluish lips
Bluish face
Any other severe symptoms
Flu Overview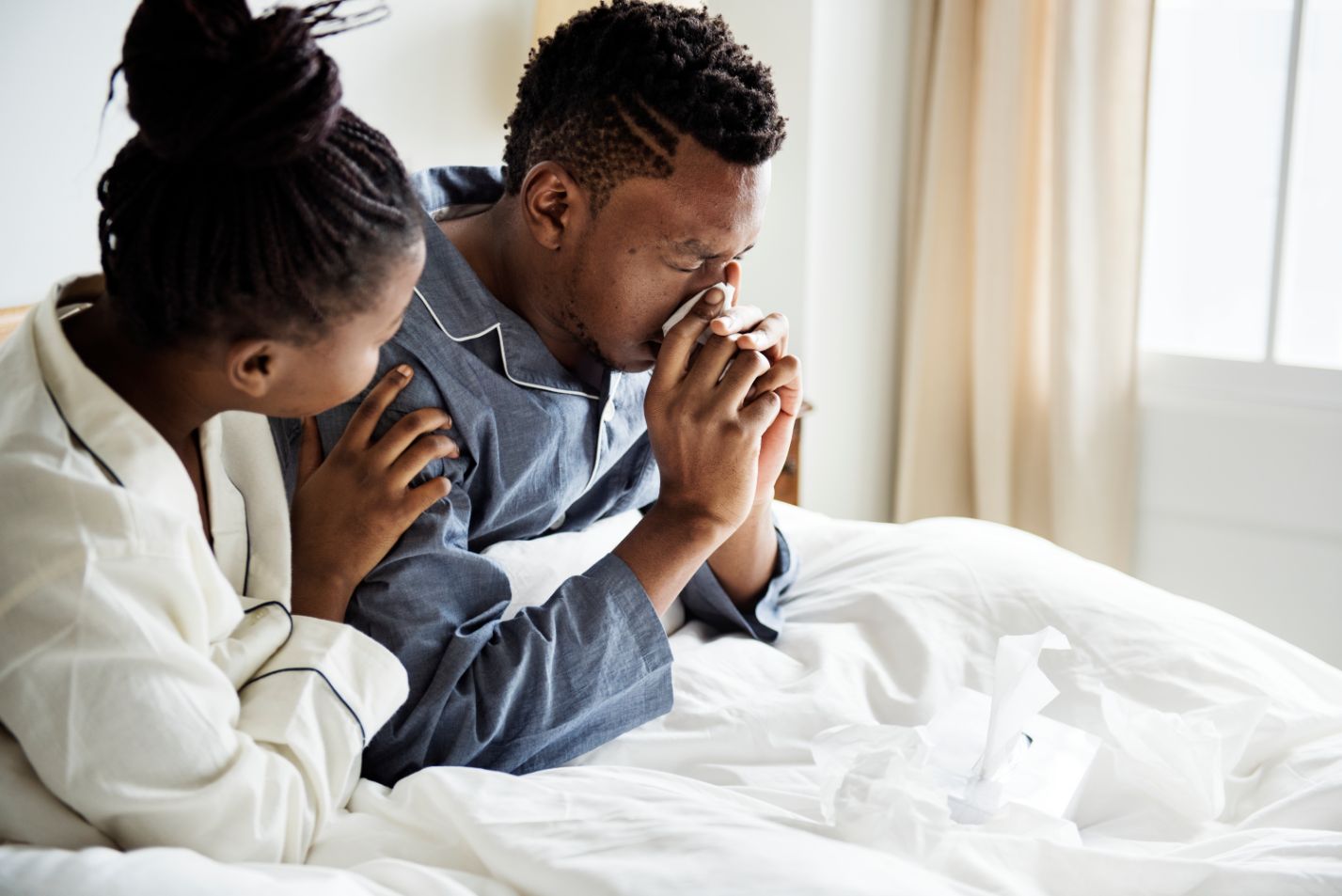 Influenza A (H1N1) emerged in the spring of 2009 and caused a flu pandemic. There are types A, B, C, and D influenza. Human influenza, types A and B viruses, are experienced each winter in the US during the flu season.
Influenza A has also been found in different animals, including chickens, ducks, whales, pigs, horses, and cats. Still, it is unusual for people to get an influenza A infection directly from an animal. Influenza B has only circulated among humans.
The flu is most contagious in the first three to four days. Most healthy adults can infect others beginning one day before symptoms and can continue to spread the illness for up to five to seven days after becoming sick. Children and individuals with a weakened immune system may continue to pass the virus
How Does the Flu Spread?
Influenza is partially preventable by vaccination and it spreads person-to-person. Experts believe that influenza is mostly spread by droplets landing in the nose or mouth of individuals who are nearby when someone with the flu coughs, sneezes, or talks. Influenza germs can spread by:
Airborne droplets when someone coughs or sneezes
Close contact like hugs are handshakes
Saliva, like sharing drinks or kissing
Touching a contaminated surface and then touching their mouth
Flu Symptoms
Individuals with influenza (flu) May experience mild to severe illness. The flu typically comes on suddenly and may include some or all of these symptoms:
Fever (although not everyone has a fever)
Chills
Runny or stuffy nose
Sore throat
Cough
Headaches
Fatigue
Vomiting or diarrhea (although this is more common in children than adults)
Most individuals recover from the flu within a few days or under two weeks. But, some people develop pneumonia or other complications, which can be life-threatening or result in death. Anyone can catch the flu. Individuals with certain chronic illnesses like diabetes, asthma, or heart disease and pregnant women and children under the age of five are at a higher risk of developing flu-related severe illness.
Seek immediate emergency care when experiencing these or other severe flu-related symptoms: bluish lips or face, fast or troubled breathing, chest pain, severe muscle pain, dehydration, severe weakness, dizziness, confusion, seizures, fever over 104, a cough that improves but returns or worsens, or a worsening of chronic medical conditions.
COVID-19 or the Flu?
The symptoms of COVID-19 and the flu are similar, but there are some differences. The onset of COVID-19 is gradual, while flu symptoms are abrupt. Individuals with the flu typically experienced symptoms within the first four days, and individuals with COVID-19 can develop symptoms anytime between one and 14 days.
More information is available for treating the flu because it has been around for longer than COVID-19, but additional information on the new coronavirus is continually becoming available. The most reliable way to prevent the flu is through vaccination. A COVID-19 vaccine is unavailable at this time.
COVID-19 and the flu share similar symptoms, but symptoms caused by the flu typically have a more significant variation and occur more quickly. COVID-19 is more likely to lead to severe sickness or death. Upper respiratory symptoms, including a runny nose or sinus congestion, are uncommon with COVID-19.
The best way to prevent the spread of COVID-19 virus:
Regularly wash your hands
Wear a mask in public places
Avoid touching your face, nose, or mouth
Practice social distancing in public (at least six feet from others)
Cover your mouth when coughing or sneezing
Stay at home if you are experiencing any symptoms
Work from home when possible
Avoid gatherings or crowds
Avoid nonessential travel
Avoid nonessential social contact
Maintain good domestic hygiene
Maintain good personal hygiene
Individuals who have been in close contact with someone recently diagnosed with COVID-19 or who are experiencing a fever or symptoms should contact their doctor to request testing. The best way to reduce the risk of COVID-19 complications is to treat other health concerns, like hypertension, diabetes, and asthma.
If you suffer from chronic allergy symptoms and reside in Central New Jersey, Southern New Jersey, or Philadelphia, PA, call 239-594-9100 or visit Penn Medicine Becker ENT & Allergy to learn about effective allergy treatments.