Last Updated on December 11, 2019
Many people assume starting a new business online is nothing more than a walk in the park.
You just have to get a website with a cool design and upload some images of your products, and you're well on your way to the riches.
Well, this is what they think.
But, it takes much more than that to even get the ball rolling.
There is fierce competition between businesses to grab the attention of users online.
Therefore, business owners have to come up with unique and creative ideas to grow their customer base and revenues online.
Studies have revealed that 87% of marketers prefer interactive content that catches attention efficiently over the static content.
Visitors to a website are also more likely to finish a quiz rather than reading sentences of the static content.
This image shows the viewpoint of several content marketers who agree that interactive content like quizzes is more beneficial to their business as against static content.
Quizzes are an awesome and interactive way of catching your customers' attention.
It makes them feel like they have a say in the otherwise one-way communication going on at the website.
The great features of quizzes that differentiate them from other interactive content are quick results, easy sharing and interesting topics.
Some companies have reported lead conversion rates of 33.6% by using quizzes.
Quizzes are useful tools to gain insights about existing and potential customers.
So how can you create a quiz for your business that helps you gain leads and customers?
Here are 10 tips to help you make an awesome one for your business growth.
1. Set Your Objective
Prior to making your quiz, you should decide what you want to achieve with it.
If you just want to gain insights into potential customers' thinking, your quiz will include questions for that.
It will be entirely different than if you wanted them to buy something at the end of the quiz.
So, first define your goals and then start creating your quiz.
If you make your quiz using Quiz Creator Online, you get various types of templates for different quiz purposes.
2. Pick a Type
There are different kinds of templates available online that you can use, depending on the objective you wish to achieve from your quiz.
You can decide the goals you want to accomplish from your quiz by following the guidelines below.
Fun, Meant to Increase Reach
These are generally 'Personality Type' quizzes. They have a high chance of getting attention and users are highly likely to share them. However, unless your business revolves around entertaining customers, the emails you send as a result of this quiz will not be opened.
Remarkable, for Lead Generation
This type of quiz has the objective of getting subscribers, conversions and customer insights. But since it targets only your specific audience, it won't get many shares or subscriptions. Moreover, a lot of people won't take the quiz right away.
With this kind of a quiz, you want to add value and knowledge for users. It aims at building customers' trust and recall of your brand name. With this type of quiz, however, many users won't subscribe unless you offer them a giveaway.
3. Use a Catchy Headline
If you use a catchy topic or headline for your quiz, users are more likely to take it.
For example, Lulus, a fashion store for women, titled their quiz near Christmas, We Know Which Christmas Movie You Should Watch Based on the Things You Buy at Lulus.
This is a fantastic way of getting user's attention and connect to a relevant holiday happening at the time.
You should also make a headline for your quiz that your customer just cannot ignore.
4. Use Photos
If you use photos in your quizzes, they are more likely to grab users' interest.
Studies show that our brains can recall 65% of images for three days as compared with 10 % text.
You can take photos from the many free sources of photos available online nowadays.
Lulu's quiz titled 'We Know Which Christmas Movie You Should Watch Based on the Things You Buy at Lulus' used an image with each question, thus making it more interesting.
5. Collect Email Address
So you designed a great quiz with an awesome title and interesting pictures.
But your work is not done until you get that prized piece of information. Yes, you guessed it right: email addresses.
The main goal of any quiz is to get the email addresses of users so that you can connect with them.
But how do you get users' emails without sounding desperate or clingy?
One of the best ways to do is to offer them something useful in return, like free tips.
This quiz by Gill Andrews, a Web Consultant, offers free tips to users in exchange for their email address.
6. Spread the Word
Now that you have created a quiz that is awesome and you feel satisfied with its design and questions.
But your job is not done yet.
It is crucial that you get your quiz out to as many people as possible so that more people attempt it.
Promote your quiz by featuring it on your homepage, emailing it to existing subscribers, and sharing it on social media.
You can also feature it at the end of relevant blog posts and mention it in your welcome emails.
Before gaining fame as a retail brand itself, Elephant Pants used funds to sponsor their business.
They featured a quiz on their homepage that suggested elephant pants for users based on their answers.
It then took them to a page that asked users to help fund their business.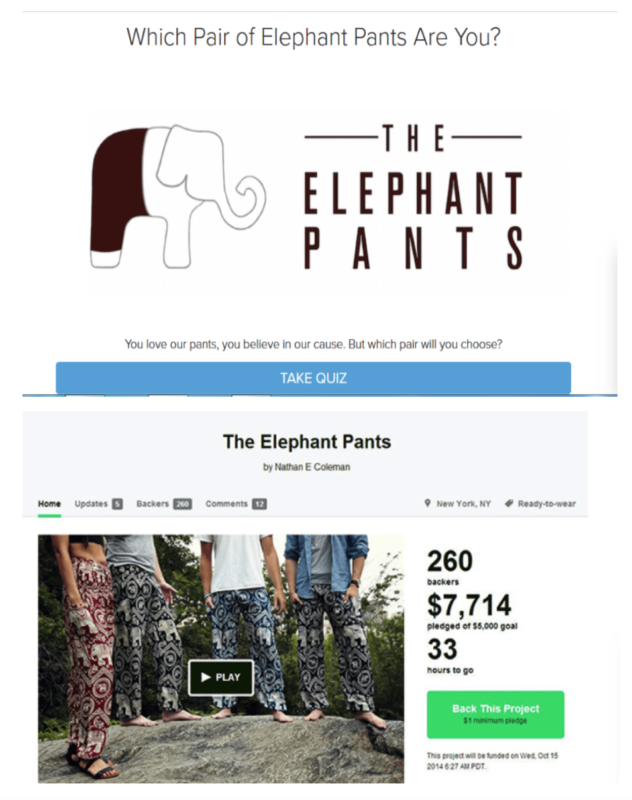 7. Show Progress
It is helpful for users if you display their progress in the quiz and how many questions are left.
It helps motivate them to complete the quiz. So, remember to incorporate a progress bar in your quizzes.
8. Examine Results
You should make it a point to examine the results of your quizzes and implement changes, where applicable.
If you see users dropping off at a certain stage of the quiz, maybe you should rephrase the question or delete it altogether.
User dropping off from your quiz can also indicate that it is too long and you need to shorten it.
This quiz tool by Interact shows the total stats of a quiz from start to the end.
9. Facilitate Social Sharing
Your quiz must have social sharing options at the end so that users can share it.
It is one thing if you share your quiz yourself.
It is quite another, more valuable, recommendation if it comes from a neutral user.
So include social media sharing tools at the results page so users can share it and your quiz gets more exposure.
10. Take Feedback on Your Quiz
It is useful for your business if you ask for users' feedback at the end of the quiz.
You can also email them later to ask them about the quiz.
The feedback can only be two or three questions long.
You can ask them if they found the quiz too long, uninteresting and their chances of recommending it to a friend.