Last Updated on January 24, 2023
Photo collage apps are everywhere. In fact, you probably have one (or maybe two) on your phone right now. Sadly, their convenience isn't exactly popular on desktop. Wouldn't it be awesome to have a free and easy-to-use photo collage app you could always fall back to whenever you need one?
That's where Photovisi comes in.
Photo Collages Made Easy with Photovisi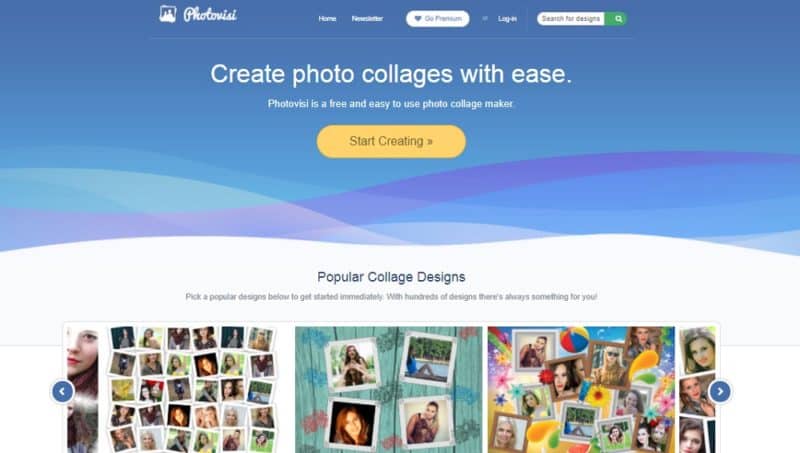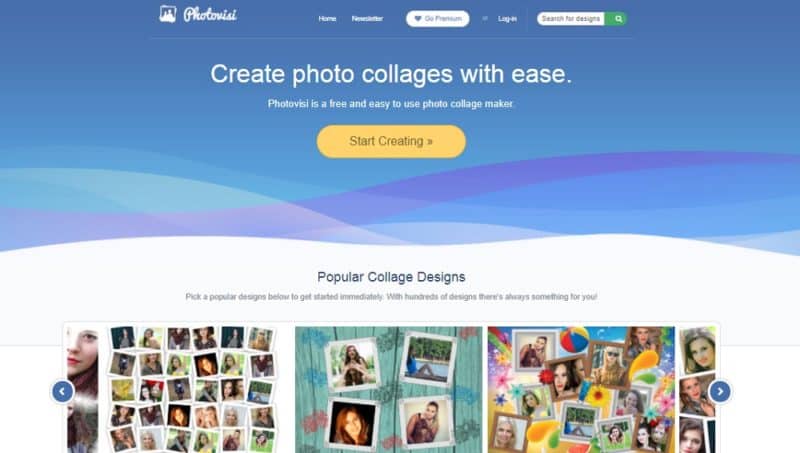 Photovisi is an online collage maker that features dozens of beautiful designs and templates. NO download required. Simply visit their website, select a template or collage you want to do, add pictures, and play around with other effects before you download. It's that fast and simple.
Photos can come from your computer, in their database (if you're signed in), or from the Web. You could also import images from Facebook or Instagram. Connect to your social media account to instantly add photos in a cinch. Don't worry – only YOU can see your collages.
Photovisi makes your privacy a priority. If you're logged in, collages are automatically deleted after nine days, so you're worry-free. Users will be prompted if their cool collages should be chosen to be featured. So don't sweat!
If you're in a hurry or you need a great-looking collage in minutes, Photovisi can be a lifesaver. Check out featured templates or choose from their newest additions. Users can rate each design, so you know which ones are all the rage.
If you don't see anything you like yet, simply go to their categories. Here, you'll see tons of options: from basic effects, like overlaps and frames, to crazier designs such as word collages.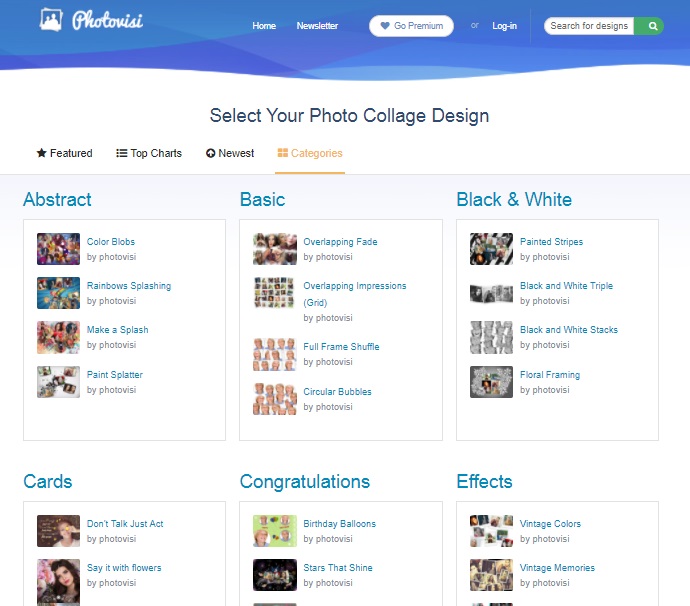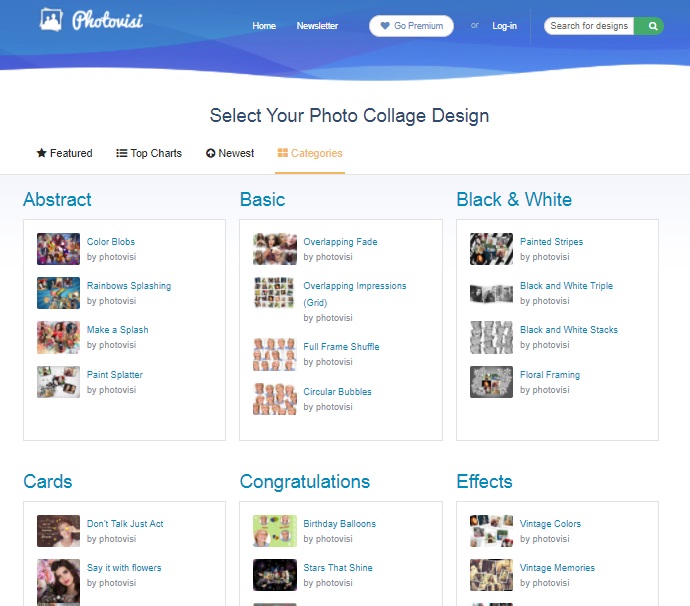 Add your own personal touch with text and various shapes. Easily adjust their position, size, and alignment by clicking and dragging the elements across the page. You can also crop and change their opacity to your liking. Make the necessary changes you need until you get the desired result.
Had a change of heart and want to switch to a different design? Easily do that too with just a quick click right on the edit page. No need to exit or go back to the homepage.
Need a Facebook or YouTube cover in a flash? They have that ready for you. Again, just choose a design, add your photos, play around with text, shapes, and colors, then download.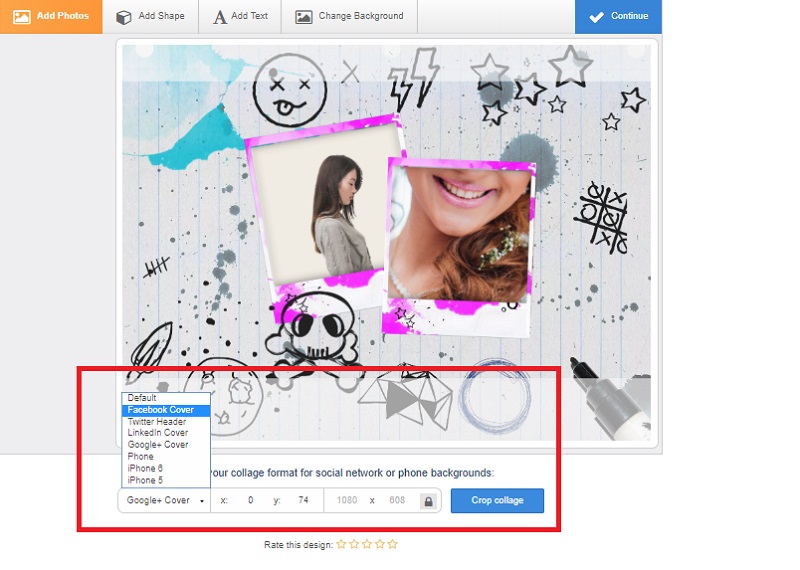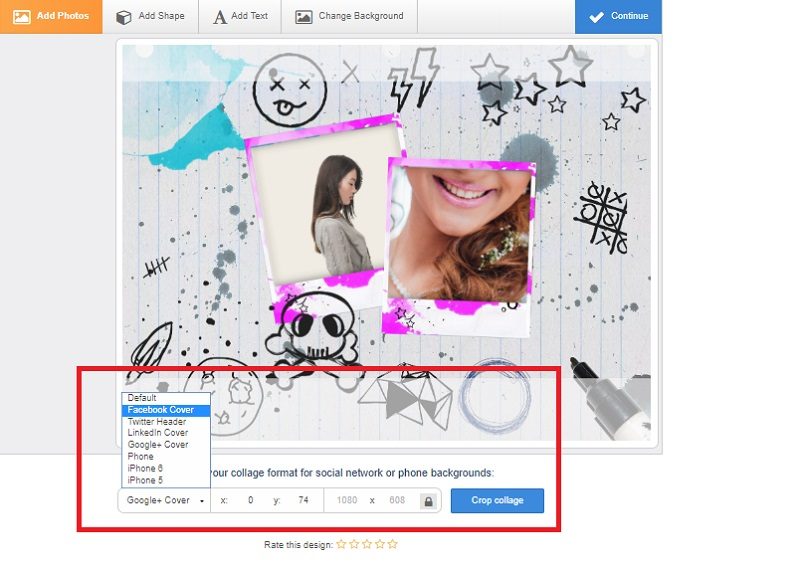 But perhaps its most unique feature is the ability to make mobile backgrounds for your tablets or smartphones.
That's right: no need to settle for cheesy stock images or themes that don't truly express your unique personality. With this feature, you can pick personal photos (of family, friends, etc.) and create the coolest collages you can showcase right on your gadget.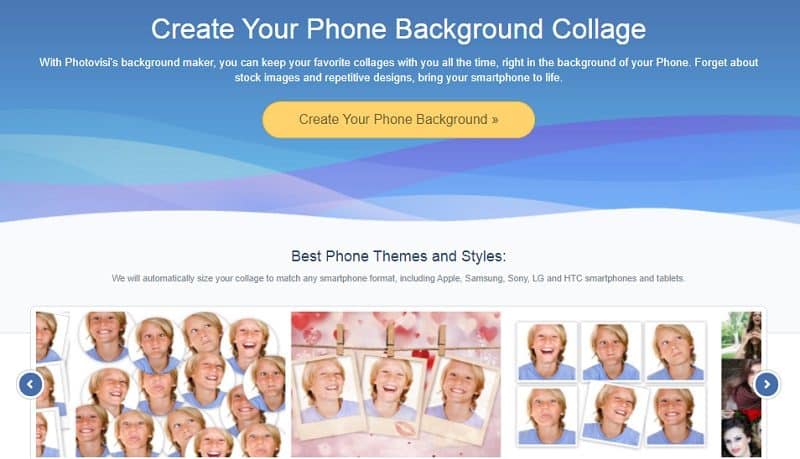 No need to spend hours editing your vacation photos or downloading a heavy app that takes up too much memory space. Photovisi can help you make lasting memories in seconds. Whether you're looking display your vacation photos on your tablet device or you want to make a pretty collage from your graduation day, this app has got you covered.
Photovisi lets you enjoy the features you love on a mobile photo collage maker right on your desktop. With its user-friendly elements and instant access, this could be your new favorite collage maker to date.
Best Uses for Photovisi
Photo collages are a great way to showcase more than one image for various purposes. Use collages you've made from Photovisi as wallpapers for your PC, tablet, or smartphone. They also look great as social media covers. If you're looking to make a statement on Facebook or YouTube, a cool photo collage could do the trick.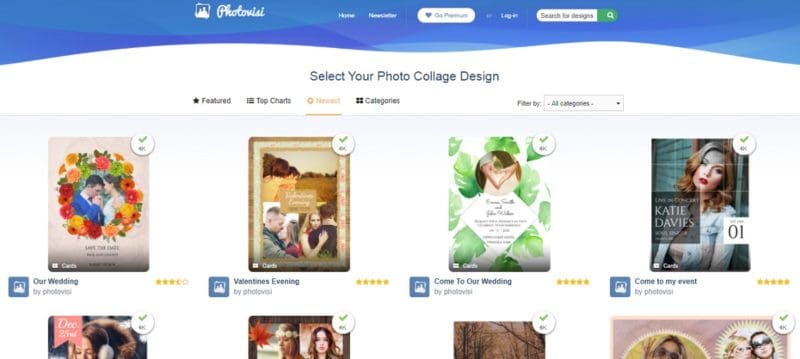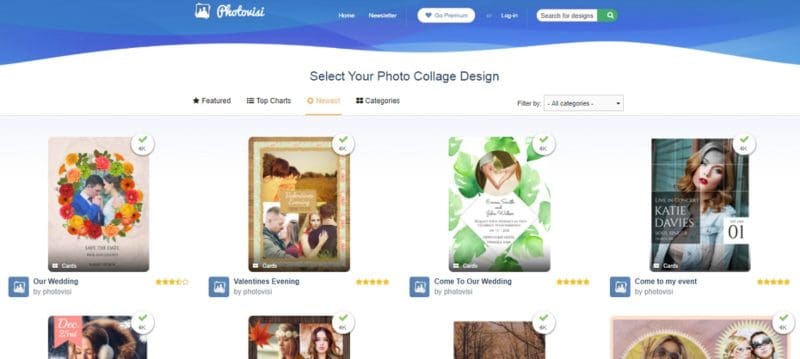 But that's not all. Use Photovisi to create cards for all occasions. From graduation, Valentine's, get-well cards, even wedding invitations – a photo collage is a quick and easy way to bring a smile to someone special. Make your cards and well-meaning thoughts more sophisticated by choosing a vintage or black-and-white effect. This will produce a striking contrast that looks great on any photo.
Save more time by downloading the Photovisi Chrome browser extension. This way, you can promptly make photo collages whenever the mood strikes.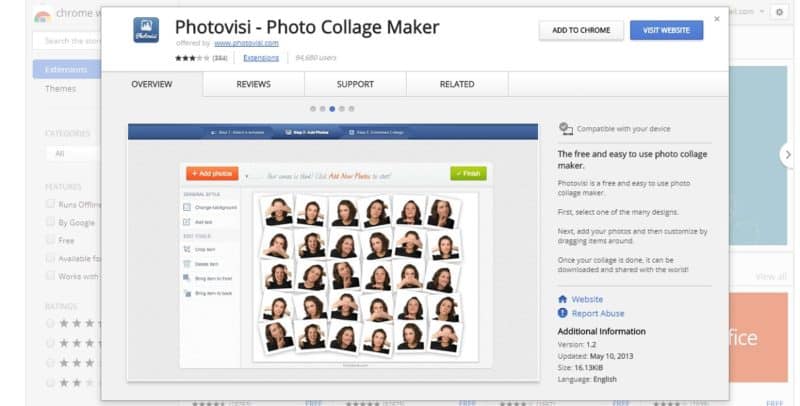 The FREE version lets you download your collages on a lower resolution with a watermark. But don't fret just yet! With just $4.99 a month, you can download higher resolution creations with NO watermark. Plus, create ALL the photo collages to your heart's content! Try it out for a month and see for yourself.
Create cool collages today!
Photovisi is your new photo collage friend. Bookmark the app or download the Chrome browser extension for even quicker access. It'll come in handy whether you're in the mood to make classy cards for a special occasion, or you just have some free time.
Photo collages don't just look cool, they also put all those important memories into one frame. That way, you don't have to choose between the images you love. Simply put them all together in a neat collection that best reflects your taste.
If you're in need of cards for various occasions Photovisi provides that too. You can easily create beautiful invitation cards for a wedding, Christmas party, baby shower, and anything else you can imagine.
Create a collage today, and discover how fun and easy it is to use Photovisi.