Last Updated on March 8, 2022
As the Global Financial crises crashed the world's economy, Crowdfunding emerged as one of the new ways to fund projects. With the overwhelming popularity of social media, people started using public forums to Crowdfund their projects.
Crowdfunding has been implemented successfully to accomplish nonprofit social projects. Start-ups are now implementing this approach for financing business ventures. A number of economists view crowdfunding as one of the key factors for changing dynamics of world's economy.
Although entrepreneurs are applying financial innovations to recent model of crowdfunding, but a number of charities, welfare and social workers still rely on traditional models of crowdfunding for collecting donations.
As of recent, crowdfunding platforms have branched out into new niches such as sports, gifts, music, apps and more. The possibilities with crowdfunding are endless.
Models of Crowdfunding
There are a number of models of fund raising, but some of the most frequently applied schemes of crowdfunding are:
1. Crowd Financing
Most of the online crowdfunding platforms are based on crowd financing. People post their wish lists or projects on these websites and funders willingly donate money. Crowdfunding websites charge users a certain percentage of the collected money for posting.
2. Nonprofit Loan
Loan is a kind of financing in which a person has to return the borrowed money. Banks offer loans on simple interest and compound interest. It means that borrower has to return the money with interest. But crowdfunding works on non-profit loaning in which the borrower does not have to make the back payment with interest.
3. Pre-selling
Pre-selling means promising someone a rewards like gadget, book etc. at the completion of a task.
Is Crowdfunding Getting Bigger?
After the successful implementation of crowdfunding in cultural and social projects, business owners and entrepreneurs are adopting this financial scheme for launching business ventures. Economists predict that if investors take crowdfunding models to the next level, the financial infrastructure of future corporate world will be based on crowdfunding.
5 Crowdfunding Websites Listed in Forbes
Forbes has recently listed some crowdfunding websites which have massive funding accomplishments under their belt.
1. Kickstarter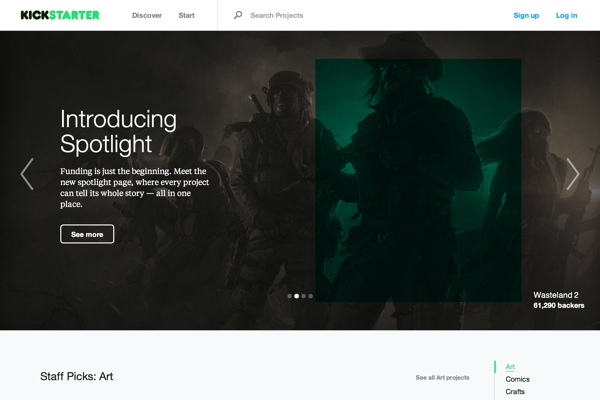 Forbes has listed Kickstarter as the most successful online crowdfunding forum. With more than 61,000 projects funded successfully, Kickstarter has become one of the most frequently visited crowdfunding websites.
Although the site caters a number of projectsdaily, but it does not fundraise for charity causes or personal needs like buying presents for Christmas. Kickstarter charges 5% of the total collected funds for every launched project.
2. Indiegogo
Indiegogo is the second most successful crowdfunding website. Although visitors might not find it much different than Kickstarter, but Indiegogo has more flexible and reasonable fees structure than Kickstarter.
Indiegogo charges 4% of the total collected funds for every posted project and offers Flexible funding through which users to receive funds even if the project has failed to attain its funding goal.
Indiegogo becomes one of the most visited crowdfunding platforms on occasions like Christmas, as it allows users to post their Christmas wish-list on the website.
3. Crowdrise
Crowdrise is one of the few online Crowdfunding websites which are dedicatedto fundraise for real world issues.Unlike other charity donations websites like GoFundMe, which also collect funds for personal needs, Crowdrise only works for charities and social welfares.
The fees structure of the website is a little complex. Crowdrise charges 4.95% of the total collected funds. The site also collects donations for causes like animal welfare, education and equipment for healthcare centres etc.
4. Crowdfunder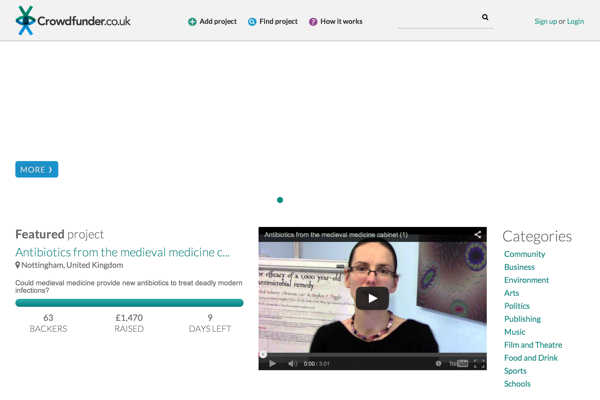 Crowdfunder is another US based online crowdfunding platform. It is different from other fundraising platforms as it worked for corporate fundraising.
The site helps business owners to connect with local networks where they can meet other investors and entrepreneurs. More than 20,000 business owners have joined the network of Crowdfunder.
5. RocketHub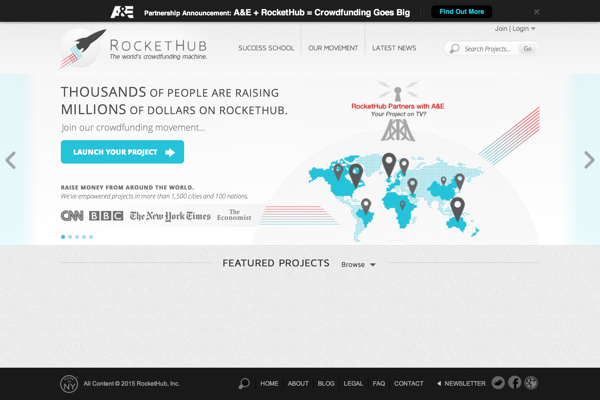 Another crowdfunding platform getting popularin the corporate world is RocketHub. The site has gained worldwide fame through A&E networks. The site has been actively crowdfunding small businesses, education programs and government ventures. Till now it has successfully funded more than 1500 ventures.
6 Emerging Crowdfunding Apps
A number of crowdfunding apps designers are launching innovative crowdfunding apps. Some of the emerging crowdfunding apps are:
1. WishBooklet is a new crowdfunding app which lets you Crowdfund your own personal needs. The web app allows you to ask your friends, family and acquaintances to raise funds for the gifts you really want.
This web app is extremely easy to use. Just create a free account, add the gifts you want to your wishlist, share your list, and sit back and watch your friends, family and even strangers donate money for the gifts.
The money you raise on WishBooklet goes straight to your bank account. This app is great for raising money for things like iPads, headphones and other electronics.
2. ThinkUp is crowdfunding app for nonprofit social ventures. Designers have launched the first version of the app which has successfully attracted more than 40,000 funders and project launchers.
The upcoming version of the app will focus on business financing and will be based on equity or revenue based crowdfunding model. The app is getting popular on social media platforms and has attracted a number of users through sites like Twitter and Facebook.
3. SportsFunder is a crowdfunding platform for athletes, sport enthusiast and fans alike. The idea for SportsFunder is to provide a vehicle for athletes to be able to use their fan base to help crowdfund their dreams.
This includes all types of athletes from the amateurs all the way to the pros. If you're an athlete and you are looking for some money to help get your dream off the ground then SportsFunder is definitely for you.
4. SellanApp is slightly different from other crowdfunding apps. It does not work on simple crowdfunding model. Business owners post their ventures online and offer a part of their product to sponsors.
The app is getting popular among business owners and web developers. There are a number of websites online which can help you in crowdfunding your Christmas presents and holiday plans. All you have to do is conduct an online survey and sort reliable crowdfunding websites.
5. GoFundMe allows users to create fundraising campaigns for almost any kind of project. If you're looking to just raise money online, for a cause, or even for yourself, GoFundMe provides a good option.
GoFundMe makes sharing your campaign really easy. GoFundMe also provides some great metrics and analytics on the donations. GoFundMe works in the US, Canada, UK and all European countries that use the euro.
6. Lucky Ant is a crowdfunding site that focus specifically on funding local owned mom and pop businesses. Lucky Ant relies on a strong sense of community to successfully fund each campaign.
Perks for pitching on campaigns include discounts, free food and meals named after the contributor just to name a few. Lucky Ant is a great platform to use if your dream is to open up your own restaurant or shop.