Last Updated on July 29, 2022
Who doesn't like presents? 
One of the reasons why subscription boxes and online shopping have dominated the market is because they're like receiving gifts in the mail. And when our orders haven't arrived yet, we satisfy that high by watching unboxing videos. There's just something magical about opening a product for the first time.
But what really makes the experience extraordinary are all the little details – the ribbons, stickers, and handwritten notes on tiny cards – that brands have put in there. Seeing them can make a person want to order from the same shop. And this is why packaging is more than a box.
noissue: Modern Packaging for Modern Businesses
Once upon a time, packaging used to have two main goals: to protect the product and market the brand. But as the world changed, so did consumers' tastes and expectations. Today, packaging should convey a brand's values as well. This is a challenge not only for packaging engineers but also for entrepreneurs.
In 2017, sustainable and eco-friendly custom packaging company noissue has stepped up to meet that challenge. As a global brand, they believe that you can achieve quality without compromising on the environment. In fact, their name says it all. noissue wants to eliminate unnecessary concerns that usually happen during custom packaging production. Their goal? To give you sustainable, affordable, and highly customizable packaging you (and your customers) will be happy with.
They have a wide range of products for every stage in your business, whether you're a small brand or an established company. From tissue and wrapping, boxes, mailers, and stickers, to tapes, totes, and stamps, you can personalize them to be on brand and beautiful. Mix and match noissue products to give customers that perfect unboxing moment.
All their packaging range consists of compostable, recyclable, or reusable materials. So instead of your pretty wrapping paper ending up at the landfill, customers can have the option of adding it to compost, re-using it at home, or taking them to a recycling plant. noissue takes great pains to pick the right partners in their endeavor to help the planet. So you know you're in great company.
Are you an e-commerce entrepreneur? Get 15% off when you add mailers, cards, and stickers to your cart! This is your essential kit to start elevating your packaging. Use the coupon code: ESSENTIALKIT15 from July 24, 2022 to July 31, 2022 to avail of this fantastic offer. 
Are you in the food industry? Get 15% off when you add food-safe paper, stickers, and flyers to your cart! Turn your food packaging from meh to marvelous. Use the coupon code: FOODESSENTIALKIT15 from July 24, 2022 to July 31, 2022 to score this amazing deal. 
Discount is only eligible when adding those three items in your basket and cannot be redeemed when combined with a cashback offer. For U.S. customers only.
How To Get Started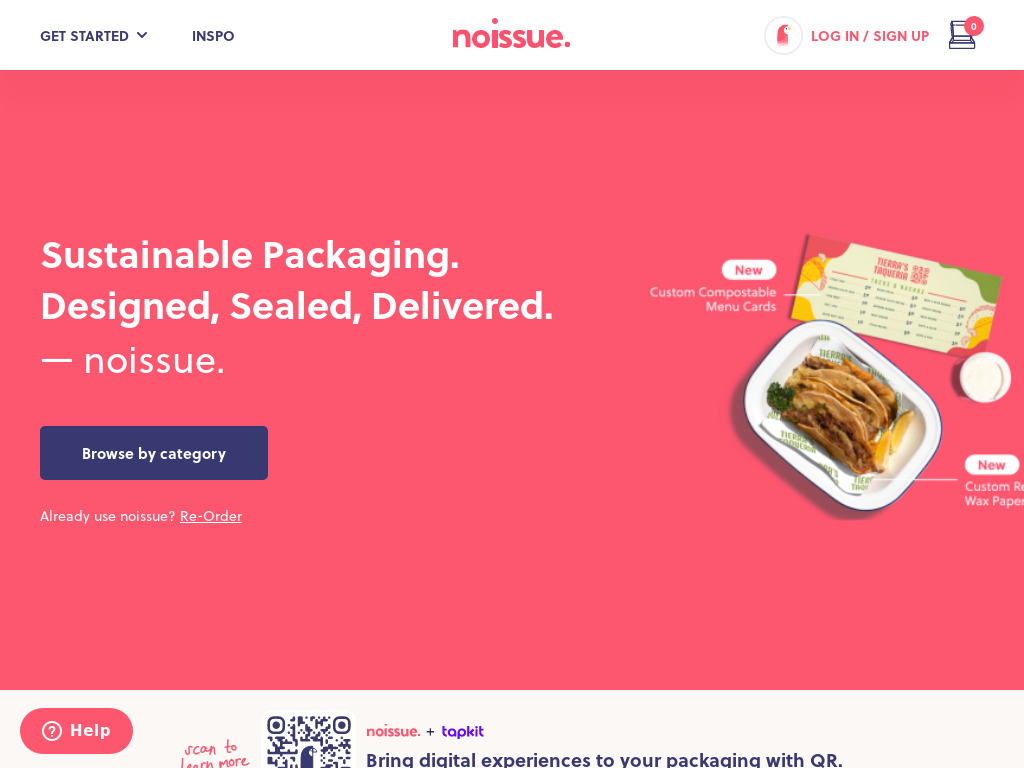 You don't have to be a graphic designer to make your own sustainable custom packaging. With noissue, it's quick, easy, and fun! Here's how:
First, signup using an email or your Google account. 
Next, choose a Category (tissue and wrapping, boxes, mailers, stickers and labels, etc.) or an Industry (e-commerce, clothing and apparel, food delivery, cafes and bakeries, skincare, etc.).
Choosing an Industry will give you packaging essentials for that trade. For example: under Cafes & Bakeries, there are custom wax paper, basket liners, sandwich wrap paper, menu cards, and more. Use this option to give you a better idea of what your business needs.
If you're only after a specific item (e.g., mailers, boxes, tissue and wrapping), pick one under Category.
After making your selection (example: food wrapping paper), you'll be directed to a page with photo previews, size options, and product specifications. Pick a size, type, color, and quantity then click Design Now.
Next, you'll be asked how you want to design the product. Pick between using your own logo OR uploading a design. Don't worry, they have a simple tutorial to guide you through the entire process! Feel free to send them a message for any other issue with your design.
Using your own logo: Upload a logo in a compatible format (JPG, PNG, PDF, SVG, and EPS). Choose a template and color (for logo, base, and paper). Edit the design by enlarging and shrinking, or moving things clockwise or counter clockwise.
Uploading a design: pick this if you prefer a different photo editor. Download their template and guidelines (AI, PDF, and PSD) then create your own using Photoshop, Illustrator, or other editing tools. Upload whenever you're ready.
There's an option to save your work before adding them to cart. You can also preview finished designs for your peace of mind.
Be Business Savvy and Earth-Friendly!
Who says you can't have it all? Give your customers guilt-free unboxing moments with noissue. Take it a step further by giving tips on how they can re-use and recycle boxes, wrappers, stickers, tags, and cards. Every noissue order is a win for you and Mother Earth. So go ahead: design online, upload, and add to cart.