Last Updated on March 8, 2022
Custom stickers are big business. And if recent projections are anything to go by, the global sticker industry is poised to grow in leaps and bounds, surpassing the $47 billion mark by 2026. That means if you were considering venturing into the sticker printing business, now is the time to take that leap of faith.
But as you shall discover, finding a reliable service to help you design your own stickers isn't a walk in the park. Many sticker creation services out there are more geared towards mass sticker production, which should come as good news. However, most of these services are a bit inflexible in terms of designing a label that aptly captures their clients' personal and corporate brand story.
Imagine ordering stickers for an upcoming event intended to popularize your company, only to receive stickers that somewhat look like those that were used by your competitors a few months ago! One thing is for sure – your brand awareness campaign will end in epic failure.
A reliable sticker creation service should not only allow you to generate stickers in bulk. The service should also be able to incorporate your custom graphics, text elements, and other personalization features. Above all, the sticker must be printed on a high-quality material.
The following sticker creation services deliver on all those aspects.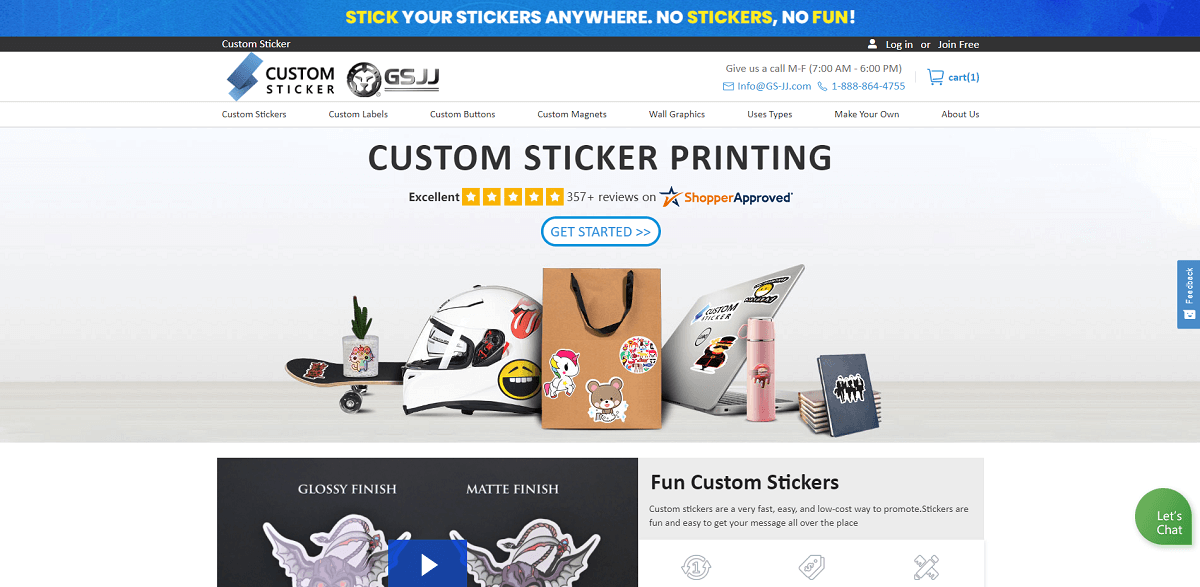 CustomSticker.com is a fast-growing and professional sticker making brand, which customizes 10+ types of stickers like die cut stickers, kiss cut stickers, circle stickers, rectangle stickers, holographic stickers, bumper stickers, sticker sheets, clear stickers, transfer stickers, etc. We check their social comments like Shooperapproved and they have lots of rave reviews.
CustomSticker also offers free air shipping, which needs about 3-7 days. In addition, they offer custom stickers no minimum. So 1pc sticker is available if you want. Moreover, they have massive sticker templates for you to design by yourself even if you are not a professional designer. It is said that 1 minute to design and finish your order online.
The most distinctive point of their stickers is easy to peel off on the backing and remove without residue. Any size, quantity or type of stickers that you want to customize will be obtained on CustomSticker.com. Furthermore, they also have custom labels, buttons and magnets for you to select.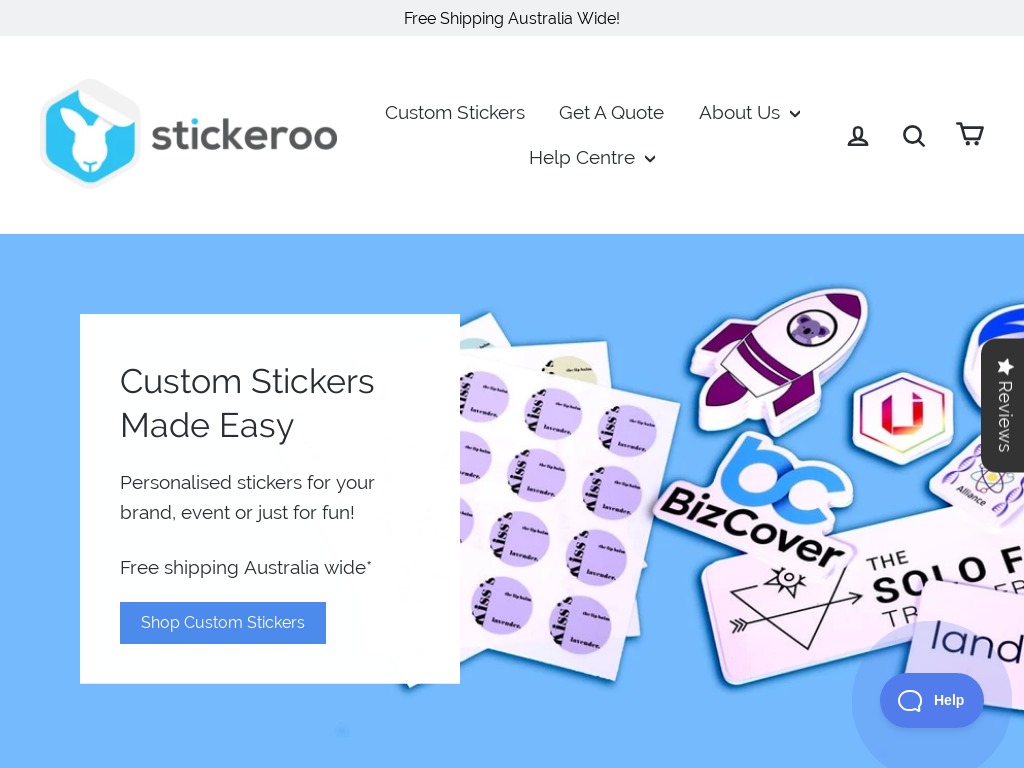 Stickeroo doesn't set any minimum order, which means you can order as few stickers as possible and determine if they suit your style before making bulk orders. The service also offers unlimited revisions on your stickers, ensuring that the final product is exactly as you visualized it.
Another great thing to love about Stickeroo is that their stickers come in all shapes and sizes, from square and rectangular to circular, oval, and kiss-out stickers.
Creating your sticker with Stickeroo is an easy 3-step process. You choose your sticker type, upload your custom designs, and then the company takes it up from there.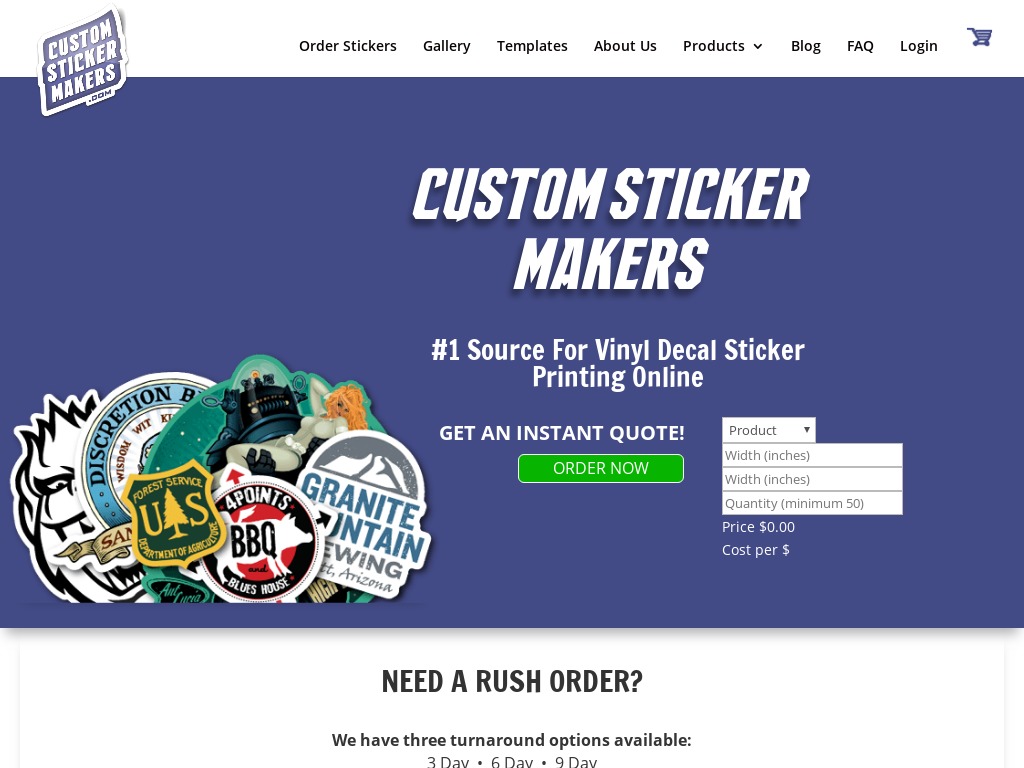 One of the things that sets Custom Sticker Makers apart from many sticker creation services is the flexibility that the company provides in terms of turnaround. The service offers three turnaround options, including 3-day, 6-day, or 9-day turnaround.
With Custom Sticker Makers, you can create a sticker that suits your personal style as well as the needs of your brand. From professional business stickers and wedding stickers to product labels, the company makes it all.
Custom Sticker Makers works with professionals from various industries, including artists, marketers, and graphic designers, to ensure your stickers turn out exactly as you wanted them. Examples of sticker designs by the company include Kiss-out, Cut-out, Double cut, and Text stickers.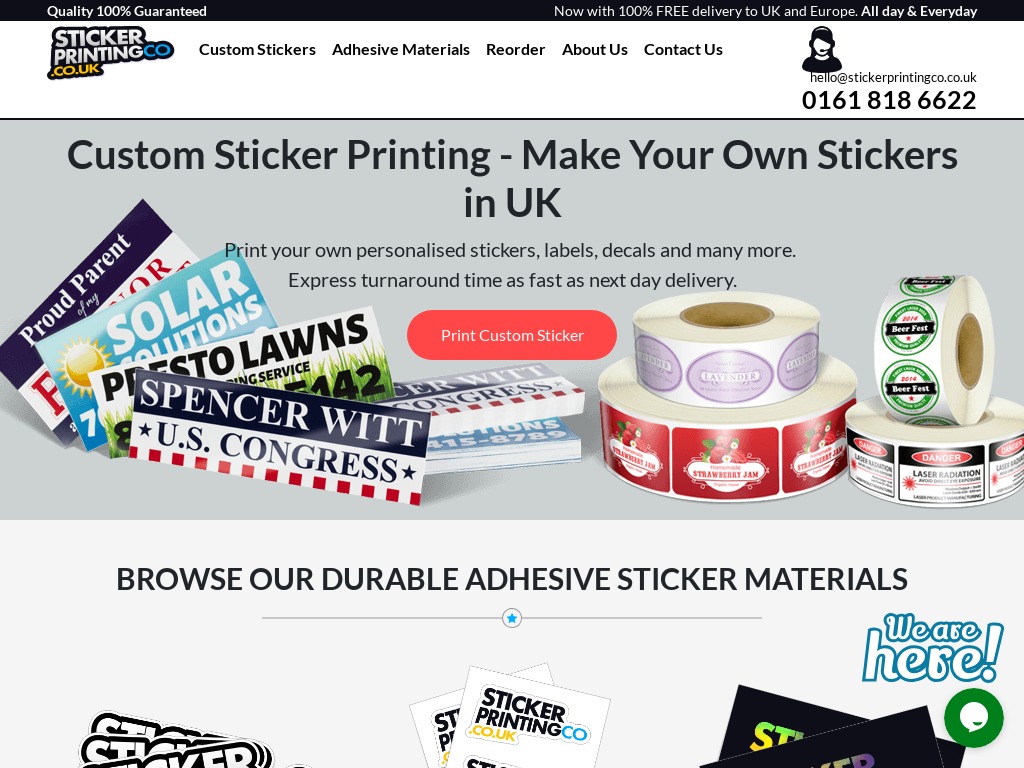 Here is another service that allows you to order any number of personalized stickers, decals, or product labels. StickerPrintingCO.co.uk believes that when it comes to sticker production, time is of the essence. To that end, the company offers express turnaround time, where you can receive your orders as fast as within 24 hours.
To print your stickers with StickerPrintingCO.co.uk, you simply choose your desired sticker shape, size, material, quality, printing, and finish. Then, you can decide to either upload your finished artwork or leverage the company's free design service and have the sticker printed to your specifications.
If you're satisfied with the output, you can checkout and complete your order using the service's one-step checkout extension.
Make Stickers lets their clients create all kinds of stickers, ranging from package and product labels to car stickers, outdoor stickers, clear stickers, and multi-purpose stickers. Like most reliable sticker creation services, Make Stickers offers on-demand sticker printing services. That means they can take and process any quantity and still deliver within their average turnaround times.
Placing your order with Make Stickers is also a simple process that requires close to no setup. The company provides user-friendly templates that you can use to design a sticker that truly speaks to your personal and company brand.
Make Stickers also allow you to make adjustments to your sticker throughout the design process, ensuring the final output is just as you wanted it.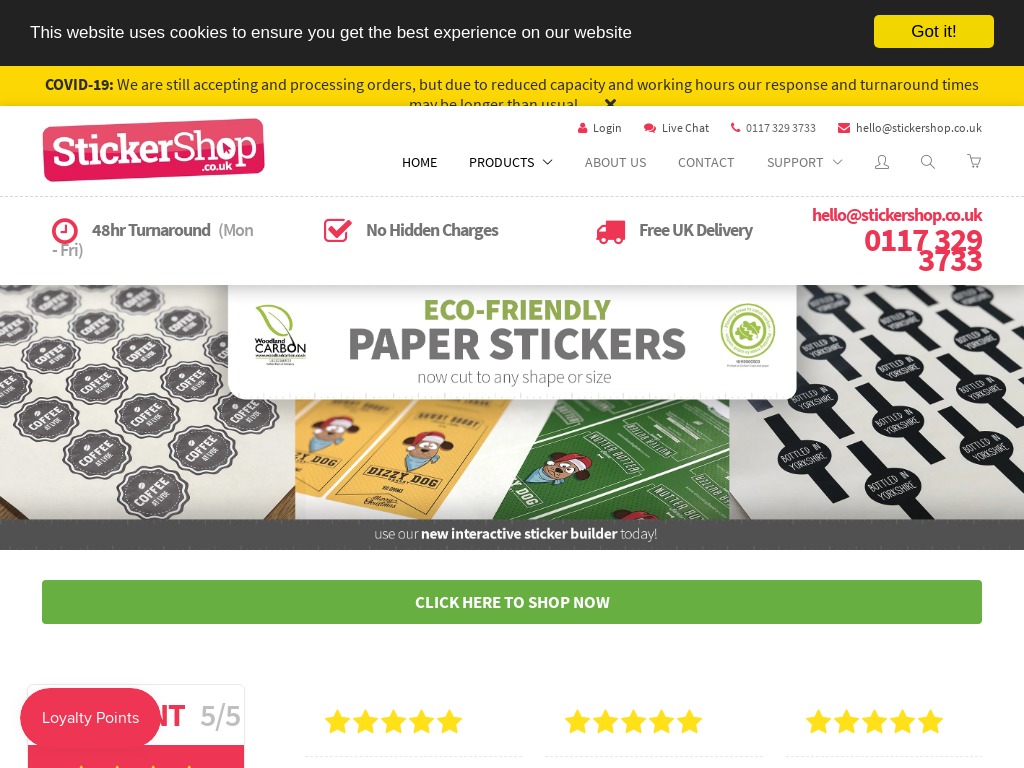 Sticker Shop provides a 48-hour turnaround regardless of the quantity of your order. The company offers free delivery across the UK, and their services come with zero hidden charges.
Sticker Shop is one of the few sticker production services that deals in eco-friendly stickers. After use, you can safely dispose of their stickers, thereby reducing the quantity of trash that ends up in our landfills. Their stickers are also waterproof, making them ideal for both indoor and outdoor use.
Other features that define Sticker Shop include their affordable pricing and a free sample pack that allows you to check the quality of the material before placing an order.
UPrinting creates your personalized stickers in two ways. You can either upload your file and let the company print it to your desired specifications, or simply create your own design online.
You can order your stickers cut to size so you can readily hand them out at a local event or use them in your house. UPrinting stickers can also come on a roll, which is perfect for use on most label dispensers, where they can be readily deployed on containers, packaging, and boxes.
Custom stickers by UPrinting are available in four different die-cut shapes, including square, rectangular, oval, and circular.
Sticker You is another go-to company if you're looking for a reliable sticker creation service. Stickers by Sticker You are printed on high-quality material and feature durable adhesive, making them excellent for use both indoors and outdoors.
The company allows you to choose any size, shape, and quantity of stickers you want printed. Whether you're looking for product labels, tattoos, die-cut vinyl stickers, or magnets, Sticker You is the place to go.
What's more – the company has a huge collection of sticker samples that you can request to get a sneak preview of what their final artworks look like.
Vistaprint stickers come in three package options to cater to every budget. First, there are Sheet Stickers that are perfect for low- to mid-quantities. With this package, you can order between 4 and 4,800 stickers. You also get four color options, namely white, gold, clear, and silver.
The second package is the Roll Labels that's ideal for bulk orders (between 100 and 25,000 stickers). Roll Labels by Vistaprint are available in three different materials – paper, plastic, and vinyl.
The last package is Sticker Singles which are recommended for giveaways and events. Vistaprint's Sticker Singles are printed on plastic, are water-resistant, and you can order anywhere between 50 and 5,000.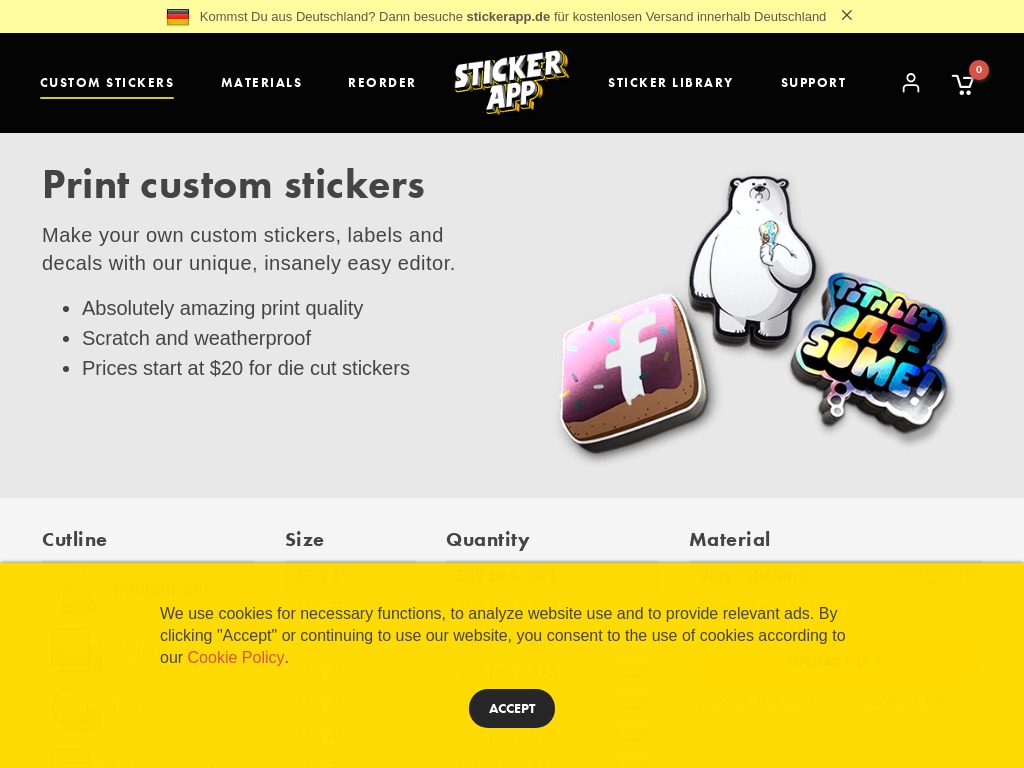 There are only a handful sticker creation services out there that provide scratch- and weather-proof stickers at reasonably affordable rates. And Sticker App features prominently among the few.
The service implements a user-friendly editor that lets you make product labels, decals, and custom stickers to your unique specifications. Another thing that sets Sticker App apart is the range of materials the company uses. Examples include vinyl stickers, clear stickers, mirror stickers, matte stickers, to mention but a few.
Sticker App also supports file uploads in different formats, ranging from .PNG to .PDF, .TIF, .BMP, .JPG, .SVG, .AI, and .PSD.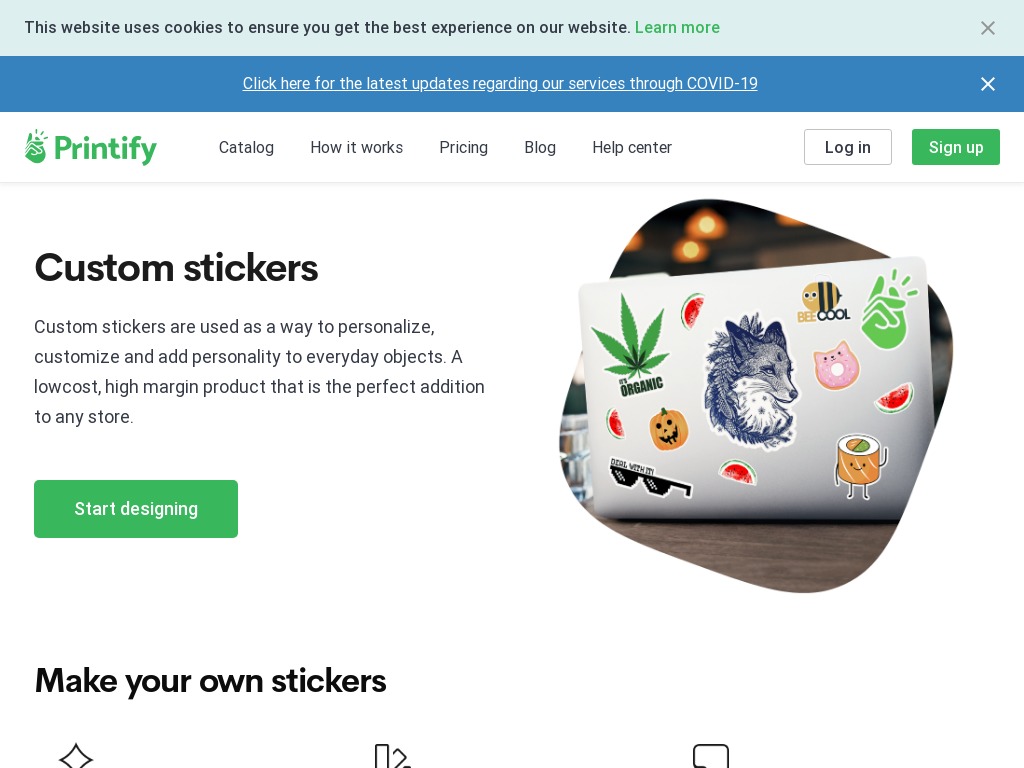 Printify allows you to make your own stickers without any investment, and the service doesn't have a minimum order either. Stickers by Printify come in two different designs, namely the Kiss-out and Square-cut designs.
Square-cut stickers by Printify are ideal for people who are looking for stickers that feature clean lines and uniformed shapes. On the other hand, Kiss-out stickers are perfect for people who are looking for truly personalized stickers. Kiss-out stickers come in all kinds of shapes, depending on the specific needs of the client.
However, both Square-cut and Kiss-out designs by Printify are available in four size options and can be used both indoors and outdoors.
Conclusion
When you're looking for a sticker creation service, you want a company that will print stickers that match your personal style as well as the needs of your company. And that's what you get when you work with any of the 10 services that we've reviewed here.
Needless to mention, most of these services also charge industry-competitive rates and offer reasonably fast turnaround.