Last Updated on March 8, 2022
Planning a wedding is both hugely exciting and hugely challenging. There are so many aspects to consider and so many plans that need to be put in place before the big day. Choosing the right venue, the right cake, the right catering, and the right people all become draining quite quickly.
But all that minutiae provides you with endless opportunities to show off your taste and creativity. Every single item and accessory can be carefully chosen to complement one another aesthetically.
Koozies are useful from a practical standpoint, but a cheap Koozie isn't always the most aesthetically pleasing accessory to have sat on every table at your wedding. However, the right custom Koozie can add something special to your overall aesthetic, as well as potentially enhancing its practical qualities.
Zippered Wine Bottle Coolers
No wedding is complete without a selection of wine. There is nothing quite like wine for celebrating with loved ones. No matter where your wedding venue is or what the conditions are like, guests will expect a wine to be on the menu. That means finding both red and white wine that you and your partner like.
While red wine can be served straight out the bottle in any circumstances, white wine needs to be chilled and kept at a low temperature in order to be appreciated. Warm white wine would put a serious downer on some of your guests' time. Fortunately, Koozies for bottles exist.
These stylish bottle-sized Koozies feature a zip, making transferring it between bottles an absolute breeze. Make sure that your guests' white wine stays at the optimal temperature for as long as possible with this stylish accessory.
Zippered Beer Bottle Coolers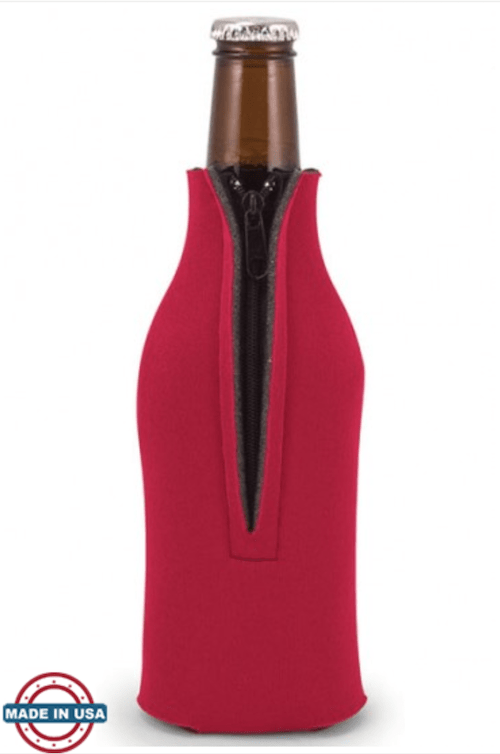 The smaller beer bottle-sized version of the bottle Koozie are just as essential for your wedding. For guests who aren't on the wine, beer is the most popular option. Bulk ordering a bunch of beer bottle Koozies for your big day is a great way to save money, as you will probably need more of these than the wine bottle version.
There are plenty of online retailers who offer beer bottle Koozies, but Express Mint are our favorites. Their personalized koozies are available in a range of different styles, colors, and materials, meaning you should be able to find something that fits in with your overall wedding look.
Zippered beer bottle coolers are designed to fit the standard-sized 12 oz beer bottle. Make sure that you order beer bottles in the right size for your wedding.
Neoprene Koozies
The most basic Koozies are made with a foam lining. However, premium neoprene versions are a stylish alternative. Neoprene is the material that is used to make wetsuits. If you've ever worn one, you'll understand why they are the perfect material for this application.
Make sure that you check beforehand to ensure that you are ordering a quality, thick neoprene Koozie. Some businesses sell cheap neoprene Koozies that use a very thin layer of material. This significantly reduces their effectiveness.
Collapsible Bottle Koozie
This premium Koozie is a little pricier than the other bottle Koozies on this list. However, this Koozie can fit either 16 oz or 20 oz beer bottles. It can also be used with long-necked beer bottles. As well as being versatile, this Koozie comes with a carabiner. If you and your partner are active people, grab yourself a couple of these Koozies for your wedding and keep them to use after. You can temporarily remove the carabiner, leaving you with a stylish looking bottle Koozie.
This Koozie comes in a range of different colors which can be further enhanced by adding one of 30 colored inks. Whether you want a Koozie that pops with bright and vibrant colors, or a more reserved and elegant approach, you can customize this Koozie to your tastes.
Photograph Koozies
A picture says a thousand words. You and your partner can show your commitment to one another with a set of custom Koozies printed with a photo of the two of you together. Alternatively, find a photo of a shared treasured memory that is significant to you both.
It is now possible to have any photo printed onto a custom Koozie. This includes both black and white images and full color. Try to use as high resolution a source image as you possibly can for best results.
Artwork Koozies
These are similar to photo Koozies but with a piece of custom art in place of a photo. If you or your partner is creative, this might be a more meaningful option than a photograph. If one or both of you have kids, this is also a great way to get them involved in your wedding by letting them design their own Koozies.
Deluxe Collapsible Koolies
If there are likely to be a lot of cans floating around amongst your guests, collapsible Koolies are your best option. You can easily store a large number of them, ensuring that there is plenty to go around. Choose a deluxe model made of neoprene or vinyl to make them really stand out.
Koolies are one of those accessories that will enhance both the experience and look of your wedding. If you're getting married in the summer, Koolies are essential accessories. Don't let warm drinks spoil your big day, instead, order some custom Koolies for you and your guests.