The practice of meditation has grown into a full-out phenomenon in recent years. Our fast-paced lifestyles often impede the healthy equilibrium that allows us to maintain physical, mental, and emotional wellness. And meditation allows us the time to reflect, refocus, and reconnect.
While small amounts of psychological stress can, in some situations, give you an edge in physical performance, completing high-level tasks, or learning a new skill, it's common to push the boundaries of health challenges to the point of being overwhelmed. And it's hard to know when you have reached the tipping point into unhealthy stress, as it's often seen to be the new normal.
Being stressed out, anxious, depressed, and overwhelmed is dangerously commonplace, a result of unconsciously pushing ourselves to keep up. When you pull back the shades of a mindless, task-based life, many of us feel burnt out. We've neglected our active state of awareness to meet the realities of a demanding lifestyle.
Your Mindfulness Journey
Mindfulness is defined by Greater Good Magazine as "maintaining a moment-by-moment awareness of our thoughts, feelings, bodily sensations, and surrounding environment, through a gentle, nurturing lens."
Experiencing mindfulness is the broadly accepted aim of regular meditation. It's cultivated by bringing awareness to the present, recognizing your mental state and immediate reality without judgment, and accepting or transforming the quality of your experience moment by moment—on purpose.
Mediation can be a powerful tool to help you slay your goals without burning out, gain a healthier body image, and enhance your connection with loved ones. Daily mindfulness allows you to be more compassionate, more accepting, and more grateful for your human experience.
The Power of Meditation
Cultivating mindfulness is a continual process. As you begin, it may be simply a practice of training your mind through breath, repeating a mantra, or a relaxed, but sustained inward concentration you repeat each day. With time, your practice can evolve to a full range of experiences. Daily mindfulness can help every mind, regardless of your spectrum of thoughts, emotions, or state of physical health.
Meditation is proven to help reduce psychological stress like anxiety, depression, and lifestyle stress and can even play a role in improving physical pain. And while these benefits are exciting, meditation is not about getting anywhere or achieving any particular goal. It's an ongoing acceptance of the natural unfolding of each day and stage of your progression.
The power of meditation is to let go through a disciplined practice of the mind. Such focus helps to ease the anxiety that can lead to irritability, sleep disorders, and taxing mental stress, among other physical and mental health issues. According to experts, these "unproductive worries" are part of a pattern of control.
Regular meditation brings awareness to unnecessary states of worry, allowing you to refocus your attention, confront resistance, and see your experience in a neutral headspace. With practice, daily worries can lose their charge, and you'll be shocked at the steady shifts you make toward mental and spiritual transformation.
Wellness is, in large part, the ability to embrace what is—confronting unconscious parts of yourself, noticing unhelpful thoughts and patterns—the discovery is literally endless.
So, how does one begin?
Small Steps Change Minds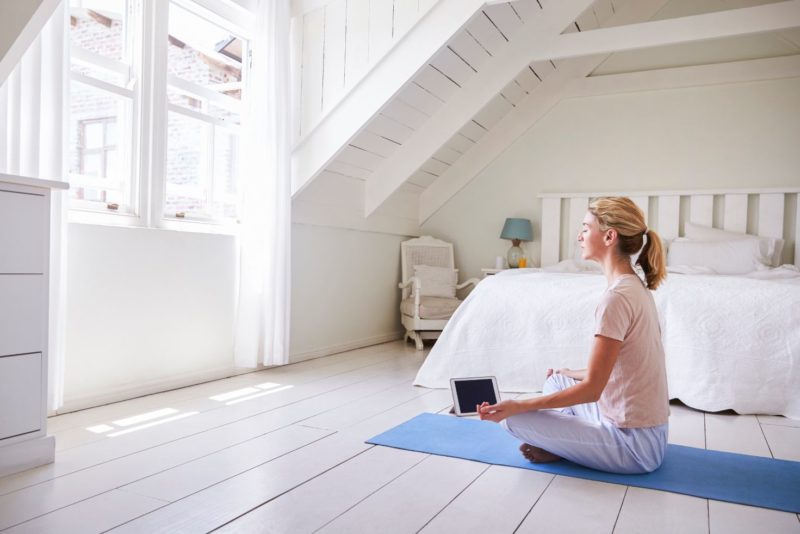 It's important to build meditation habits that can be a mainstay in your daily wellness routine. If you're just beginning, a goal of five minutes a day may be plenty. Like any fitness goal or physical challenge, you should push yourself enough to have a productive session.
But, if you increase the duration too quickly, you may lose focus and be less likely to practice mindfulness regularly.
Keep in mind, daily practice is far more effective than pushing for one good session only once per week. Consistency—practicing short and often—inspires progress. Meditation cannot be forced.
It's better to set a realistic goal than to become rigid and anxious, wondering when the timer will ring. Find a length of time that feels achievable and keeps you motivated. As you cultivate qualities like awareness and compassion, you'll actively develop a calmer state of mind which will allow you to extend your time in meditation.
Find Your Optimal Practice
How long should I meditate? Where should I meditate? What time of day is best?
There are no definitive answers to beginner musings. Instead, take this journey to create an optimal practice suited to your individual circumstances. Carve out a place, a time, and routine that helps to cultivate conscious awareness, ease anxiety and expand your perspective. Find harmony as your personal journey unfolds.
As you spend time creating your new practice, get comfortable with being uncomfortable. And enjoy your endless journey inward to a better state of physical, mental, and emotional wellness.