Last Updated on March 8, 2022
Who Is Dana White?
Dana Frederick White Jr. is an American entrepreneur who is also the current president of the world's largest mixed martial arts (MMA) organization, Ultimate Fighting Championship (UFC).

Under White's stewardship, UFC has grown from a lackluster MMA organization to the multibillion-dollar enterprise that it is today.
Quick Facts
| | |
| --- | --- |
| Full Name: | Dana Frederick White Jr. |
| Popular Name: | Dana White |
| Gender: | Male |
| Birth Date: | July 28, 1969 |
| Age: | 52 years |
| Parents: | Dana White and June White |
| Siblings: | Kelly White |
| Birth Place: | Manchester, Connecticut |
| Nationality: | American |
| Ethnicity: | Irish |
| Education: | Hermon High School in Maine, Quincy College, and University of Massachusetts Boston |
| Marital Status: | Married. |
| Sexual Orientation: | Straight |
| Wife/Spouse: | Anne Stella |
| Children: | Aidan White, Dana White III, and Savannah White |
| Dating: | N/A |
| Net Worth: | USD 500 million (as of August 1st, 2021) |
| Source of Wealth: | Entrepreneurship |
| Height: | 5′ 10″ (1.8 m) |
| Weight: | 88 kg; In pounds: 196 lbs. |
Early Life and Career Information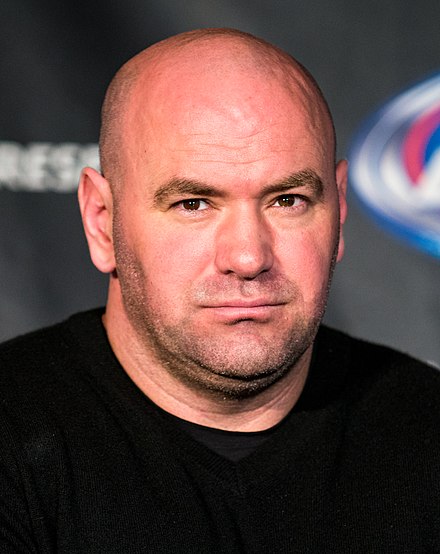 Dana White was born on July 28, 1969, in Manchester, Connecticut, to Dana White and June White. White developed an interest in boxing at the age of 17. While attending the University of Massachusetts, he launched a boxing program geared towards helping at-risk children.

In the early 90s, Dana White moved to Las Vegas and established Dana White Enterprises. Around the same time, he started managing fighters Tito Ortiz and Chuck Lidell.

To stay relevant in the industry, Dana White decided to venture into various other styles of fighting, such as Mixed Martial Arts and Muay Thai. At some point, he was involved in disputes with the UFC. It's during these disputes that he discovered the organization's parent company, Semaphore Entertainment Group, was going broke. He approached one of his childhood friends, Lorenzo Fertitta, with an offer to purchase the UFC.

Lorenzo invited his older brother named Frank Fertitta and in 2002, the duo invested $2 million in the UFC in exchange of an 81% ownership stake in the company. After acquiring UFC, the Fertitta Brothers appointed White as the president of the UFC, a position he has held to date despite changes in the organization's ownership.
Dana White Net Worth
As of August 1, 2021, Dana White had accumulated a net worth of $500 million. White owes a huge chunk of his net worth to his successful career as a leader of UFC. In addition to his salary as UFC president, White has also invested heavily in the organization.

In 2001, Dana White made one of the wisest investment decisions of his career. He teamed up with Lorenzo Fertitta and Frank Fertitta to purchase UFC, which was then a struggling entity. In 2016, UFC was sold to William Morris Endeavor (WME) at a cost of $4.025 billion, becoming the largest single acquisition in the global sport's history. Prior to the sale, Dana White owned a 9% stake of the company.

White smiled all the way to the bank after this grand acquisition, as his 9% ownership stake translated to around $360 million in pretax profits. But that's not the only way Dana White cashed in on the sale of UFC. It's important to note that White retained his role as the president of the new outfit, where his annual salary is rumored to be between $15 and $20 million.

In addition to his investments in UFC, Dana White is also a savvy real estate investor. In 2006, he spent $1.95 million on a 5,966-square-foot property located in Las Vegas' Pine Island Court section. The property was previously owned by his friend and business partner, Frank Fertitta. After the sale of UFC to WME, White invested a significant portion of his earnings in buying other several real estate properties. Many of his homes are located in Las Vegas.

Some of those include:

• A 7,700-square-foot home acquired in October 2016 for $1.8 million,
• A 5,500-square-foot home purchased in January 2017 at a cost of $2.4 million, and
• A 4,700-square-foot property purchased in 2017 for $2 million
How does Dana White spend his money?
When he is not investing his earnings in real estate and other profitable ventures, Dana White is spending it on cars and other valuables. White reportedly owns more than 15 automobiles.

The following are some of the names that have made it to his collection of luxury and vintage automobiles:
• His very first car, a Datsun B210,
• A smart car that he acquired for $12,000, after a drinking spree with his friends,
• A 1969 Chevy Camaro,
• A 1969 Ford Bronco,
• A 1971 Plymouth Barracuda,
• A 2012 Range Rover,
• A 2014 Bentley,
• A Cadillac Escalade ESV,
• A Custom Harley Davidson,
• A Ferrari F430,
• A Ferrari Testarossa,
• A Land Rover Defender V8,
• Two BMW M6s,
• A Ducati motorcycle, and
• MV Augusta motorcycle
And to crown it all, White also owns a Bombardier private jet.
Life Lessons from Dana White
1. Seize every opportunity that comes your way

After learning that the UFC was struggling financially, Dana White saw an opportunity to invest in the company. He invited the Fertitta Brothers and the trio grabbed the opportunity without hesitation. Well, the rest is history.

2. Be committed to your hustle

After the sale of the UFC, Dana White retained his position as the organization's president. When asked why, he said "I can't stand three day weekends. I'm like, man I want Monday to come again. That's how much I love what I do."

3. Give back

Dana White may be an avid collector of automobiles and other valuables. But he doesn't forget to give back. His kindness and generosity was demonstrated in 2010 when he donated $50,000 towards a liver transplant for Tuptim Jadnooleum. Jadnooleum is the daughter of one of the fighting instructors for Tiger Muay Thai. A year later, White donated another $100,000 towards the renovations of his former high school.
Famous Quotes by Dana White
"Every one of us is a fighter… You've gotta get up and fight through that bull$#t, every day. You have to."
"I always knew two things. If I brought these athletes in and you met them, you would realize the type of people that they are, and they're not who you expect them to be… And if I could you to the live event, I gotcha."
"If you're dreaming of F-You money, you're in the wrong place already… I just made more money than I ever dreamed I would make. I don't want to leave."
"Once you break out of that and you find what it is that you truly love to do, it's really not work. It's actually fun. And you enjoy every day of your life."
"What's the worst thing that can happen if you try?"
Conclusion
Dana White pulled back the UFC from its deathbed and nurtured it into a multibillion-dollar enterprise in slightly under fifteen years, thanks to his determination and passion for his job. That's a feat that only a few investors can pull over the same time span.