Last Updated on July 12, 2020
You were working on an important assignment the previous night. You saved your data on the hard drive, only to wake up the following morning unable to locate your project. You can remember deleting some useless files from the hard drive and in the process, you might have accidentally deleted your assignment. But here's the worst part – you also went ahead to empty the recycle bin.
Like most hard drive users, you may be at a loss, wondering if there's any way you can recover your assignment. And if it happens that you didn't have a backup system already installed, your goose is as good as cooked. Or so you may think.
Fortunately, it's possible to recover your deleted files and documents from the hard drive. Why? Simply because when a file gets deleted, corrupted, or otherwise inaccessible on the hard drive, the system doesn't actually delete that file. Instead, it simply removes the file from its index and marks the area where that document resides as reusable.
Therefore, you have a considerable window period within which you can restore your deleted files. But to make that happen, you'll need to invest in powerful hard drive data recovery software. Six of those software shall be the focus of this article.
Reasons for Performing a Hard Drive Recovery
File deletion is the main reason why you would need to perform a hard drive recovery. However, deleting files and documents from your hard drive accidentally isn't the only way to lose your data. The files might also get corrupted and make the stored information available but inaccessible. Also, the computer might die before you had the time to save your files.
The following are other reasons that might lead to data loss, necessitating a hard drive recovery;
i. You accidentally formatted your hard drive,
ii. You accidentally got the files and partitions removed after running the DiskPart clean command on a hard disk,
iii. Your hard disk cannot display files in windows,
iv. The documents in your hard drive are inaccessible due to a RAW file system, or
v. The hard disk is physically broken.
Except for case #5, you can recover your lost data from your hard drive using any of the following tools.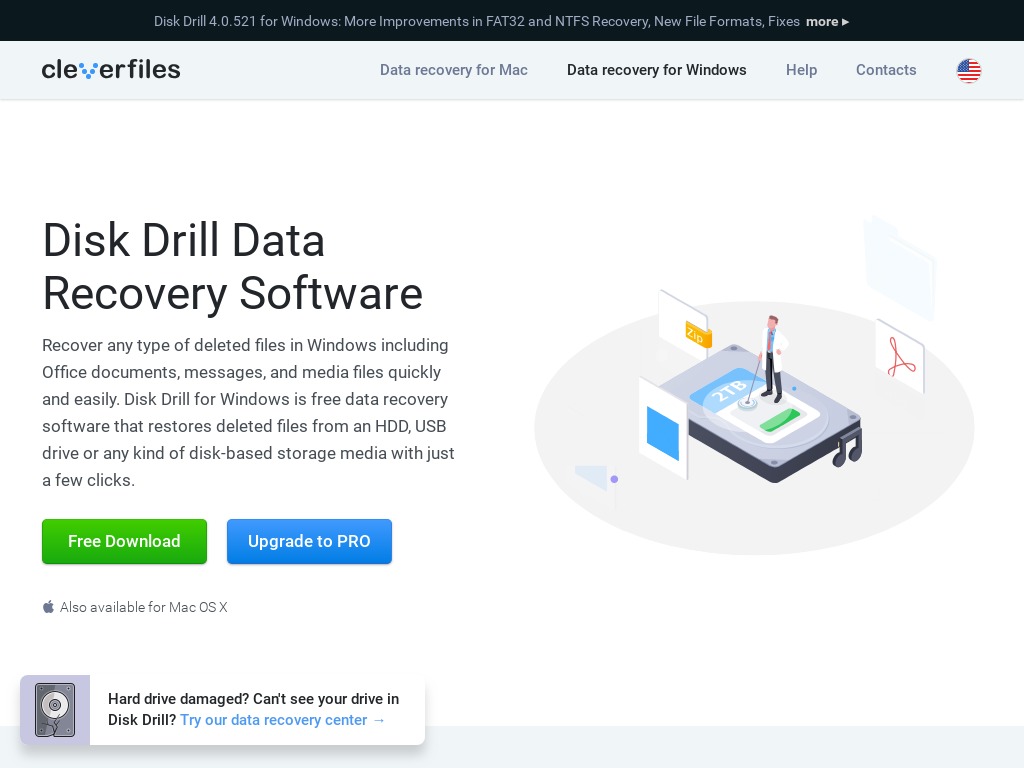 Compatibility: Mac, iPhone, iPad, and Android
Pricing: Pro version costs $89, Free trial available
Formerly known as 7 Data Recovery, Disk Drill is a user-friendly hard drive data recovery software that works incredibly fast, allowing you to recover your deleted information in a few clicks. The tool comes with a free trial version that allows you to recover data up to 500 MB.
Disk Drill implements various sophisticated scanning algorithms. The Quick Scan recovers files and documents that you recently deleted, whereas the Deep Scan reconstructs lost files from the pieces left behind on the hard drive. The Quick Scan will usually recover your deleted files in the exact same way they were before they got deleted. But since the Deep Scan reconstructs lost documents, the files recovered are not 100% accurate, both in title and content.
There's also the Recovery Vault functionality that lets users designate their files and folders for improved protection.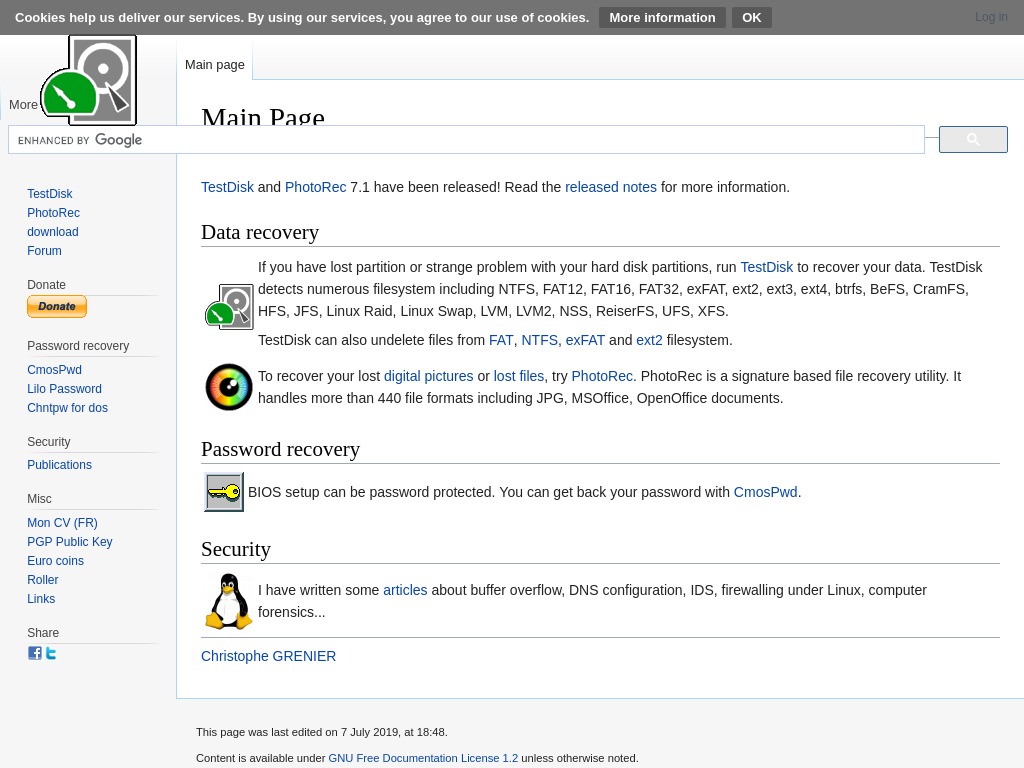 Compatibility: Windows, Mac, and Linux
Pricing: Free
TestDisk and PhotoRec are available in a pair of powerful hard drive data recovery software. Collectively, the tools can recover your lost data from both partitions and files. TestDisk recovers your lost information from partitions, whereas PhotoRec takes care of lost data from files.
TestDisk doesn't feature a graphical interface, which may be a turn off for some users. To make up for that, the tool offers support to plenty of file systems.
Alternatively, you can opt for PhotoRec that comes with a GUI to improve your user experience. It's also worth noting that PhotoRec is a cross-platform software, which means that you can run it as a portable app from your USB stick. No need to download and install it on your PC.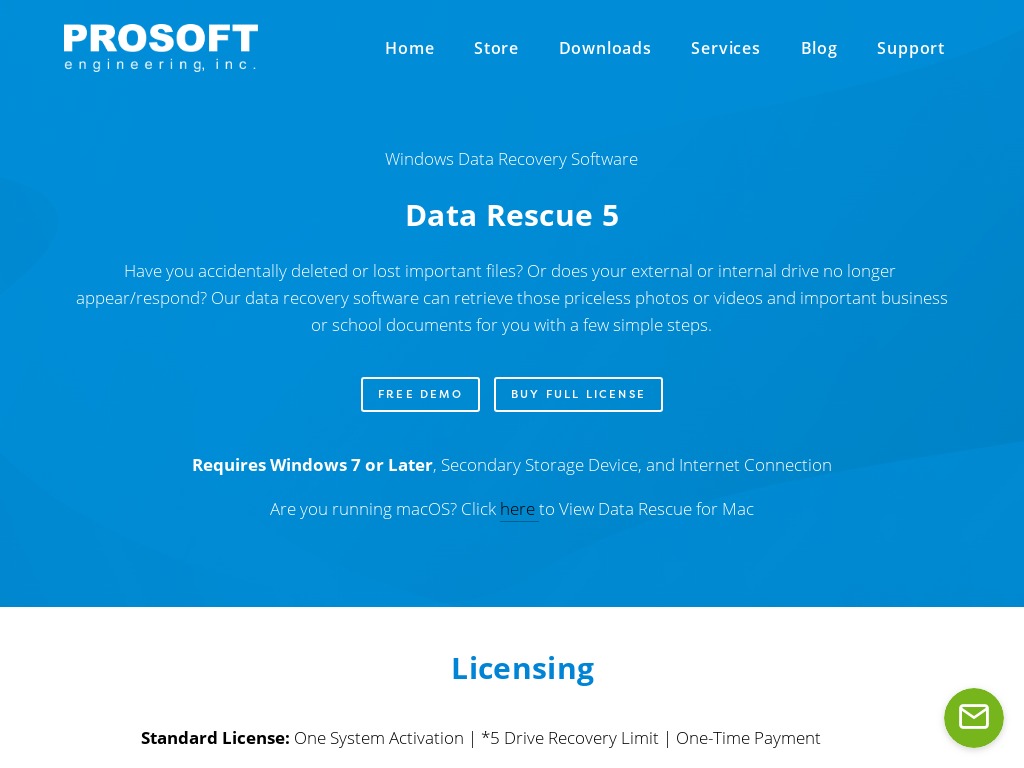 Compatibility: Windows
Pricing: The standard version costs $99
Prosoft Data Rescue 5 doesn't come with a free trial or free version. But there are plenty of features to enjoy from the standard version or annual subscription package.
First, the tool allows users to create a clone to use if their hard drives are failing or the data recovery process is overly long. Secondly, Prosoft Data Rescue 5 features a hex viewer that lets you view files from a scan before you can recover them. There's also a provision for sending email notifications on the progress with the current or past scans. Plus, you can use Prosoft Data Rescue 5 to recover data in any file type.
The only notable drawback with this software is that you must provide extra storage space of at least 32 GB before recovering your lost files.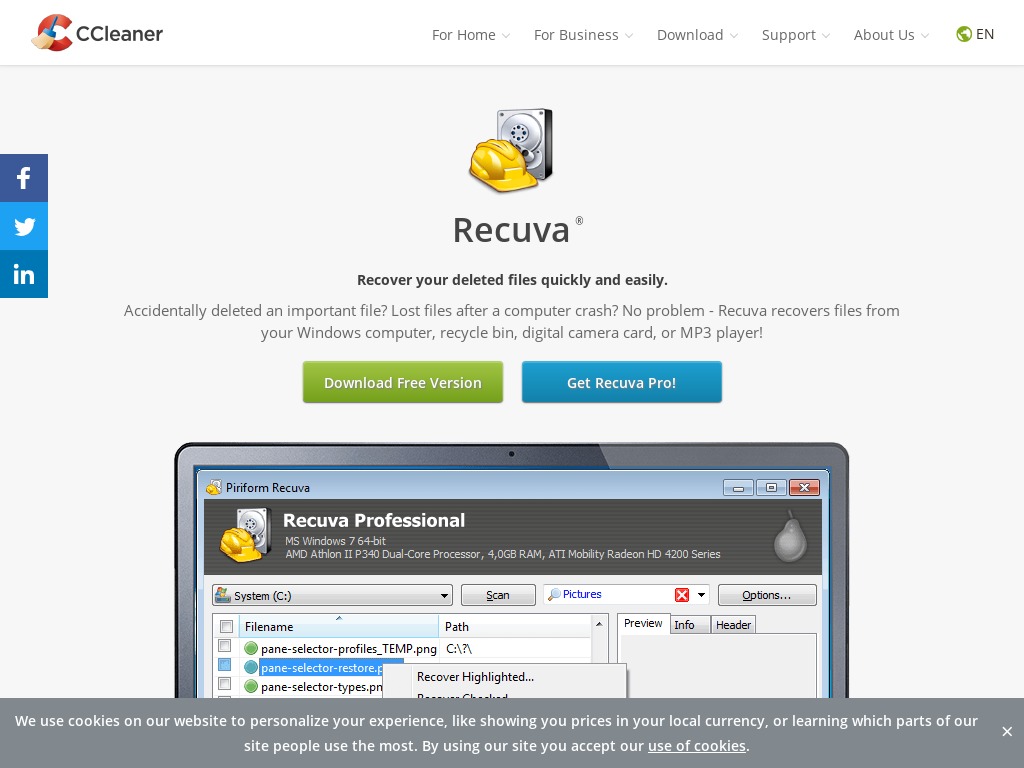 Compatibility: Windows
Pricing: Freeware, with the Pro version available from $19.95
If you're looking for a powerful and affordable hard drive data recovery tool that supports several file formats, look no further than Recuva.
Recuva not only recovers lost data on a hard drive, but also works on various other storage devices like USB sticks and memory cards. And besides recovering deleted data, you can also use Recuva to recover data from formatted or corrupted hard drives.
Another thing that sets Recuva apart from most data recovery services is its user-friendly interface, which makes it a special recommendation for beginners. The tool implements a deep scanning feature that locates your lost files from bits of information left behind. You can also use this software to securely delete files from your PC, ensuring no one else can recover them behind your back.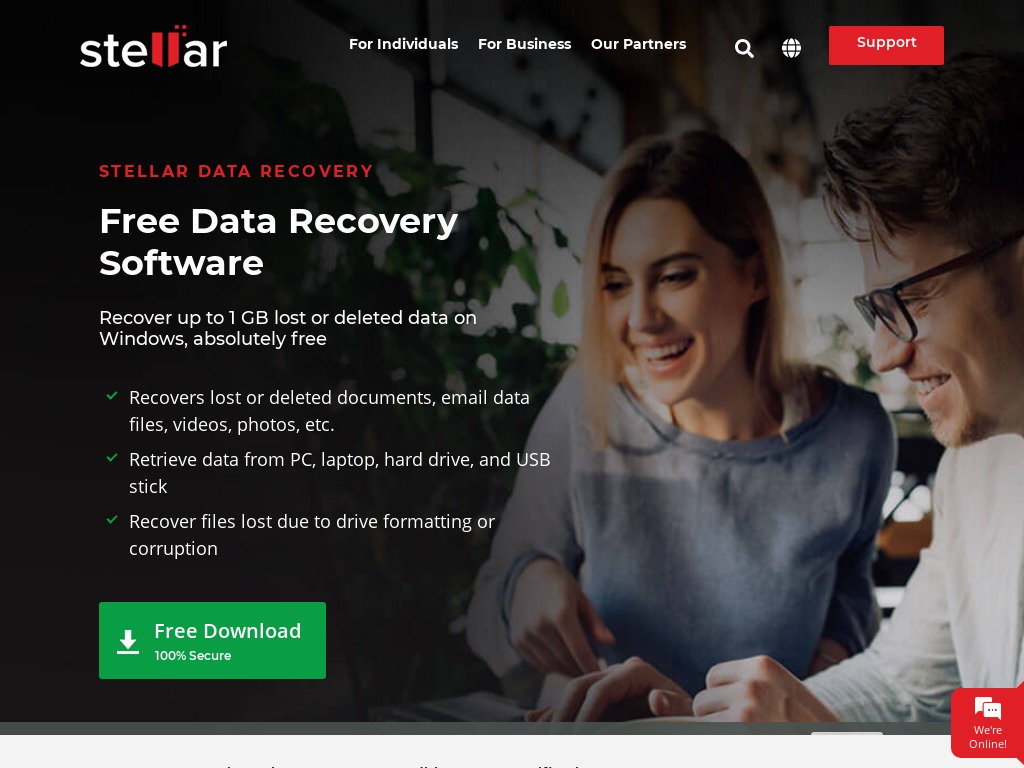 Compatibility: Windows, Mac, Linux, and iPhone
Pricing: Standard version starts from $49.95, Free version also available.
One of the defining features of Stellar Data Recovery is its ability to recover data that's lost or missing from partitions and files, even if your hard drive can no longer boot. The software can also help with data recovery in the event your files have been lost or damaged by a computer virus.
Stellar Data Recovery is also one of the easiest data recovery tools to use. All you need to do is click "select," then "scan" and allow the software to recover all your deleted data in any file type. Besides working with your hard drive, you can also use Stellar Data Recovery to recover files from other storage media, including SD cards and USB drives.
However, the free version comes with a 1GB limit.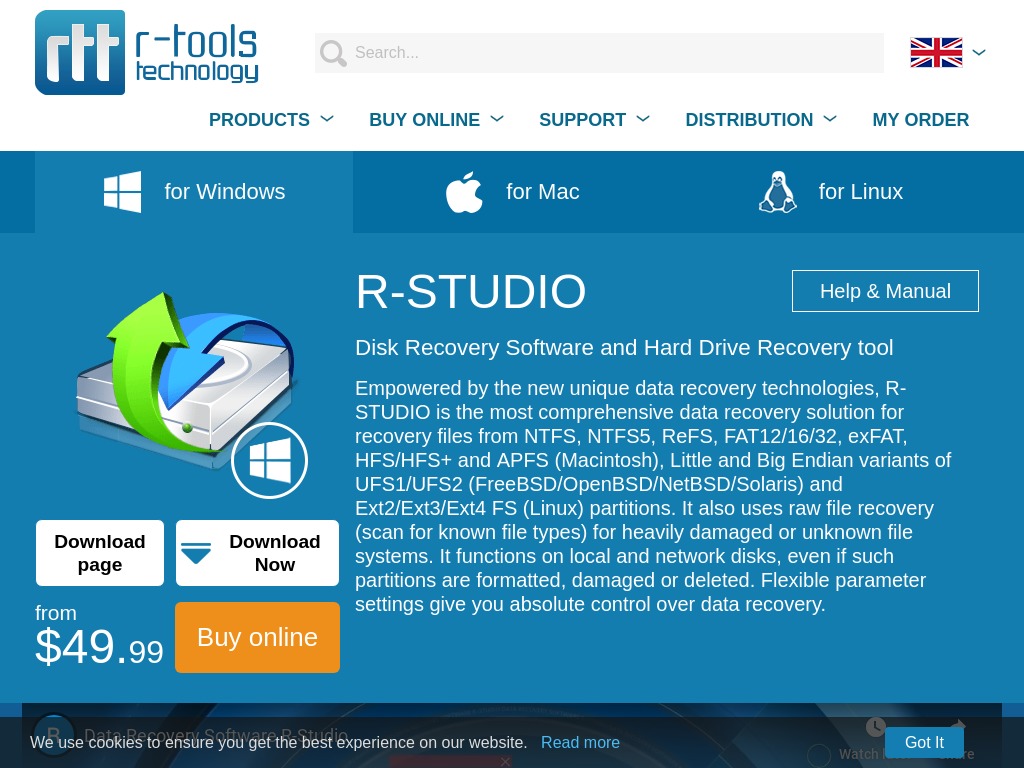 Compatibility: Windows, Mac, and Linux
Pricing: Versions cost between $49.99 and $899.00, Free trial also available
One of the notable features of R-Studio is its intuitive interface, which makes it a beginner-friendly hard drive data recovery tool. R-Studio recovers your lost data from local and removable disks, as well as from any machine that's connected to the internet.
You can also recover your deleted hard drive data in any of the supported operating systems, regardless of the tool that's hosting your device's OS. With this feature, you won't go purchasing several versions of the tool. Other outstanding features of R-Studio include a multi-lingual GUI, a S.M.A.R.T monitoring system, and an ability to generate disk images.
Though the price is a bit on the higher side, there's an option of purchasing the simplified version known as R-Undelete. With this version, you can upgrade to R-Studio within one year, and you're only allowed to pay the price difference between the two packages. Better yet, there's a free trial that helps you to determine how suitable the software is for your needs before considering its paid versions.
Wrap Up
Accidental data deletion is something that we simply cannot help. But it's reassuring to note that there are plenty of tools out there which make data recovery from hard drives a breeze.