Last Updated on January 25, 2022
Brands and marketers understand the value of data. But not many people know that data can be used to tell a story that connects brands with customers.
In fact, data storytelling can be a powerful communication tool for marketers.
Why, you wonder?
Data in itself is of little use to customers unless it is molded into a format that customers understand and connect with. And what better way to present boring data than in an interesting story?
After all, storytelling has an incredible success rate in marketing.
Don't believe me?
These stats will demonstrate the power of storytelling in marketing:
People remember stories 22X

 

more than plain facts.
Stories build empathy with the audience. That's one reason five out of the 10

 companies with the highest empathy index are also the most successful.
This means your brand can increase resonance and revenue by investing in data storytelling.
Let's discuss this in more detail.
Data Storytelling Vs. Data Visualization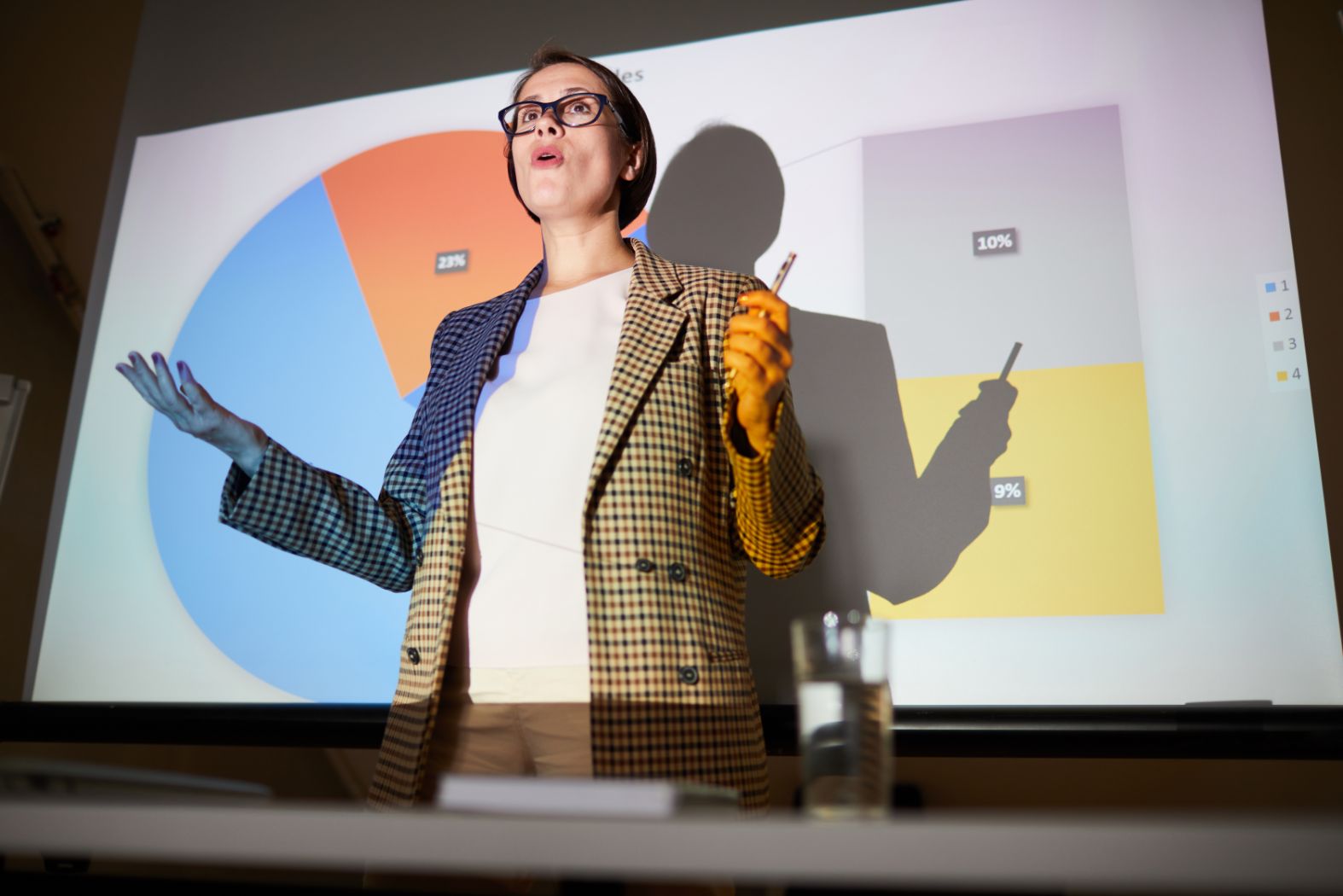 Data visualization has been popular for a long time and for good reason. It is a great way to collate and analyze data and present it in a format that people can easily comprehend.
However, data storytelling does more than just inform people what the data shows. Data stories engage the audience by keeping the content relevant.
Since 72% of consumers only engage with brand messaging that is tailored to their needs, data stories can compel audiences to interact more with your content.
Data stories don't just provide knowledge, they provide insights. Data stories also stir emotions and spur actions in viewers. They capture moments of need in customers and build narratives around them so that customers are prompted to take the desired action.
Data storytelling blends data visualization with human communication.
How Can Marketers Benefit From Data Storytelling?
For marketers, data storytelling is a powerful way to foster customer trust and tell their brand story in an effective manner. Let's take a look at the numerous benefits of this technique.
1. It Delivers Value to Customers
The world is brimming with data, but data without context is of no use to people. Most people don't enjoy number crunching. They crave data that they can quickly analyze and that makes it easier for them to make decisions.
If your brand provides valuable content to consumers in a palatable form, you can become a reliable resource for them. Data storytelling interweaves content with context and that's why it delivers value to consumers.
Example: There are numerous chatbot-building platforms with varied features and prices. Businesses of different scales look for platforms that fit their budgets and business goals. But not every business owner has the bandwidth to test out different platforms.
This concise infographic shortlists the 15 best bot platforms and highlights their key features so that people can compare them at a glance and pick their best fit.
Image via Shane Barker
2. It Gives Your Brand a Competitive Edge
In order to differentiate your brand from competitors, data stories can come in handy. This is especially true for stories that are anchored on your internal data.
Since nobody else has access to your proprietary data, your data story will be unique. This can be really helpful since smart marketers always strive to find a unique brand voice.
Want to know the best part?
Not only consumers, but publishers are also hungry for unique content. In a world of refurbished data, original data stories are a rarity. If your stories draw from credible data sources, you will find many reputable sites that are keen to publish them.
Then you will have literally found the sweet spot of data storytelling by catering to the needs of users, publishers, and your own brand.
Example: LinkedIn (LI) produces a Workforce Report every year, after analyzing its database of job seekers and employers. They draw insights about the current job situation and skill gaps in different states in the U.S.
Image via LinkedIn
Based on their observations, LI highlights the skill sets and professionals that are in demand in a particular area. Since their data is authentic and fresh and their analysis is accurate, there are many publishers and market researchers who publish their report.
3. It Helps Build Customer Trust
A lot of content is published every minute by online and offline media. But not all of it is credible. People are looking for undiluted facts and astute analysis from brands.
If your brand publishes and shares stories based on data from reliable sources, consumers will come to trust your messaging as well as your brand.
Example: This infographic mentions tips to maximize efficiency at work. It draws insights from trustworthy sources like the National Center for Biotechnology Information (NCBI) and the American Animal Hospital Association (AAHA).
Image via Bid4Papers
4. It Delivers a Memorable Message
People comprehend complex information easily and retain it longer if it's presented in a digestible visual format like an infographic or mind map.
By providing a blend of visuals and text content in data stories, the content creates a memorable impression on the audience. The data supports the visuals and the visuals reinforce the data, thus, cementing the information in the user's mind.
Example: Google is one brand that aces data storytelling every time.
They created a series of videos in their Lookback campaign 2015 to depict how people used Google to search for information about the newsworthy moments in 2015. They used graphs and charts from Google Trends to drive the point home that Google is the preferred source of information for people.
Image via Google
The videos received millions of hits. People revisited the stories they experienced and connected with them instantly.
5. It Engages Audiences Actively
Facts tell, stories sell.
Sound cliche?
Perhaps it is, but it's also true.
Most of our purchase decisions are emotion-induced. Stories evoke emotions and spur us to take action. Data stories engage people in their narrative more actively than plain text or auditory signals.
Based on the level of user engagement, data storytelling can be based on two approaches:
Approach #1: Narrative: Users watch a data story passively to arrive at the conclusion that the marketer wants to drive home.
Example: Column Five created a virtual walkthrough of a data breach for Microsoft. The visual, called Anatomy of a Breach, shows a simulation of a data breach from a hacker's perspective. In between the visuals, Microsoft introduces their products that can be used to foil the breach attempt.
By the end of the data story, you can visualize how important it is to safeguard against hackers and how Microsoft is the best product to help you do so.
Approach #2: Explorative: Users actively synthesize data that is presented to them and draw their own learnings.
Example: Mideastmedia.org converted results from their 2015 survey on Media Use in the Middle East into an interactive infographic. Users could pick and choose the data they wanted to collate and generate the desired metrics.
Image via mideastmedia.org
Since users create their own data stories, the messaging is likely to leave a sustaining impact on them.
6. It's Versatile and Reusable
Different people consume and synthesize content differently. To cater to the unique needs of your customers, you can create data stories in different formats, including infographics, videos, case studies, brochures, and motion graphics. You can also repurpose your data stories into other formats and stretch its shelf life.
For instance, you can compile findings from a product whitepaper into an attractive infographic since not everyone enjoys reading whitepapers. Or you can create slick videos to simplify lengthy how-to manuals.
In this way, you can save on the money and effort you would have invested in creating content from scratch. That's smart marketing.
Example: Burt's Bees, the organic cosmetics brand, creates bite-sized YouTube videos to explain the process they follow to manufacture their popular beeswax products.
Image via YouTube
They also have quizzes and how-to demos on their website to solve common makeup concerns.
Image via Burt's Bees
Are You Ready to Explore Data Storytelling?
Data is a goldmine for business owners. Now you know that data is valuable for marketers as well. Data storytelling humanizes your brand, delivers value to customers, and boosts your credibility.
Do you have any questions about creating a great data story for your brand? Leave a comment and I'll be happy to help.