Last Updated on July 20, 2021
Who Is David Dobrik?
David Julian Dobrik, popularly known as David Dobrik, is a Slovak YouTube and social media personality who began on the video-sharing platform, Vine, before moving to YouTube.
Dobrik created his vlog-focused YouTube channel in 2014, which has since garnered millions of subscribers and views all over the world. At the time of writing, Dobrik's first YouTube channel had racked up more than 17.6 million subscribers and garnered over 7.3 billion views.
In 2019, Dobrik's YouTube channel totaled 2.4 billion views, ranking as the fifth-most engaging creator channel in terms of views. David Dobrik is currently famous as the leader of a YouTube ensemble known as The Vlog Squad.
The squad is made up of rotating selections of friends, most of whom are hilarious former Viners like Scotty Sire, Alex Ernst, Liza Koshy, Toddy Smith, Gabbie Hanna, etc.
Quick Facts
| | |
| --- | --- |
| Full Name: | David Julian Dobrik |
| Popular Name: | David Dobrik |
| Gender: | Male |
| Birth Date: | July 23, 1996 |
| Age: | 25 years |
| Parents: | Unknown |
| Siblings: | Ester Dobrik, Sarah Dobrik, and Toby Dobrik |
| Birth Place: | Košice, Slovakia |
| Nationality: | Slovak |
| Ethnicity: | Slovak |
| Education: | Vernon Hills High School |
| Marital Status: | Divorced. Formerly married to Lorraine Nash. |
| Sexual Orientation: | Straight |
| Wife/Spouse: | N/A |
| Children: | None |
| Dating: | N/A |
| Net Worth: | 8 million (as of June 1st, 2021) |
| Source of Wealth: | YouTubing, Podcasting, and Other Ventures |
| Height: | 5′ 11″ (1.78 m) |
| Weight: | 75 kg; In pounds: 165 lbs. |
Early Life and Career Information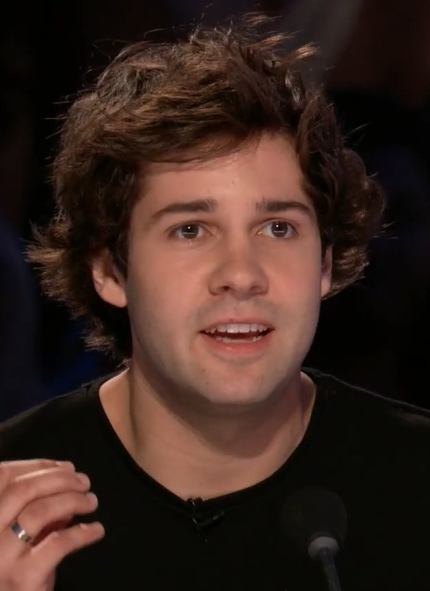 David Dobrik was born on July 23, 1996, in Košice, Slovakia. When Dobrik was six years old, his family moved to the US and settled in Vernon Hills, Illinois. Dobrik attended Vernon Hills High School and after graduating from high school, he moved to Los Angeles where he began to pursue his Vine career.
In 2013, Dobrik uploaded his first post on Vine. However, it was his second video clip that made him extremely popular. He partnered with several hilarious Viners, such as Gabbie Hanna, Jason Nash, and Liza Koshy, to grow his brand on the website.
In 2015, Dobrik leveraged his popularity on the Vine website to create his own YouTube channel, known as David Dobrik. But before launching his YouTube channel, Dobrik was part of the YouTube squad, Second Class. Second Class had more than 18,000 subscribers by the end of 2015.
Just like his Vine account, David Dobrik's YouTube channel was well-received. One of the reasons behind the success of Dobrik's YouTube channel is the originality and hilarious nature of the videos that he posts. Most of his videos are comedy vlogs that are inspired by real-life situations and partly-scripted scenarios.
In 2016, David Dobrik launched his second YouTube channel known as David Dobrik Too. On this channel, Dobrik mostly posts challenge videos, blooper reels, and direct sponsorship contracts.
David Dobrik's social media activity has since expanded to include podcasts. He launched a podcast titled VIEWS, which is a joint partnership between himself and fellow YouTuber, Jason Nash.
Other notable achievements by David Dobrik include:
• Featuring as a judge in Nickelodeon's musical contest titled America's Most Musical Family
• Co-hosting the 2019 Teen Choice Awards, along with Lucy Hale
• Emerging as the most popular influencer and social media personality among teenagers
• Co-presenting the American Music Awards of 2019
• Launching a mobile camera app, known as David's Disposable
• Featuring in a couple of films
David Dobrik's Net Worth
As of June 1, 2021, David Dobrik had a net worth of $8 million. He has earned his wealth from his successful career as a professional YouTuber. Before joining YouTube, Dobrik started off at Vine, where he estimates that he was earning between $1,500 and $2,000 every month. However, Dobrik's Vine earnings pale in comparison to what he reportedly make now.
According to Nailbuzz, the YouTuber makes approximately $24,000 per day from monetized ads on his main YouTube channel, known as David Dobrik. Dobrik's second channel, known as David Dobrik Too, is believed to make an estimated $4,750 a day.
However, David's YouTube earnings have been on a downward trajectory lately, thanks to the company's new stringent measures to ensure that all content posted on the site is family-friendly.
In an interview with Men's Health, David claimed that his YouTube earnings had dropped from $275,000 to under $2,000 a month. But going by his steady rise in the number of YouTube subscribers and views, it will only be a matter of time before he rediscovers his earning ways on the platform.
As you may expect, Dobrik's YouTube earnings are mostly due to sponsored ads. Some of the brands that he has partnered with on his channel include Chipotle and SeatGeek.
In addition to monetized YouTube campaigns, David Dobrik has also earned from various big-screen gigs. Dobrik is credited for his stellar performance in the Angry Birds Movie 2 and has featured in several other movies, including FML, Airplane Mode, and An Interrogation.
Still on his big-screen endeavors, Dobrik co-hosted the Teen Choice Awards that were held in August 2019 and was also a judge on the Nickelodeon's America's Most Musical Family show. While there are no official reports on how much he makes from his big-screen gigs, it certainly adds significantly to his overall net worth.
David Dobrik is also associated with a mobile photo-creation app known as David's Disposable. The app was launched in January 2020 and within a few months, it has already surpassed the 1 million downloads mark.
While it's free to download, users must pay a $1 subscription fee to access the app's premium features. In terms of real estate, David Dobrik lives in a $2.5 million home in Los Angeles.
Life Lessons from David Dobrik
One crucial life lesson from David Dobrik's success story is the importance of collaboration. David has maintained a team of resourceful friends right from his days on Vine.
Another lesson we can learn from Dobrik is the need to partner with people who can make you grow. Members of the Vlog Squad aren't just mere friends, they've all been instrumental to Dobrik's successful YouTube career.
From David Dobrik's career, the theme of passion for the job also stands out. David definitely loves what he does, and that's evidenced by his videos.
Memorable Quotes from David Dobrik
"I always loved the saying, 'Fortune favors the brave."
"I filmed my first vlog and I think it worked because I wasn't trying to make it work."
"I think people watch because of how genuine our friendship is and how authentic everything we do and say is in our videos."
"If you're in it for the money, there is no way you will ever make it! Never."
"YouTube is temporary. It's like, 'How long can one keep this up for?' And that's why I do interviews."
Conclusion
David Dobrik may not appear among the top ten wealthiest YouTubers today. But going by his resilience on the platform, Dobrik is definitely destined for greatness.