Last Updated on October 21, 2022
The history of tacos starts before the arrival of Europeans in Mexico. Anthropological evidence suggests that indigenous peoples in the Mexican Valley Lakes traditionally ate tacos filled with small fish. The Spanish conquistador Bernal Diaz del Castillo recorded the first octopus feast enjoyed by Europeans.
Hernan-Cortez arranged the meal for the captain of the Coyoacan. It is unclear why the Spanish language uses the word taco to describe this indigenous food. One proposed that it comes from the Nahuatl word 'tlahco' which means "half or in the middle", referring to the way it is formed. In 1964, Roberto L. Gomez founded the National Taco Council.
The burrito-related holiday began in 1969. The Governor of Texas has declared the week before Cinco de Mayo "Taco Week." Within five years, it had expanded to include "Taco Month."
In 2009, a California restaurant called Del Taco declared National Taco Day to be held on October 4th every year. The restaurant offers free tacos to anyone who comes in on that day and says "Happy National Taco Day."
If you are a big fan of taco, then you will definitely enjoy this festival. This traditional Mexican-style food consists of tortillas rolled or folded around the filling. Tacos are generally made with corn or wheat tortillas, filled with pork, beef, chicken, seafood, cheese, and vegetables, and served with guacamole, salsa, avocado, tomatoes, lettuce, garnish, onions and minced meat.
Here are some delicious taco recipes that you can make at home:
Classic ground beef taco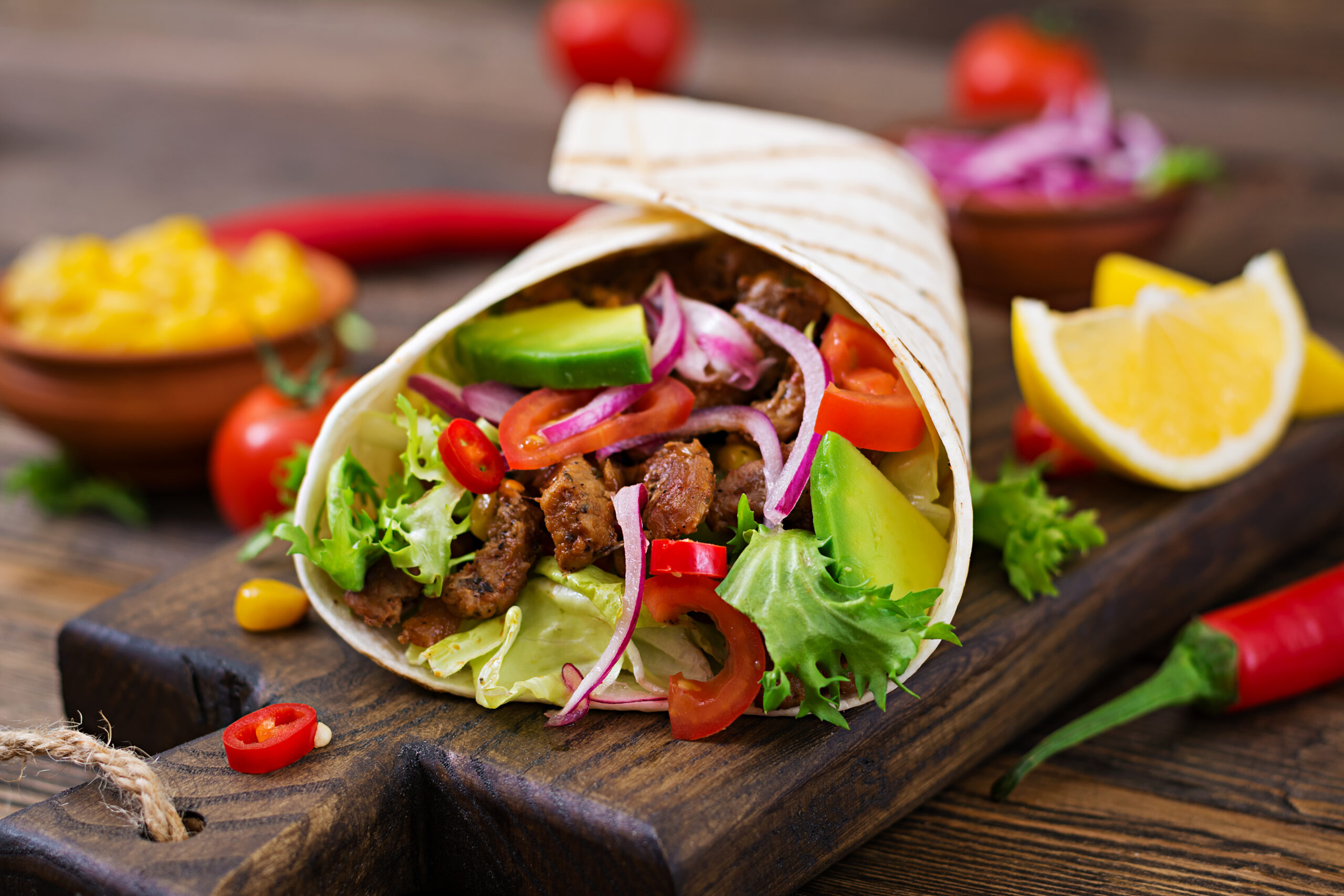 A delicious, juicy family dinner option that takes only twenty minutes or so to make and allows for easy salt and calories control.
Ingredients: pepper, salt, cumin, chili powder, garlic powder, tomato sauce, ground beef, oil, corn tortillas (preferably six inches).
Notes: Ground beef must be 70-80% lean, retaining some of the fat helps add flavor to the meat. Regular tomato sauce will be ok, but if you want a more fragrant flavor, you can use thick salsa instead. Rapeseed or vegetable oil is the best oil for frying the tortillas. Pan-fry the tortillas into crispy corn husks instead of deep frying them.
Specific steps:
Step 1: Cook the ground beef until fully browned and drain the fat. Remove and use a low heat, add the prepared chili powder, cumin, salt, garlic powder and pepper, a small amount of tomato paste, and water to stir fry. Let the beef simmer in the sauce at the end to make the meat taste more rich.
Step 2: Pan-fry the tortillas in a small amount of oil in a medium pan. After frying on both sides, fold it in half to get our usual shape.
Step 3: Add the prepared beef and desired ingredients to the corn husks, or add grated cheese or shredded lettuce for garnish.
Fish taco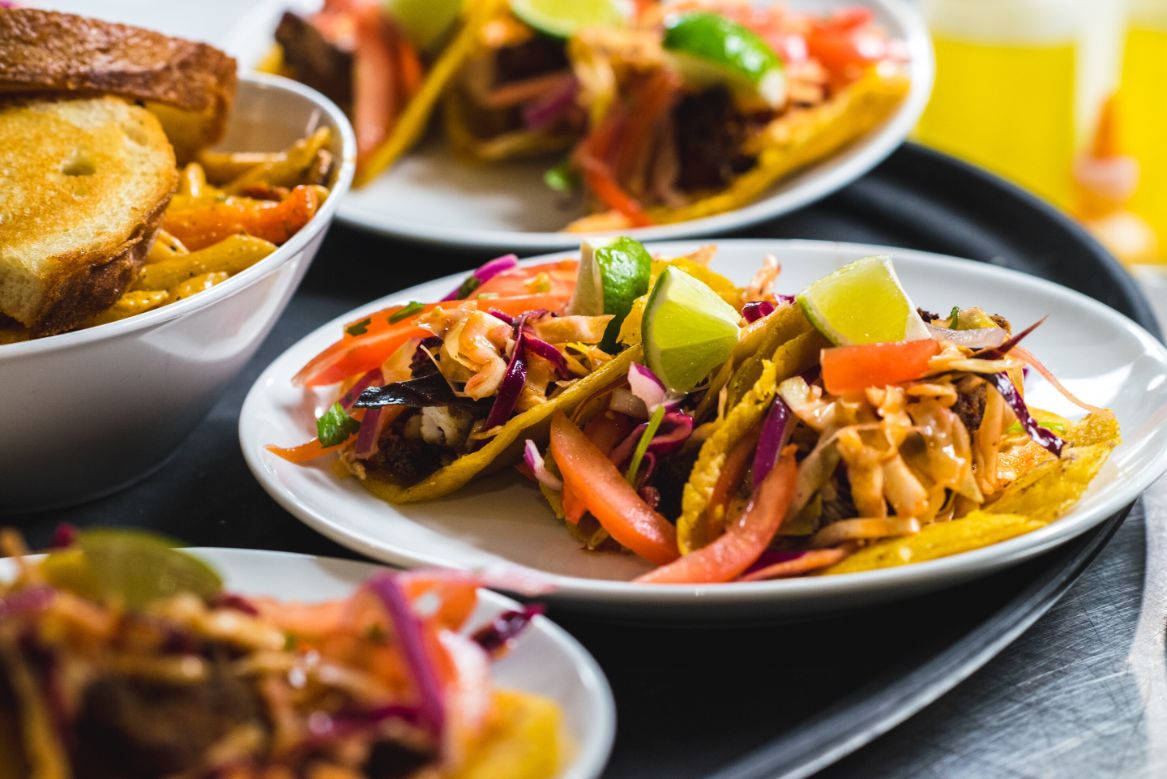 Flaky cod or tilapia, marinated in a mixture of lime juice, chili powder and cumin for the ultimate taste bud indulgence. If you love seafood, this must be a good choice.
Ingredients: extra virgin olive oil, lime juice, paprika, ground cumin, flaked cod or tilapia, vegetable oil, salt, black pepper, tortilla crust, diced avocado, sour cream, mayonnaise, chopped cilantro, honey, shredded purple cabbage, corn kernels, chili.
Specific steps:
Step 1: In a small bowl, whisk olive oil, lime juice, paprika, cumin, and chili powder together.
Step 2: Add the cod to the mixing bowl and mix well. Marinate for 15 minutes.
Step 3: To make the taco salad while the cod is marinating, in a large bowl, toss mayonnaise, lime juice, cilantro, and honey. Add cabbage, corn and chili, then you need to season with salt and pepper.
Step 4: Heat the vegetable oil in a non-stick pan. Take cod from marinade and season both sides of each filet with salt and pepper. Add the fish, fry until opaque with 3 to 5 minutes per side. You should wait for 5 minutes before peeling with a fork.
Step 5: Serve fish on tortillas with corn salad and avocado. Squeeze lime juice on it and garnish with sour cream.
Cauliflower taco
This recipe is basically a boon for vegetarians. If you want very crispy cauliflower, you must use an air fryer for the best results.
Ingredients: Thinly sliced red cabbage, diced red onion, jalapeno peppers, garlic, orange juice, apple cider vinegar, salt, paprika, cauliflower, almond milk, mayonnaise, maple syrup, cilantro, sliced avocado, tortilla husks, vegetable oil, bread crumbs, flour.
Specific steps:
Step 1: Make a salad with cabbage, pepper, onion, garlic, orange juice, apple cider vinegar, and kosher salt
Step 2: Add flour, spices, salt, pepper, almond milk to a bowl and stir. Dip the cauliflower into it, remove and coat with breadcrumbs.
Step 3: Place the breaded cauliflower in the air fryer and spray with a little oil. Fry at 400° for 15 minutes.
Step 4: Take another bowl and mix mayonnaise and maple syrup.
Step 5: Pan fry the tortillas, top with fried cauliflower, avocado, pickled salad, cilantro and a dash of mayonnaise and serve.
If you think that preparing raw materials is troublesome or difficult to operate for a novice in the kitchen, you can go directly to the restaurants or order online to taste tacos. For example, some famous brands such as Taco Bell, Deltaco, Chipotle, and Tijuana Flats can satisfy your appetite.
But don't forget to check before you place an order if there are some discounts you can find on Groupon, CouponBirds, and Slickdeals.
While taco comes in many shapes and forms nowadays, even the most classic beef taco isn't the most authentic. Because taco has a long and rich history, it was originally a form of street food in Mexico and is currently popular in the United States as well. Filled with spiced meat and savory toppings, these tacos are a favorite and have a dedicated holiday to celebrate.