Last Updated on August 6, 2021
Who Is Dennis Rodman?
Dennis Keith Rodman is an American former professional basketball player who became widely famous for his impressive defensive and rebounding techniques. Rodman spent his professional career with a total of five National Basketball Association (NBA) clubs, including the Detroit Pistons (1986 – 1993), San Antonio Spurs (1993 – 1995), Chicago Bulls (1995 – 1998), Los Angeles Lakers (1999), and the Dallas Mavericks (2000).

Rodman's basketball career also includes playing for a couple of non-NBA clubs, such as Long Beach Jam (2003 – 2004), Fuerzia Regia (2004), Orange County Crush (2004 -2005), Torpan Pojat (2005), Tijuana Dragons (2005 – 2006), and Brighton Bears (2006).

During the peak of his career, Dennis Rodman won numerous accolades, including:

• 5 NBA Champion awards (1989 -1990 and 1996 -1998),
• 2 NBA All-Star awards in 1990 and 1992,
• 2 NBA Defensive Player of the Year awards in 1990 and 1991,
• 3 National Association of Intercollegiate Athletics (NAIA) awards from 1984 – 1986,
• 7 NBA All-Defensive First Team awards (1989 – 1993, 1995, and 1996), and
• 7 NBA Rebounding Champion awards from 1992 – 1998

In addition to basketball playing, Rodman has also pursued a career as an actor, wrestler, author, and political diplomat.
Quick Facts
| | |
| --- | --- |
| Full Name: | Dennis Keith Rodman |
| Popular Name: | Dennis Rodman |
| Gender: | Male |
| Birth Date: | May 13, 1961 |
| Age: | 60 years |
| Parents: | Philander Rodman, Jr. and Shirley Rodman |
| Siblings: | 28, including Debra Rodman and Kim Rodman |
| Birth Place: | Trenton, New Jersey |
| Nationality: | American |
| Ethnicity: | African-American |
| Education: | South Oak Cliff High School, Cooke County College (now North Central Texas College), and Southeastern Oklahoma State University |
| Marital Status: | Divorced. Previously married to Annie Bakes (in 1992 but the couple divorced after only 82 days), model Carmen Electra (from 1998 until their divorce a year later), and Michelle Moyer (from 2003 until their divorce in 2012) |
| Sexual Orientation: | Straight |
| Wife/Spouse: | N/A |
| Children: | Alexis Caitlyn (from his first marriage) and Dennis Jr. and Trinity Rodman (from his third marriage) |
| Dating: | N/A |
| Net Worth: | USD 500,000 (as of August 1, 2021) |
| Source of Wealth: | Basketball Salary, Acting, Wrestling, Writing, Diplomatic Endeavors, Endorsement Deals, and Other Engagements |
| Height: | 6′ 7″ (2.01 m) |
| Weight: | 103 kg; In pounds: 228 lbs. |
Early Life and Career Information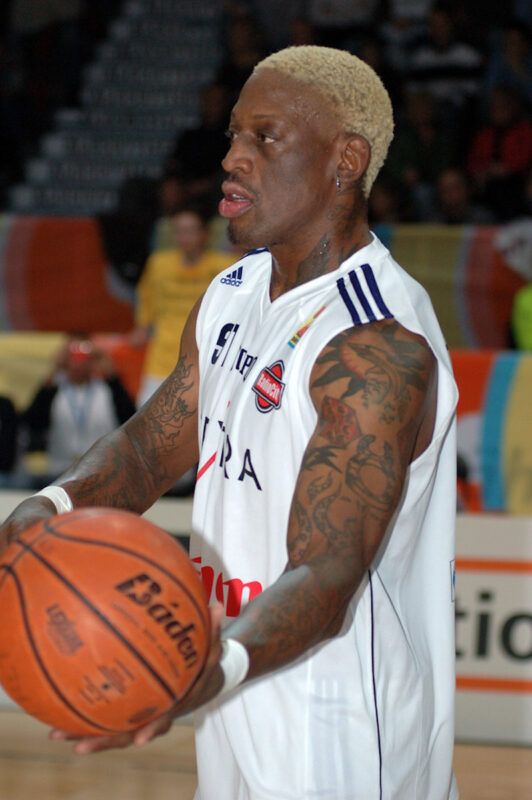 Dennis Rodman was born on May 13, 1961, in Trenton, New Jersey, to Philander Rodman, Jr. and Shirley Rodman. His father was an enlisted member of the United States Air Force who later fought in the Vietnam War.

Philander Rodman abandoned the family and eventually settled in the Philippines when Dennis was a very young kid. Following his husband's departure, Shirley Rodman was left with the sole responsibility of fending for her family. She took several odd jobs, up to four per day, to make ends meet.

Dennis Rodman became interested in basketball while attending South Oak Cliff High School. However, he was not exactly considered a promising player. Besides his not-so-outstanding performance, he also had his 5'6" height working against him. In fact, he was unable to make the basketball teams merely on account of his height.

After graduating from high school, Rodman accepted an overnight janitor job at Dallas Fort Worth International Airport. During his short stint as a janitor, he experienced a sudden growth spurt from a height of 5'11" to 6'7", and decided to try basketball once again. He joined and played basketball for the Cooke County College (now North Central Texas College) for one semester, then dropped out due to poor grades. He then transferred to Southeastern Oklahoma State University, where his basketball star began to shine. While playing for the university, Rodman won three NAIA All-American awards.

Rodman joined the 1986 NBA draft and was drafted by the Detroit Pistons, emerging the 3rd pick in the 2nd round (27th overall). He played for the Detroit Pistons until 1993, when he was traded to the San Antonio Spurs. Dennis Rodman would go on to play for three more NBA clubs, as well as six non-NBA clubs during the course of his professional basketball career.

In addition to basketball, Dennis Rodman also tried his hands at wrestling, although his wrestling career was not exactly successful.

Rodman has also been involved in the film and television industries. In 1996, he had his own reality television show on MTV, known as The Rodman World Tour. The also appeared in and won the main prize of the ABC reality TV series, Celebrity Mole, in 2004. In the film industry, Rodman is mostly remembered for his role in Double Team (1997) and Simon Sez (1999). Also, his 1996 biography titled Bad As I Wanna Be was adapted into a film titled Bad As I Wanna Be: The Dennis Rodman Story. He went ahead to release another biography in 2005, titled I Should Be Dead By Now.

In recent years, Dennis Rodman has been mostly known for his diplomatic endeavors. He has made numerous trips to North Korea and brokered the 2018 historic peace summit between US President Donald Trump and South Korean President Kim Jong-un.
Dennis Rodman's Net Worth
For someone who played basketball professionally for two decades and ended up spearheading historic diplomatic missions, it would be natural to imagine that Dennis Rodman swims in millions. However, that's not the case.

As of August 1, 2021, Dennis Rodman had a net worth of $500,000. Which is significantly low, considering that Rodman earned a total of $27 million in NBA salary alone. That's today's inflation-equivalence of $43 million.
Plus, he has involved himself in numerous other income-generating ventures, including acting, writing, wrestling, and more recently, endorsement deals with a company known as Pot Coin and his diplomatic missions. For instance, Rodman won the main prize of $222,000 for his participation in the 2004 edition of Celebrity Mole.

So, why doesn't Rodman's efforts reflect on his net worth?

Well, despite earning millions in basketball salary and other endeavors, Dennis Rodman has also lost millions in fines due to professional misconduct. In 1997, Rodman was slapped with a $200,000 fine for kicking a referee in the groin. In addition to the fine, he was also suspended for 11 games. According to estimates, that single incident cost him $1 million.

Rodman's love life has also contributed in draining his bank accounts. According to court records from a divorce hearing filed by his third wife, Michelle Moyer, it emerged that Rodman owned Moyer upwards of $860,000 in child support in 2012.

Other ways Dennis Rodman has lost money include through expensive rehabs due to his alcohol problem, as well as his lavish lifestyle.
Lessons from Dennis Rodman
1. Never give up

Dennis Rodman had several factors working against his basketball ambitions, including his height and introverted character. But he never gave up on his dreams.

2. Turn your pain into motivation

Rodman's childhood was not exactly a happy one. His father abandoned the family when he was young and at some point, he even contemplated suicide. However, he was able to reinvent himself to eventually emerge as one of the most talented basketball players.

3. It's not always about the money

True happiness in your job doesn't come exclusively from hefty paychecks. Rodman proved this when he left Detroit Pistons for San Antonio Spurs with $11.8 million remaining on his contract with the Pistons.
Famous Quotes by Dennis Rodman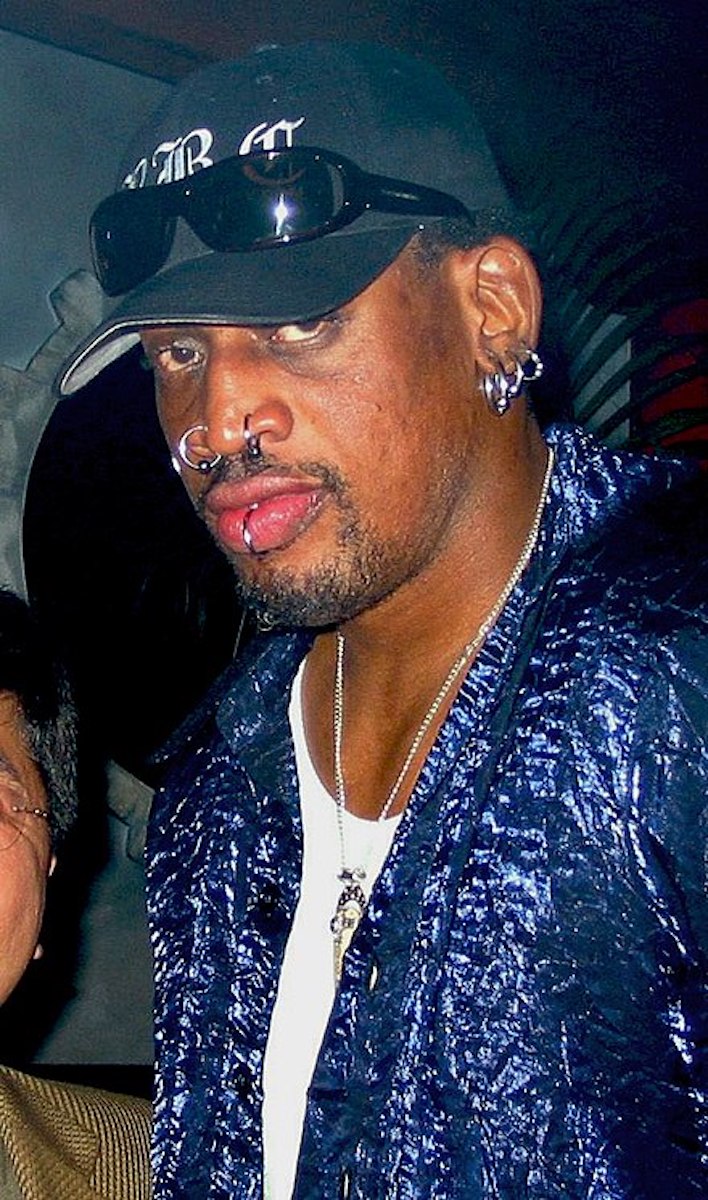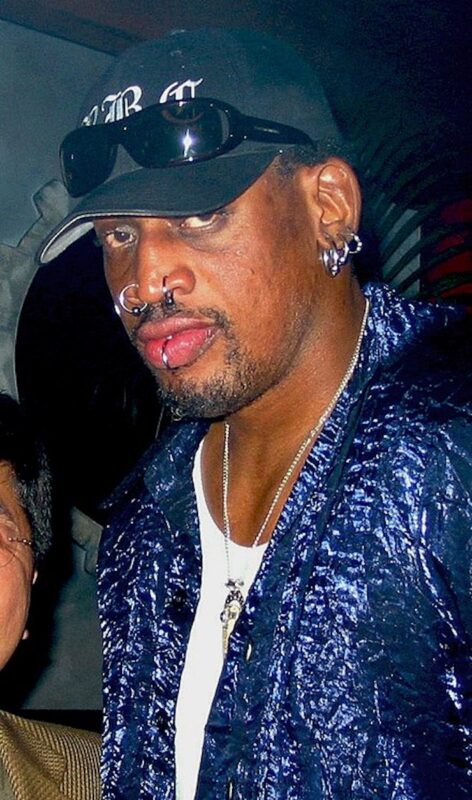 "A player dreams of being a superstar, but he doesn't want people flocking all over him asking for an autograph."
"At least 50 times. I've jumped off a building, jumped off a cliff in a car. I've been in bedrooms when women came in with knives and guns."
"Death has always had a prominent place in my mind. There are times when I think somebody might kill me."
"I spent money, I slept with women around the league, but I always kept my mind on the game."
"The doors fly open when you're a professional athlete."
Conclusion
Dennis Rodman is one of the most talented athletes ever to have graced the basketball court. Although his current net worth is not commensurate with his career earnings, Rodman's legacy will live on for years.