Last Updated on March 8, 2022
In recent years the design world has seen a rapid increase in the amount of digital freebies. Developers can use freebies to help create aesthetically pleasing interfaces. Newbie designers can study freebies to learn how they're built.
Hundreds of amazing new freebies are released every month all over the Internet. But where can you find them?
Below I've curated the best websites to find digital design freebies including PSD/AI files, Sketch files, and other free resources like fonts and website mockups. The sites in this list still actively curate free design resources, so they're all worth a visit if you're searching for quality freebies.
Let's start with Dribbble which is my favorite place to find design freebies. The site launched in 2009 and has grown rapidly ever since.
Dozens of new freebies are posted to Dribbble every month, mixed in with the thousands of other shots. Thankfully you can search by the freebie tag which shows the latest posts tagged with "freebie". But Dribbble limits searching past a certain number of pages, so you'll only be able to view the most recent 2-3 months of freebies even with a pro account.
On WhatPixel I actively curate monthly Dribbble freebies to help designers keep up with the onslaught of free Dribbble content. This isn't the perfect solution but it's one of the best ways to keep track of freebies without the limitations of Dribbble's search.
Unfortunately some freebies aren't even tagged with freebie, like these icons by the Thai designer Sunbzy. This is why Dribbble's search isn't always the perfect solution.
But if you're willing to wade through high-volume content I guarantee you'll find some of the best quality freebies mixed in with the endless stream of Dribbble posts.
365PSD is one of the original freebie galleries which was first launched in 2010 releasing one new freebie each day. It has 6+ years of freebie archives including UI kits, icons, buttons, banners, and typical web design page elements.
Most of the content on 365PSD relates to digital designs so you won't find a lot of print mockups. This is great for web & app designers that just want to find freebies for a new project.
You can sort through content by PSDs or vectors based on whatever you need. I haven't seen any Sketch freebies on the site at all. But with a name like 365PSD it's fair to assume Photoshop files are the predominant resource.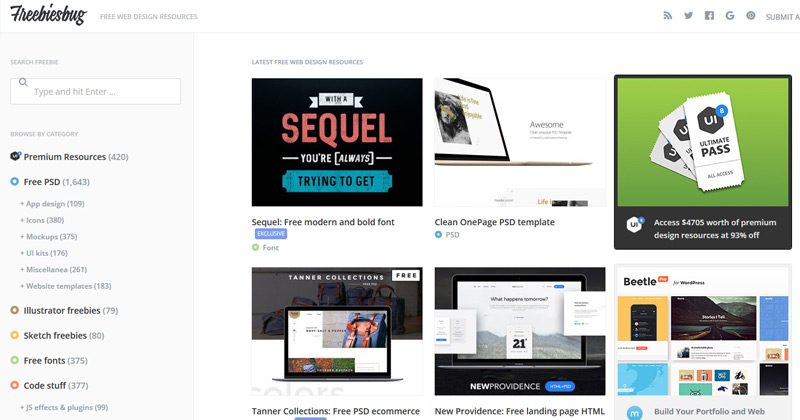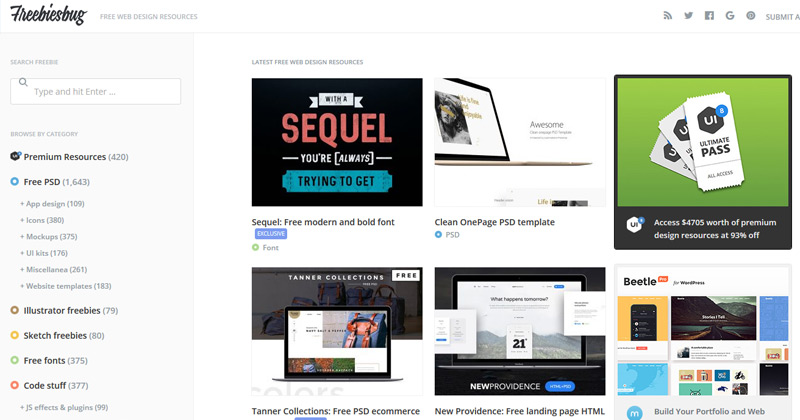 I've really grown to enjoy the content on Freebiesbug. It has a very simple layout with easy-to-access navigation links in the sidebar. Content ranges beyond simple PSDs to include Illustrator/Sketch files, free fonts and even free code snippets.
Freebiesbug is one of the best freebie websites for web/UI designers. Each new resource is cataloged in an orderly fashion with unique color schemes given to each category (blue for PSDs, red for code snippets, etc).
And if you're a designer looking for exposure try submitting your own freebie into the site. It's a bustling community and sharing one resource on this site is sure to generate exposure.
del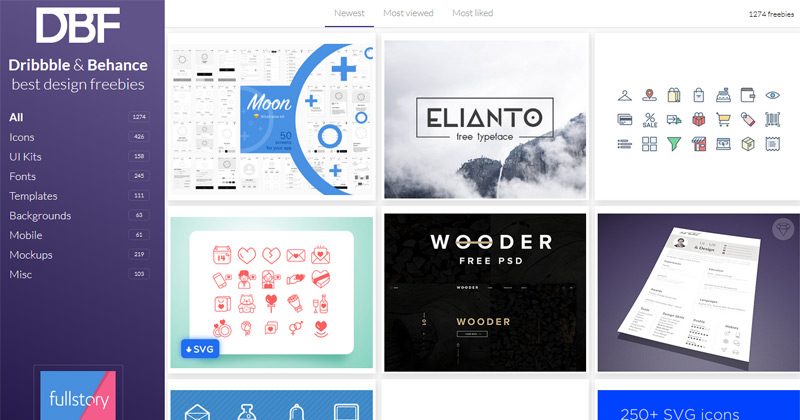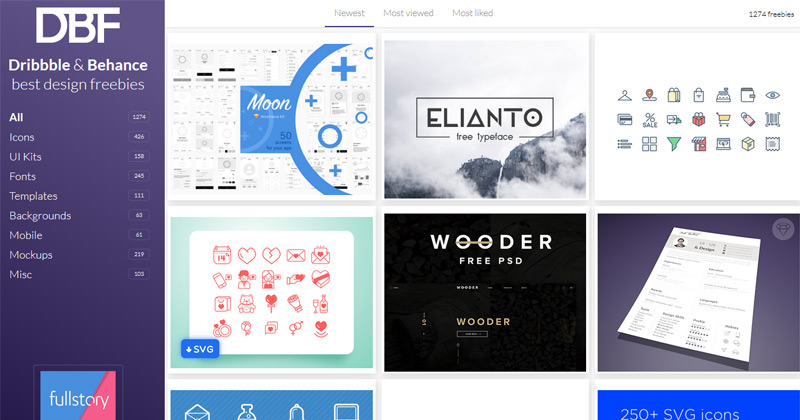 Most designers know about freebies on Dribbble, but few remember that Behance has designers that release freebies too.
Thankfully DB Freebies curates a gallery of Dribbble and Behance freebies together on one website. At the time of writing this post DB Freebies has 1200+ freebies in its growing collection.
Content includes Illustrator vectors and PSD mockups along with more obscure freebies like fonts and print mockups. You can also sort content by categories to filter your search.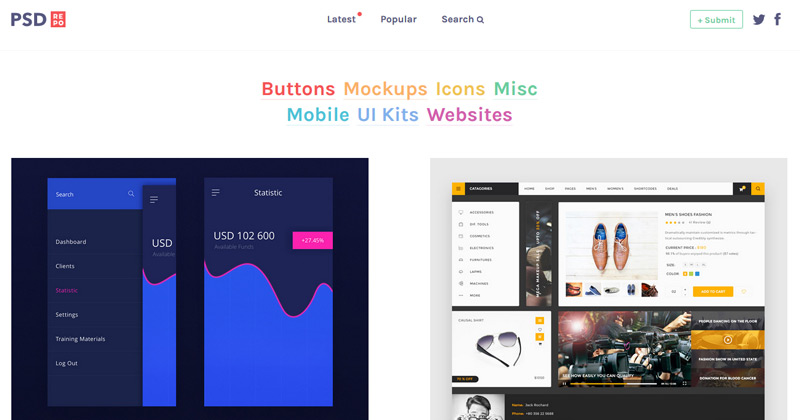 Short, sweet, and to the point is the best way to describe PSD Repo. It's a freebies-only website with a very minimalist theme to attract user input.
You'll find a host of quality PSD freebies with a slant towards UI/UX design. There's also a sister site named Sketch Repo run by the same person. These two sites are perfect for anyone in need of UI design freebies ranging from simple icon sets to detailed UI kits.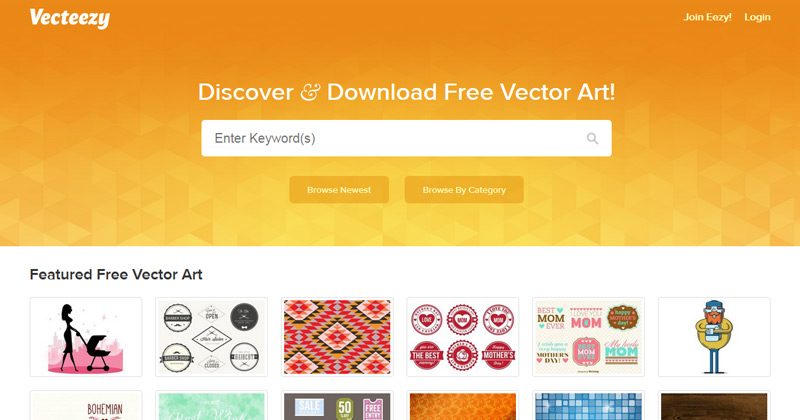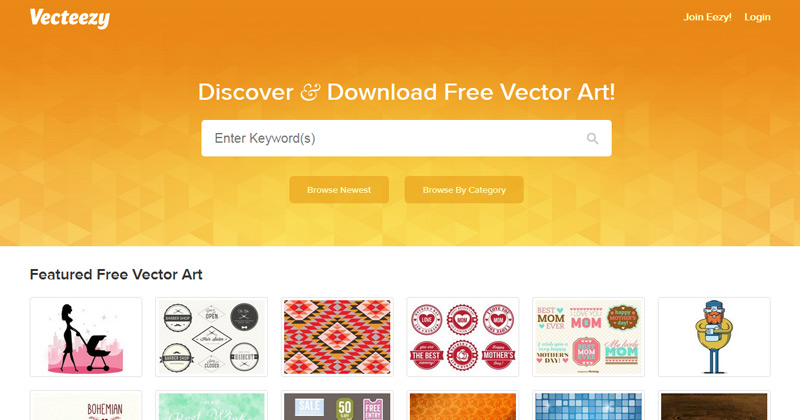 Vecteezy is the very popular vector art freebies gallery curated by the Eezy Network. Vecteezy has tons of freebies including brushes, icons, patterns, textures, and vector illustrations.
The site acts like a big library with a primary search feature. Just type whatever you're looking for and see what you can find.
If you're not looking for anything specific you can always browse the newest submissions to peruse the latest entries.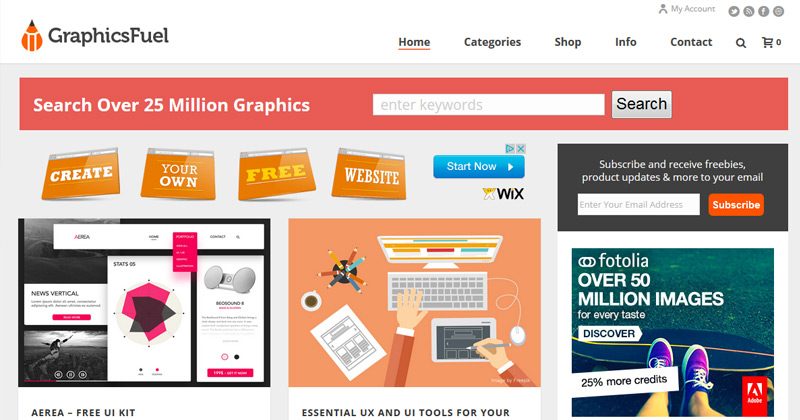 I first bumped into GraphicsFuel on their Dribbble page which publishes many of their new freebies each month. The site is a hybrid blog/freebies community mixing useful design articles with PSD freebies.
Freebie content on GraphicsFuel includes a wide array of content from PSD mockups to detailed icons. The most difficult part is actually browsing the site and limiting content to freebies. There is a dedicated free PSDs category but the freebies are split into so many different categories that it's tough to keep up.
But the site still produces freebies on a monthly basis and it's worth saving for future reference.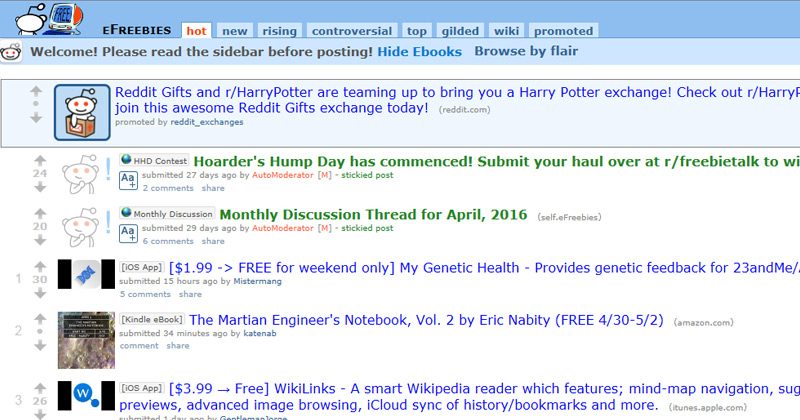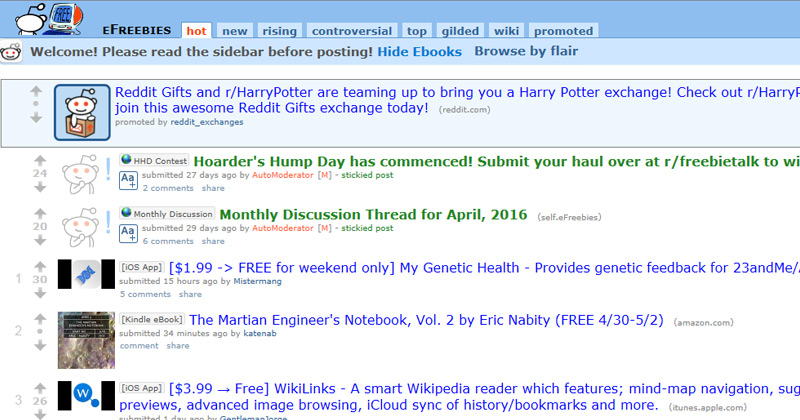 Reddit is a large social networking site that serves over 200MM uniques every single month. The site breaks down into smaller communities called subreddits, each dedicated to a different topic.
One subreddit called /r/eFreebies is a great place to find free design resources. The community is built around free digital resources so you'll also find stuff like eBooks, music, and free games.
But there's a good amount of design content shared on the sub and it's definitely worth a visit. You can even filter submissions tagged with design so you only see the design-related freebies.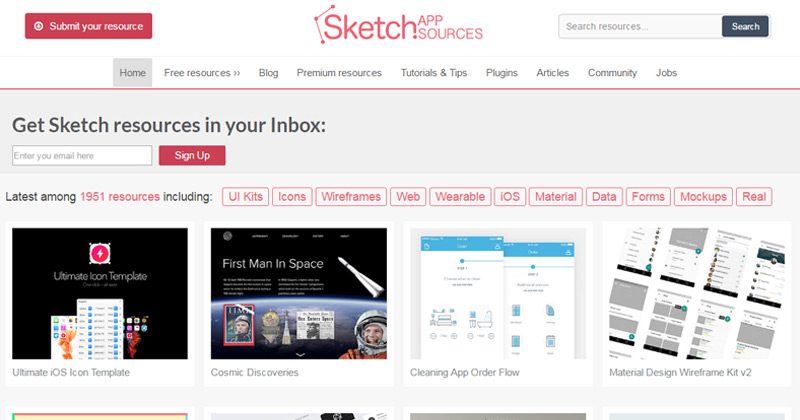 The design program Sketch has made big waves in the community. It's a much cheaper alternative to Photoshop and while it is limited to OS X users, it's the best alternative for digital UI/UX designers.
Sketch App Sources curates the best freebies related to Sketch in a clean, organized fashion. Every resource is labeled with tags like icons, UI kits, and material design to name a few.
This site is more like an ultimate destination for Sketch users. It has its own job board and a list of free Sketch tutorials for beginners. Come for the freebies, stay for everything else!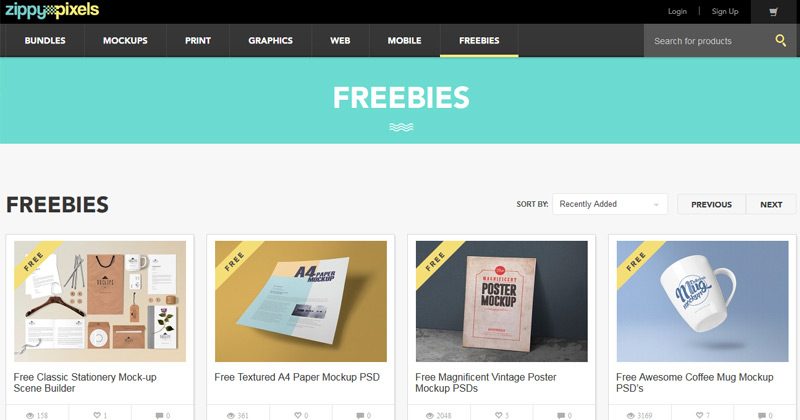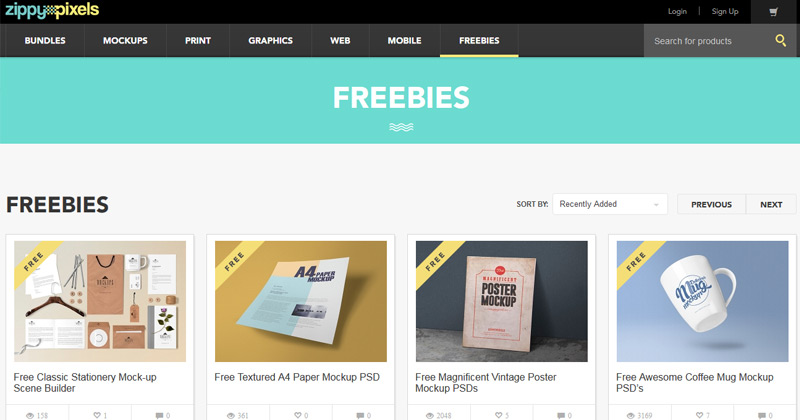 ZippyPixels sponsors a lot of premium content but the site does have a very active freebies section with great design resources. New content is posted weekly with a focus on digital mockups.
Most free content is geared towards product designers and print designers. So you'll find a lot of PSD mockups for things like coffee cups, t-shirts, book covers, and carrying bags. A similar site I'd recommend is Freebies Booth, although it doesn't update anywhere near as often as ZippyPixels.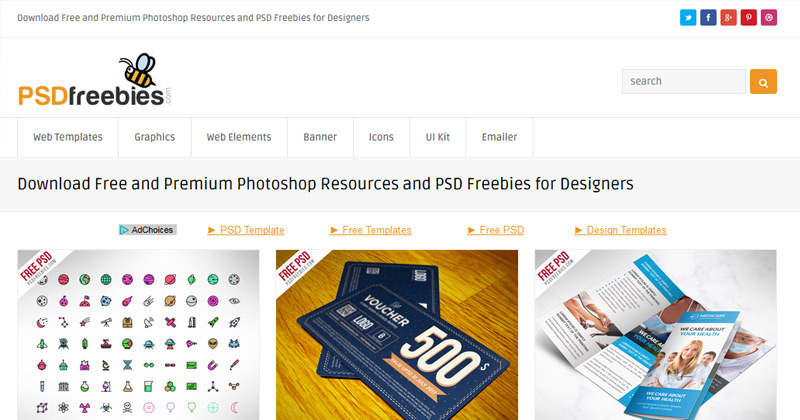 With a name like PSDFreebies it should be obvious what to expect. Lots of new freebies are published every week ranging from website templates to iconsets and digital mockups.
All PSDs are completely free to download but they do require a social share to access the link. This is an unpopular choice because it forces users to perform an action just to download something that should be completely free. But some content on the site is worth the effort.
PSDFreebies is still fairly new so it doesn't have a tremendous library of content. But it is growing quickly so keep your eyes on this site. They also publish new freebies on their Dribbble account if you want to follow there.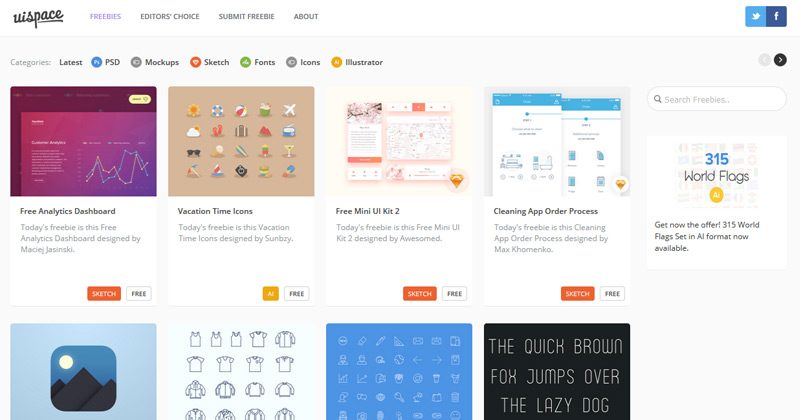 UI Space has an amazing collection of freebies with an incredible website design. The grid layout fits well and gives each freebie just enough room to catch your eye.
You can sort freebies by type like PSD or Sketch, and you can browse the most recommended freebies in the editor's choice list.
Each freebie has its own unique attribution requirements so be sure to check the license before using. And if you want to share your own design work just submit a freebie and get yourself listed.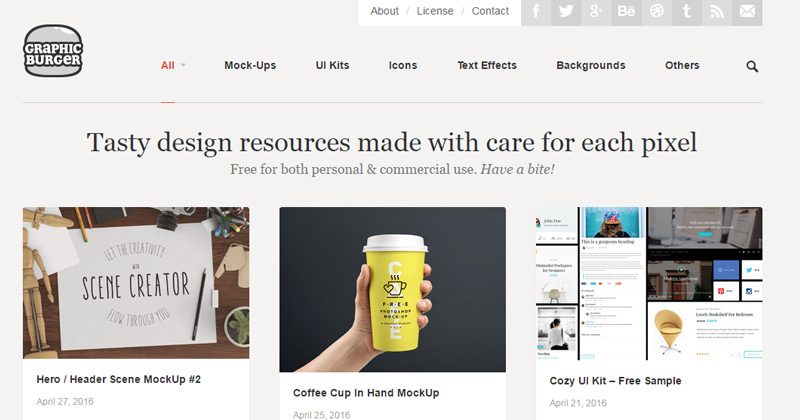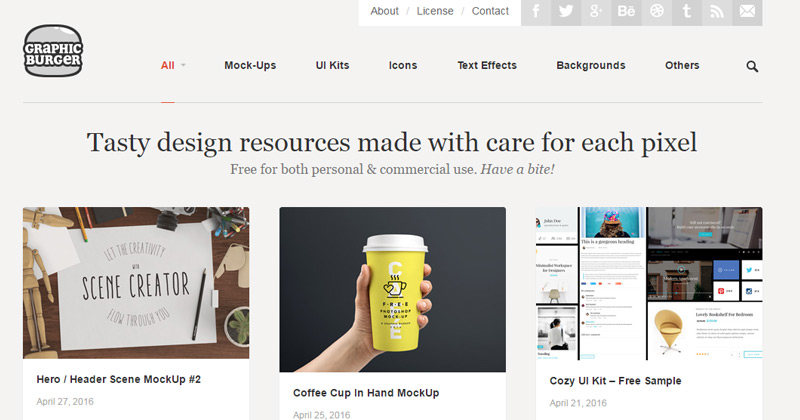 GraphicBurger is a newer freebies site curating backgrounds, mockups, UI kits, icons, and other digital design stuff. It has an open use license where all freebies can be used in unlimited commercial or personal projects with no required attribution.
The GraphicBurger homepage uses a grid layout with lazy-loading content for pagination. You can endlessly scroll through a sea of freebies and download anything that catches your attention.
Check out the site and see what you think of their freebies. The site's owner Raul Taciu also shares freebie previews on Dribbble under the username GraphicBurger.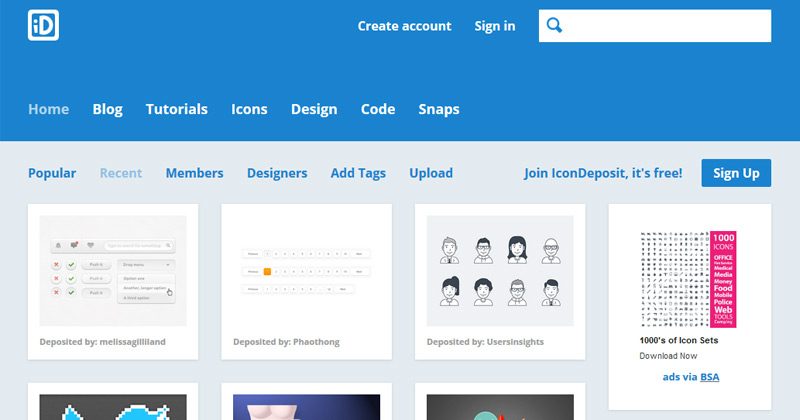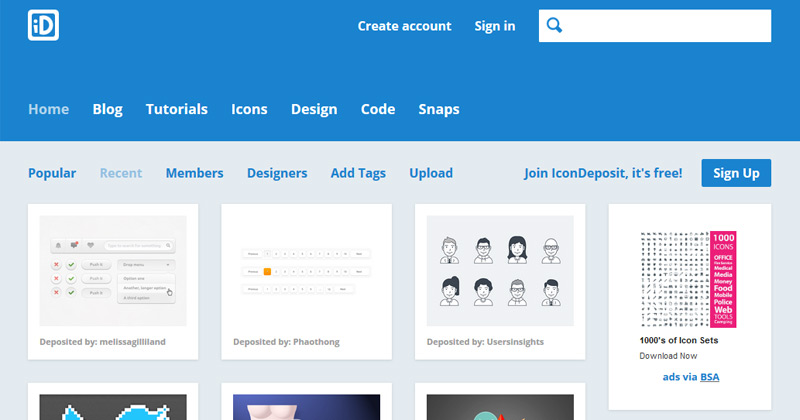 Everything on Icon Deposit is created and submitted by designers from around the world. It's like a social community where designers can share freebies with other designers.
Freebies can be liked by members of the community and sorted by most popular based on these votes. Everything is user-curated and it's a great site for any type of design freebie.
The name does suggest a special focus on icons, but really you can find any type of freebie. Form elements, buttons, mobile app UIs, even print mockups like posters and trifold brochures are part of the collection.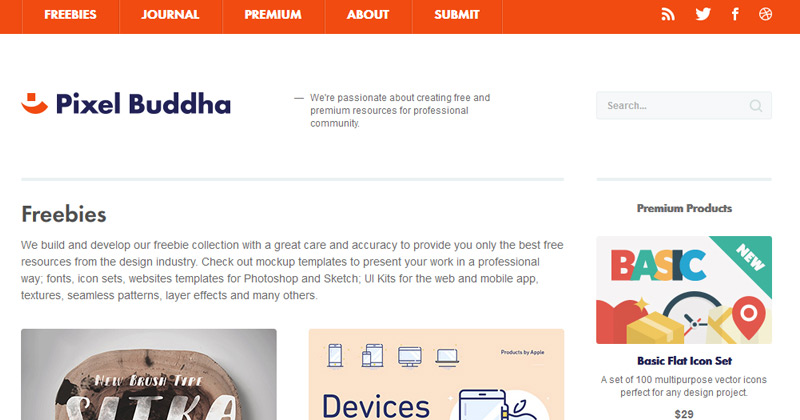 PixelBuddha freebies are mixed in with the site's blog posts and premium content. But you can browse the freebie category for just the free resources—and these are some top-shelf design resources.
The site releases new free content every month with direct download buttons. No requirements, no waiting, just great unique freebies at the click of a button.
PixelBuddha is also open to user submissions if you want to share your own freebie(s) with the creative community.
You can also look for inspiration in the thousands of the templates that the modern site builders offer. Just go to any of the website creation tools site and you can see numerous professional demos. A list of the most popular site builders you can find here.
I hope this collection can introduce designers to some new sites for finding quality design resources. Freebies are very popular in the design community and I think we're gonna see a lot more of these resources in the years to come.