Last Updated on March 3, 2023
The world of design is an ever-evolving one. Creators are always coming up with new concepts and methods to bring their visions to life. From bold color palettes and sleek minimalist designs to the integration of technology and Artificial Intelligence, the design industry keeps pushing boundaries.
As with every passing year, 2023 promises to come with a shift that reflects the ever-changing needs and values of our society. The advancements in technology and the shift in customer preferences will likely have a major influence on design trends in 2023.
Freepik, a leading provider of design resources, has predicted the hottest design trends that are going to take the world by storm in 2023. Whether you're a seasoned designer, a creative entrepreneur, or just someone who appreciates great designs, these are great design inspirations that will get your creative juice flowing.
8 Graphic Design Trends for 2023

1. Photography trends
Designers and other creators alike are now seeking more ways to blend fantasy and reality through photography.
The global pandemic reminded us of the importance of capturing and cherishing every single moment of our lives, and we are seeing more designers infuse this in their designs.
There is also a trend of creating fantastical images that allow viewers to idealize versions of the past and future. This mix of reality and fantasy in photography has created a unique design trend that balances every day with the extraordinary.
2. Vector Trends
Vector graphics come in different forms. From hand-drawn illustrations to 3D cartoons, vector images evoke nostalgia, but with a more contemporary twist. The imperfect style of these designs gives them a unique and strong touch.
With bold color combinations and playful elements, vector designs offer a refreshing take on traditional design concepts. They encourage the creativity necessary for designers to create a lasting impression.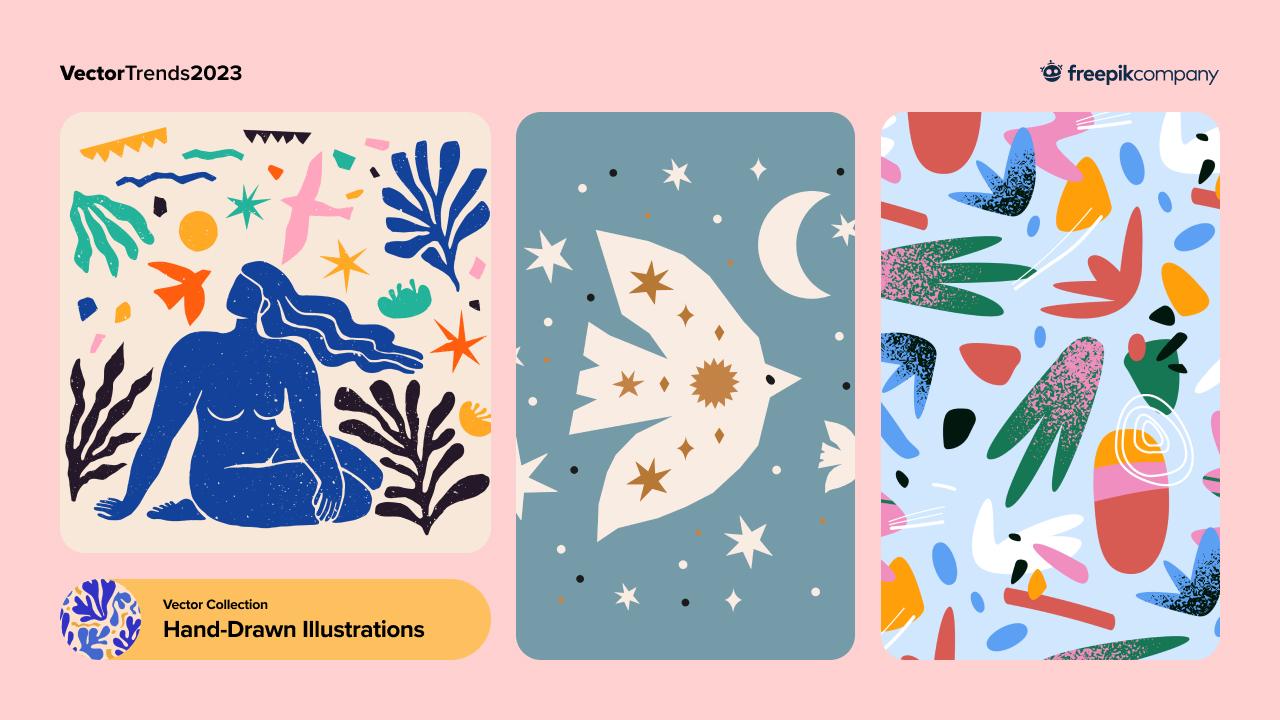 Vector Trends 2023 – Hand-Drawn Illustrations Freepik
3. PSD Trends
With the start of 2023, the trend of utilizing Photoshop Document (PSD) to create minimalistic and clean designs is expected to gain more popularity. This visual trend is simple, yet functional, and uses limited color pallets as well as negative spaces in an effective manner.
The use of abstract and surreal elements in PSD to create a minimalistic and clean design is expected to gain more popularity in 2023.
4. Icon Trend
We can't say icon is a new design trend. However, we are used to seeing more realistic and sophisticated icons in the design industry. In 2023, we will witness a shift towards more-eye catching energetic icons, that incorporates motion, offering a more vibrant experience.
5. Font trend
Another design trend that has really stood out in 2023 is the font trend. Font trend is all about creating a personalized visual identity. Aside from bold fonts, people are opting for vintage fonts which give a more personalized style and offer a sense of intimacy and delicacy.
These fonts have a more unique individualized look, making them perfect for adding a touch of personalization to your design.
Comic Sans, on the other hand, is a timeless font that is ideal for making a strong visual impact. Although it may be considered a more casual font, it still has a place in the world of design and can be used effectively in a variety of contexts.
6. 3D Trends
With the growing popularity of 3D technology, 3D designs are being widely adopted across several fields such as arts, fashion, video games, and web illustrations.
The use of 3D opens a whole new realm of creative possibilities, allowing artists and designers to create highly realistic and visually stunning objects, landscapes, and environments.
The ability to add depth and dimension to design has significantly advanced creativity, making 3D one of the buzzing design trends.
7. Color Palette Trends
You can't talk about design trends without mentioning colors. And as you would have guessed, Freepik didn't fail to mention this trend. Color is arguably the most important aspect of every creative process. In recent years, visual trends have shifted towards using bold and vibrant colors, often inspired by nature and incorporating a wider range of hues.  
Additionally, monochromic color palettes, which feature various shades of one color continue to be a popular design trend, especially among the minimalist. This color palette provides a simple, yet effective way to create a cohesive design.
8. Viva Magenta Trend
In the visual trends guide by Freepik we are also exposed to the Viva Magenta trends. The bold, vibrant shade of pink-purple design style has recently emerged as a popular trend in fashion, home decor, graphic design, and more.
Viva Magenta embodies optimism and encourages us to embrace unconventional ideas and approaches, especially in light of the challenges posed by the recent global pandemic. It reminds us of the resilience and adaptability of the human spirit and inspires us to keep pushing forward, exploring the endless possibilities of the Magentaverse.
How to implement it on social media?
Social media offers a great opportunity to communicate effectively and capture the attention of many through visual design. Incorporating these design trends into your social media strategy can greatly enhance your brand reach. The visual trend guide by Freepik offers a useful source of graphic design inspiration that you can apply on social media in a way that aligns with your social with your brand and message.
For example, by incorporating vintage fonts and hand-drawn illustrations into your design, you can evoke a sense of warmth and familiarity among your social media audience. This offers an easy route to appeal to your audience's emotions in a way that can promote brand growth.
Template Trends 2023, Nostalgia – Freepik
Similarly, incorporating gradients and duotones into your color pallets can help you create a visually appealing and eye-catching design. Not many people are used to seeing striking designs will dual colors (duotones), and you can explore this to your advantage
Interestingly, you can still achieve the same effect with a gradient design. This can especially be effective when creating posts to grab attention and stand out from the crowd in the social media space.
In our ever-evolving design industry, there are more design trends to come both in 2023 and beyond. You only need to be armed with the right knowledge and resources needed to make the trend work for you and your brand.