Last Updated on May 30, 2016
Everybody knows that your relevant, mind-boggling and thought-provoking content will not matter if you do not have the right design that would send your audience reeling. Design will, after all, dictate how attracted they will be to your website and how easy they would find it to go through the content you have prepared. Use the wrong design on your pages and your audience won't even take a peek at what you've written for them.
This is why every designer should know what themes would work best for their target audience, and in today's thought-driven world, minimalist themes are proving to be very efficient at what they do.
This is where Dessign Themes comes in.
Who is Dessign Themes?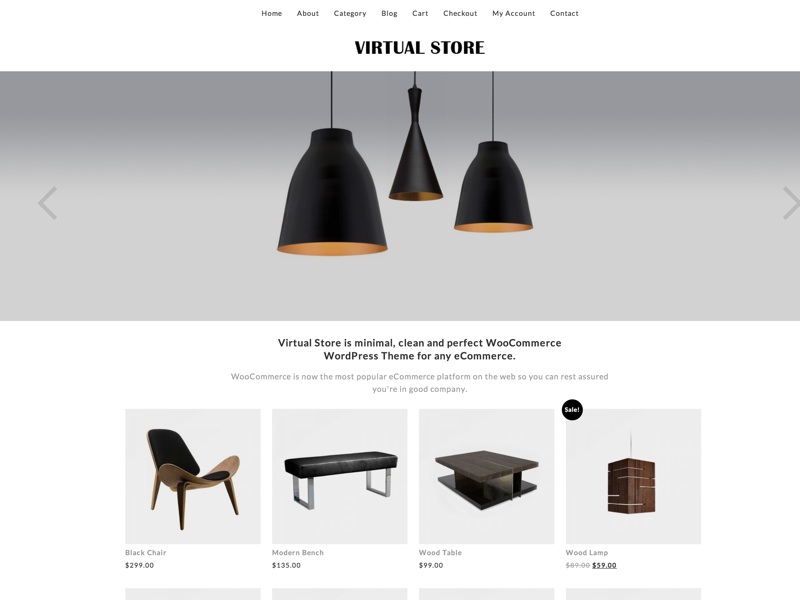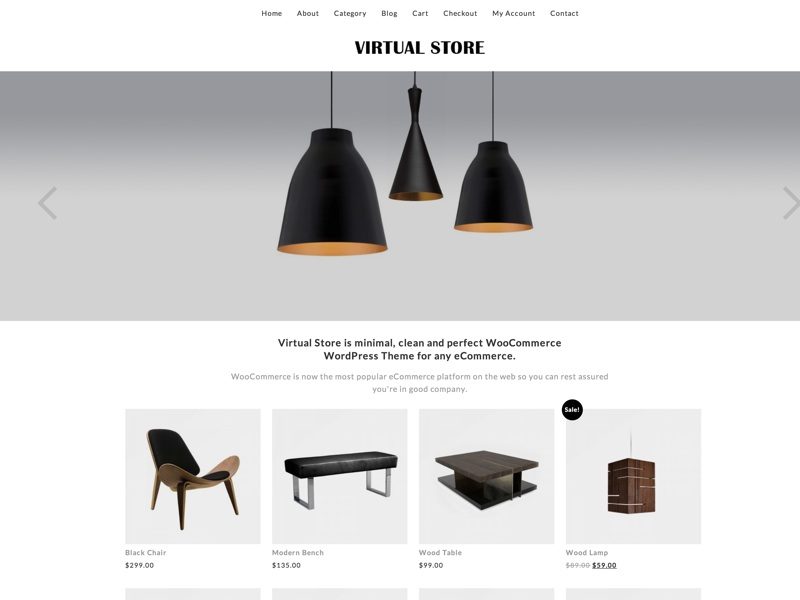 They have been featured on Mashable, Smashing Magazine, Creative BBQ, and other creative websites. Over 97,000 users trust their creative genius and download their themes on a regular basis. This is how powerful the themes by Dessign are.
Dessign, LLC started in the New Jersey and New York area back in 2010. Sure, a lot of their competitors have been in the business far longer than that. But when it comes to the designs that the market of today needs, it's very clear that they know better than their older counterparts.
The people behind the company have one target audience every time they deliver their WordPress themes – the creative professionals. They understand that this group of people have very specific needs that differ from everybody else's, which is why you would notice how truly unique and modern their themes are. All of these themes focus not only on visual appeal, but also on user experience.
Their design philosophy is not at all surprising, considering the background of Lucja and Marios, the two brains behind the company. Marios went to New York Institute of Technology where he got his Master's degree in Computer Graphics, while Lucja went to Ramapo College for his Bachelor's degree in psychology and design. This explains why they do not just focus on what the eyes see when people view their designs. They also look at what the heart feels and what the mind thinks.
Their main philosophy? They aim to design themes that focus not on the theme itself, but on the kind of work that their clients do. This is why, as you have probably noticed, a lot of their themes are very minimal. This is, after all, the best way to lead the eyes to where they should be going – whether it's towards your gallery, or to a call to action you were hoping your visitors would see.
The WordPress themes by Design, LLC work under the GPLv2 license. This means that every user can use and modify their chosen theme on as many sites as they want. This even allows them to redistribute or resell the theme, presenting a definite win-win situation for every creative who decides to use Dessign's themes.
What do people say about Dessign Themes?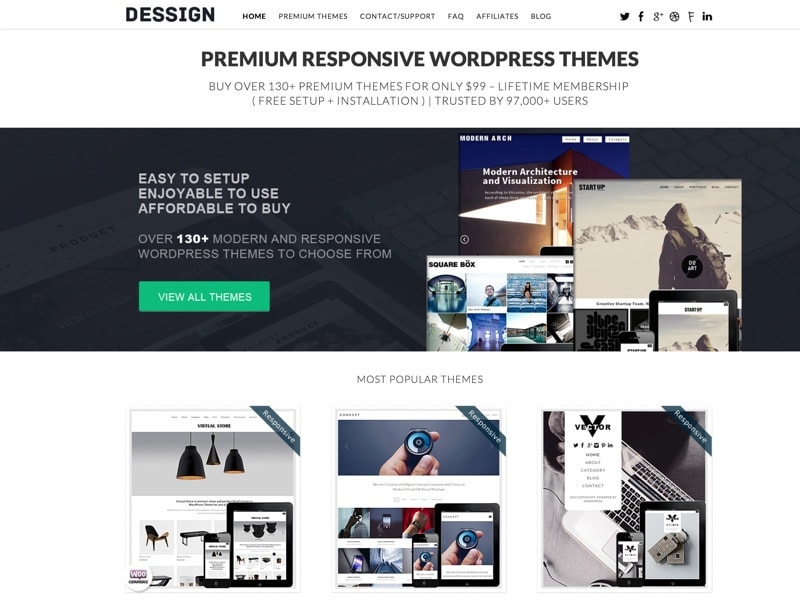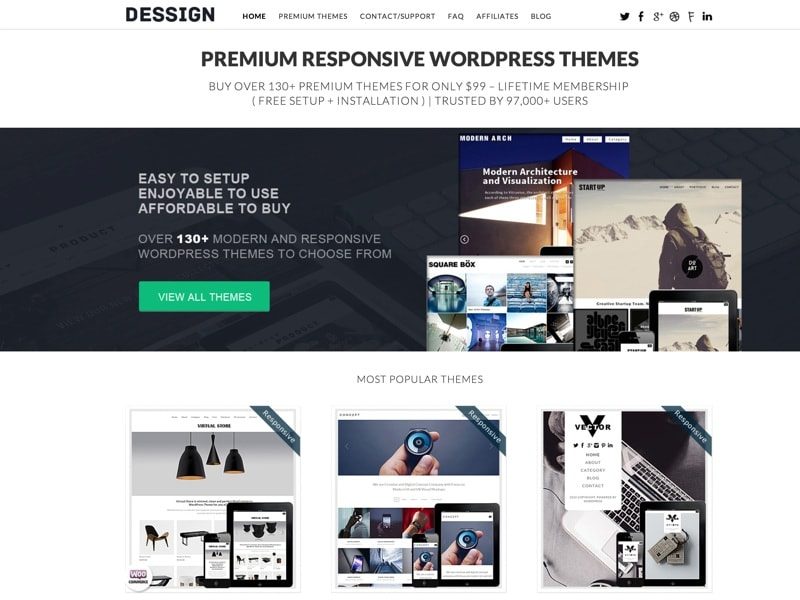 Without a doubt, the themes made by the Dessign team have grabbed the attention of a lot of creatives out there. Compiling everything that they have to say, here are some of the main points that they have noticed:
Amazing Designs
As Rachel Biel from Rayela Art shares, she had to go through all of the themes from Dessign for hours, unable to pick the right one that would fit her needs perfectly. This is the same sentiment shared by many others, which is no surprise at all. After all, the themes presented on the Dessign website are all amazing, and it's easy enough to imagine your website looking like any of the mockups they provide.
Reasonable Prices
Imagine having to pay only $99 and having access to over 130 premium themes. If that's not reasonable, I don't know what else would tickle your fancy. Especially when you realize that none of their themes will turn you off and every single one of them can work on any of the projects you're working on, this is definitely an investment you won't be sorry about.
If you don't want full access to their library, then that's fine. You can always buy their themes per piece, which doesn't change a thing at all. Each of the themes they have are priced fairly, and they even have free ones that you can try out in case you're still iffy about shelling out money. After all, these two are both creatives and they understand how hard it is to work when you're under a budget. The good news is, even their free and lower-priced themes are beautifully designed.
Great Customer Support
It's not just about grabbing the attention of creatives and getting them to purchase any of the themes available. It's also about supporting them all the way and giving them every piece of help that anybody from the Dessign team can give.
There are how-to guides and videos on the website, giving step by step instructions on how you can use and tweak their themes. And if you find yourself in a bit of a bind after doing any of the steps wrong, no problem! One email and you'll have any of the two designers sending you an email back, giving you personal assistance until you sort the problem out.
Responsive Designs
Everybody knows how important it is to use responsive design on any project, knowing how different audiences also have access to a wide range of devices they can use to view your website. As creatives themselves, Mario and Lucja understand the need to use responsive design on almost all of their themes. This makes it easier on your end in case you have a wide range of audiences in mind who move from one device to another. This also ensures that user experience remains excellent on each of your pages.
SEO Friendly
A lot of you probably worry about your SEO campaigns all the time, even going as far as investing a decent sum of money just to have real experts do it for you. The good news is, all of the themes in the Dessign portfolio come with XHTML and CSS compatibility, which means that they are all SEO friendly. Just add quality content on top of the amazing design and you can have all the traffic you can handle coming in.
How do I choose a theme?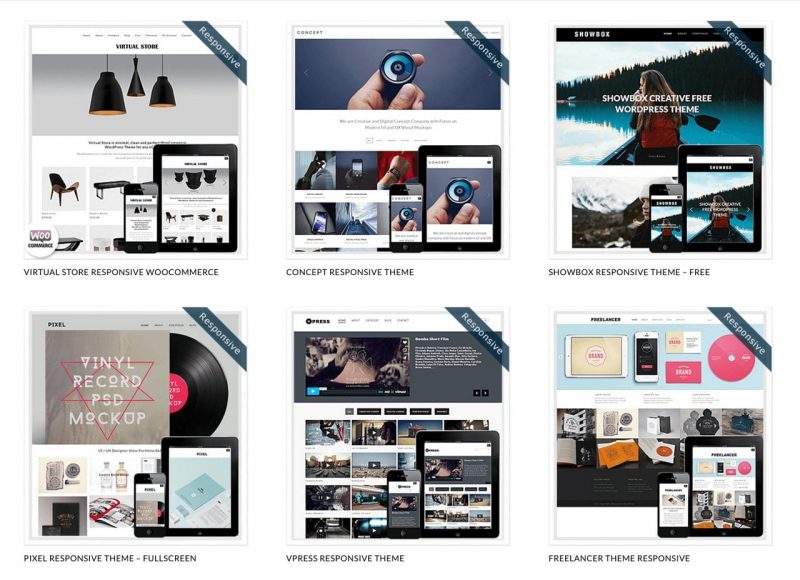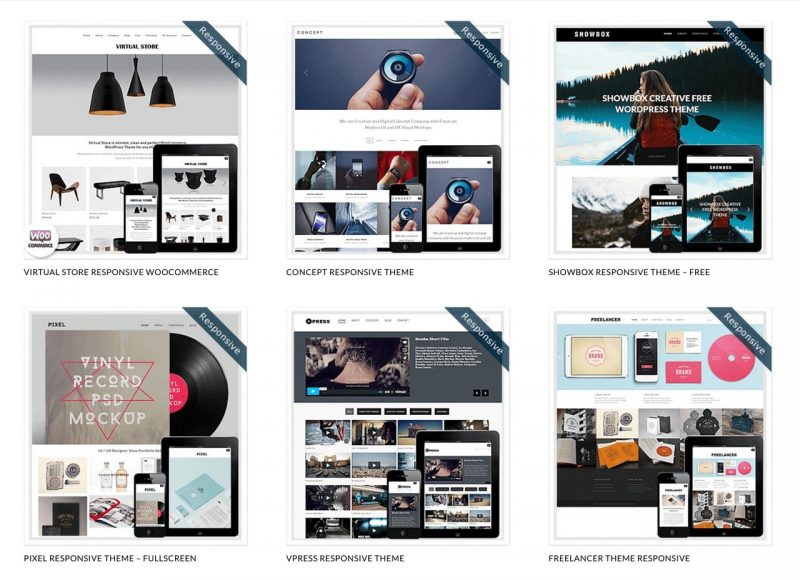 Now comes the hard part. How do you decide which theme fits your needs the most? It has been mentioned earlier that creatives often have a hard time deciding which of the themes in their library works best, considering that there are so many to choose from, all of them modern, unique, and beautiful enough to work.
To help you decide, here are a few things you have to consider:
How much imagery do you want on your homepage?
This is one question that could greatly eliminate a lot of choices right off the bat. Do you want people to focus on just one image when they reach your homepage, or do you want a grid of different images all at once?
Some people prefer one main image on their homepage, then probably having two or three supporting images below. The rest of their portfolio can be viewed on a separate page. However, some also want to get right down to business and hope for a lot of their work displayed on the homepage itself. No matter what you choose, Dessign has a few themes that would fit any of these descriptions right away.
What kind of feel are you going for?
Is your website supposed to be all serious and business-like? Or would you prefer having a lighter and more casual feel? Are you looking for something that reminds people of high fashion, or would you like a more rugged approach?
Try to imagine the overall feel that you want for you website before deciding on a theme. Remember that you want an overall experience for you audience and not just a visual fest. Your pages may look pretty, but if you fail to connect with your audience on a mental and emotional level, then they would still fail to appreciate the services that you want to offer.
How much are you willing to pay?
Remember the cliché that says, "You get what you pay for"? This is one perfect example of that. Yes, the free themes in the Dessign library are nice. But why go for nice when you have the budget to go for exquisite? If you have the means to go for their premium themes, trust us when we say that it's more than worth it.
Also, figure out how many projects you'll be working on from here. If you have enough money to subscribe to a lifetime membership, then go for it! This means that you only have to pay an amount equal to around 3 or 4 themes bought individually but have the ability to use over 130 of them. That's definitely a worthy investment especially if you plan on sticking to Dessign themes for the rest of your projects for a good portion of your creative career.
Without a doubt, deciding what Dessign theme would work best for you is not an easy thing to do. The bottom line is this – no matter what you look for, no matter how much you're willing to pay, and no matter what feel you're going after, Dessign will give you the most fitting solution.