Last Updated on March 3, 2023
Who doesn't love a good photo nowadays?
Your phone is probably filled with dozens of them – perfectly captured or touched up to look as fantastic as they should be. Whether it's on Instagram, on a blog, or on a shop window, beautiful images capture people's imaginations.
If you have an online shop or business, good photos can make or break sales. Remember when stores used to fight for the best window displays? That's because customers go inside when they like what they see from the outside.
The same can be said for online stores. Even if you're just advertising through affiliates, if people like what they see, they'll definitely click that link to your website.
Why Images Are Important To Online Businesses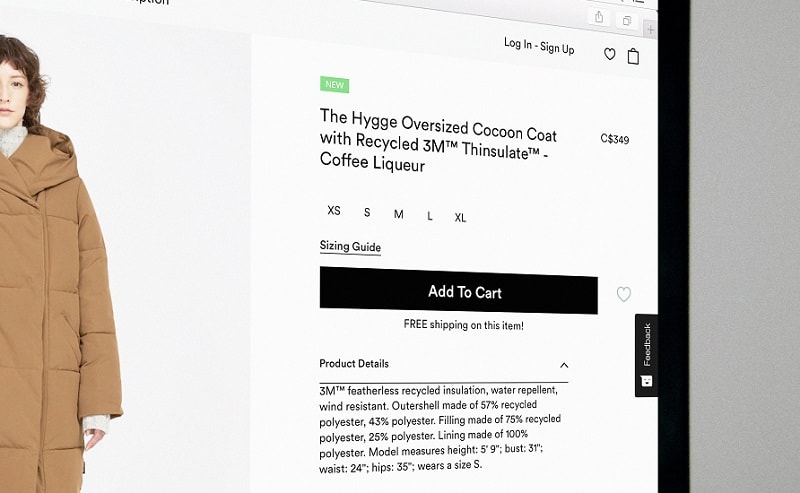 There's a reason why there are so many photo editing apps out there today. A good photo editor can enhance pictures to the point when they can capture someone's imaginations or emotions.
Images are a HUGE part of any business, no matter which industry you are in. For one, images basically sell themselves. That's why brands pay a lot of money to social media Influencers. One great photo from them featuring a product, and it can go viral in less than a day. All of a sudden, people want to know where someone bought that cool shirt, watch, or drink.
Second, photos captivate people. Aside from taking pictures for a living, folks today simply enjoy photos for their own purposes. Most do it for the memories, others alongside another hobby, such as scrapbooking. They can evoke powerful emotions (e.g. images of pollution, war, poverty) and stir the imagination (e.g. images of luxury, nature, minimalism).
Third, images help paint a picture of the brand. You've seen this at work with huge brands like Apple, Microsoft, Coca-Cola, and Chanel. People can easily distinguish them from competitors through their logos, colors, and types of photos.
Consider how you would want to be seen in your industry. What sort of image do you want to portray? Who is your target market? How would they respond to your visual marketing materials? Carefully set a style guide that you and your staff can follow so people can recognize you based on visual cues.
Being consistent on the type of visual representation you have for your business can make your products effortlessly marketable. That's because photos are easy to understand and quick to share. Whatever you're selling, as long as its features are recognizable enough in the photos, can make folks curious enough to talk about it.
Once they're interested, you can hook them in with price, and other benefits. A great example of this principle at work is when you see people showing photos of products they love on social media. Not only is this free advertising on your part, it's setting the foundation of individuals who trust and are loyal to your brand.
How To Optimize Images Using Fotor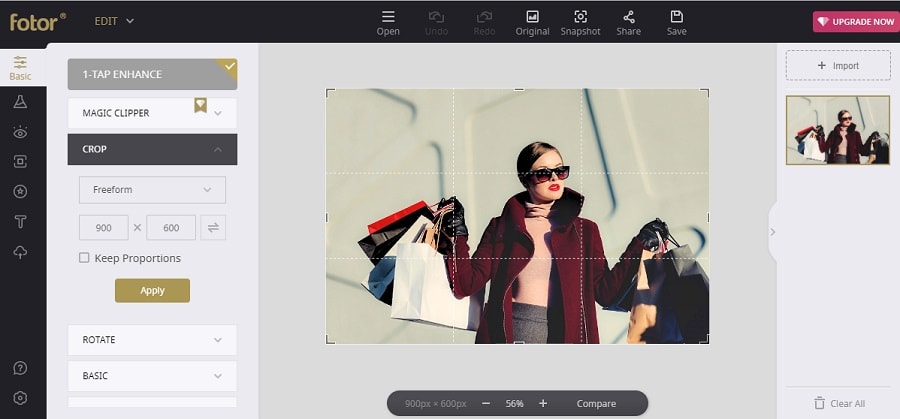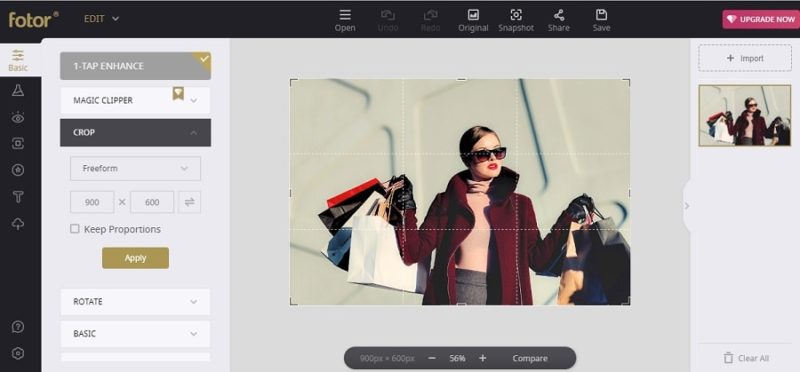 Taking that 'perfect shot' can often be a pain. Imagine kneeling or being on your belly for long periods, just to capture 'an Instagram-worthy moment'. After that, there's the issue of editing each one. The entire process can be tedious, especially for folks who are unfamiliar with editing software.
But with a great online photo editor, that process can be smooth-sailing. Fotor is one of the best photo editors and banner maker on the market today.
Whether you already have an online that just needs some updating, or you're getting started, their features can help you take care of essentials. Choose from among hundreds of cool templates to make your ideas come to life. Create YouTube channel banners, posters, tickets, an Etsy shop icon, or your very own logo.
Editing product photos? Fotor has a 1-Tap Enhance feature that lets you improve the quality of your images in an instant. Just click and voila, you have better pictures in a pinch! Everything looks brighter, smoother, and clearer.
Want to resize but don't want to crop? Keep the quality of your photos with their image resizer. This free online photo resize tool will not only help you maximize your images in terms of keeping original proportions, but it also lets you add stickers, text, and various effects.
If you're using models to showcase your online business, then the Beauty Retouching tool is for you. Fotor's Beauty Retouching will have models in photos looking gorgeous in seconds. Smooth wrinkles, remove blemishes, or even add that coveted flushed face. You will get a photo that shows off your products confidently and beautifully.
Meanwhile, Pro users will love the HDR feature, which lets you bring out richer, deeper colors thanks to their one-of-a-kind HDR algorithm. Just upload three images of the same subject – normal, low, and high exposure – and let the app do the rest. It combines all three for stunning, realistic detail and supreme quality.
Conclusion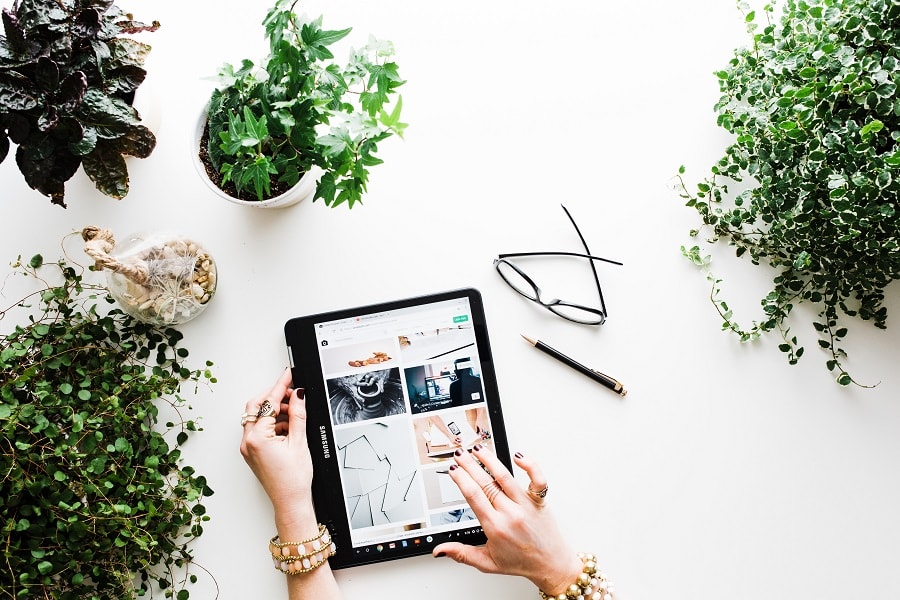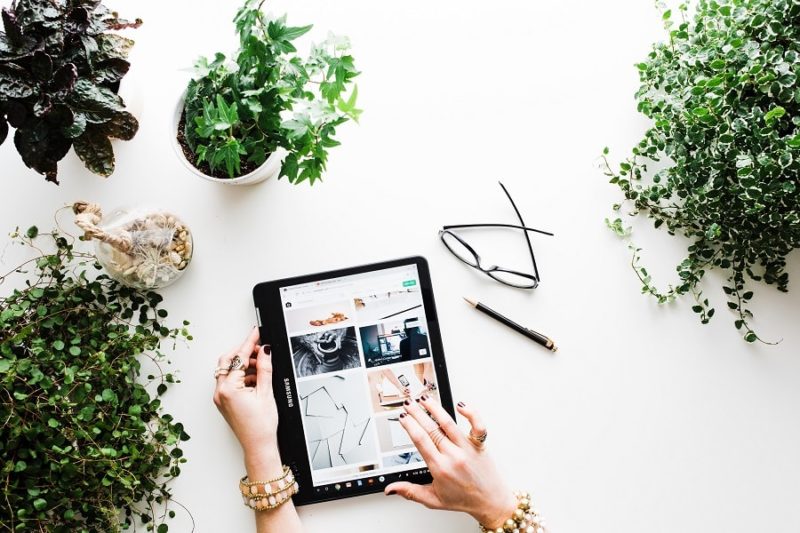 A good photo is more than aesthetics. It can make sales, draw in a crowd, go viral, or tell a brand's story. With every project is a story ready to unfold. And Fotor is your friend throughout the storytelling process.
With this feature-packed online photo editor, there's no need to spend hours on the backend part of the job. Now you can enjoy this method, too. One click is all you need to add beautiful filters to your hero photos or to make the perfect collage for a new feature product.
If you've never truly given much thought to using photos to improve your online business, then hopefully, this short guide has made you think twice. Go ahead and try out Fotor today.