Last Updated on January 24, 2023
The diamond painting was invented in 2015, and it has quickly become one of the most popular crafts. It is so much fun, and you have a real sense of accomplishment when you finish a painting. Diamond painting is a form of mosaic art where you take small, sparkly resins and attach them to a canvas.
There are many different designs to choose from, so you can paint your favorite scenes. Read on to learn why diamond painting has become insanely popular today.
1. You Don't Need Any Prior Experience to Diamond Paint
If you want to try diamond painting, you can do so without any prior experience. People are so busy today between work, school, kids, and other responsibilities. There isn't a lot of time to learn how to do a new craft.
One of the best things about diamond painting is that you can buy a canvas kit, and getting started will be pretty self-explanatory. Everything you need comes in the kit, and you can get started right away. You will use the diamond applicator tool and affix the resins to the canvas. It's that easy.
2. You Can Bring Out Your Inner Artist
A completed diamond painting is truly a sight to behold. The diamonds sparkle as the light reflects off of the painting. You can choose intricately detailed diamond paintings with more detail or simple ones depending on what you want to do.
If you're wondering how to choose the best diamond painting kits, here's a helpful guide. No matter what you choose, the painting will be a creative work of art that is worthy of your walls.
3. Diamond Painting Helps to Relieve Stress
Diamond painting is a great activity because it helps to release all of the stress that builds up during the day. The world is so busy, and people are always in a hurry. Diamond painting gives you a chance to unwind and spend some time letting your creative sideshow.
This brings balance back into your life, and it helps to release your tension and relax your mind.
4. The Whole Family Can Diamond Paint Together
The whole family can join in and diamond paint together. You can buy a big canvas and work on one painting as a family, or everyone can have their own paintings. Either way, you can all sit around the table in the evening or on a rainy day, and you will be building memories that your kids will never forget.
You can also hang the paintings on your walls when you finish. No matter what age your children are, they will be able to diamond paint and make something beautiful. It is so exciting for kids to see what they made.
5. You Can Make Great Homemade Gifts for Friends and Family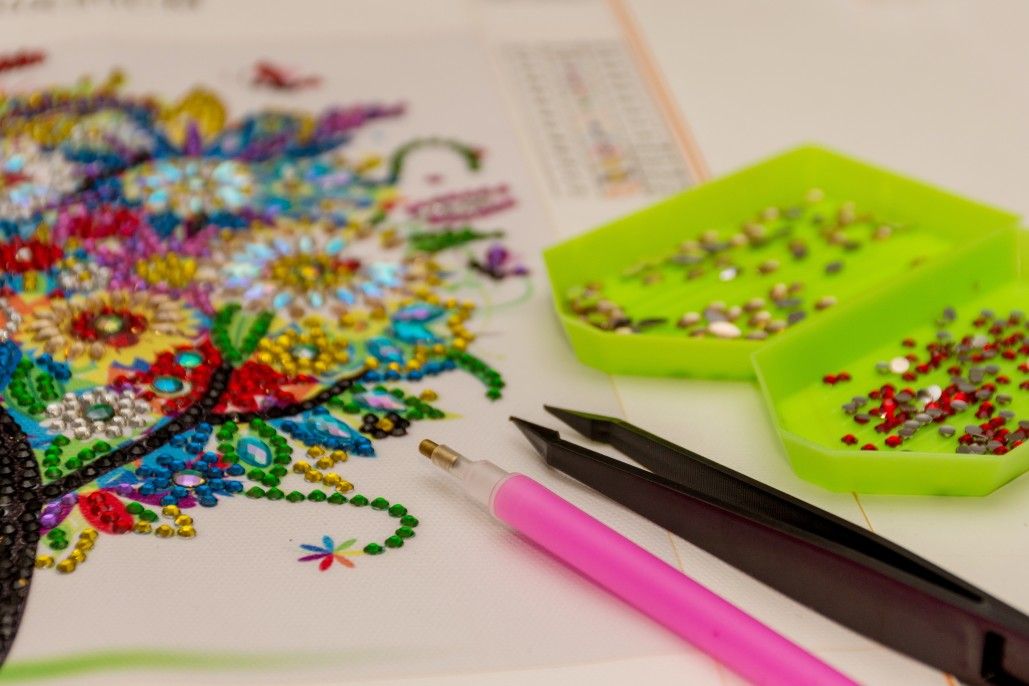 When you make a diamond painting, it will be stunning when you finish it. The diamond resins sparkle and shine, and the designs are anything from landscapes to animals to mythical creatures, and more. Because these paintings turn out so fantastically, you can give them to friends and family members for a holiday gift. Giving someone something you hand made carries so much meaning, and they will appreciate it so much more than a store-bought gift.
6. Diamond Painting Helps to Improve Concentration
The brain needs exercise, and concentrating on detail work is a great way to exercise your brain. When you exercise your brain, you make it sharp, and it will cross over into the rest of your life. You use the diamond applicator tool to place the diamonds on the canvas, and it takes some concentration to focus on these small details.
Engaging your brain in this way keeps it active so that you will be better able to concentrate at work or in class.
7. You Can Meet a New Group of Friends
Diamond painting has become so popular so quickly that there are a lot of people who enjoy this craft. All kinds of groups have popped up on social media and in communities, and you can meet these people.
The best friendships are those where you have a common thread, and you can meet other diamond painters and share ideas and make new friends. Diamond painting can open up a whole new world to you because you will meet people whom you may not have otherwise met.
8. It Helps Your Fine Motor Skills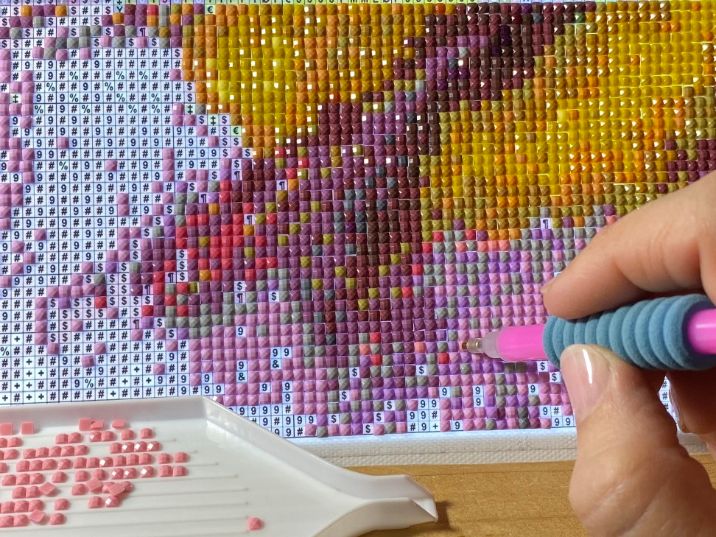 If you don't have a lot of opportunities to use your hand-eye coordination skills, the diamond painting will provide an outlet for you. Hand-eye coordination improves when you engage in activities that require it.
This is beneficial in the long run because hand-eye coordination is important. When you spend time in the detail work of diamond painting, your fine motor skills, and your hand-eye coordination will get a workout. Staring at the little tiles and placing each diamond in its spot is intricate work that develops your fine motor skills.