Millennials today, form a large customer base, as they make up for $200 billion per year as the target market.
As the number continues to rise, brands have effectively turned towards them to build lasting relationships as customer.
They are extremely tech-savvy and aware of turns and tricks used by marketers.
It takes more than cheap publicity stunts to enhance the pool of millennial purchasers.
You can't appeal to them with the same old marketing strategies.
In fact, by applying outdated promotion tactics you will only end up repelling millennials from your brand.
It's tough to approach them again so your marketing strategies must appeal to them so that you can have their word of mouth at a viral level.
Here is the list of 6 tried and trusted digital marketing strategies that attract millennials to run a successful marketing campaign.
1. Get hyperactive on social media
Everyone knows where you can trace the majority of the millennials.
Yes, it is social media.
Therefore, if you are not yet active on top-notch social media channels, you have committed a blunder.
According to a report, about 70 percent of the millennials are active on Facebook, Instagram, Twitter and likewise platforms on a daily basis.
It is not only about being active on social media but it's also about operating it smartly.
For instance when promoting your product on Instagram, use the right hashtags to get noticed.
You must stick with the following dos and don'ts to ensure the maximum traffic:
Avoid being overtly promotional. Millennials are not going to think twice before they unfollow you if your social media account is running high on the promotional pitch. You need to post informative content other than your own business. So balance holds the key.
Respond to their comments. Even brands which once considered themselves larger than life are doing this because nothing annoys millennials than being ignored.
Schedule posts when the maximum number of users are active on social media. These hours are called optimal times.
Don't miss out on running contests. Millennials love absolutely love it.
2. Go visual
Nothing to take away from content marketing, but since millennials are always on the go, they are more tilted to pictures and videos.
That's why an average millennial is spending 5 hours and 49 minutes watching online video in a week.
Photos and videos are only effective when they are of high-quality. Otherwise, they will rather impose a converse effect on your business.
Videos are surely the best way to hook up a viewer.
In the world full of online scams, videos are also used to gain consumers' trust.
They also influence the purchasing decision of a buyer.
Since millennials have low attentions spans, an impactful video or image of your brand will remain in their minds for long.
The above graph shows that millennials depend a lot on videos when it comes to taking a smart purchasing decision.
3. Introduce chatbots
We all know how impatient millennials are.
When stuck at an e-commerce store, you have to provide them instant assistance, else they will leave your website.
It is not possible for humans to provide answers to the incoming queries 24/7, unless you are on top of your resources.
However, things have changed after the inception of artificial intelligence.
With the passage of time, chatbots have become very intelligent. So much so, 40 percent of the millennials say that they engage with a chatbot on a routine basis.
Marketers today cannot deny that chatbots have taken integrated marketing to a next level.
There two major reasons behind the success of chatbots: one – they are quick, two – they are able to personalize the conversation.
Yet, installing chatbots is not enough.
You have to be wary about the timings when a chatbot shows up on your website.
Make sure the chatbot does not pop up right after a visitor opens your website. Allow his eyes to settle a bit.
Arguably the best time to appear for a chatbot is when a customer abandons a cart. He is most likely to have confusion at that point in time and therefore this is the ideal time for a chatbot to assist him.
4. Millennials love socially responsible brands
Of late, Corporate Social Responsibility (CSR) has been embedded in digital marketing strategy.
And it is doing wonderfully well to magnetize millennial population. Brands are investing to portray themselves as responsible.
Millennials are a different kind of buyers. More than your product, they are interested in what your brand stands for in terms of social well-being.
The world is full of crisis today; millennials want big brands to take responsibility for that.
For example, if your brand propagates eco-friendliness then they expect you to translate your slogans into actions.
One way or the other, your products must carry the characteristics of eco-friendliness.
You can also affiliate your brand to a charity. It does not mean you are entitled to donate thousands of dollars.
What matters is your intent.
Millennials want you to prove that you are not all about milking dollars out of people.
If you are doing just about enough as per your capacity, that will do the job.
Once you have taken these measures, it's time to publicize them on social media.
Share pictures of your social work and to make it look more authentic, tag the charities.
As they say "don't tell them, show them".
The above graph aptly shows how remarkably millennials are attracted to socially responsible businesses.
5. Work with influencers
Nothing leaves more impact on millennials than influencers. Influencer marketing is the latest addition to the world of digital marketing but it's progressing quite rapidly.
The best thing about influencer marketing is that it infuses trust among the millennials.
When something is recommended by influencers, millennials are all set to follow that.
If all the big brands are hell-bent to hire the top-notch influencers, they must be something right with it.
We all have seen expensive models wearing brands' clothes in different online stores.
Nevertheless, it could be a little cheaper than that and social media is the place for the brands with less capital in the tank.
Since they have thousands of followers, you can reach out to a large audience.
Although, it is not wise to fall flat for the number of followers alone – relevance must your first priority.
The influencer must have the audience which can connect to your products.  
6. Optimize for mobiles
One of the biggest reasons why social media is buzzing with traffic is that almost all social media sites are mobile optimized.
Unlike PC, mobiles give you the luxury to operate from any nook and cranny of the world.
Laptops can be carried as well, but they have their limitations.
A huge proportion of millennials owns a smartphone today.
To be precise, 92 percent of millennials have a smartphone. So you can pretty much estimate where they are browsing most of the times.
Especially, with the voice search coming into play, millennials feel it easier to deal with everything online through mobile.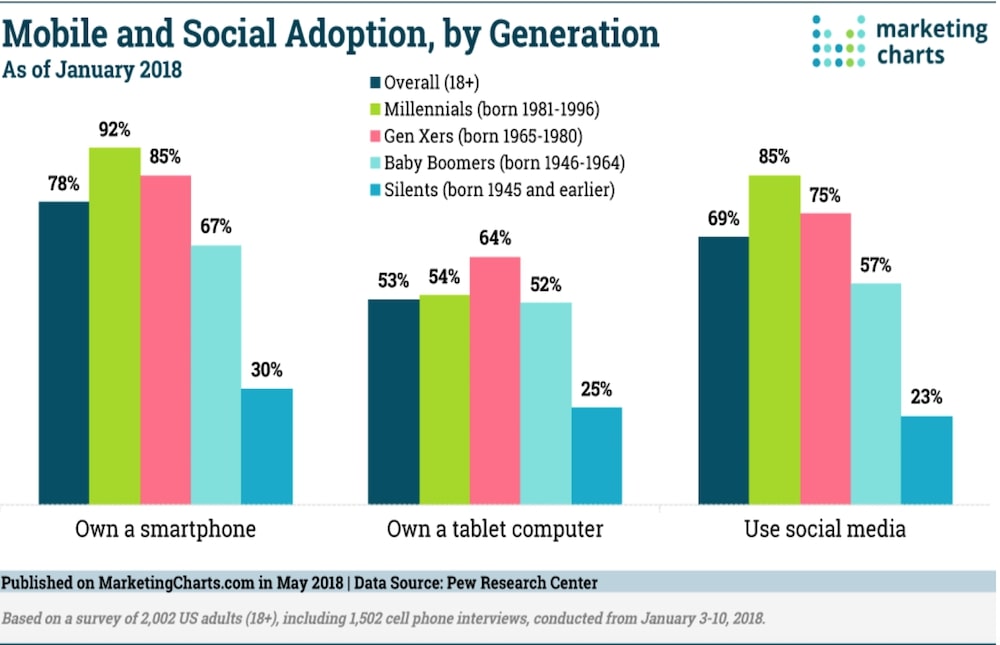 The above graph confirms that millennials are far ahead in using smartphones which makes mobile optimization a must.
Therefore, mobile optimization is important for any business to capitalize on millennials.