Last Updated on March 8, 2022
The art of storytelling has been around since the dawn of time.
Our ancestors used it to preserve history; sometimes even drawing images on cave walls and rocks to support their narratives. Kids before grew up telling stories around the campfire, their eyes reflecting the joy and wonder at new chronicles heard over roasted marshmallows.
Today, storytelling takes on the form of interactive media. Thanks to advancements in technology, we're not just exploring stories from history or science – we're also discovering each other's tales. From students, journalists, cooks, photographers, and even entrepreneurs: we've become the new breed of digital storytellers.
Telling Stories on the Web
Storytelling sticks because it uses ALL of the senses. That's why brands and businesses like using this technique. Through branded content, they are able to connect with consumers on a deeper level compared to advertising alone. Some of the best brands that use storytelling in their marketing campaigns include Airbnb, Burt's Bees, General Electric, and Nike.
But every successful storyteller out there knows that even great narratives need the right platform. Blogs are fine; but if you want to take it a step further, storytelling platforms are your new friend.
Unlike micro sites, you don't need to be a programmer to create one. Digital storytelling platforms offer specialized tools to weave one-of-a-kind stories for today's audiences. Mobile-friendly, media-rich, and highly interactive, they make content discovery fun yet informative. The only problem now is picking just one.
So to help you get started, here are six of the best platforms exclusively selected for today's budding digital storytellers.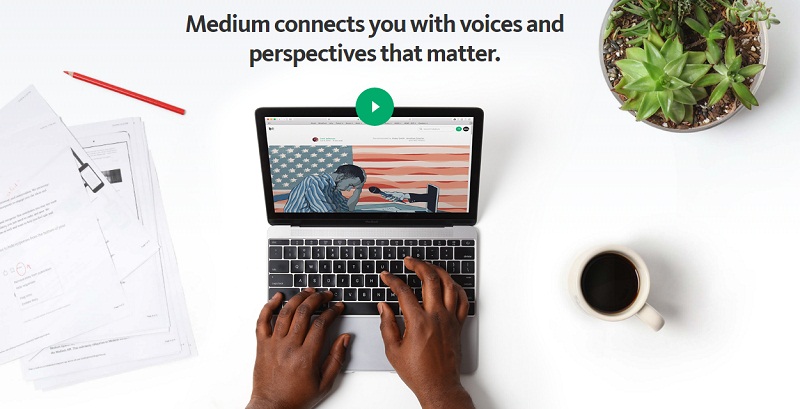 'The perfect place to read and write.'
Perhaps one of the most popular and widely-used digital storytelling platforms to date. Medium offers everyone – from individuals to major publishers – a chance to showcase their thoughts to the public. The service is free to use; but if you're a brand or a business looking to expand your reach, try Brand Stories on Medium. A few companies that already use this service are: Starbucks, Slack, BMW, General Electric, and REI.
After signing up, you could get started immediately. Write your story, attach stunning photos, then share on your social media accounts. Even a free profile lets you see the stats of your published stories. Follow your favorite digital storytellers, or become one. Need inspiration? Check out this eye-opener from Backchannel.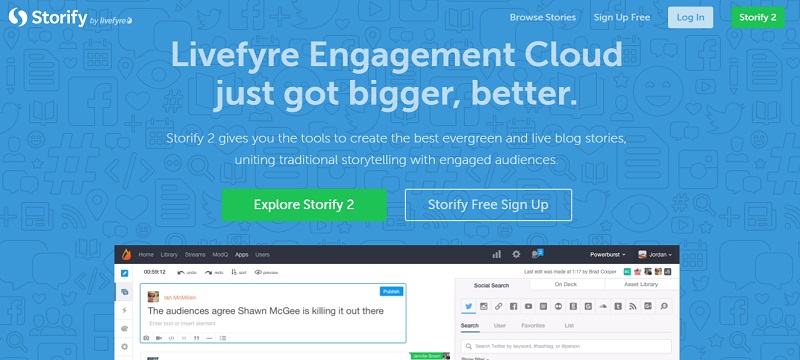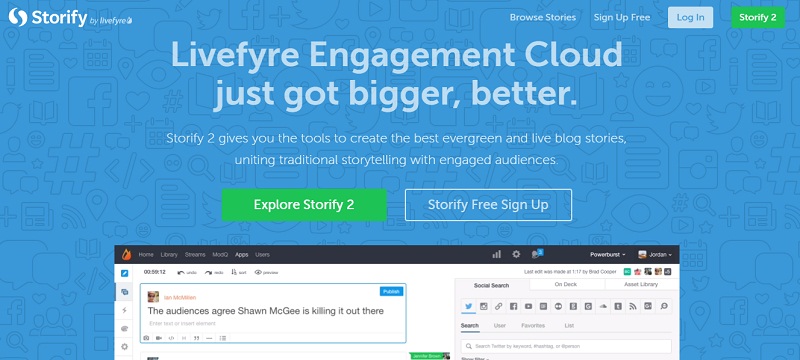 'Make the Web tell a story.'
In this day and age, sometimes, the best stories are told through snippets from social media. Storify, which was acquired by Lifefyre, lets users incorporate various elements from social media channels and turn them into a rich, interactive story. Whether it's music from SoundCloud or a YouTube video, it lets you spin the best tale for your audience.
This story about U.S. athletes in the 2016 Rio Olympics is a great example of an engaging story made from Web snippets.
This storytelling platform is free to use. For brands or businesses though, Storify 2 offers better features (like SEO optimization) to aid in content marketing campaigns. Add hashtags or mention friends from Twitter. With the drag-and-drop interface, it's quick and effortless – even for the less tech-savvy among us.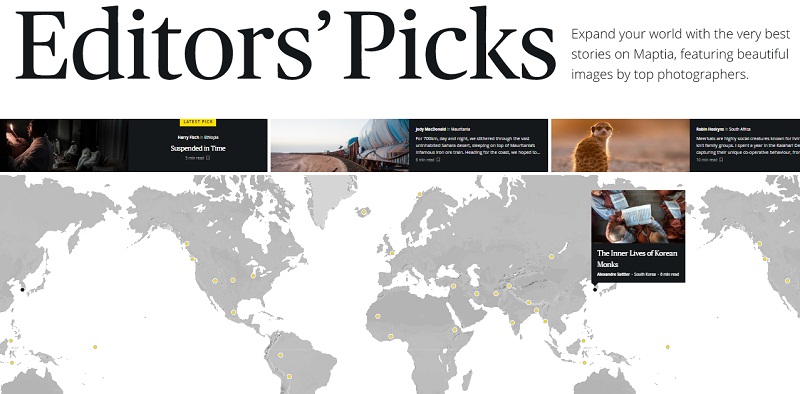 'Discover a world of stories.'
From Asia to Antarctica and everywhere in between, Maptia wants to help you share your story with the world. Featuring thought-provoking content from digital storytellers supporting various causes, this is the best storytelling platform to be in if you're thinking about spurring change.
You don't need to be a pro to create inspiring pieces like this story about 'The End of the Road'. All you need is Maptia's free tools and you're good to go.
Solo entrepreneurs will find its features practical and cost-effective. Brands on the other hand, can show their dedication to social responsibility by sharing unique content geared towards local issues. So go ahead: start exploring tales from talented people all over the world.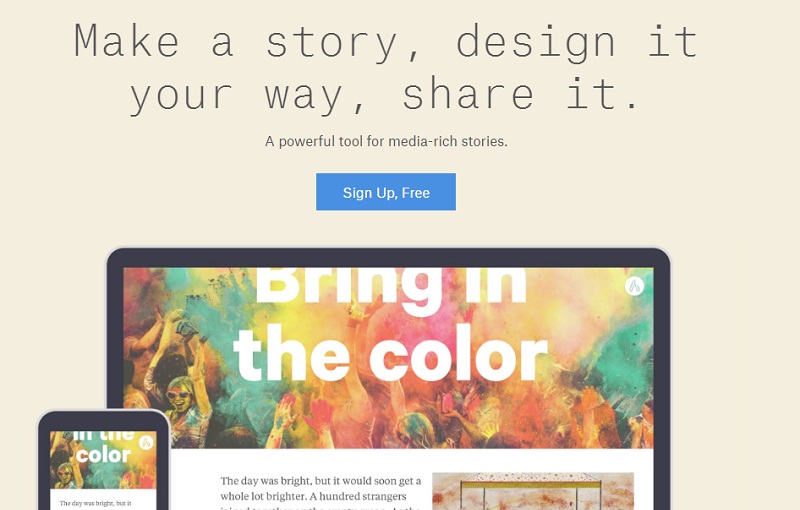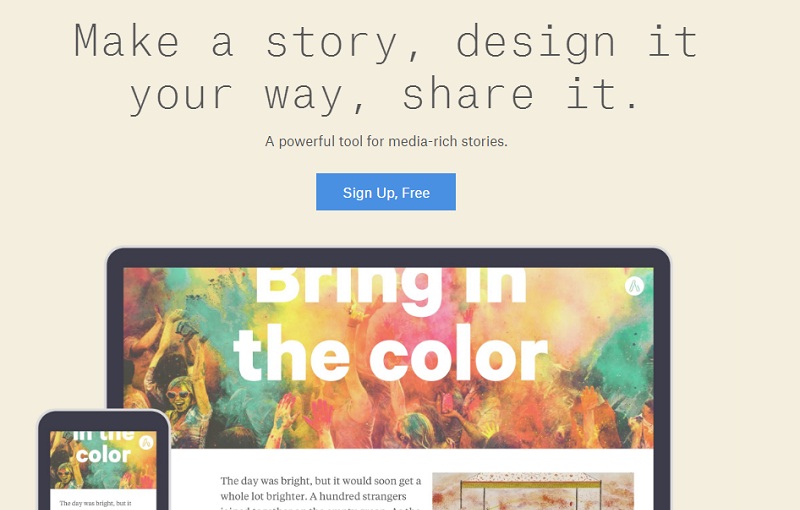 'Make your story.'
Looking to use your stories as a means of income? With Atavist, you can. A free account can help you get started to familiarize yourself with all the cool stuff this storytelling platform has to offer. But after a while, you might want to sign-up to their Pro version so you can sell stories. Add members and your own URL or logo for a completely professional look.
Atavist is great for publishers, photographers, brands, businesses, educators, and journalists. Just take this amazing example from Conservation International. Comprehensive, media-rich, and mobile-friendly, Atavist makes it easy for anyone to become a digital storyteller.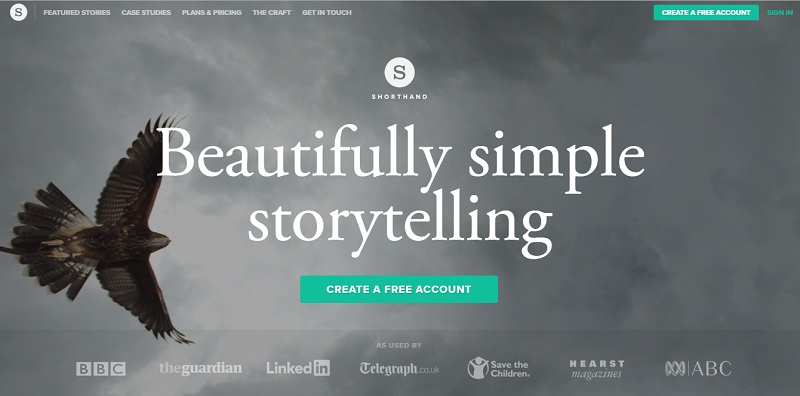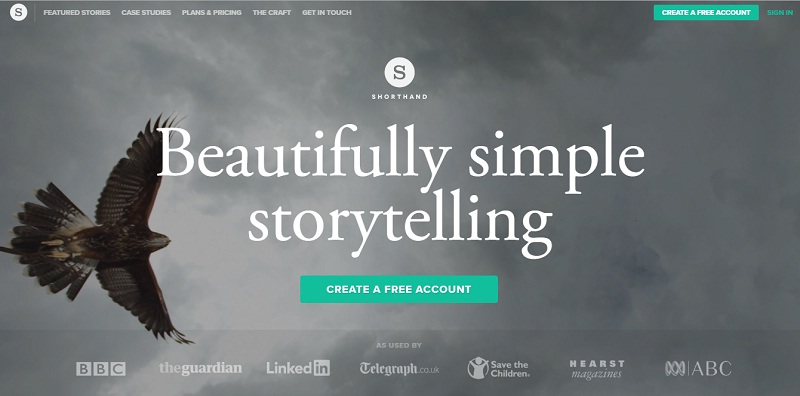 'Beautifully simple storytelling.'
If you take a look at professional content, you can only imagine the software used to weave such masterpieces. But multimedia storytelling platform Shorthand, makes it easy for digital storytellers like brands or individuals to craft engaging stories –without coding knowledge.
Featuring works from BBC, The Guardian, and Fairfax Media, Shorthand shows that digital content can be flexible. Use the free version to become familiar with their platform. Once you're satisfied, talk to them about premium accounts, which you can tailor depending on your storytelling needs. Then, feel free to download the content, which you can host on their server, or on your own website.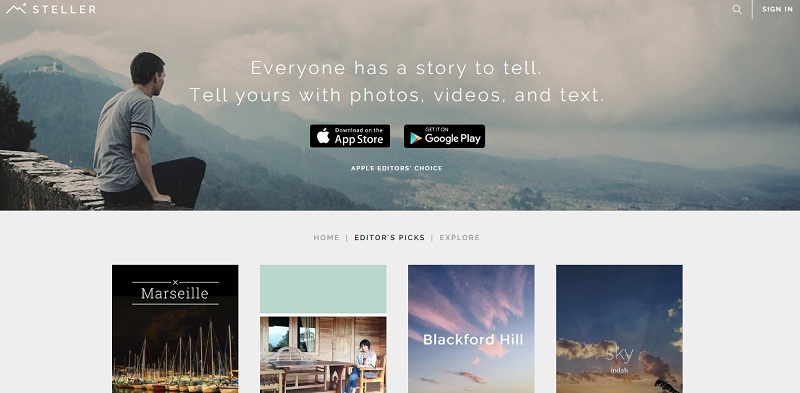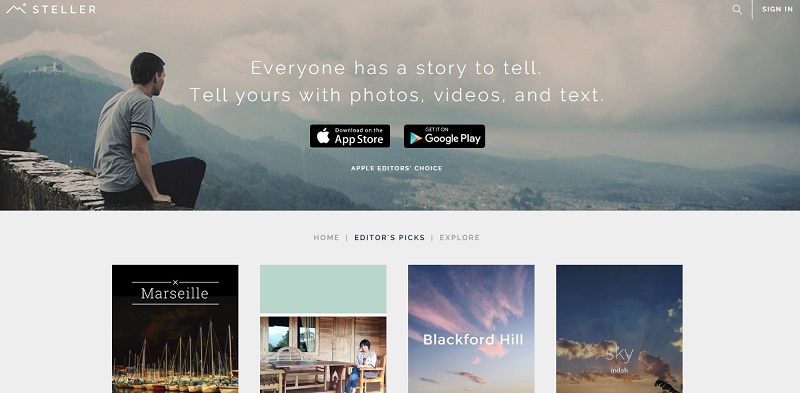 'Everyone has a story to tell.'
Sometimes, you're just looking for the perfect multimedia storytelling tool to carry in your pocket. What could be simpler than Steller. Available for iOS and Android users, this storytelling platform lets users share a piece of their lives with followers. Whether it's a cooking adventure or a relaxing day at the beach, amaze the world with stunning photos and short, sweet captions.
As the app is free, you can create all kinds of stories within minutes. Choose a theme, import images or videos, tweak details, and hit publish. Let users share your works on their social media accounts for further exposure. Or why not embed your works on your website? Discover what people have to tell today.
In Your Own Words
From cave drawings to manuscripts, slideshows to film: it's a human need to share and tell stories. What's exciting about it is that it's always evolving. Today, there are more than a hundred ways to be heard, across the globe. No matter the type of storytelling platform you choose, what's important is that you tell it in your own words.
Be genuine. Be YOU. That's the mark of great digital storytellers.