Almost every couple has a wedding registry filled with generic gifts. But it's no news that DIY bridal gifts are more thoughtful and with a lot of soul. So, if you want to stand out, opt for creative wedding gifts by your own hands.
From the handmade Miss to Mrs box to monogrammed wine flutes, there's no end to DIY gifts for newlyweds. You can either make these gifts up from scratch or buy and spice them up. DIY wedding gifts are treasures because they're budget-friendly and take some labor of love.
So, if you're a creative, check out these cute wedding gift ideas.
Studded bridal box
The studded bridal box is one of the most unique DIY bridal shower gifts. Get the bride to be box subscriptions for the bride. Once delivered, get to work with the studs. Using glue, stick the studs all around the box without interfering with the name of the brand.
This is a perfect one for the glamorous bride. Gifting the bride with a studded box full of goodies will send her over the moon.
Calligraphed or knitted cozy duvet
A calligraphed duvet is one of the easy wedding gifts one can think of. Get a duvet and get to work with your calligraphy. If you can't calligraph, send the duvet to an expert calligrapher.
Write up love quotes with the couple's initials all over the duvet or at discreet points. Use calm colors except you know the couple's color preference. You may also stitch in some knitted flowers or letters in place of calligraphy. They will stay on for much longer.
Colored serving bowls
For the couple that loves to entertain, colored serving bowls are creative wedding gifts. With unique watercolors, draw exquisite patterns on the bowls. Include the couple's initials at the bottom and seal in with glitters. Leave to thoroughly dry out so that they don't bleed out when washed. These are beautiful minimalist kitchen additions.
Enchanted mirror
This is one of the most worthy Pinterest wedding gift ideas. Show off your creative side by carving forest path patterns into the wooden frame. Run rubber flowers, accents, and vines in the forest path and seal them with a strong adhesive.
It will help them stay on for years. The final product is an enchanted mirror with a wanderlust vibe.
Hand-knitted tote bags
Thinking of beautiful and thoughtful bridal gifts? Here's one for you if you love to knit. Create some tote bags in beautiful threaded colors for the bride.
Not only are they useful for keeping the bride's personal effect, but they're also perfect for casual day outings.
Homemade beauty essentials
If you're big on natural and organic products, gift some of your goodness to the couple. Bath salts, bath bombs, body scrub, body butter, scented candles, and more will go a long way. Pack them in hand-stitched bags with the couple's initials on them. Give them a nice and relaxing bath experience.
Hand-cut geometric coasters
You can create these rustic DIY newlywed gifts from scratch if you know carpentry. Get wood and create coasters of different geometric shapes for the couple. They will thank you for days that they take coffee, brandy, or some chilled wine.
If you're not good with carpentry, by a couple of them on Esty, spray paint to your desired color and carve in a letter of the couple's name per coaster.
Monogrammed wine flutes
Send off the couple into marital bliss with a vintage bottle of wine and monogrammed wine flutes. Every day is a celebration, help them do it in style. Order some flutes and have them monogrammed with love inscriptions, Mr. and Mrs, the couple's initials, or anything fanciful. Gold letters work best.
Woven wine baskets
If you're into the craft, this is one of the homemade wedding gift ideas worth your while. Weave a basket and when you're done, weave some lace through it. Calligraph the couple's name and wedding date on the lace, and line the basket with some wine. This is a true rustic-bougie labor of love.
Wire wrapped utensil set
Give the couple a stylish dinner time by gifting them a functional and aesthetic utensil set. Activate the classic vibe by wrapping the handles of forks, spoons, and knives with a vintage-inspired or real vintage beads. The cutleries become real treasures.
Carved serving tray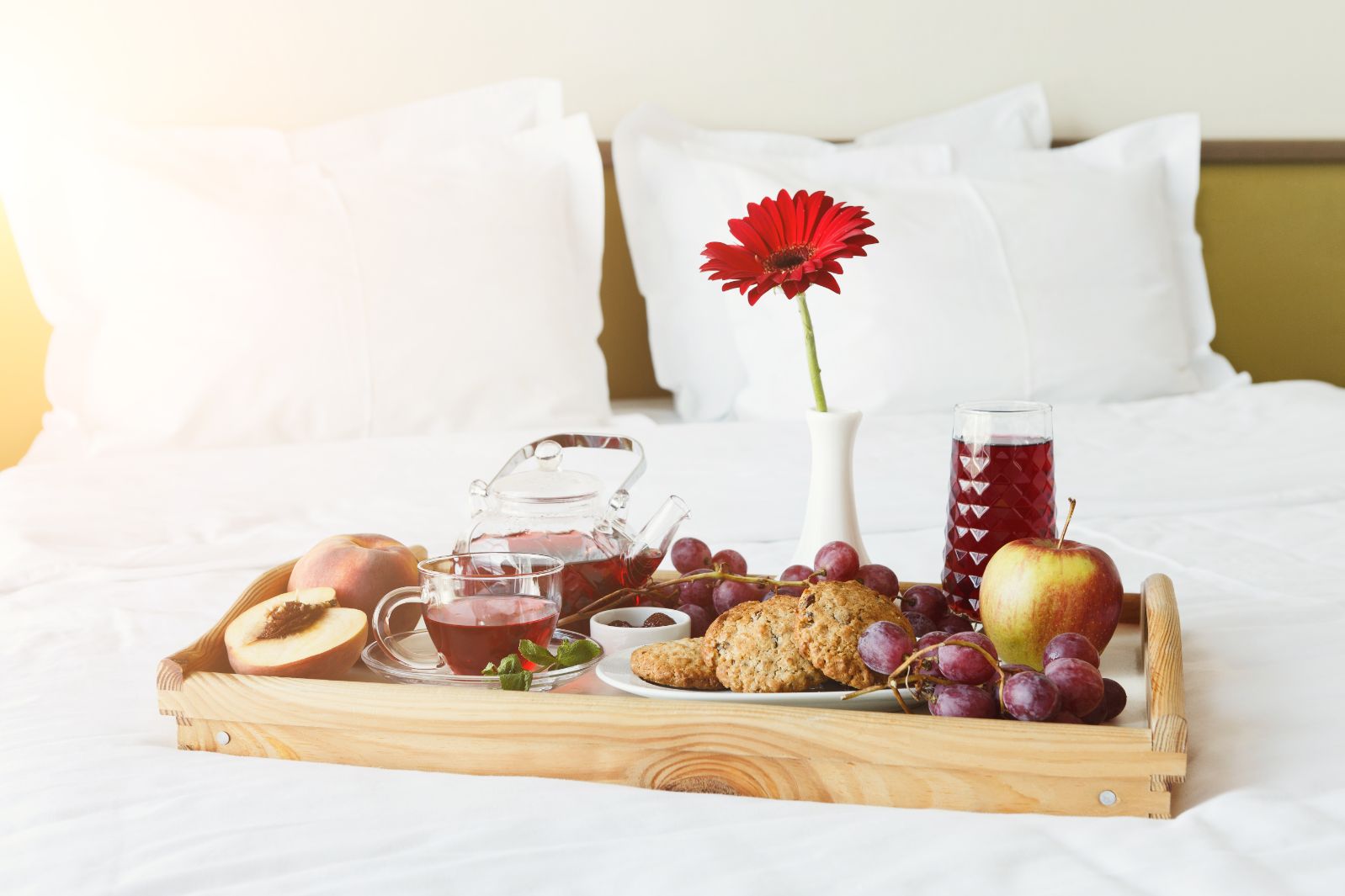 If you've got carpentry skills, go rustic by making a serving tray for the couple. This is one of the most beautiful DIY gift ideas made from scratch. Build this serving tray, and carve in the couple's initials or wedding date with a sharpie. The couple that loves to entertain will love this.
Custom doormat
If you've got too many invitations and you have run out of wedding gift ideas, try this. Buy a plain soft quality doormat, pencils, tape, sharpie, cardboards, and some spray paint. Draw cute patterns on cardboards and cut them out.
Tape these pattens to the doormat and spray paint around them. When the paint dries off, remove the tape and cardboard. Viola! You have a bohemian inspired custom doormat that you won't find anywhere else. Finish off by writing down the couple's initials at the edges.
Ring holder frame
Many couples lose their rings by either flushing them down a sink or misplacing them. Get proactive and work ahead for the couple you love. The ring holder frame is one of the best DIY gifts for newlyweds.
It is also budget-friendly and quick to make. Get a picture frame preferably with a cardboard back. Replace the cardboard with soft plywood and spray paint it.
Pin two fanciful thumb-tacks in the frame and complete with quotes and wedding date in cursive letters. The couple will find it handy when they need to take their rings off while washing or cooking. Save them from the "I lost my ring" panic attack.