Last Updated on September 20, 2022
You have probably heard of the many advantages of dry ice and are considering purchasing some for an upcoming event you're planning. Or maybe you just want to have fun partaking in a little science experiment like creating fog. When you first set out to buy dry ice, you might be disappointed as it isn't easy to come by in local supermarkets or superstores; thankfully, you can count on good old Walmart to have some available for purchase!
If you use dry ice often or need it urgently, it can be very helpful to know reliable places to buy it any day, any time. In this article, you will find out what dry ice is, its uses, places to get it, and recommended ways to handle it.
What Is Dry Ice?
The term dry ice has been around for a while; however, most people are unaware of the science behind this fascinating commodity. Dry ice is literally solid carbon dioxide (CO2).
This is condensed to make a more sustainable form of ice. Asides from the fact that it lasts longer than regular ice, dry ice does not melt into water since CO2 has no liquid form; instead, it sublimates into a gaseous state as it melts. Dry ice is stored at -109.3°F (-78.5°C.) and weighs about four times more than regular ice.
Dry ice can be used for several purposes, including:
It can be used to store unopened drinks and food during long journeys or when there's a power outage; unlike regular ice, dry ice leaves no water residue when it melts.

It is an efficient cooling agent for transporting temperature-sensitive items such as chemical supplies and medical samples to hospitals and science laboratories.

Dry ice can be added to your drinks

like regular ice. This chills your drinks and gives them a fun, smoky effect that can be a fun party trick. Contrary to what many may think, putting dry ice in your drink isn't harmful since the ice sinks to the bottom of your glass. However, dry ice is generally unsuitable for consumption, so it's best to use a straw while

having a drink

with dry ice to avoid contact with your skin. 

It can be used to achieve a foggy effect at Halloween parties, theatres, and other fun events and activities.

It can be used for fun science experiments. 

It can be used for cleaning, i.e.

dry ice blasting

.
Where Can I Find Dry Ice and How Much Does It Cost?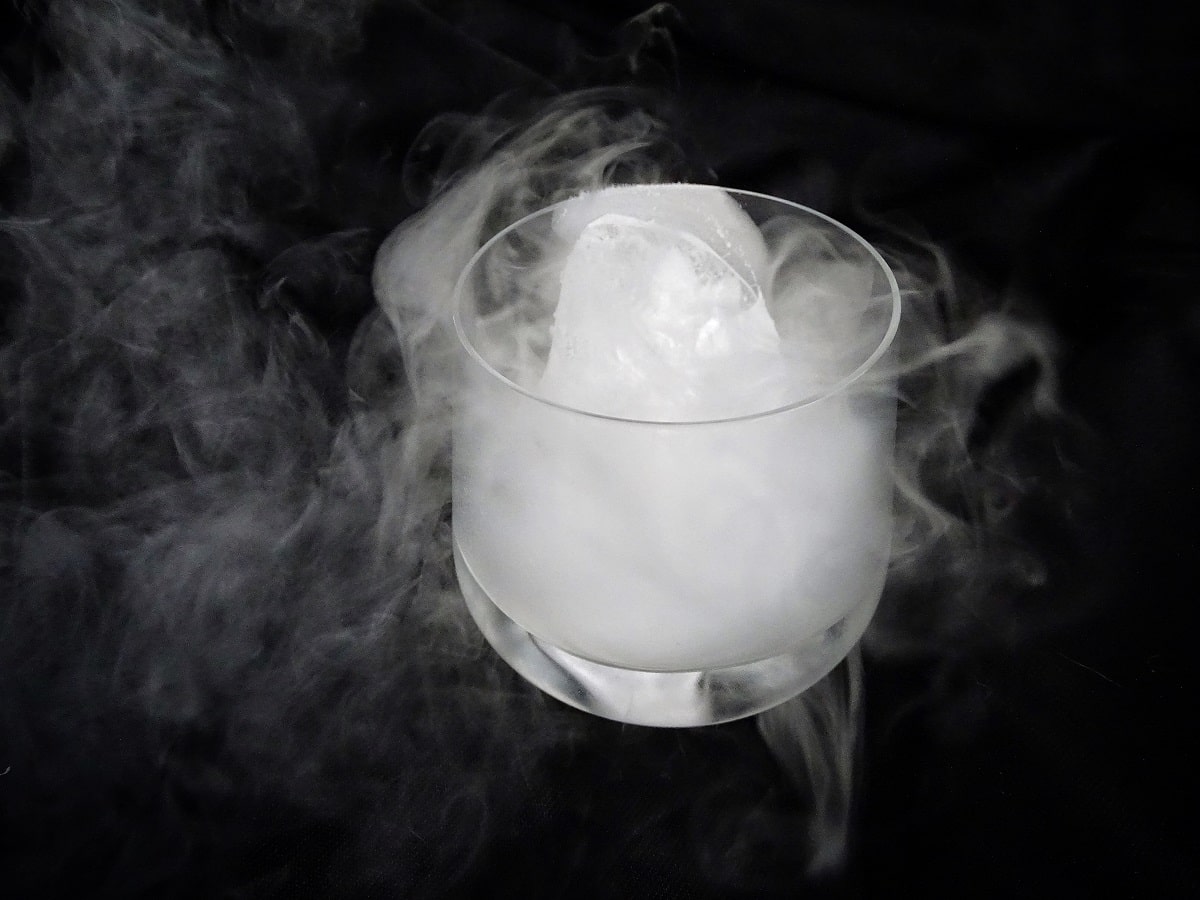 Since dry ice must be handled carefully and maintained at a specific temperature,  you usually cannot find it in any superstore. Fortunately, you can find dry ice at most Walmart stores around you.
However, Walmart only stocks a particular kind of dry ice called Penguins Brand Dry Ice. It is stored in a specific dry ice refrigerator and is usually retailed for $1.44 per pound. Depending on your location, you might get it for a lower or higher price, but the average dry ice price range is between $1.00 and $3.00.
However, not all Walmart stores sell dry ice, so you have to call ahead to your local Walmart to confirm whether or not they have it in stock. If you do not have the contact details of your local Walmart, you can use the online Walmart Store Locator tool and enter your city, state, or ZIP code to find the contact information of the store nearest to you.
Where in Walmart Can I Find Dry Ice?
When you walk into Walmart, you should be able to find the Penguins brand dry ice in its special dry ice freezer by the store's entrance. This is strategically placed to minimize its purchase time.
If you cannot find the freezer at the store's entrance, it should be beside the other regular refrigerating units. These special freezers only store dry ice and are cold enough to prevent the ice from melting. Because of this, dry ice may take up to 24 hours to melt fully into gas after purchase. 
If you cannot find the dry ice freezer by yourself at your local Walmart, simply ask any Walmart employee to guide you to it.
How to Handle and Store Dry Ice
If you do not have gloves on, preferably a cold-resistant pair of gloves, it is inadvisable to touch dry ice as it can very easily lead to frostbite (which can occur at temperatures as low as –109.3°F). In addition, you'll need to purchase specific types of coolers to ensure proper storage and transportation of the dry ice. Thankfully, you can find these safety and storage requirements at Walmart too!
When you buy a packet of dry ice, do not store it in a household refrigerator or an airtight container because it is made from carbon dioxide, and when CO2 is pressurized in a container, it can cause a Dry Ice Bomb which is very dangerous. Dry ice should, however, be kept sealed in an open ice chest or cooler until it is used. 
Finally, as a general rule of thumb, aim to purchase your dry ice packs only a few hours before use, and always keep it out of reach for children and animals.
Can I Buy Dry Ice Online?
You can also buy dry ice online, but it is expensive to transport because it is heavier than regular ice and harder to store for delivery. If you're wondering whether Walmart stores deliver dry ice, the answer is no. You must go to the store to purchase it because it's difficult for them to store and ship dry ice using their delivery vans, especially since it completely dissolves after 24 hours if not kept at the required freezing temperature. 
The Bottom Line
You can purchase dry ice at most Walmart stores for less than $2.00, some even at $1.00 per pound! If you need to purchase dry ice for an event, simply make a quick dial to the Walmart store closest to you to confirm its availability, then go to get it. Now you know what dry ice is, where to get it, and how best to preserve it.