Dorothy Parker was a multi-hyphenated artist whose legacy is all-encompassing. She was a writer, a critic, a poet, a founding member of the Algonquin Round Table as well as The New Yorker. Parker was also a playwright – with an Oscar nomination – and an English professor.
The Early Days
Born on August 22, 1893 in Long Beach, New Jersey, Parker was first named Dorothy Rothschild. She was fondly called Dot or Dottie by her family and friends. Her mother, Eliza Annie Marston Rothschild, died a few months before Parker turned five. Her father, Jacob Henry, was of German Jewish descent.
In her essay, My Hometown, she recalled that her parents immediately went back to their Manhattan apartment after her birth. That was so she could be raised as a true New Yorker. After her mother died, her father married a woman named Eleonor Lewis.
She gained a stepsister from that union. Parker despised both her father and stepmother. She accused her father of physical abuse, and refused to call her stepmother by name. She would often refer to her as the housekeeper.
Lewis died when she was nine. Henry died when she was nineteen. At the time of her father's death, Parker had already graduated from Miss Dana's School, a finishing school in New Jersey. To support herself while working on her craft, she worked as a pianist at a dancing school.
In 1914, Parker's first poem was sold to Vanity Affair. A few months later, she was hired by Vogue magazine as an editorial assistant. After working for the magazine for roughly two years, she moved to Vanity Affair as a staff writer.
Parker married Edwin Pond Parker in 1971. Soon after their wedding, Pond Parker served in the army in World War I.
The Algonquin Round Table In 1918
Dottie Parker's career took off while she was a theatre critic for Vanity Affair. During that time, she met Robert Benchley, who became her best friend, and Robert E. Sherwood. They started to have lunch at the Algonquin Hotel almost every day.
The trio became the founding members of the Algonquin Round Table. The "table" was "a group of New York City writers, critics, actors, and wits." Among its members were columnist Franklin Pierce Adams, playwright Marc Connelly, Broadway producer Brock Pemberton, and journalist Alexander Woollcott. Through the reprinting of Parker's remarks and short verses during their lunch hour, she earned a national reputation as a wit.
Parker's burning wit proved to be popular and well-liked in the beginning. But, in 1920, she was terminated by Vanity Affair when her criticisms started to offend influential producers. In protest and solidarity, both Benchley and Sherwood resigned as well.
Post-Vanity Affair
In 1925, Parker and Benchley became part of the Board of Editors of The New Yorker. Harold Ross, its founder, established the board to dispel concerns from his investors. Parker's first article for the magazine was published in its sophomore issue.
She then became known for her short, humorous poems. Most of her pieces were about the assumed ludicrousness of her several – yet unsuccessful – romantic affairs.
The next decade proved to be Parker's best in terms of success and productivity. In the '20s alone, she was able to publish over 300 poems and free verses in different magazines and publications. In 1926, Parker published her first volume of poetry, Enough Rope.
For the most part, it received impressive reviews. It also sold over 47,000 copies. Not long after, she published two more volumes of verse and short story collections.
Most of her well-received pieces were published in The New Yorker under the byline Constant Reader. Her reviews, which ran for six years, were semi-regular and widely-read. In 1929, Big Blonde, her best-known short story, was the recipient of the O. Henry Award.
Matters of the Heart
Parker and her husband divorced in 1929. Thereafter, she had several affairs. Some of her prominent lovers were publisher Seward Collins and playwright Charles MacArthur. Her relationship with MacArthur led to pregnancy, which she terminated via abortion. After this, she fell into depression that eventually led to her first suicide attempt.
In 1932, Parker met actor Alan Campbell. He was bisexual and aspired to be a screenwriter. After two years, they got married in New Mexico. They moved to Hollywood and were contracted by Paramount Pictures. Their ten-week contract proved that Parker's worth was more valuable than her husband's. She was expected to earn $1000 per week, and Campbell $250. They collaborated in more than 15 films.
Parker and Campbell's marriage was tempestuous. Parker's alcohol abuse and Campbell's long-term affair with a married European didn't help the case. In 1947, they got divorced. Three years after, they remarried. Two years later, they separated.
Parker moved back to New York after that and worked for Esquire magazine as a book reviewer. In 1961, she went back to California and reconciled with Campbell. They worked on several incomplete projects until Campbell died in 1963 due to a drug overdose. She went back to New York. On June 7, 1967, at the age of 73, Parker died of a heart attack.
Get motivated by her wit. Here are 25 of the best Dorothy Parker quotes.
Inspirational Dorothy Parker Quotes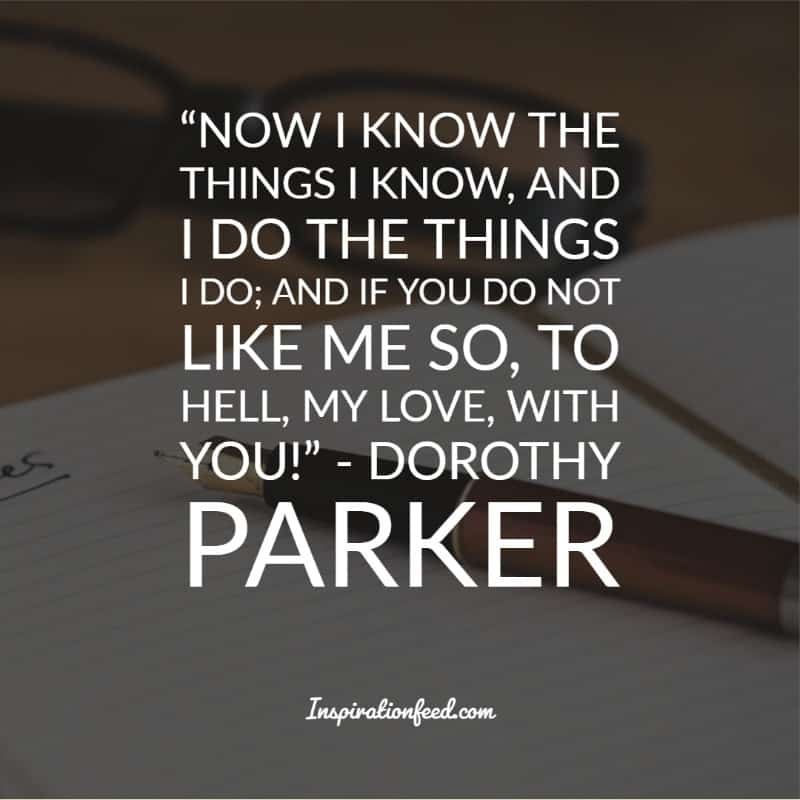 "Now I know the things I know, and I do the things I do; and if you do not like me so, to hell, my love, with you!" – Dorothy Parker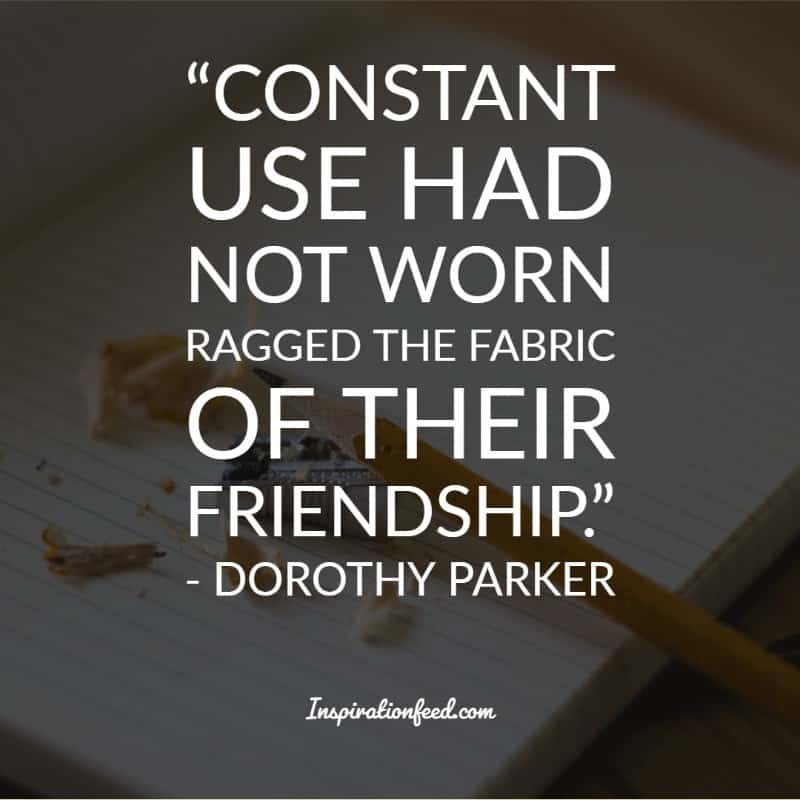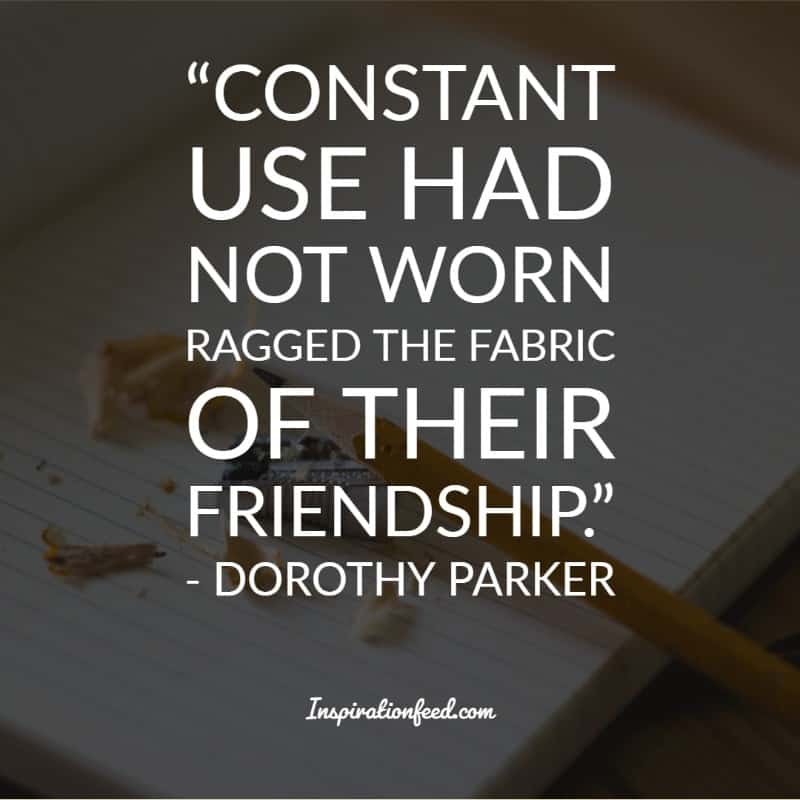 "Constant use had not worn ragged the fabric of their friendship." – Dorothy Parker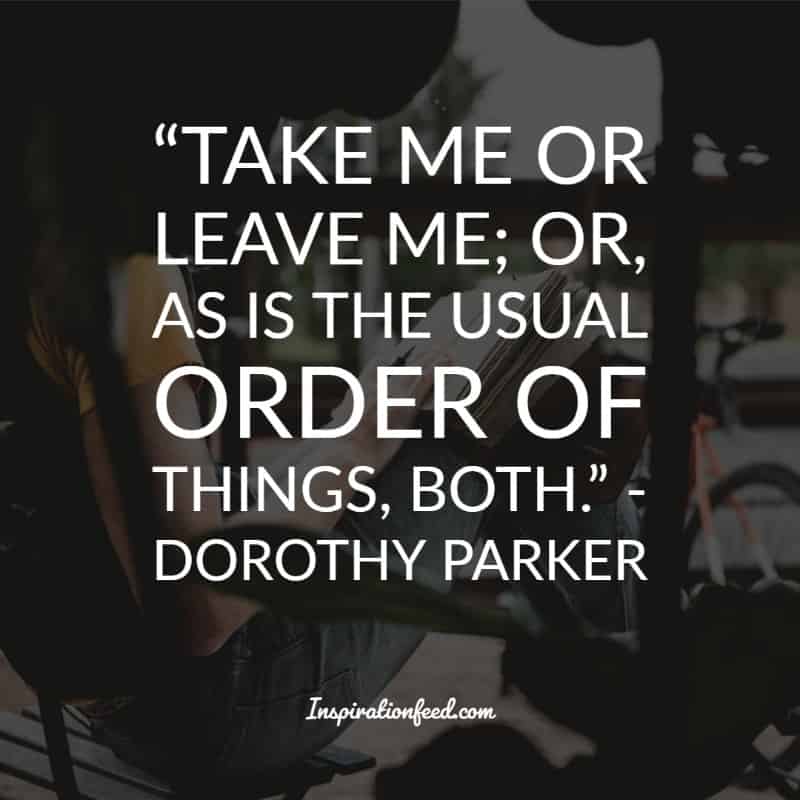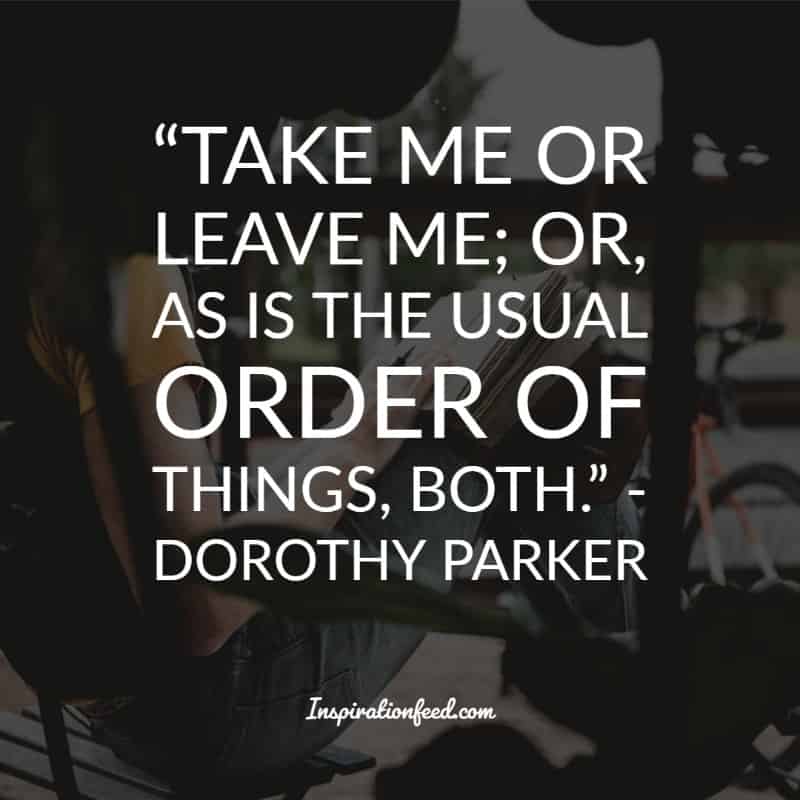 "Take me or leave me; or, as is the usual order of things, both." – Dorothy Parker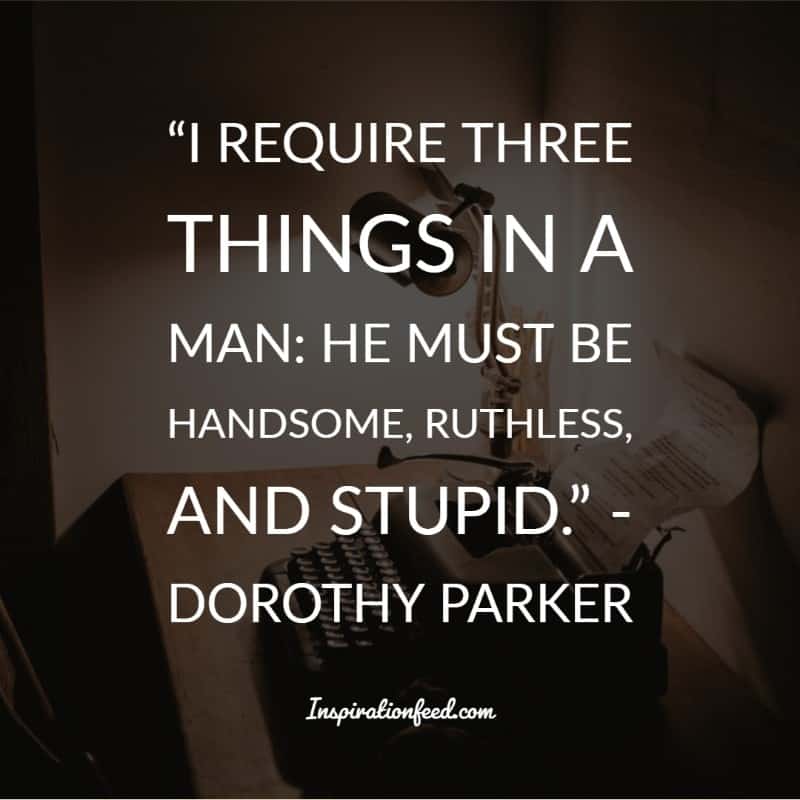 "I require three things in a man: he must be handsome, ruthless, and stupid." – Dorothy Parker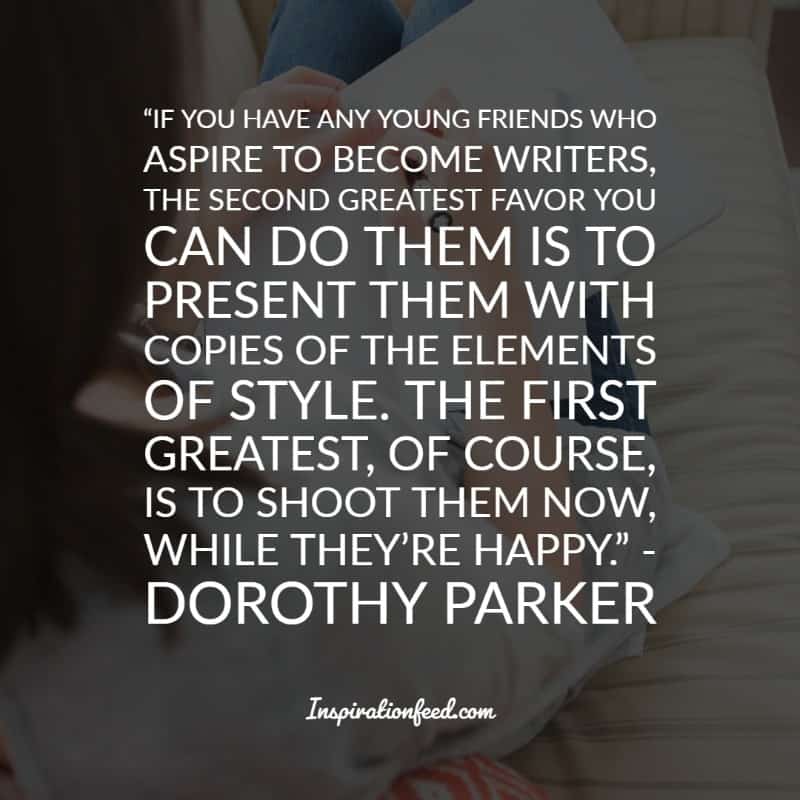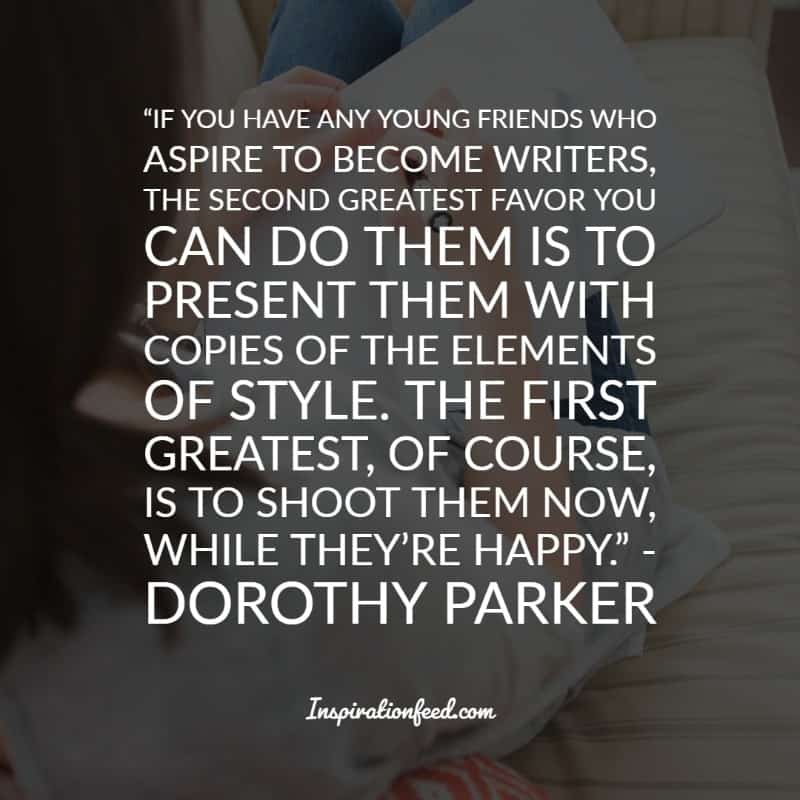 "If you have any young friends who aspire to become writers, the second greatest favor you can do them is to present them with copies of The Elements of Style. The first greatest, of course, is to shoot them now, while they're happy." – Dorothy Parker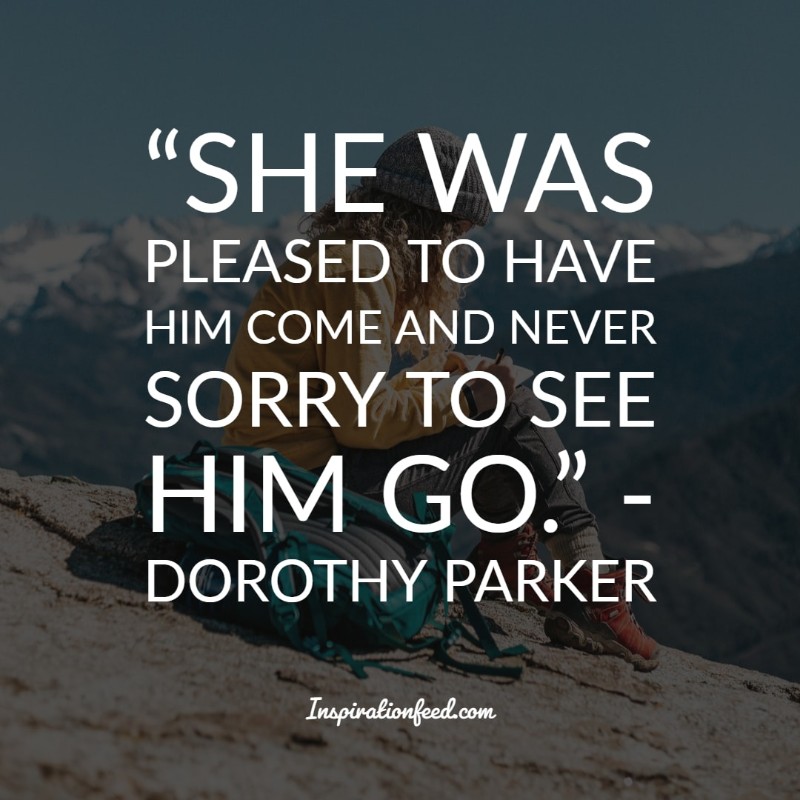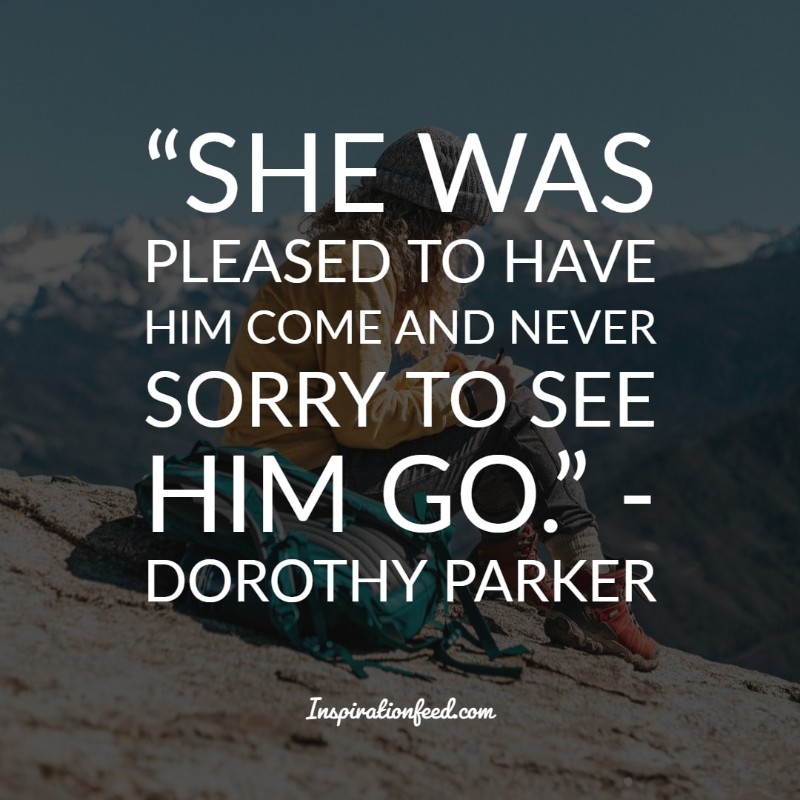 "She was pleased to have him come and never sorry to see him go." – Dorothy Parker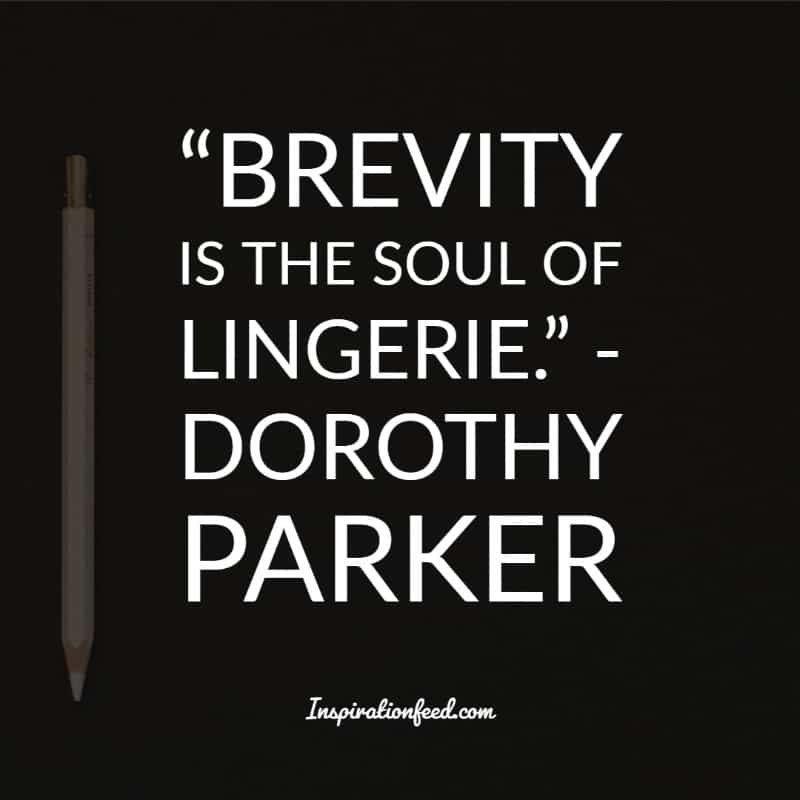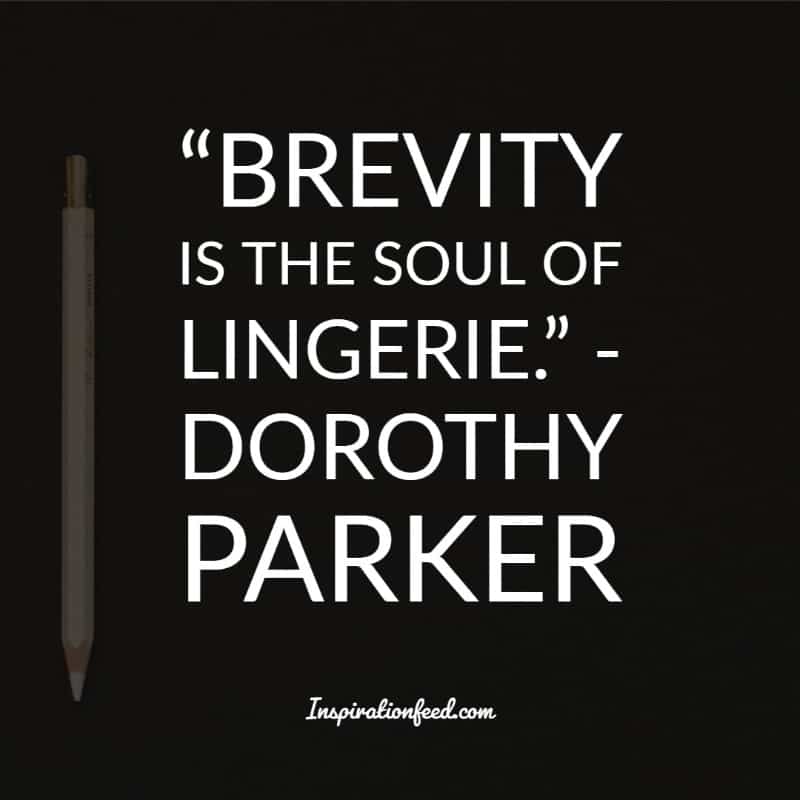 "Brevity is the soul of lingerie." – Dorothy Parker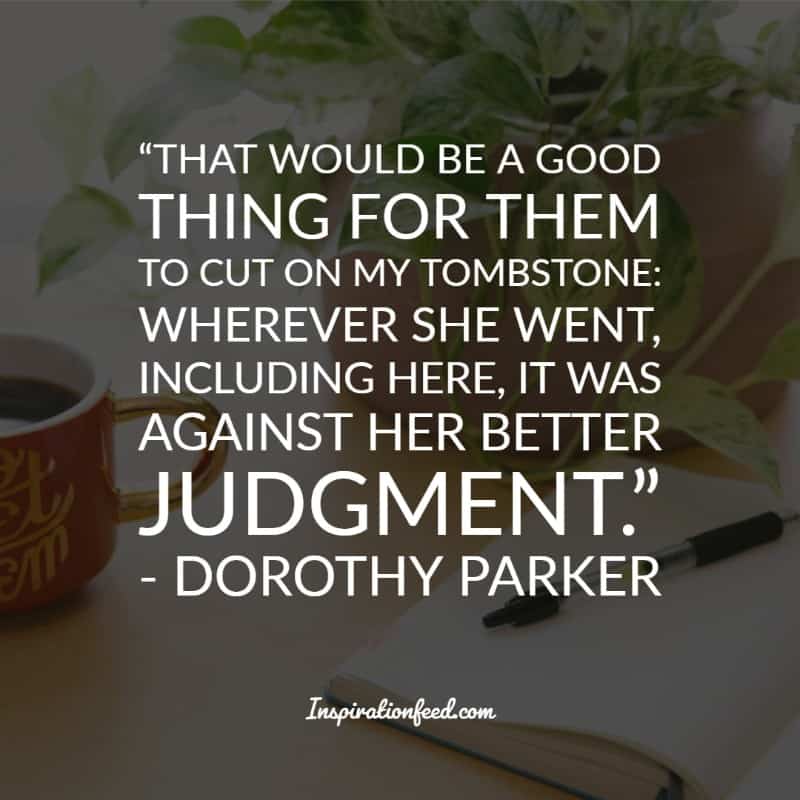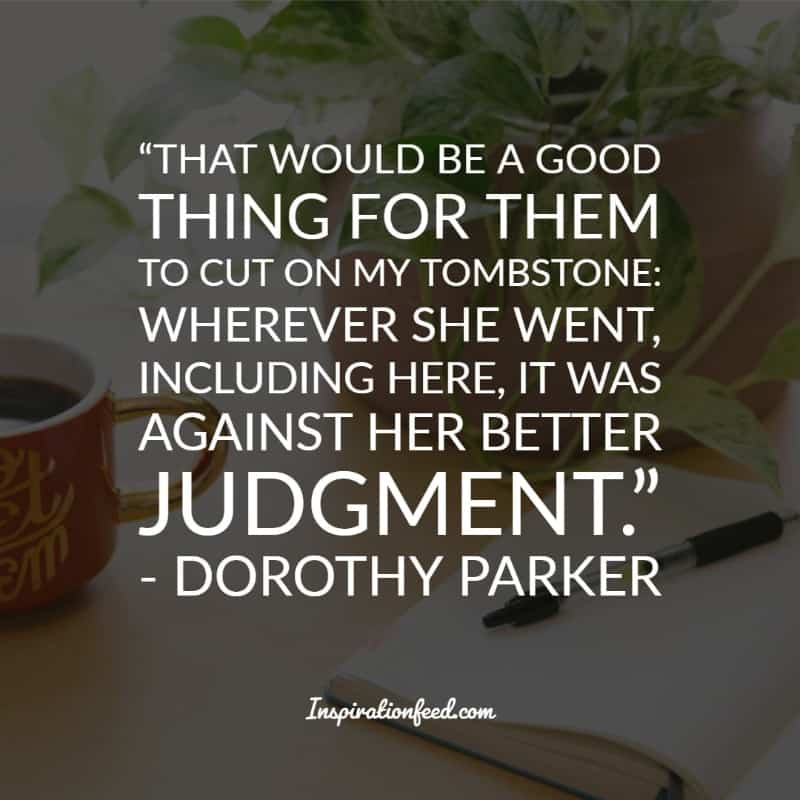 "That would be a good thing for them to cut on my tombstone: Wherever she went, including here, it was against her better judgment." – Dorothy Parker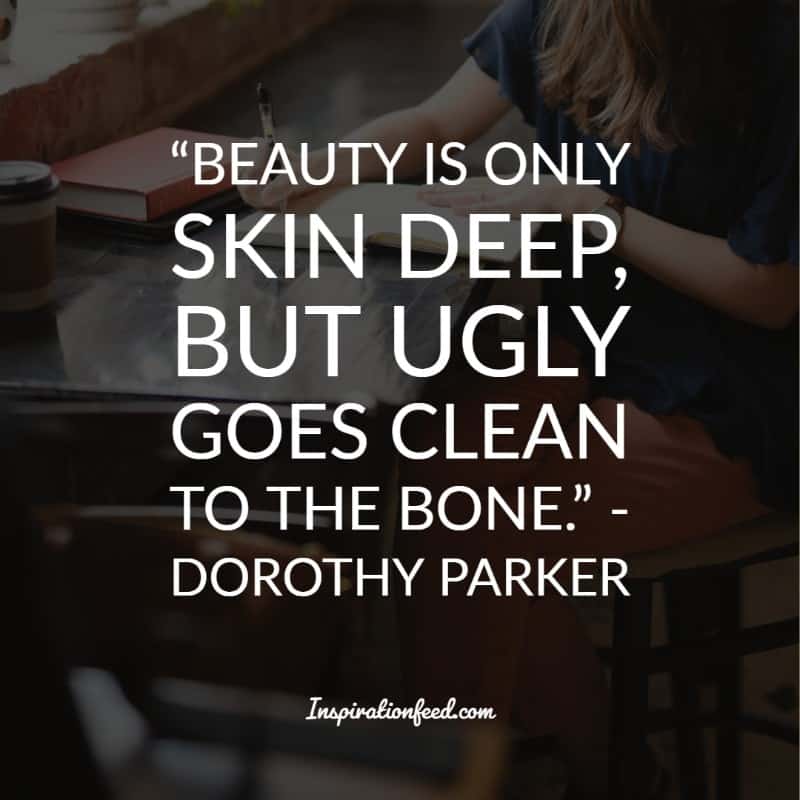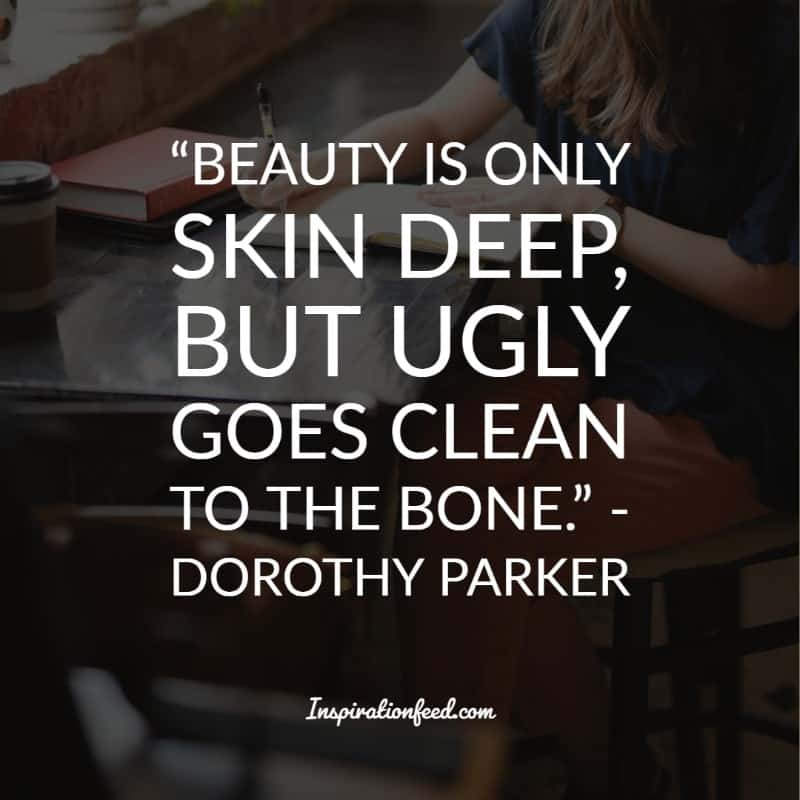 "Beauty is only skin deep, but ugly goes clean to the bone." – Dorothy Parker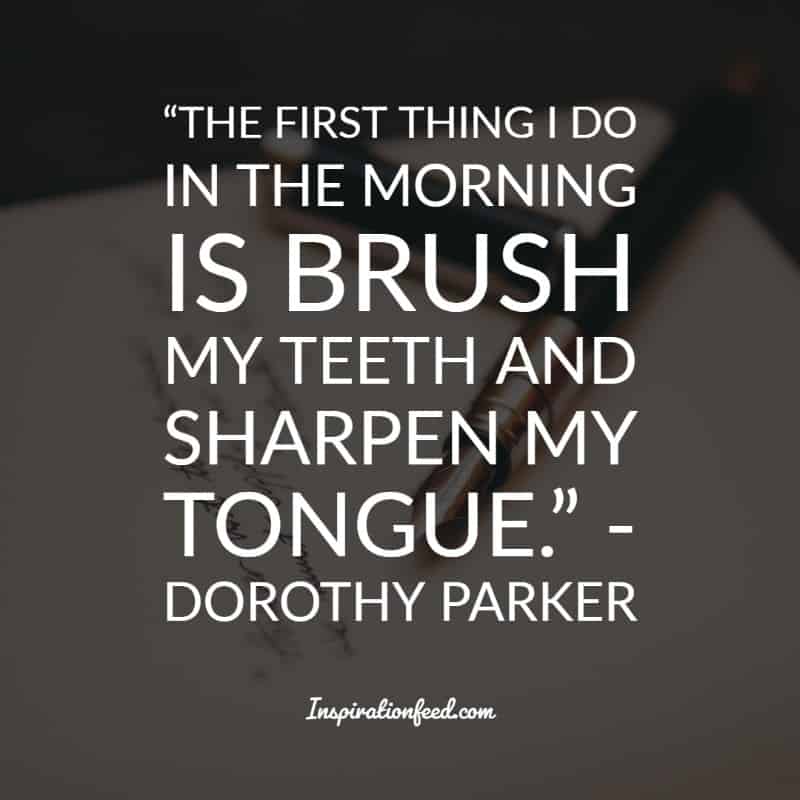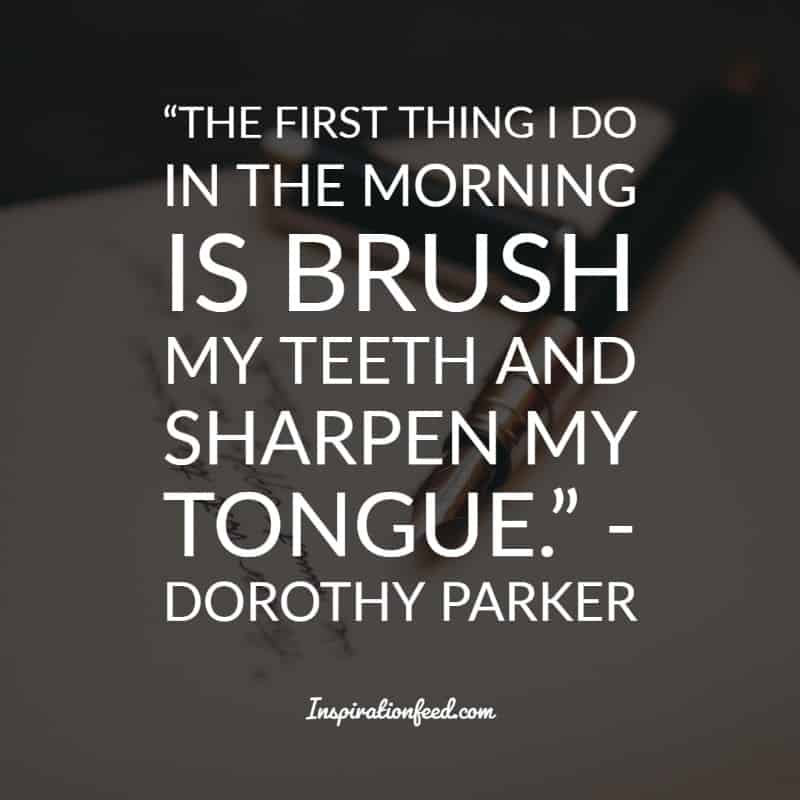 "The first thing I do in the morning is brush my teeth and sharpen my tongue." – Dorothy Parker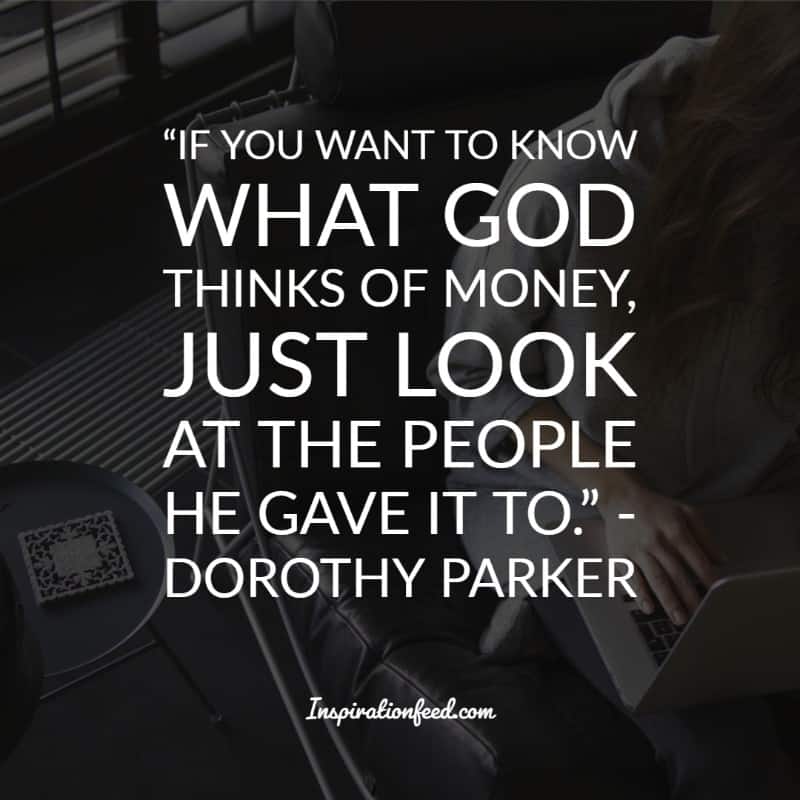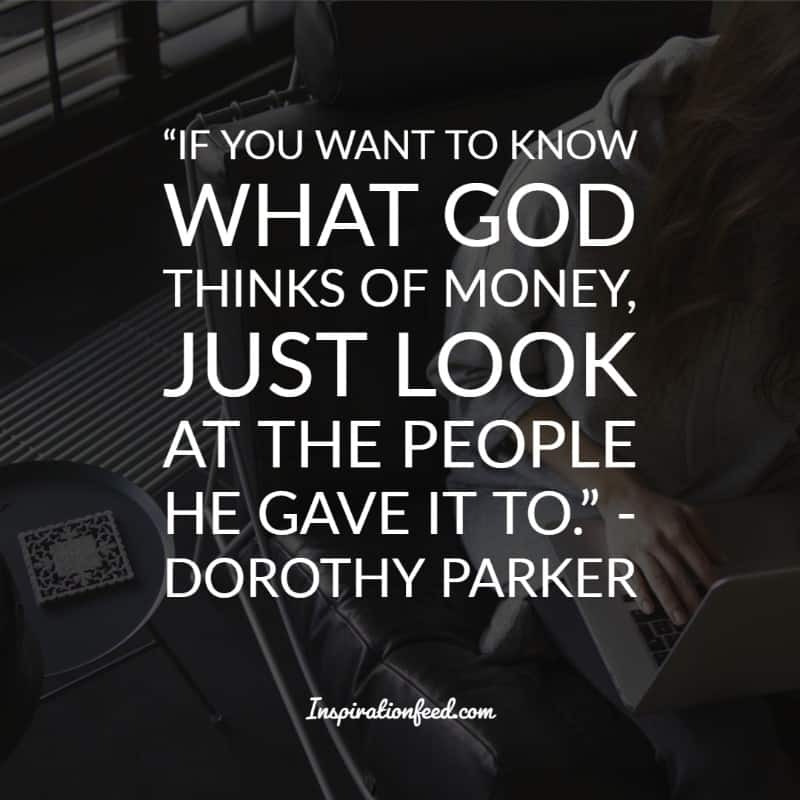 "If you want to know what God thinks of money, just look at the people he gave it to." – Dorothy Parker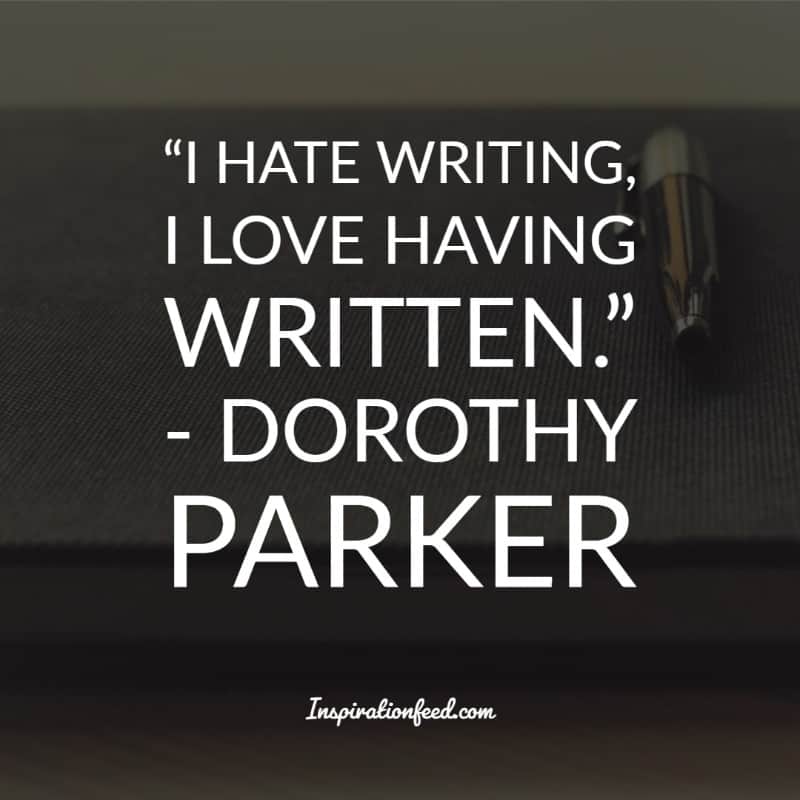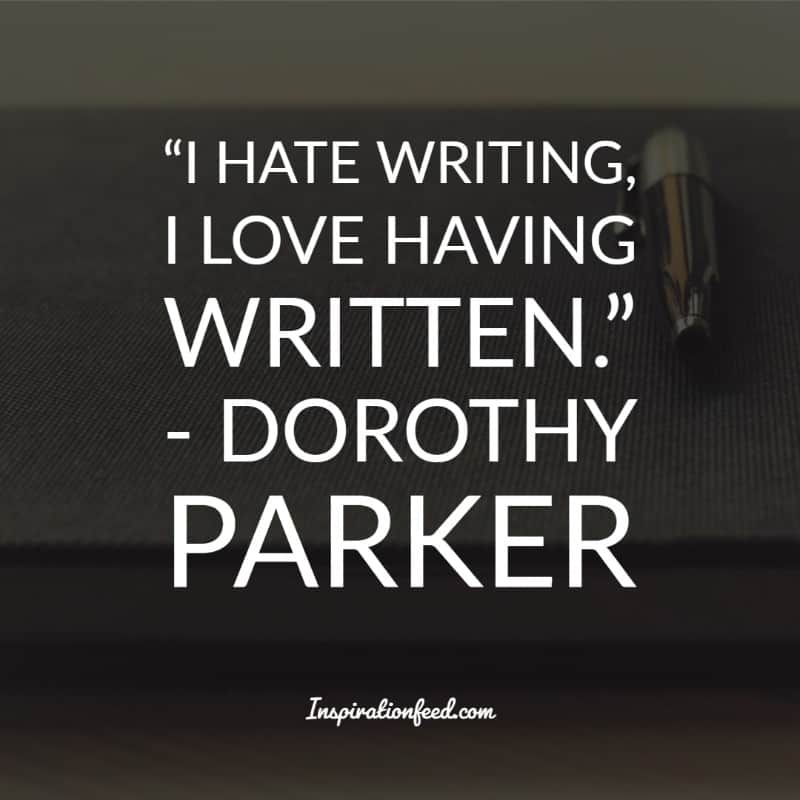 "I hate writing, I love having written." – Dorothy Parker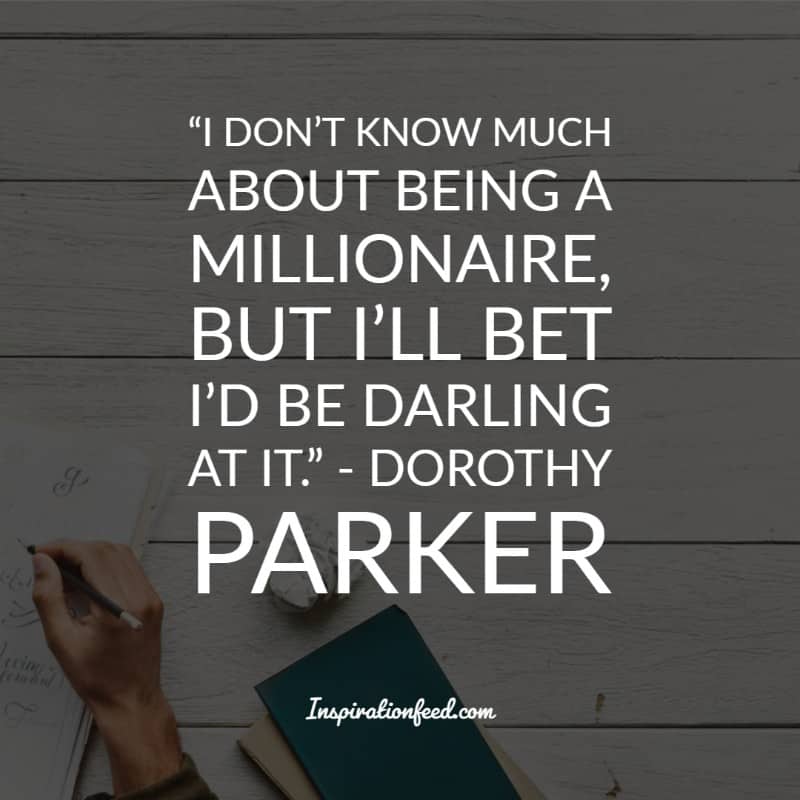 "I don't know much about being a millionaire, but I'll bet I'd be darling at it." – Dorothy Parker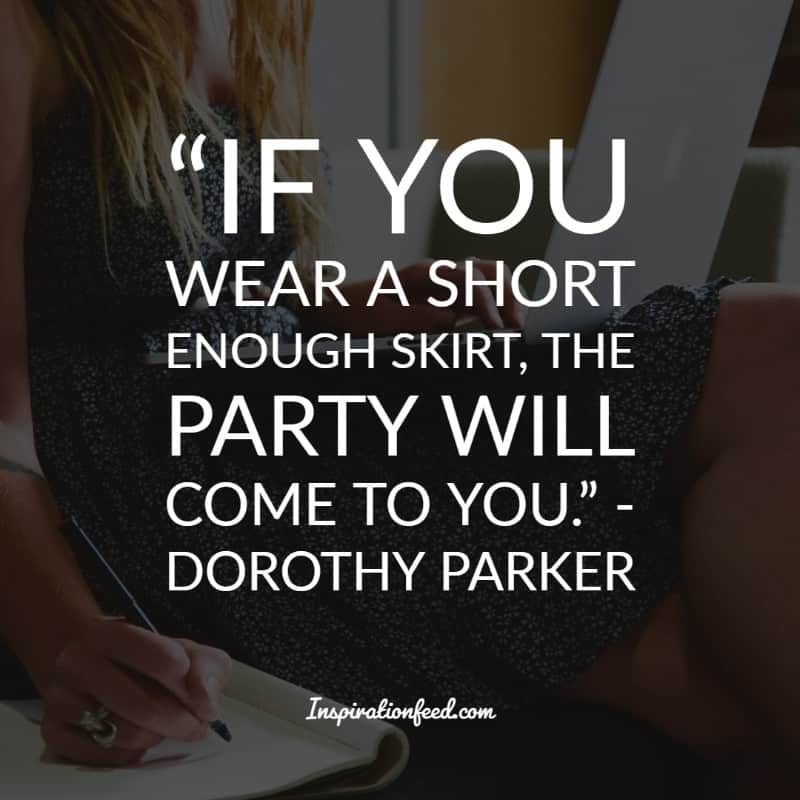 "If you wear a short enough skirt, the party will come to you." – Dorothy Parker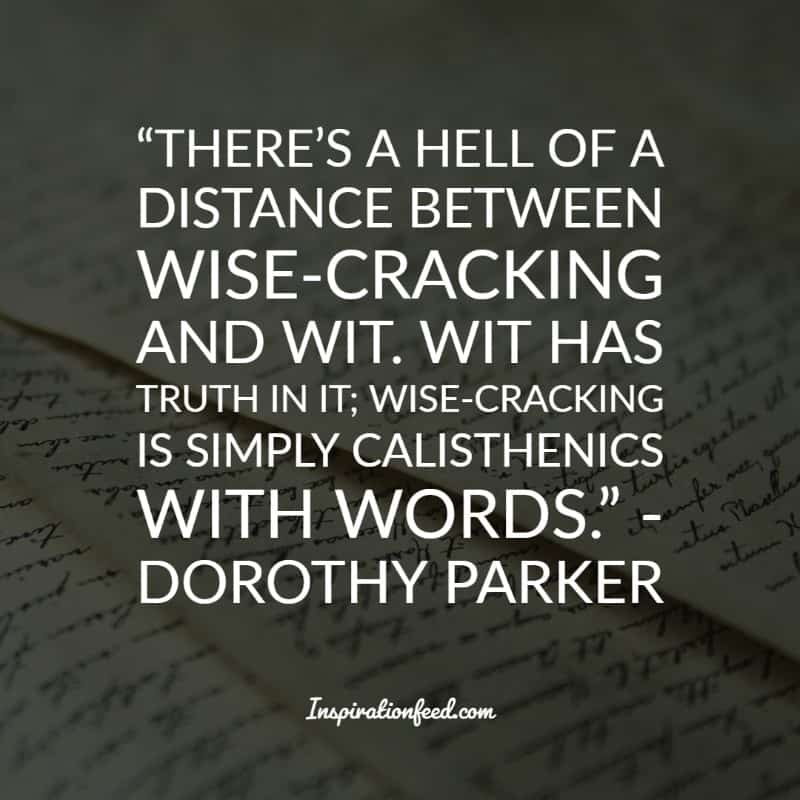 "There's a hell of a distance between wise-cracking and wit. Wit has truth in it; wise-cracking is simply calisthenics with words." – Dorothy Parker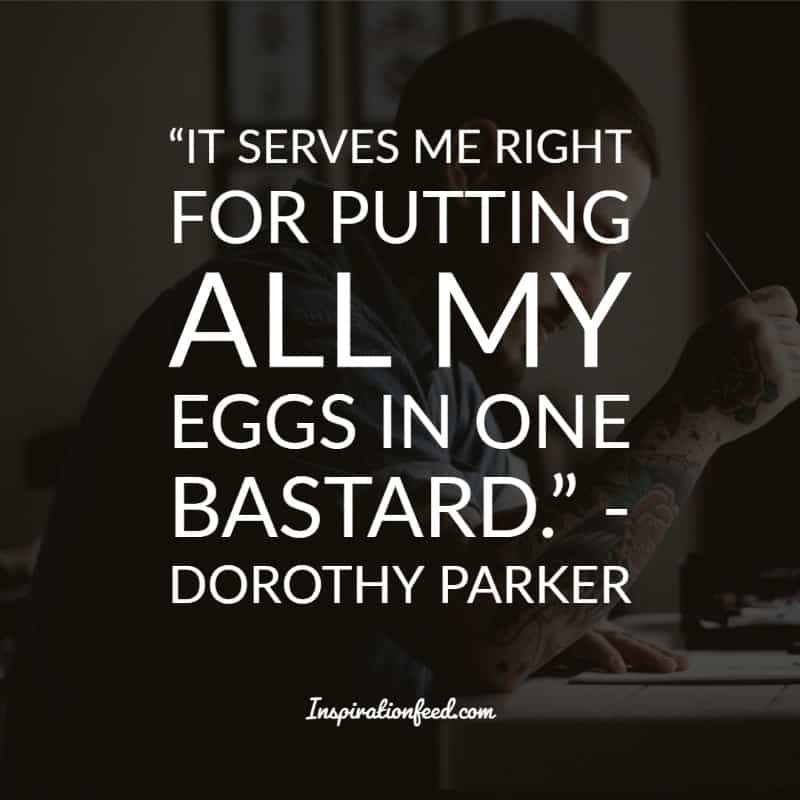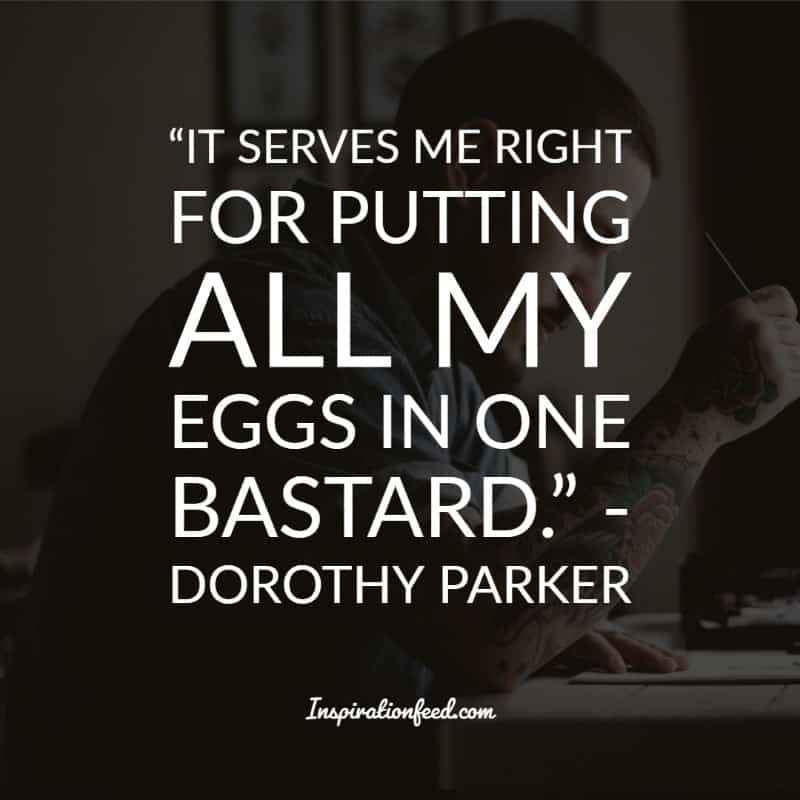 "It serves me right for putting all my eggs in one bastard." – Dorothy Parker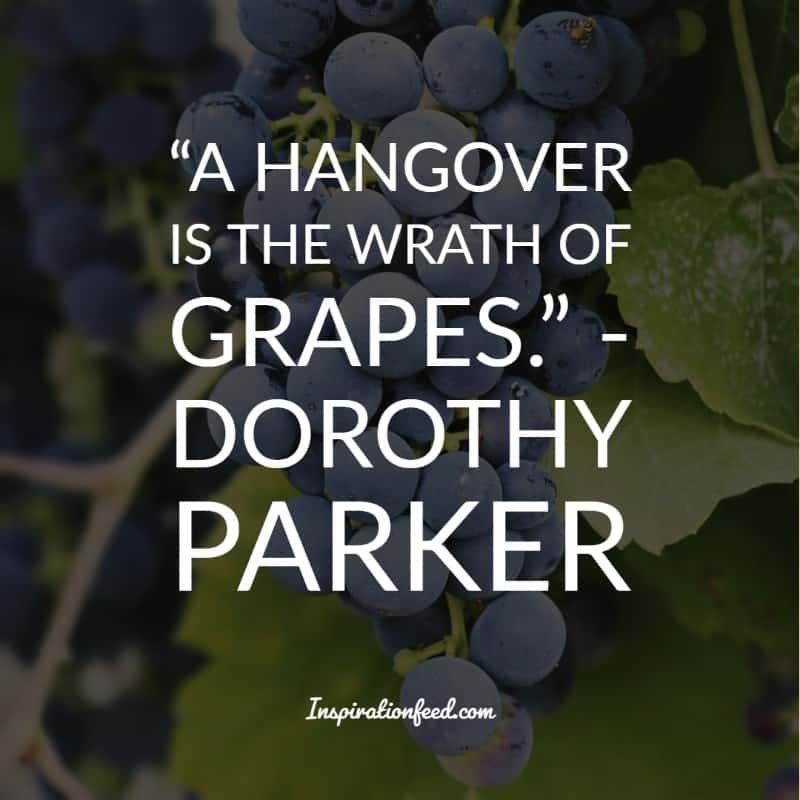 "A hangover is the wrath of grapes." – Dorothy Parker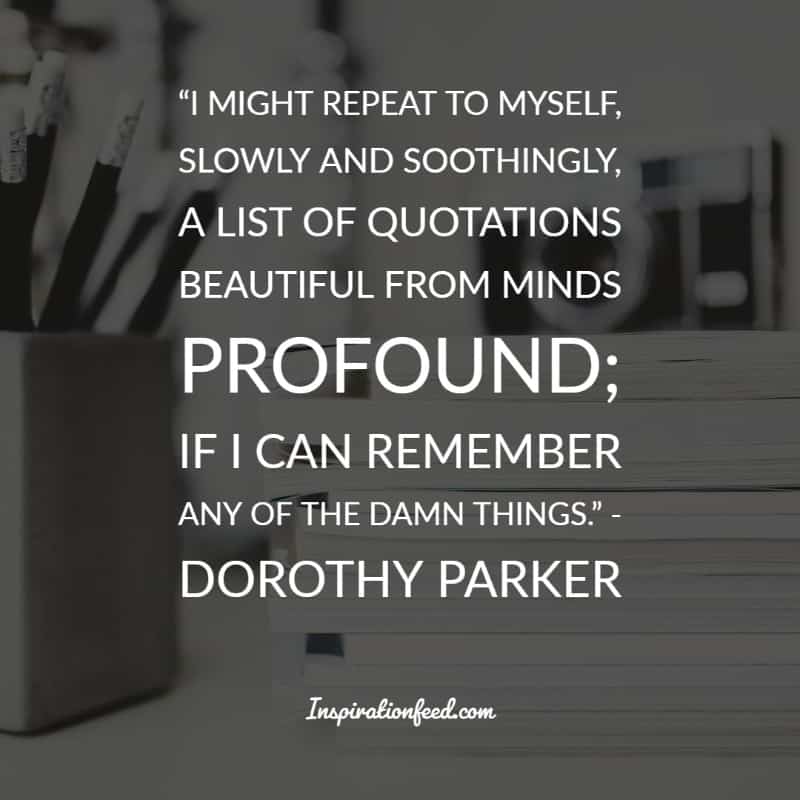 "I might repeat to myself, slowly and soothingly, a list of quotations beautiful from minds profound; if I can remember any of the damn things." – Dorothy Parker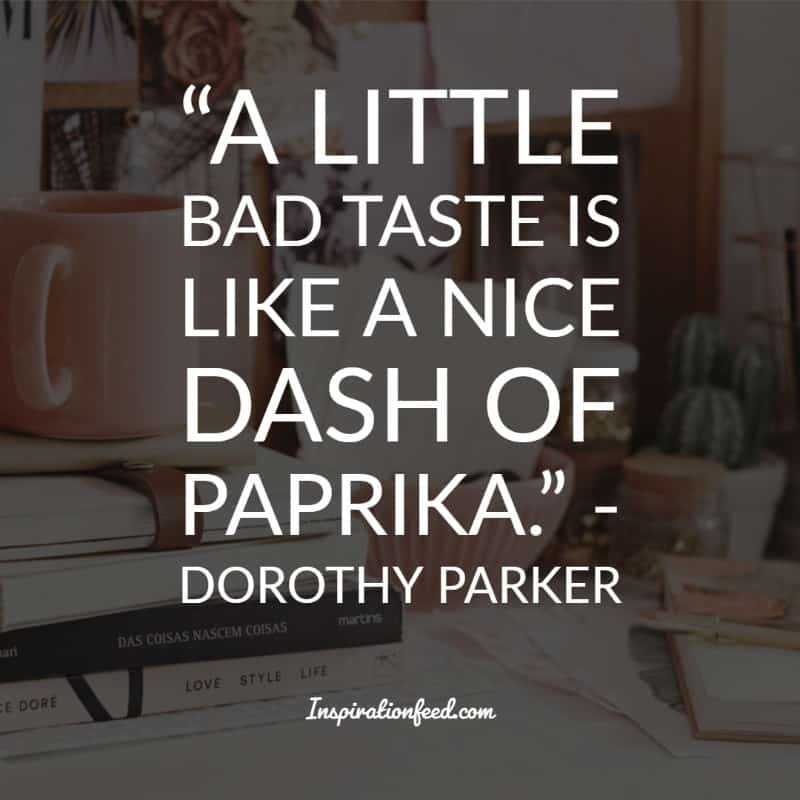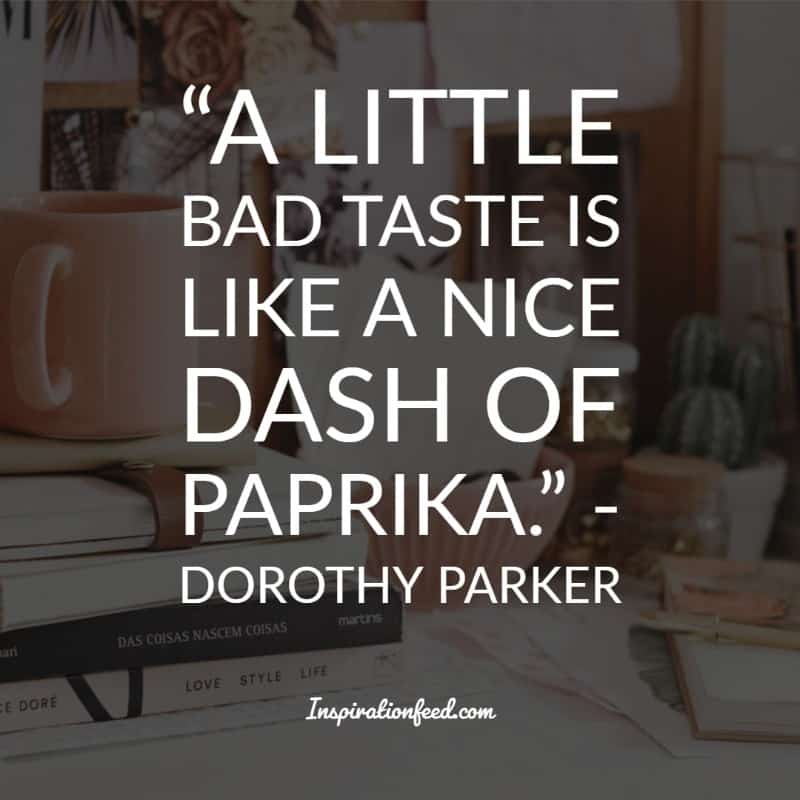 "A little bad taste is like a nice dash of paprika." – Dorothy Parker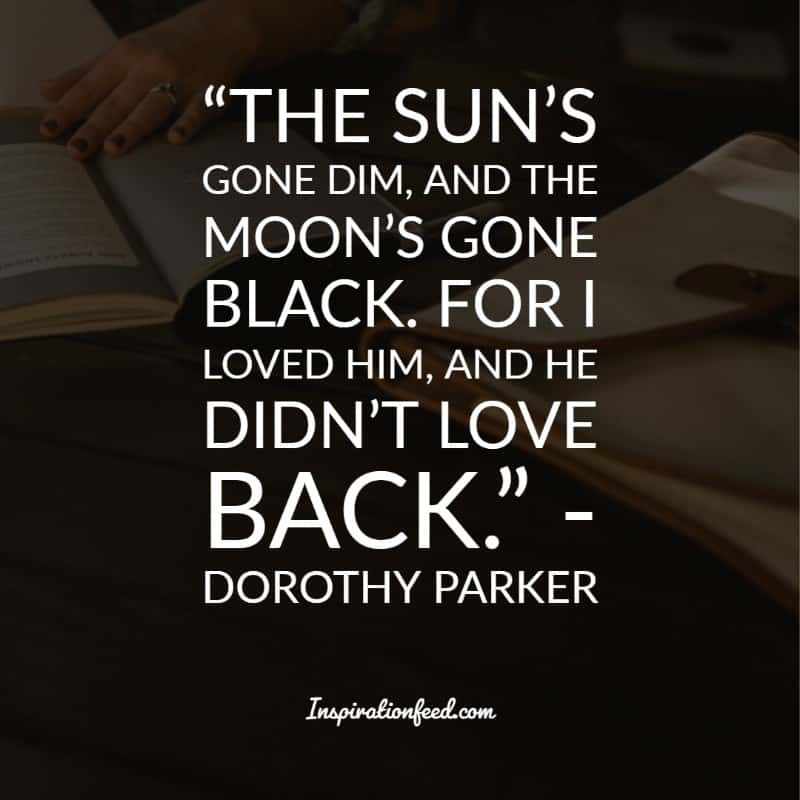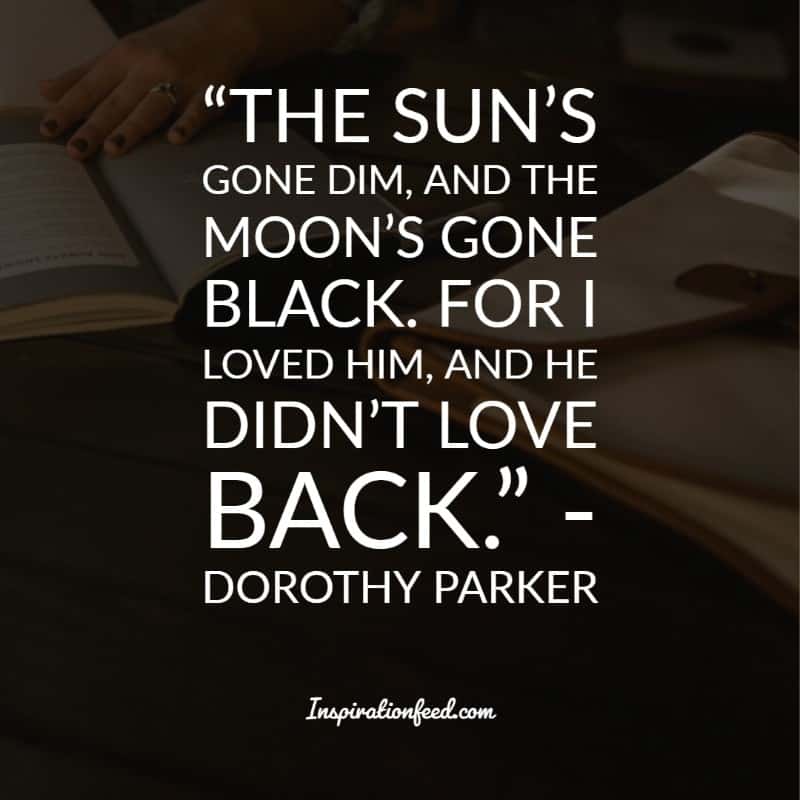 "The sun's gone dim, and the moon's gone black. For I loved him, and he didn't love back." – Dorothy Parker
"But I don't give up; I forget why not." – Dorothy Parker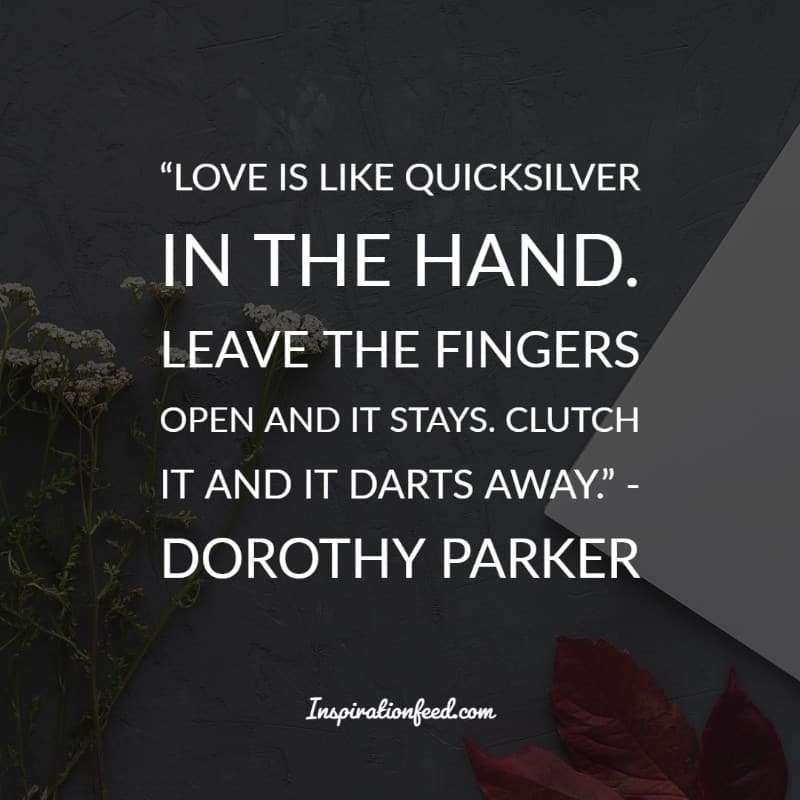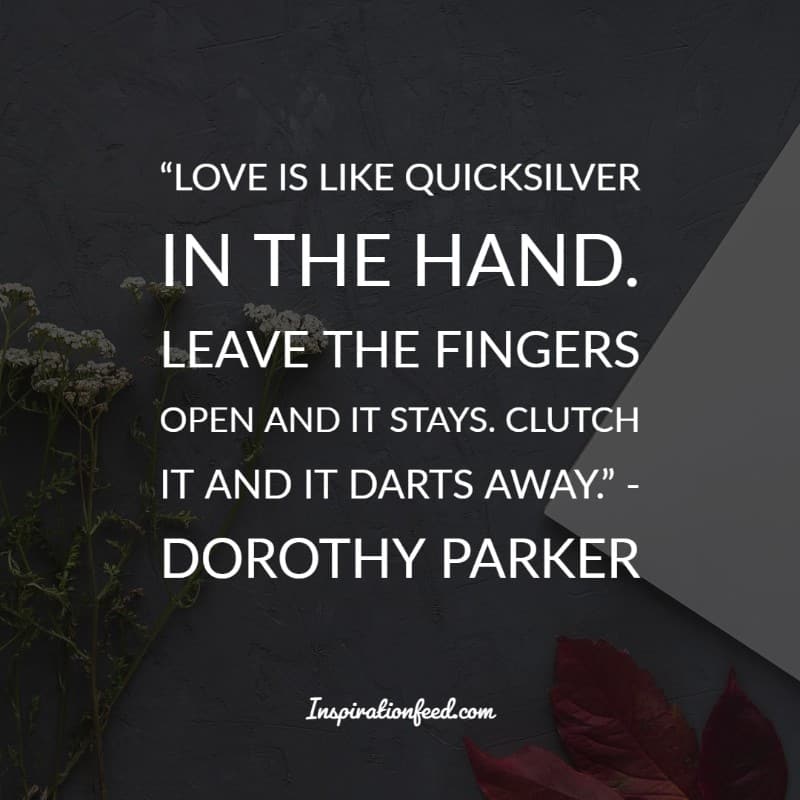 "Love is like quicksilver in the hand. Leave the fingers open and it stays. Clutch it and it darts away." – Dorothy Parker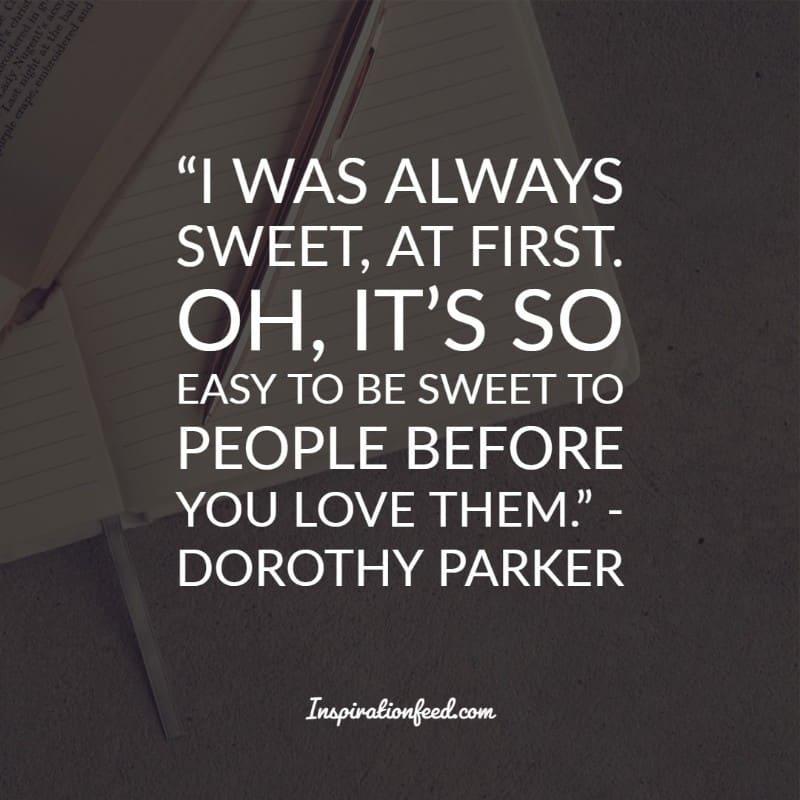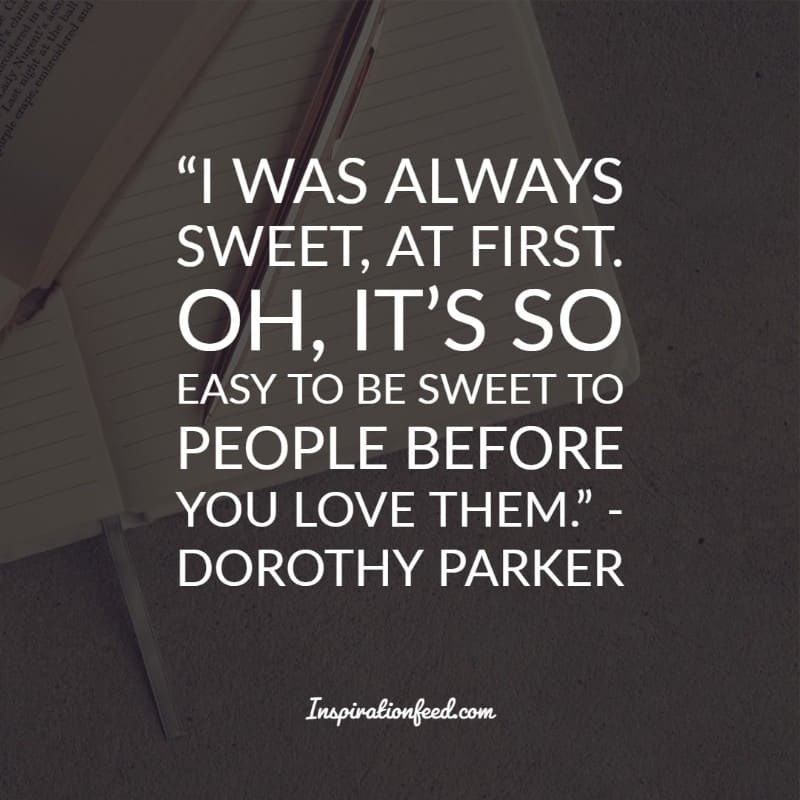 "I was always sweet, at first. Oh, it's so easy to be sweet to people before you love them." – Dorothy Parker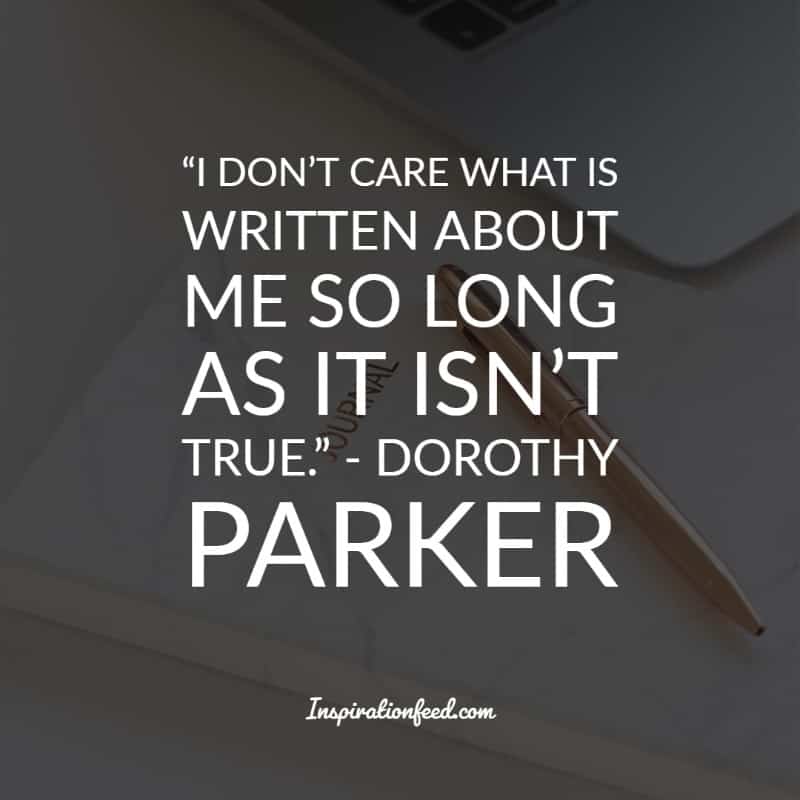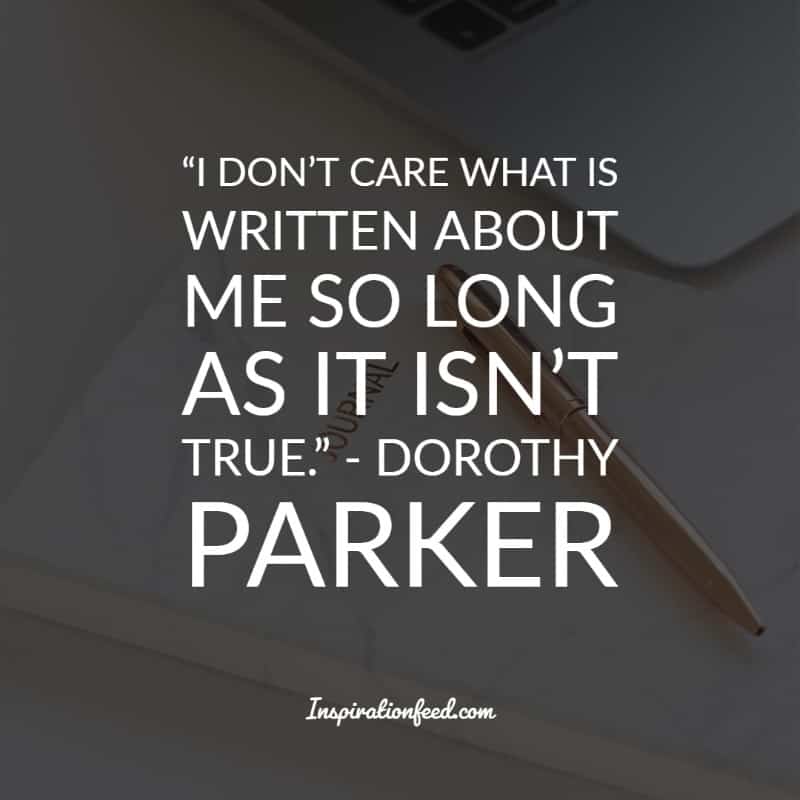 "I don't care what is written about me so long as it isn't true." – Dorothy Parker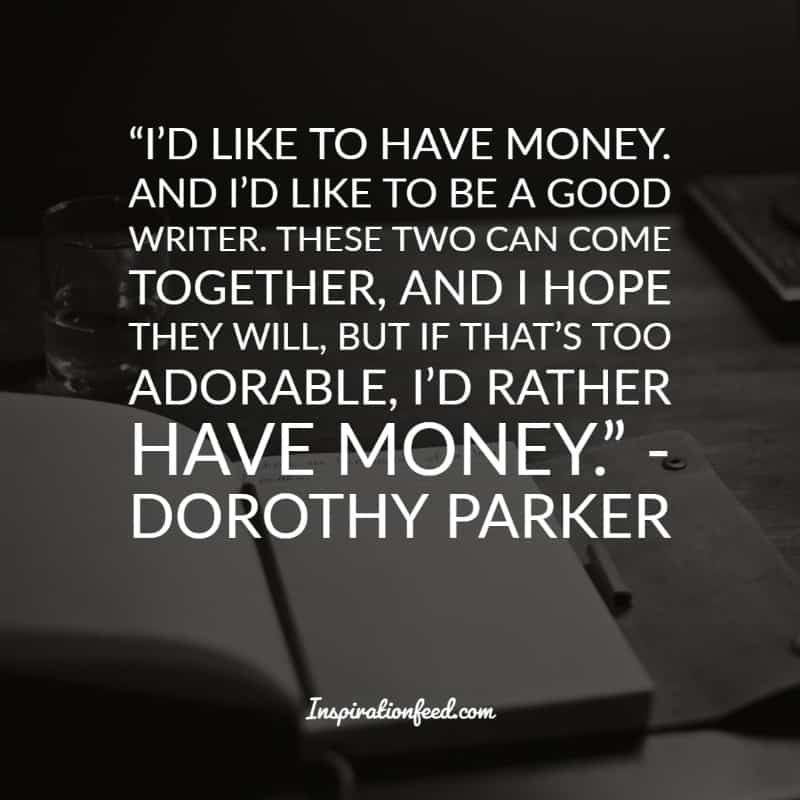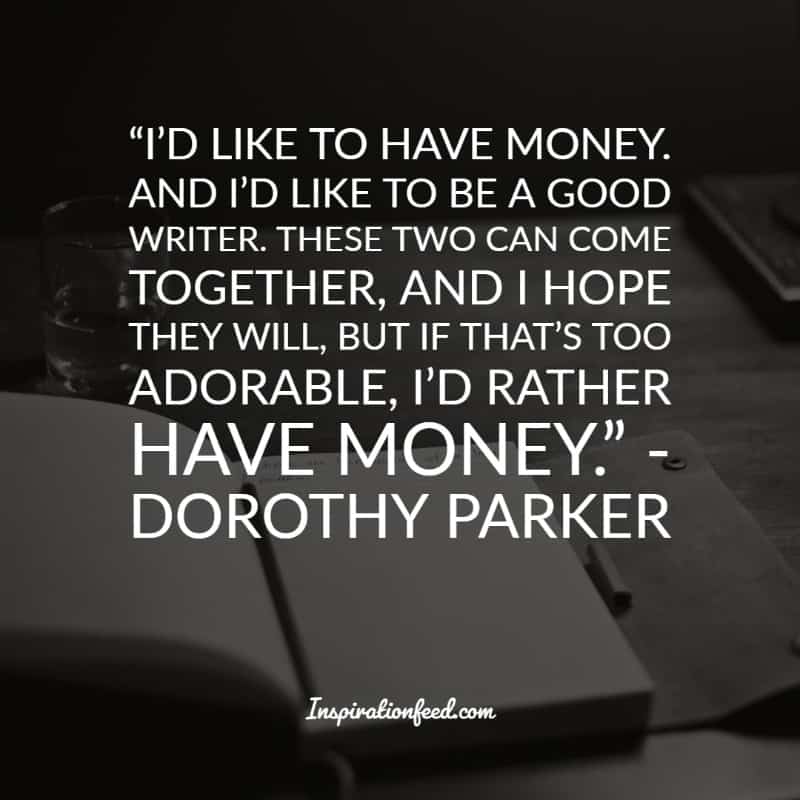 "I'd like to have money. And I'd like to be a good writer. These two can come together, and I hope they will, but if that's too adorable, I'd rather have money." – Dorothy Parker