Last Updated on March 8, 2022
"I love deadlines. I love the whooshing noise they make as they go by."
That is arguably the most famous quote from writer extraordinaire, Douglas Adams. A novelist, rationalist, writer and creator, Adams was as a stickler for deadlines. But he was more known as a former scriptwriter of Doctor Who and the creator of The Hitchhikers Guide to the Galaxy.
Douglas Adams, an Overview
Douglas Noël Adams, also known as Bop Ad or DNA (for his initials), was an English author, musician, and radio dramatist. He started his career as a radio personality. He then ventured into writing his "trilogy" of five books, The Hitchhiker's Guide to the Galaxy, which sold 15 million copies throughout his lifetime. He created a comic book series, a TV series, and a computer game. Adams also worked on a feature film, which was completed after his death.
Apart from the success he had with his trilogy, Adams was also known for co-writing three stories for the successful sci-fi TV series, Doctor Who. He was, in fact, the Script Director for season 17. Adam's other written works include Dirk Gently's Holistic Detective Agency novels.
He also co-wrote a couple of Liff books. The idea of Starship Titanic, a computer game, originated from Adams. The game was produced by the company he co-founded. Later on, Terry Jones adapted the game into a novel.
On May 11, 2001, Adams had a heart attack after resting from a regular workout. He was in California at the time, scheduled to deliver a commencement address at Harvey Mudd College on the 13th. His family, friends and colleagues attended his funeral in Santa Barbara on May 16. A little over his first death anniversary, his ashes were placed in Highgate Cemetery in London.
In 2002, a collection of Adams' essays and other incomplete materials was posthumously published. It was entitled The Salmon of Doubt.
Douglas Adams, His Early Days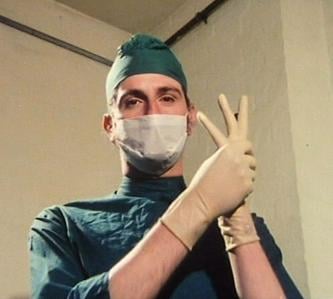 Born on March 11, 1952, Douglas Adams was the eldest child of Christopher Douglas Adams and Janet Donovan Adams. He had one younger sibling, Susan. They lived in the East End of London. When his parents divorced when he was five, Adams, along with his mother and sister, relocated to Brentwood, Essex.
At nine, Adams passed the entrance test for the prestigious independent institution, Brentwood School. He was in the same class as Charles Thomson, the Stuckist artist. He was educated at Brentwood until December 1970.
Adams was 6'5" in height. His former form master once said that his height has made him self-conscious at times. But his height (he was already 6' at age 12), wasn't his only claim to fame in school. His talent in writing stories had made him popular among teachers and students alike. He was the only student awarded by Halford a ten out of ten in creative writing.
A few of Adam's earliest writings were published in Brentwood via the school magazine, Broadsheet. He submitted reports and reviews, mostly edited by Paul Neil Milne Johnstone, who eventually became one of the characters in The Hitchhiker's Guide. In 1971, his brilliance in writing religious poetry earned him a coveted Exhibition in English at St John's College, Cambridge.
His next goal was to join an invitation-only student comedy club, the Footlights. He didn't get elected at first, so he started to write and perform with two of his school friends: Will Adams and Martin Smith. They called their group Adams-Smith-Adams. Eventually, he became a Footlights member.
Adams graduated with a degree in English literature in 1974. Over four decades after, students from his former school discovered, in a cupboard, a poem Adams wrote in 1970.
Other Interesting Facts about Douglas Adams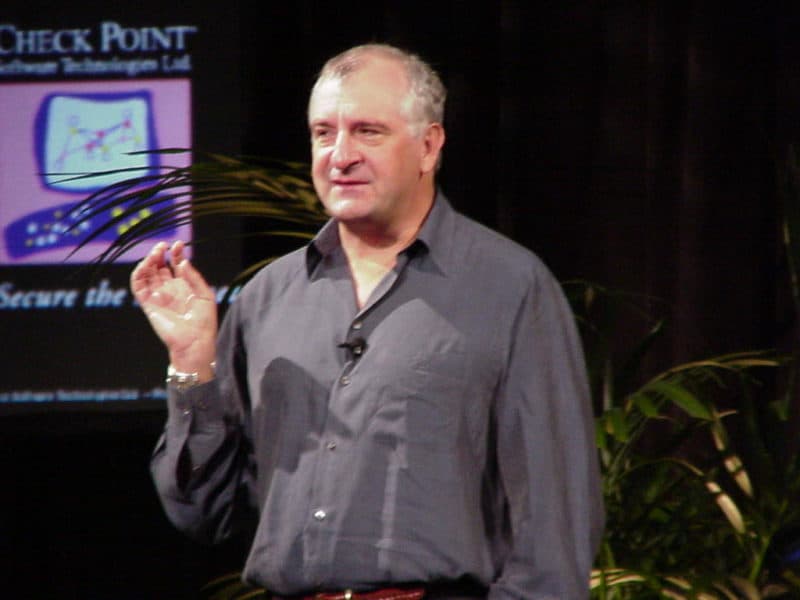 Adams has an extensive collection of electric guitars. When he'd host parties at his house, he would invite rock stars to entertain the guests. Being a musician himself, he would sometimes perform with them. In fact, he once joined Pink Floyd at a performance at Earl's Court.
Apart from his guitars, Adams was also fond of fast cars and cameras. He also loved technological innovation. He founded a dot.com company that launched a service sharing information about life and the universe. The site can be operated through mobile phones. The company is now under BBC.
In one of his interviews, Adams named Monty Python and the Beatles as critical cultural influences in his work. He found it an "epiphanous" moment when he discovered how most intelligent people expressed themselves through comedy. He dreamed of being John Cleese. He went to Cambridge to read English, intending to emulate the Pythons. He wanted to be a writer-performer.
Soon after, Adams focused on his writing but took several odd jobs to make ends meet. He was once a chicken-shed cleaner. He also took a job as a bodyguard to a prominent family in Qatar.
Douglas Adams' brilliance and art had given the world a lot to celebrate. Here are 35 thought-provoking quotes from Adams that are worth remembering.
Douglas Adams Quotes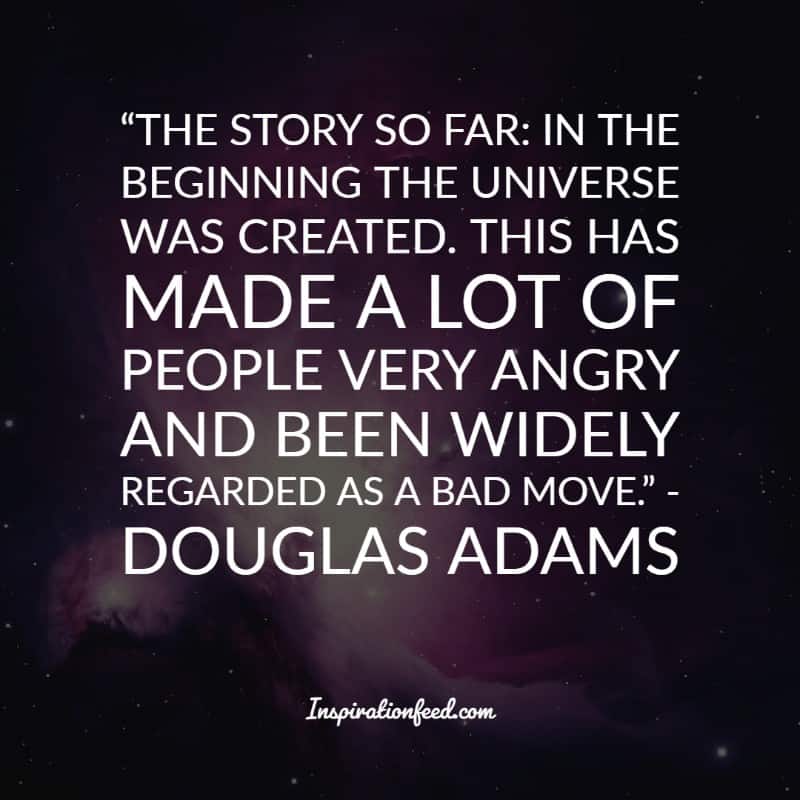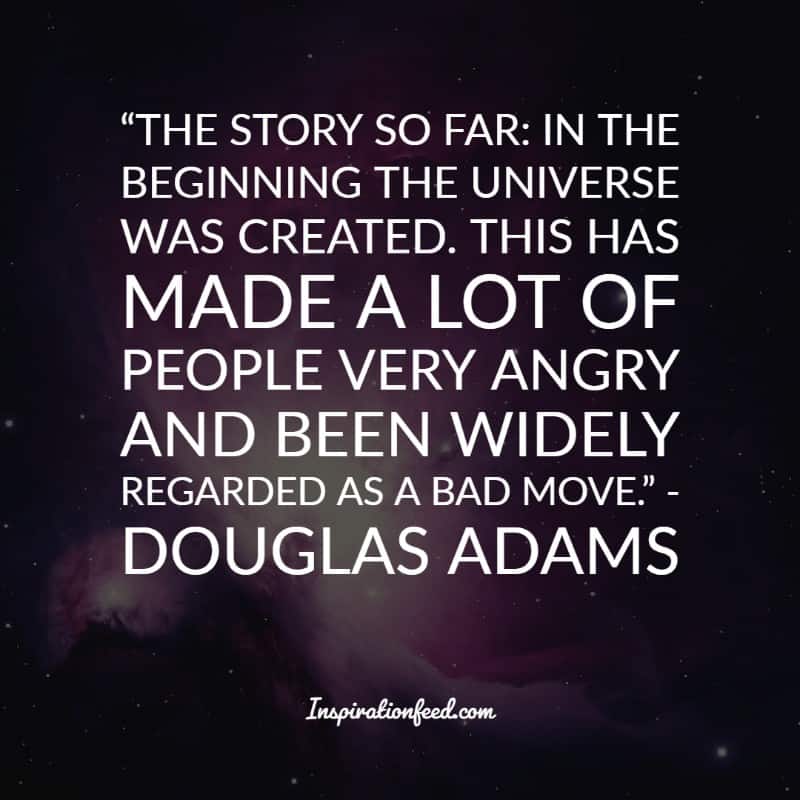 "The story so far: In the beginning the Universe was created. This has made a lot of people very angry and been widely regarded as a bad move." – Douglas Adams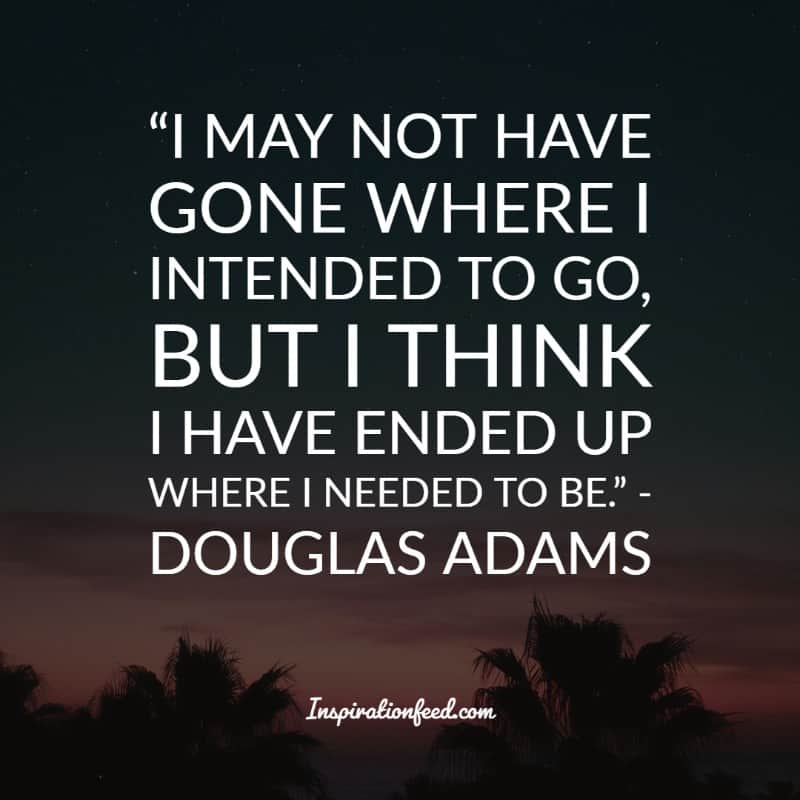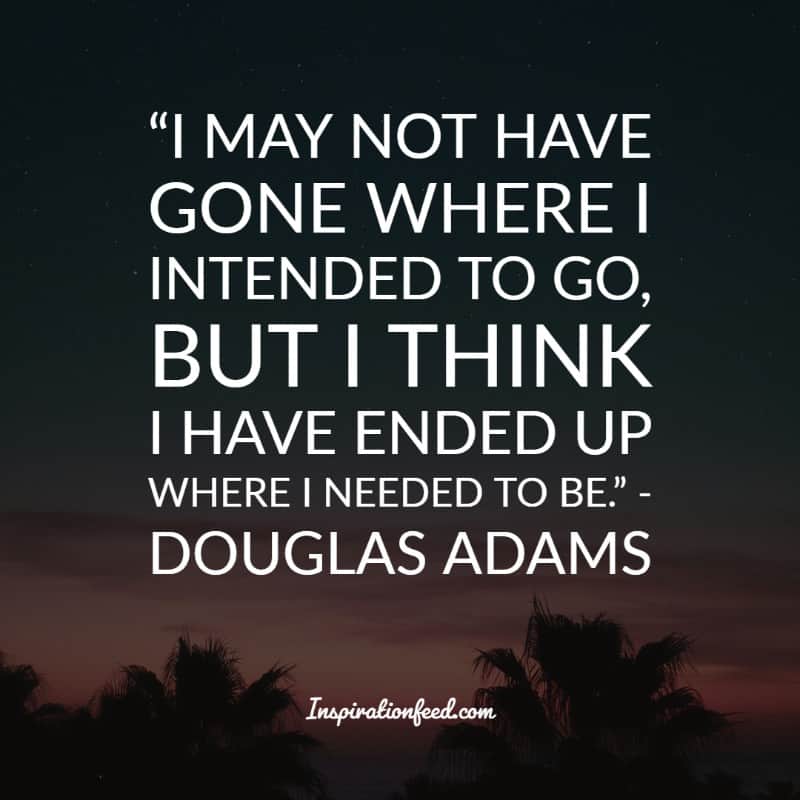 "I may not have gone where I intended to go, but I think I have ended up where I needed to be." – Douglas Adams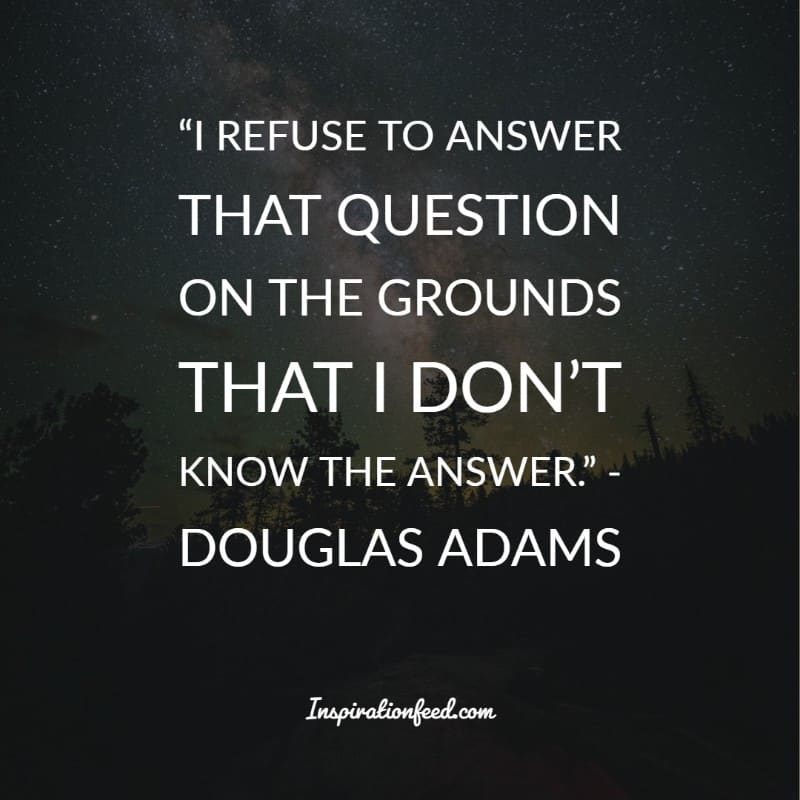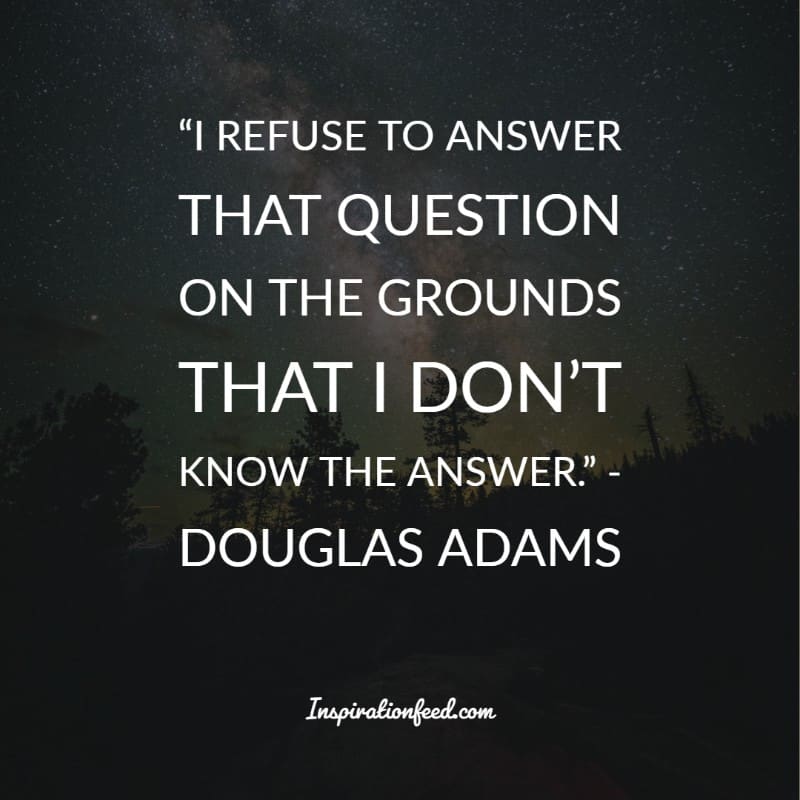 "I refuse to answer that question on the grounds that I don't know the answer." – Douglas Adams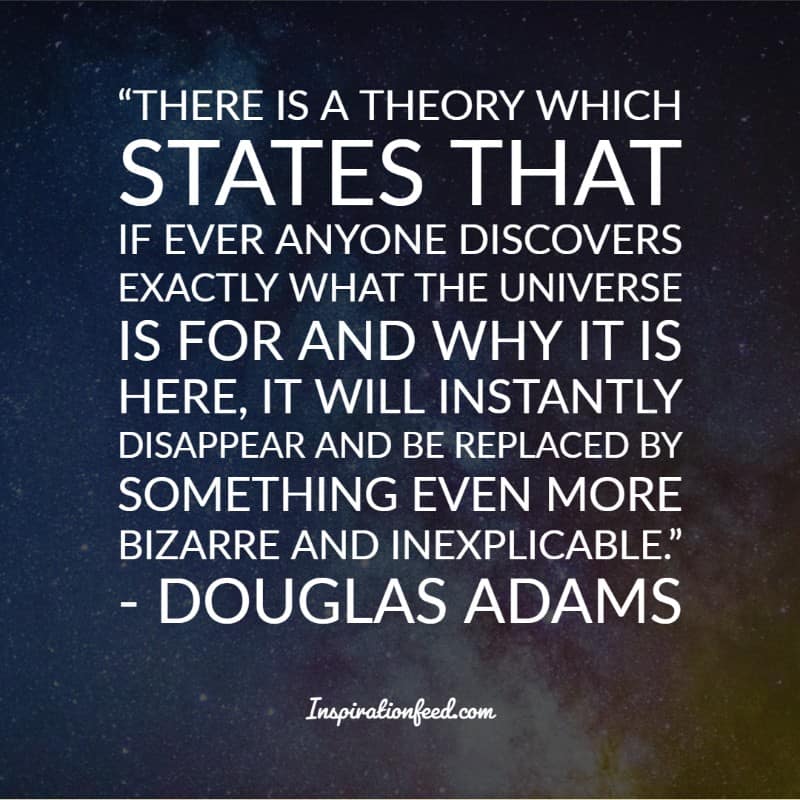 "There is a theory which states that if ever anyone discovers exactly what the Universe is for and why it is here, it will instantly disappear and be replaced by something even more bizarre and inexplicable." – Douglas Adams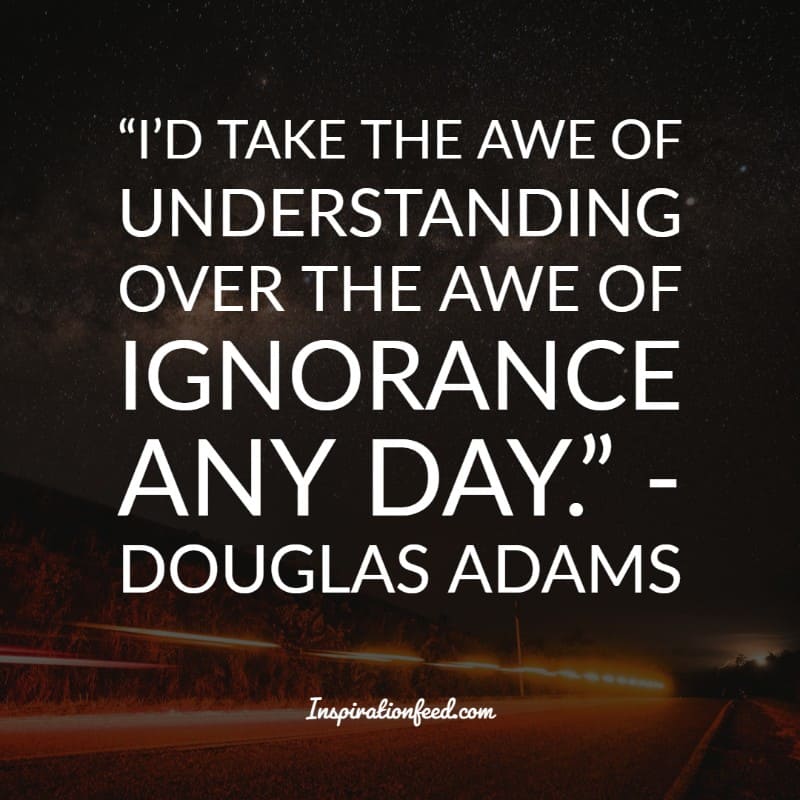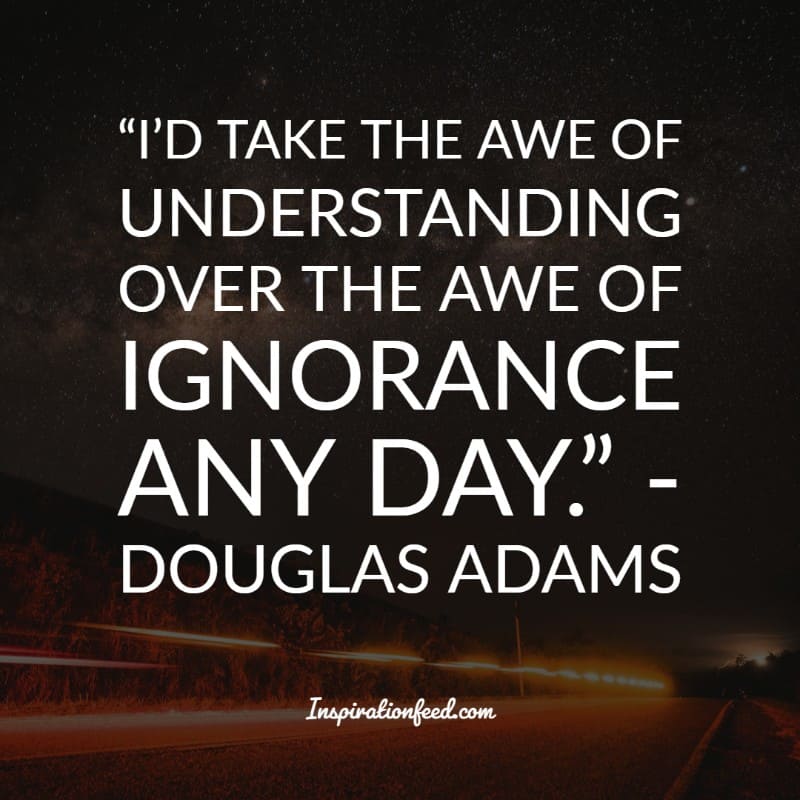 "I'd take the awe of understanding over the awe of ignorance any day." – Douglas Adams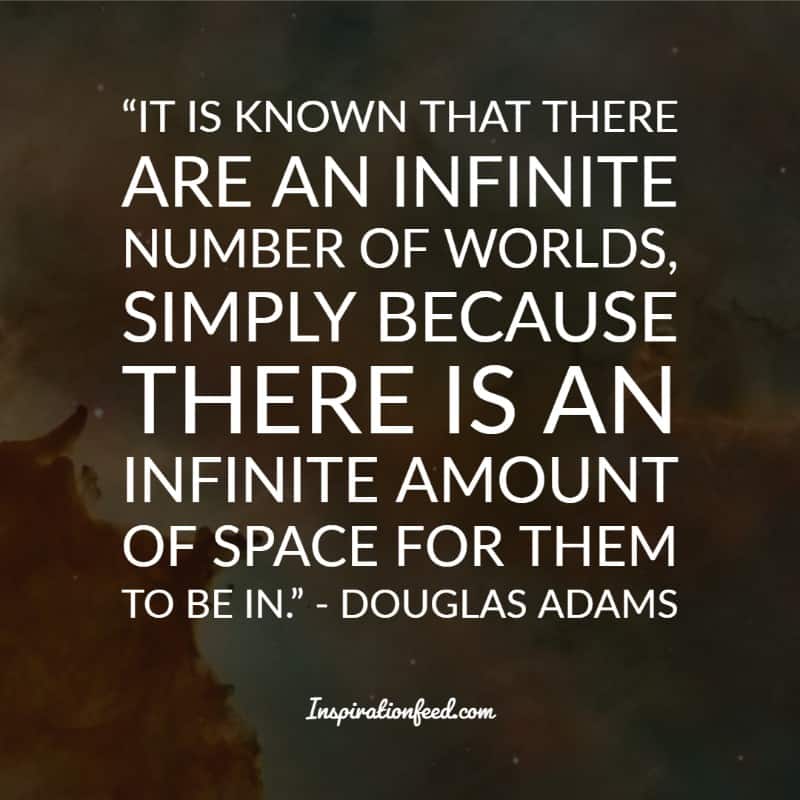 "It is known that there are an infinite number of worlds, simply because there is an infinite amount of space for them to be in." – Douglas Adams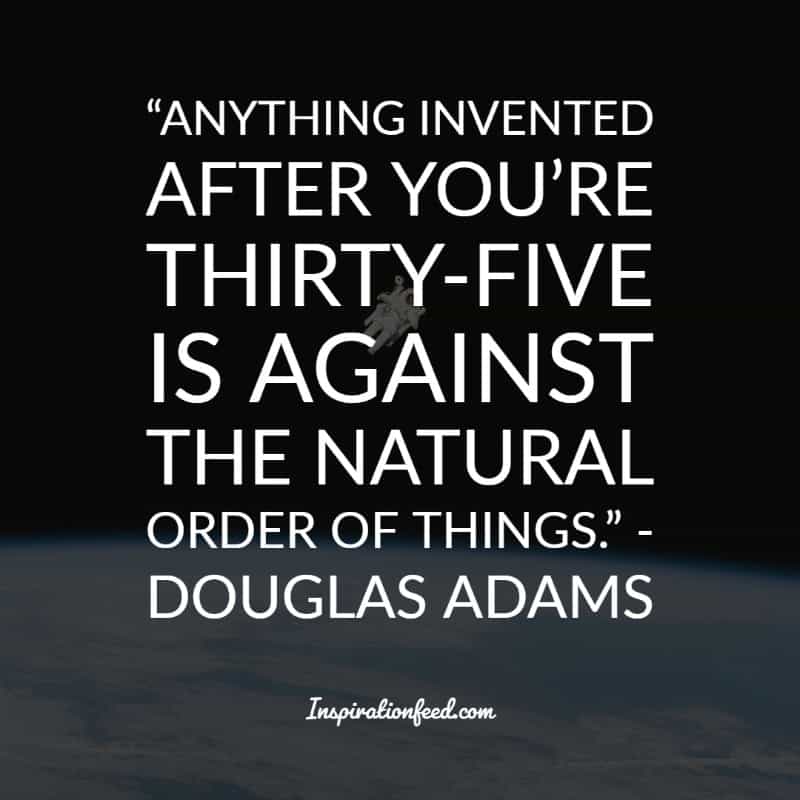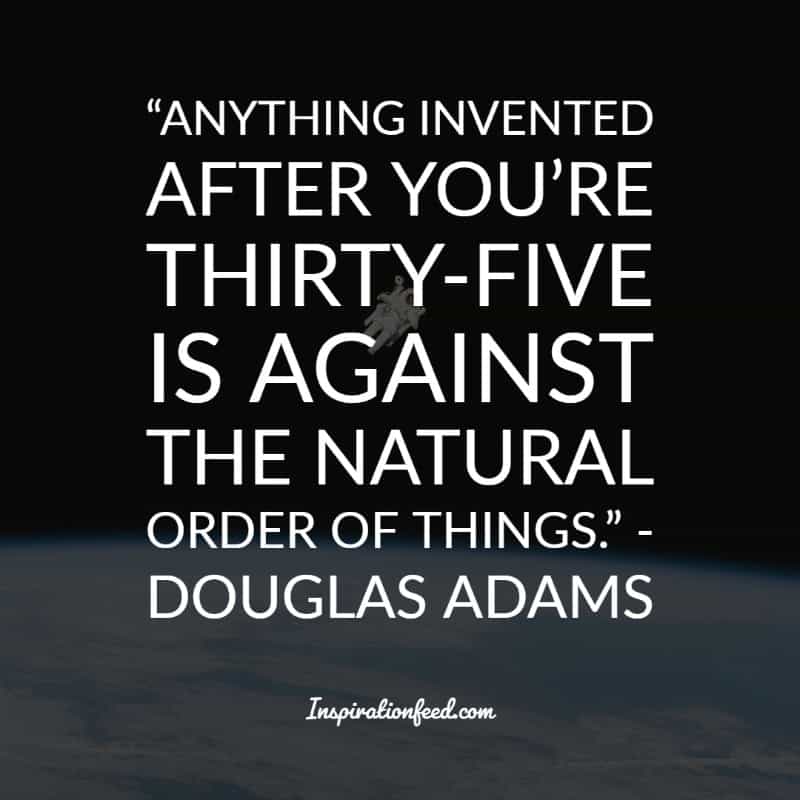 "Anything invented after you're thirty-five is against the natural order of things." – Douglas Adams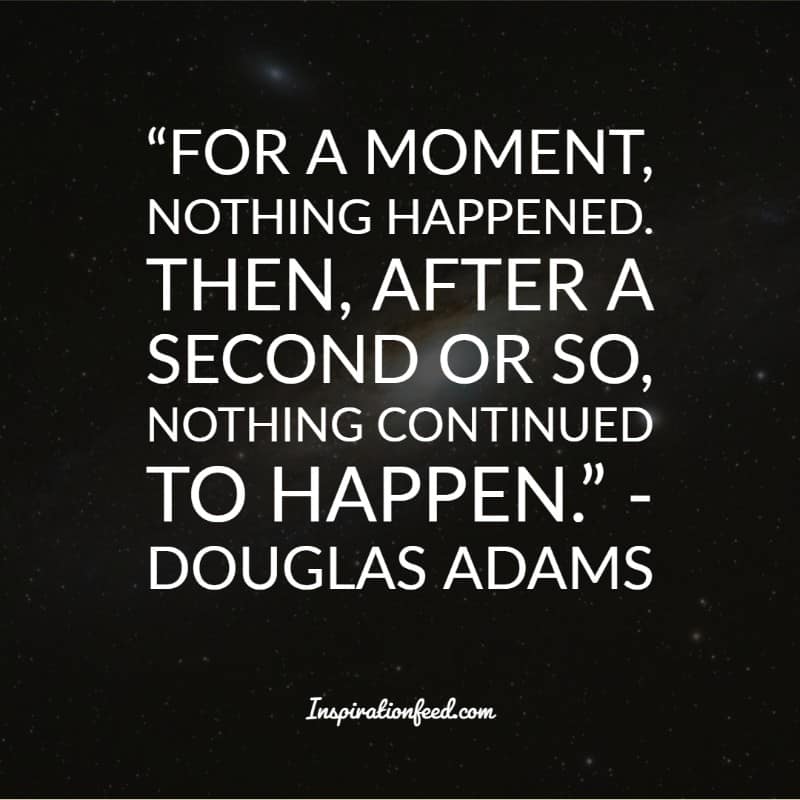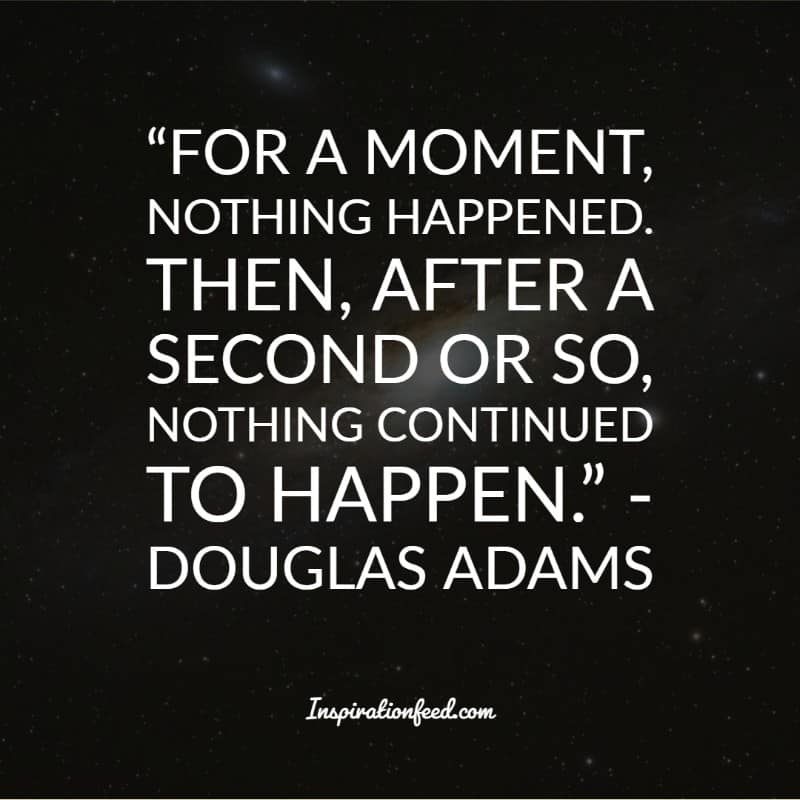 "For a moment, nothing happened. Then, after a second or so, nothing continued to happen." – Douglas Adams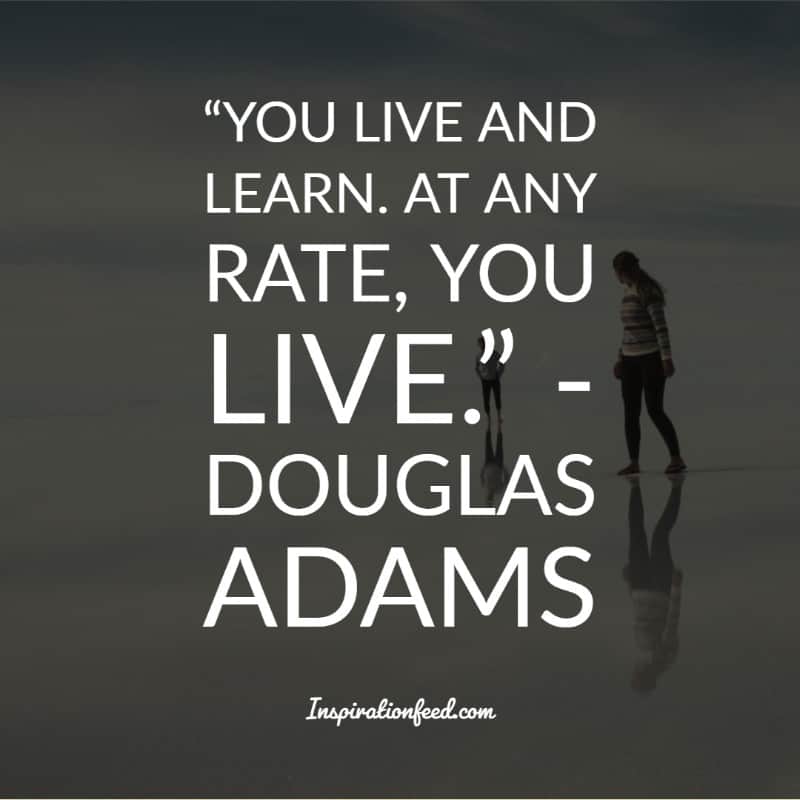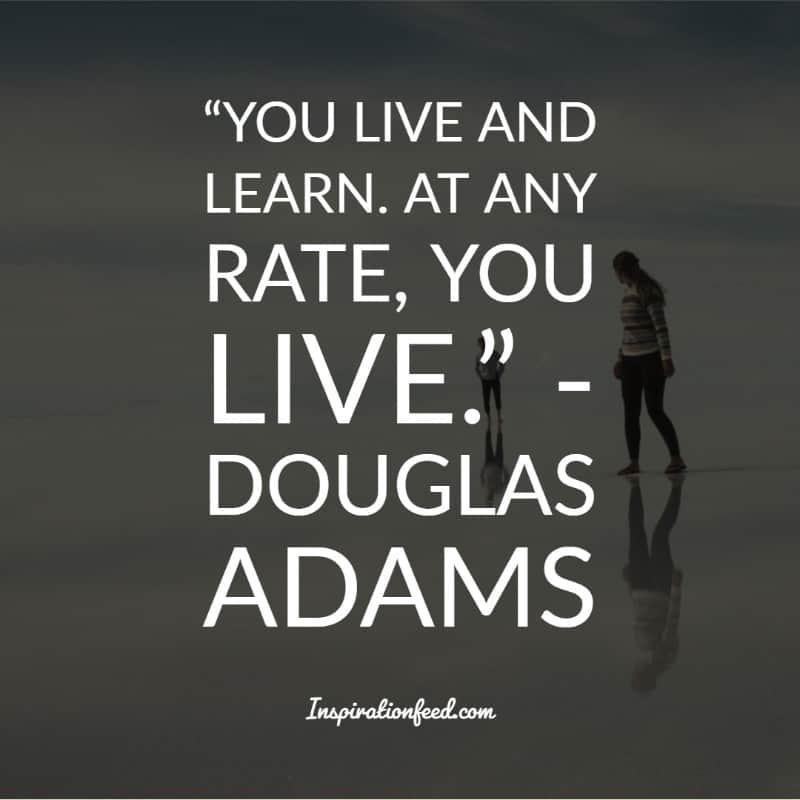 "You live and learn. At any rate, you live." – Douglas Adams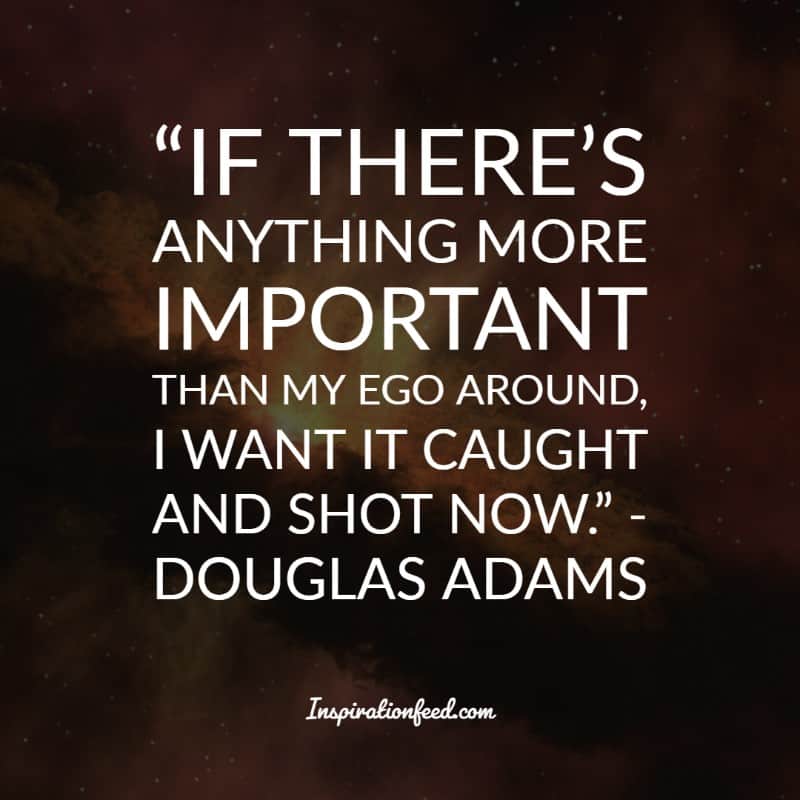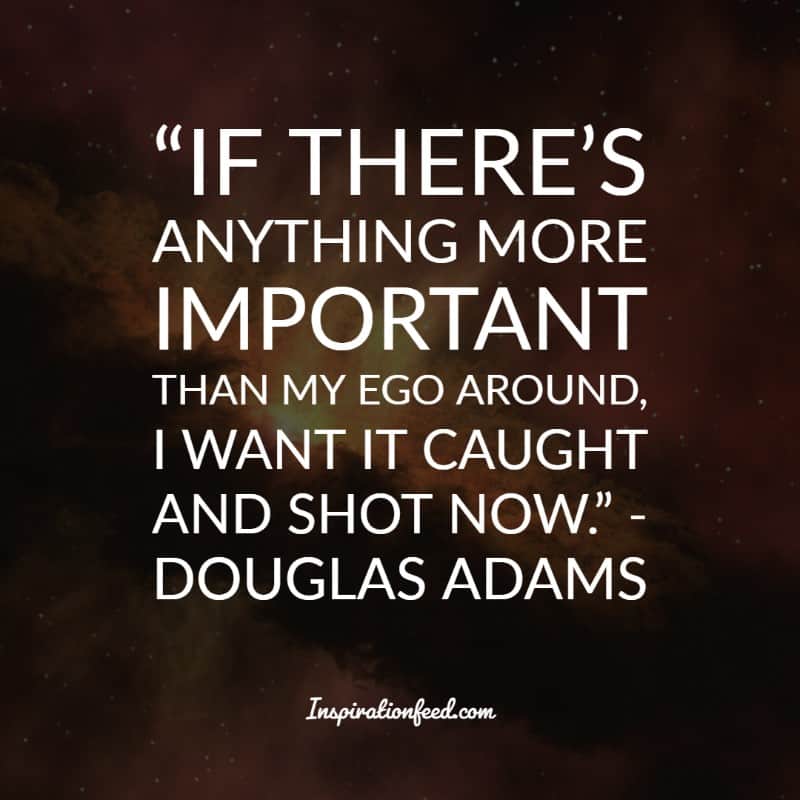 "If there's anything more important than my ego around, I want it caught and shot now." – Douglas Adams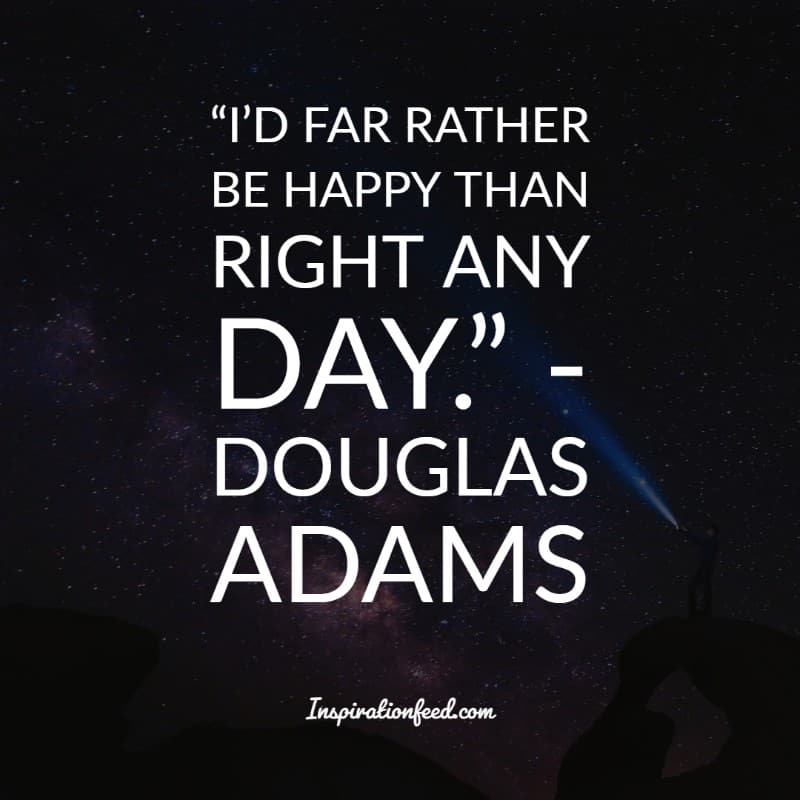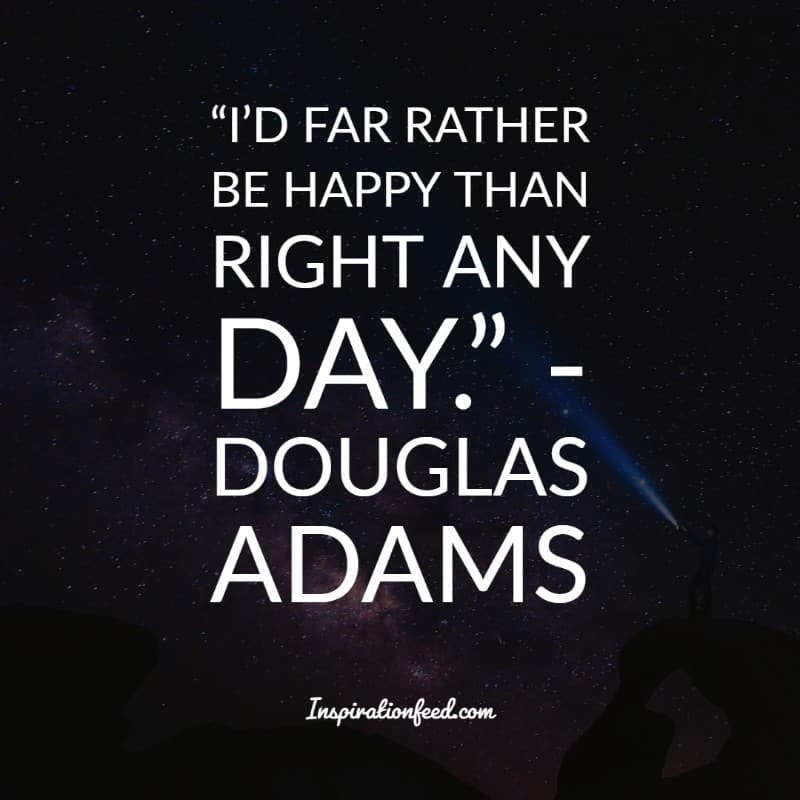 "I'd far rather be happy than right any day." – Douglas Adams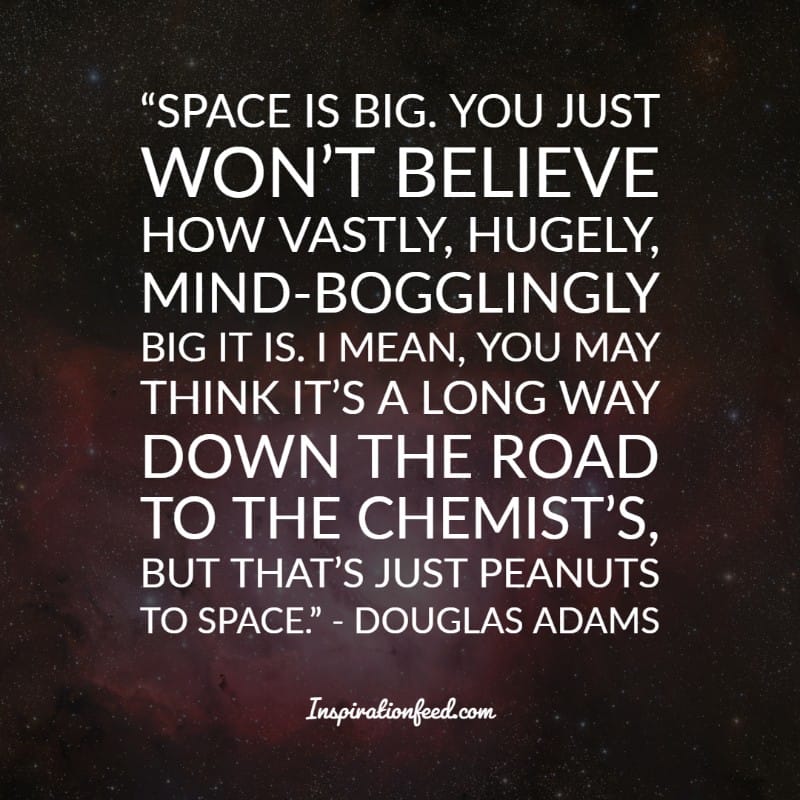 "Space is big. You just won't believe how vastly, hugely, mind-bogglingly big it is. I mean, you may think it's a long way down the road to the chemist's, but that's just peanuts to space." – Douglas Adams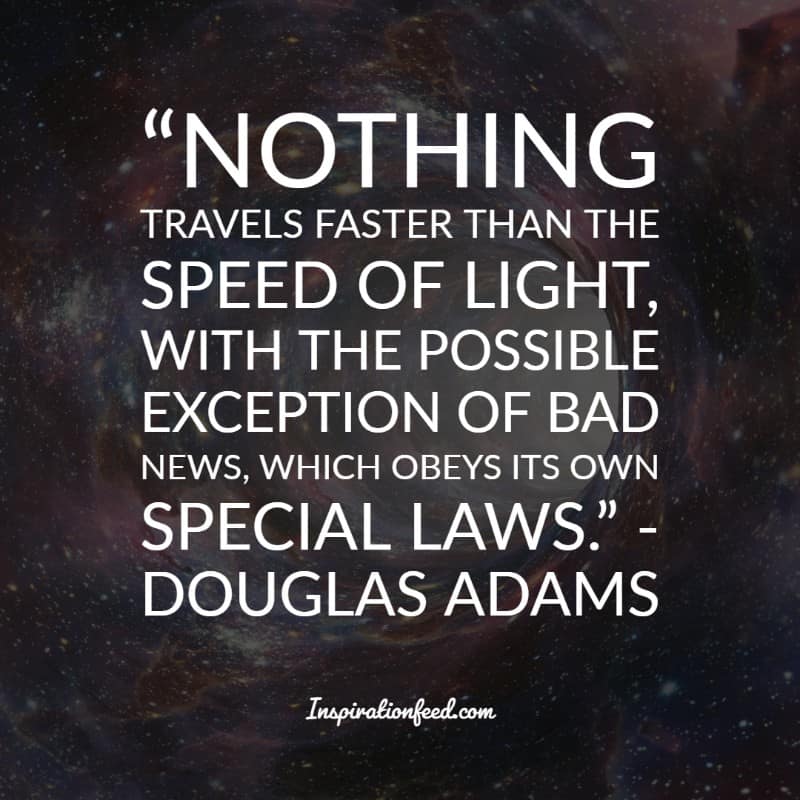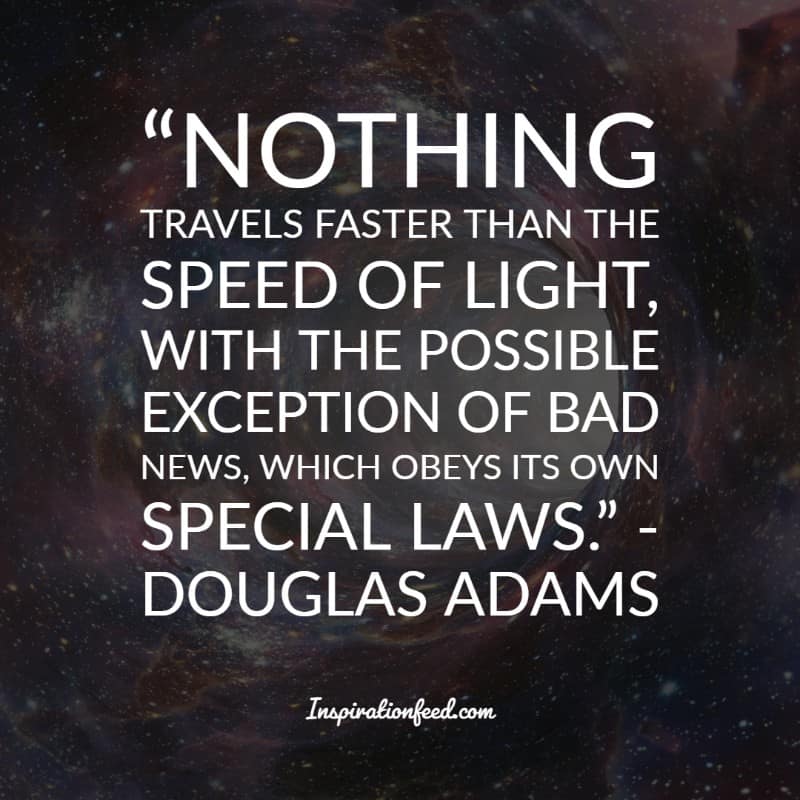 "Nothing travels faster than the speed of light, with the possible exception of bad news, which obeys its own special laws." – Douglas Adams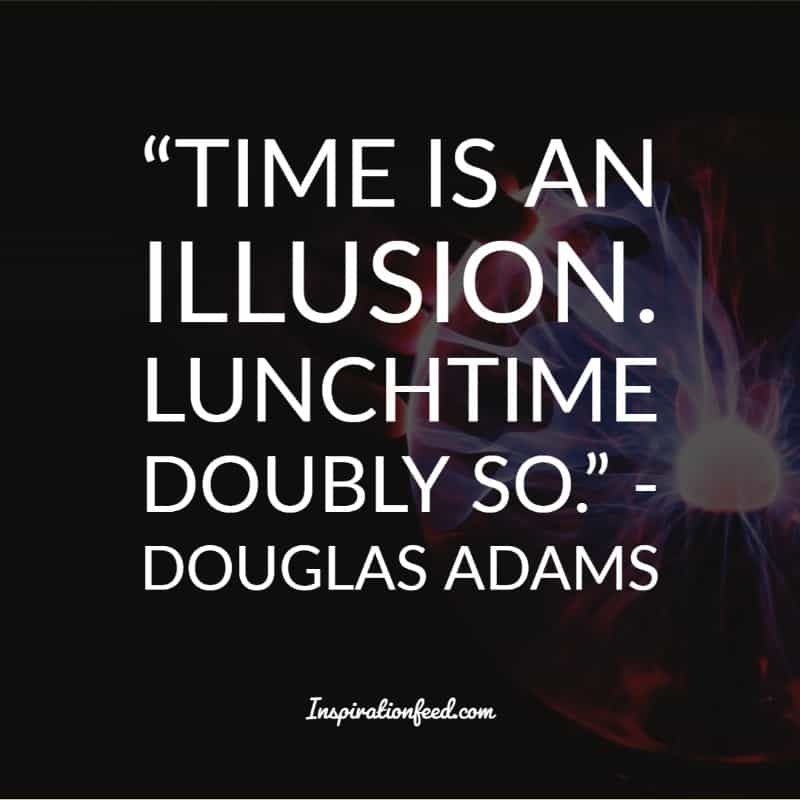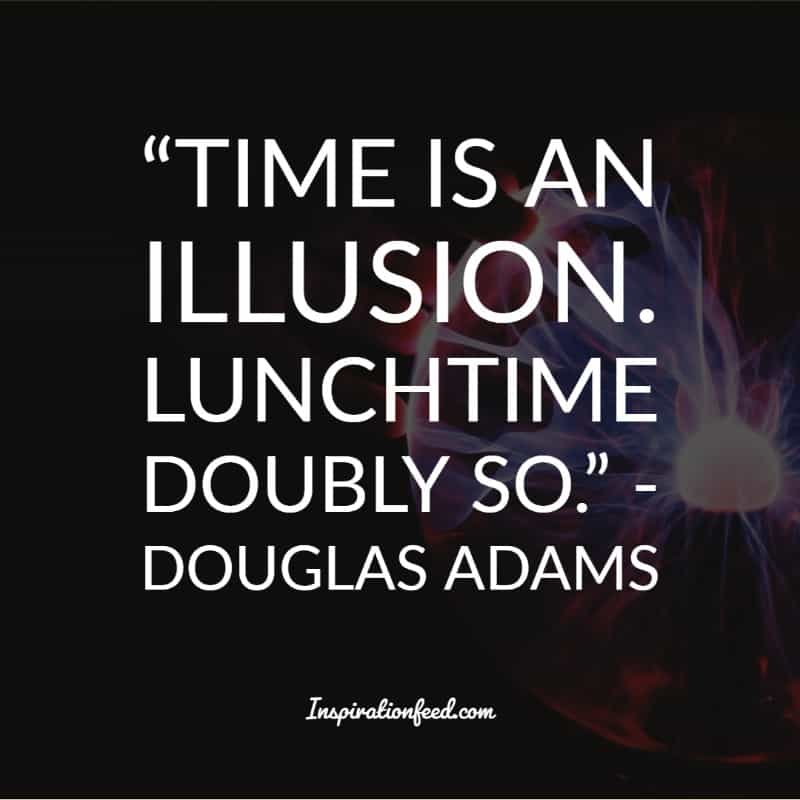 "Time is an illusion. Lunchtime doubly so." – Douglas Adams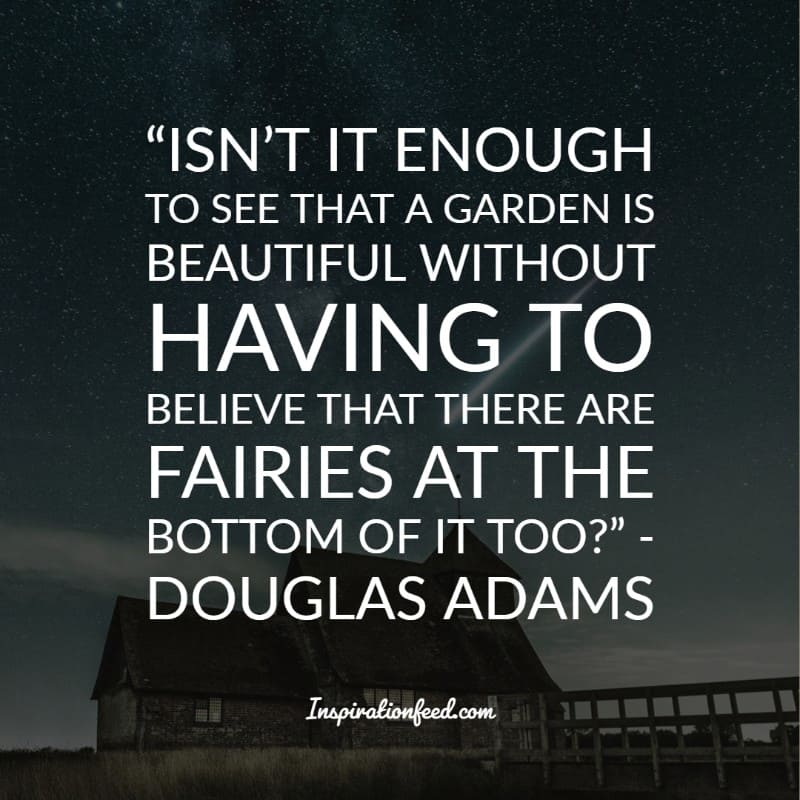 "Isn't it enough to see that a garden is beautiful without having to believe that there are fairies at the bottom of it too?" – Douglas Adams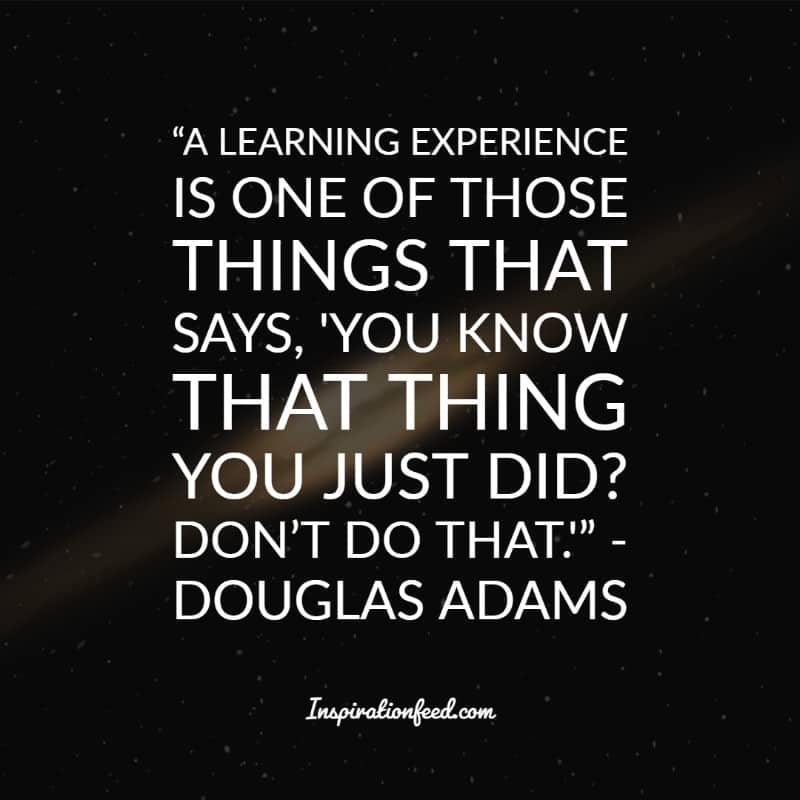 "A learning experience is one of those things that says, 'You know that thing you just did? Don't do that.'" – Douglas Adams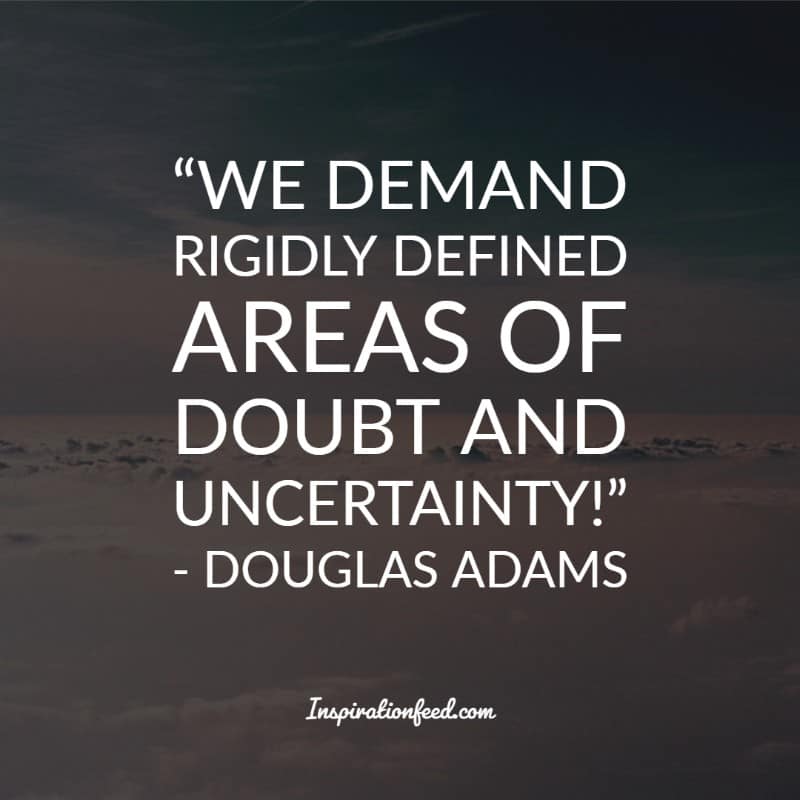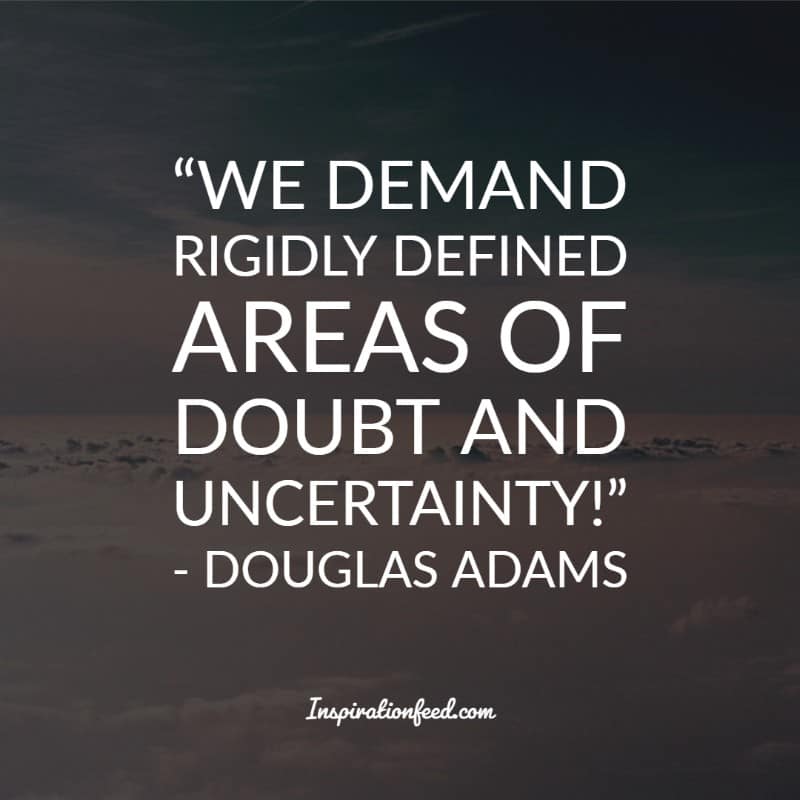 "We demand rigidly defined areas of doubt and uncertainty!" – Douglas Adams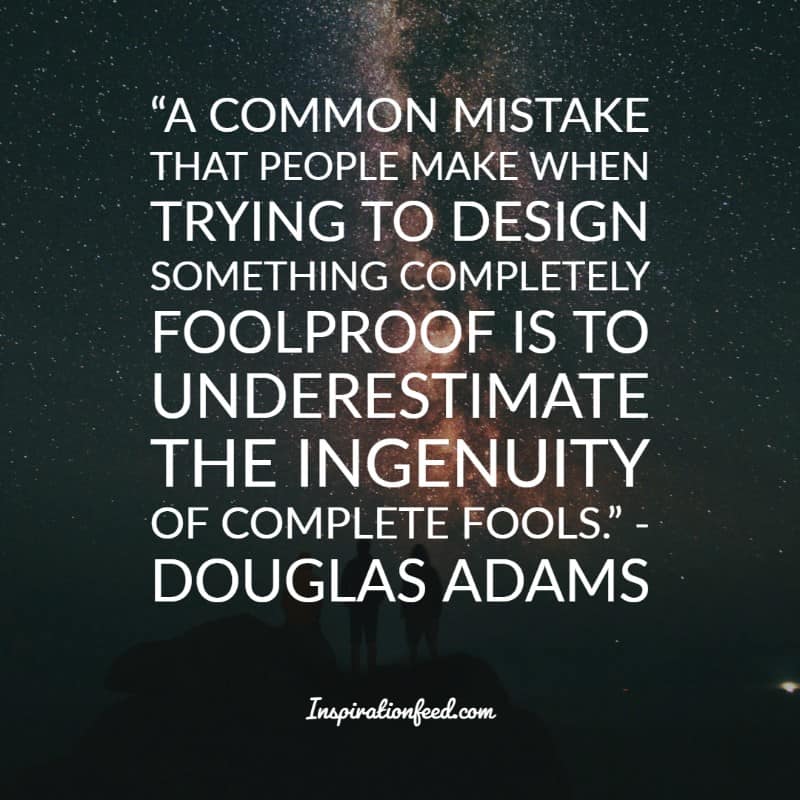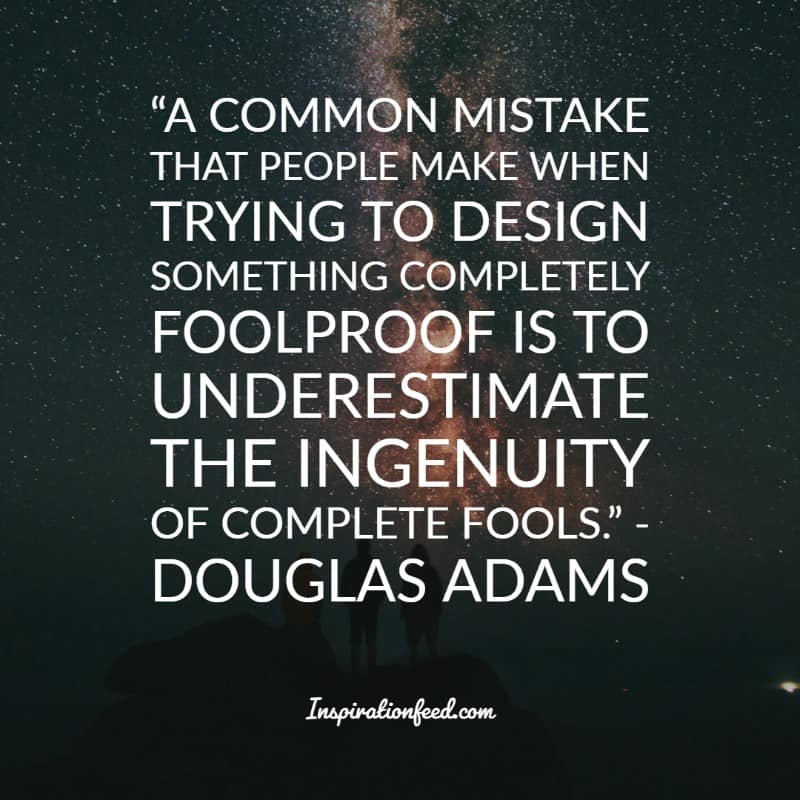 "A common mistake that people make when trying to design something completely foolproof is to underestimate the ingenuity of complete fools." – Douglas Adams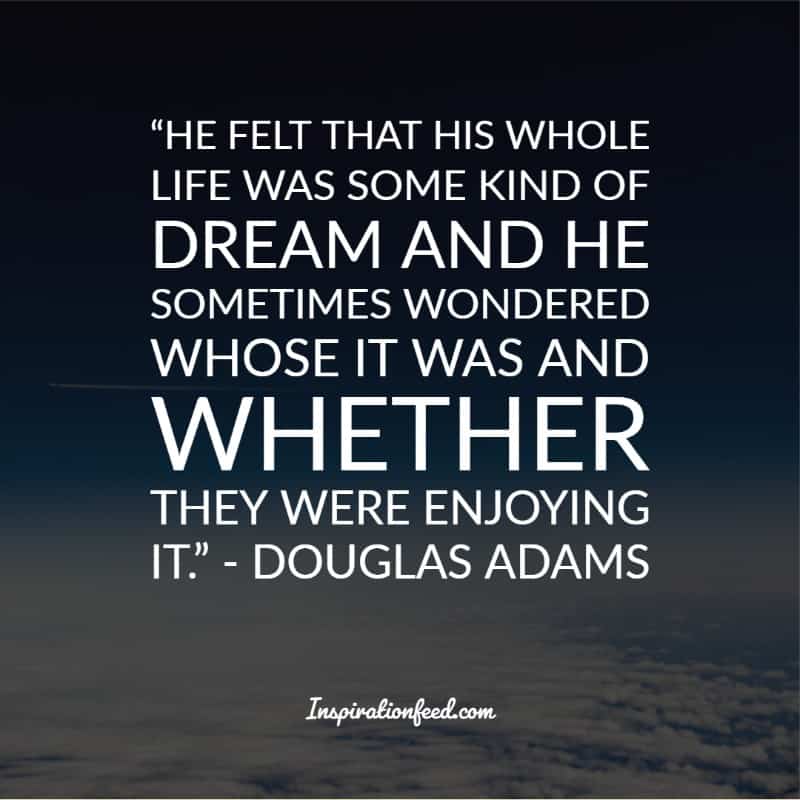 "He felt that his whole life was some kind of dream and he sometimes wondered whose it was and whether they were enjoying it." – Douglas Adams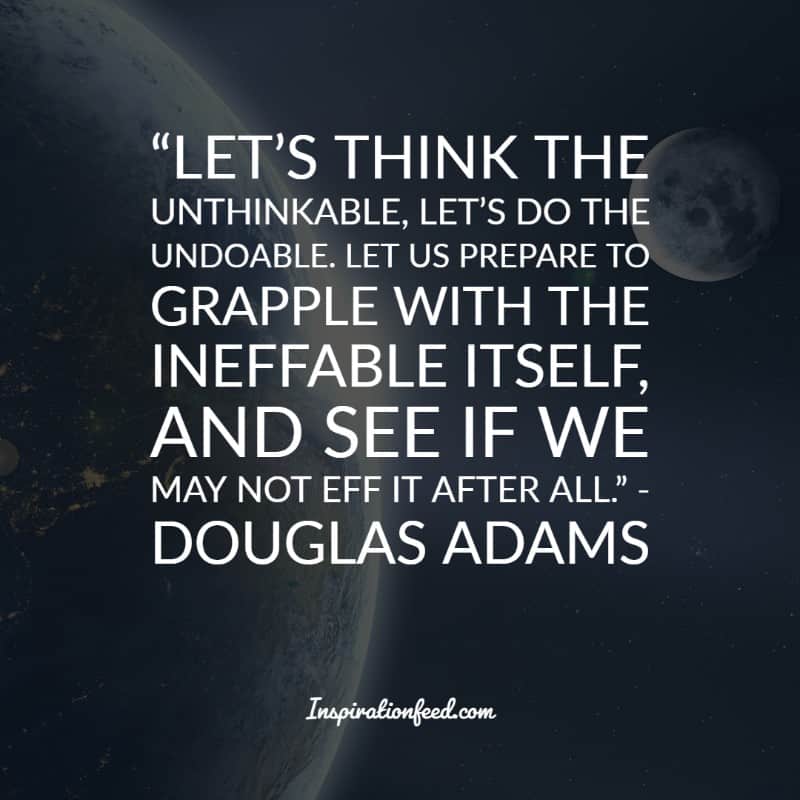 "Let's think the unthinkable, let's do the undoable. Let us prepare to grapple with the ineffable itself, and see if we may not eff it after all." – Douglas Adams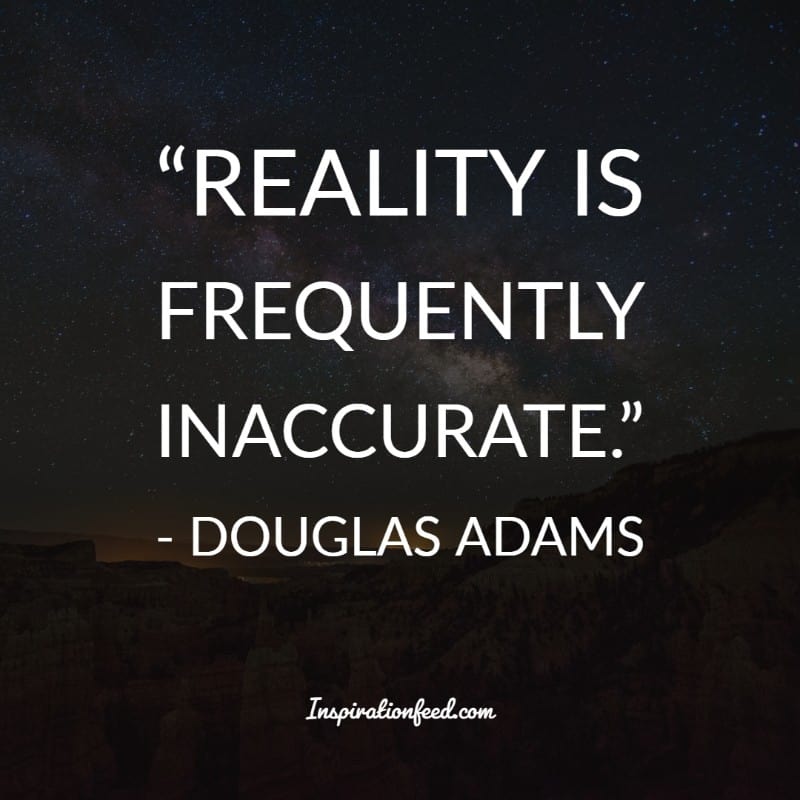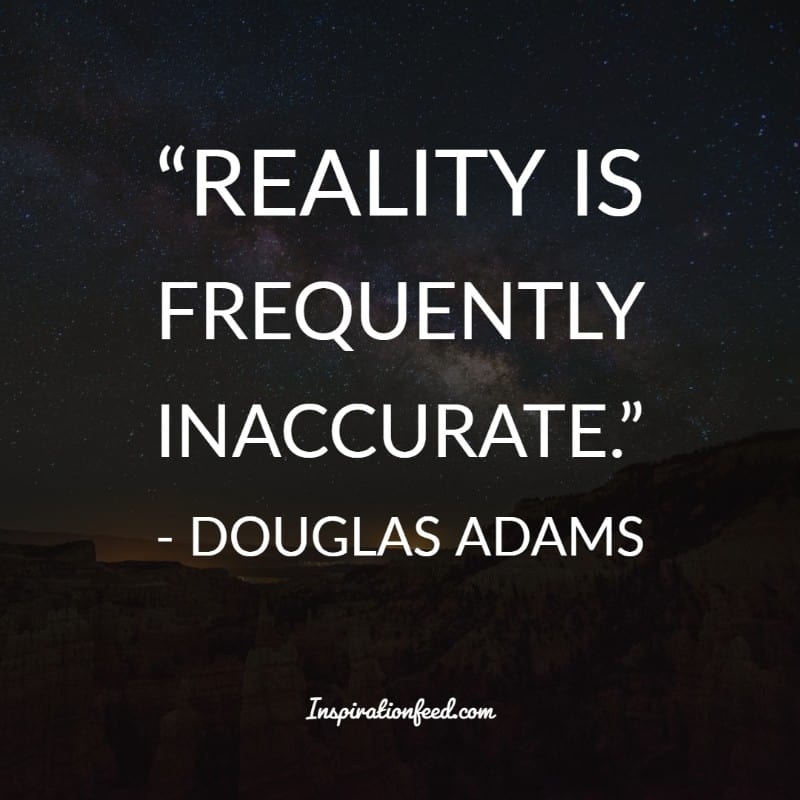 "Reality is frequently inaccurate." – Douglas Adams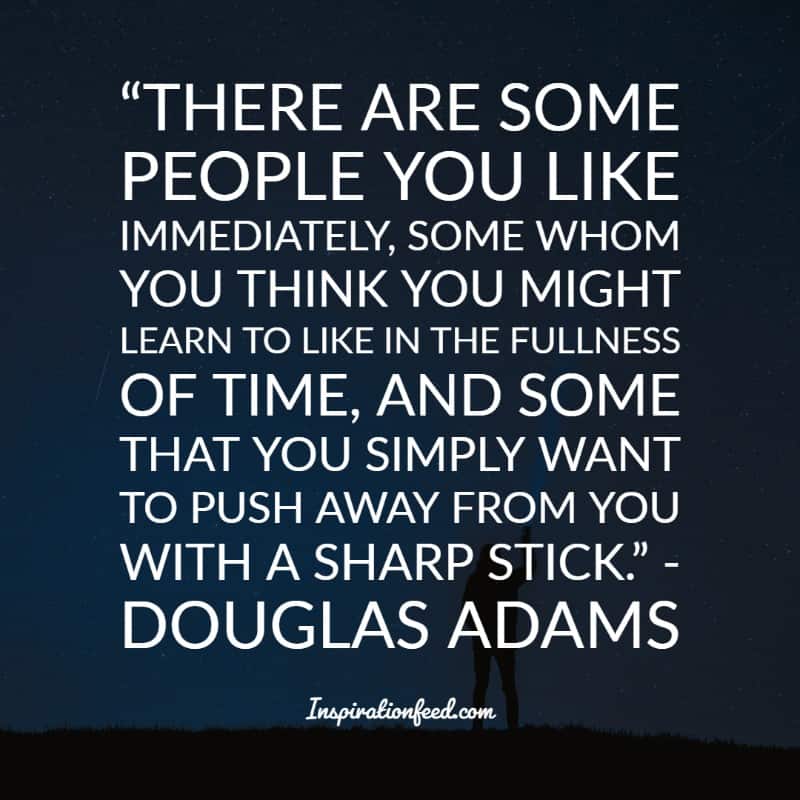 "There are some people you like immediately, some whom you think you might learn to like in the fullness of time, and some that you simply want to push away from you with a sharp stick." – Douglas Adams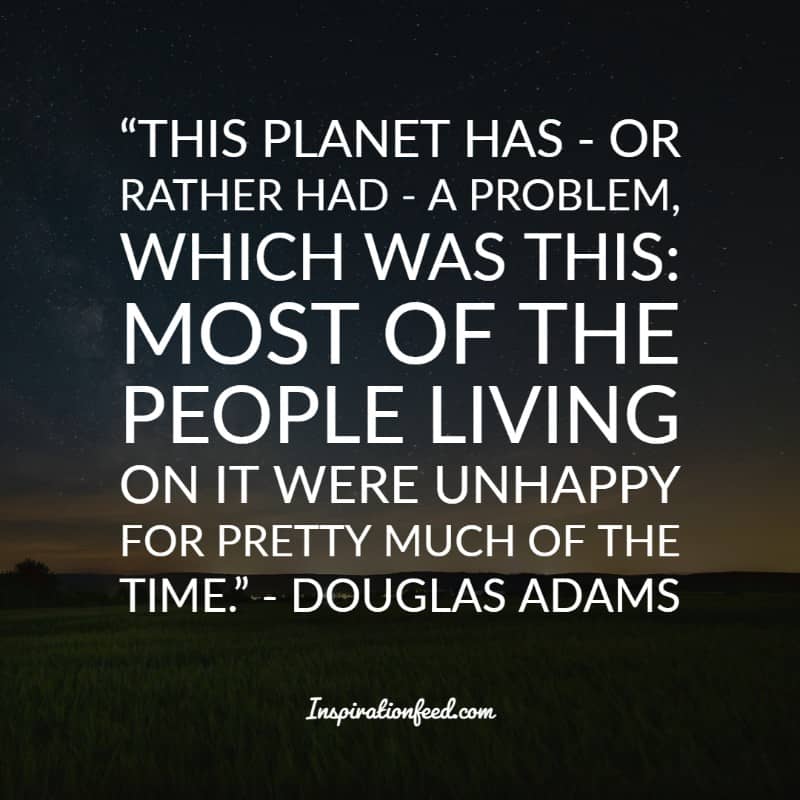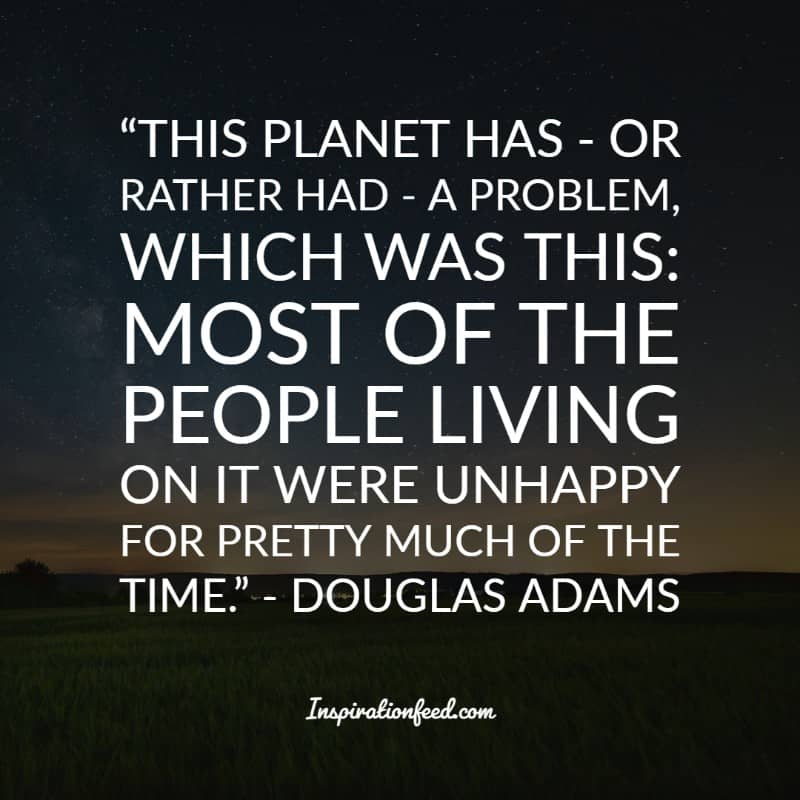 "This planet has – or rather had – a problem, which was this: most of the people living on it were unhappy for pretty much of the time." – Douglas Adams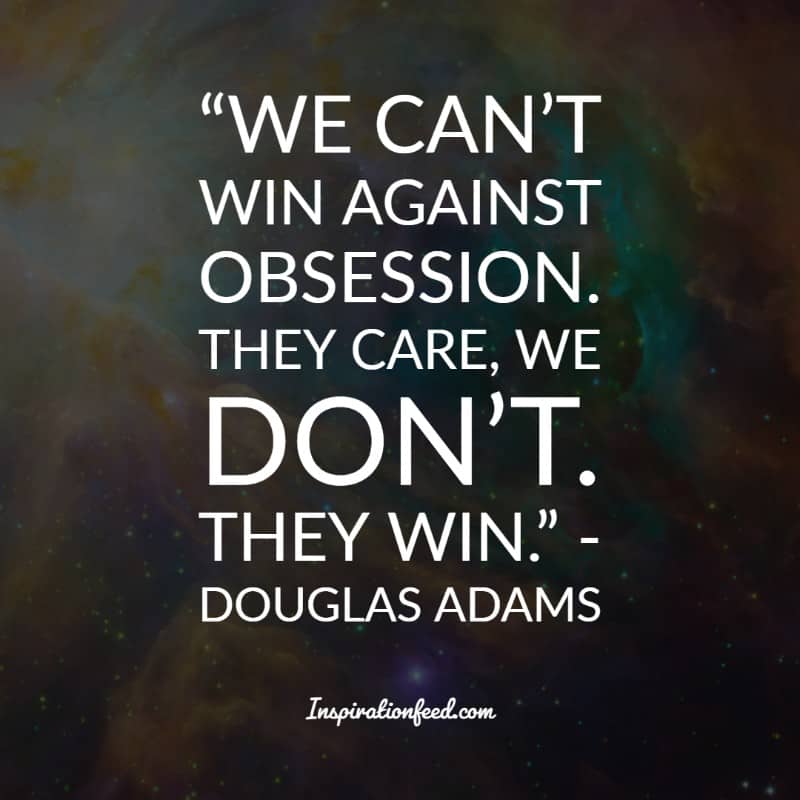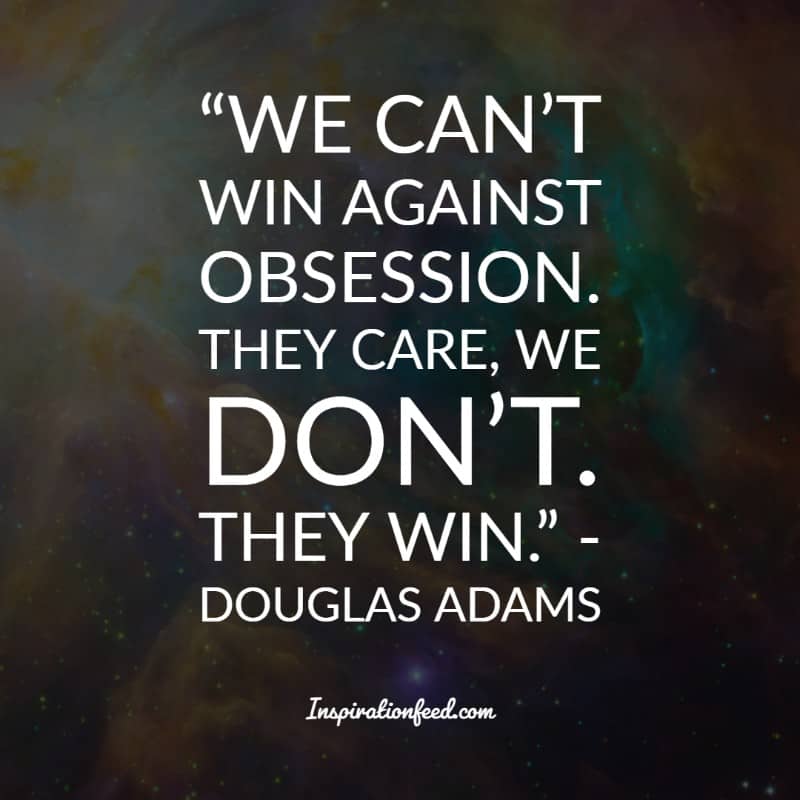 "We can't win against obsession. They care, we don't. They win." – Douglas Adams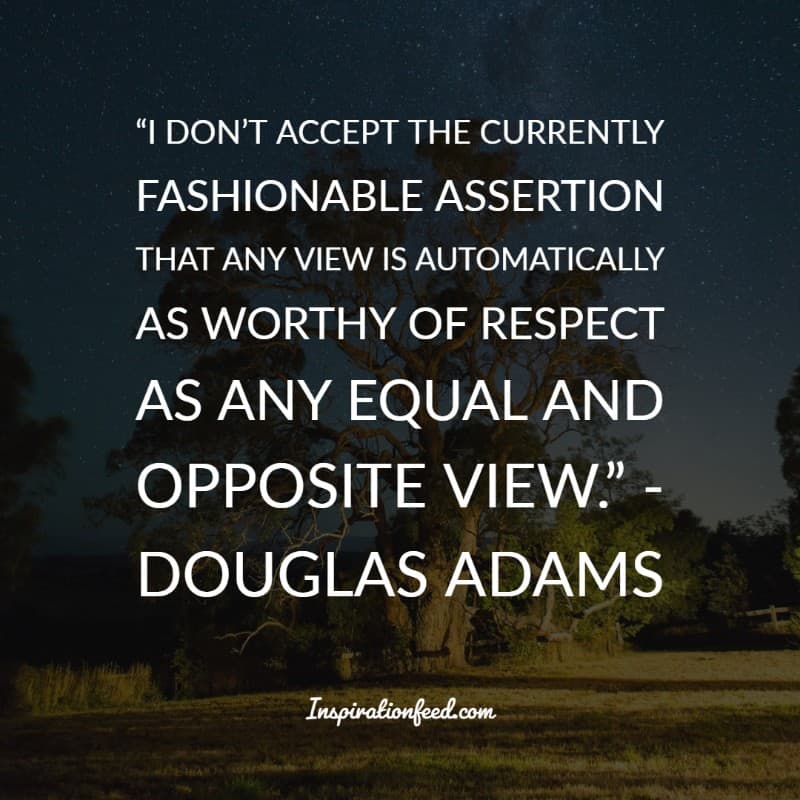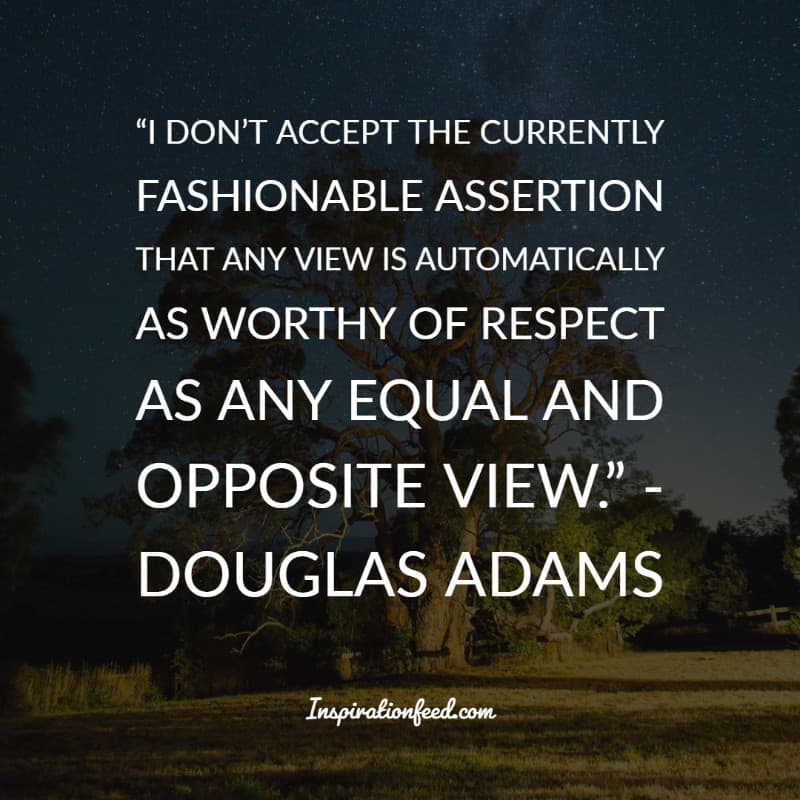 "I don't accept the currently fashionable assertion that any view is automatically as worthy of respect as any equal and opposite view." – Douglas Adams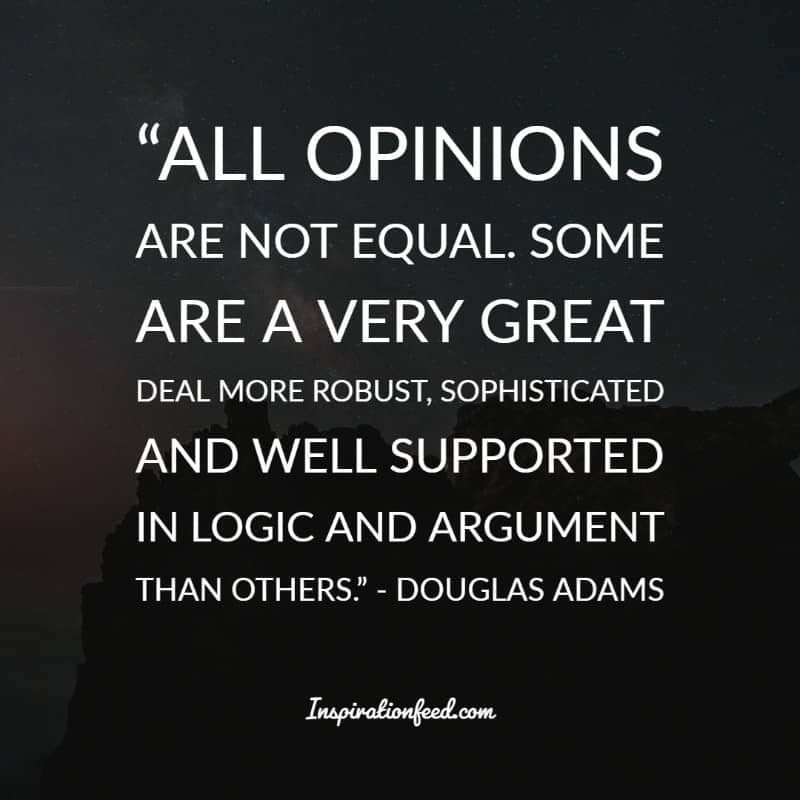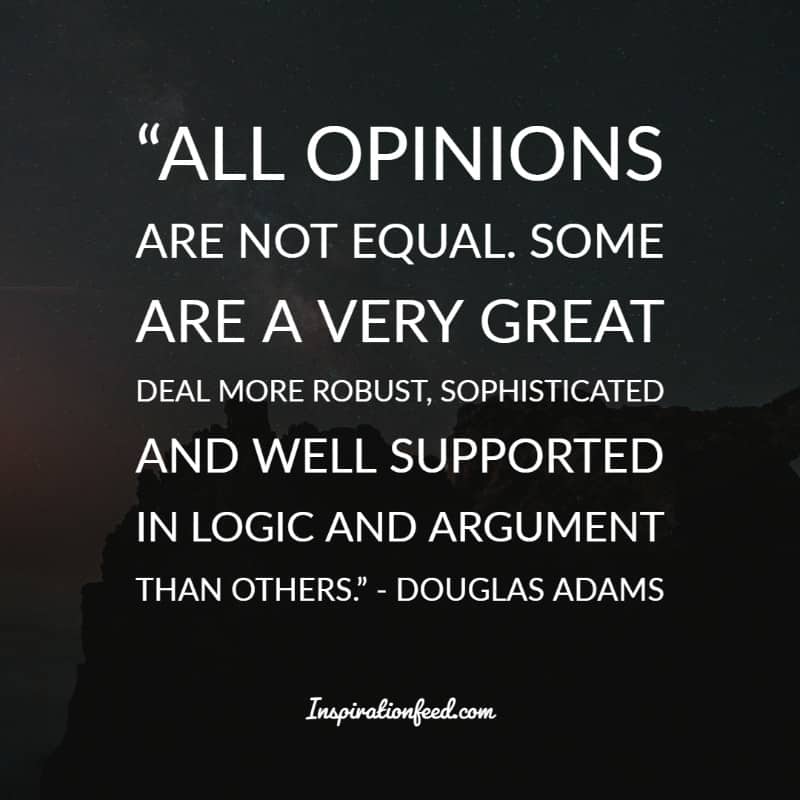 "All opinions are not equal. Some are a very great deal more robust, sophisticated and well supported in logic and argument than others." – Douglas Adams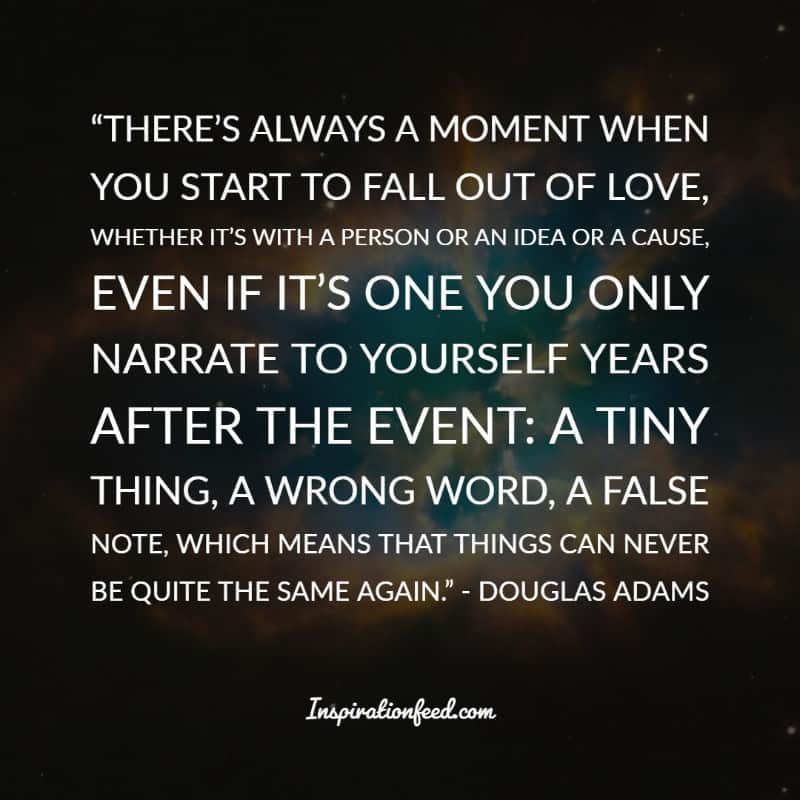 "There's always a moment when you start to fall out of love, whether it's with a person or an idea or a cause, even if it's one you only narrate to yourself years after the event: a tiny thing, a wrong word, a false note, which means that things can never be quite the same again." – Douglas Adams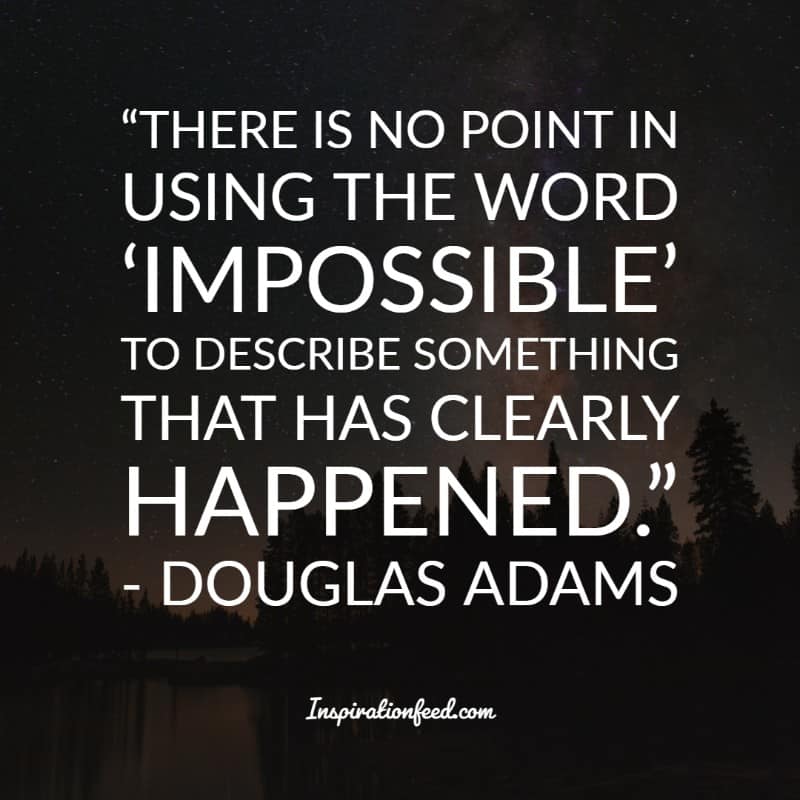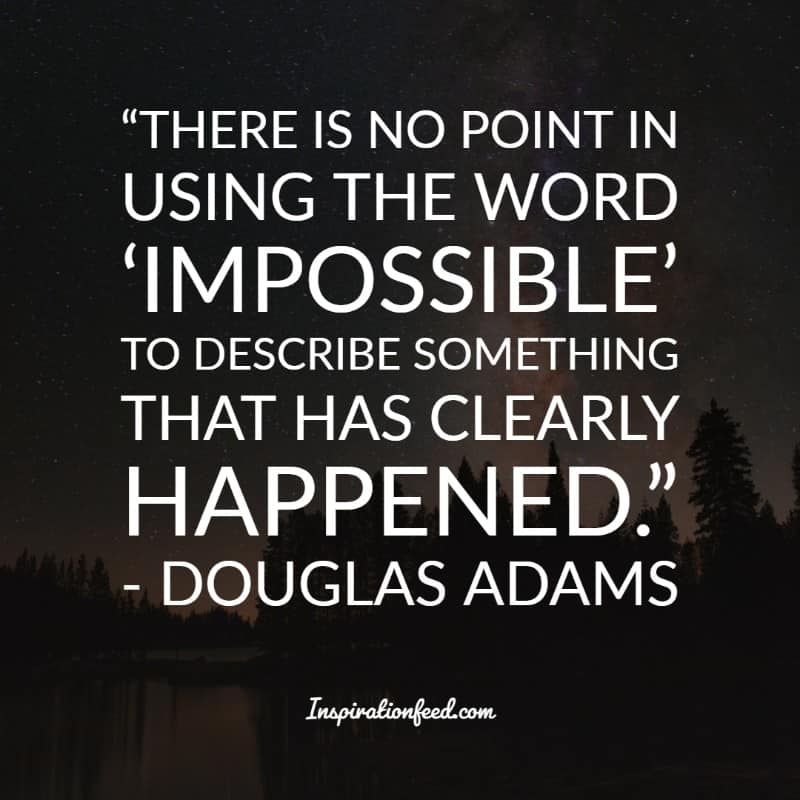 "There is no point in using the word 'impossible' to describe something that has clearly happened." – Douglas Adams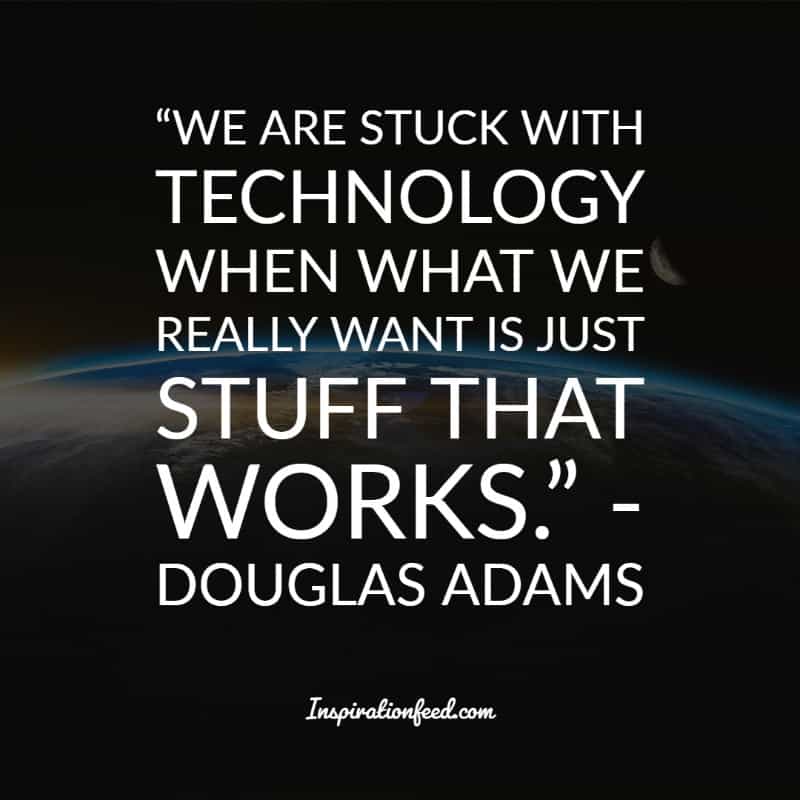 "We are stuck with technology when what we really want is just stuff that works." – Douglas Adams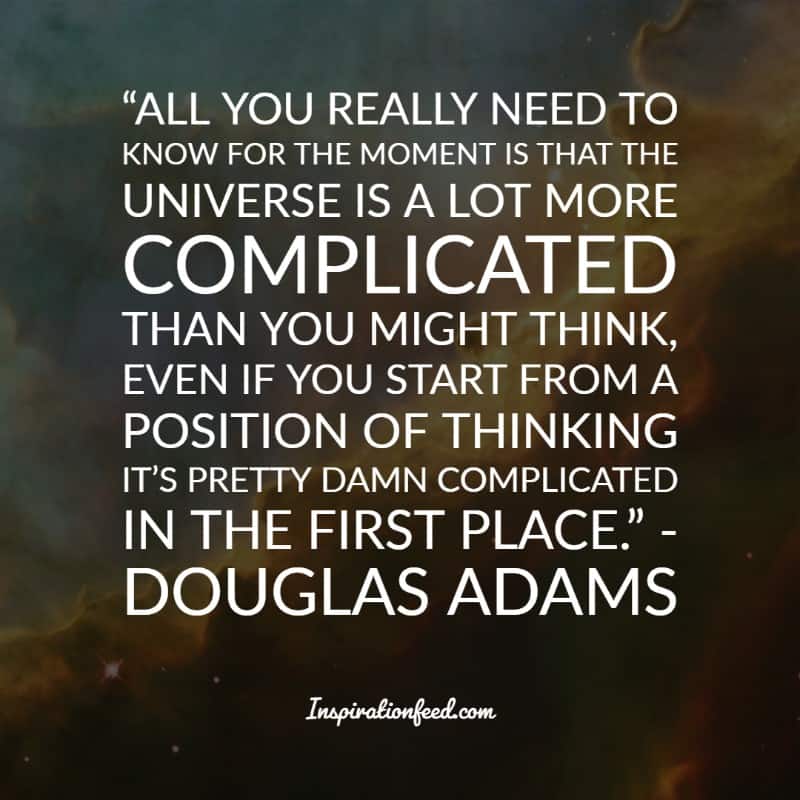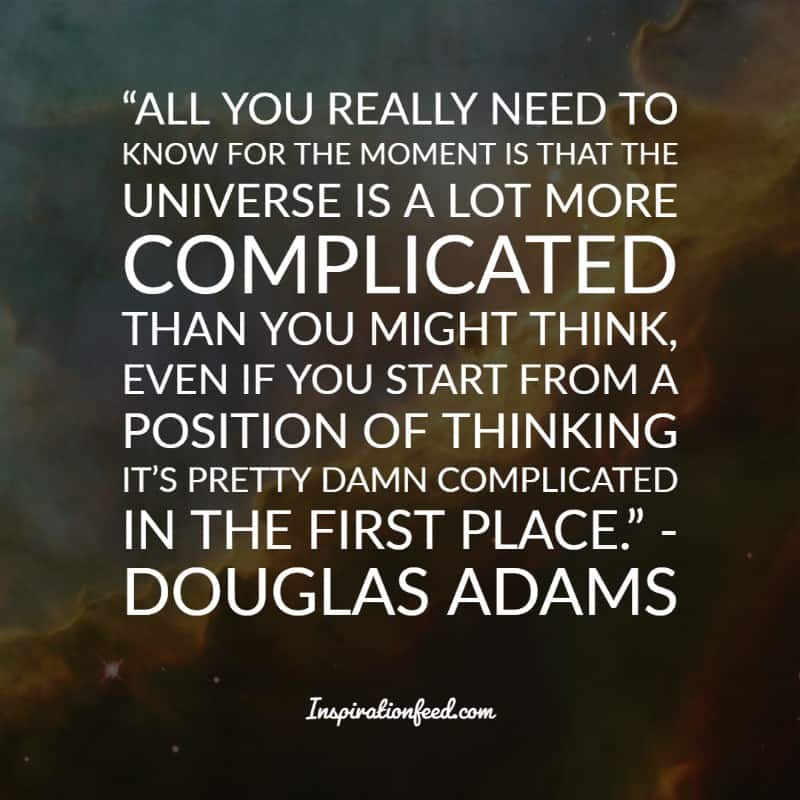 "All you really need to know for the moment is that the universe is a lot more complicated than you might think, even if you start from a position of thinking it's pretty damn complicated in the first place." – Douglas Adams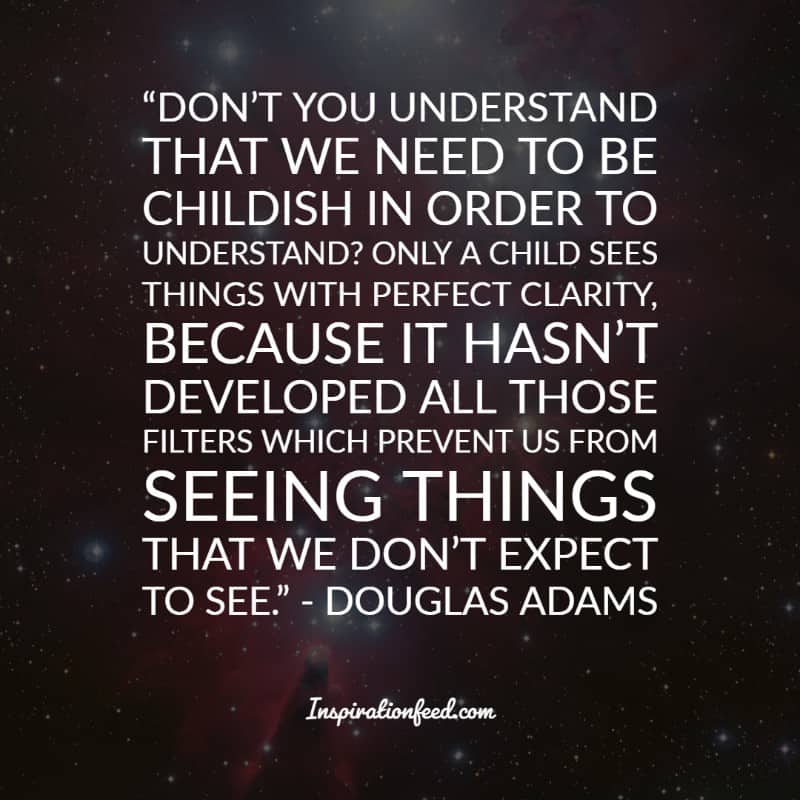 "Don't you understand that we need to be childish in order to understand? Only a child sees things with perfect clarity, because it hasn't developed all those filters which prevent us from seeing things that we don't expect to see." – Douglas Adams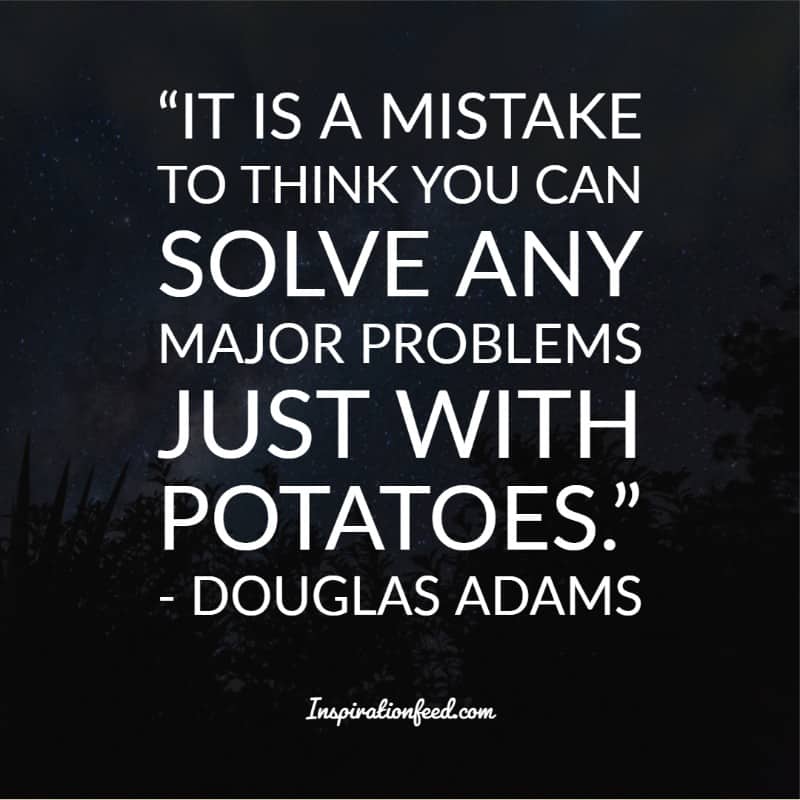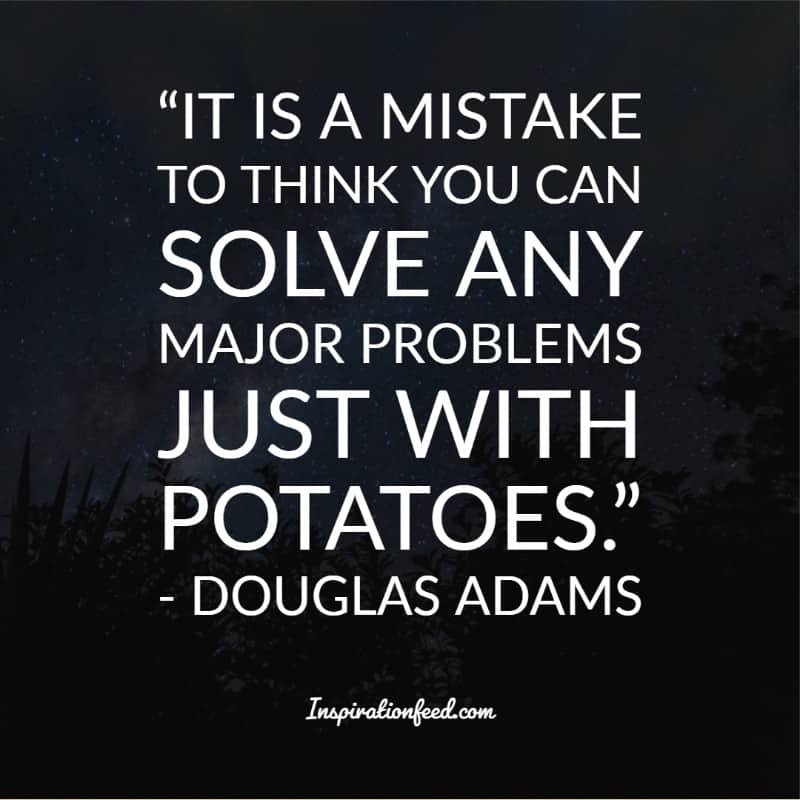 "It is a mistake to think you can solve any major problems just with potatoes." – Douglas Adams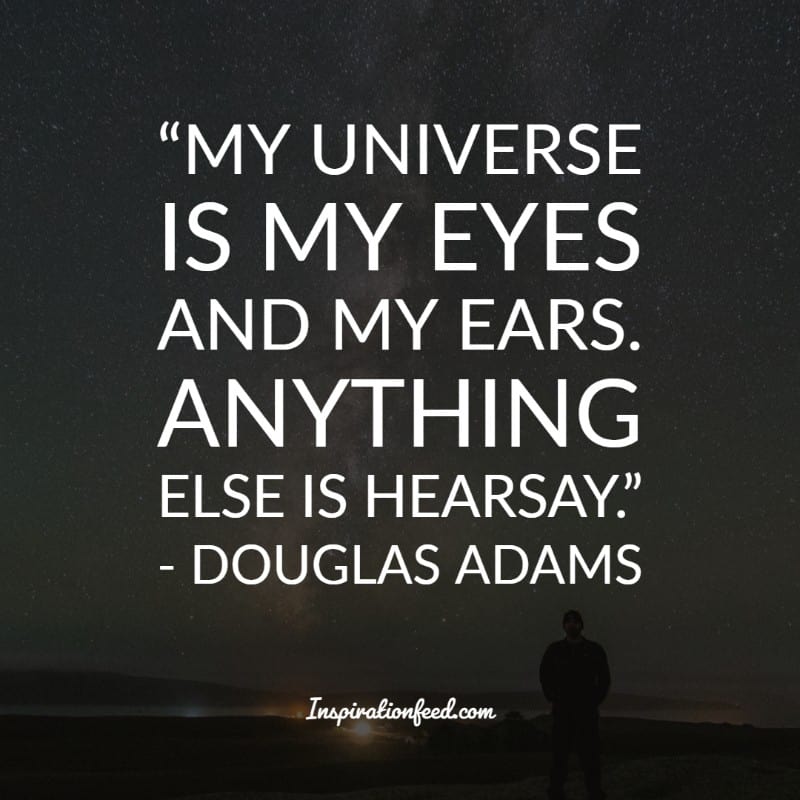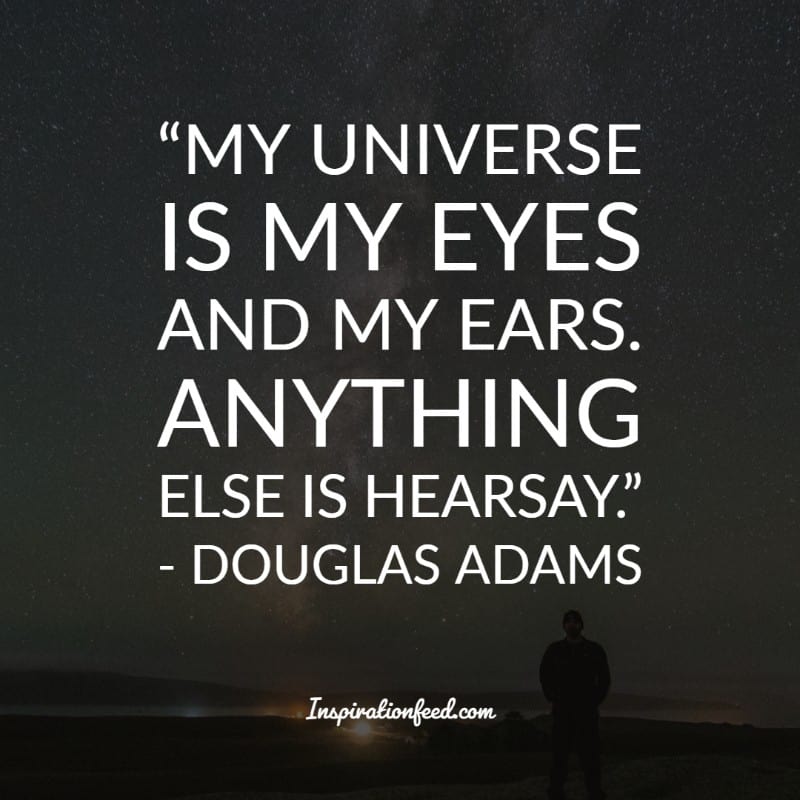 "My universe is my eyes and my ears. Anything else is hearsay." – Douglas Adams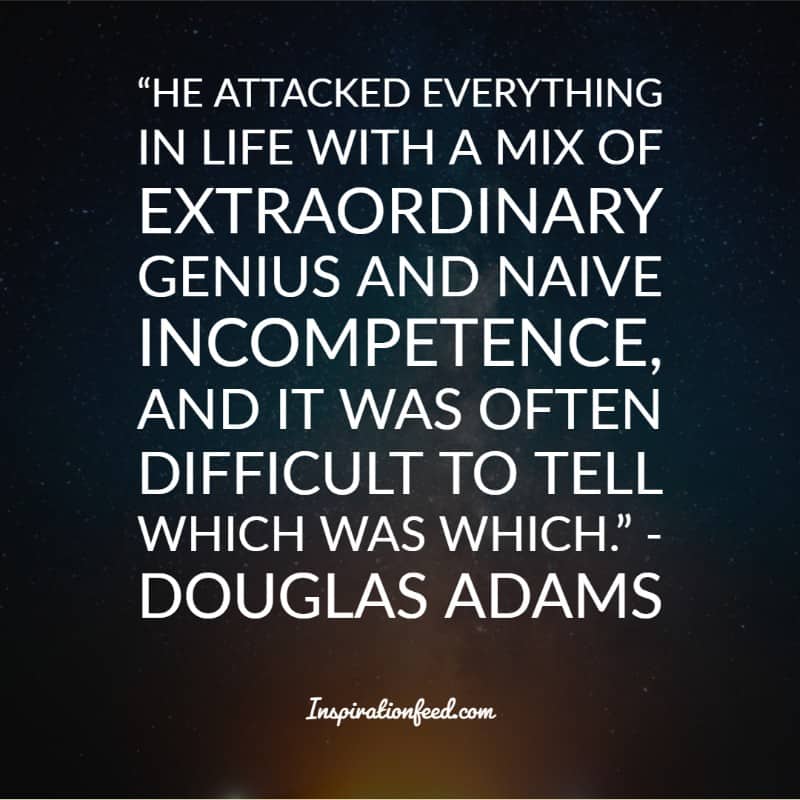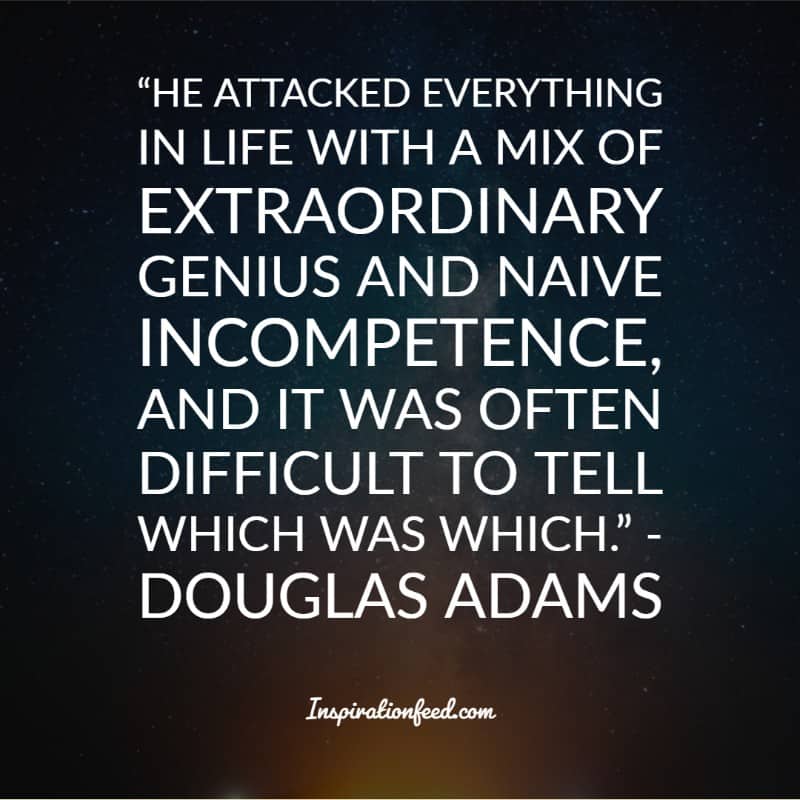 "He attacked everything in life with a mix of extraordinary genius and naive incompetence, and it was often difficult to tell which was which." – Douglas Adams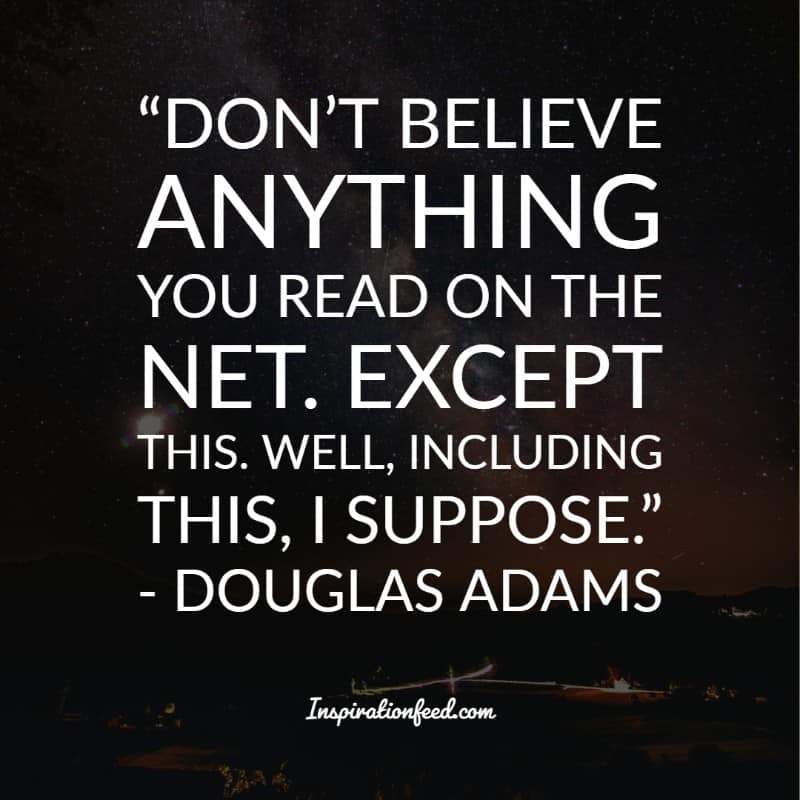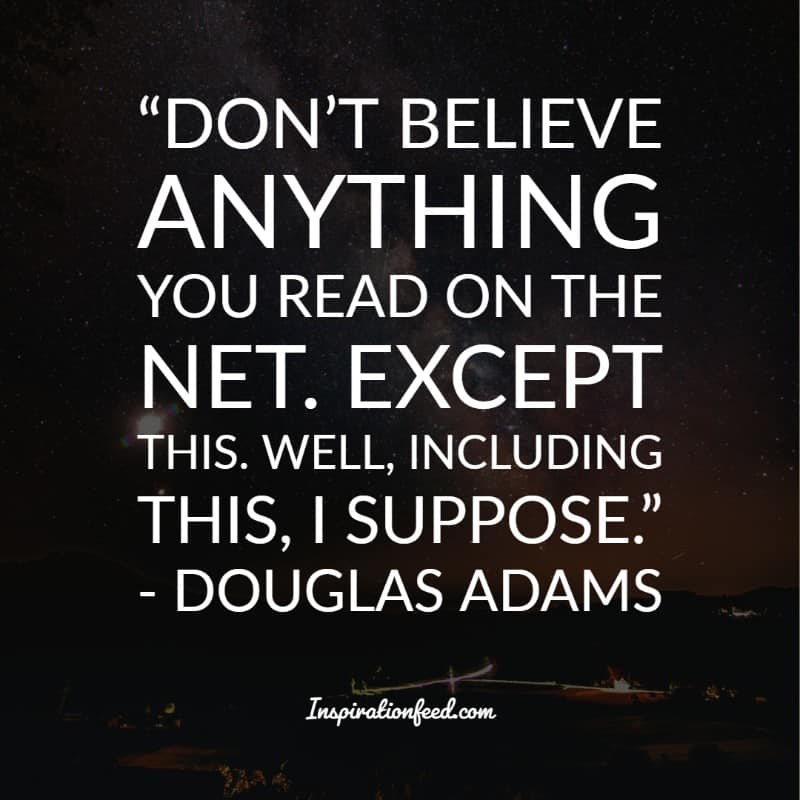 "Don't believe anything you read on the net. Except this. Well, including this, I suppose." – Douglas Adams