Drake, also known as Aubrey Drake Graham, is a Canadian singer, rapper, songwriter, actor, producer, and entrepreneur. Drake was born on October 24, 1986, in Toronto, Canada, to an African American dad, Dennis Graham, and an Ashkenazi Jewish Canadian mother, Sandra Graham.
Dennis Graham was a renowned drummer who performed alongside celebrated country musician, Jerry Lee Lewis, whereas Sandra was an English teacher and florist.
Drake had a strong Jewish upbringing. Not only did he attend a Jewish day school, but he also observed various Jewish religious services and rituals, such as Bar Mitzvah.
Quick Facts about Drake
| | |
| --- | --- |
| Full Name: | Aubrey Drake Graham |
| Popular Name: | Drake |
| Gender: | Male |
| Birth Date: | October 24, 1986 |
| Age: | 37 years |
| Birth Place: | Toronto, Canada |
| Nationality: | United States of America |
| Ethnicity: | African American, Jewish |
| Education: | Forest Hill Collegiate Institute and Vaughan Road Academy |
| Marital Status: | Single |
| Sexual Orientation: | Straight |
| Wife/Spouse: | N/A |
| Children: | 1 |
| Dating: | Yes, Imaan Hammam |
| Net Worth: | $180 million |
| Source of Wealth: | Rapping, Singing, Acting, and Personal Investment |
| Height: | 1.83 m (6′ 0″) |
| Weight: | 165 lbs (75.5 kg) |
Early Life
Drake experienced a rather tough childhood. For starters, his parents divorced when he was only five. The divorce saw his father move back to Memphis, Tennessee, where he engaged in drug dealing, activities that culminated in his arrest and incarceration for several years.
Drake and his mother remained in Toronto. He attended Forest Hill Collegiate Institute where he expressed interest in the arts, particularly acting. He then moved to the Vaughan Road Academy which was located in a more affluent neighborhood. Here, Drake was occasionally bullied on account of his racial and religious background. But according to him, bullying wasn't the only thing to hate about Vaughan Road Academy.
Apparently, the busy academic schedules at the school denied him the opportunity to pursue his acting career. He would later drop out of school and only graduated later in October 2012.
Rise to Fame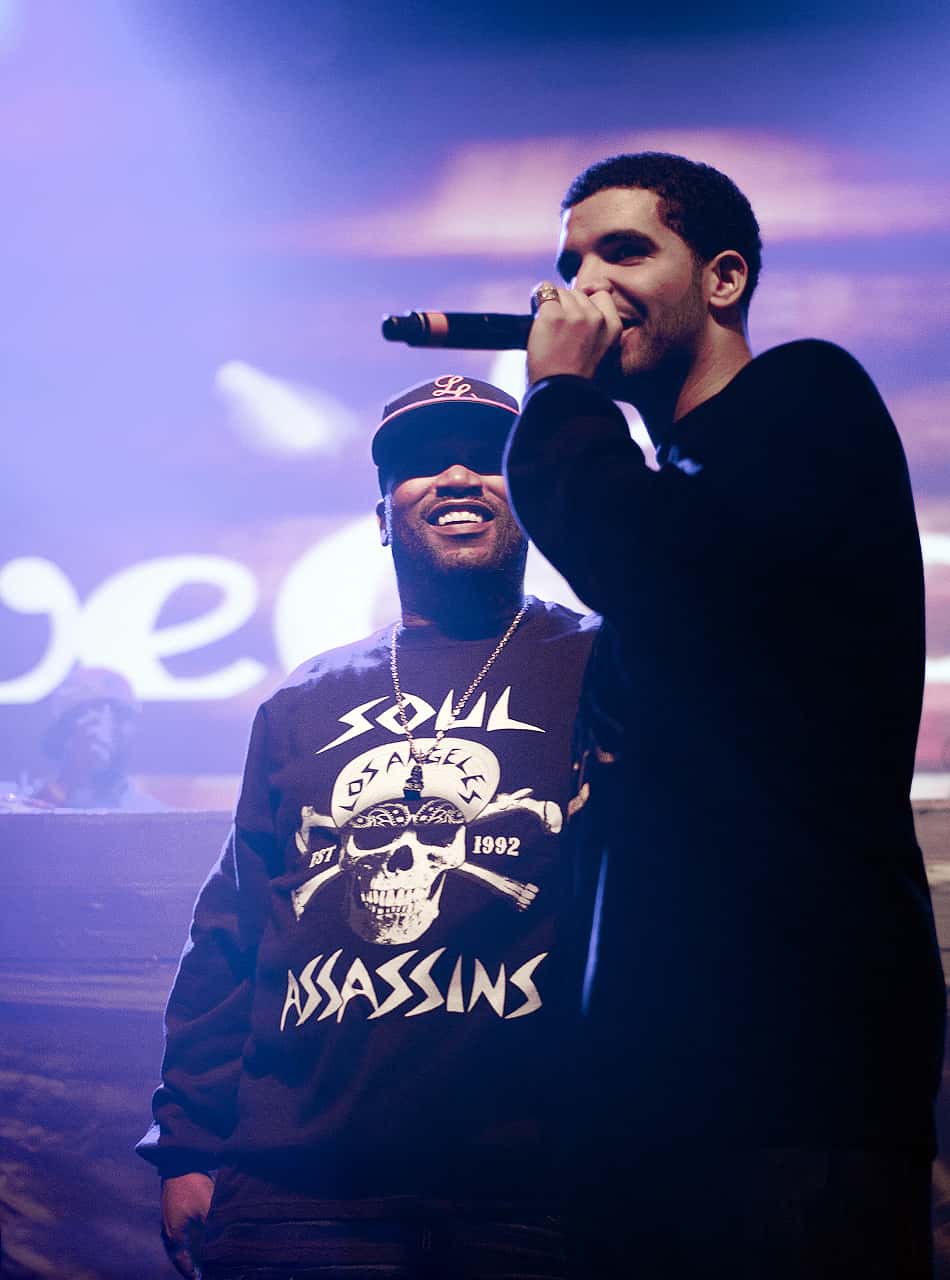 Drake first demonstrated an interest in acting during his teen years. His passion for the Big Screen saw him drop out of college and in the early 2000s, he featured on the teen drama television series – Degrassi: The Next Generation. Though he received accolades for his role in this series, Drake decided to give acting some hiatus and venture into music.
In 2007, he released his debut mixtape Room for Improvement. The mixtape was an instant hit, and Drake reckoned he could do music full-time. So, he left the Degrassi series and threw his full weight behind rapping. He released two other independent hits – Comeback Season and So Far Gone.
After registering success with his first three solo projects, Drake signed up to Lil' Wayne's Young Money Entertainment in June 2009. In 2010, he released his first studio album – Thank Me Later, which featured on the US Billboard 200. Since then, Drake has never looked back.
The following is a list of studio albums that he has released so far:
• Thank Me Later (2010);
• Take Care (2011);
• Nothing Was the Same (2013);
• Views (2016); and
• Scorpion (2018)
Being the successful artist and actor that he is, Drake's works haven't gone without notice. He has won 4 Grammy Awards and 2 MTV Video Music Awards. He is presently ranked by the Recording Industry Association of America (RIAA) as the highest-certified digital singles artist in the world.
Life Lessons and Quotes from Drake
The one obvious life lesson that we can learn from Drake is never to be caught in the negativity. He was once a victim of racial and religious discrimination, but he didn't let it go to his head. Even during his rapping career, Drake has had to contend with numerous rap beef with fellow rappers. But despite all the obstacles, he kept his eyes on the prize to emerge as one of the most successful rappers the world has ever known.
Another key life lesson we can learn from Drake is that persistence and consistency is everything. Whether you're an artist or entrepreneur, you need to grow your brand constantly. And to do that, you must continually offer your audience something new. Though his first albums received exceptional accolades, Drake didn't stop to wallow in his success. He went ahead to release more albums, keeping his fans constantly engaged and always begging for more.
Above all, Drake is proof that the key to wealth creation is income diversification. He's not only a rapper and musician but also a corporate mogul.
The following are some of his famous quotes:
"Everybody has an addiction, mine happens to be success."
"I was born to make mistakes, not to fake perfection."
"Live without pretending, Love without depending, Listen without defending, Speak without offending."
"Patience is key for getting over a breakup. That, and trailing off your interaction after the breakup."
"Life is just a game in which the cards are facing down. I'm in the world where things are taken, never given how long they choose to love you will never be your decision."
"Strength isn't always shown in what you can hold on to, sometimes it's shown in what you can let go of."
"I'm not confrontational, but if someone challenges, I'm not going to back down."
"Pain makes you stronger. Fear makes you braver. Heartbreak makes you wiser."
Related: Inspirationfeed.com/drake-quotes/
Net Worth
Drake's net worth presently stands at a staggering $180 million. He owes much of his wealth to rapping, acting, and investment. While acting in the series Degrassi, Drake was earning $50, 000 per year. His earnings from rapping rose from $10 million per year in 2010 to $75 million in 2019.
Drake has also invested immensely in real estate. He owns a home in Hidden Hills, California, valued at over $7.7 million, along with other properties across the US and in Canada. His total private estate is valued at over $25 million. Drake also owns a private jet and has done endorsements for several companies, including Nike, Apple, Sprite, Whataburger, and Burger King.