Last Updated on March 8, 2022
There was a time when people religiously bought DVDs. But now that almost everything is going digital, you may be thinking about moving your DVD collection someplace else. Here's where a DVD to MP4 converter can help immensely.
However, it's not always easy to find a good tool out there. Some will be free, yes, but they take loads of time before giving you a desirable result. Others are simply not reliable and will probably give your device a virus if you use them!
When it comes to converting your beloved movies to digital formats, it pays to go to the winning side. Here's why WinX DVD Ripper Platinum is the world's preferred DVD to MP4 converter.
Special Note: Want to entertain your family during extended quarantine? Get WinX DVD Ripper Platinum License Key for FREE for a limited time only! Rip up to 500 free copies a day for playback on your phone, iPad, or desktop. Valid through May 22, 2020.
Why Convert DVDs to MP4
First things first: why would you want to convert your DVD content to digital anyway?
There are quite a few good reasons why you'd want to convert DVD to MP4, but mainly because most content nowadays is digital. From news, ads, videos, to whitepapers, presentations, as well as books – almost everything you would ever need to stay entertained or informed can be found on the Web. It's quick, portable, and easily accessible no matter where you are.
Sure, a DVD collection can be priceless (especially if it includes a Director's Cut!). But once converted into a digital format, you can enjoy the same features AND more.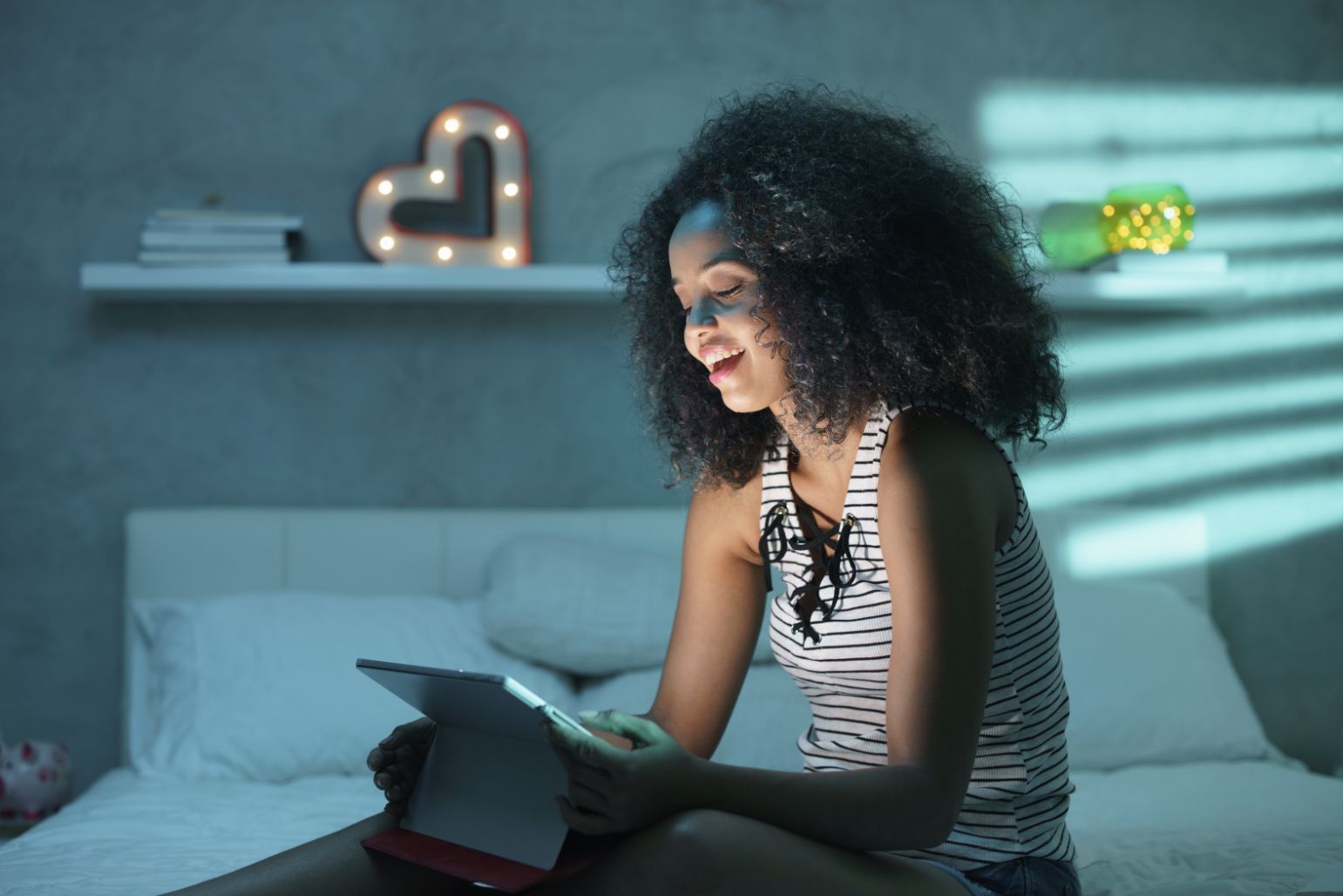 Now you won't have to squeeze those titles into crowded shelves. You can safely store them in an external hard drive or on the cloud. No need to worry about nicks or scratches either.
Plus, you can take them anywhere with you. Save them on your phone or tablet to watch on the go. Or watch them with friends or family during sleepovers!
While there are some concerns with copyright and/or digital rights management (DRM), for as long as you 1) don't use it for commercial purposes, and 2) don't upload it on torrent websites, you should be okay.
Introducing WinX DVD Ripper Platinum
There are two main ways to rip a DVD: the first is to use free online services, like Handbrake. The second is to go for something premium but reliable, such as WinX DVD Ripper Platinum.
With more than 70 million users worldwide, WinX is the preferred tool of movie lovers and DVD collectors since 2009. Here are its main advantages:
1:1 Quality Ratio. Its high-quality engine, deinterlacing, and adjustable HQ encoding greatly improves the output effect, leaving you with 98 to 100 percent image and audio quality. If you're tech-savvy, you can even fiddle with sliders to customize the end result.
80 Percent Smaller File Size. Save space on your device or on the cloud because this tool allows you to backup your movies in smaller file sizes. For example a full HD 2.5 hr movie that would otherwise be saved as 8 GB can be saved as 1GB instead.
47x Faster. Unique Level-3 Hardware Acceleration and multiple core technology are fully utilized to convert a full disc to MP4 in as short as 5 minutes! This makes it possible for even low-end equipment to still rip DVDs with little to no issues.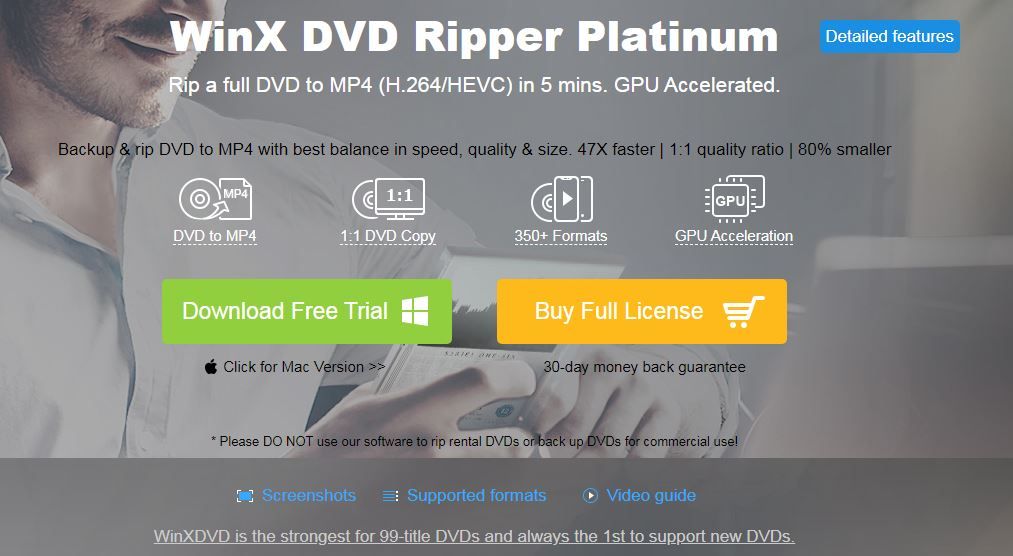 All this is made possible because of its unique level-3 hardware acceleration. So if you have the latest desktop or laptop model, you can fully utilize an Intel Core i5/i7 CPU or GeForce GTX 1080 Ti to ensure quick, easy, and seamless conversion of your DVD library.
WinX DVD Ripper Platinum vs Other Solutions
Don't waste time and energy on other tools that make ripping DVDs seem like a chore. Here are three main reasons why WinX DVD Ripper Platinum trumps all other ripping solutions:
It accepts ALL kinds of DVDs. Got a homemade movie your parents did back in the 80s? Want to restore that old workout video? Looking for a tool that can rip 99-title DVDs? Worried that you can't copy that damaged/scratched TV series? Let WinX handle all that.
It comes with a video editor. For those whose hands are simply itching to trim their video, cut clips, combine titles, or remove unwanted borders, you will love the preloaded video editor. And yes, you can add SRT subtitle files so you can finally enjoy those international dramas.
It converts to any format. Rip your DVD and convert its contents into AVI, MP4, H.264, HEVC, MPEG, WMV, AVC, TS/MTS/M2TS videos to be played on Android or iOS devices. You can also turn them into FLV files so you can share clips on YouTube, Facebook, Vimeo, and other websites.
Thanks to its DVD ripper hardware acceleration, you can do all these in half the time it takes to cook dinner. That means you can breeze through 200 titles and still spend half the day watching your favorite films. How cool is that?
Benefits of Buying the Full License
WinX DVD Ripper Platinum is hands down the BEST ripping solution on the market. It's safe, reliable, and multi-functional. And with its user-friendly features, everyone in your family – from your grandpa to your tech-savvy cousin – can use it.
Already downloaded the FREE version? Here are good reasons to purchase/upgrade to the premium version:
Unlock Full Features. Backup, copy, rip and restore your DVD collection with ease when you get all the amazing premium features.
Rip Copyrighted Titles. DVDs, especially the newer ones, are often loaded with all sorts of copyright protections. Back it up effortlessly when you go premium. No crashing, and no pauses.
Lifetime Free Tech Support. Premium customers enjoy technical assistance free of charge. This gives you peace of mind.
Free Updates. Expect to get all future improvements without the hassle. You're covered for life.
30-Day Money-Back Guarantee. Not quite satisfied? We have high trust and confidence in our product. That's why your premium upgrade comes with a worry-free money-back guarantee good for 30 days.
Sounds tempting? Get WinX DVD Ripper Platinum Full Version with SPECIAL OFFER today and start protecting your precious DVDs!
In Closing
While digital media is becoming the world's number one medium, physical channels aren't quickly going away either. Things like DVDs are still helpful, especially for those with little or no access to digital means. They are also a collector's best friend. But with its limitations, it helps to have an option in the form of DVD rippers, such as WinX.
Whether you're tech-savvy, a movie lover, a student, or a grandparent, you'll get a ton of uses from WinX DVD Ripper Platinum. Get WinX DVD ripper advanced version with special offer – and take it for a spin today! See how quick and easy it is to enjoy your favorite titles anywhere, and anytime.