Last Updated on March 3, 2023
Who Is Dwayne Johnson?
Dwayne Johnson, born Dwayne Douglas Johnson, is an American-Canadian actor and film producer, as well as businessman, retired professional wrestler and retired football player.
Dwayne Johnson is popularly known as The Rock, a ring name he adopted during his heydays in professional wrestling.
Quick Facts
| | |
| --- | --- |
| Full Name: | Dwayne Douglas Johnson |
| Popular Name: | Dwayne Johnson |
| Gender: | Male |
| Birth Date: | May 2, 1972 |
| Age: | 50 years |
| Parents: | Rocky Johnson and Ata Johnson |
| Siblings: | Curtis Bowles and Wanda Bowles |
| Birth Place: | Hayward, California |
| Nationality: | American |
| Ethnicity: | Black Nova Scotian and Samoan |
| Education: | Richmond Road Primary School in NZ, President William McKinley High School in Honolulu, Hawaii, and the University of Miami |
| Marital Status: | Married |
| Sexual Orientation: | Straight |
| Wife/Spouse: | Lauren Hashian |
| Children: | Simone Alexandra Johnson (from his first wife, Dani Garcia) and Jasmine Johnson and Tiana Johnson (from his marriage with Lauren Hashian) |
| Dating: | N/A |
| Net Worth: | 280 million |
| Source of Wealth: | Acting, Professional Wrestling, Endorsement Deals, and Personal Investments |
| Height: | 6′ 2″ (1.88 m) |
| Weight: | 119 kg; In pounds: 262 lbs. |
Early Life and Career Information

Though Dwayne Johnson was born in California, his father, Ata Johnson (born Wayde Douglas Bowles) was actually from Amherst in Nova Scotia, Canada. On the other hand, his mother, Ata Johnson (born Feagaimaleata Fitisemanu Maivia) was of Samoan background.
Dwayne Johnson comes from a family with a rich heritage in professional wrestling. So, it doesn't come as a surprise that Dwayne spent a huge part of his early life as a professional wrestler.
But before he became a wrestler, Dwayne Johnson had a stint as a professional football player, having accepted a football scholarship awarded to him by the University of Miami.
He played for the national championship team at Miami before an injury had him replaced. After graduating from the University of Miami, Dwayne Johnson joined the Canadian side, Calgary Stampeders.
In 1996, Dwayne Johnson won a try-out at World Wrestling Federation, and was offered a contract. He is mostly famous for his ring name, The Rock, and is remembered for his long and endless feud with Stone Cold Steve Austin.
In 2001, and after having had a successful career as a professional footballer and wrestler, The Rock shifted his gears to acting.
The following are some of the movies he has featured in:
• Baywatch (2017)
• Be Cool (2005)
• Central Intelligence (2016)
• Doom (2005)
• Furious 7 (2015)
• Hercules (2014)
• Jumanji (2017)
• Longshot (2002)
• Moana (2016)
• Pain & Gain (2013)
• San Andreas (2015)
• Skyscraper (2018)
• Skyscraper (2018)
• Snitch (2013)
• The Game Plan (2007)
• The Mummy Returns (2001)
• The Rundown (2003)
• The Scorpion King (2002)
• Walking Tall (2004)
In addition to acting, Dwayne Johnson has also appeared in scores of television shows and video games.
Dwayne Johnson Net Worth
Dwayne Johnson's net worth, as of 2023, was a staggering $280 million. Dwayne has earned a major proportion of his wealth from his acting career.
According to reports, the star earned $89.4 million from his acting endeavors between 1st June, 2018 and 1st June, 2019. Reports also indicate that the actor collects up to 15% from each of his mega-franchise movies.
The following are some of his biggest income earners:
• Fast and Furious: Hobbs and Shaw – Dwayne Johnson earned $20 million
• Moana – Dwayne took home $22 million
• The Scorpion King – The movie grossed $165 and Dwayne Johnson collected $5.5 million
• The Rundown – Dwayne netted $12.5 million
• Walking Tall – The star made some $15 million
• Skyscraper – Dwayne Johnson earned $20 million
• HBO's Ballers – Johnson earned $700, 000 per episode in this television show
Like most professional actors, Dwayne Johnson also has a production company, known as Seven Bucks Productions. The company plays a crucial role in the production as well as marketing of Dwayne Johnson's movies, thereby earning the star some extra cash in production credits.
In addition to acting and film production, The Rock also earns royalties from his clothing and shoe line, as well as his endorsement deals with Under Armour. Other companies he has entered into endorsement contracts with include Ford and Apple.
The Rock enjoys a massive following on social media too, which he does not shy away from capitalizing on. In addition to his upfront salaries and backend points from his movies, the star also demands up to $4 million worth of movie promotions on his social media handles.
Life Lessons from Dwayne Johnson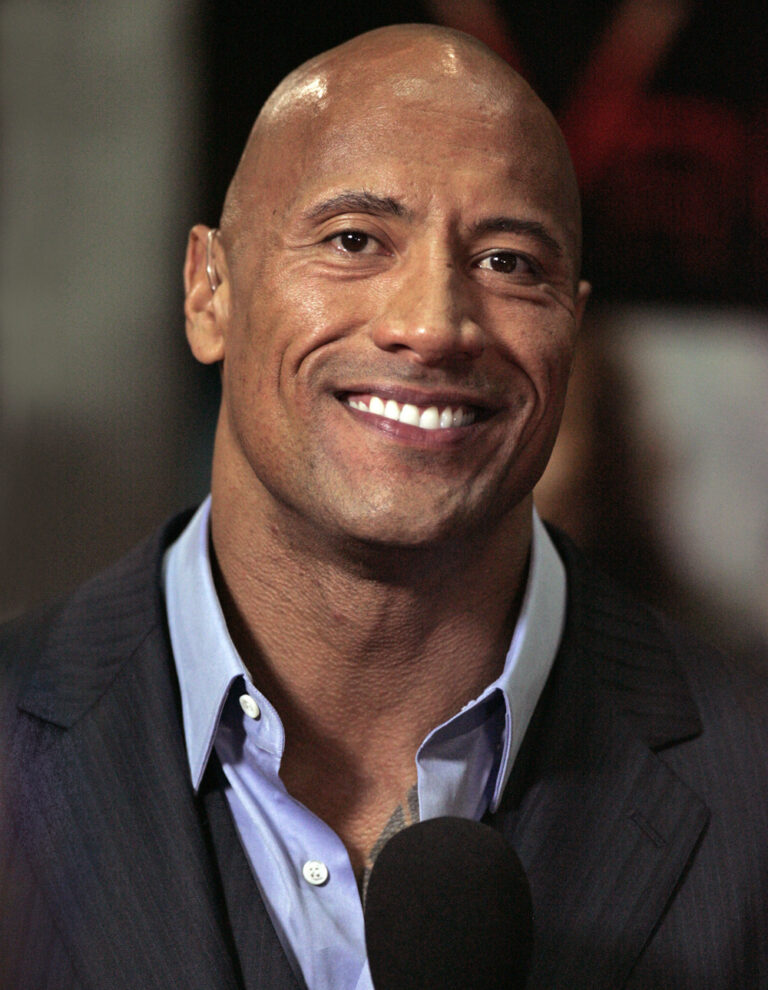 The first life lesson we can learn from Dwayne Johnson is not to allow life's challenges to put us down. As a budding football player, Dwayne suffered severe injuries that saw him replaced while playing for the national championship at Miami.
But he didn't quit. As soon as he graduated, he moved to Canada, joined Calgary Stampeders and continued putting up impressive performances on the pitch.
Dwayne Johnson's success story is also proof that a change is as good as a rest. The Rock is one of the few celebrities that have excelled in three different careers – football, wrestling, and acting. Dwayne knew when his time was up in a particular profession, and didn't hesitate to venture into other fields.
Dwayne also teaches us to never give up, despite our life's present situation. At some point, Johnson had only $7 in his pocket. But in spite of his financial limitations at the time, he knew he was destined for greatness. He began doing what he could to improve his finances. And as they say, the rest is history.
Here are some motivational quotes by Dwayne Johnson.
"1995. $7 Bucks In My Pocket. I Knew Two Things: I'm Broke As Hell and One Day I Won't Be."
"Blood, Sweat and Respect. First Two You Give, Last One You Earn."
"I'll never, ever be full. I'll always be hungry. Obviously, I'm not talking about food. Growing up, I had nothing for such a long time. Someone told me a long time ago, and I've never forgotten it. Once you've ever been hungry, really, really hungry, then you'll never, ever be full."
"Success isn't always about 'Greatness', it's about consistency. Consistent, hard work gains success. Greatness will come."
"The road to success and greatness is always paved with consistent hard work. Outwork your competitors, be authentic and above all else. Chase your greatness."
"When You Walk Up To Opportunity's Door: Don't Knock It. Kick That Bitch In, Smile and Introduce Yourself."
Wrap Up
Though Dwayne Johnson has amassed so much wealth, he hasn't forgotten where he came from. The star regularly donates to charity through the Dwayne Johnson Rock Foundation. You can read more about him on his biography titled The Rock Says…