Last Updated on January 24, 2023
Whether you know him as "E. E. Cummings" or "e. e. cummings", he is undoubtedly one of the greatest American poets. The individuality, innovation in language and form, and rather cliché topics of his poetry are what set him apart.
Whether you like your poetry with this modernist flair, you've likely read one or two of his works in high school English.
Early Life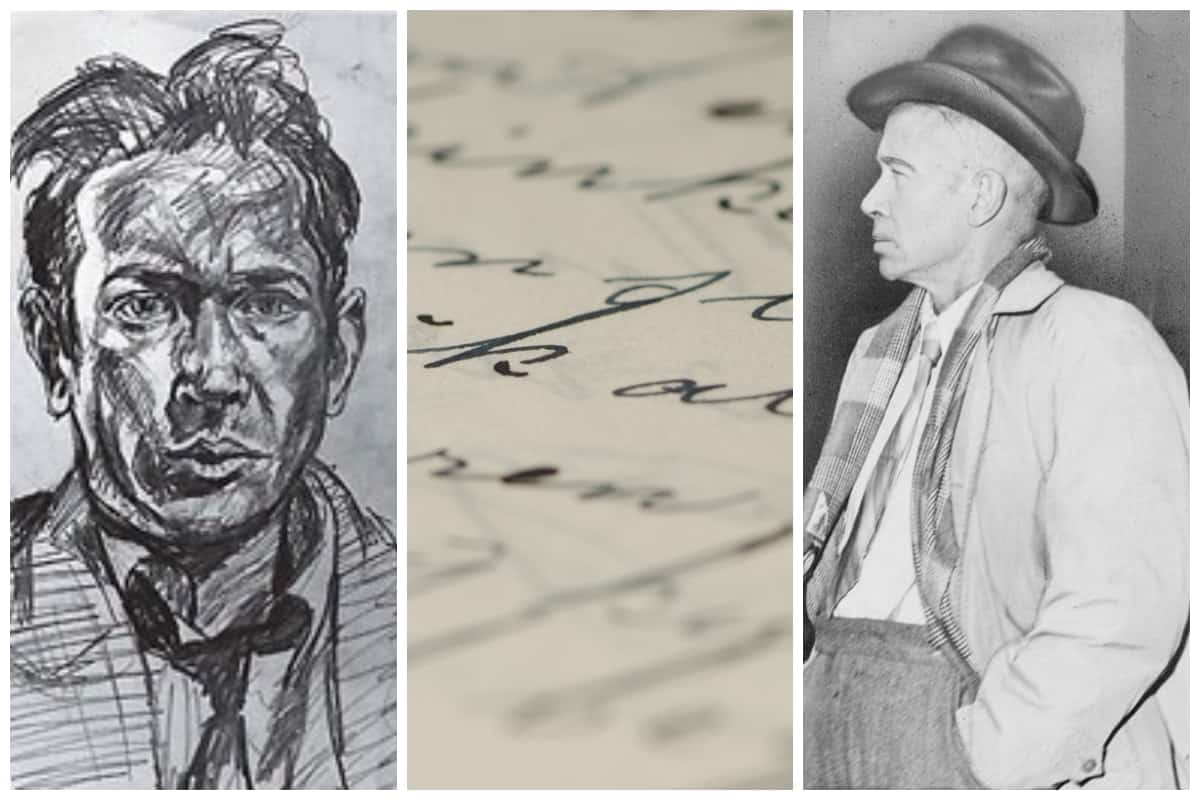 The "E. E." in his name stands for Edward Estlin. His parents were both from families that settled in the colonies before the Revolution. More importantly, they were both liberal and rather indulgent.
They supported his creative pursuits from the onset. He was born on October 14, 1894 and as a child, Cummings also drew. From the age of eight until he was 22, Cummings wrote a poem a day.
His mother, Rebecca Haswell Clarke, would play games with him and his sister. However, his father, Edward Cummings, supposedly had "controlling behavior." He taught sociology at Harvard before he became the minister of Boston's South Congregational Church. His father may have made E. E. Cummings uncomfortable in life, but at his death, Cummings was inspired.
It is interesting to see "sameness" of Cummings' writing when comparing two poems he wrote to/about his father. He would discover avant-garde and modernism later on in life.
But it seems he'd had his heart set on an unconventional style of writing early on. Even at six years old, Cummings would defy style and structure by writing in (surprisingly) all capital letters. His word use and spacing was unique at this point as well.
As Harvard was the family school, it was only natural that he spent his years studying there, too. He received his B.A. from the institution in 1915. Only a year later would he receive his M.A. as well.
World War II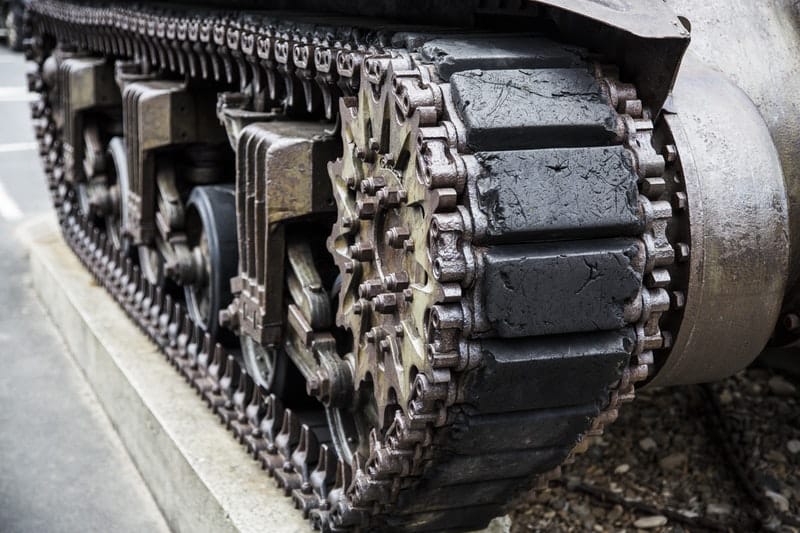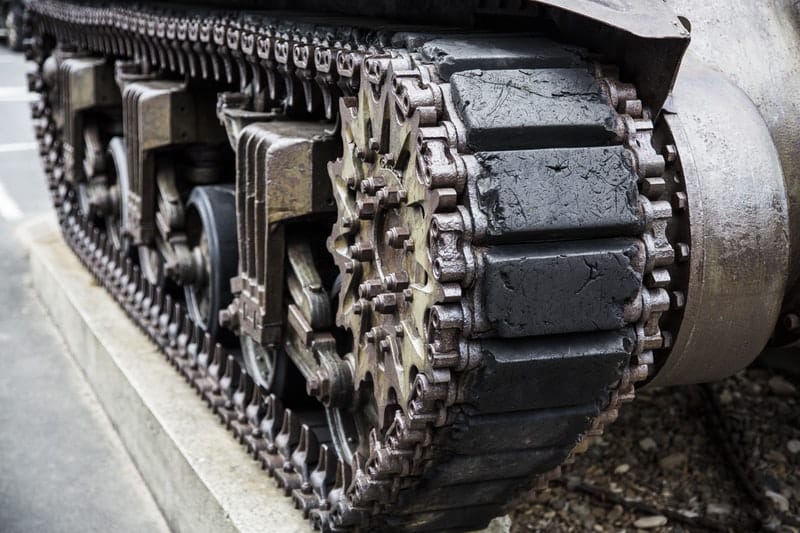 E. Cummings was a pacifist. So, when the war was in full force in Europe (but has not yet peaked in America), he volunteered to do ambulance work in France.
There, he was assigned to the French-American border with William Slater Brown. The two would bond over hiding provocative comments into their letters home and went around the nearby units to make friends.
Possibly due to these actions, they were detained in an internment camp in Normandy in September 1917. The cause of their imprisonment was suspicion of treason. Both of them found themselves in one large holding space with other suspects.
Edward Cummings' enraged protests led to E. E. Cummings' release in December. However, the experience would later inspire "The Enormous Room", a fictionalized account of the event. This would also mark his first attack on authoritarianism with the use of the written word.
Later on, the culmination of his politically charged literature would appear in the form of a scathing account of his visit to the Soviet Union. Cummings traveled there in 1931 expecting that the communist society was a betterment.
He was vastly disappointed. He published his diary of the period in 1931 as the prose work "EIMI." Within it, among many others, is a full description of the horror of Lenin's tomb.
Love, Poetry, and Other Works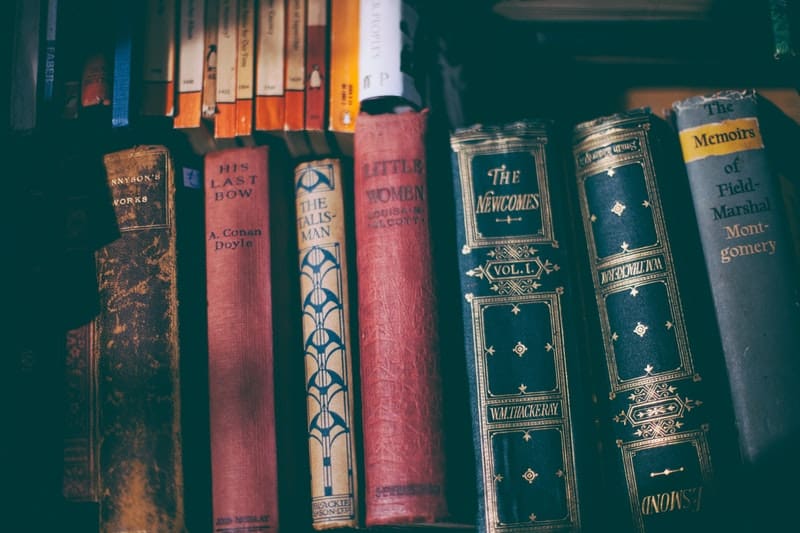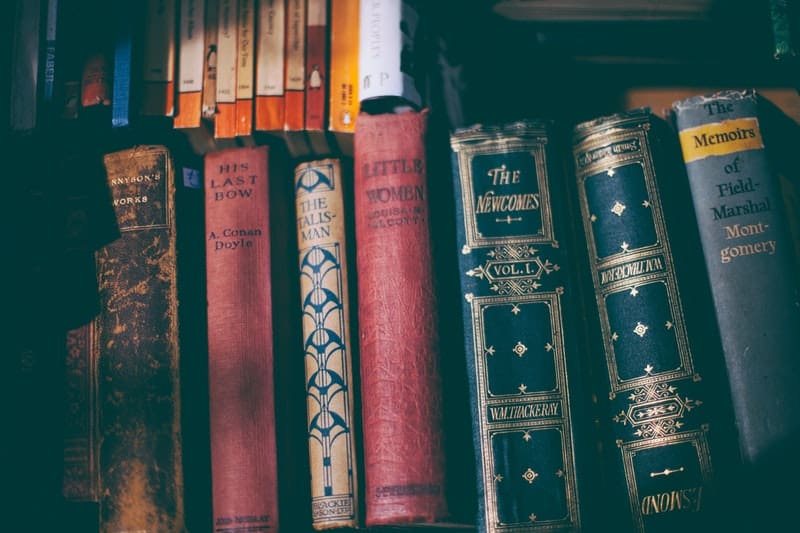 Norman Friedman, in his book E. E. Cummings: The Growth of a Writer, wrote of Cummings' and his writing style as such:
Transform the word, he seems to have felt, and you are on the way to transforming the world.
True enough, Cummings' work is replete with transformations. He would invent words through synthesis. He would use non-nouns as nouns and would place his own meaning into words. He would use irregular spacing. And, most popular of all, he would begin a sentence in the lowercase and would always do the same for 'i'.
But despite how unconventional his style was his topics bordered on the cliché. Specifically, he had a fondness for writing about love.
What's interesting about Cummings' love poems, in general, is their evolution though. His work in the 1920s was erotic and inspired by his affair and later (short–lived) marriage to Elaine Orr.
As time passed, his idea of love changed and it was reflected in his poetry. He found increasing reverence in the notion, and by the end of it all, he would find the transcendence that leads to love as God.
The overall tone of his poems leads critics to describe him as a perpetual child. His poems preserved a quality of innocence.
His poetry would span collections. And among his most popular work (that are not yet mentioned) are:
i: six nonlectures, which is his published lectures at Harvard University
Him, which is a three-act play
&
XLI Poems
If you want to read his poetry, "I carry your heart" and "in just" are good starting points. But if you want a curated list of his thoughts, then read on for some of E. E. Cummings' most profound sayings.
E. Cummings Quotes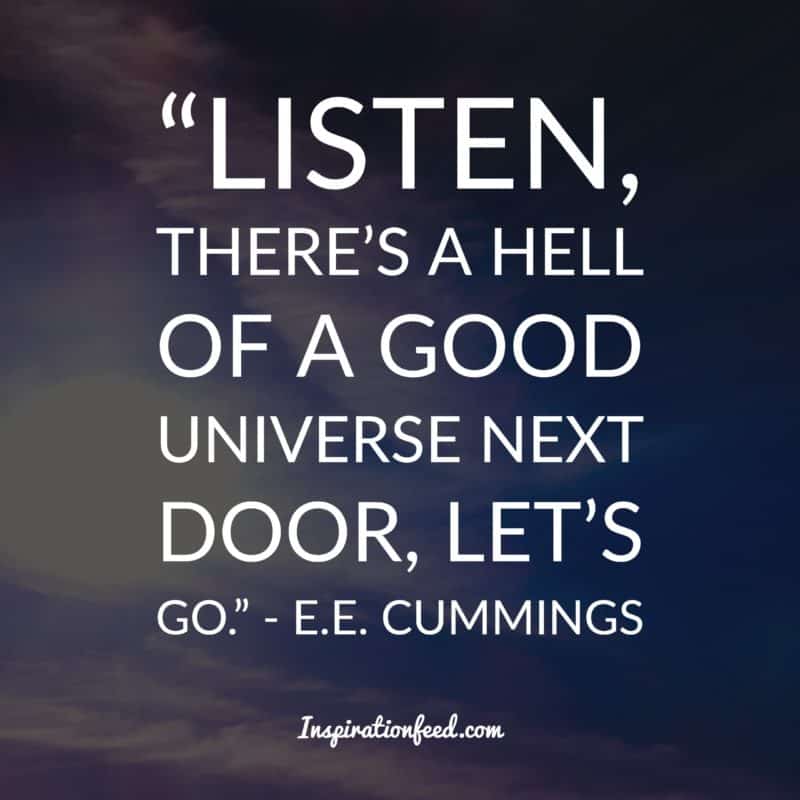 "Listen, there's a hell of a good universe next door, let's go." – E.E. Cummings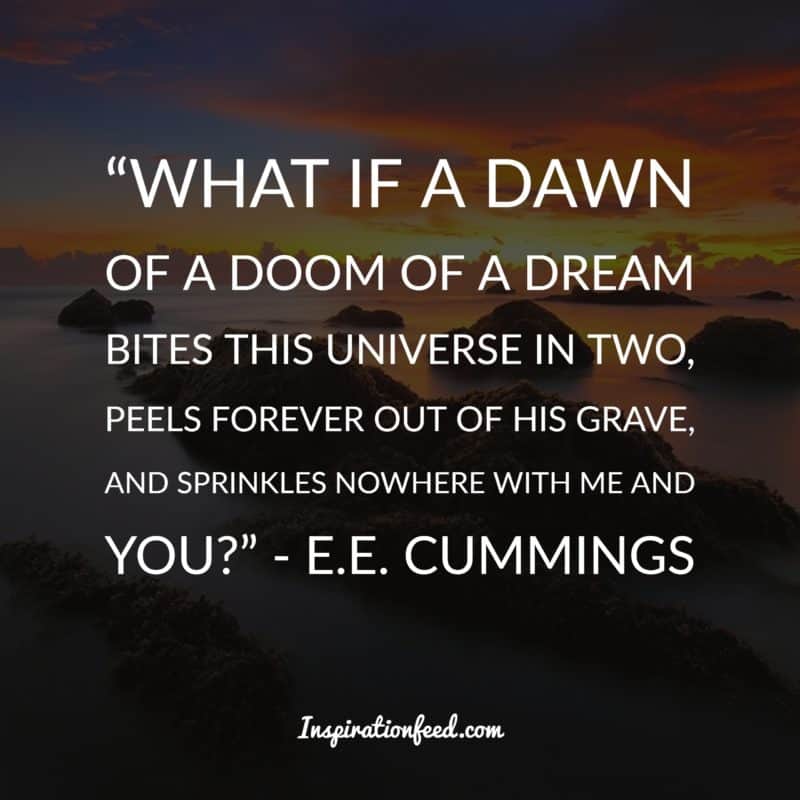 "What if a dawn of a doom of a dream
bites this universe in two,
peels forever out of his grave,
and sprinkles nowhere with me and you?" – E.E. Cummings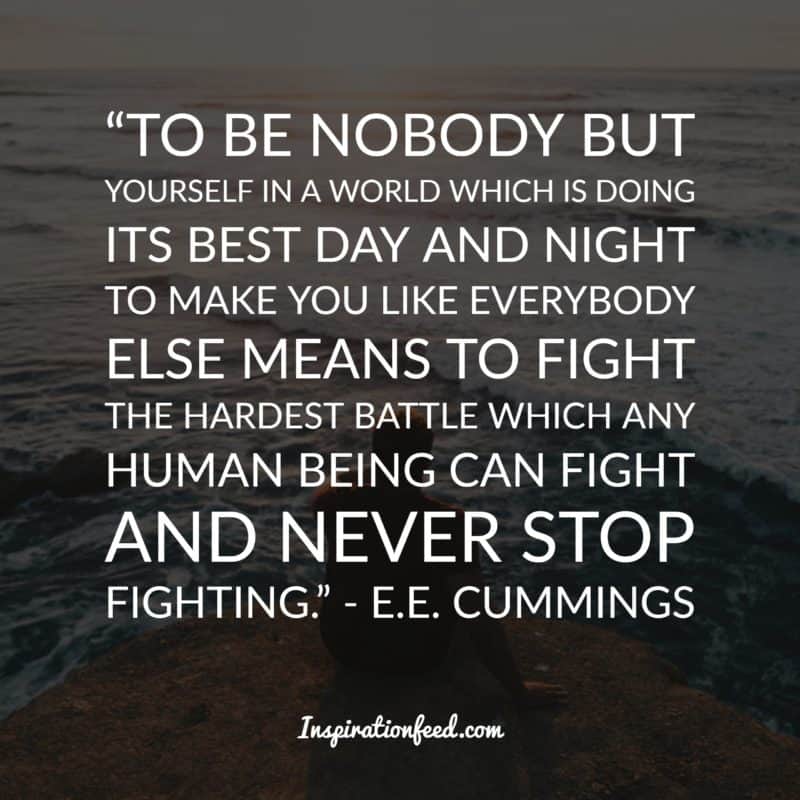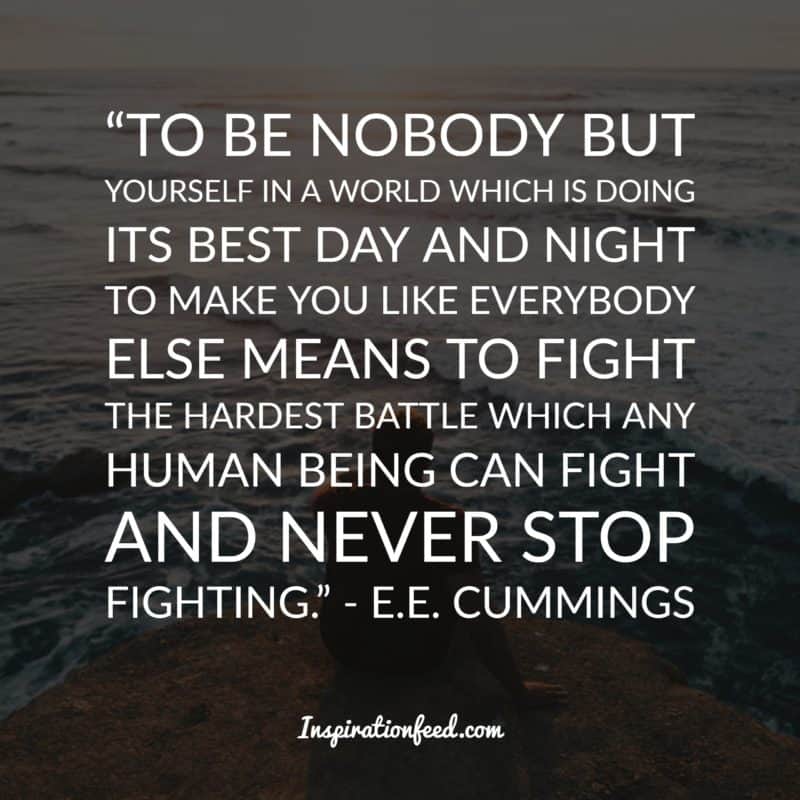 "To be nobody but yourself in a world which is doing its best day and night to make you like everybody else means to fight the hardest battle which any human being can fight and never stop fighting." – E.E. Cummings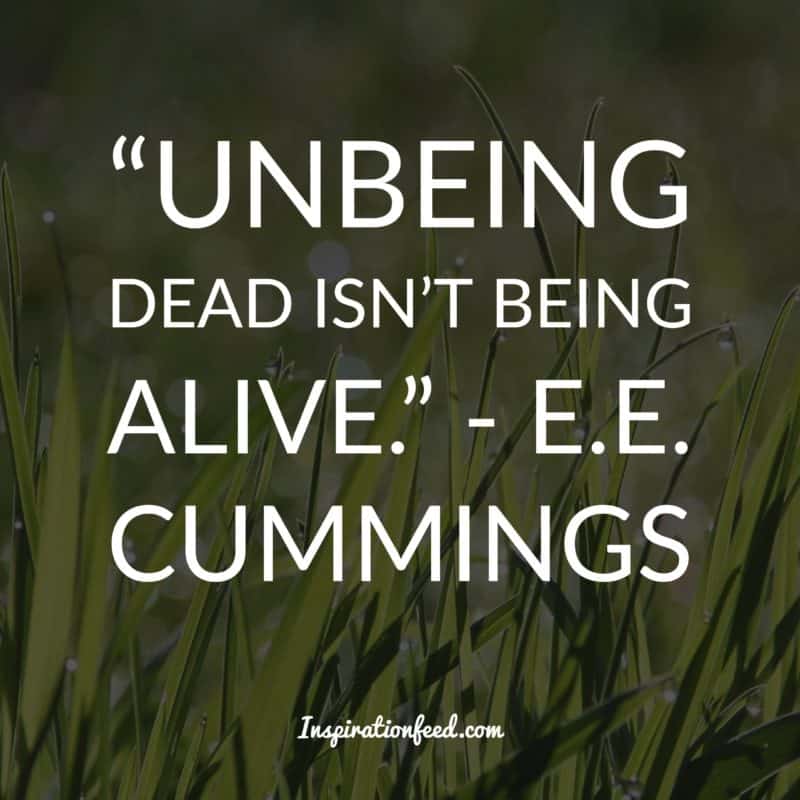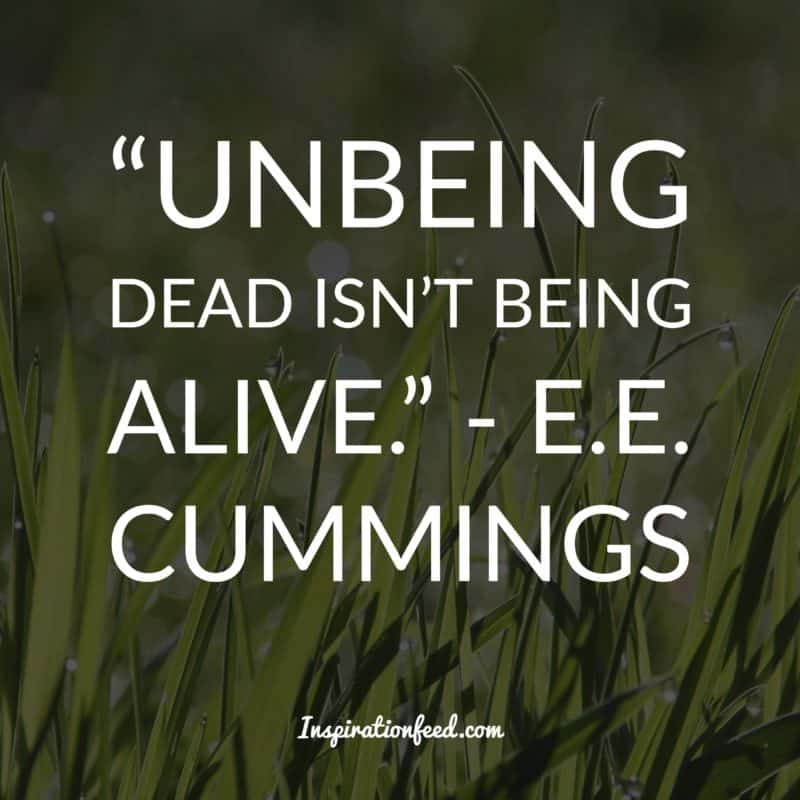 "Unbeing dead isn't being alive." – E.E. Cummings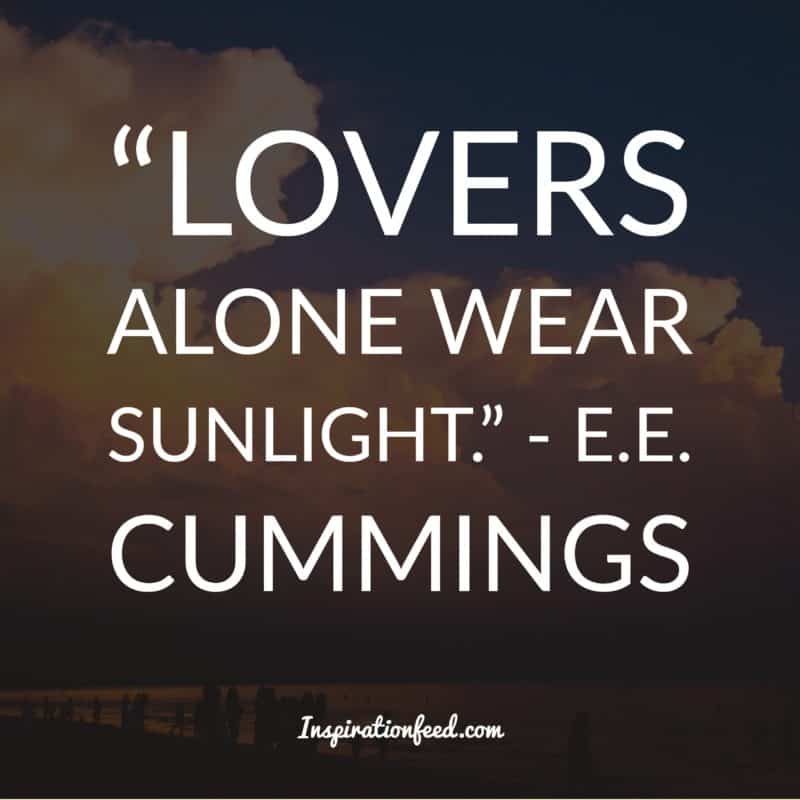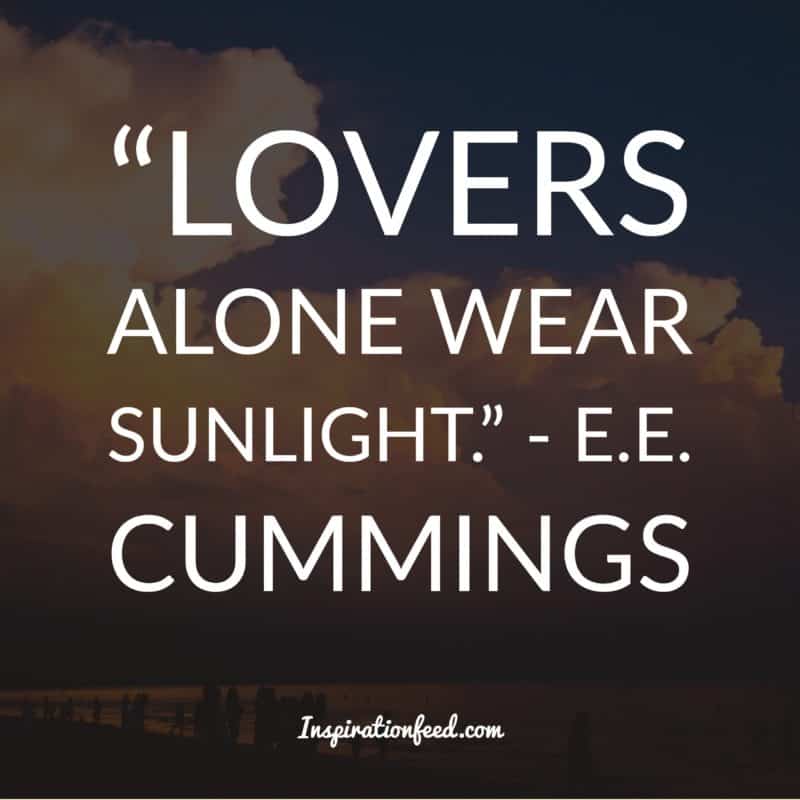 "Lovers alone wear sunlight." – E.E. Cummings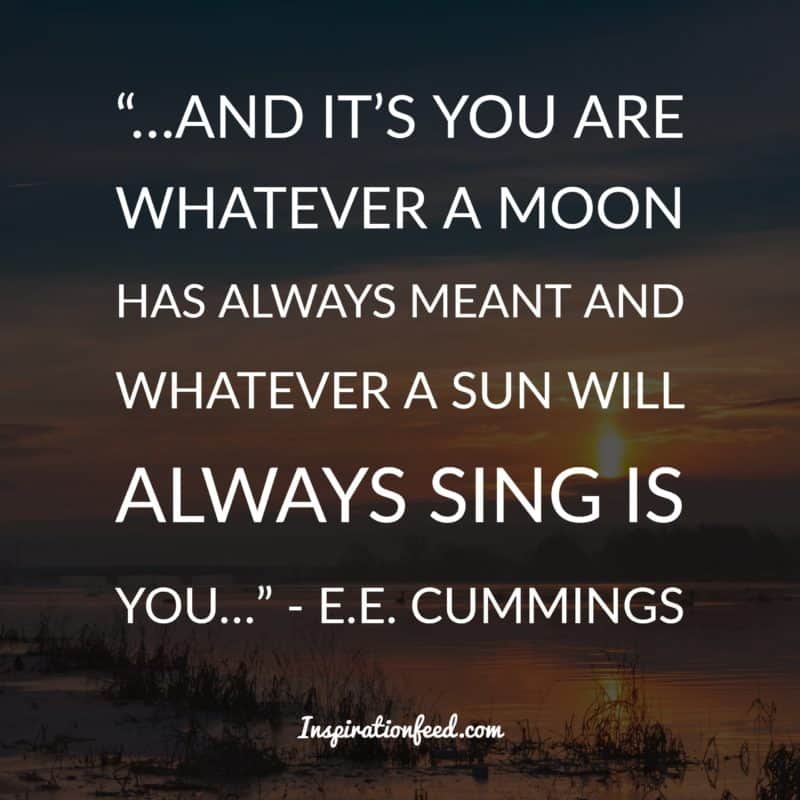 "…and it's you are whatever a moon has always meant and whatever a sun will always sing is you…" – E.E. Cummings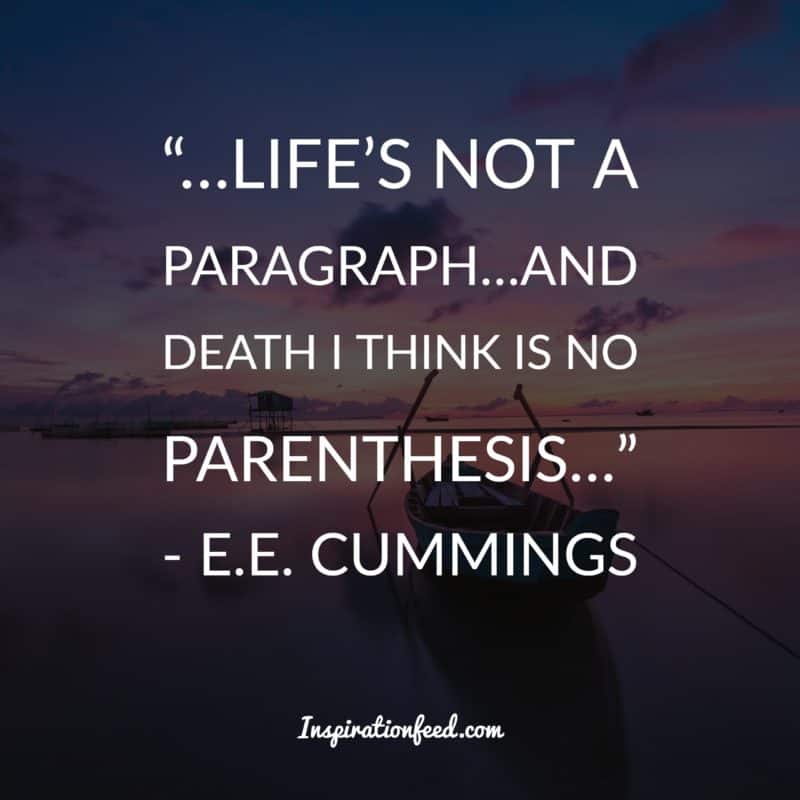 "…life's not a paragraph…And death I think is no parenthesis…" – E.E. Cummings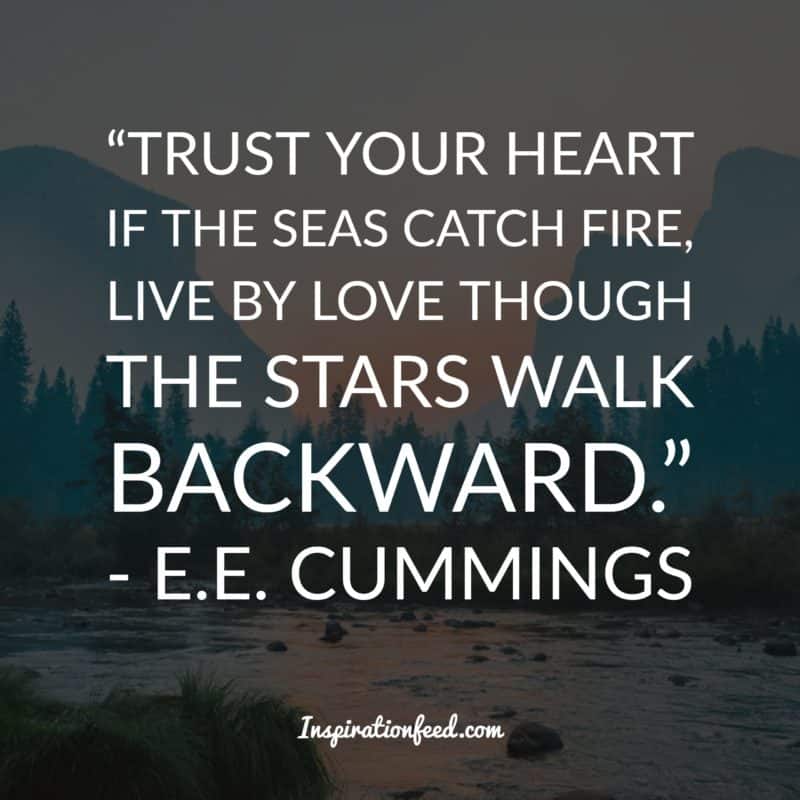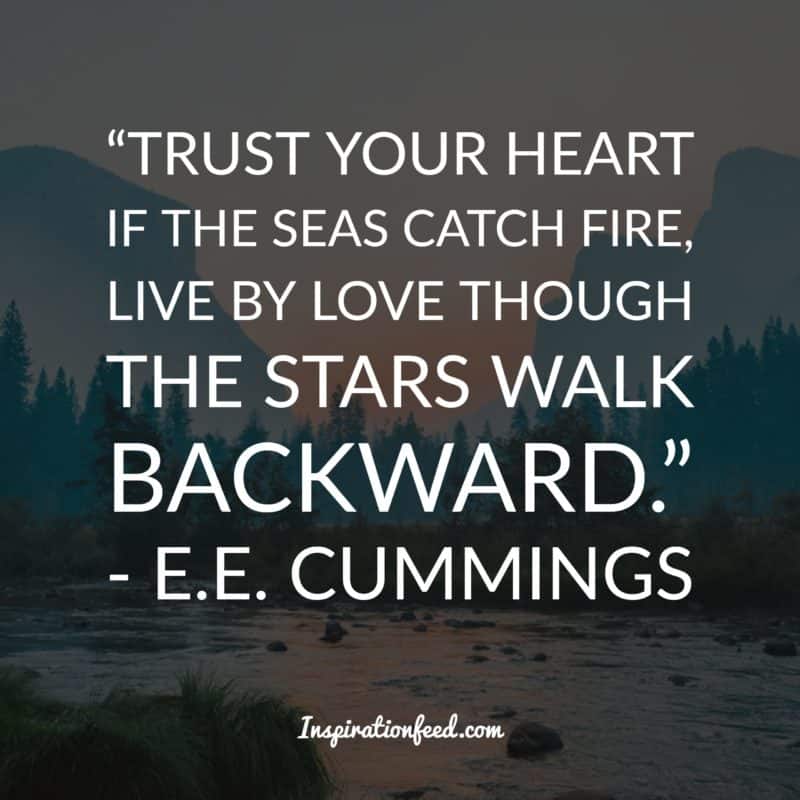 "Trust your heart if the seas catch fire, live by love though the stars walk backward." – E.E. Cummings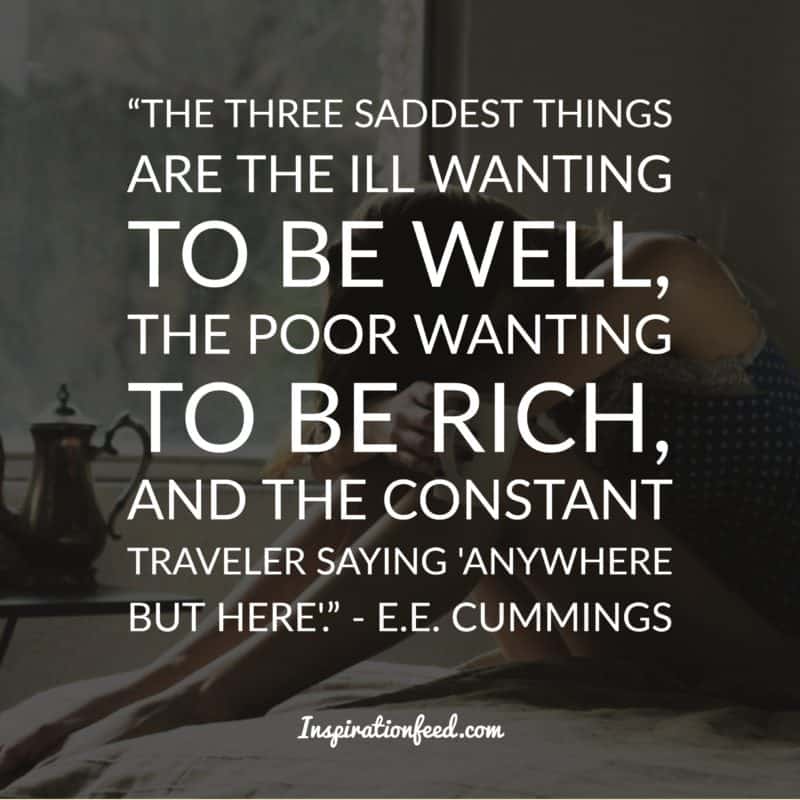 "The three saddest things are the ill wanting to be well, the poor wanting to be rich, and the constant traveler saying 'anywhere but here'." – E.E. Cummings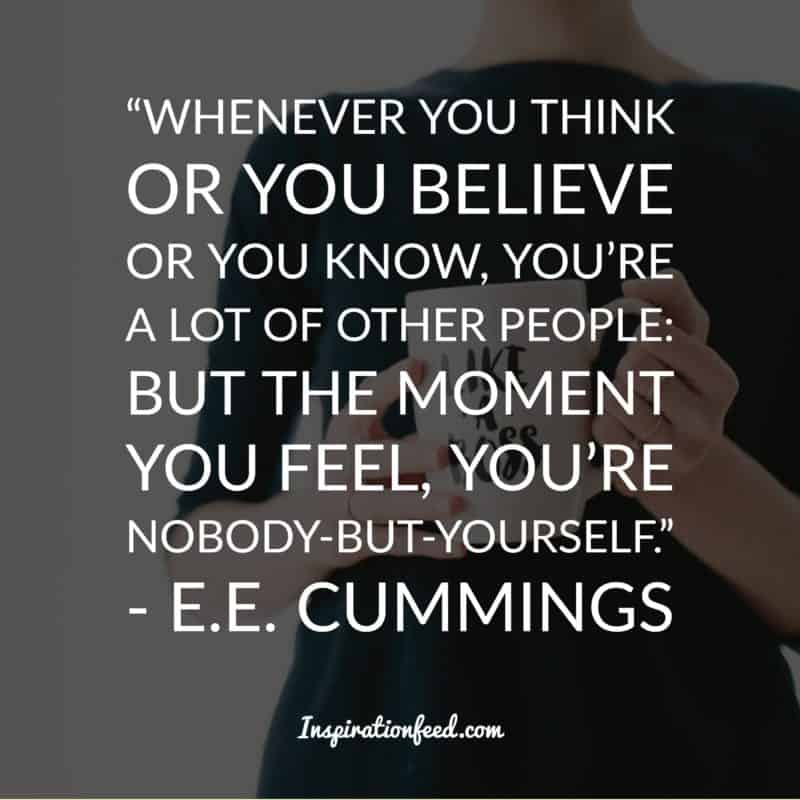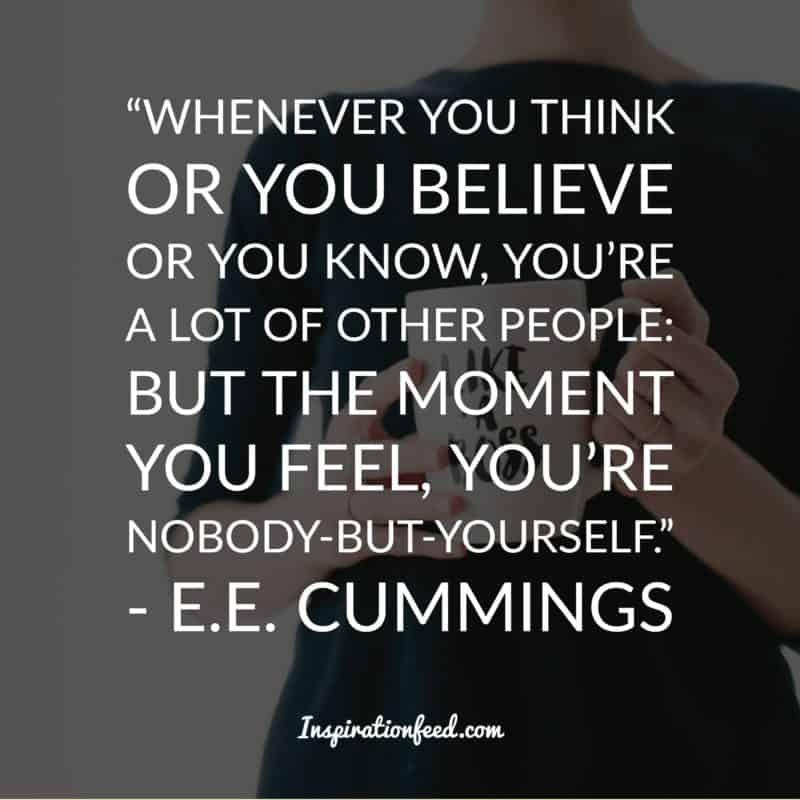 "Whenever you think or you believe or you know, you're a lot of other people: but the moment you feel, you're nobody-but-yourself." – E.E. Cummings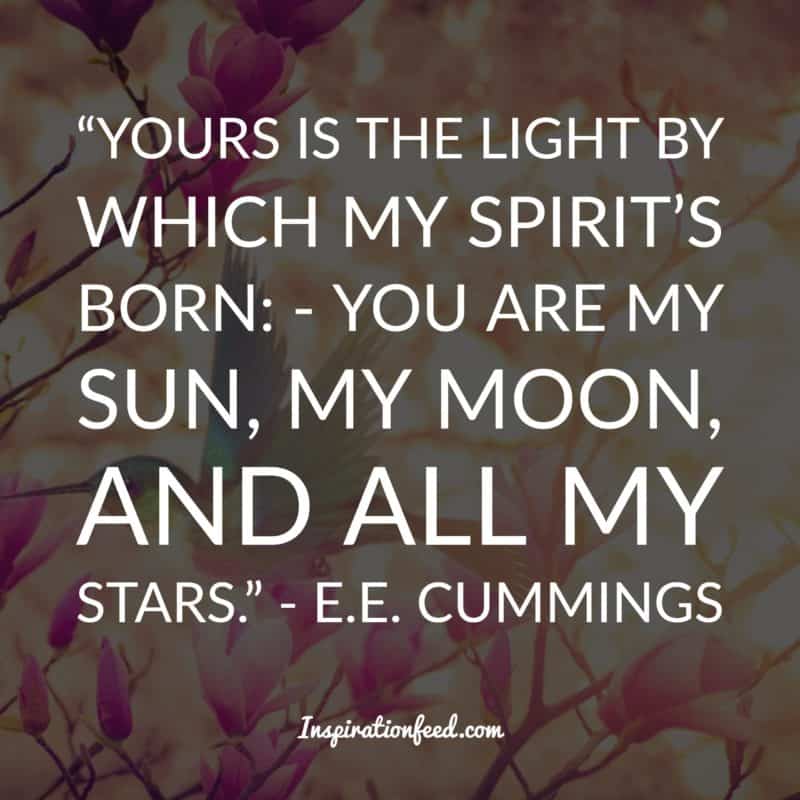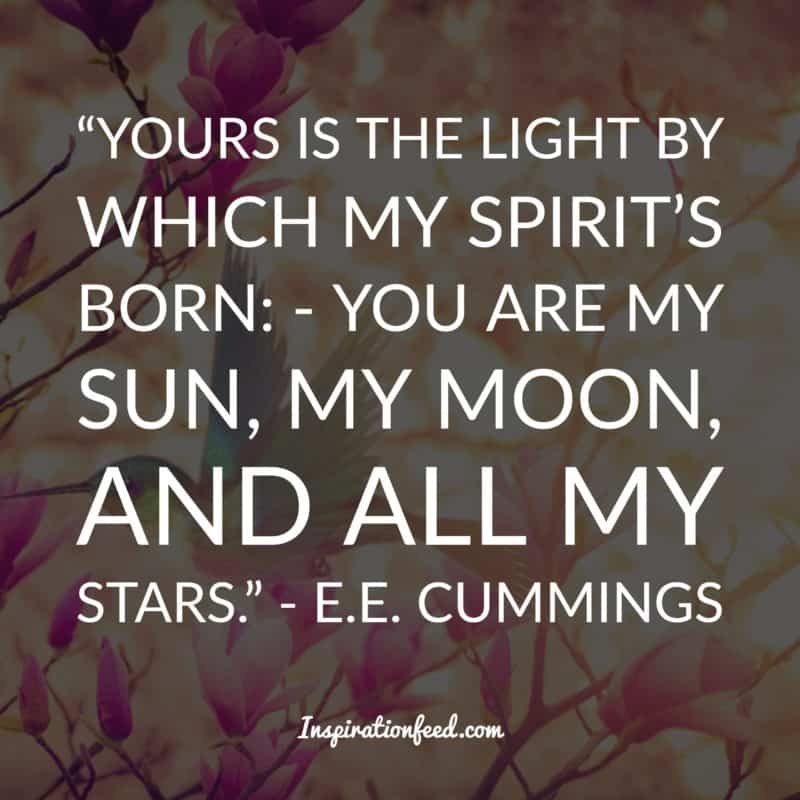 "Yours is the light by which my spirit's born: – you are my sun, my moon, and all my stars." – E.E. Cummings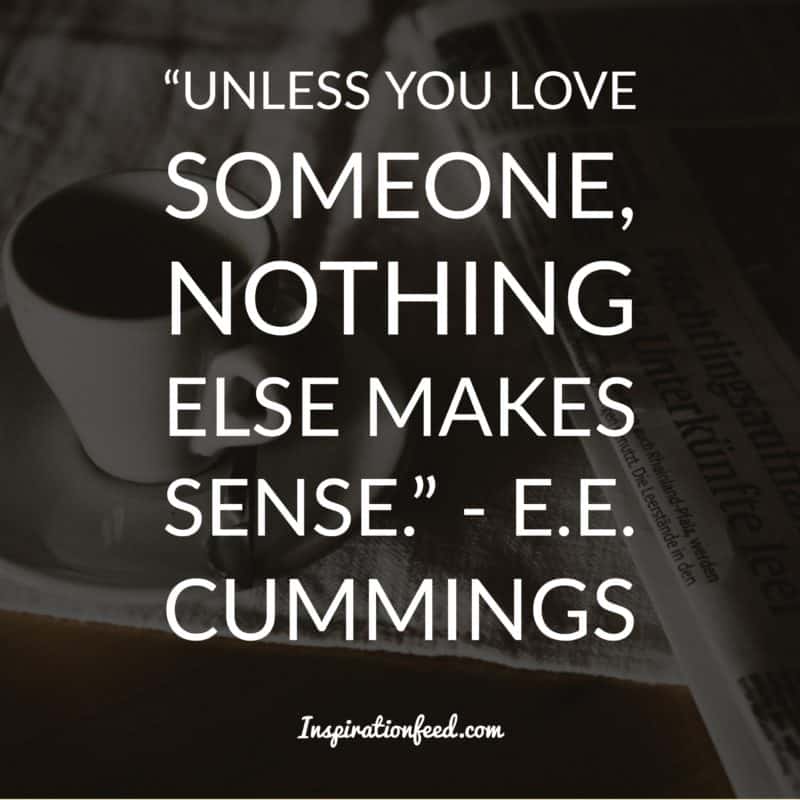 "Unless you love someone, nothing else makes sense." – E.E. Cummings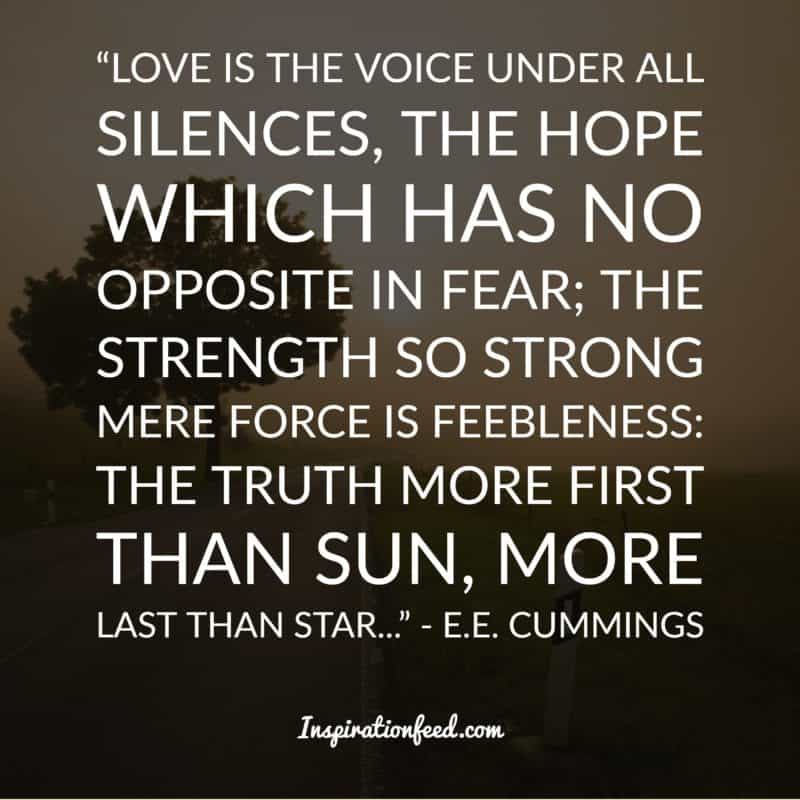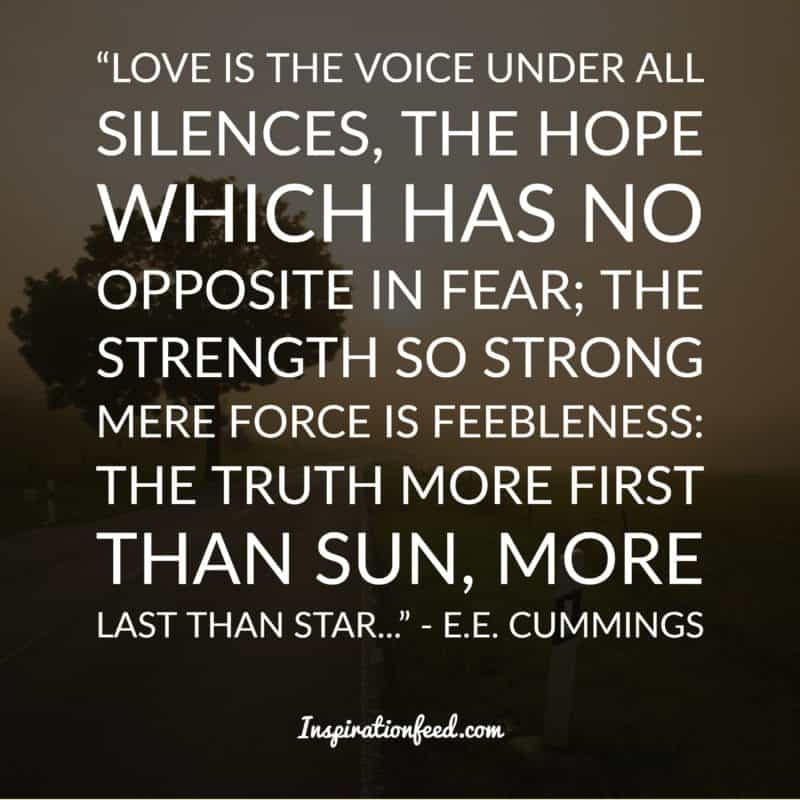 "Love is the voice under all silences, the hope which has no opposite in fear; the strength so strong mere force is feebleness: the truth more first than sun, more last than star…" – E.E. Cummings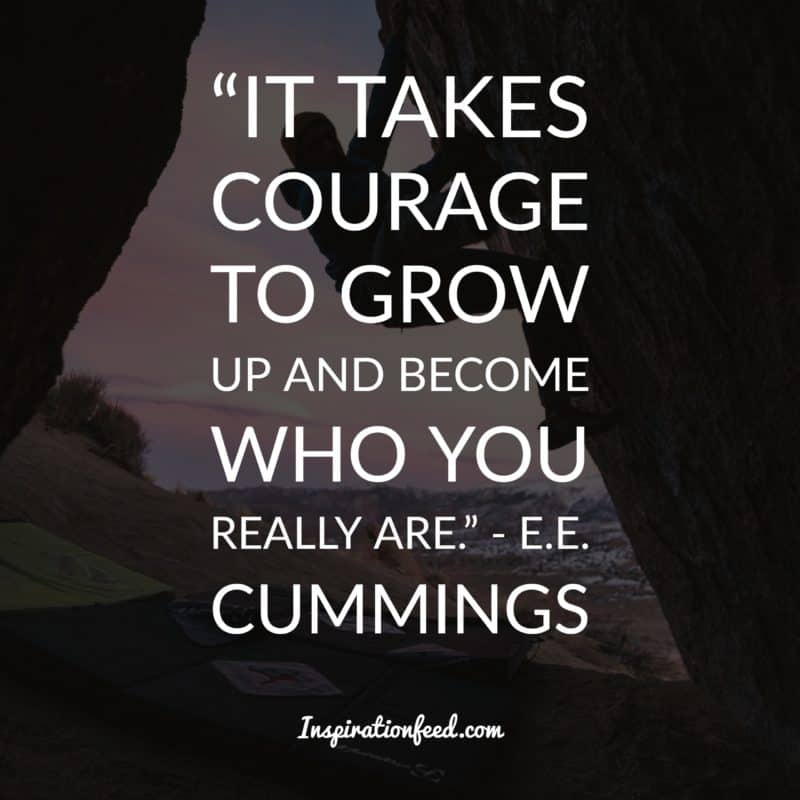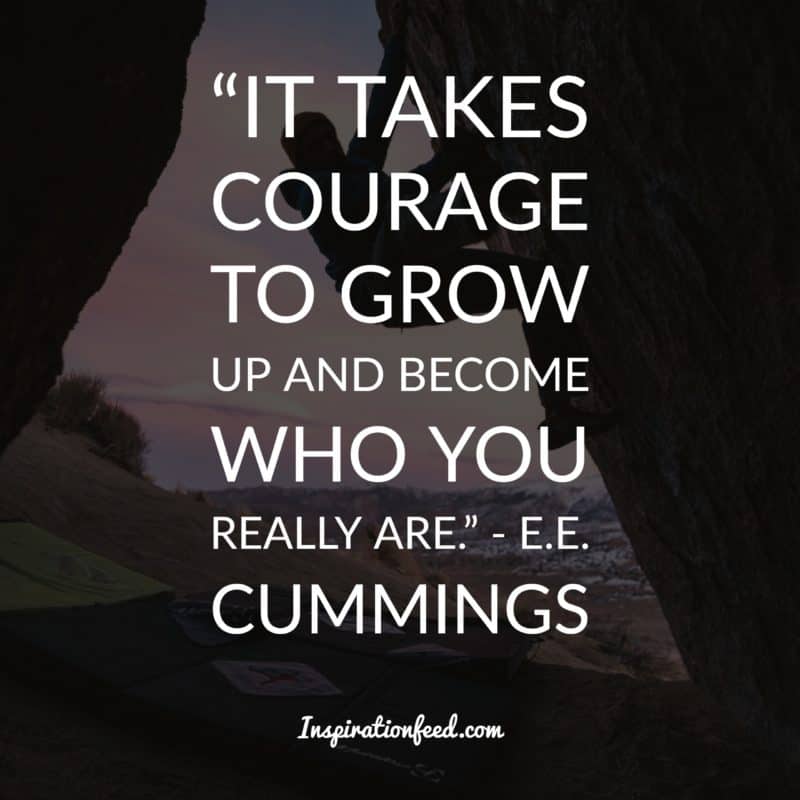 "It takes courage to grow up and become who you really are." – E.E. Cummings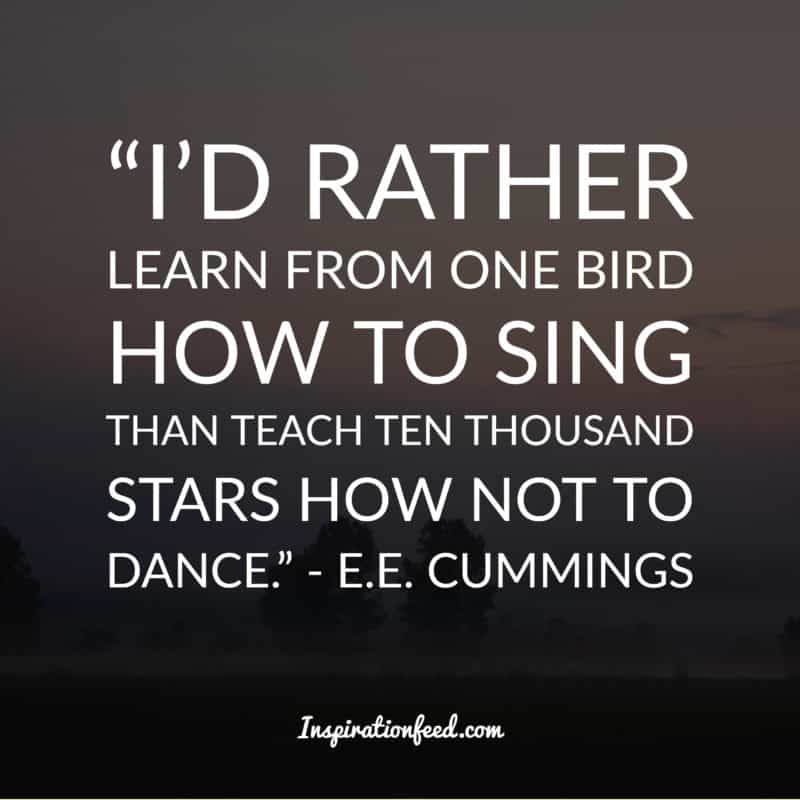 "I'd rather learn from one bird how to sing than teach ten thousand stars how not to dance." – E.E. Cummings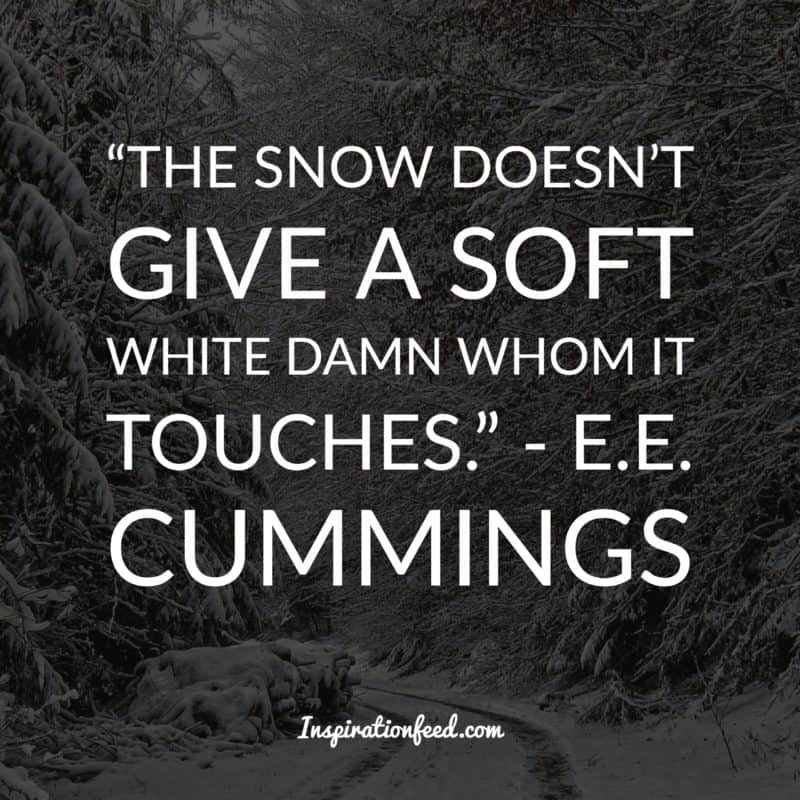 "The snow doesn't give a soft white damn whom it touches." – E.E. Cummings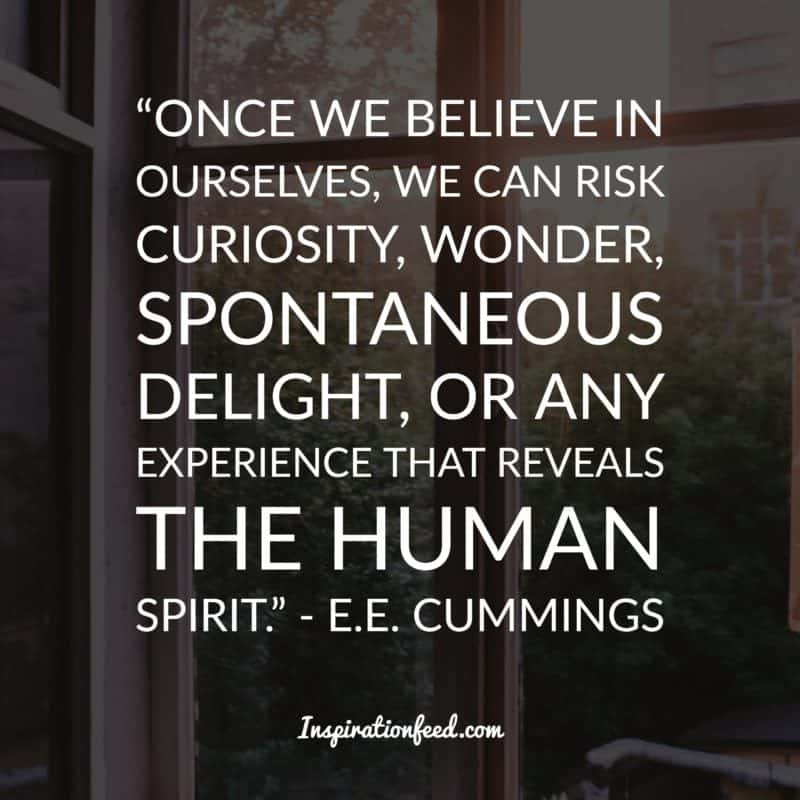 "Once we believe in ourselves, we can risk curiosity, wonder, spontaneous delight, or any experience that reveals the human spirit." – E.E. Cummings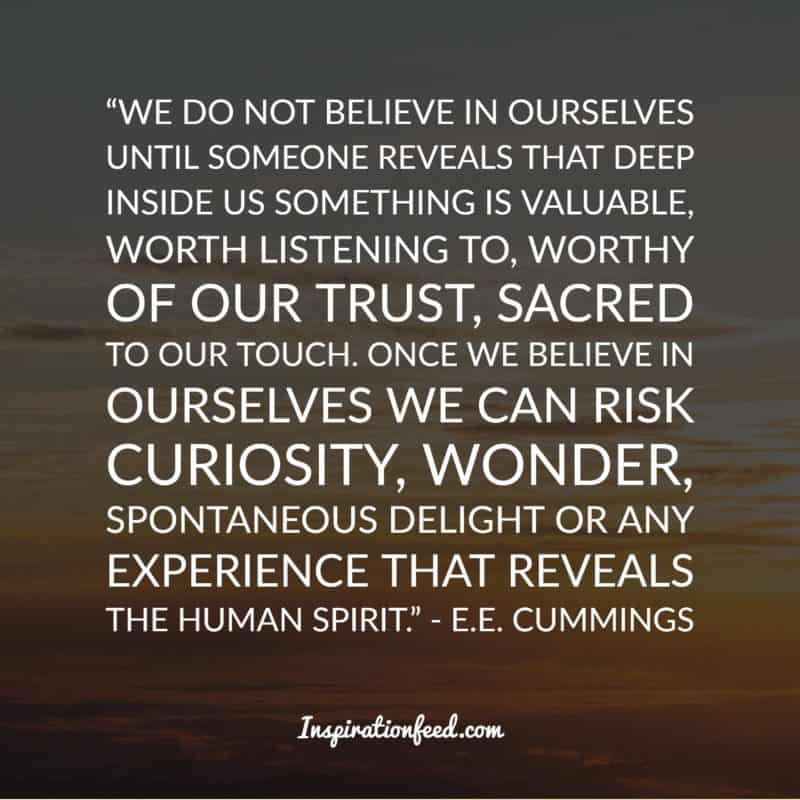 "We do not believe in ourselves until someone reveals that deep inside us something is valuable, worth listening to, worthy of our trust, sacred to our touch. Once we believe in ourselves we can risk curiosity, wonder, spontaneous delight or any experience that reveals the human spirit." – E.E. Cummings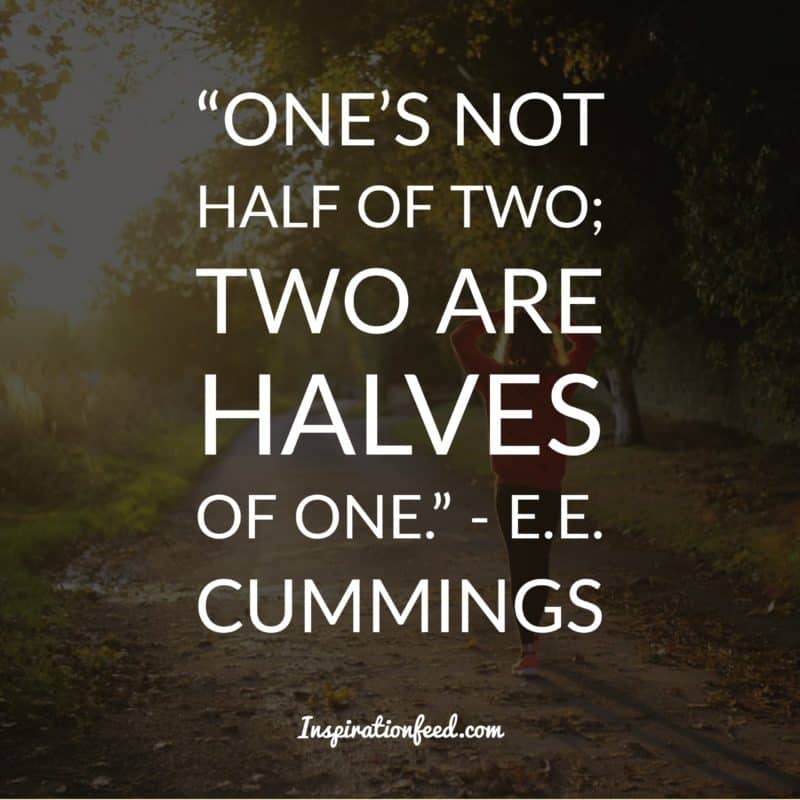 "One's not half of two; two are halves of one." – E.E. Cummings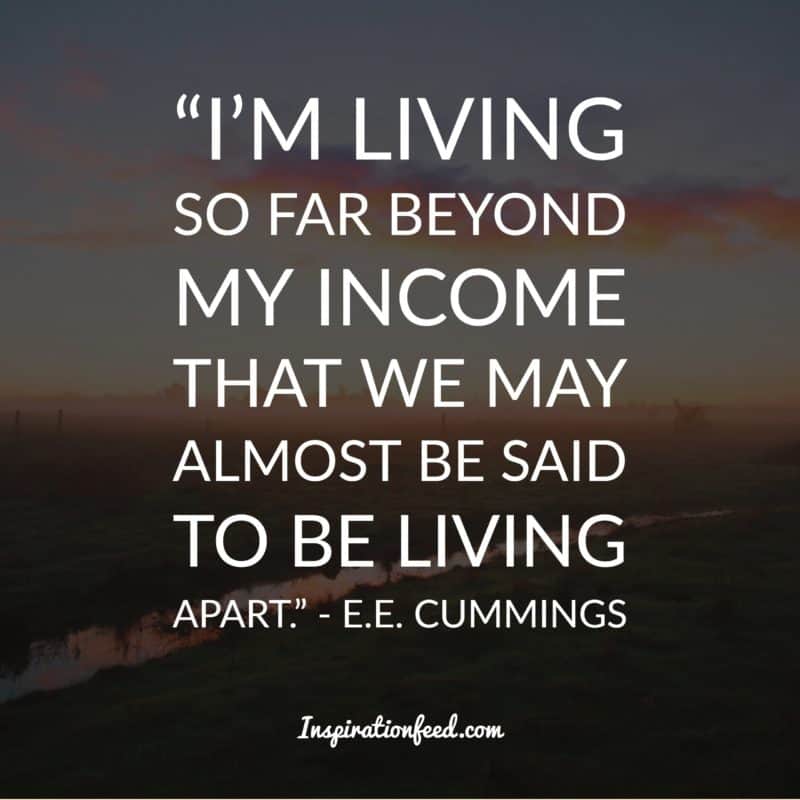 "I'm living so far beyond my income that we may almost be said to be living apart." – E.E. Cummings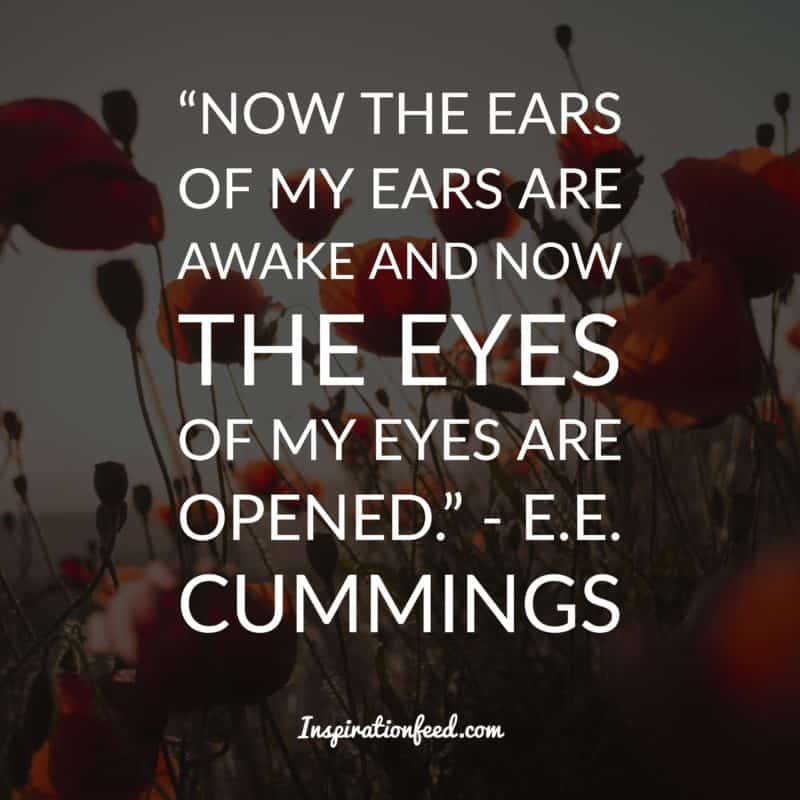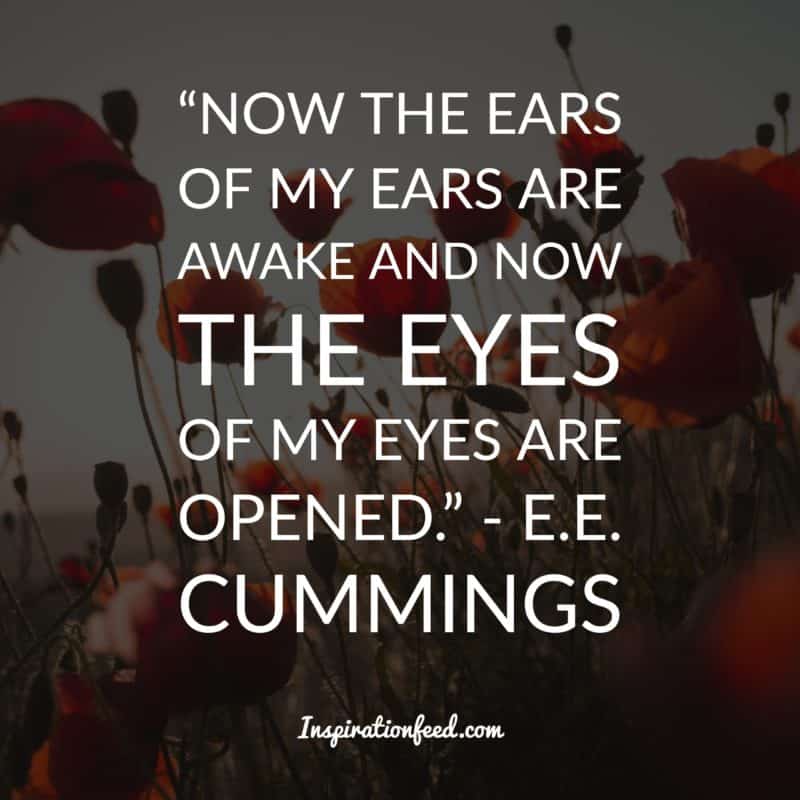 "Now the ears of my ears are awake and now the eyes of my eyes are opened." – E.E. Cummings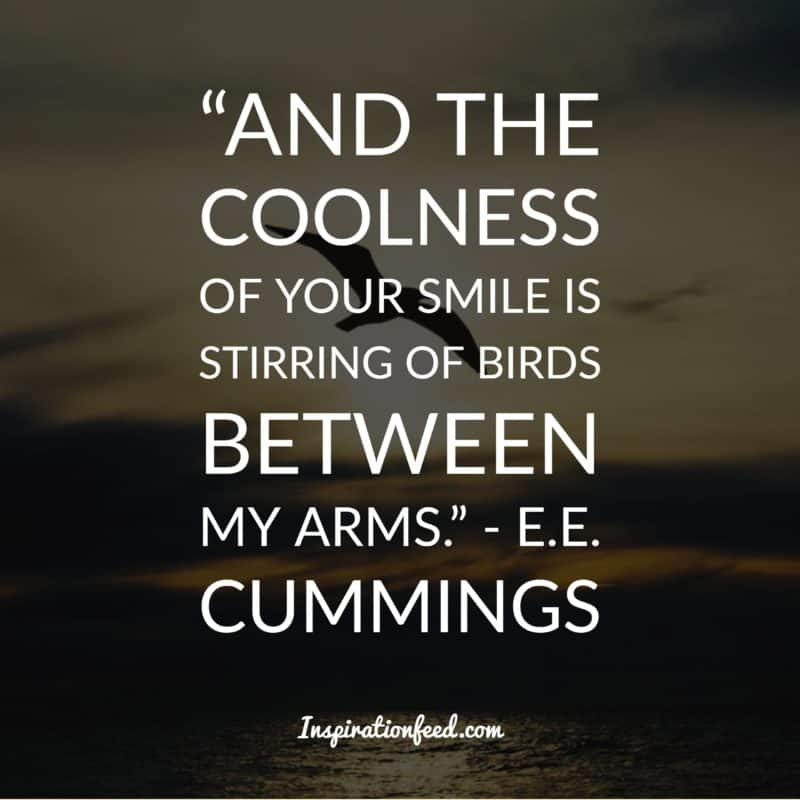 "And the coolness of your smile is stirring of birds between my arms." – E.E. Cummings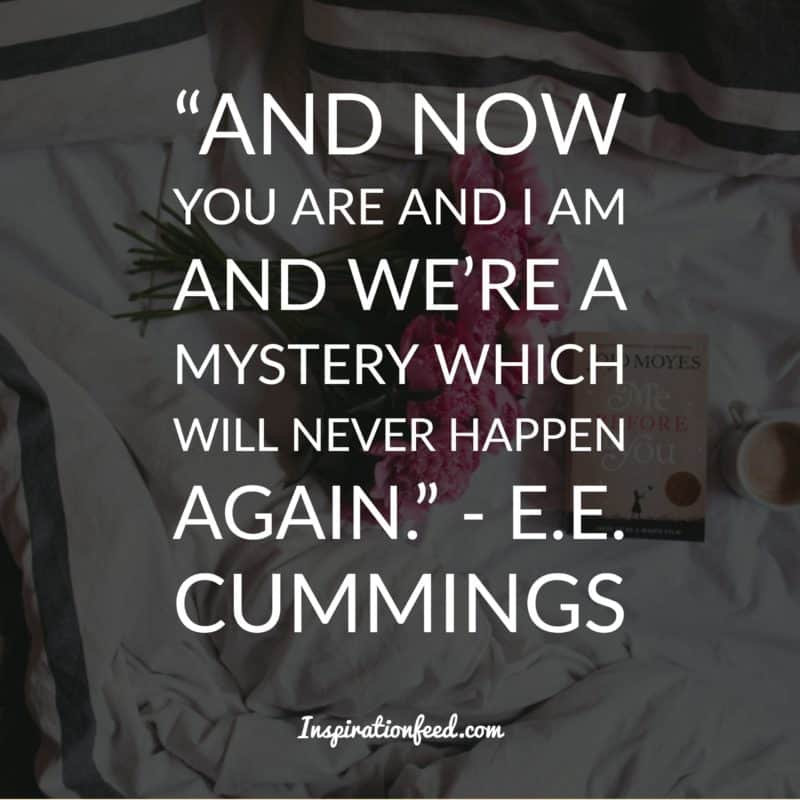 "And now you are and I am and we're a mystery which will never happen again." – E.E. Cummings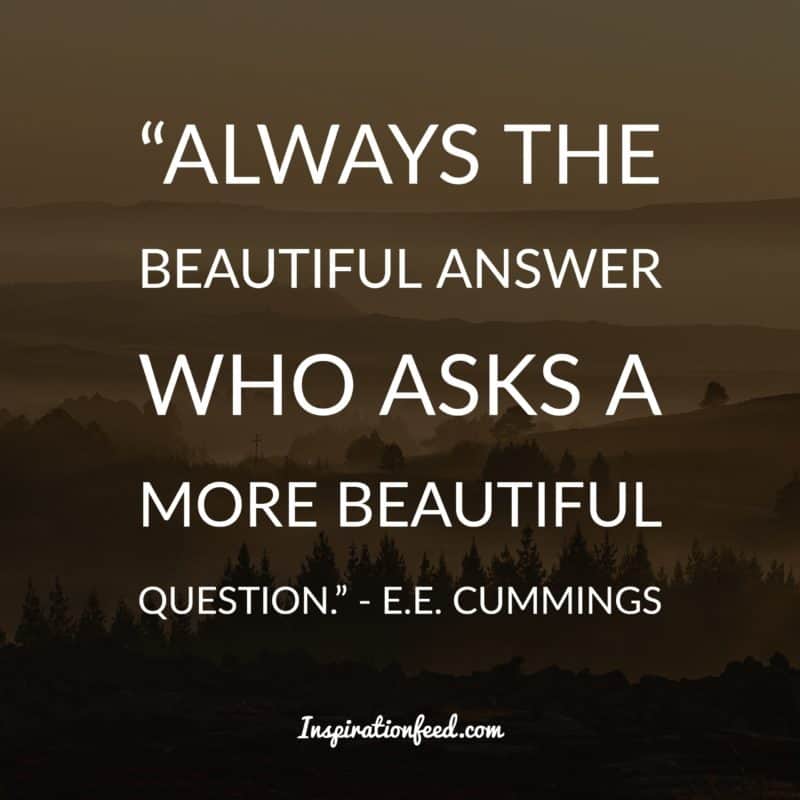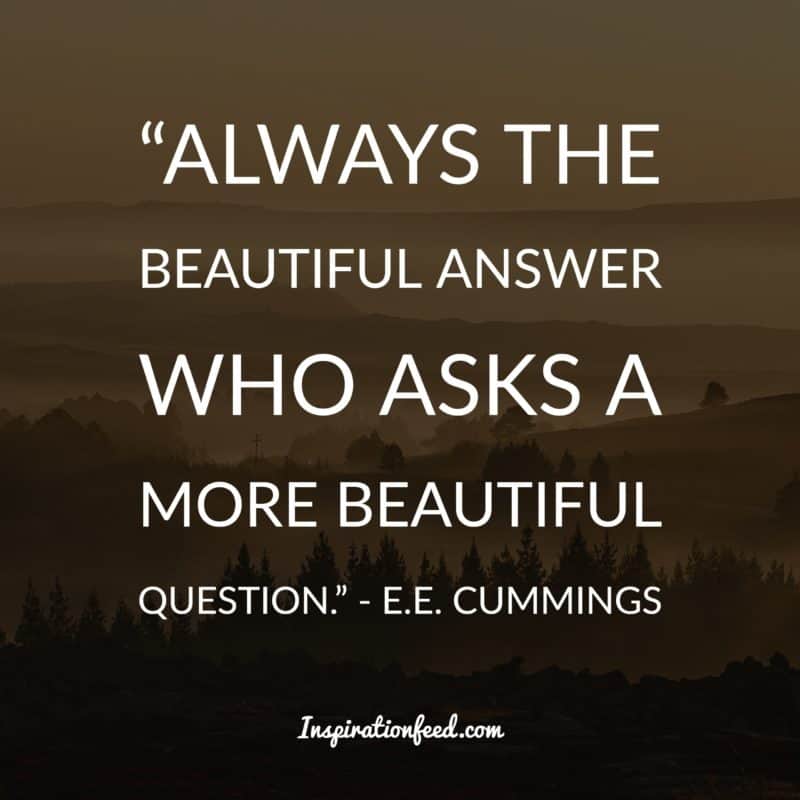 "Always the beautiful answer who asks a more beautiful question." – E.E. Cummings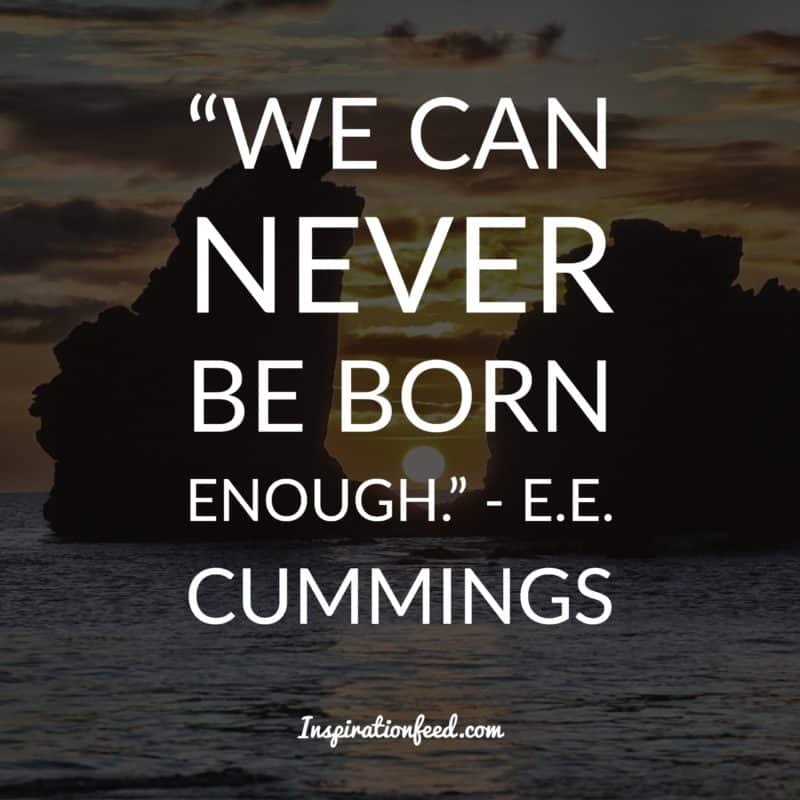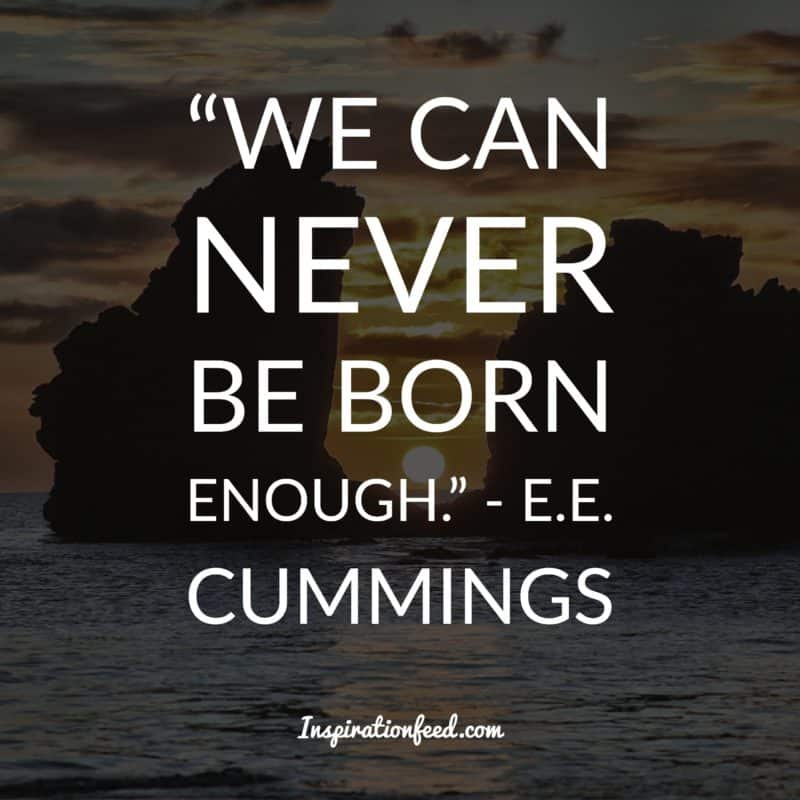 "We can never be born enough." – E.E. Cummings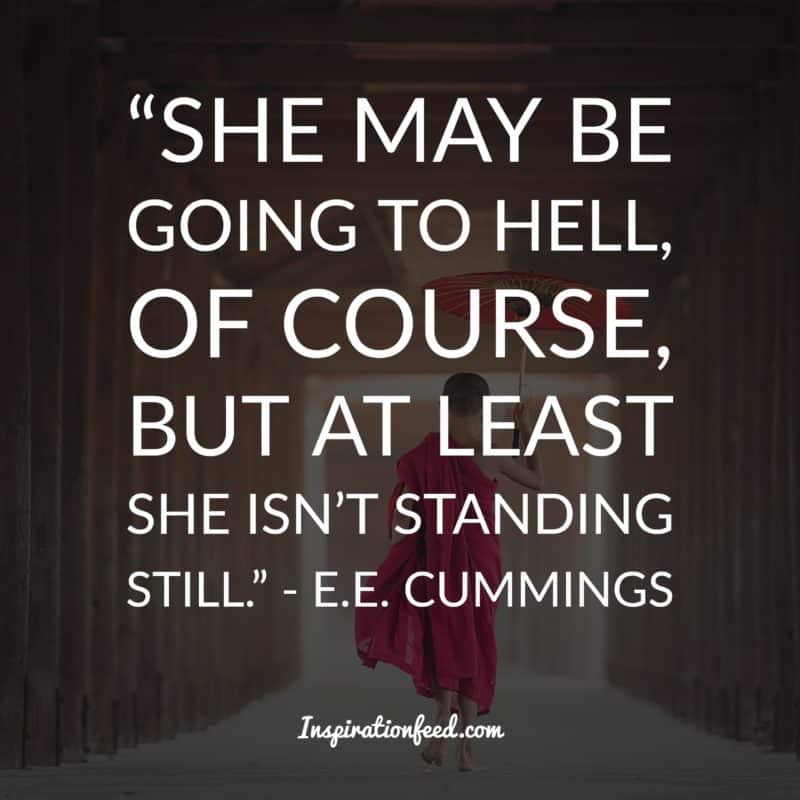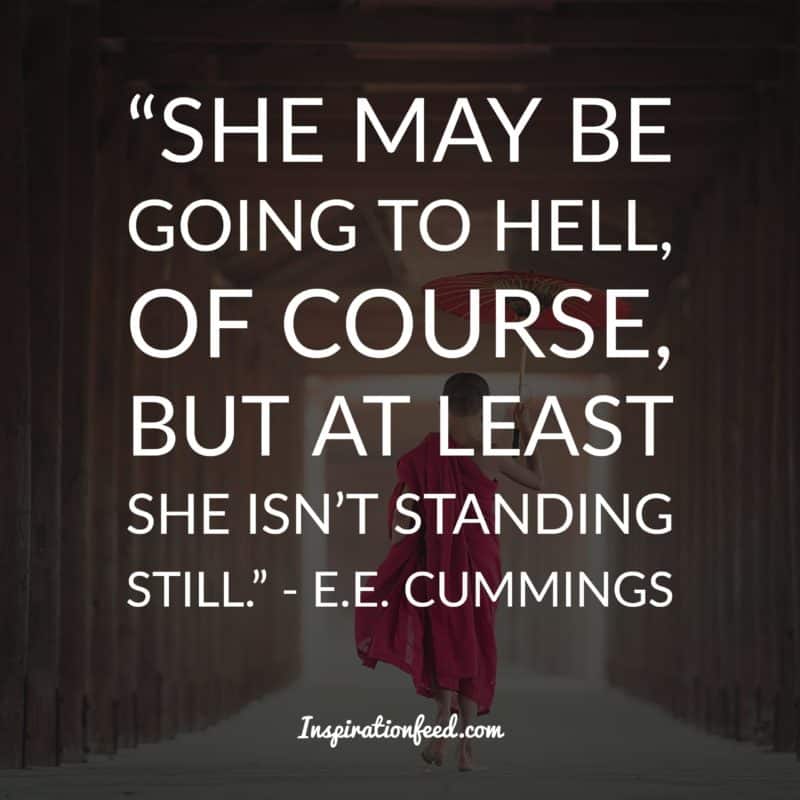 "She may be going to Hell, of course, but at least she isn't standing still." – E.E. Cummings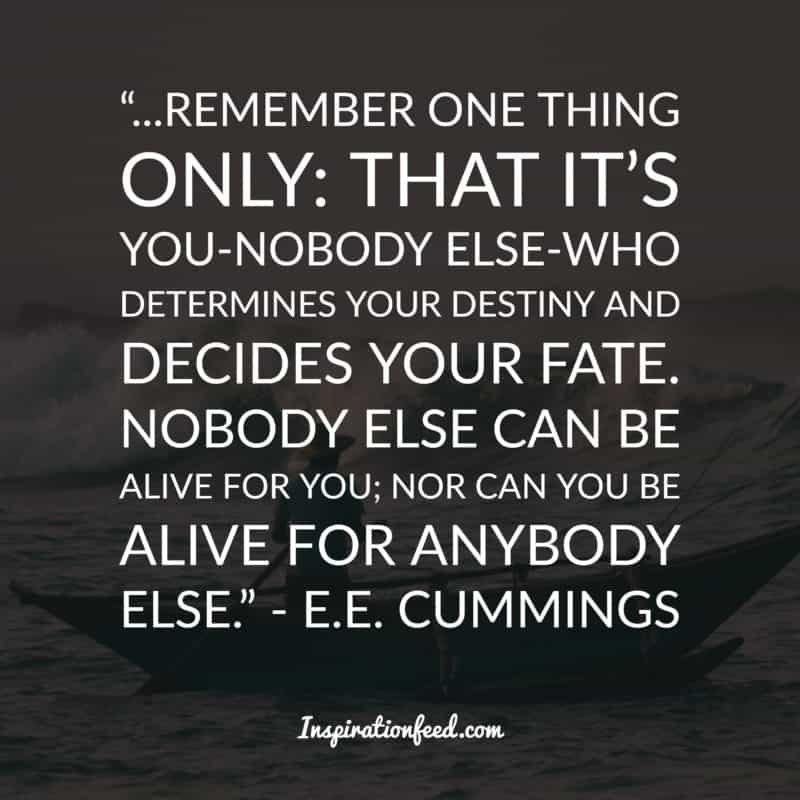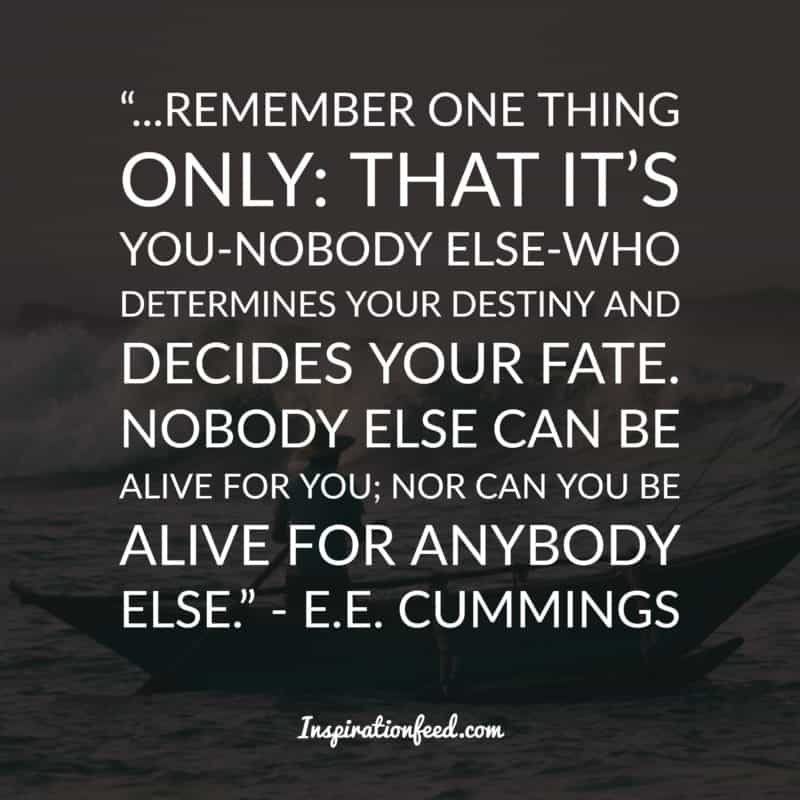 "…remember one thing only: that it's you-nobody else-who determines your destiny and decides your fate. Nobody else can be alive for you; nor can you be alive for anybody else." – E.E. Cummings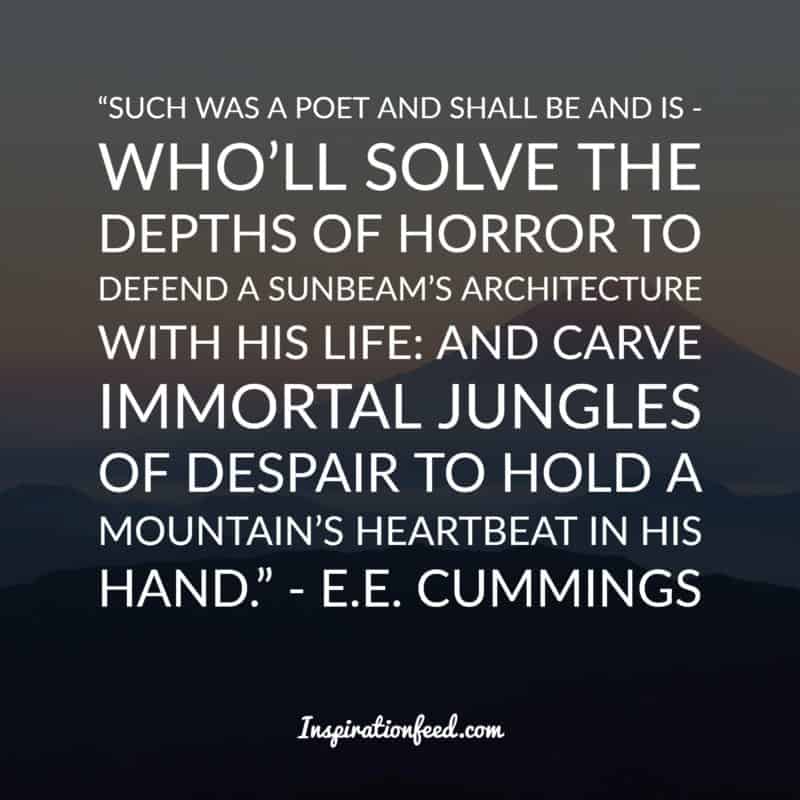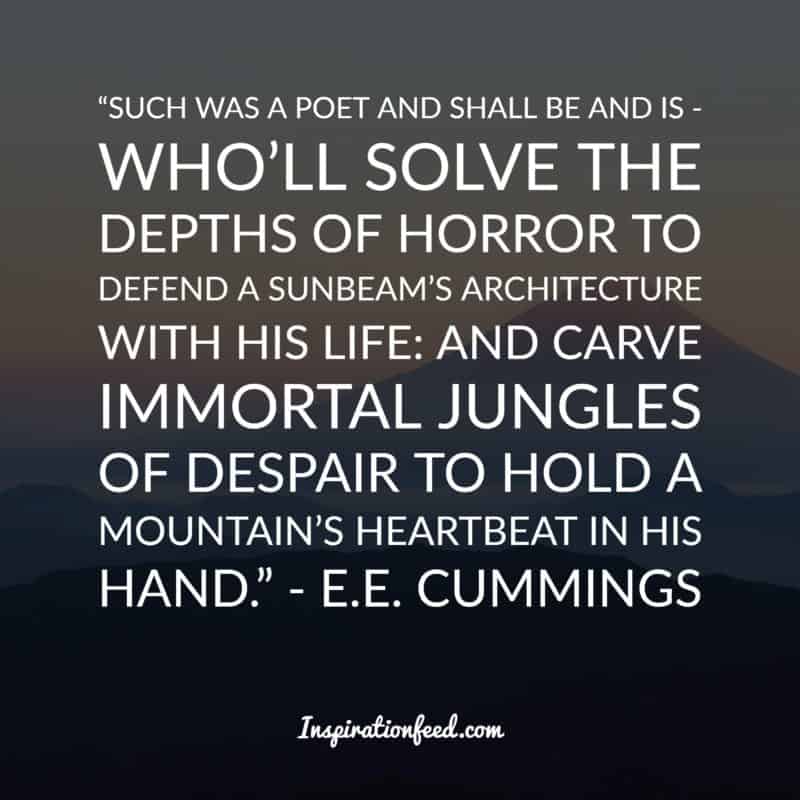 "Such was a poet and shall be and is – who'll solve the depths of horror to defend a sunbeam's architecture with his life: and carve immortal jungles of despair to hold a mountain's heartbeat in his hand." – E.E. Cummings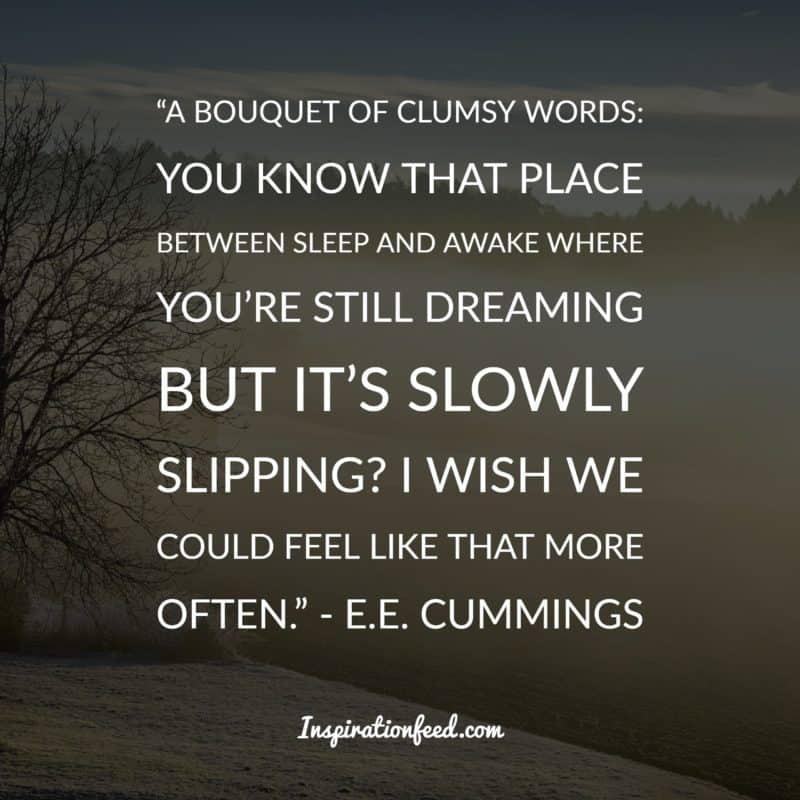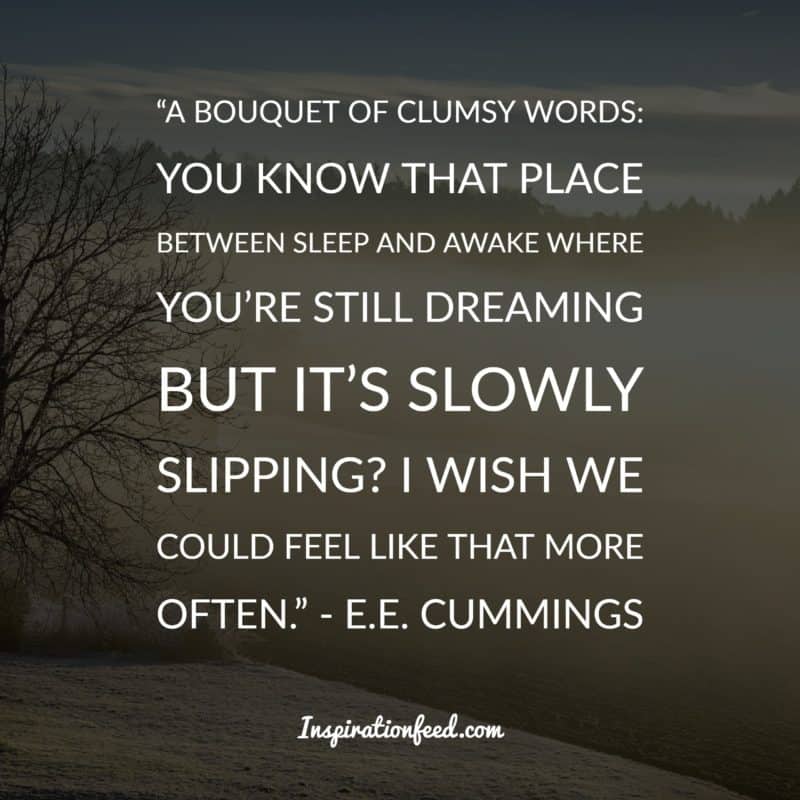 "A bouquet of clumsy words: you know that place between sleep and awake where you're still dreaming but it's slowly slipping? I wish we could feel like that more often." – E.E. Cummings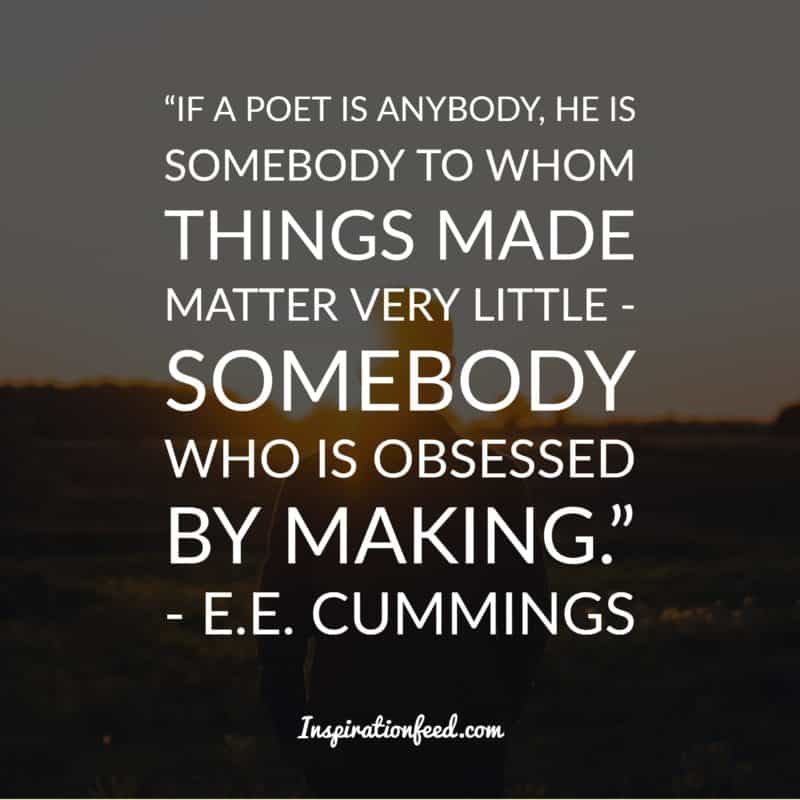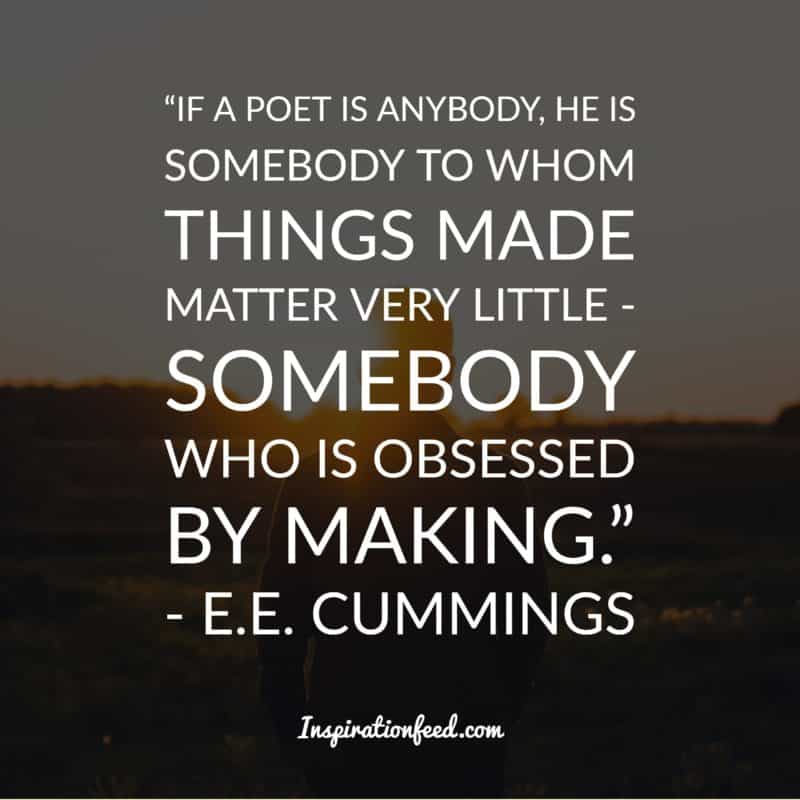 "If a poet is anybody, he is somebody to whom things made matter very little – somebody who is obsessed by Making." – E.E. Cummings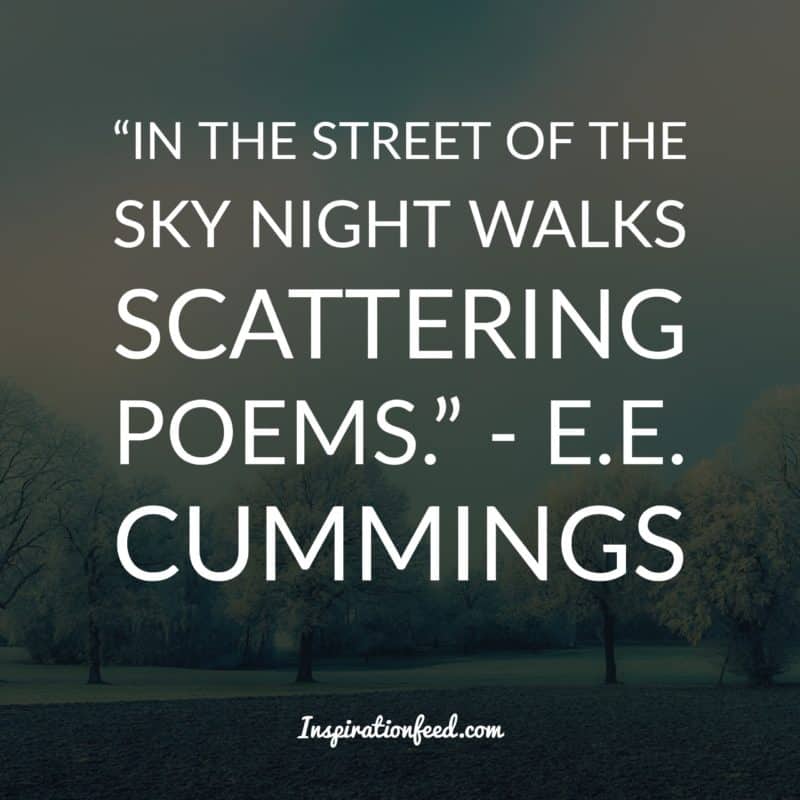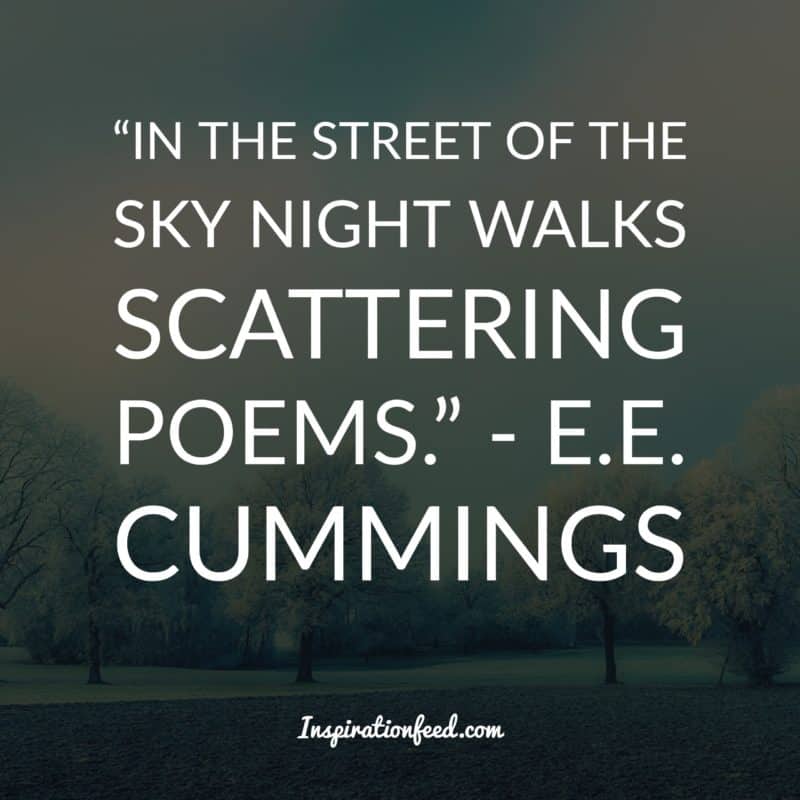 "In the street of the sky night walks scattering poems." – E.E. Cummings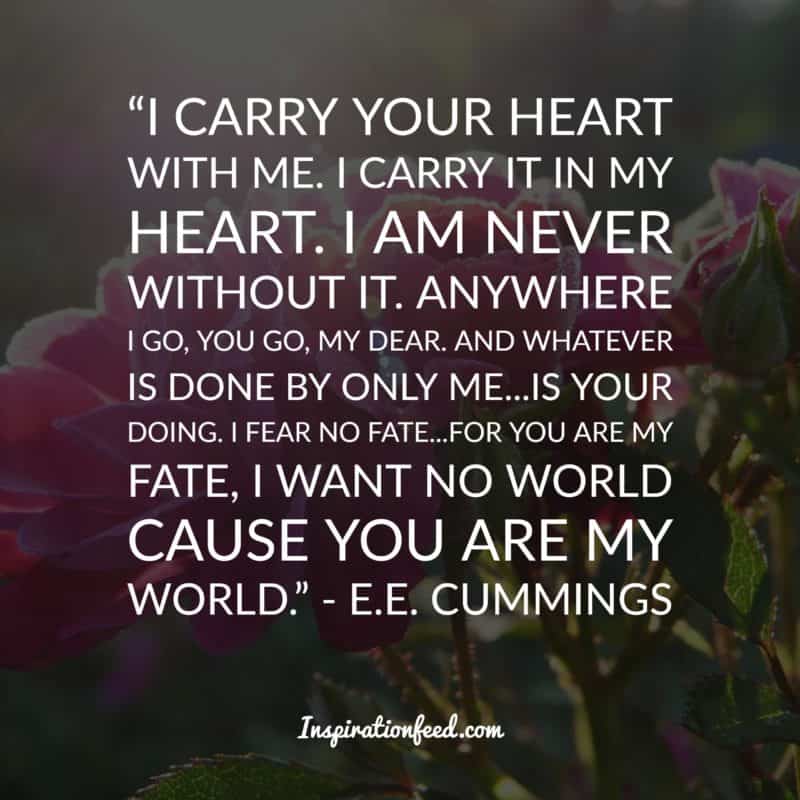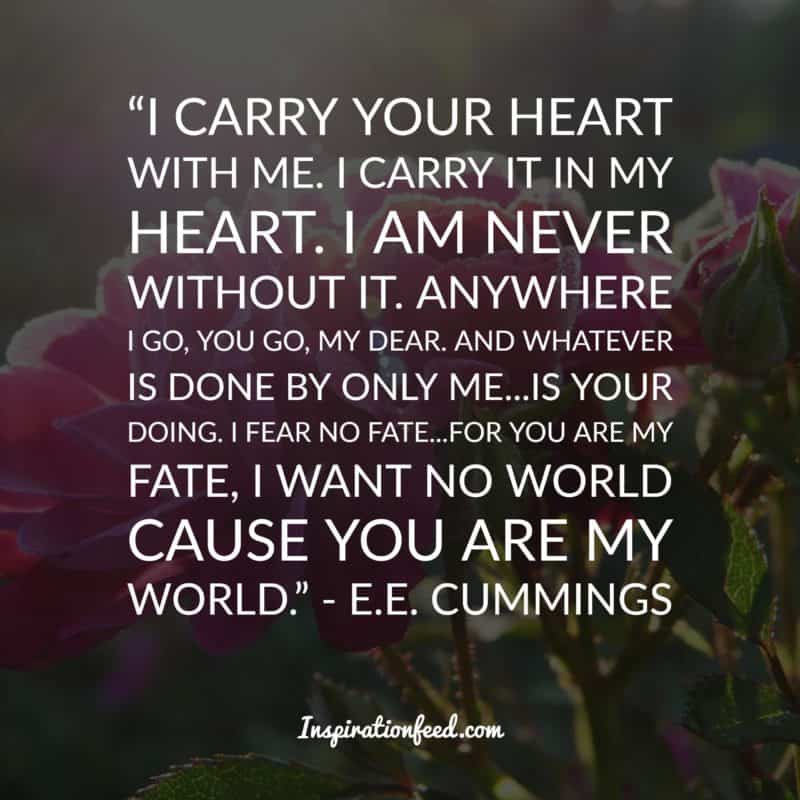 "I carry your heart with me. I carry it in my heart. I am never without it. Anywhere I go, you go, my dear. And whatever is done by only me…is your doing. I fear no fate…for you are my fate, I want no world cause you are my world." – E.E. Cummings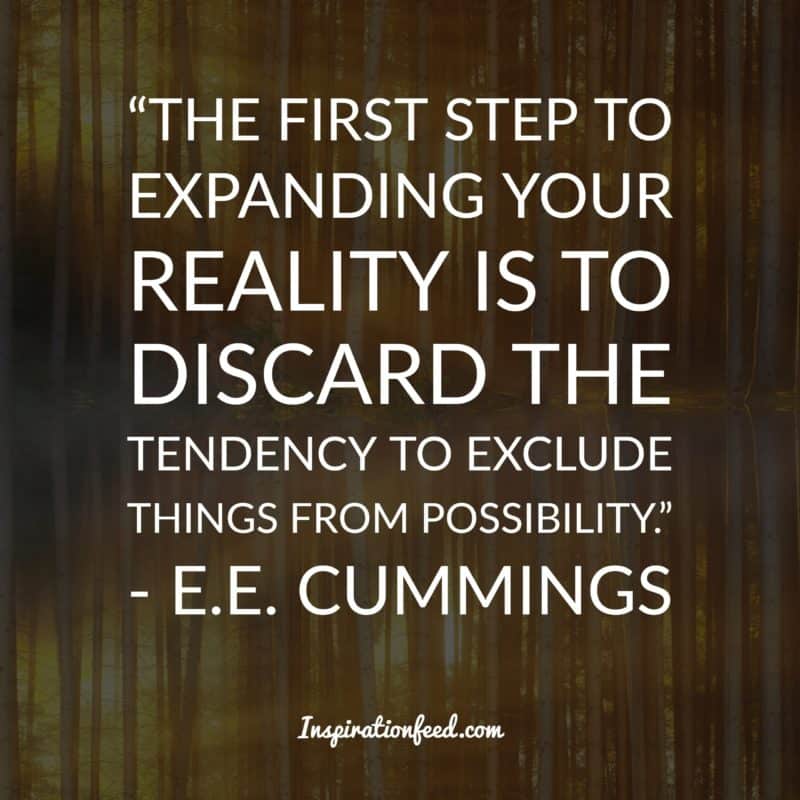 "The first step to expanding your reality is to discard the tendency to exclude things from possibility." – E.E. Cummings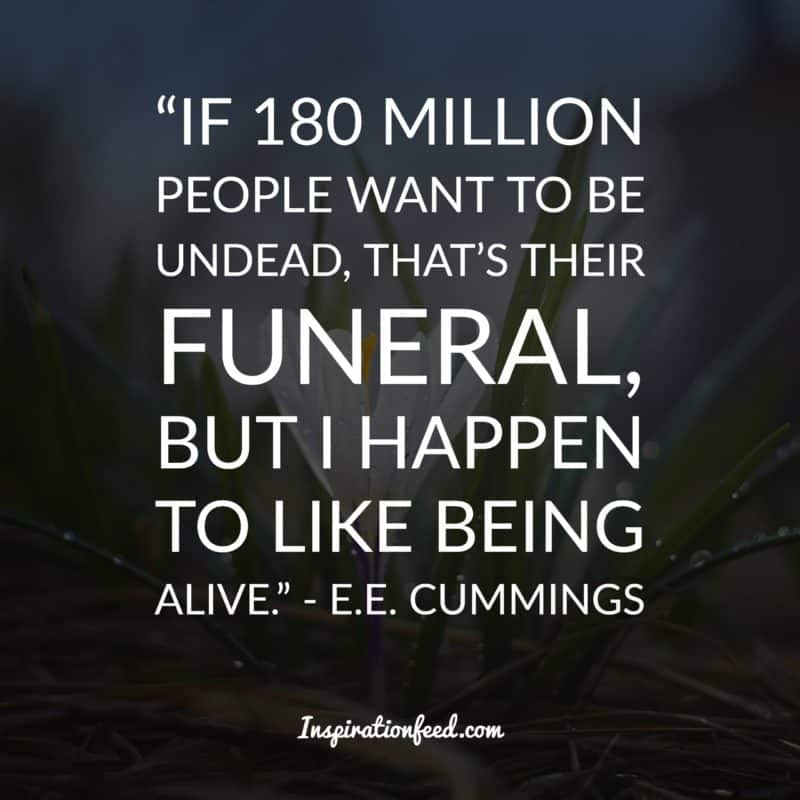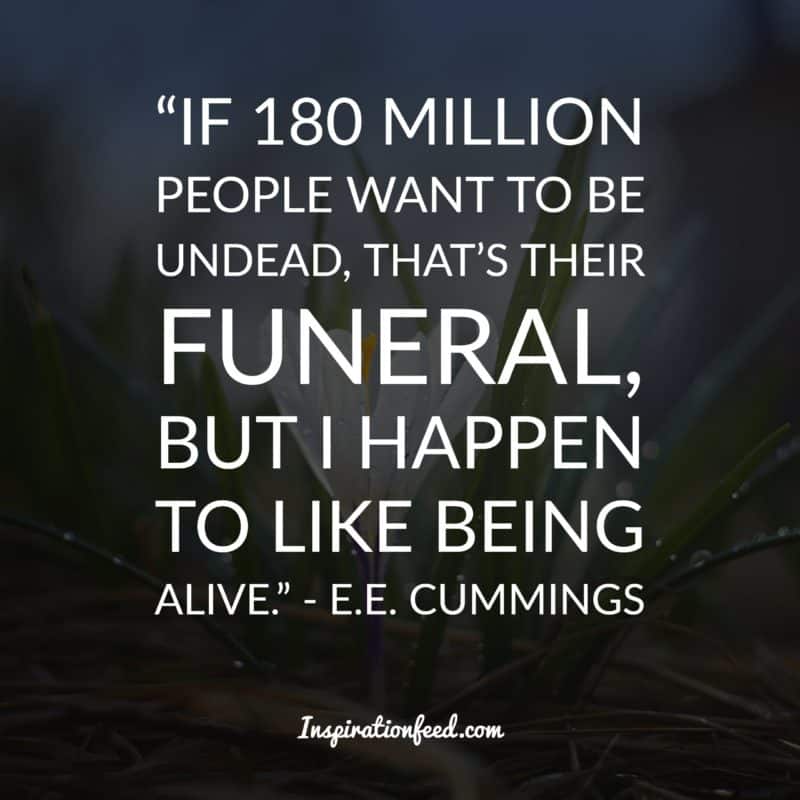 "If 180 million people want to be undead, that's their funeral, but I happen to like being alive." – E.E. Cummings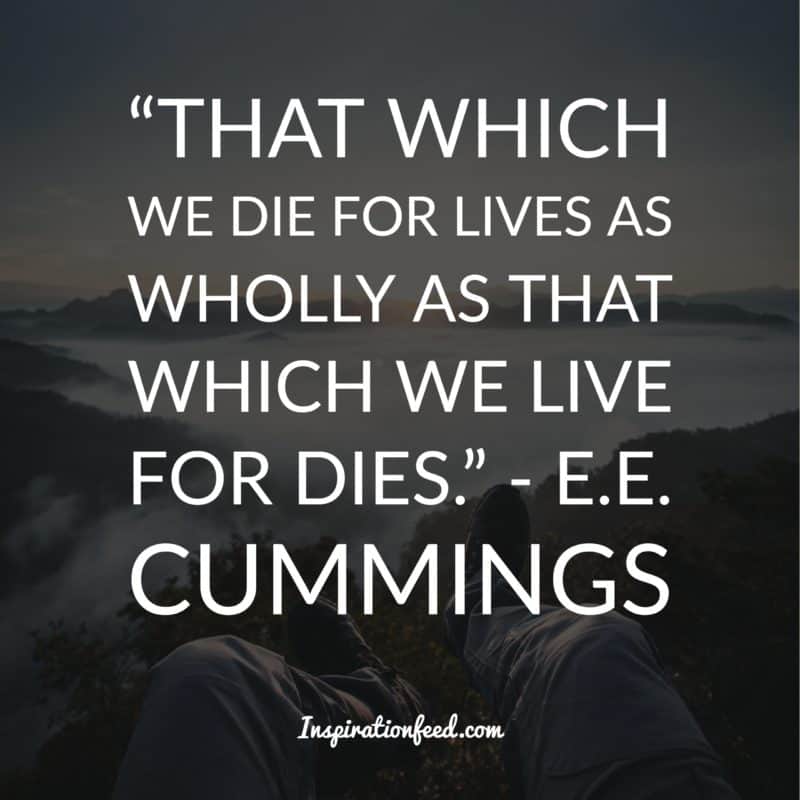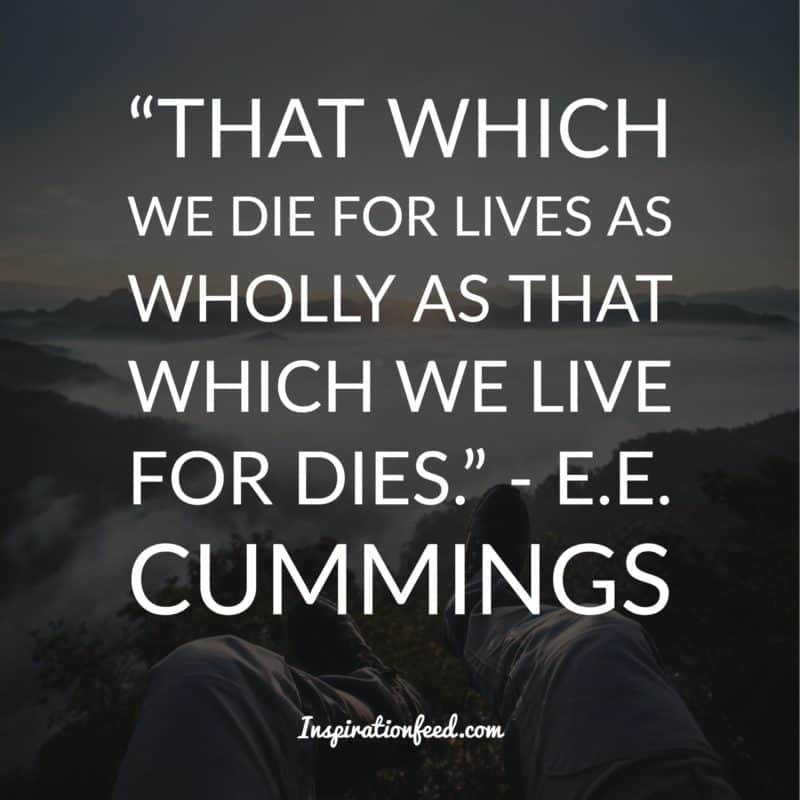 "That which we die for lives as wholly as that which we live for dies." – E.E. Cummings