Last Updated on January 25, 2022
Easter is one of the biggest occasions that people, especially kids, look forward to year after year. But what do you really know about Easter?
Different people have various perceptions about what Easter really is. Some have little to no background about it. Some see it as something they celebrate as part of their faith. Others just look at it as a tradition they've always celebrated since they were kids.
To give you more insight into what Easter is all about, here are a few facts that you need to know:
Easter is a celebration of the resurrection of Jesus.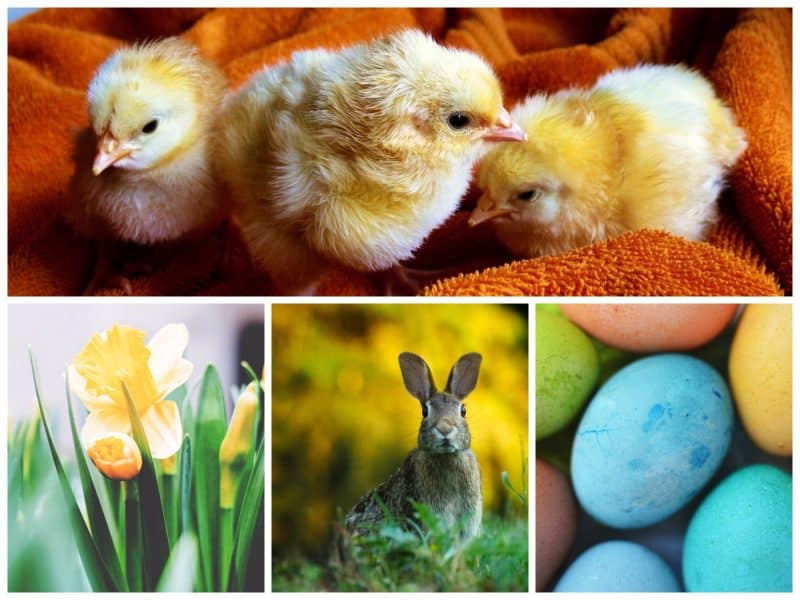 For Christians, Easter is seen as the very foundation of their faith. It is a celebration of the resurrection of Jesus Christ, who saved the faithful from their sins. This is why Easter is seen as a season for prayer and repentance.
Easter falls on the Sunday after a 40-day time period called Lent. The Lenten season used to be seen as a period for fasting. But now, fasting does not just mean limiting food intake.
Modern versions of fasting are now being introduced: from 40 days of doing good deeds, to 40 days of refraining from using gadgets. It all depends on the person performing the fasting.
The week preceding Easter is referred to as Holy Week, which includes Palm Sunday, Maundy Thursday and Good Friday.
The tradition of painting eggs actually pre-dates Christianity.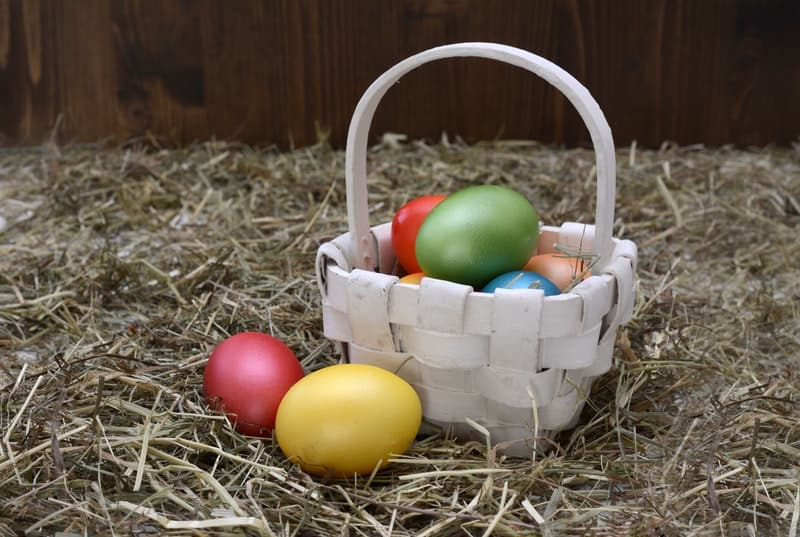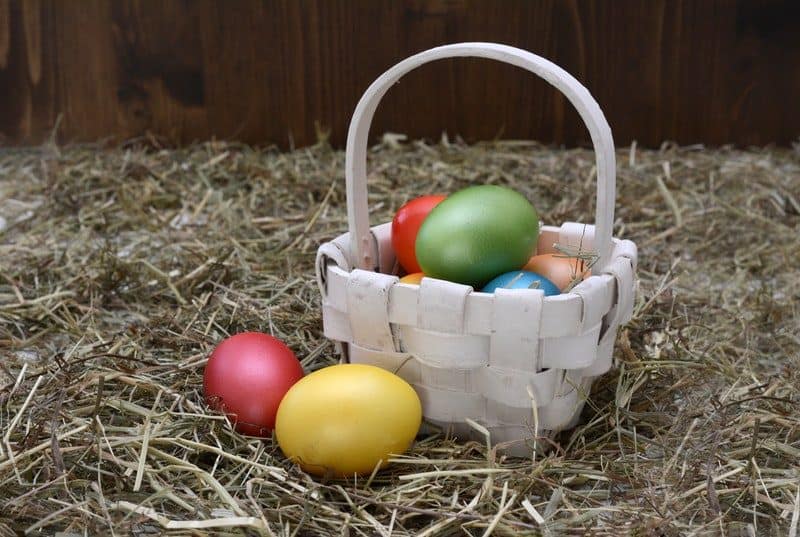 For a lot of people, Easter would remind them more about Easter eggs. This tradition is said to have started in 1290 when Edward I had 450 eggs bought and colored. These eggs were then distributed among his royal entourage that Easter.
Two centuries after that, it was the Vatican's turn to use the egg as a present. They encased it in a silver case and gave it to Henry VIII.
Eggs are also seen as a symbol of new life and rebirth. This is probably why people from the 13th century used to give eggs to their lords every Easter. They also gave eggs as offering during Good Friday.
Easter is the 2nd biggest candy holiday in the U.S.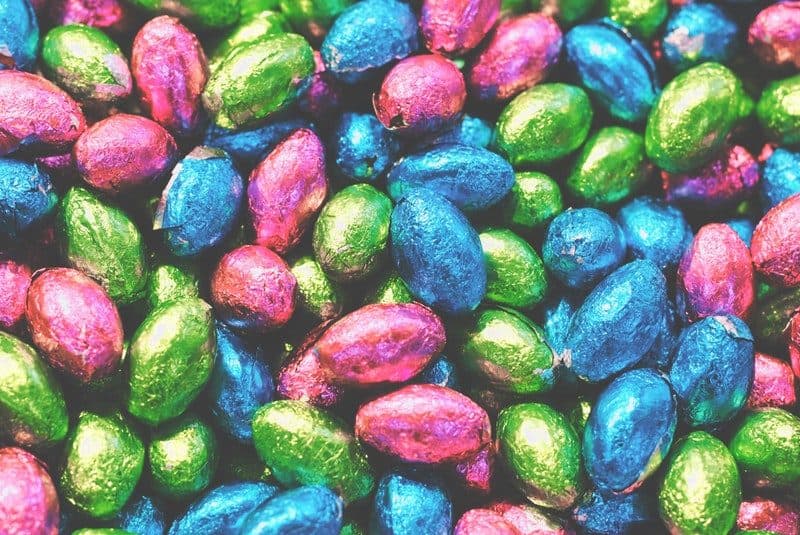 As you have probably guessed, Halloween takes the top spot in terms of the amount of candies bought throughout the year. Easter comes in 2nd, with Americans spending an average of $1.9 billion on Easter candy every year.
70 percent of this number, of course, is chocolate. Some even have their own beliefs about how to eat chocolate bunnies. 76 percent of Americans actually believe that the bunny ears should be eaten first before anything else.
The Easter bunny has pagan roots.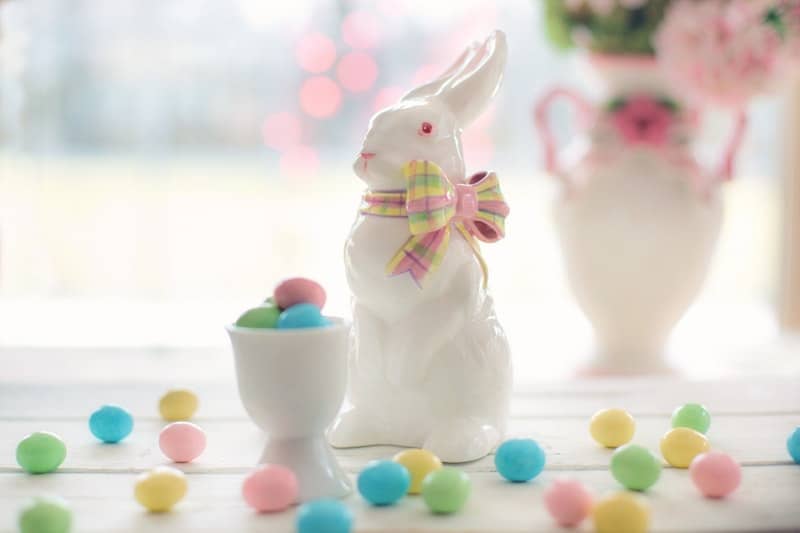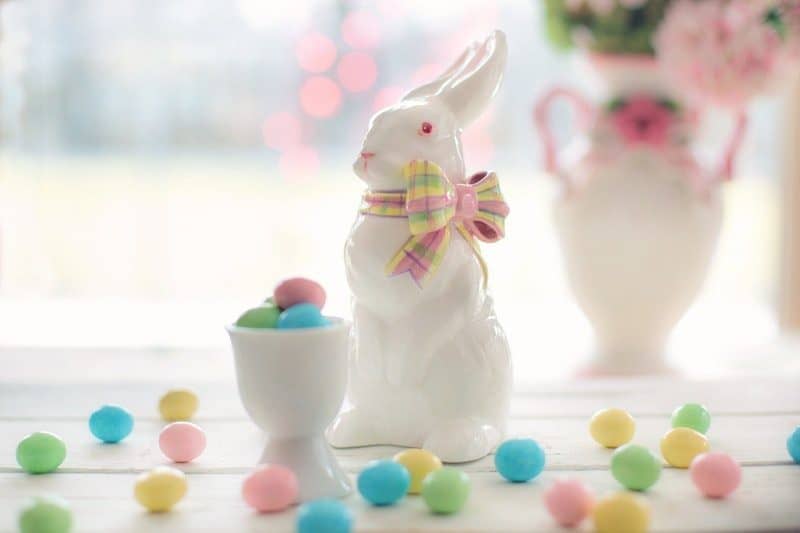 Although Easter is generally seen as a Christian holiday, one of the symbols people have associated with it actually has Pagan roots.
The Germanic fertility goddess was named Eostre (see the resemblance in names?) and her festival was celebrated around the same time as Easter.
It was actually Venerable Saint Bede, an 8th century monk, who confirmed that Easter was scheduled around this time because the church has always tried to co-opt pagan dates into their own celebrations.
Of course, as the goddess of fertility, it was not really surprising that she was given the bunny as her symbol. The reproductive cycle of bunnies, as you probably know, is quite astounding.
Big chocolate bunnies are usually hollow for safety reasons.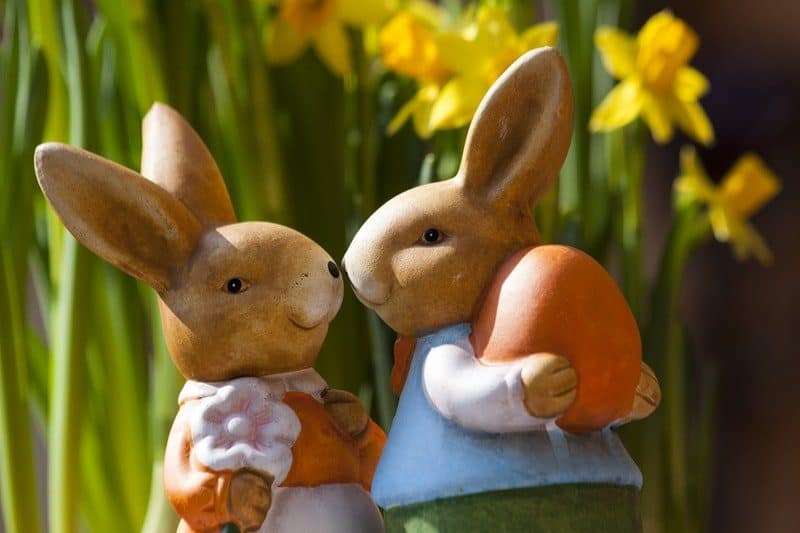 When was the last time you bit into a huge chocolate bunny? For a lot of people, they feel disappointed knowing that it isn't actually a solid block of chocolate.
Some may even go as far as thinking that chocolate manufacturers are trying to steal the consumers' money by not giving them the actual value of the product.
In reality, large chocolate bunnies are hollow to prevent kids from breaking their teeth when biting into them. You can probably imagine how hard solid chocolate bunnies can be, especially when they're large.
Some chocolate bunnies may be solid, but they are either smaller in size, or bear warnings on the packaging that there are risks involved when biting into it.
PAAS has been supplying Easter dyes all over the world for over 135 years.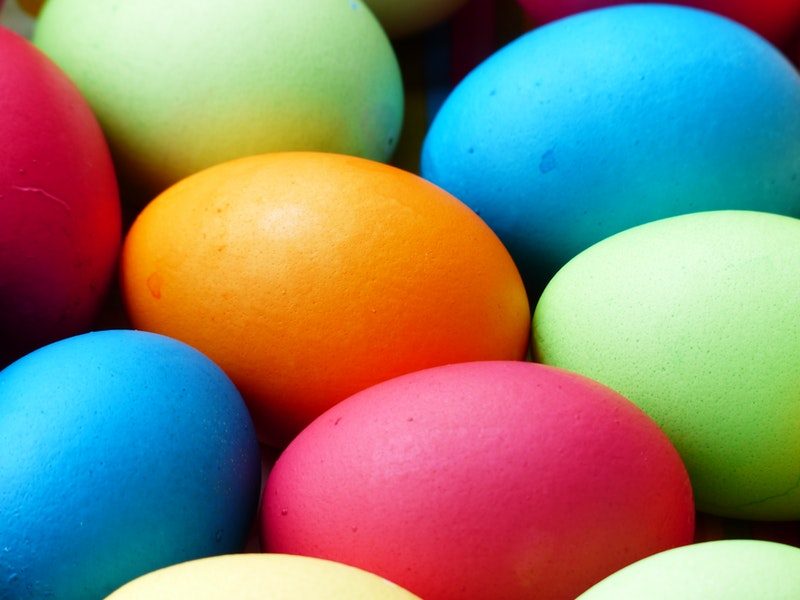 Some of you may have attempted to paint eggs before. This means that you might be familiar with PAAS egg dye and egg decorating kits. Now some people assume that this name was probably an acronym, or a random name drawn up by its creator.
In reality, it was actually taken from the Dutch word "Passen", which means Easter. You see, the founder of PAAS, William Townley, had Pennsylvania Dutch neighbors from whom he heard the word from.
Easter is definitely a great season to celebrate new life, regardless of what your beliefs are. To inspire you even more and to give you a few things to ponder about, here are a few quotes about Easter:
Best Quotes about Easter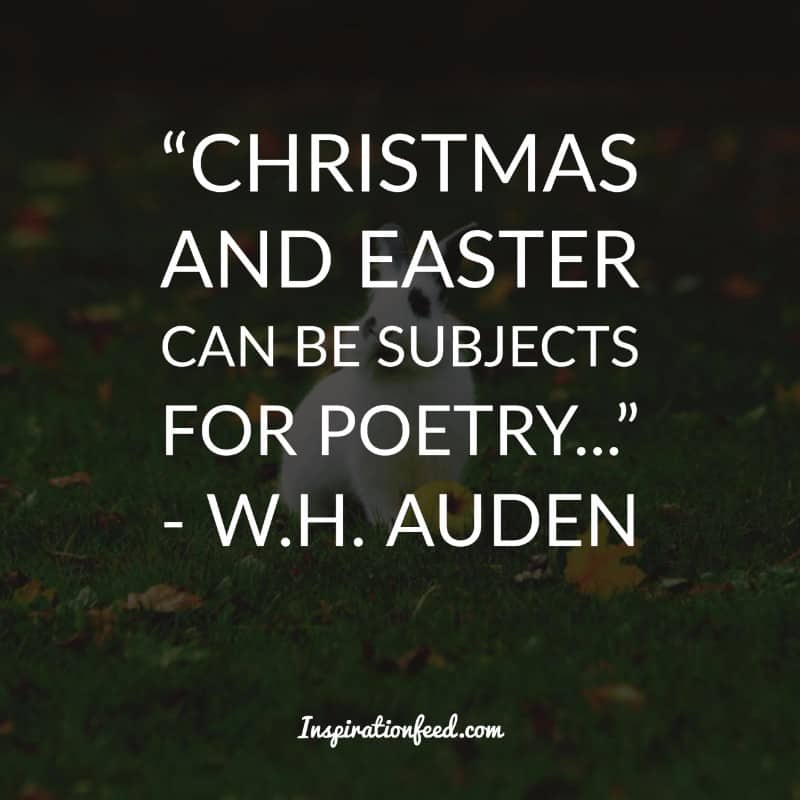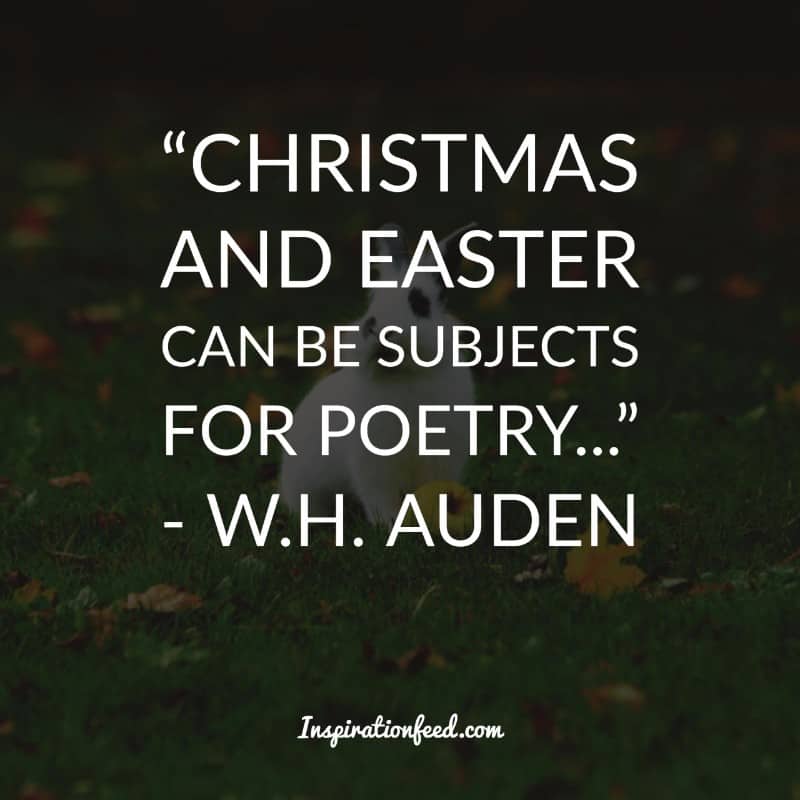 "Christmas and Easter can be subjects for poetry…" – W.H. Auden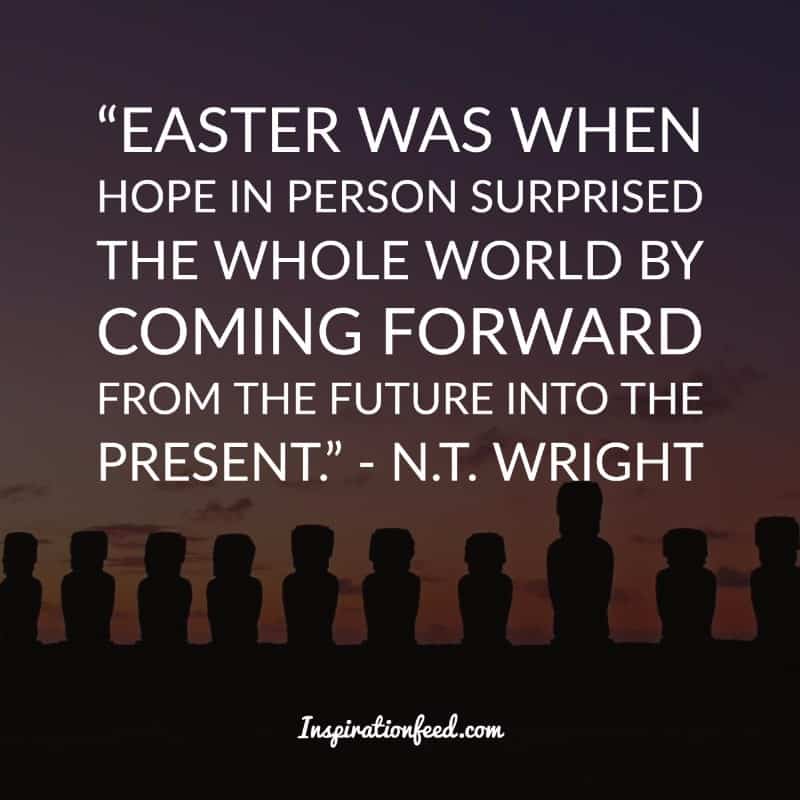 "Easter was when Hope in person surprised the whole world by coming forward from the future into the present." – N.T. Wright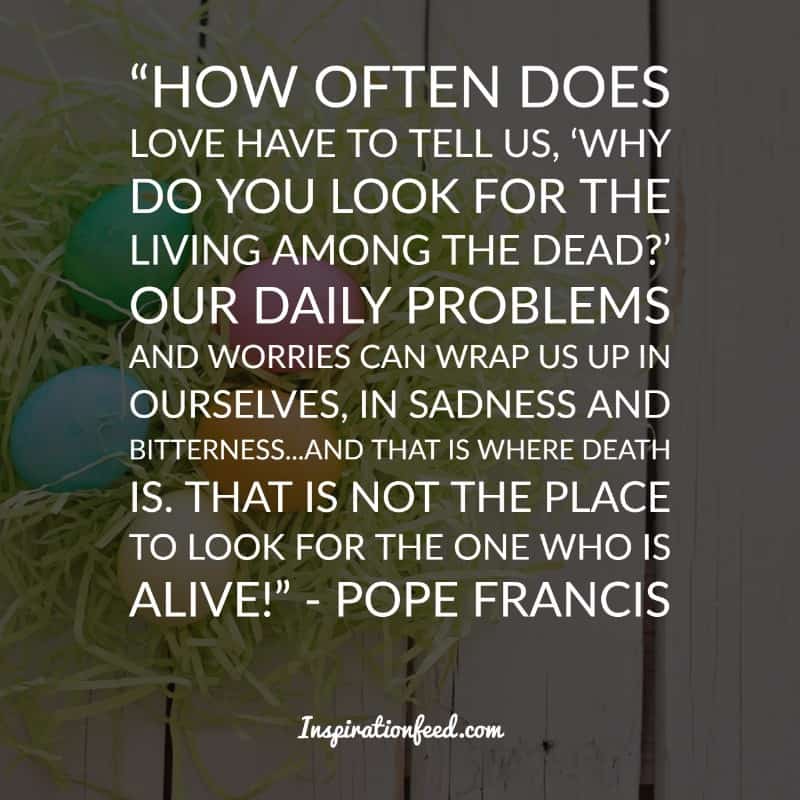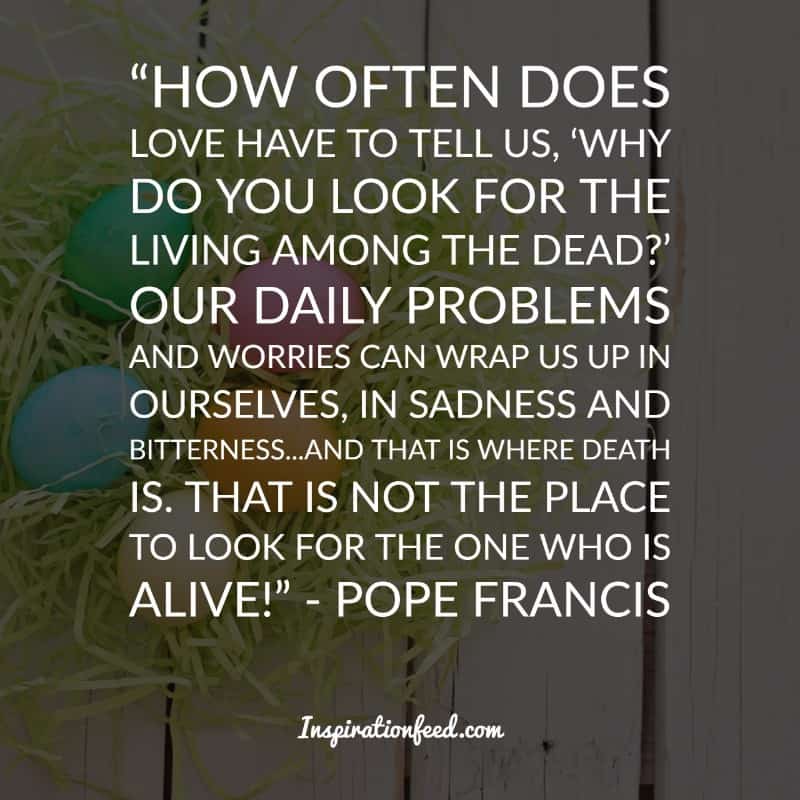 "How often does Love have to tell us, 'Why do you look for the living among the dead?' Our daily problems and worries can wrap us up in ourselves, in sadness and bitterness…and that is where death is. That is not the place to look for the One who is alive!" – Pope Francis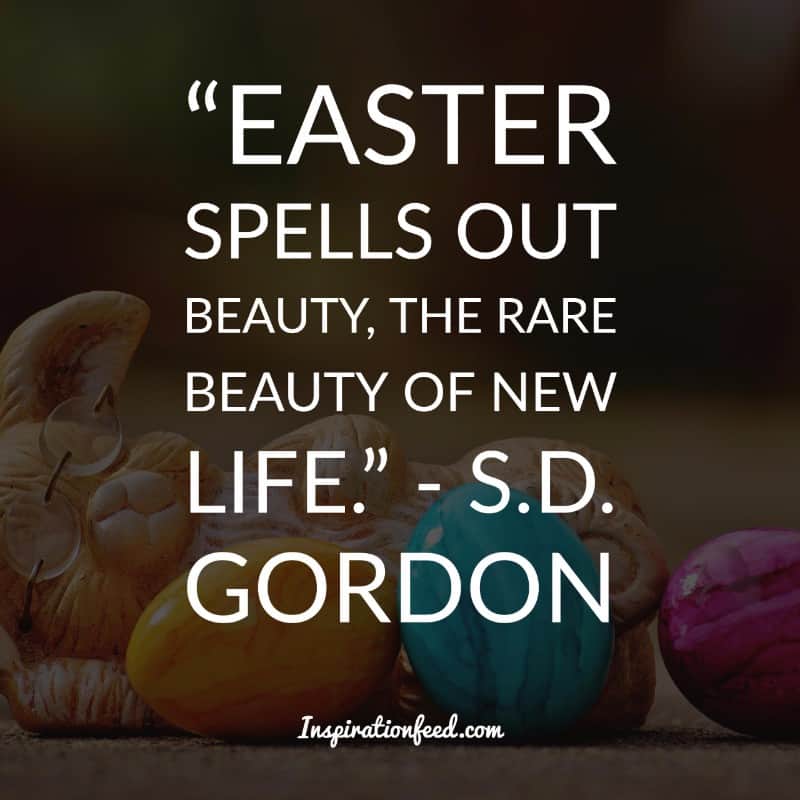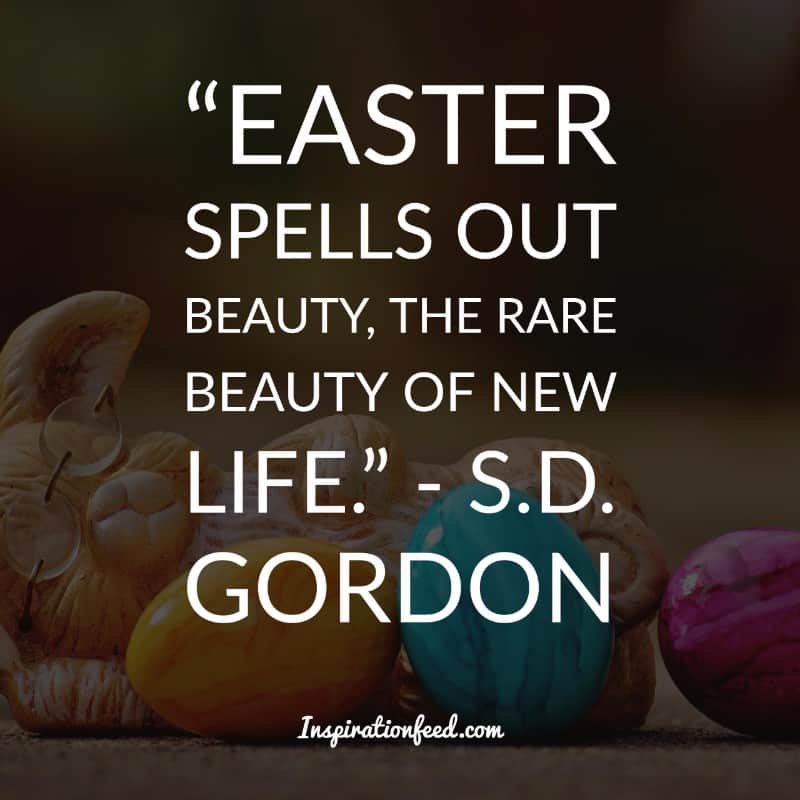 "Easter spells out beauty, the rare beauty of new life." – S.D. Gordon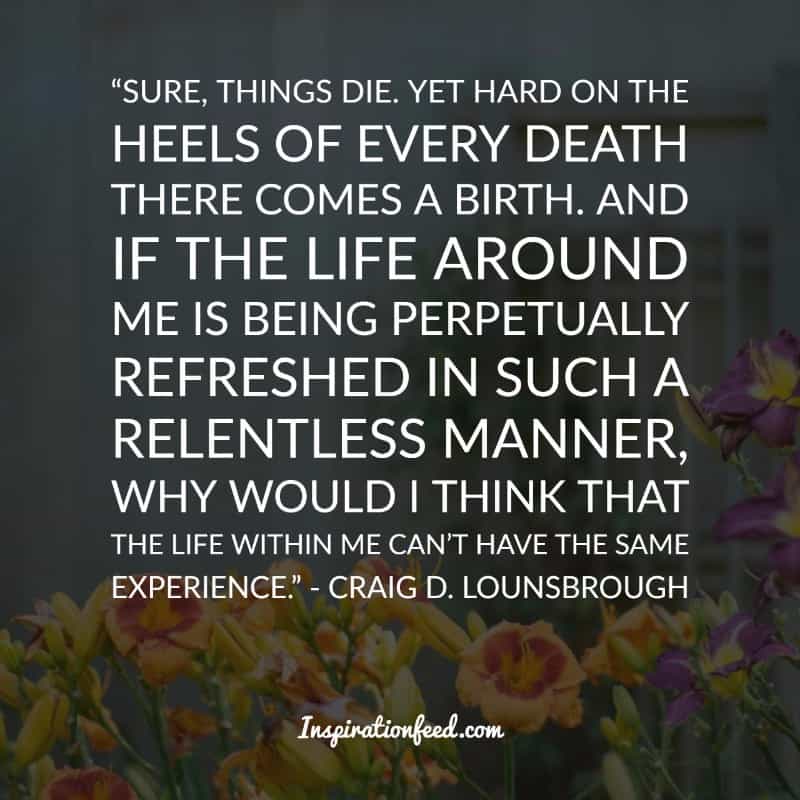 "Sure, things die. Yet hard on the heels of every death there comes a birth. And if the life around me is being perpetually refreshed in such a relentless manner, why would I think that the life within me can't have the same experience." – Craig D. Lounsbrough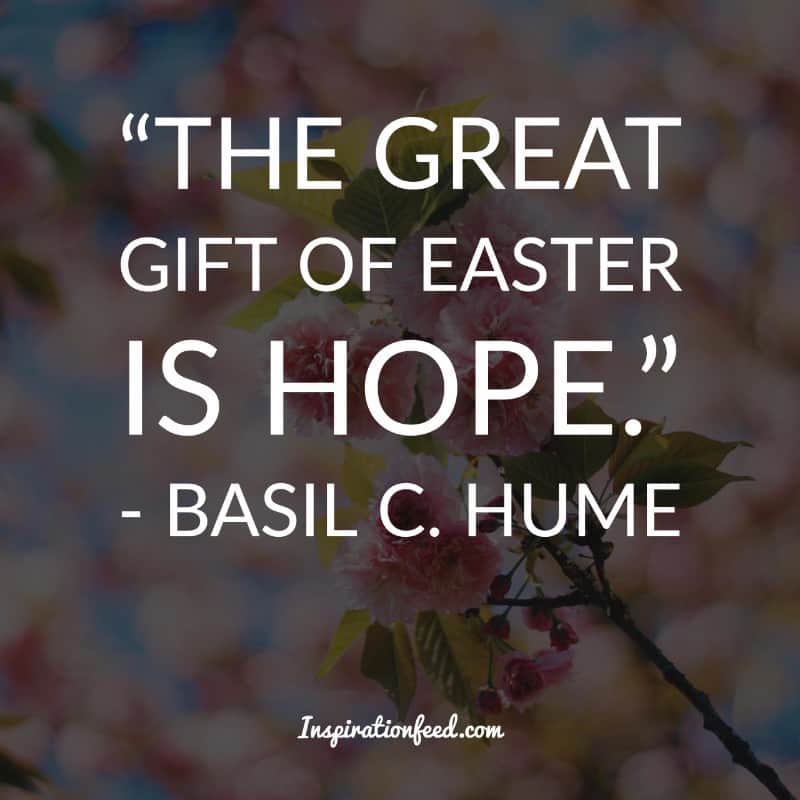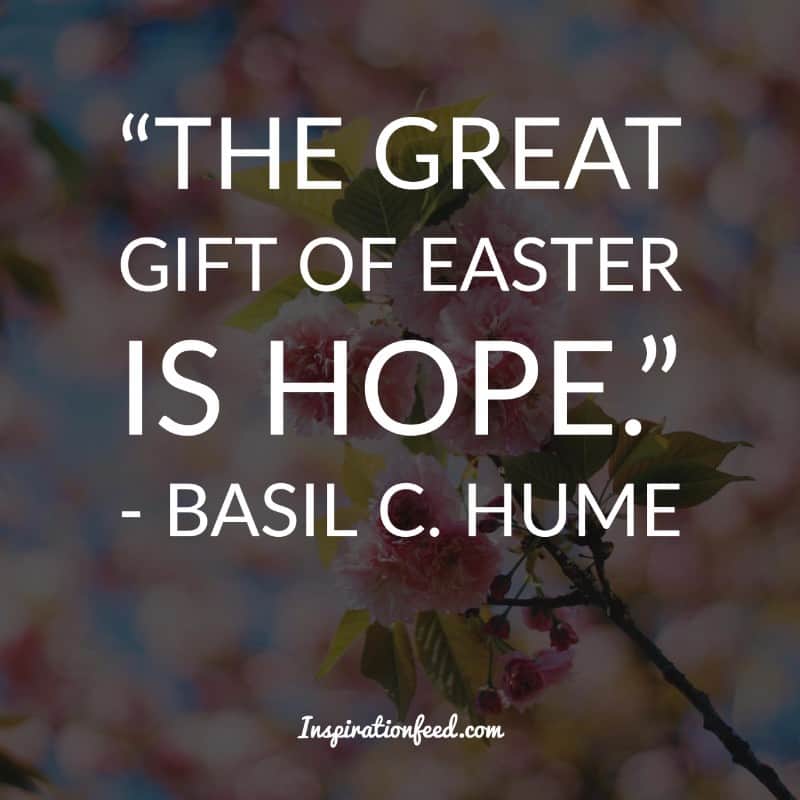 "The great gift of Easter is hope." – Basil C. Hume
"I no longer have to be afraid of looking foolish, or wonder what people might think about me, as long as I please the One who conquered death." – Sarah Holman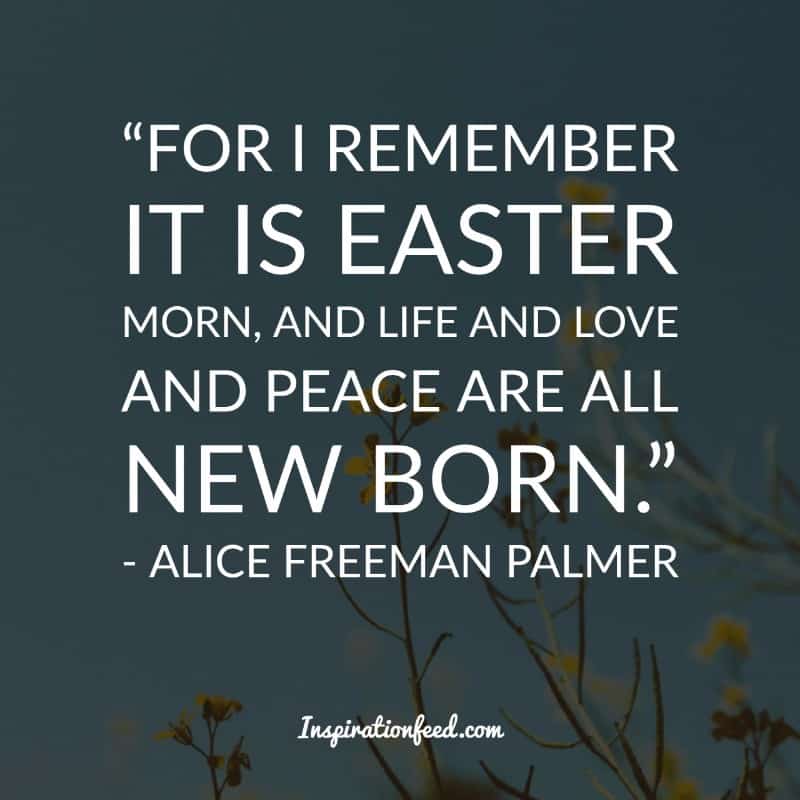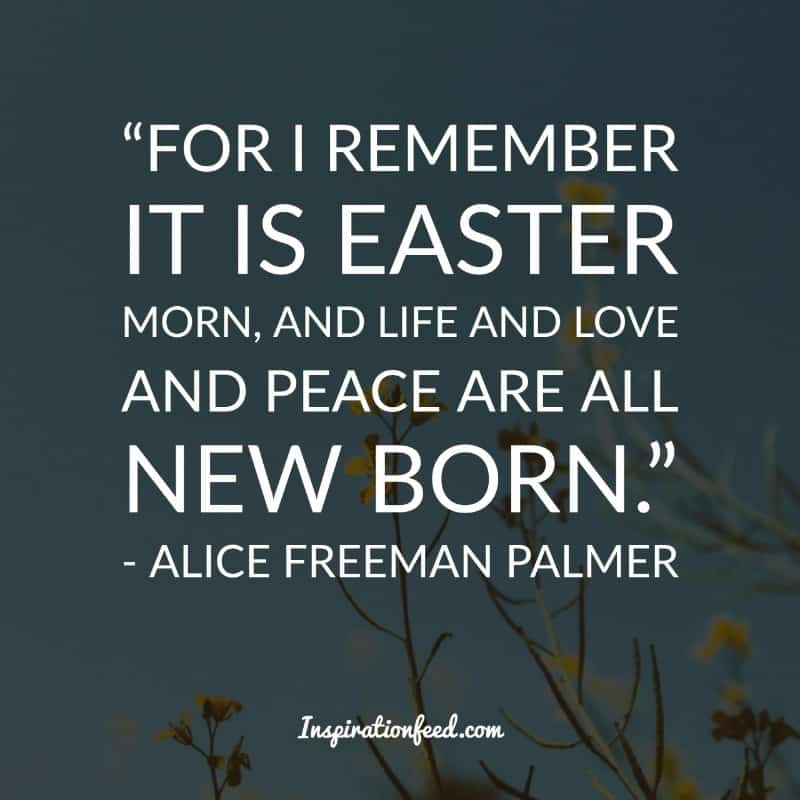 "For I remember it is Easter morn, and life and love and peace are all new born." – Alice Freeman Palmer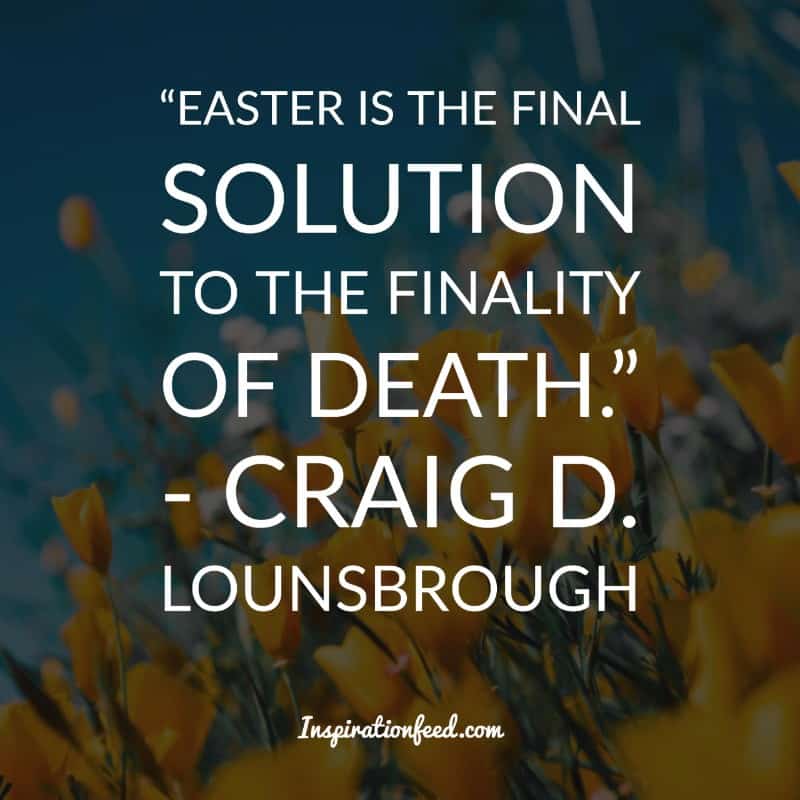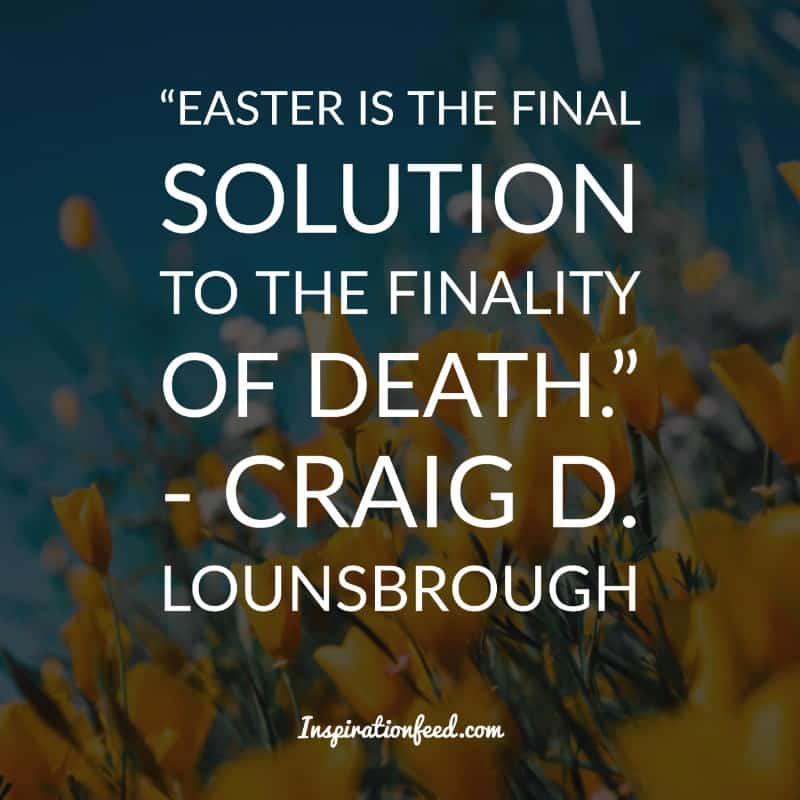 "Easter is the final solution to the finality of death."  – Craig D. Lounsbrough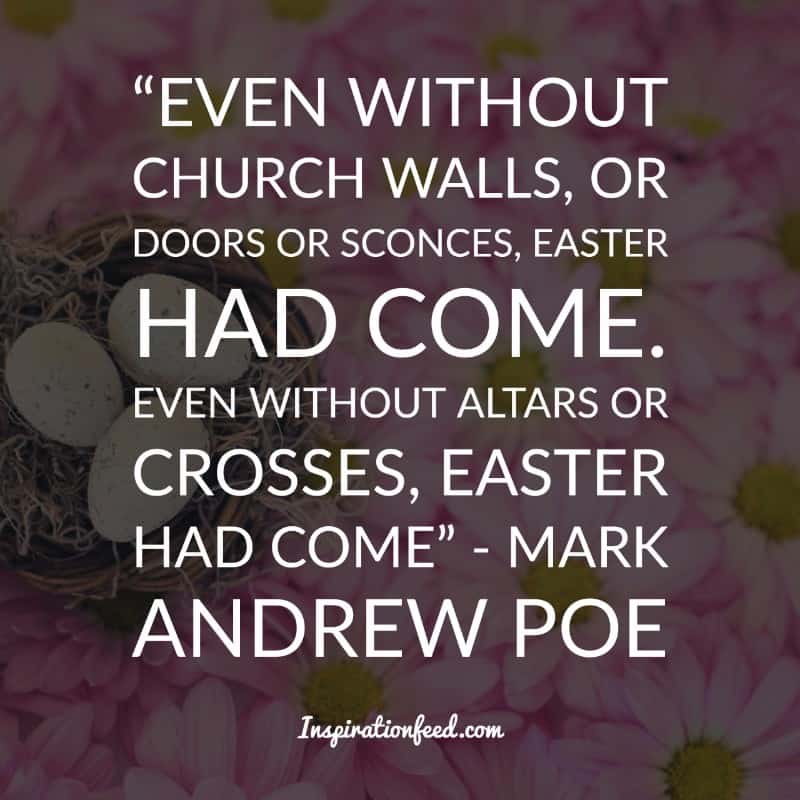 "Even without church walls, or doors or sconces, Easter had come. Even without altars or crosses, Easter had come." – Mark Andrew Poe
"Spring is the sound of birds chirping, the taste of cherry juice, the feel of grass on bare feet, the sight of pink roses and blue skies, and the feel of dandelion fuzz. Spring, in other words, is a welcome, wondrous sensory overload." – Toni Sorenson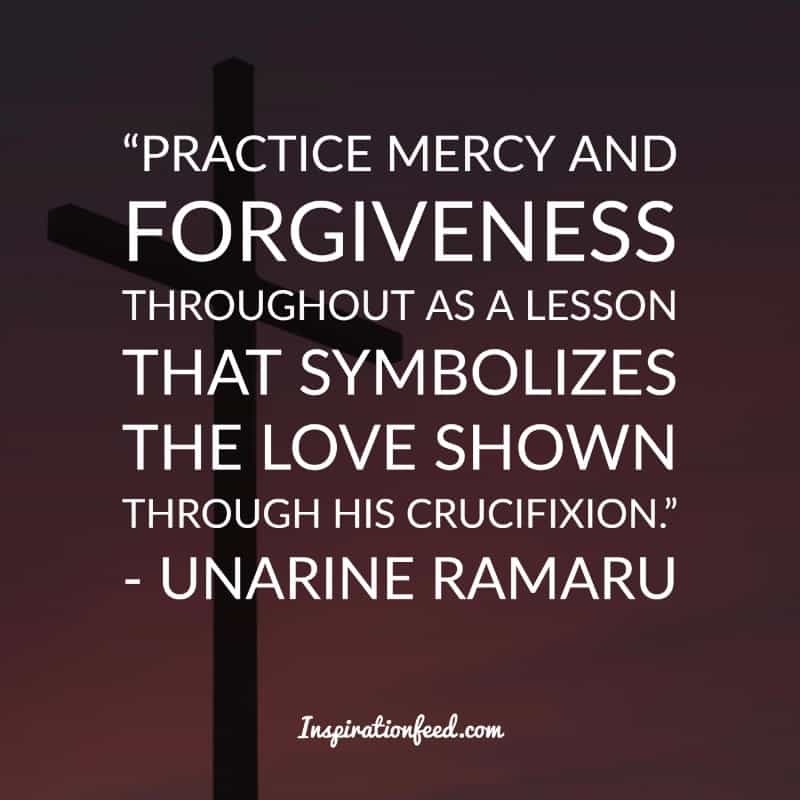 "Practice mercy and forgiveness throughout as a lesson that symbolizes the love shown through his crucifixion." – Unarine Ramaru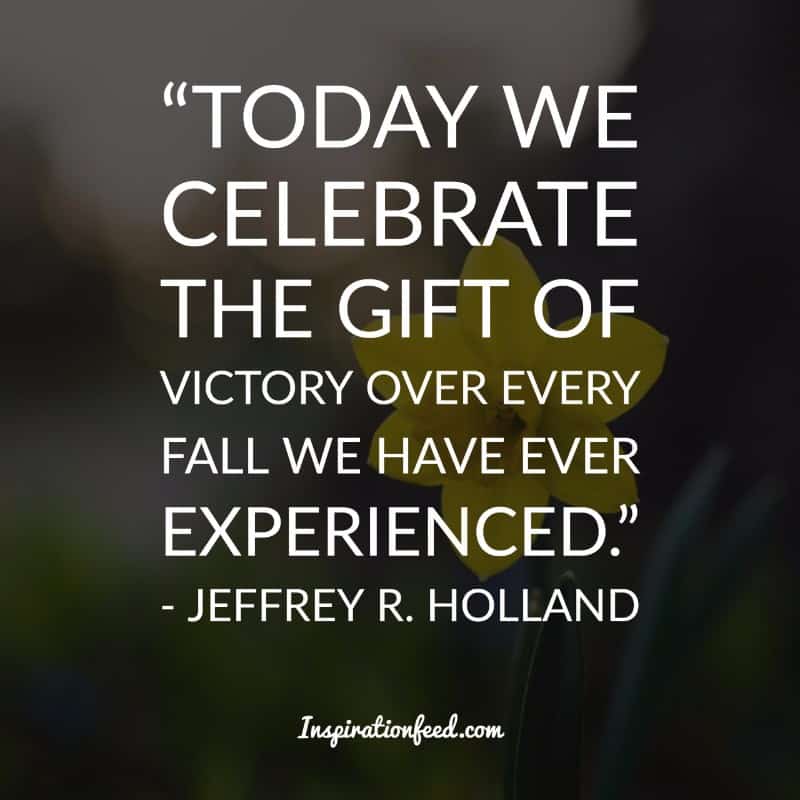 "Today we celebrate the gift of victory over every fall we have ever experienced." – Jeffrey R. Holland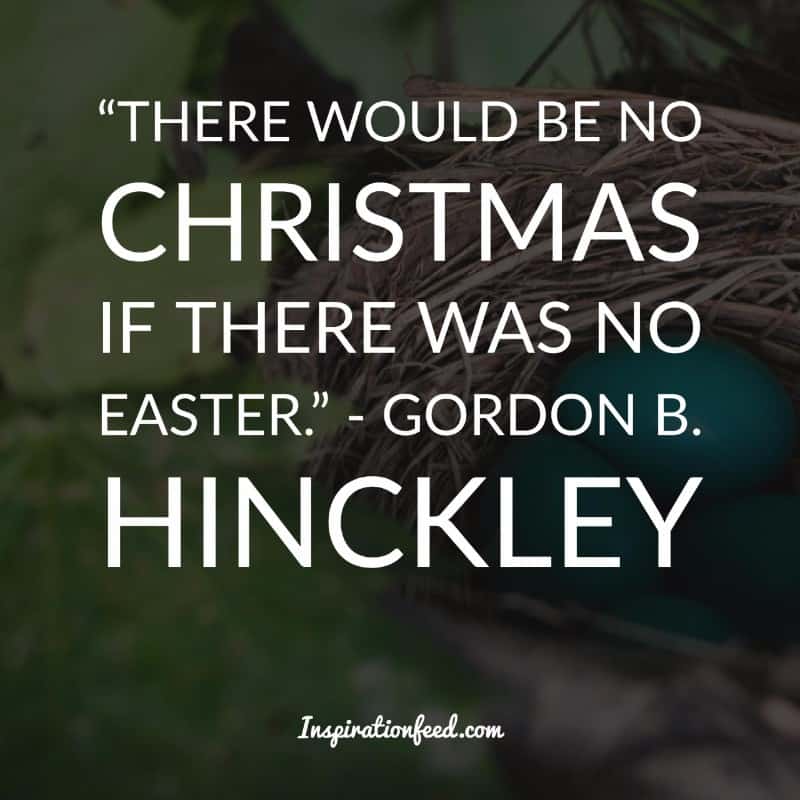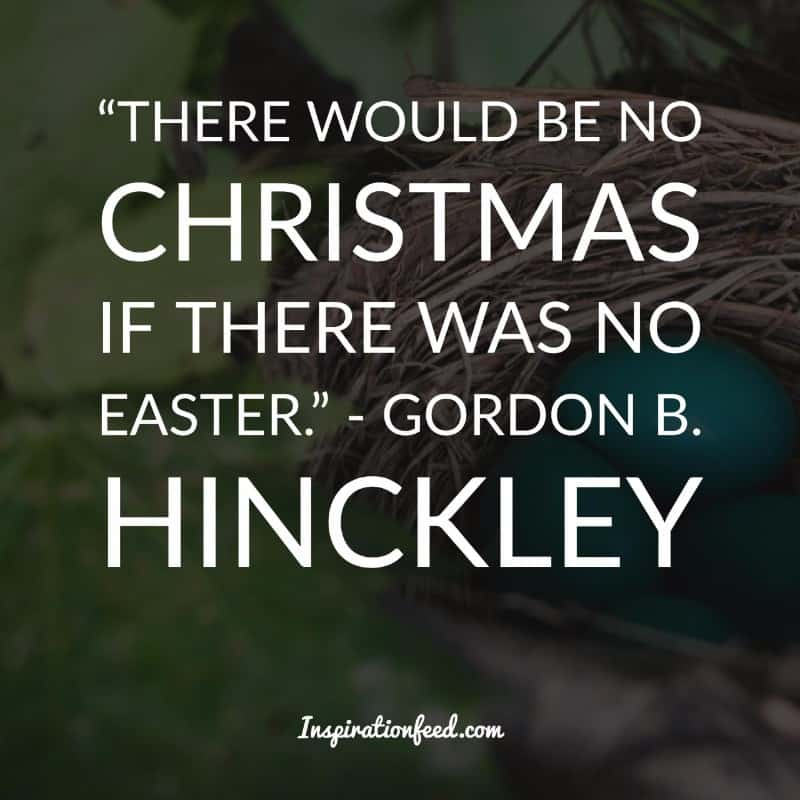 "There would be no Christmas if there was no Easter." – Gordon B. Hinckley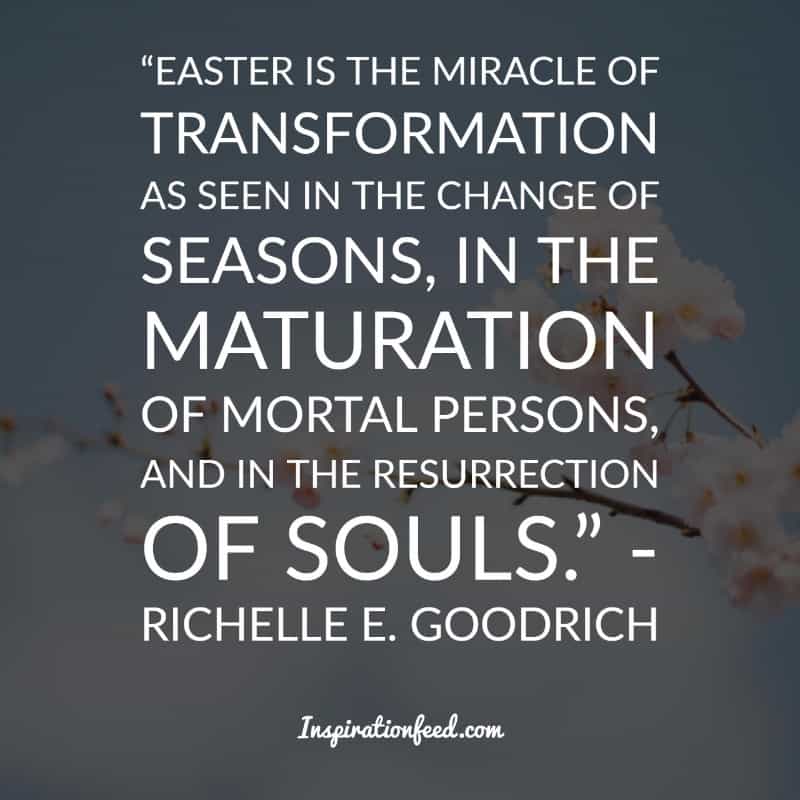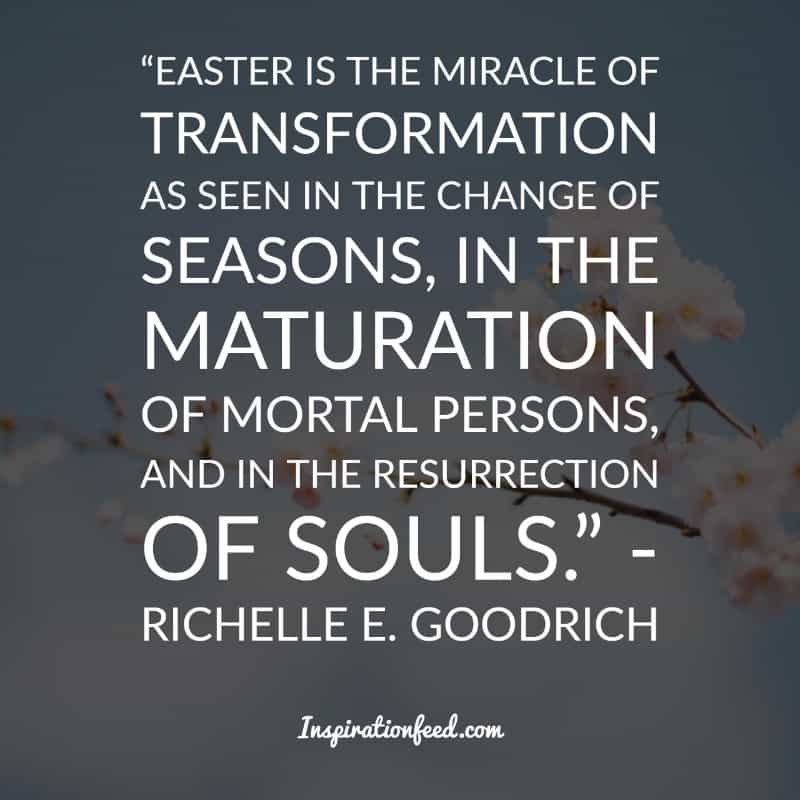 "Easter is the miracle of transformation as seen in the change of seasons, in the maturation of mortal persons, and in the resurrection of souls." – Richelle E. Goodrich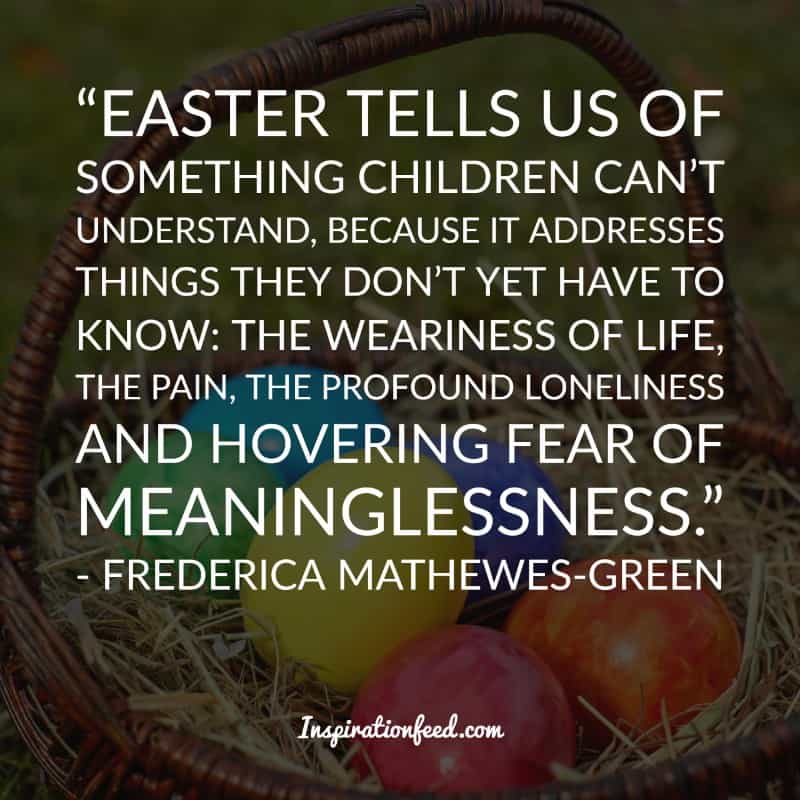 "Easter tells us of something children can't understand, because it addresses things they don't yet have to know: the weariness of life, the pain, the profound loneliness and hovering fear of meaninglessness." – Frederica Mathewes-Green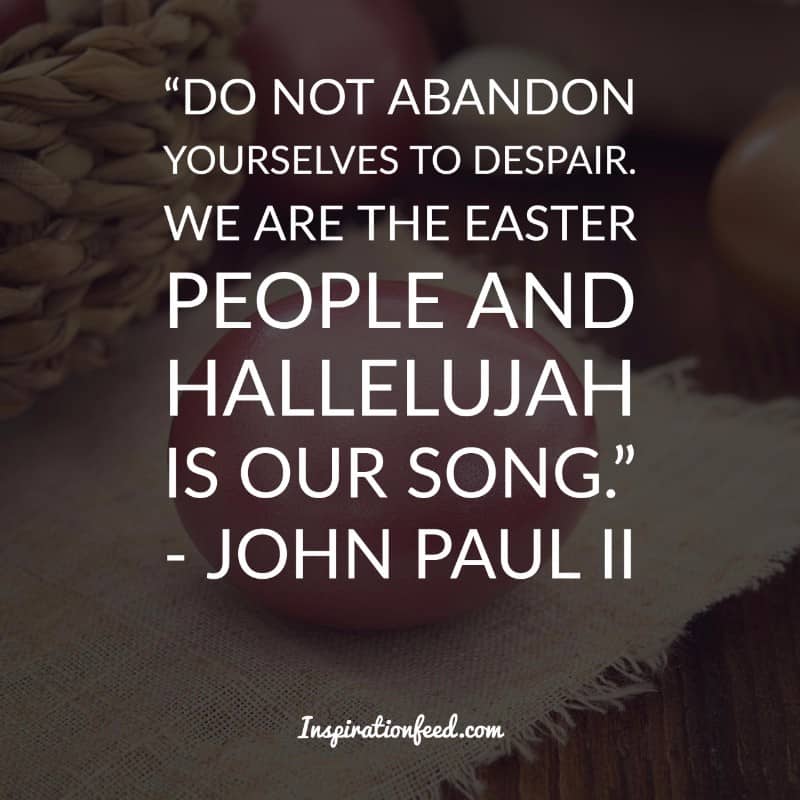 "Do not abandon yourselves to despair. We are the Easter people and hallelujah is our song." – John Paul II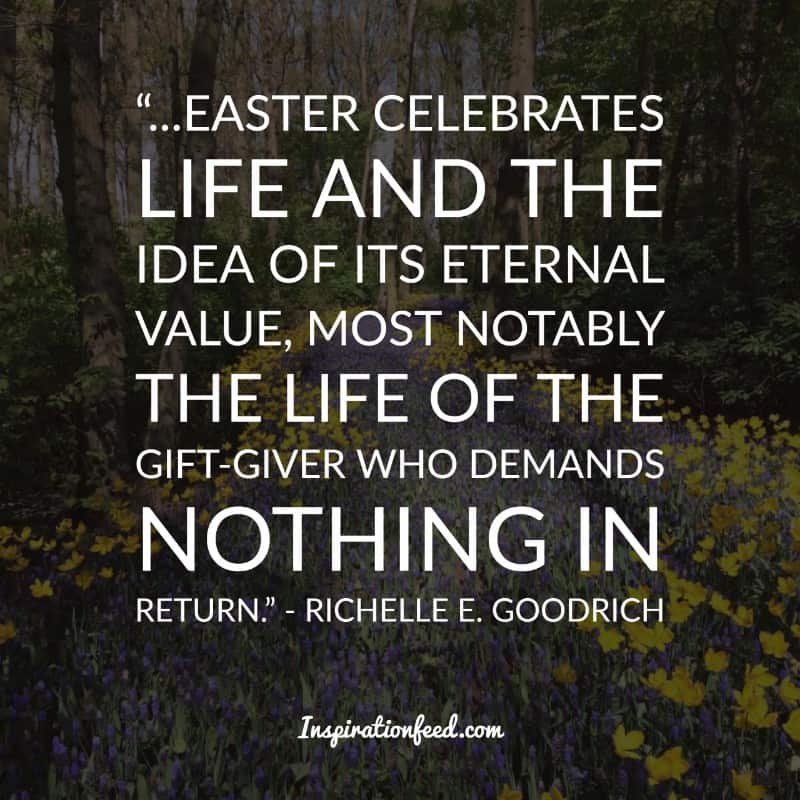 "…Easter celebrates life and the idea of its eternal value, most notably the life of the gift-giver who demands nothing in return." – Richelle E. Goodrich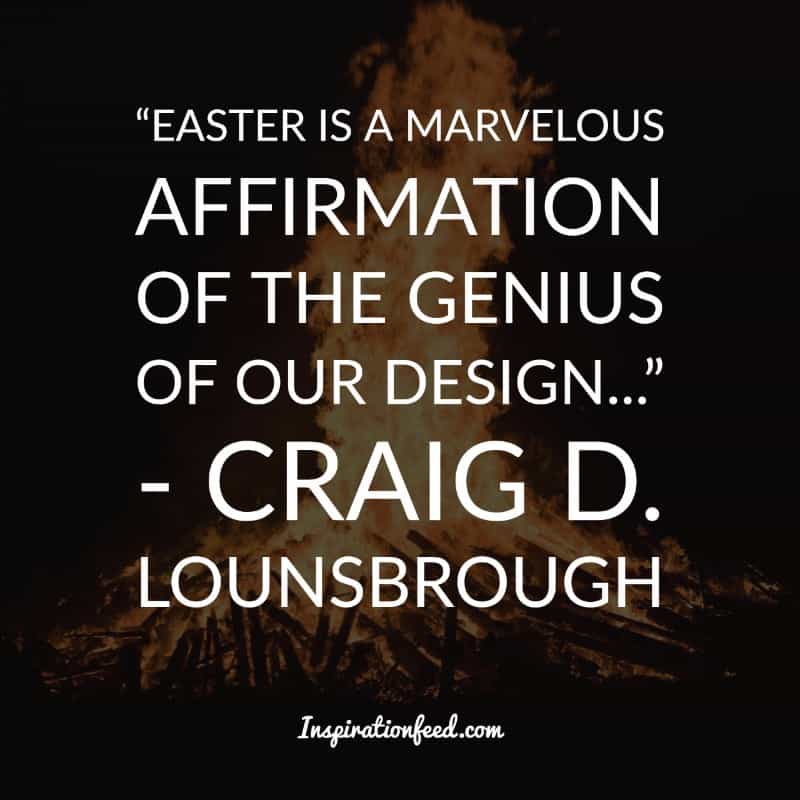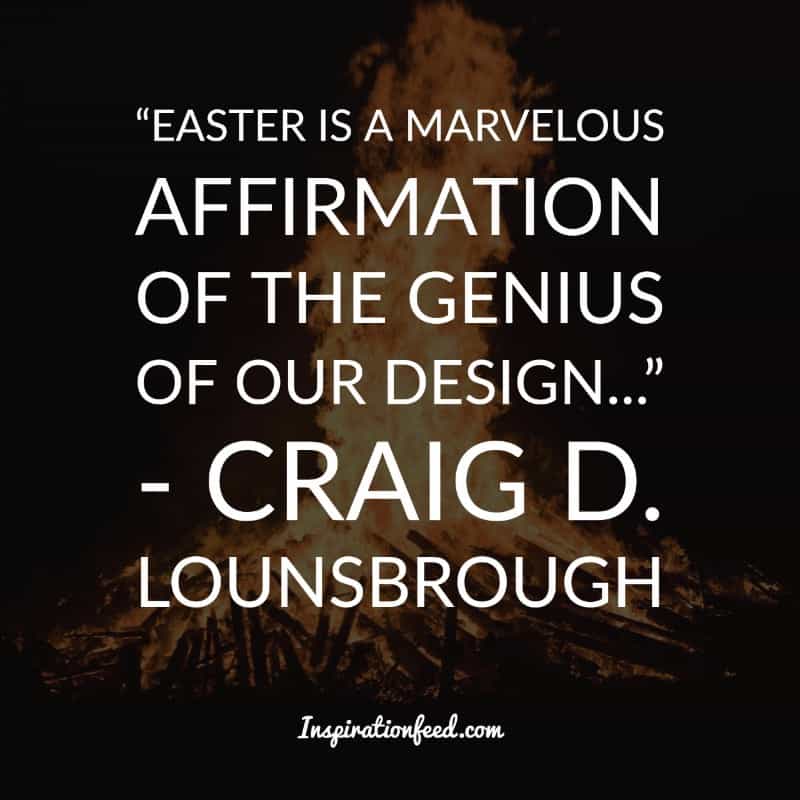 "Easter is a marvelous affirmation of the genius of our design…" – Craig D. Lounsbrough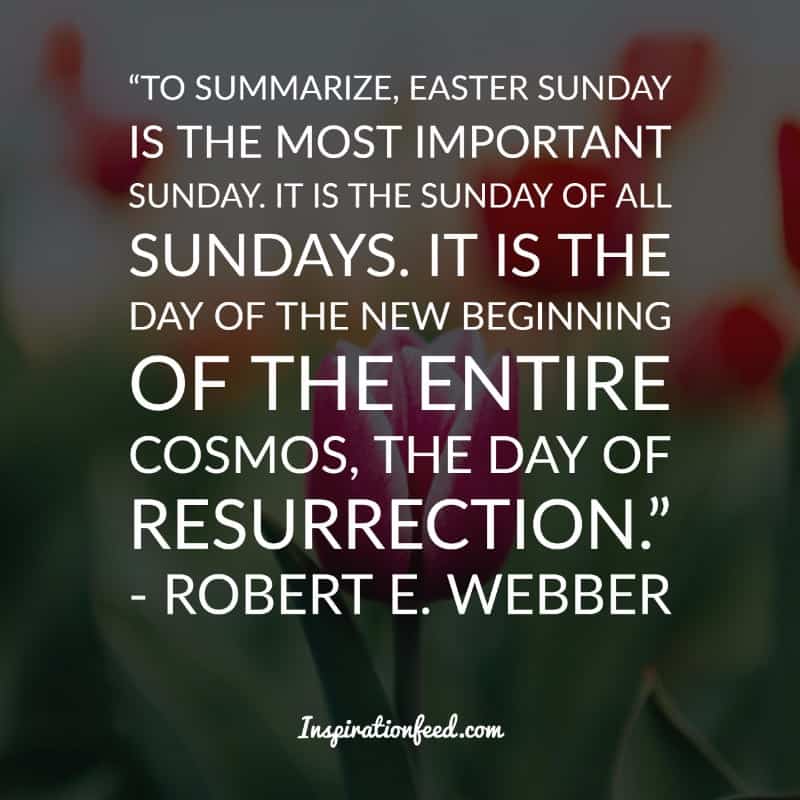 "To summarize, Easter Sunday is the most important Sunday. It is the Sunday of all Sundays. It is the day of the new beginning of the entire cosmos, the day of resurrection." – Robert E. Webber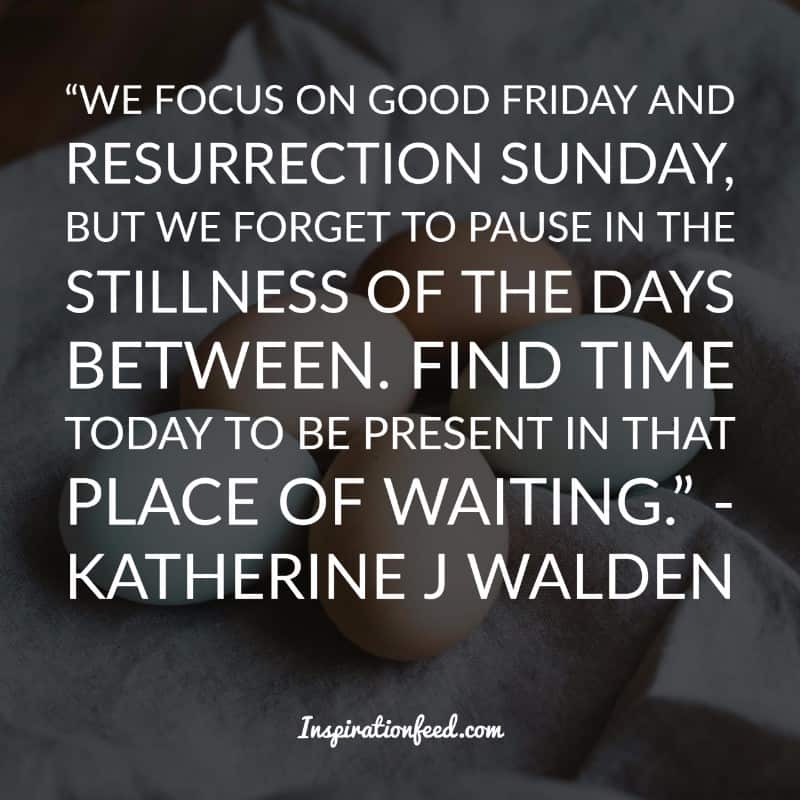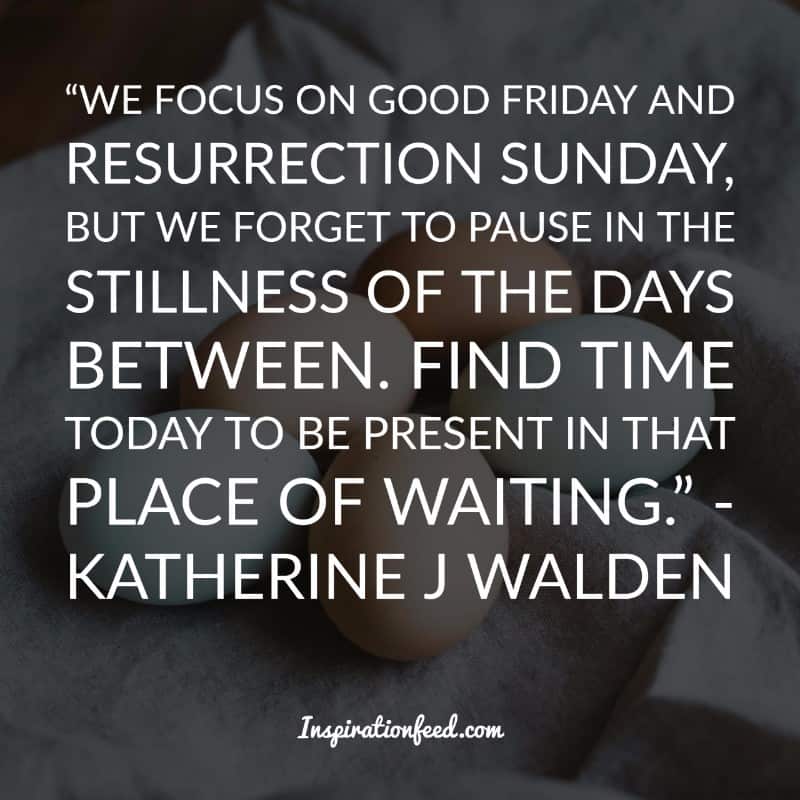 "We focus on Good Friday and Resurrection Sunday, but we forget to pause in the stillness of the days between. Find time today to be present in that place of waiting." – Katherine J Walden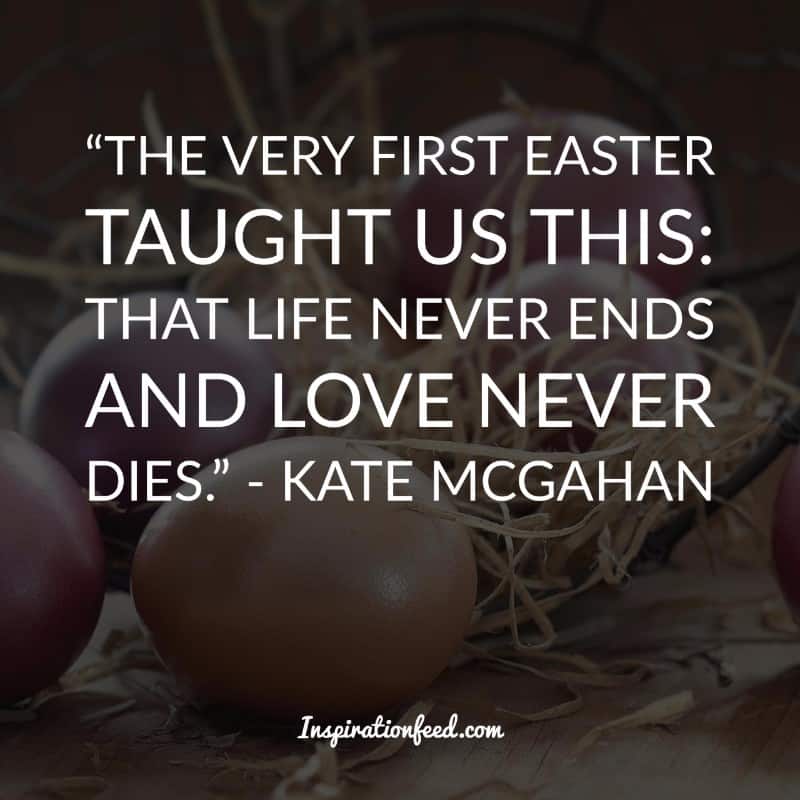 "The very first Easter taught us this: that life never ends and love never dies." – Kate McGahan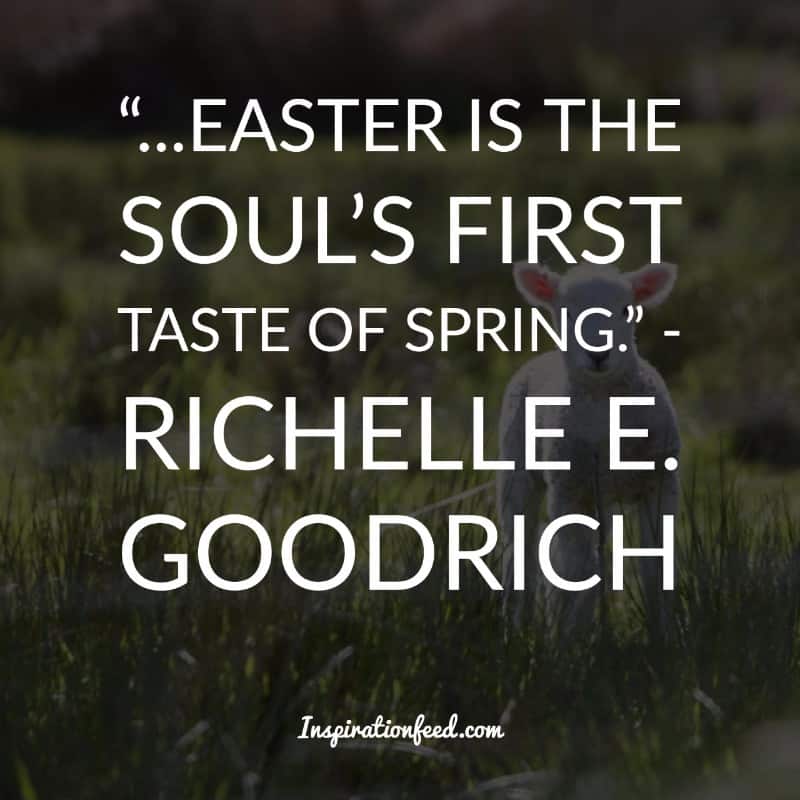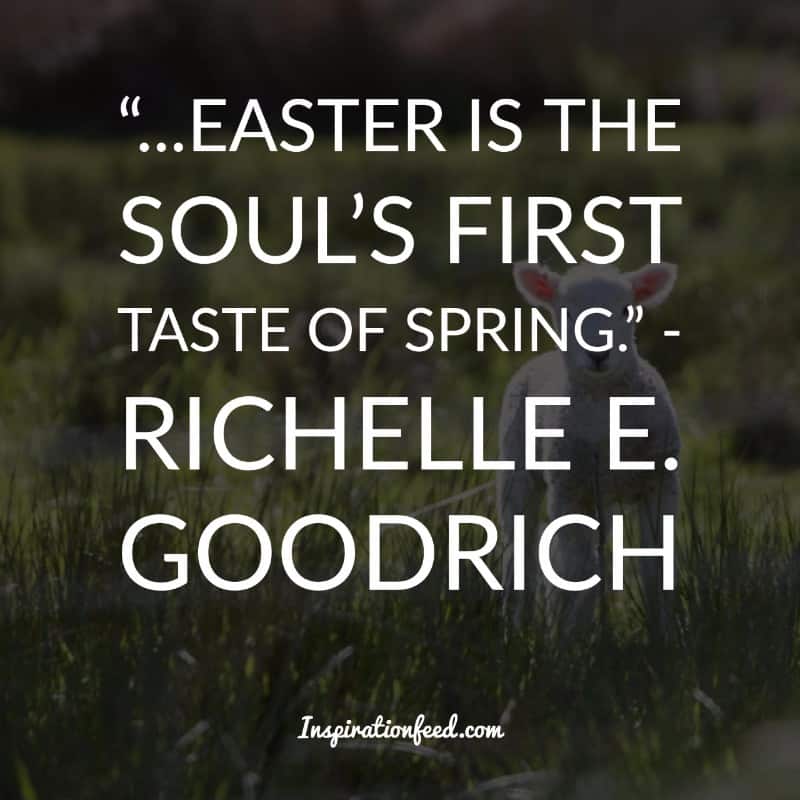 "…Easter is the soul's first taste of spring." – Richelle E. Goodrich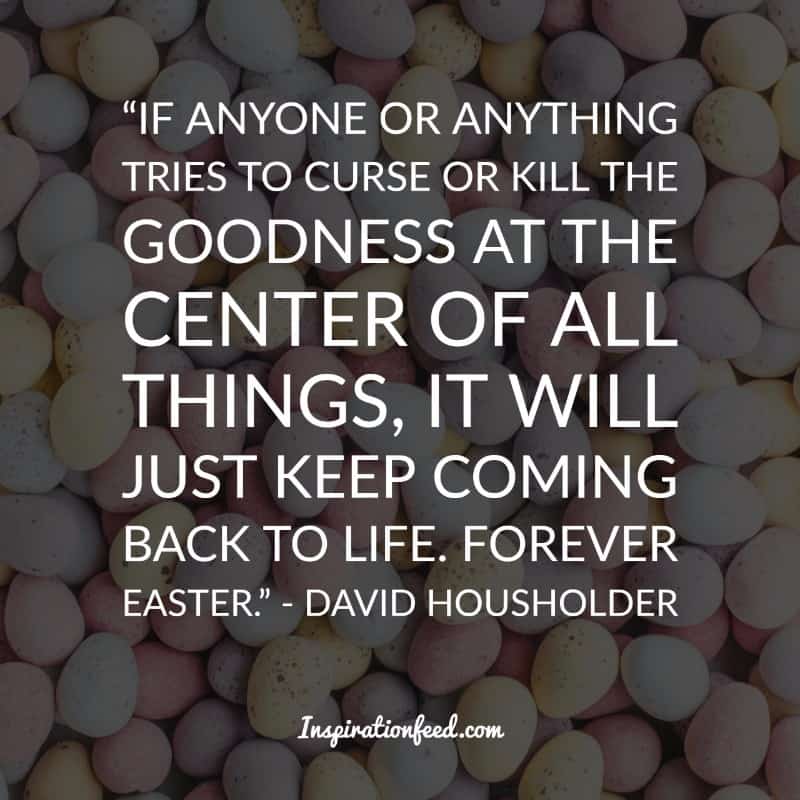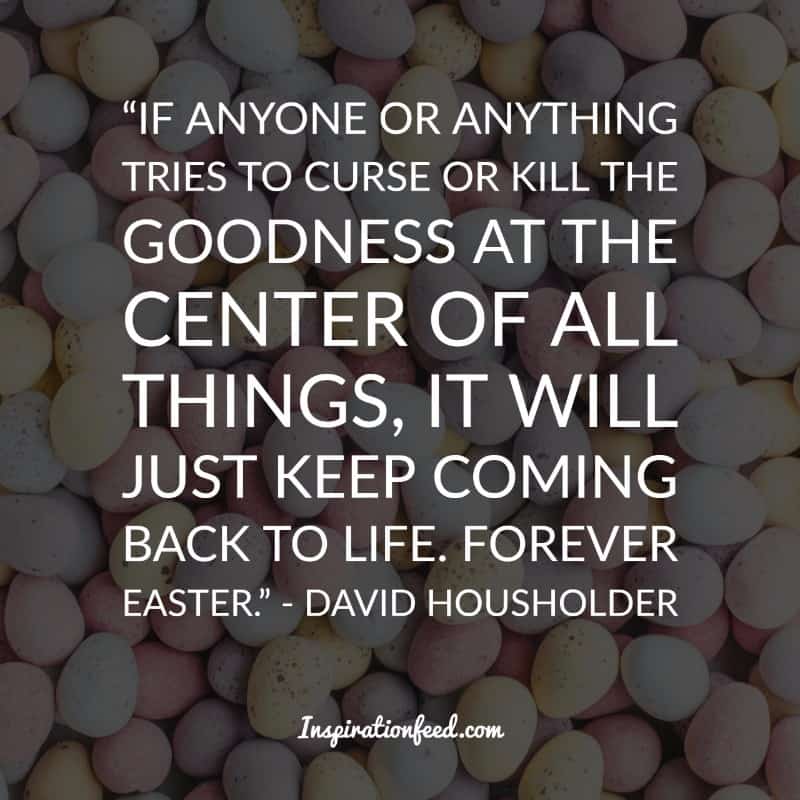 "If anyone or anything tries to curse or kill the Goodness at the Center of all things, it will just keep coming back to life. Forever Easter." – David Housholder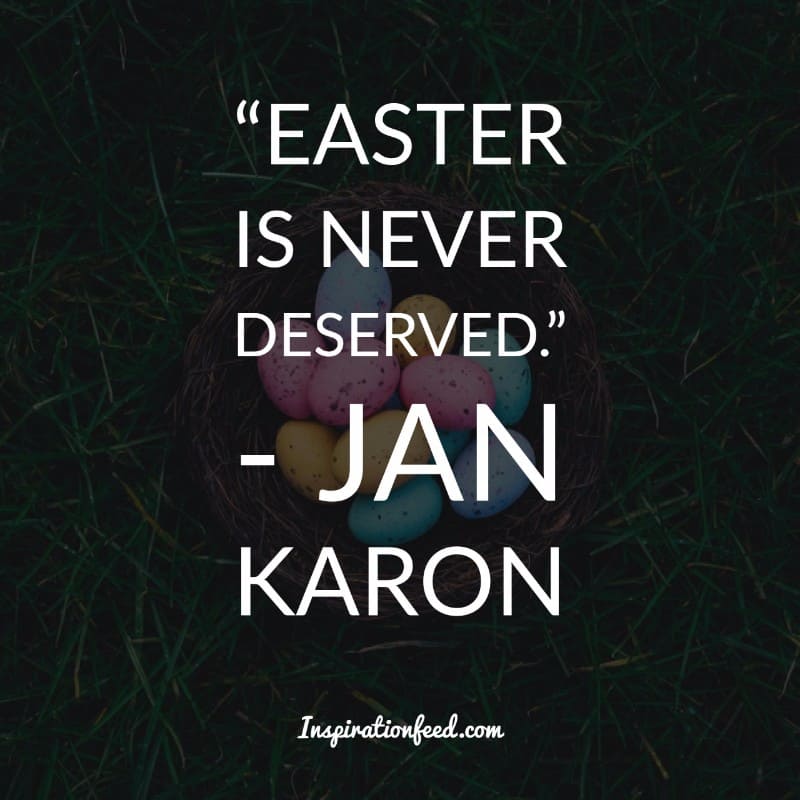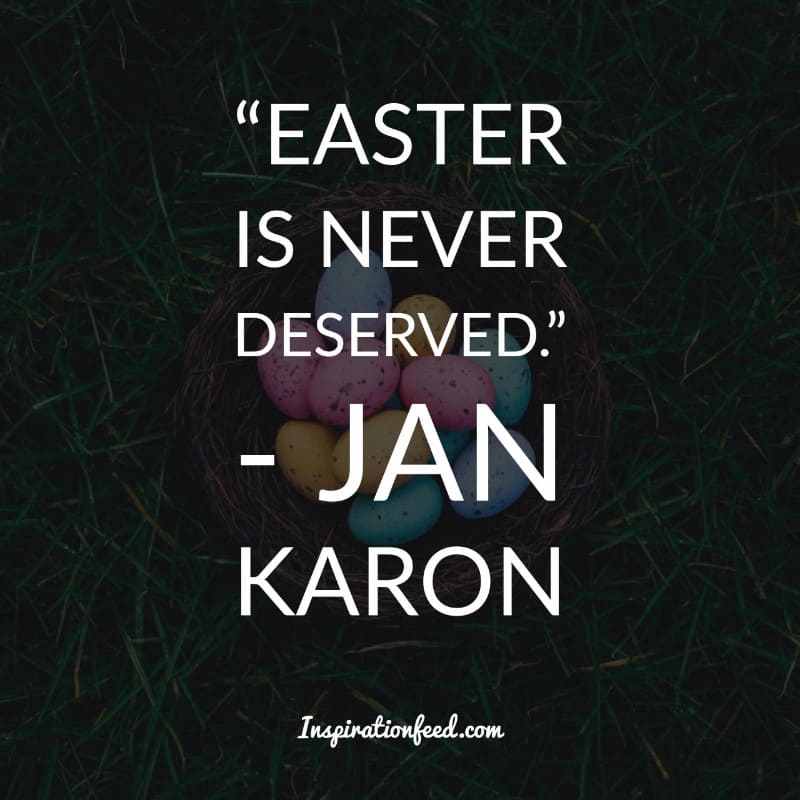 "Easter is never deserved." – Jan Karon
"We were old sinners—but when we came to Christ we are not sinners anymore." – Joel Osteen
"The story of Easter is the story of God's wonderful window of divine surprise." – Carl Knudsen
"The resurrection gives my life meaning and direction and the opportunity to start over no matter what my circumstances." – Robert Flatt
"Let the resurrection joy lift us from loneliness and weakness and despair to strength and beauty and happiness." – Floyd W. Tomkins
"People come together with their families to celebrate Easter. What better way to celebrate than to spend a few hours going on the journey of Christ's life." – Roma Downey
"I really do believe that God is love, one of deep affection and grace and forgiveness and inspiration." – William P. Young
"Let every man and woman count himself immortal. Let him catch the revelation of Jesus in his resurrection. Let him say not merely, 'Christ is risen,' but 'I shall rise." – Phillips Brooks
"Our Lord has written the promise of resurrection, not in books alone, but in every leaf in springtime." – Martin Luther
"To a Christian, Easter Sunday means everything, when we celebrate the resurrection of Jesus Christ." – Bernhard Langer
"Easter is very important to me. It's a second chance." – Reba McEntire
"On Easter Day the veil between time and eternity thins to gossamer." – Douglas Horton
"I still believe in Santa, the Easter Bunny, the Tooth Fairy and true love. Don't even try to tell me different." – Dolly Parton
"But from this earth, this grave, this dust, my God shall raise me up, I trust." – Walter Raleigh
"To plant a garden is to believe in tomorrow." – Audrey Hepburn
"A rebirth out of spiritual adversity causes us to become new creatures." – James E. Faust
"The earth laughs in flowers." – Ralph Waldo Emerson
"The deep roots never doubt spring will come." – Marty Rubin
"Easter is the only time when it's perfectly safe to put all of your eggs in one basket." – Evan Esar
"April hath put a spirit of youth in everything." – William Shakespeare
"Where flowers bloom, so does hope." – Lady Bird Johnson
"Spring shows what God can do with a drab and dirty world." – Virgil A. Kraft
"Our old history ends with the cross; our new history begins with our resurrection." – Watchman Nee
"The day the Lord created hope was probably the same day He created spring." – Bernard Williams
"Where man sees but withered leaves, God sees sweet flowers growing." – Albert Laighton
"Easter is meant to be a symbol of hope, renewal, and new life." – Janine di Giovanni
"Easter says you can put truth in a grave, but it won't stay there." – Clarence W. Hall
"I must have flowers, always and always." – Claude Monet
"Easter is a time when God turned the inevitability of death into the invincibility of life." – Craig D. Lounsbrough
"Faith makes all things possible… love makes all things easy." – Jeffrey R. Holland
"God loves each of us as if there were only one of us." – Saint Augustine
"Christ shared our experience; he suffered as we suffer; he died as we shall die, and for forty days in the desert he underwent the struggle between good and evil." – Bernhard Langer
"Christ the Lord is risen today, sons of men and angels say. Raise your joys and triumphs high; sing, ye heavens and earth reply." – Charles Wesley
"No winter lasts forever; no spring skips its turn." – Hal Borland
"If Easter says anything to us today, it says this: You can put truth in a grave but it won't stay there." – Clarence W. Hall
"You can cut all the flowers but you cannot keep spring from coming." – Pablo Neruda
"The Easter eggs symbolizes our ability to break out of the hardened, protective shell we've surrounded ourselves with that limits our thoughts and beliefs. As we break open our hearts and minds we discover a transformation to new, life enhancing thoughts and beliefs." – Siobhan Shaw
"God is not interested in your art but, your heart." – Ifeanyi Enoch Onuoha
"In the oddity or maybe the miracle of life, the roots of something new frequently lie in the decaying husks of something old." – Craig D. Lounsbrough
"Easter is the one morning in all of history where the dawn came twice; once on the eastern horizon and again in eternity." – Craig D. Lounsbrough
"It's when you crack open a chocolate Easter egg, that smiles emerge." – Anthony T. Hincks
"To believe in the story of Easter is to believe that a wall is nothing more than a door in disguise." – Craig D. Lounsbrough