Last Updated on March 3, 2023
Sustainability seems to be the word on everyone's lips in a world that's still coming to terms with life after a tumultuous 2020. This trend towards eco-friendliness has inspired the world of glasses in a move towards sustainable materials that's set to resonate across the industry. 
According to Pi Datametrics, sustainable consumption will be central to the 'new normal' world as it emerges from the COVID pandemic. However, statistics show that consumer favourability towards eco-friendly products was accelerating at a rapid pace before the emergence of the pandemic:
(Image: Telegraph)
The chart above shows that Google search volume for topics surrounding sustainability such as alternatives to single-use and sustainable fashion and beauty products has undergone significant growth over time – with some terms more than doubling in volume since 2017. 
It seems as though sustainability is becoming a hot topic in the world of glasses too, with one eco-friendly eyewear firm raising $15,000 within hours of launching in the summer of 2020. 
TURTL Sunglasses launched a crowdfunder for their new range of handcrafted, plant-based biodegradable shades on Indiegogo, and very quickly found that customers were eager to get their hands on the environmentally-conscious products. 
(Image: Nielsen)
Nielsen forecast that sustainable product sales will cover a quarter of total store sales by 2021. However, there's growing evidence that the pandemic and its ramifications in allowing employees to spend more time working from home has allowed individuals more time to stop and consciously look for new and more eco-friendly products. 
The widespread favourability towards more environmentally friendly products looks to have carried profound effects on the creativity of eyewear manufacturers, with more businesses looking for increasingly adventurous ways to release products that inspire consumers. With this in mind, let's take a look into how the rise of sustainability has impacted the eyewear market: 
Biodegradable Eyewear
When Inhabitat created a list of eco-friendly gift ideas for the 2020 festive season, biodegradable glasses featured prominently. The sustainable lifestyle website highlighted Pelavision as a leading manufacturer of blue-light glasses that feature 100% biodegradable frames. 
The introduction of biodegradable glasses frames into the world of eyewear can be a game-changer for the sustainability of the industry. With plastic items typically taking around 1,000 years to decompose in landfills around the world, the decomposition rates of biodegradable frames represent an essential step towards a more environmentally conscious industry. 
Fully Natural Frames
The accelerated evolution of sustainable eyewear in 2020 led to a range of unconventional naturally sourced glasses frames being developed throughout the year. 
One of the most imaginative naturally produced frames came in late 2020 as the result of three entrepreneurs combining to create spectacles made from volcanic rock from the Auvergne region of France. 
The frames, designed for TV chef, Adrien Descouls in a collaborative effort to pay homage to his hometown, encase the volcanic rock to create a scattered granite effect for the eyewear. 
(Image: Lifestyle Asia)
To create the effect, the rock was crushed into a fine powder, which was subsequently sifted and then encrusted inside clear acetate to produce the front of the frames. The arms of the spectacles, on the other hand, were crafted from multi-layer plywood of walnut and ash. 
"The transparency lets you see the shards of rock as if suspended – it's a striking effect," explained Thibault Randoin and Julien Douzal, the entrepreneurs behind the glasses, to The Star. "This dusting of black rock is also reminiscent of pepper, an extra nod to the work of Chef Adrien!"
Naturally produced eyewear hasn't just been limited to bespoke frames in recent months, and Australian glasses manufacturer, Le Specs, have been causing a stir with their 'Le Sustain' collection – a range of affordable spectacles produced from recycled water bottles, plastic, and even meadow grass. 
Offering retro-styled chunky frames alongside a variation of the company's signature D-Frame range and Bandwagon models, Le Specs' products are created and comprised of 23% intelligently harvested meadow grass and 77% recycled plastic. 
Iconic dark shades give the glasses a traditional look while blue, orange, green, and textured khaki tinted lenses help to keep eyes protected and offer the products a burst of color. Le Specs is fully committed to creating wholly sustainable products that extend all the way to its packaging. Every pair of glasses within the Le Sustain range are packaged inside recycled jersey pouches made from old water bottles and sustainably sourced cotton, and they even come with a recycled card that's printed using soy-based ink. 
"Le Sustain was a natural next step for Le Specs, for me, the sustainability path is our only future," said Hamish Tame, creative director at Le Specs. "Our motivation behind the Le Sustain collection is to innovate with new manufacturing techniques and materials that reduce our environmental footprint, whilst also helping to eliminate unnecessary waste and landfill. Although it's early days for our Le Sustain capsules, this is a project we are passionate about continuing to develop and expand across our business."
Upcycling Glasses
Interest in upcycling existing materials has been steadily gaining popularity over the past decade and is beginning to make its presence felt in the world of eyewear.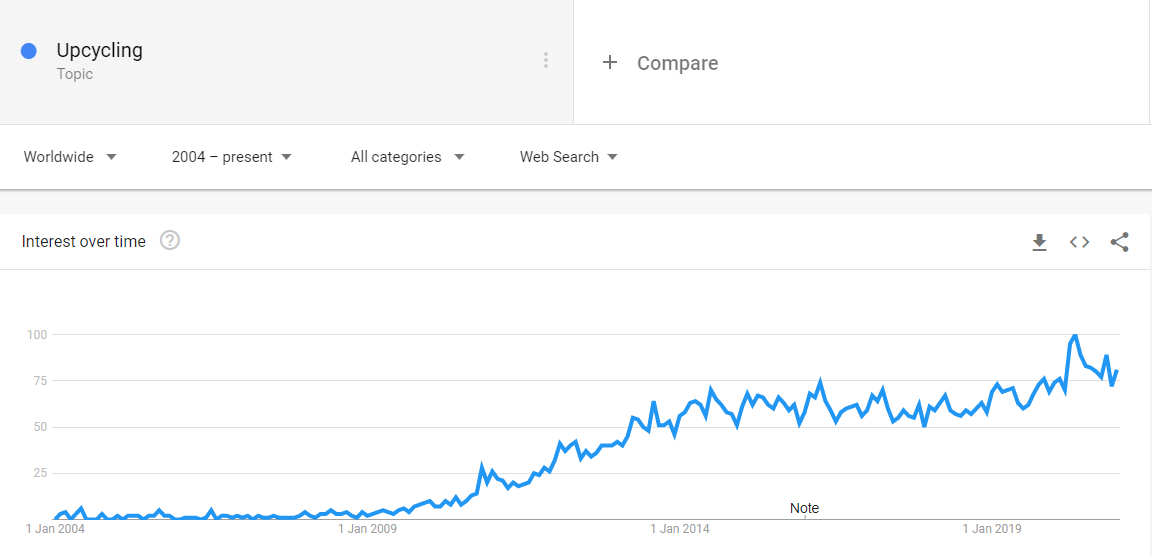 Google Trends data shows that interest in upcycling has continued to increase in recent years before hitting a peak at the beginning of 2020. Today interest in upcycling still appears to be higher than at any point before 2019. 
The mounting appeal of upcycling has extended to the eyewear industry of late, too, and one American company has looked to use an unconventional form of waste to create beautiful frames. 
Schwood and Huf turned to old skateboard decks to create remarkable wooden frames that appear to be hand-carved from the most delicate wood – rather than broken skateboards. 
(Image: Cool Hunting)
Although waste from skateboard decks may not be the primary concern of environmental activists and landfill owners around the world, the fact that Schwood and Huf can create aesthetic eyewear from an item that no longer functions shows other manufacturers that it's entirely possible to use other materials to upcycle for glasses frames in a more responsible way. 
By giving a fresh lease of life to existing materials, rather than resorting to using fossil fuels to create single-use plastic frames, eyewear manufacturers can effectively limit their carbon footprints in producing essential items for wearers. This makes upcycling an excellent approach towards caring for the environment on a more sustainable level. Naturally, it also helps in the end product is as fetching as Schwood and Huf's efforts here. 
3D Printing to Eliminate Inventory Wastage
The arrival of modern 3D printers may well be the most unsung development of the 21st Century. Capable of printing on-demand complex designs tailor-suited to specific specifications, the 3D printer can carry huge benefits to a wide range of industries – including eyewear. 
With the help of 3D printers, it's possible to print glasses as orders arrive – or create small batches instead of using large warehouses full of spare and overstock parts that may never be needed. 
Given the extraordinary amount of time it takes for glasses frames and lenses alike to decompose, inventory wastage can have a needlessly negative impact on the environment. However, more eyewear brands are now partnering with 3D printing companies like Materialise to develop 3D printed eyewear collections for customers. Each frame can be customized for the wearer and created on-demand – eliminating the need for stocking up on certain glasses. 
Alireza Parandian, Materialise wearables expert, said: "Stock wastage has historically been a huge issue for the eyewear industry. The dream scenario is to be able to offer new eyewear designs, in multiple materials, that can be produced at a speed and quantity that matches demand, while simultaneously reducing wastage and revenue-threatening stock risk."
Efforts to Ease The Burden of Glass Lenses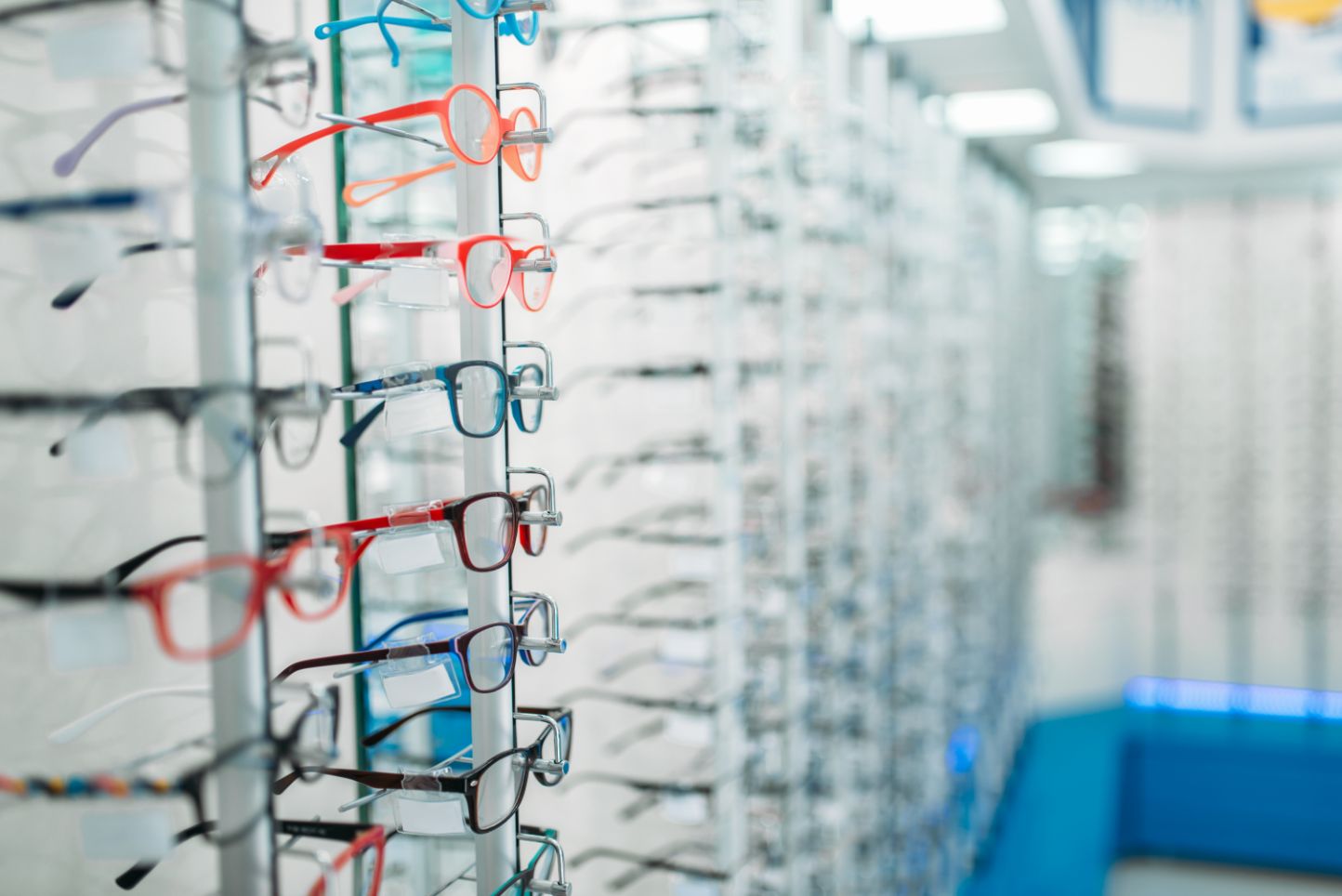 Finally, one of the most significant burdens that glasses carry on the environment comes from their glass lenses. Glass bottles can take up to one million years to decompose on a landfill site, and thick-lensed spectacles could potentially run up similar figures. 
Although plastic lenses can work for glasses, companies like 23° Eyewear have looked to utilize 100% mineral glass lenses as a leading environmentally friendly option that retains the quality of glass spectacle lenses while remaining 100% recyclable. 
Furthermore, the crystalline purity of mineral glass, according to the manufacturers, ensures the 'best vision possible' when looking through the lenses. 
The devastating arrival of COVID may have wreaked havoc on much of our daily lives, but the evident increase in eco-friendly consumption to have resulted from the pandemic may ultimately be looked upon as a rare glimmer of hope to have emerged from the troubled year of 2020. 
With eyewear being an essential product for so many of us, having the choice of purchasing products safe in the comfort of knowing that they'll in no way harm the environment once we're finished with them is likely to be an enjoyable experience for wearers.