Last Updated on March 9, 2020
We have all seen the ads for cheap fashion pop-up on our Facebook or Instagram feeds. Especially if you are a woman!  And the temptation to buy something quick and cute is palpable.
With the age of social media, we see all that is available and have more pressure on us to be seen a certain way.  It can't be that bad, this little red bikini from Indonesia, can it?
But it is.
"Every year we consume about one and a half times what our earth can make in raw materials in that time," says eco-fashion expert Marieke Eyskoot.  Consuming approximately 400x more than we did just 20 years ago. The fashion industry plays a huge roll in this, partly because it produces apparel at  lighting speed rate by cutting the bottom line.
They do so by outsourcing to low-wage countries, often in unethical indentured labor systems and using materials that are quick to produce but bad for the environment.  And we lose out by owning low-quality clothes that quickly fall apart.
The apparel and footwear industries together account for more than 8 percent of global climate impact, greater than all international airline flights and maritime shipping trips combined.  The fashion industry requires both fossil fuels, agriculture, and livestock, and then later demands maintenance by machine washing and wastelands for decomposition.
All things considered, this is why Andrew Morgan and his team determined it to be "The Second most Polluting Industry in the World."
So how can we buy better?  The buzz word of 2020 so far is 'sustainability."  Based on global definitions, sustainability can seem a bit broad; especially when it comes to fashion.
But the main points are very plain.  Sustainability encompasses every part of the business model from manufacturing, transportation, employees, shareholders to the consumers themselves and how they dispose of the product.
Here are five ways you can shop in style while still being environmentally conscious.  And, you might just save a few bucks!
01. Buy Better – Smart & Less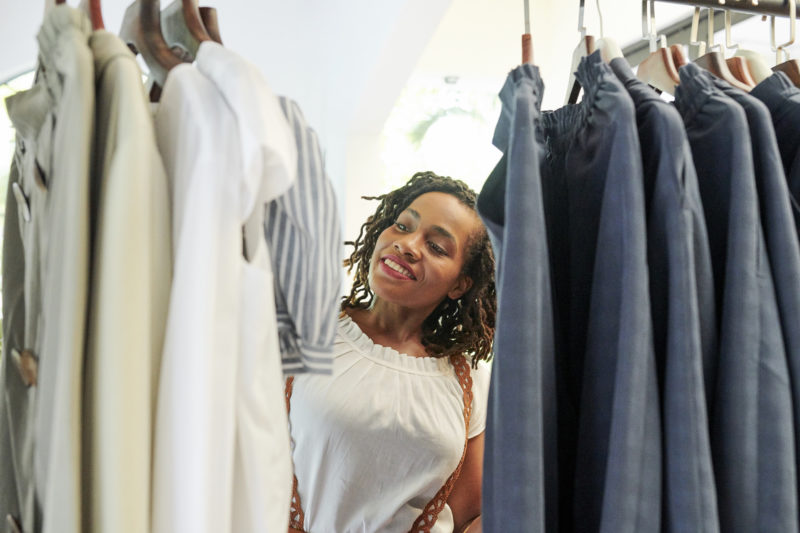 Open your closet, take a look in and take measure. Most of us have an overwhelming number of repeating styles of clothes already.  Just for the amount of money and time saved alone, consider buying less.
This is a very anti-American culture in some ways, but it will set you towards the path to clear your mind for more important things.
But if you must buy, ask yourself these things before you pull out your wallet or close out your cart.
Do I need this, or is it more of the same?
Am I really going to wear it? Is the fit right?
How long will this last?
Is the investment worth the money?
Will it really make me happy?
02. Choose Ethical
It can be difficult to know if a company pays its workers a living wage.  But it is important to avoid those who obviously don't.  Red flag companies are Romwe, Shein, and the slew of online retailers that have an insane variety of apparel at next-to-nothing costs.
These manufacturers create over 40,000 items per year, 10,000 of which reach stores. The rest end up in incinerators. Some brands however, are catching up and switching to a more bio based business, like heritage shirtmaker GANT. Adopting a philosophy of creating premium products that are built to last, GANT are acting on their ethical, environmental and social responsibilities by releasing yearly sustainability reports as well as full transparency from dirt to every GANT shirt. 
You might want to consider buying Vegan as well, and not just for animals rights.  "Animal farming is responsible for 90% of emissions when it comes to leather."  Surprisingly, the biggest contributor is not the tanning process.
So consider buying alternatives to leather-like Pineapple Leather or Mushroom Leather.
Check your tag and do your research.  Buycott is a wonderful app that will scan the barcode on a garment and give the facts about where it is made.  At the end of this book, you find an appendix with a list of ethical brands to explore at your leisure.
03. Shop Local & Eco-Friendly
Chances are if your clothes are made locally, they adhere to stricter business practices, especially if you live in Europe or the US.  Locally sourced apparel sometimes creates an opportunity for you to visit the warehouse where they manufacture.  Take Reformation for example.
Every month they offer a guided tour of their factory floor!  Shopping locally also minimizes your carbon footprint by avoiding the energy output by international shipping.
A lot of brands are touting themselves as eco-friendly these days.  What you need to look for is what the materials are made from.
Are they recycled polyester? Are they made of organic cotton without the use of pesticides?  Are they chemically treated with a topcoat that may be a hormone disruptor?
Look deeper and choose brands that are transparent.  Like Holding Court Inc.  They have eco-ethical basics that tell the story of where the fabric was woven, sewn and helps you to up-cycle it.
04. Second Hand
There are no disadvantages in buying second hand: you find one-of-a-kind unique outfits to set you apart, often at a fair price. Always check for holes and stains, the correct fitting and try the button and zippers.
Now you can skip the thrift-store and shop for second hand online with easy-to-navigate apps.  You can even sell your old looks and make a little money!
05. Quality over Quantity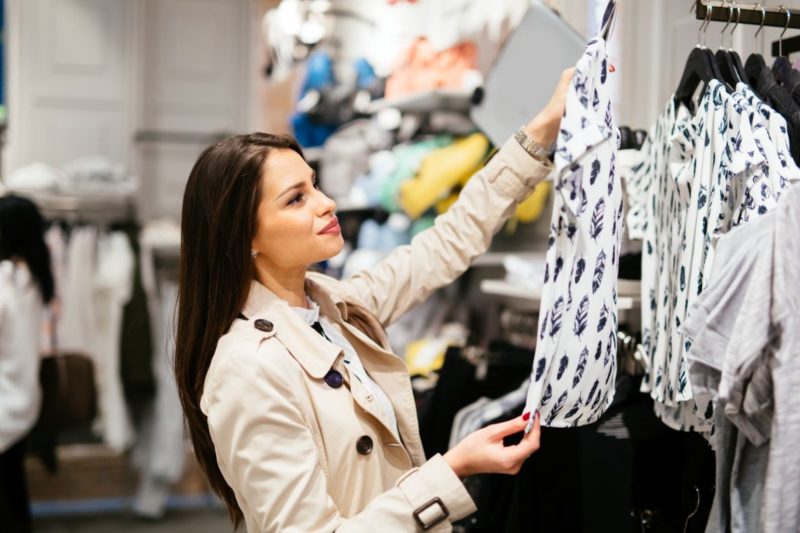 Some garments are expensive because they are quality made, and will last much longer than any fast-fashion outfit you buy.  Inspect the seams, the weight of the fabric and get a feel for the overall craftsmanship.  You don't want to end up with a drawer full of cheap shirts falling apart in all the wrong places.
And if you find something in bulk that you love?  For example, a very comfortable pair of underwear, or the perfect fitting jeans, buy more than one.  The good news is, if you love it, you are more likely to wear it more often.
We all have that pair of jeans in our closet that we just never find the right moment to wear them.  Try to avoid that by buying exactly what you think you will wear.