Last Updated on January 18, 2022
Sustainability remains one of the consumers' biggest concerns so it's no surprise that 40% of couples are looking to an ethical wedding, with many couples choosing to make small changes to their big day. These could include ditching plastic decorations, reducing waste and cutting guests' transport emissions, in the name of creating a more environmentally-conscious occasion.
To minimize the impact of your own special day, consider these eco-friendly tips during your wedding planning.
1. Buy an ethical engagement ring
When shopping for a ring, you should look for a diamond that has been ethically sourced and mined without exploiting workers or damaging the environment through deforestation. Often, standard diamond mining is problematic and can lead to soil erosion, as the mining process removes nutrients from the top layer of the earth, and may also cause water pollution due to stagnant mining pits. The practice also impacts the employees and their working environment and may rely on African child labor.
As such, you should be sure to research potential jewelers and find out where they source their diamonds. For example, not only do brands like Taylor & Hart source all of their diamonds ethically, but they can also be made with FairTrade gold or recycled gold and platinum. You could also choose a diamond that has been created in a laboratory, made in conditions that replicate those in the Earth's mantle where natural diamonds are formed.
2. Reduce food waste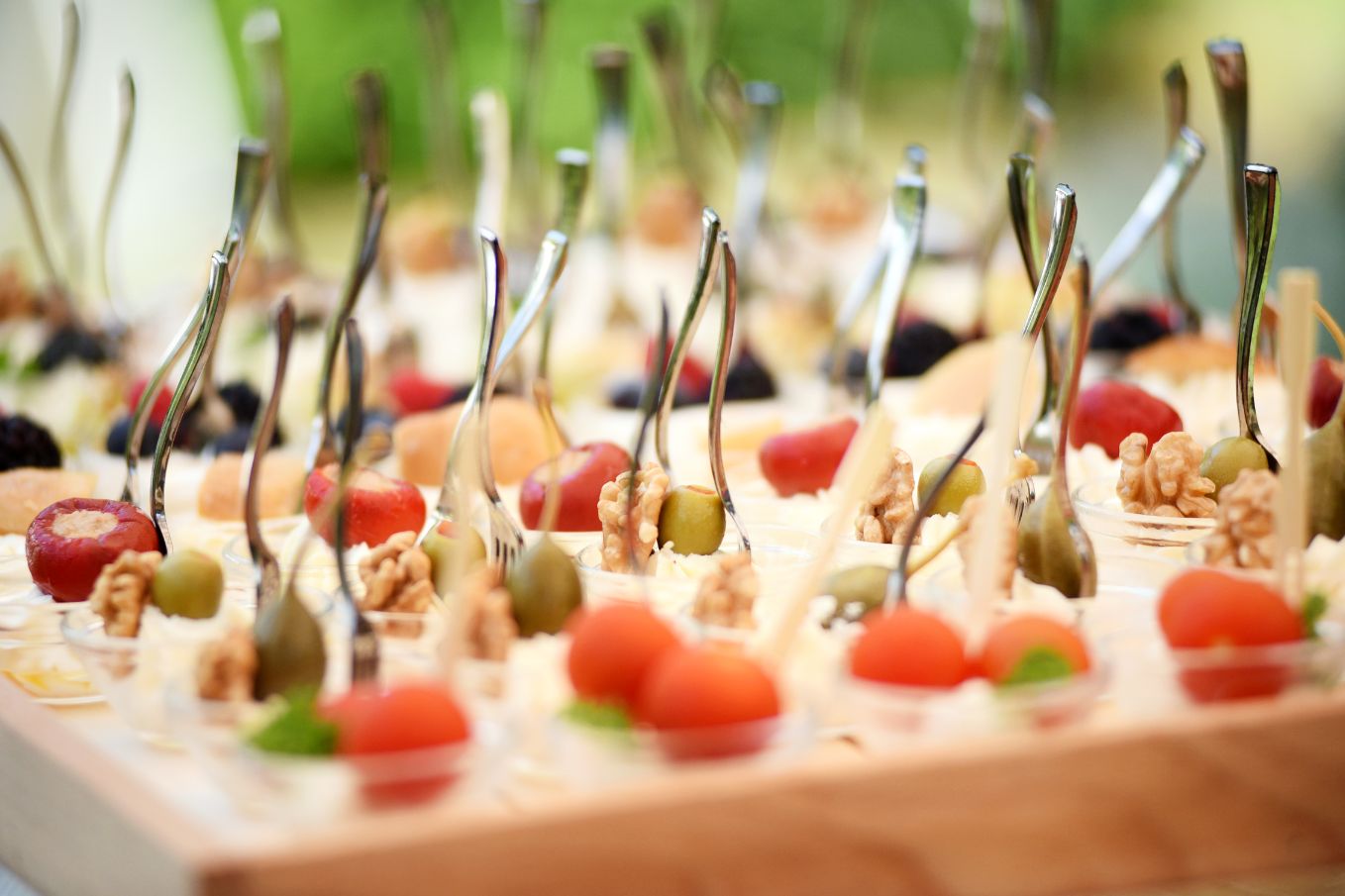 Approximately 10% of food at every wedding reception is wasted, which means most couples are serving their guests too much — including the all-important wedding cake. Food waste is partly responsible for generating man-made greenhouse gases, which produce more harmful chemicals than carbon dioxide. To prevent food waste at your wedding, you should aim to provide the appropriate amount of food for each guest by double-checking numbers, and consulting with your caterer.
If you're serving up a buffet-style spread, be careful not to overdo the amount of food available, and arrange for any leftover food to be donated to homeless shelters or food banks. As for your leftover wedding cake, simply send your guests home with a slice as part of a goody bag.
3. Use seasonal flowers
Choosing eco-friendly flowers is another simple way to lessen the environmental impact of your wedding. Avoid picking flowers that aren't in season, as overseas transportation will be required to ship them in. The Netherlands, for example, is responsible for much of the global flower trade, with 80% of the UK's cut flowers grown in Holland.
Locally-grown, in-season blooms are best, as they won't need to be delivered so far, lowering the carbon footprint of your wedding plans, and also be fresher and cheaper than imported ones.
4. Purchase eco-friendly attire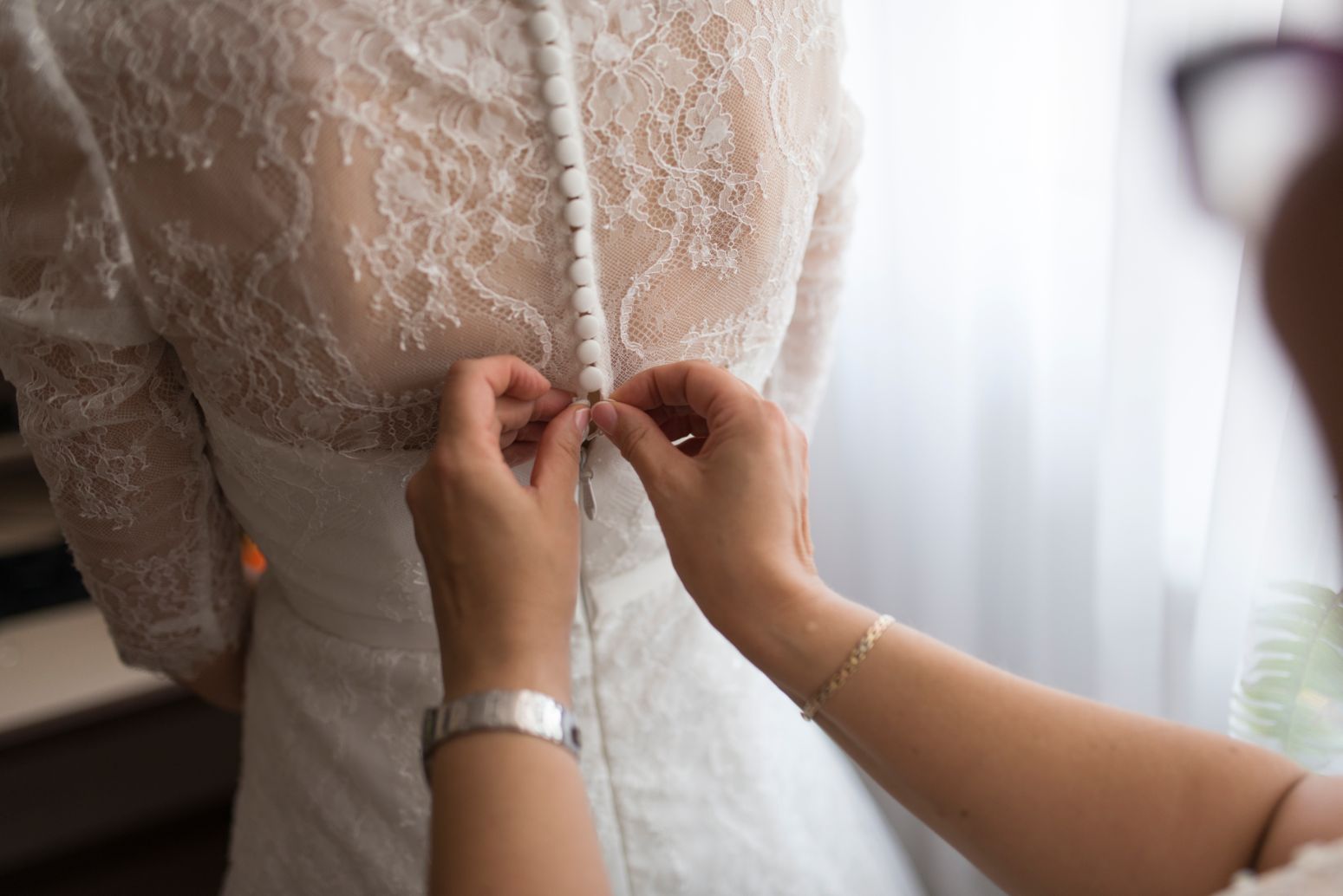 Standard wedding dress production counts as part of the fast fashion industry, as many retailers buy their dresses from overseas factory-based manufacturers. The production of textiles also requires large amounts of water and energy, and manufacturers use an array of dangerous chemicals and dyes which can be wasted, ending up in local water supplies. For example, many wedding dresses are made of polyester, which is low cost and quick to make but derived from fossil fuels that have a detrimental impact on the environment.
However, brides have the option of wearing eco-friendly outfits, and there are many sustainable wedding dress brands that use recycled fabrics and plant-based dyes. Alternatively, many brides opt for second-hand gowns, or you could follow the groom's lead and hire your clothes for the day.
5. Ditch plastic decorations
Over 4,900 tonnes of plastic is wasted on weddings every year — the same weight as 47 blue whales. This plastic waste includes bunting, confetti, and even plastic cutlery, cups and straws, which can take over 400 years to decompose, and often ends up in the oceans, potentially causing harm to marine animals.
Look for more eco-friendly alternatives, such as paper decorations, which are easier to recycle afterward. You could also make your own decorations from recycled materials, such as displaying floral arrangements in glass bottles, putting tealights in jam jars, or swapping plastic confetti for fresh flower petals.