Last Updated on January 11, 2022
The city has been considered the pinnacle of human civilization for centuries now: the man-made concrete maze where the dwellers have managed to almost completely obliterate all signs of nature. The towering skyscrapers block out the life-giving sunlight, and the paved streets hide the fertile earth. No wonder that the inhabitants of big cities complain increasingly of insomnia and stress-related illnesses – they are out of sync with the natural cycle today more than ever in the history of humanity.
The city, however, is finally losing its morbid grip on men as its adverse effects on health and general well-being are becoming more and more obvious, and mankind is gradually developing eco-consciousness. The creative designs of eco-houses and passive houses are characterized by self-sufficiency in terms of electricity, heating, etc. This type of dwelling is making quite an effect, and the demand for it is constantly growing as it provides a refreshing long-sought-after alternative to the ugly and depressing concrete jungle.
Inspiring examples of the new designs of a natural type of housing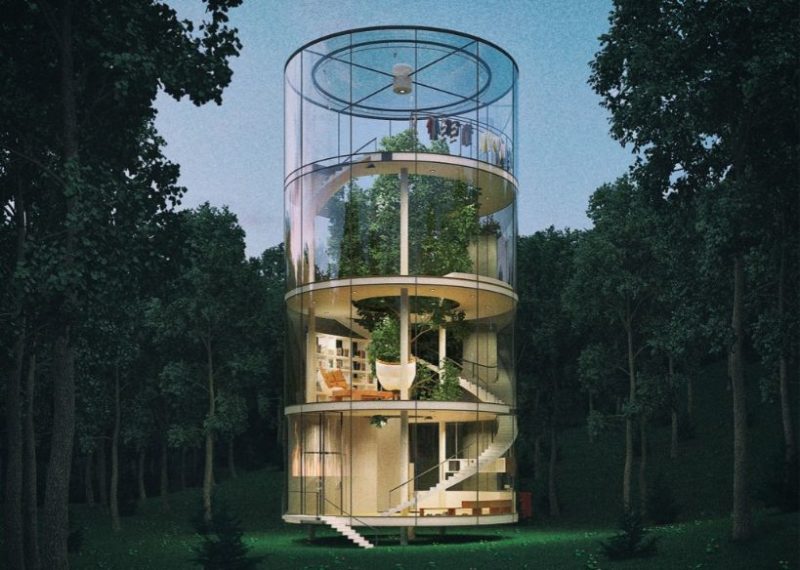 Aibek Almassov's impressive design of a delicate-looking glass house built around a tree provides a soothing retreat in a forest. The glass cylinder made of transparent solar panels offers a panoramic view, and a feeling of oneness with nature as the trees not only surround the construction but can also grow right inside this magical house. Although still a project, this idea will definitely be materialized as it offers such great possibilities of independent living in a remote location.
The powerful symbolic image of the tree has also attracted the creative mind of Konrad Wojcik, who designed a self-sustaining forest cabin that blends into its surroundings, delicately balanced on a single thin edge. The compact pyramid structure stands isolated and well-camouflaged and is an epitome of a harmonious union of man and nature in stark contrast to the crowded and claustrophobic cells of high-rises that impose their dominating structures aggressively on the cityscapes.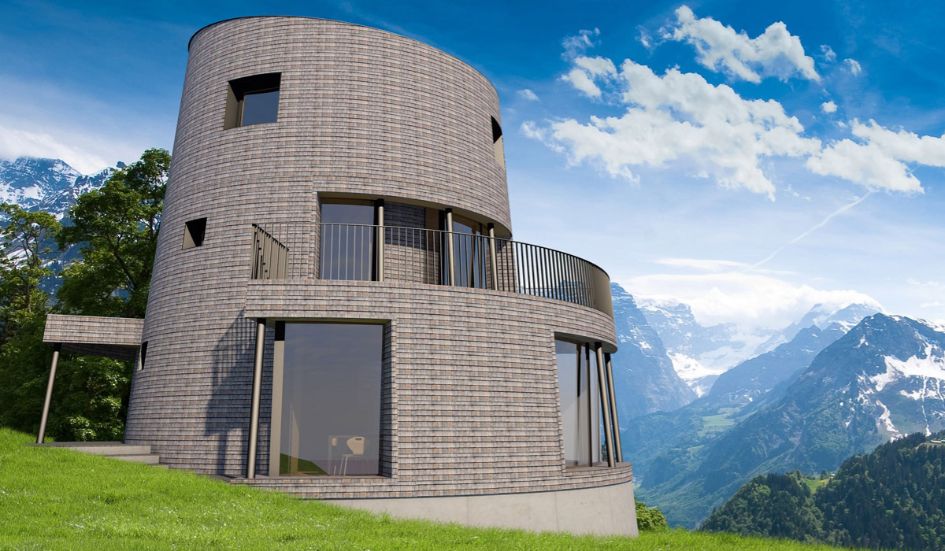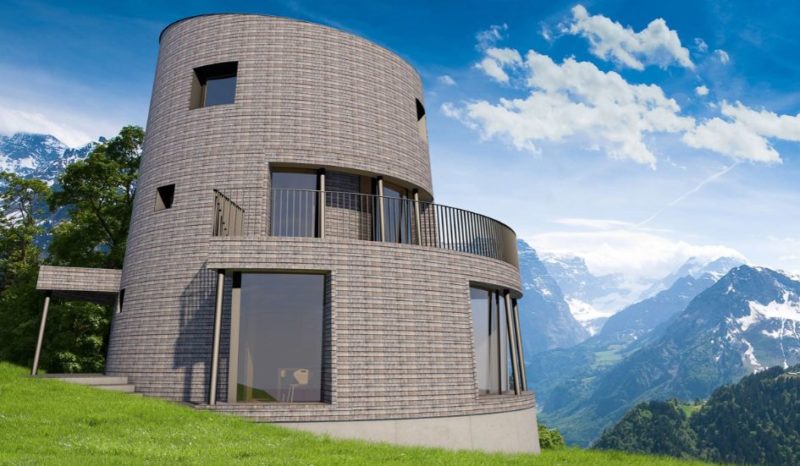 Markus Hermann has come up with and brought to life a unique project of a Zigerstoeckli house in Braunwald, a car-free zone. It is named after the local kind of cheese "Ziger," the shape of which inspired the cylindrical construction. The natural building materials were used for this house. Its facade is made of small wooden shingles.
The amazing characteristic of some of the new dwellings' designs is a very flexible approach to what the general notion of a house presupposes. For example, Arkup is a floating home – a perfect solution for the areas of the world endangered with flooding as one of the side effects of global warming. Not only is it a completely self-efficient design (with solar panels, rainwater harvesting system, and optional desalination unit, among other features) but also a luxurious one.
Arkup yachts have already stood the test of time and are available for sale and for rent. You can fulfill the dream of traveling without giving up the comforts of a lavish home, working remote, for example, as an essay writer at your leisure.
From the tree inspired eco-house plans and wooden mountain dwellings, to yacht houses that flow with the ocean – the modern residence designs never cease to impress and will undoubtedly inspire more and more people to leave the perishing cities, shrouded in smog and miasmas, in favor of a sustainable lifestyle, closer to nature.