Last Updated on January 24, 2023
Who is Eddie Van Halen?
Eddie Van Halen was a hyperkinetic guitarist who blazed the world of Rock' n' Roll music with his superb guitar skills and impressive energy. He redefined rock music with his brother, Alex Van Halen. Together, they co-founded the Van Halen band.

Van Halen was an American hard rock band, and Eddie was a strong force of the band. He was the lead guitarist, keyboardist, songwriter, and producer. In addition, he was famous for producing custom-made guitars that allowed guitarists to use both hands to perform.

In 2012, Eddie was rated number one among 100 highly gifted guitarists in a list compiled by the Guitar World Magazine. He was popularly renowned for his prolific gifts and hyperkinetic energy as a guitarist before his death on 6th October 2020.
Quick Facts
| | |
| --- | --- |
| Full Name: | Edward Lodewijk Van Halen |
| Popular Name: | Eddie Van Halen |
| Gender: | Male |
| Birth Date: | January 26, 1955 – October 6, 2020 |
| Age: | 65 years |
| Parents: | Eugenia Van Halen (mother), Jan Van Halen (father) |
| Siblings: | Alex Van Halen |
| Birth Place: | Amsterdam, The Netherlands |
| Nationality: | American-Dutch |
| Ethnicity: | Dutch |
| Education: | Pasadena City College |
| Marital Status: | Married |
| Sexual Orientation: | Straight |
| Wife/Spouse: | Valerie Bertinell (1981- 2007), Janie Liszewski (2009-2020) |
| Children: | Wolfgang Van Halen |
| Dating: | N/A |
| Net Worth: | $100 million |
| Source of Wealth: | Music, Sales of custom guitars. |
| Height: | 5ft7(1.73m) |
| Weight: | 72kg (158 lbs) |
Early Life and Career Information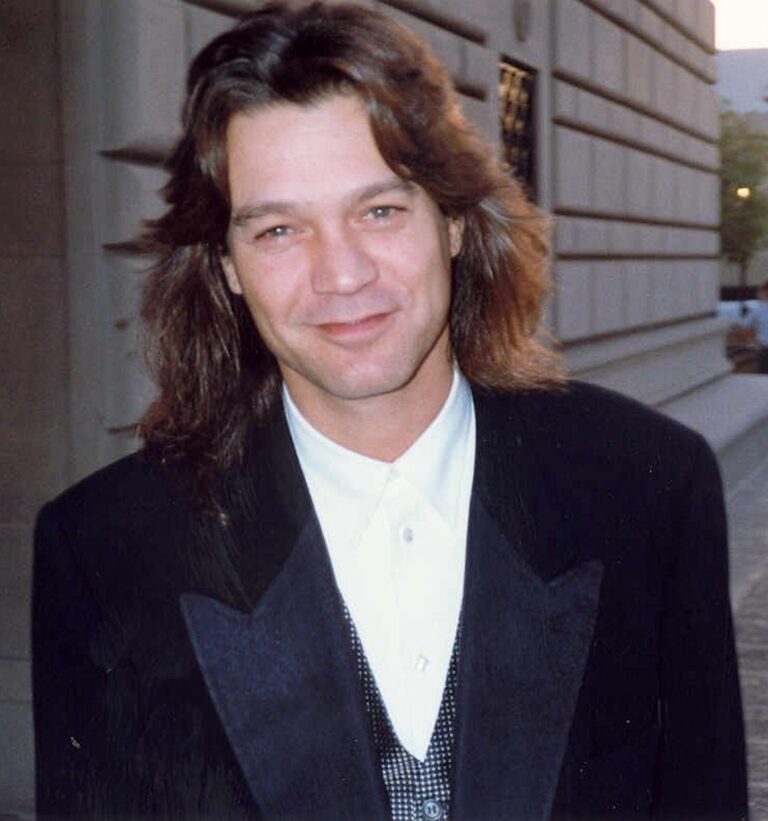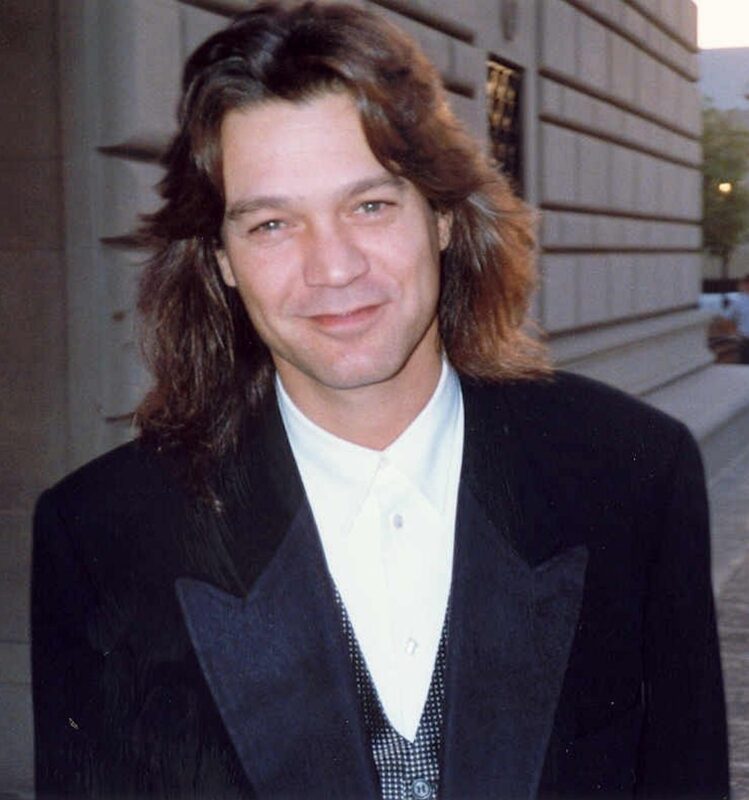 Eddie was born Dutch in Amsterdam, the Netherlands, as Edward Lodewijk Van Halen. He was born in 1955, on 26th January. Eddie spent his first seven years in the Netherlands but moved to America with his family in 1962. The family settled in Pasadena, California, and Eddie and his brother attended a mixed elementary school there.

Eddie and Alex could play the piano at age six despite not being adequately trained in music. This wasn't unusual as Eddie and Alex's father was a Dutch jazz pianist, clarinetist, and saxophonist before the family's relocation to Pasadena.

Eddie initially bought a drum while Alex got a guitar. However, after seeing Alex's drum performance, he gave him the drums and decided to stick to the guitar. Afterward, the duo formed their band with three other boys, called The Broken Combs. They mostly played clubs and backyard parties in L.A.

A couple of years later, the band's name changed to Mammoth, but they had to drop the name because another group had already adopted the name. The brothers decided to settle for Van Halen as a band name. Eddie had said, "there can't be a better name to describe what we do."

Van Halen was a tremendously popular band and constantly played clubs. The band released the Van Halen album in 1978, which hit it off immediately. It featured some of their top-rated songs like "Runnin with the Devil" and The Kinks' "You Really Got Me."
The band's biggest single hit was Jump. It has had over 84 million views on Youtube since its upload in 2017.

After its release in 1984, it spent five weeks at No. 1 on the Billboard charts.
Van Halen released 12 albums together, but Eddie had other solo collaborations with individuals and firms, further accentuating his career.

In 1992, Van Halen won the Grammy Award for Best Hard Rock Performance.
Eddie played the solo on Michael Jackson's Beat It. It was a favor, so he refused to accept payment for it. After the song was released, it became Record of the Year.

Eddie had his fair share of health difficulties, from hip replacement to two different kinds of cancer.

In 1999, Eddie underwent hip replacement surgery. The following year, he began to receive treatment for tongue cancer. He was announced cancer-free in 2002 after losing about one-third of his tongue.

Again, in 2019, he was hospitalized for treatment for throat cancer. He had struggled with it for five years before his announcement in 2019. This time, he didn't survive cancer, and he died at 65.

Eddie was married twice. His first marriage ended in 2007 while he remained married to his second wife, Janie Liszewski, till his death.
Eddie Van Halen's Net Worth
Most of Eddie's fortune is believed to have come from the raving success Van Halen turned out to be. Evidently, Van Halen was one of the best-selling bands across the world.
His wealth also came from selling his custom-made guitars and other collaborations and royalties.

He also owned a 10,000 square feet home where he lived until his death. 5150 studios, where they produced most of their songs, was part of the property. Before his death, his fortune was estimated to be worth $100 million.
Lessons from the Life of Eddie Van Halen
There is More to You.

"Continuously innovate and improve" ~ Eddie Van Halen.

Eddie was big on personal improvement. From his teenage years until his career peaked, he was passionate about using different devices to create distinct sounds from his instruments.

His outstanding success directly results from his innovative nature and quest for personal growth.

Do Something New

"To hell with the rules. If it sounds right, then it is." ~ Eddie Van Halen.

Eddie was never scared to break out of stereotypes. He understood the importance of change. As such, he wasn't scared to try new things when what he was presently doing was no longer relevant. This is why he remains one of the best rock-guitarists throughout history.