Last Updated on January 20, 2022
With a lot of aesthetic styles on the horizon, there's one that shines like a supernova at the moment. eGirl, a new subculture made its way from TikTok meme to a stable aesthetic movement.
The term is a combination of "E" (as in "Electronic" or Internet Explorer logo) and "Girl". To briefly explain it's a young and emotional teen who has developed an online alter ego. Because that's where eGirls live: online.
This aesthetic subculture is drawing so much attention these days because it's purely digital-based. Hashtag eGirl got over a billion views on TikTok and nearly 700 000 on Instagram. eGirl style is achievable by a combination of late 10's Tumblr aesthetic styles like Pastel Goth, Grunge Fashion and Korean Ulzzang.
Aesthetic clothing is definitely playing a huge role but the true core of an eGirl style is based around makeup.
In this guide, we will share some tips for eGirl outfits, aesthetic accessories, and makeup.
#eGirl outfits
eGirl style isn't tightly bound to any specific clothing type as many other non-digital aesthetic subculture styles and that's actually a huge advantage and the reason the movement got so much attention. The pure freedom of creating your own eGirl style.
Imagine Pastel Goth style, and then change "goth" for "emo" for excluding darkness and changing it for baby-girl emotionality and over-grunge every aspect. That's like a short recipe for this aesthetic and a place to start.
eGirl look is often based on clothing layering, which was taken from Korean "Ulzzang" fashion, or "Hime gyaru" from Japan, and the infamous Harajuku of Central Asia. (They are also called Kawaii Fashion.)
A combination of striped long sleeves with grunge tees in eGirl outfits are also came from 2018s eGirl TikTok image.
if you are up to refresh your wardrobe and looking for eGirl outfits, aesthetic clothing, and accessories – we definitely advise you to check out itGirl Shop, an online aesthetic boutique with over 5k reviews. Use coupon "STBBG" for 10% off the entire order.
Oversized t-shirts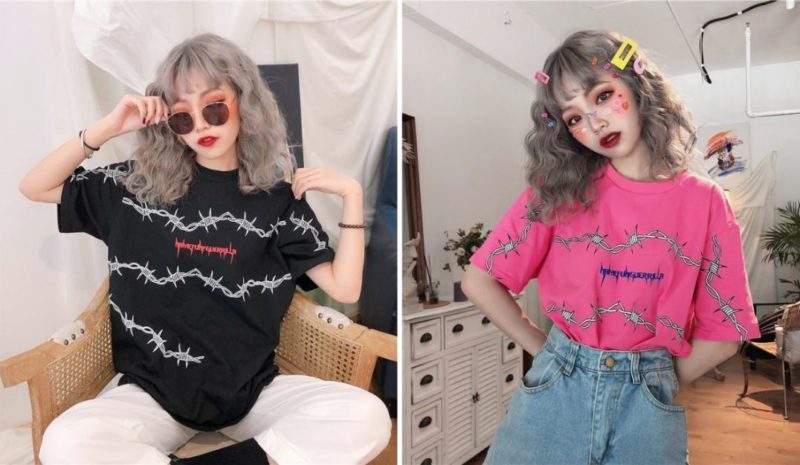 Oversized grunge t-shirts are always a win-win. Depending on your look concept it may become a cornerstone of your outfit. Dark and witchy tees will bring you closer to Pastel Goth while soft and artsy ones will give your look a gentle touch.
Band t-shirts were the part of mid-2018 TikTok eGirl image and they may still work well depending on your concept. Be smart with quotes and meme tees because you do not aim for a silly look.
Vaporwave and anime t-shirts
Vaporwave style is becoming more and more visible in the modern aesthetic culture and using it in your advance may help you build your look. Its electronic synths feel will definitely enhance your overall look.
In combination with anime-related apparel, it will create an intersection of strong irony and total seriousness.
Cropped and mesh tops
Cropped tops were always a "sexy" part. It's like a NON-secret weapon.
The early history of the crop top started way back in the 1930s and they were classified as swimwear until the sexual revolution of the late 1960s.
Tumblr re-invent them as an aesthetic meta in the early 10s by creating an image of hypersexualized teen aesthetic, which also borrows from kawaii fashion and anime culture.
As for today, cropped tops became a stable part of soft grunge aesthetic. Cropped tops may add a vintage feel or extreme baby-cuteness to your eGirl look.
If you're looking for cheap and trendy aesthetic clothing, accessories, and decor items – check out the catalog of best Aliexpress fashion finds Aesthetic Feed.
Grunge plaid skirts
Even though the grunge movement died down in 1994, designers all over the world have continued to draw inspiration from the movement. Grunge appeared as a trend again in 2008-2010 and quickly became a part of Tumblr aesthetic.
School pretty plaid printed skirts are like a meta of grunge aesthetic nowadays. Additional punk-influenced cable and flat link chain accessories and belts will surely turn you into a grunge goddess.
#eGirl soft makeup
Soft Girl MakeUp here is playing the most important role.
Baby pink nose, scarlet cheeks, strong taffy eyeshadows, and sun freckles (even the fake ones) are an indication of youth and emotionality in your look. This is a stable base of an eGirl makeup.
The deficiency of a base may end up as the whole style will slip away. Mix the feelings with "baby-quality" and be smart BBG.
Cat-eye, cut crease, and winged eyeliner are the part of TikTok eGirl aesthetic image but it isn't that crucial to use it every time. You are free to experiment with your makeup.
Another thing which came from TikTok is a small black hearts drawing below the eyes which is an indication of eGirl meme image, but again, as eGirl aesthetic is still developing and every time you publish your eGirl selfie on Instagram or Pinterest – you are playing your part in it. Have the courage to experiment bae.
Temporary tattoos, cute stickers, your own drawings can help you achieve your goal. Try not to over-do with makeup and face accs. If your end-goal is a semi-cosplay look then go for it, if you are aiming for a BB-girl style then know the line that you shouldn't cross.
#eGirl accessories
Accessories are the easy part here, as well as the tricky one.
If your end-goal concept is grunge AF then definitely use chain necklaces and 80s aesthetic waist accessories. If your goal is a soft "baby-quality" vibes – try vintage black chokers and soft pastel candy accs.
Cute hairpins and similar accessories will do. The more "babyness" – the better. But do not over-do with accessories. Every element must be a part of a concept.
Transparent chokers, belts, backpacks, and handbags may work well with soft and pastel color accessories. The same goes for holographic stuff.
As for glasses – clear frame and transparent soft color sunglasses are your goals here because they won't hide your amazing makeup and your face too much. Vintage looking glasses may enhance your overall grunge concept.