Being a woman is challenging enough on its own – but to be a woman of the White House, even more so. However, equal rights champion Eleanor Roosevelt proved to the world that it can be done. She was the candle whose light shone all around the world.
As one of the most memorable and influential First Ladies of the White House, Eleanor was involved not only in politics, but also in various humanitarian causes. Learn more about the woman who chose to become the light in places where there's only darkness.
Eleanor Roosevelt: Early Years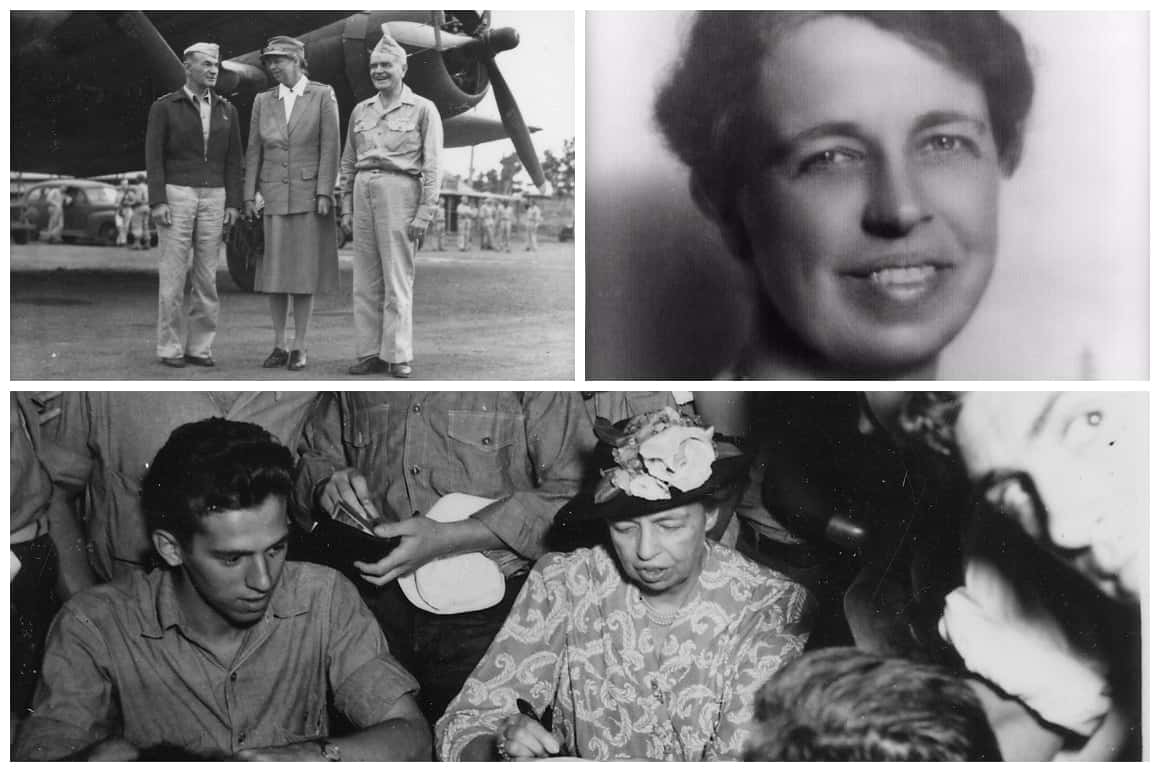 Anna Eleanor Roosevelt was born in 1884 at 56 West 37th Street in Manhattan, New York City to parents Elliott Bulloch Roosevelt (younger brother of Theodore Roosevelt, 26th President of the United States) and Anna Rebecca Hall (American socialite).
Although born to immense wealth and influence, Eleanor (as she liked to be called) suffered the loss of her parents at an early age. After losing her mother and younger brother Elliott Jr. to diphtheria, her alcoholic father would die from a seizure less than two years later. She would act as mother to younger brother Gracie Hall while attending to her own studies. They would live with their grandmother, Mary Livingston Ludlow, in Tivoli, New York.
When she was sent to study at Allenswood Academy in England at age 15, Eleanor Roosevelt went under the mentorship of headmistress Marie Souvestre. Marie encouraged social responsibility and independence for young women. When she returned to America, Eleanor became active in various social reform works, before marrying Franklin Roosevelt, her fifth cousin once removed.
When Franklin Roosevelt was sworn into office in 1933, Eleanor was at first reluctant to become First Lady. After all, she knew that she might lose her autonomy as well as her time to pursue the different social issues she cared about. Still, she decided to take on an active role as her husband's supporter.
Eleanor Roosevelt traveled all over the United States to visit government institutions and other facilities. She was one of the early advocates for civil rights for African Americans, women's rights, American workers, poor people, and children. She acted as her husband's eyes and ears in a time of economic recovery.
Eleanor Roosevelt and Her Legacy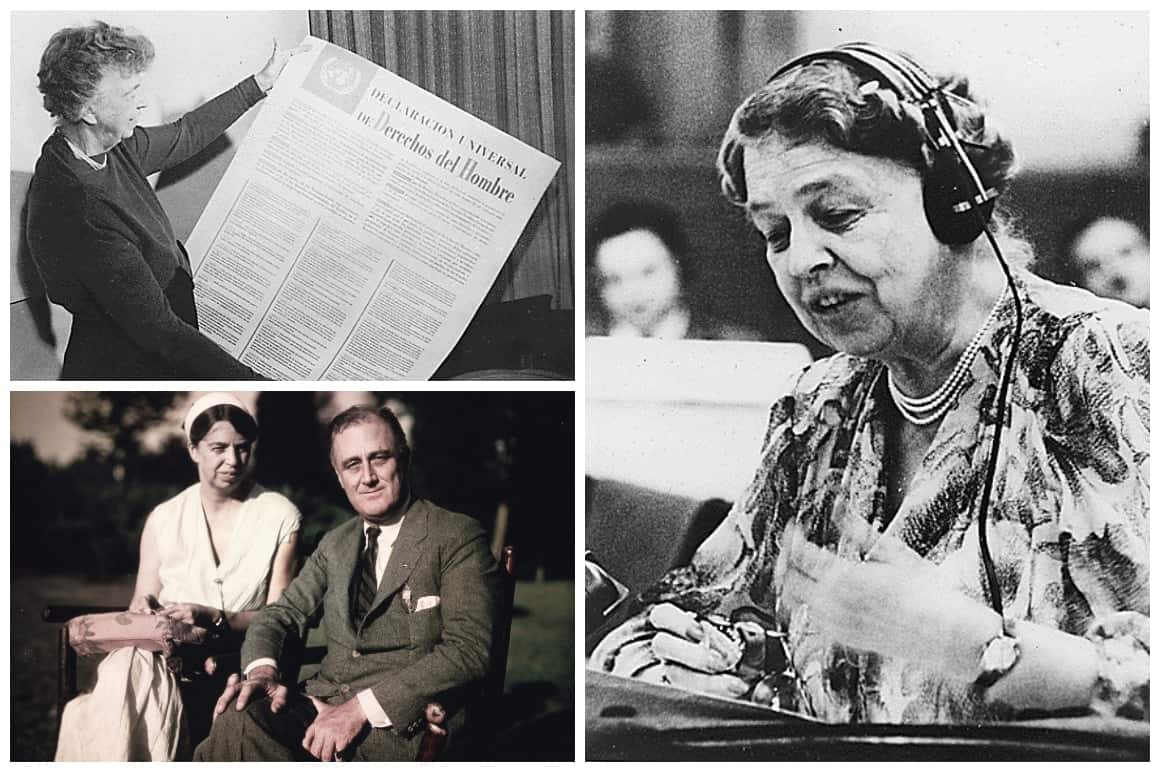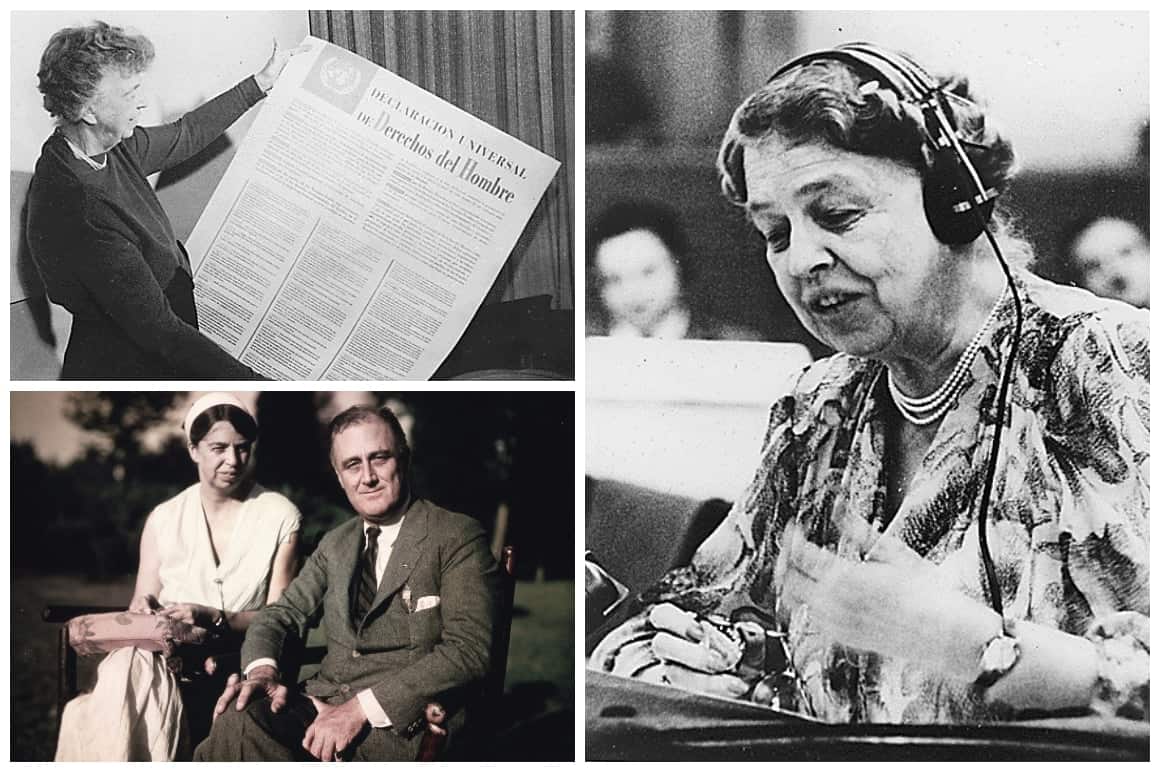 Even after her role as a First Lady, Eleanor Roosevelt never stopped working. In 1945, she would be appointed by then President Harry S. Truman as a delegate to the United Nations General Assembly. She was among those who played an active role in drafting the Universal Declaration of Human Rights (UDHR).
She also supported programs for children and women. Eleanor also gave lectures, wrote on a newspaper column, and even appeared on television and radio broadcasts. When she finally passed away on November 7, 1962, at the age of 78 (due to cardiac arrest), people everywhere mourned her loss.
The next day, late President John F. Kennedy ordered all United States flags lowered to half-mast throughout the world to pay her tribute.
Be inspired by the woman who transformed the role of First Ladies forever. Here are some of the most moving Eleanor Roosevelt quotes to live by.
Inspirational Eleanor Roosevelt Quotes
"You can never really live anyone else's life, not even your child's. The influence you exert is through your own life, and what you've become yourself." – Eleanor Roosevelt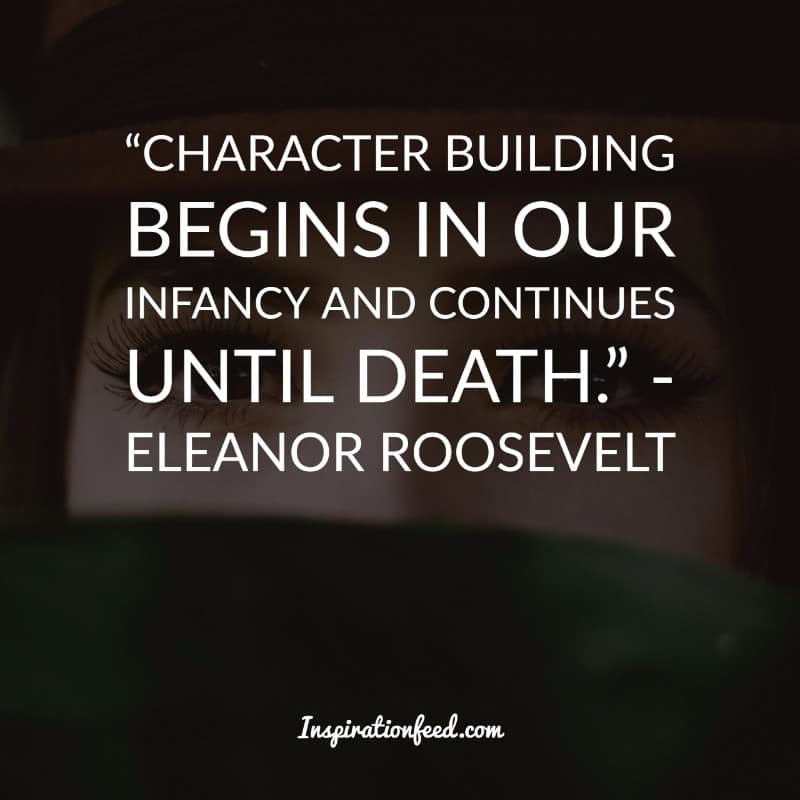 "Character building begins in our infancy and continues until death." – Eleanor Roosevelt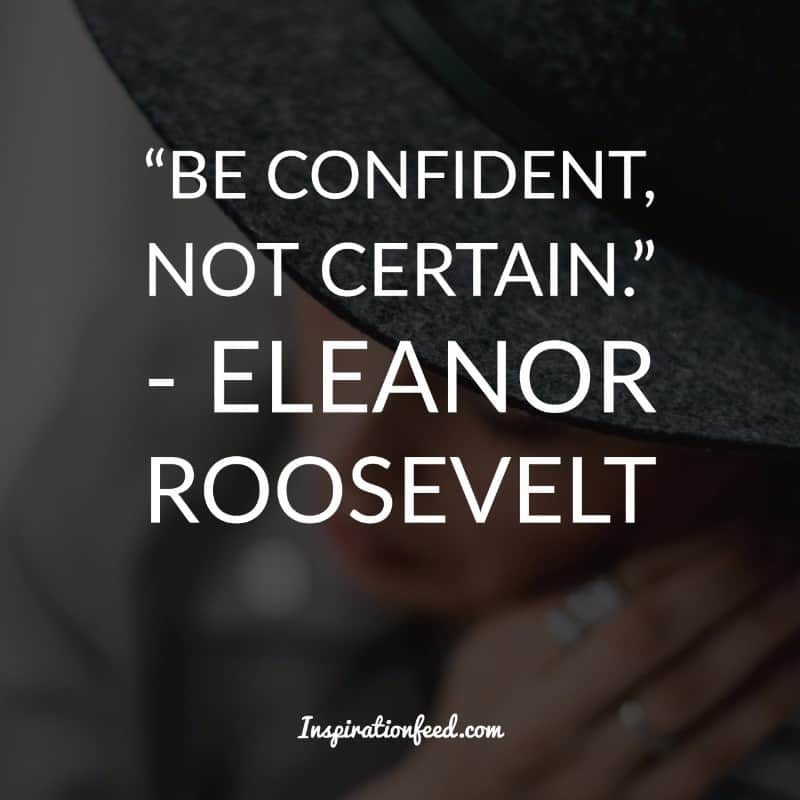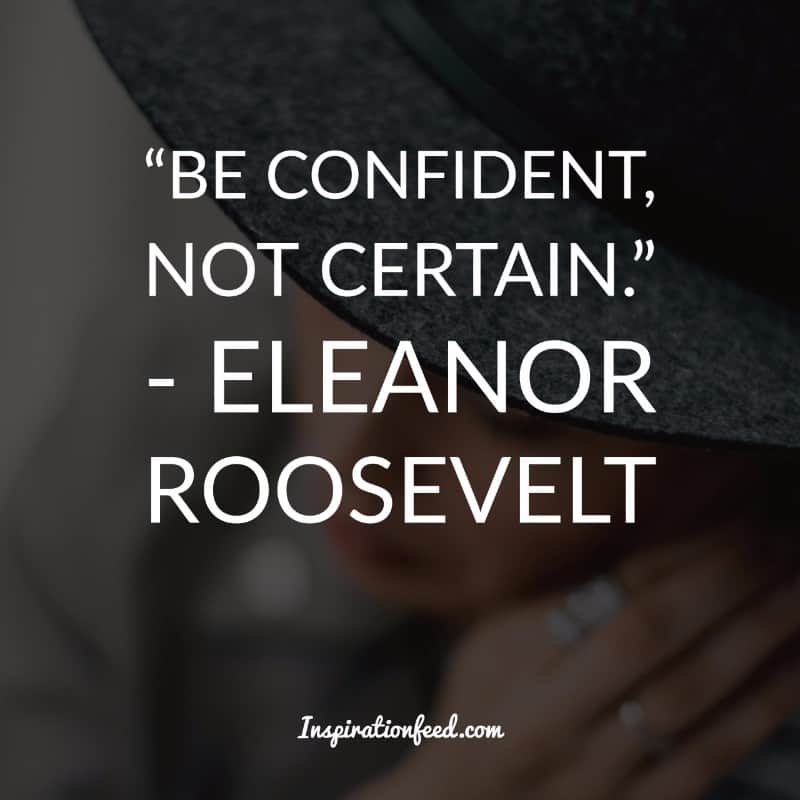 "Be confident, not certain." – Eleanor Roosevelt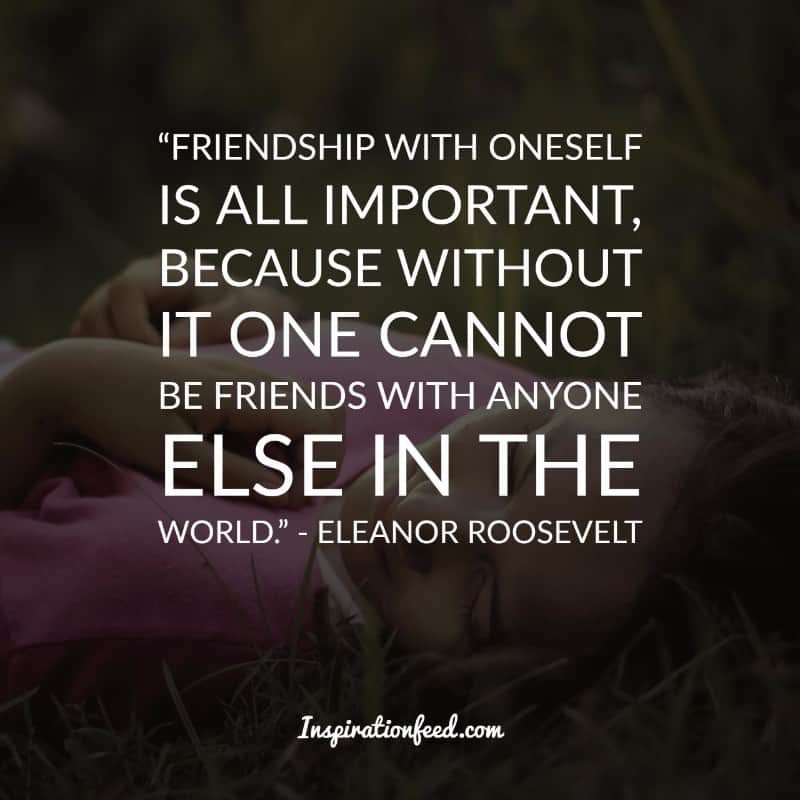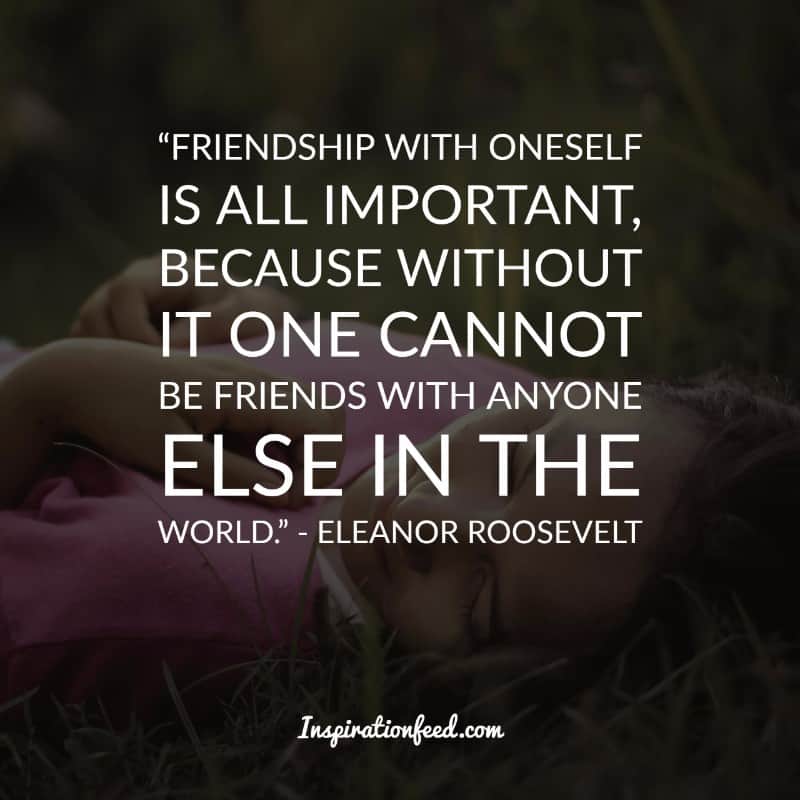 "Friendship with oneself is all important, because without it one cannot be friends with anyone else in the world." – Eleanor Roosevelt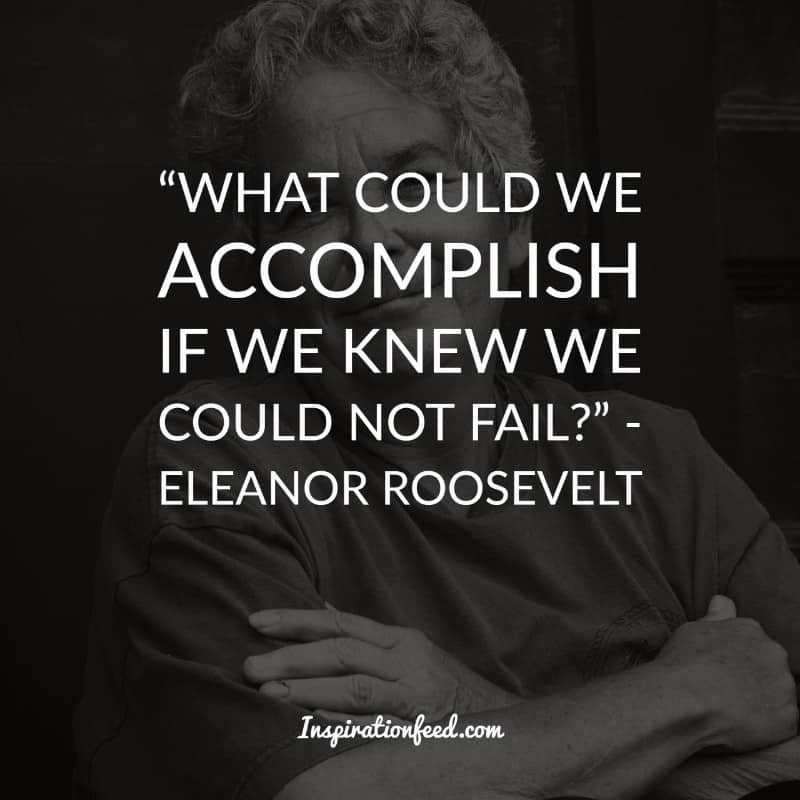 "What could we accomplish if we knew we could not fail?" – Eleanor Roosevelt
"It is not fair to ask of others what you are not willing to do yourself." – Eleanor Roosevelt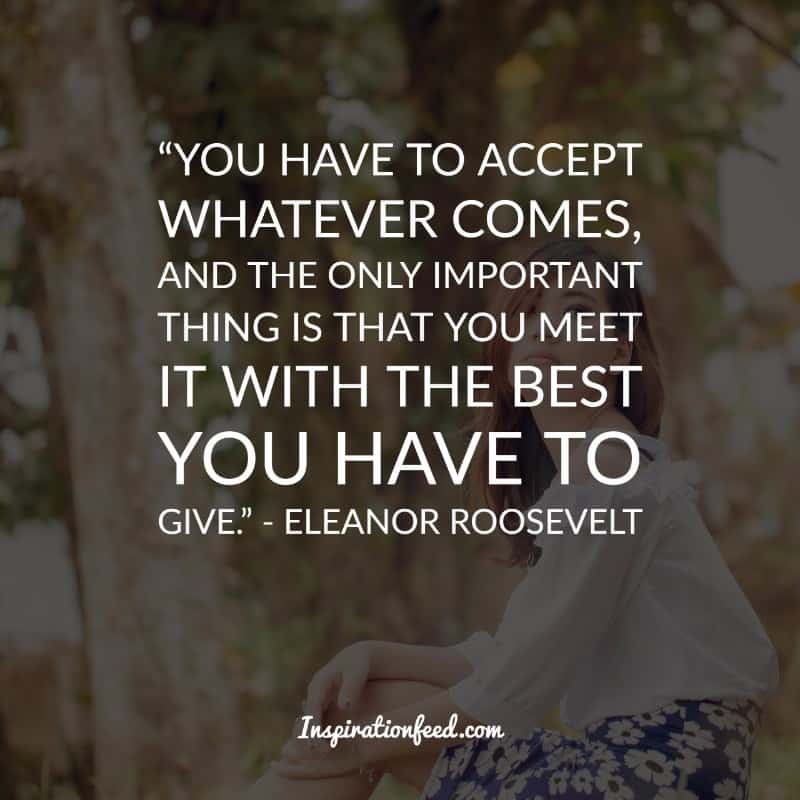 "You have to accept whatever comes, and the only important thing is that you meet it with the best you have to give." – Eleanor Roosevelt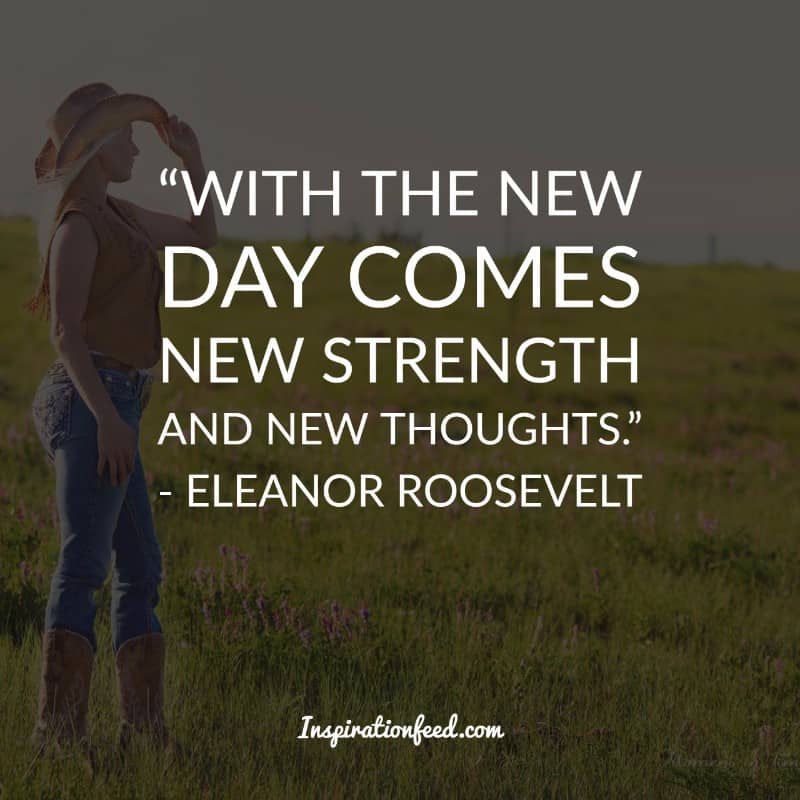 "With the new day comes new strength and new thoughts." – Eleanor Roosevelt
"No one can make you feel inferior without your consent." – Eleanor Roosevelt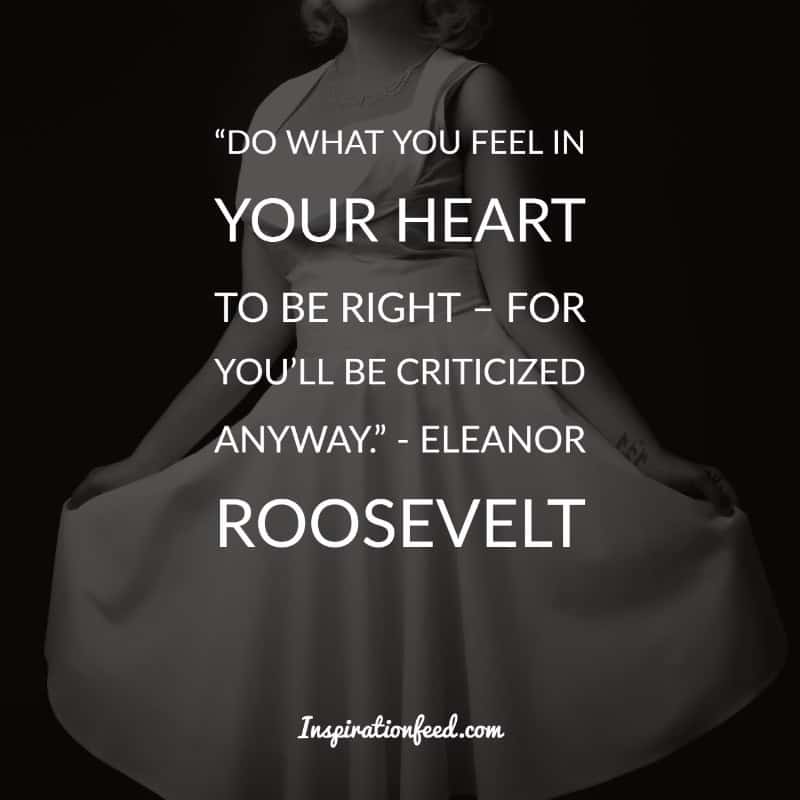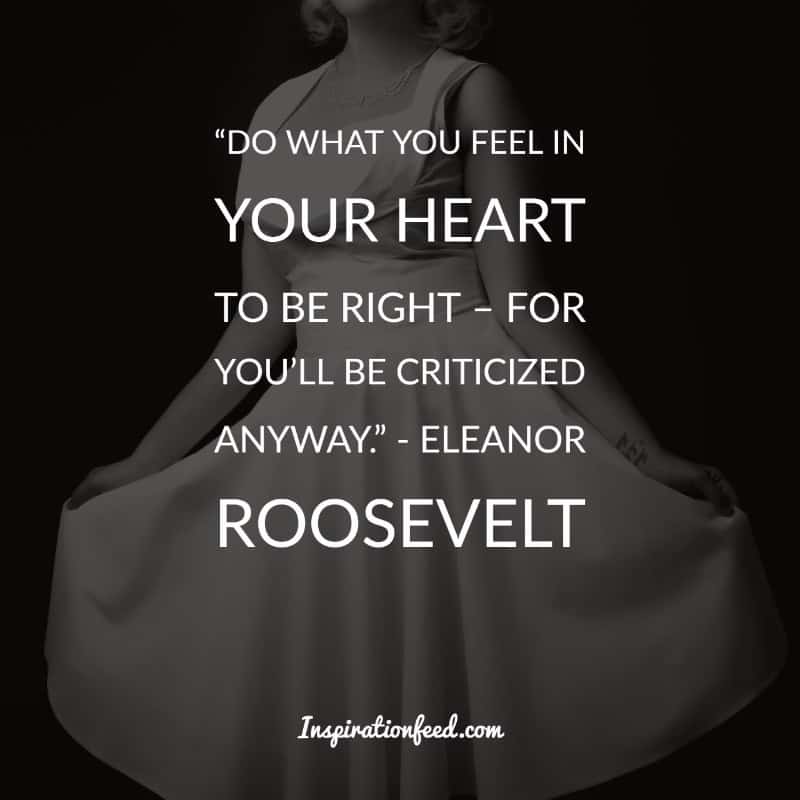 "Do what you feel in your heart to be right – for you'll be criticized anyway." – Eleanor Roosevelt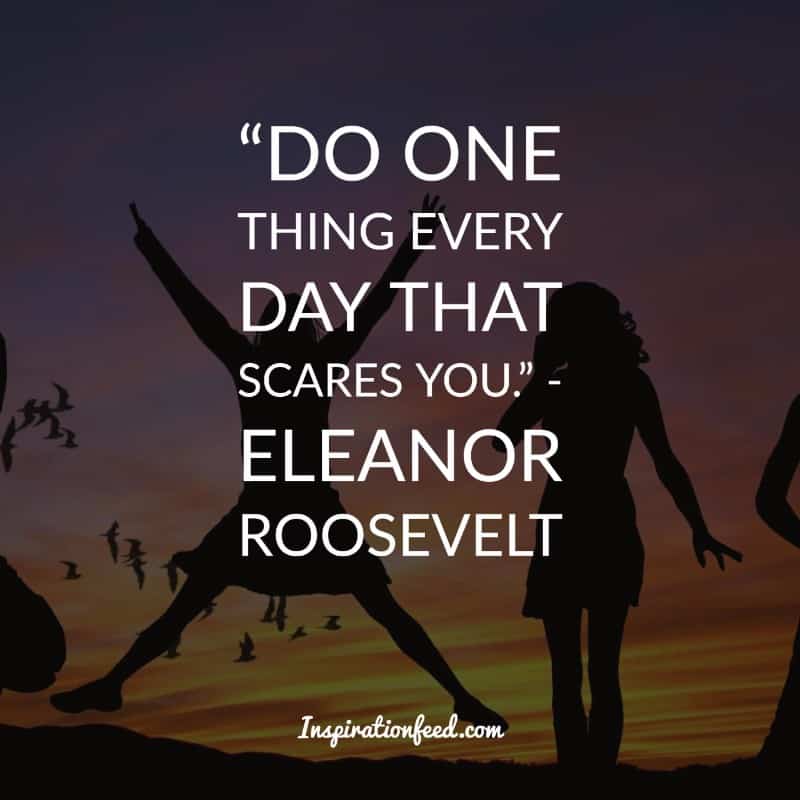 "Do one thing every day that scares you." – Eleanor Roosevelt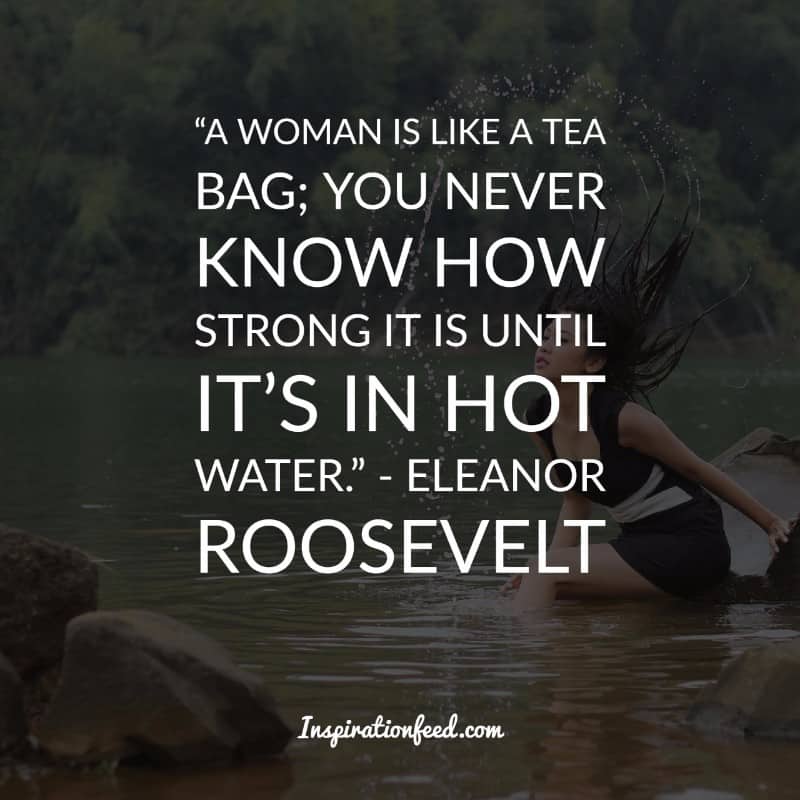 "A woman is like a tea bag; you never know how strong it is until it's in hot water." – Eleanor Roosevelt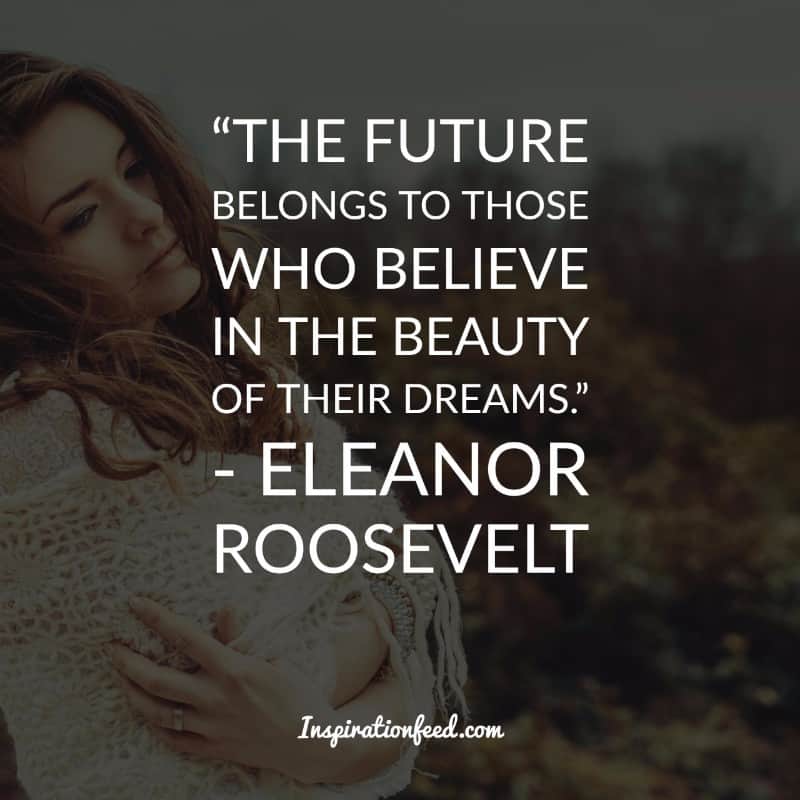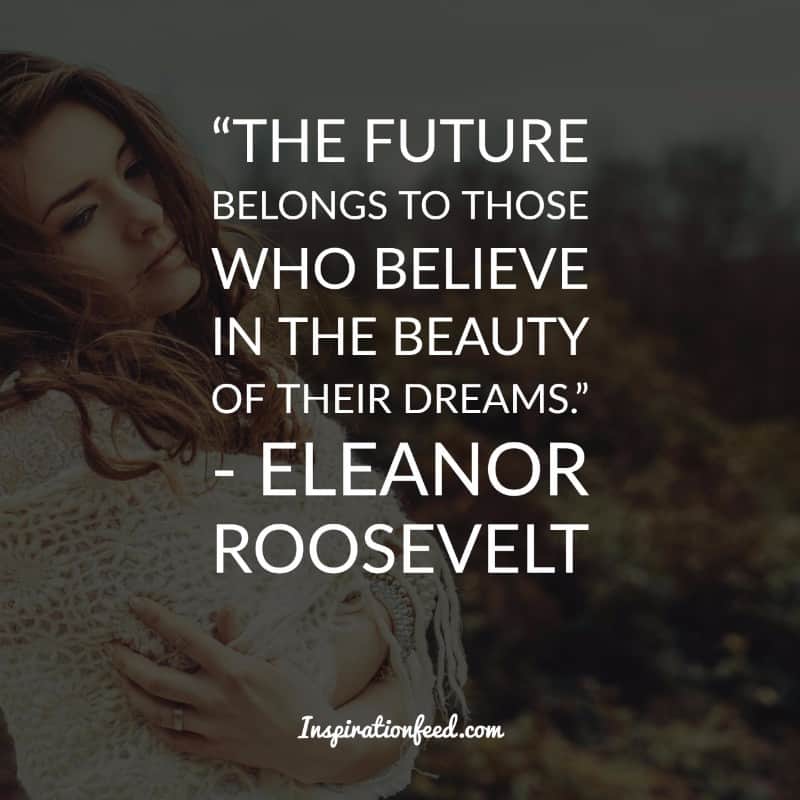 "The future belongs to those who believe in the beauty of their dreams." – Eleanor Roosevelt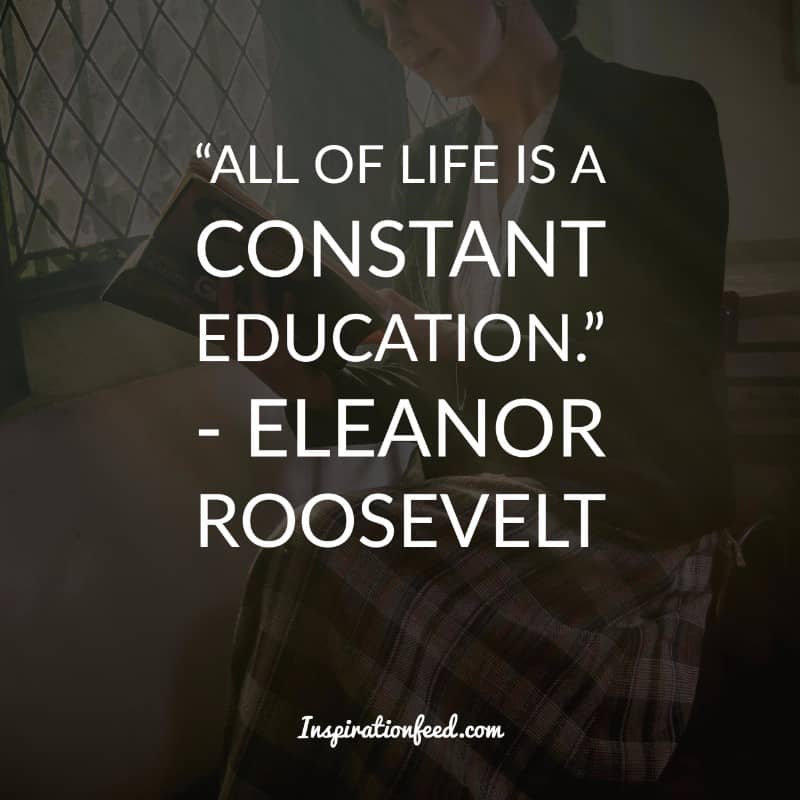 "All of life is a constant education." – Eleanor Roosevelt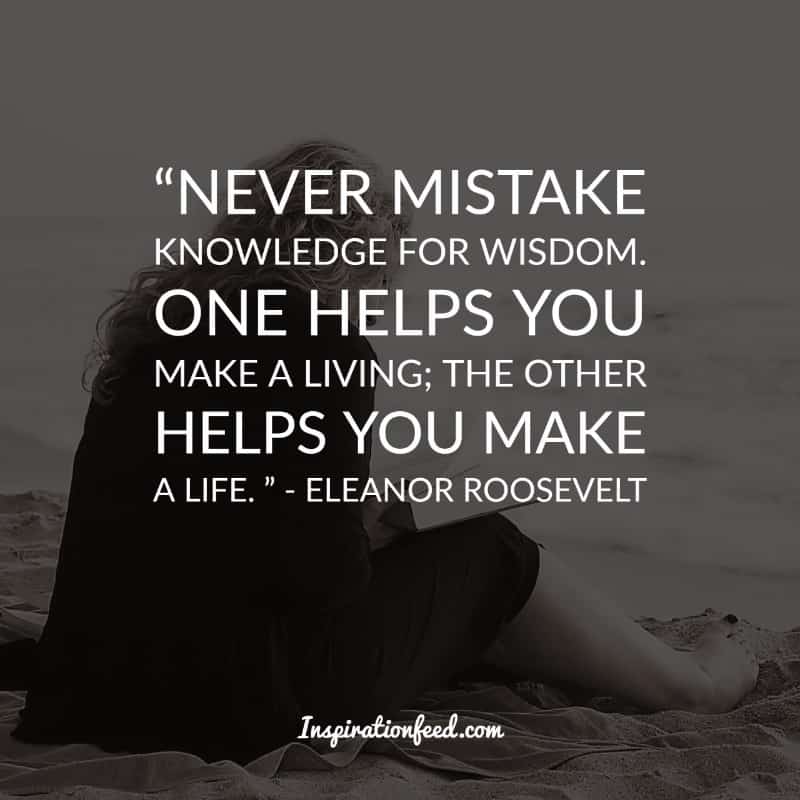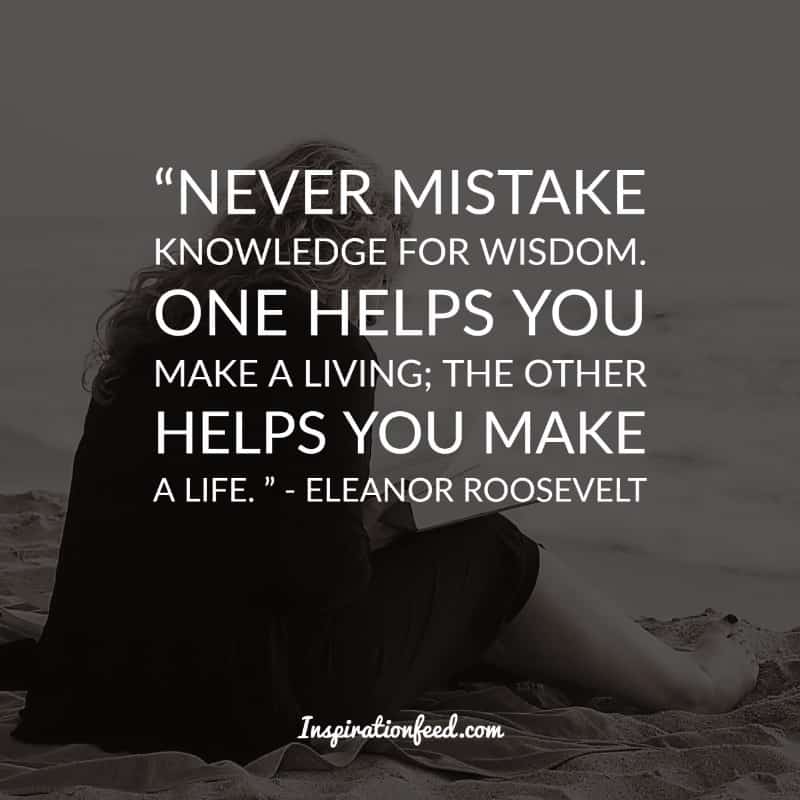 "Never mistake knowledge for wisdom. One helps you make a living; the other helps you make a life. " – Eleanor Roosevelt
"It is better to light a single candle than to curse the darkness." – Eleanor Roosevelt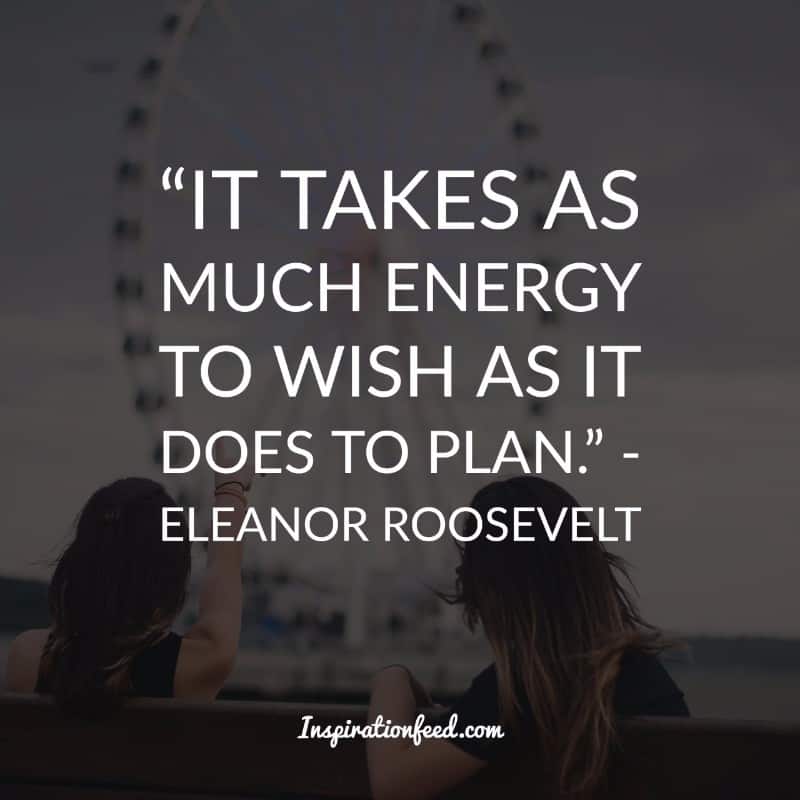 "It takes as much energy to wish as it does to plan." – Eleanor Roosevelt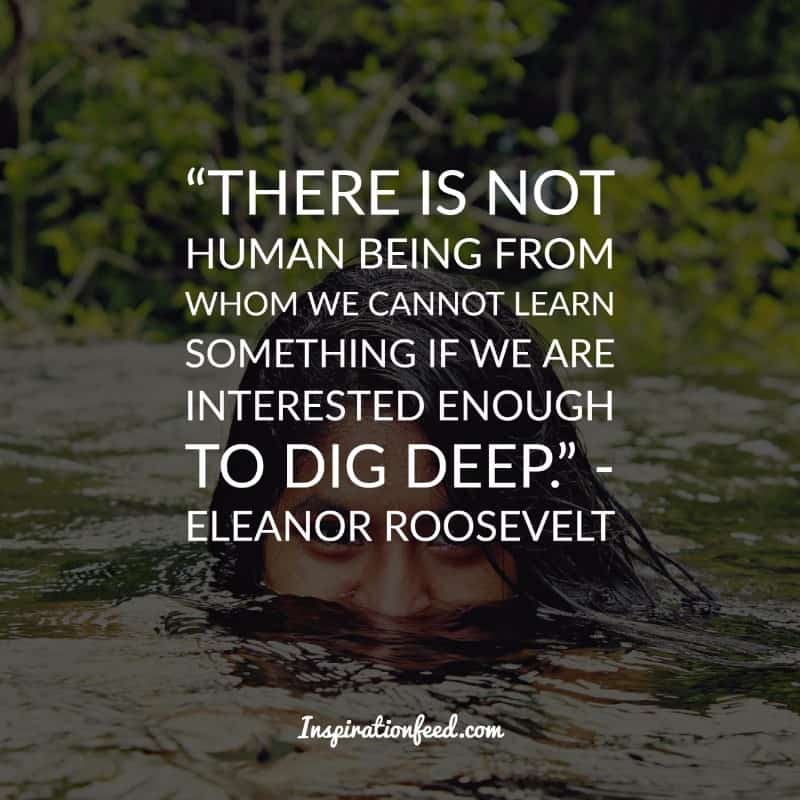 "There is not human being from whom we cannot learn something if we are interested enough to dig deep." – Eleanor Roosevelt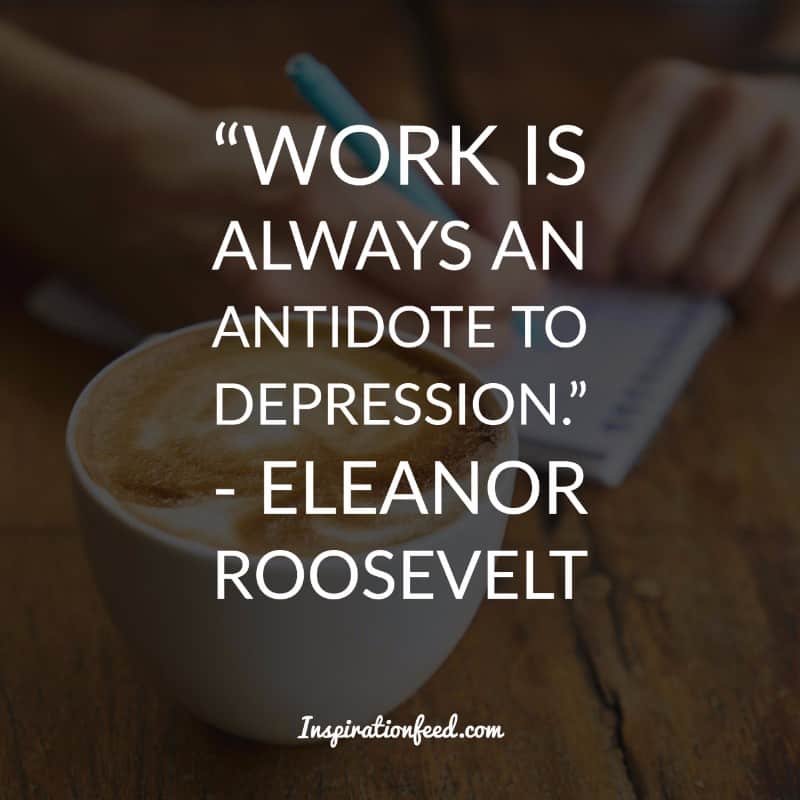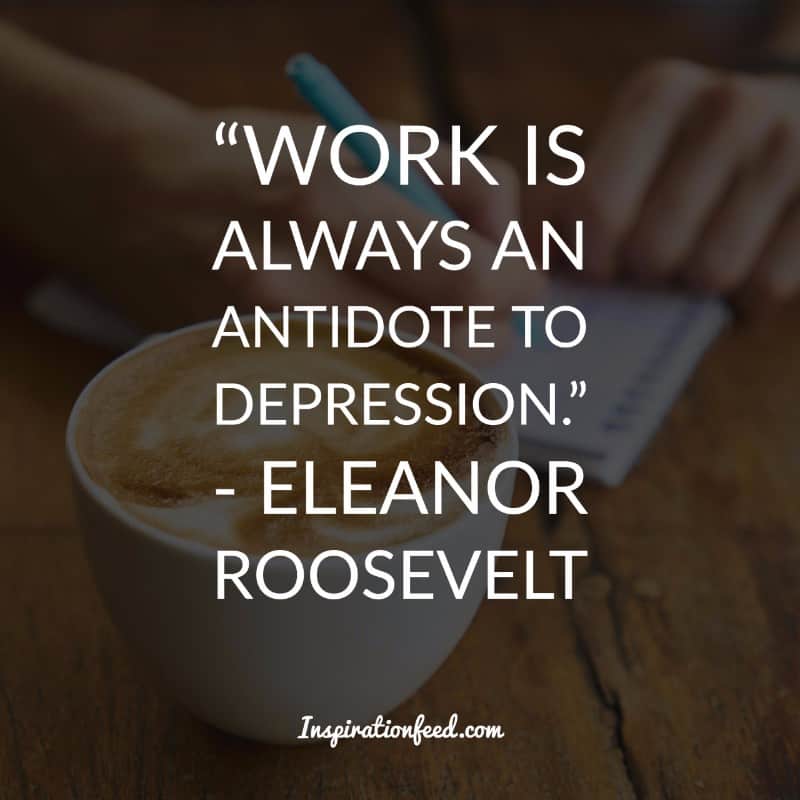 "Work is always an antidote to depression." – Eleanor Roosevelt
"I think that somehow, we learn who we really are and then live with that decision." – Eleanor Roosevelt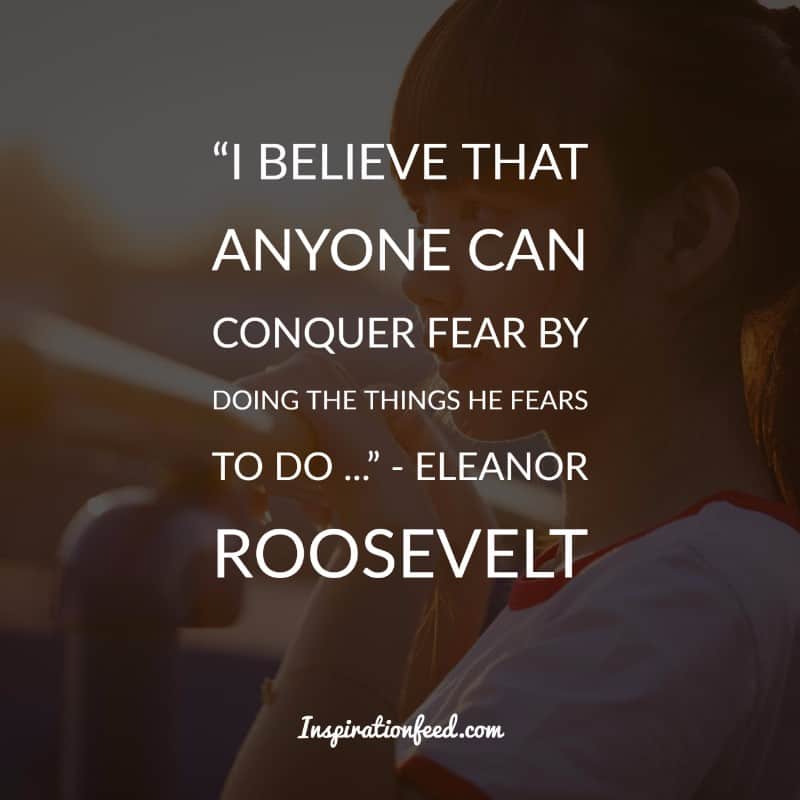 "I believe that anyone can conquer fear by doing the things he fears to do …" – Eleanor Roosevelt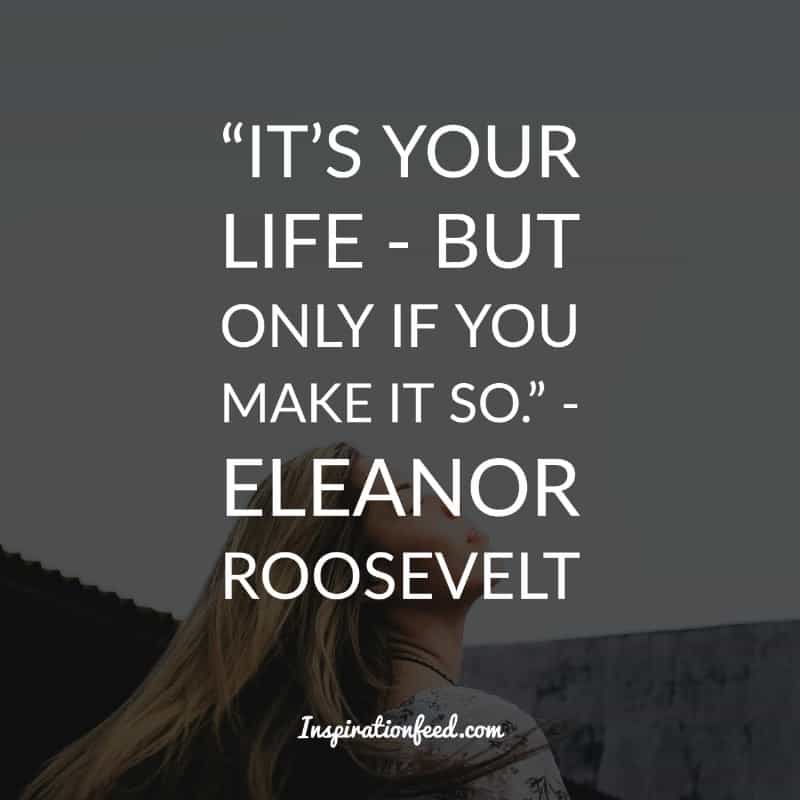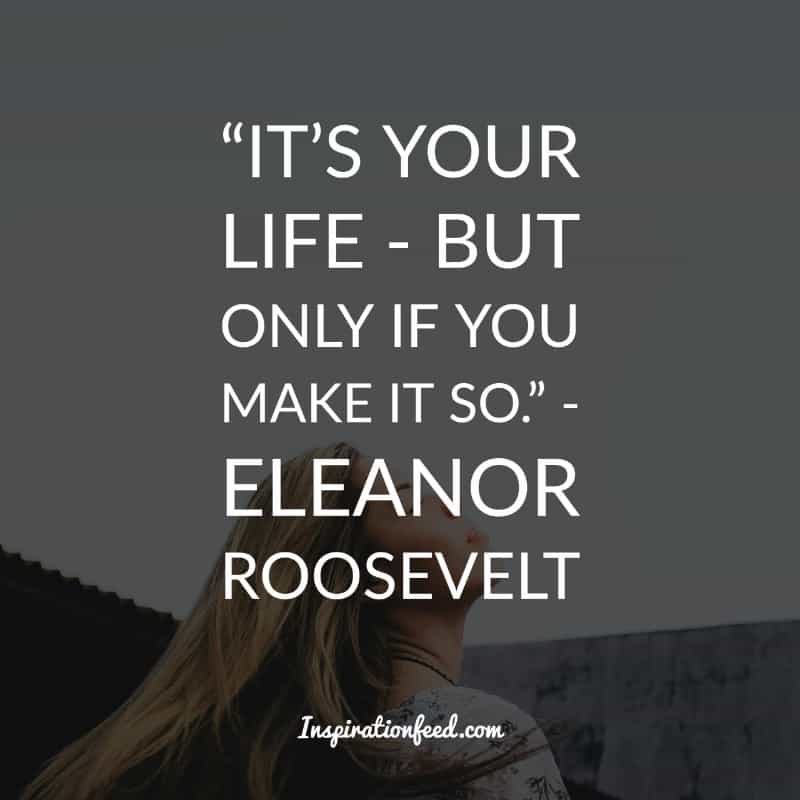 "It's your life – but only if you make it so." – Eleanor Roosevelt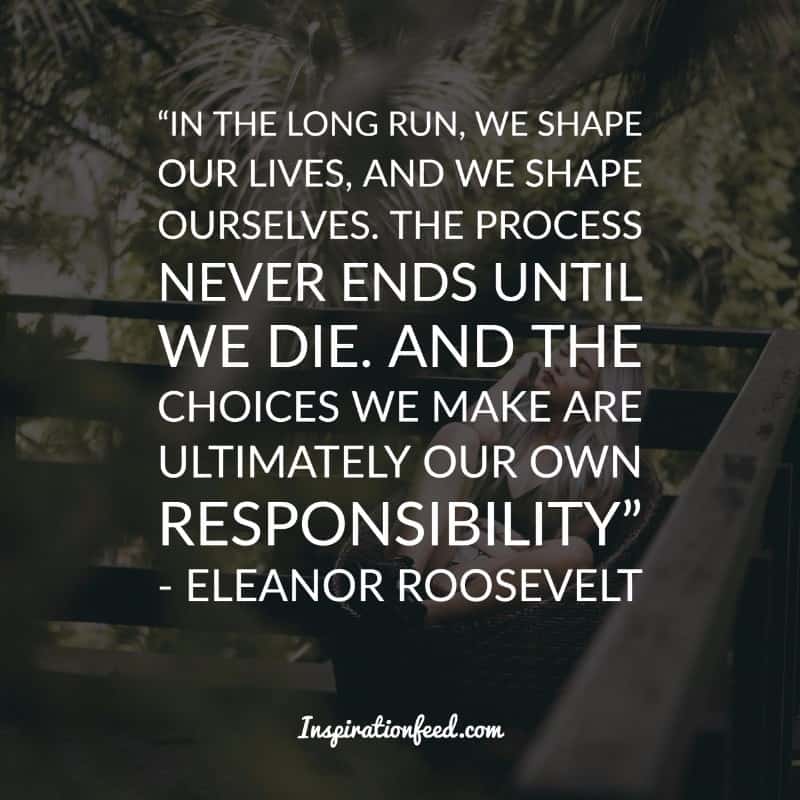 "In the long run, we shape our lives, and we shape ourselves. The process never ends until we die. And the choices we make are ultimately our own responsibility" – Eleanor Roosevelt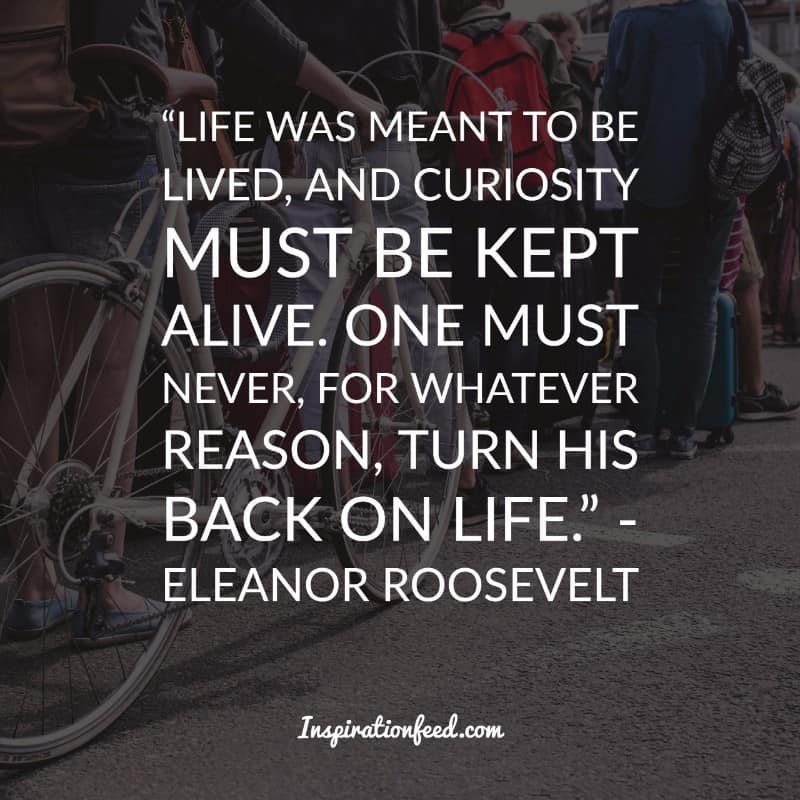 "Life was meant to be lived, and curiosity must be kept alive. One must never, for whatever reason, turn his back on life." – Eleanor Roosevelt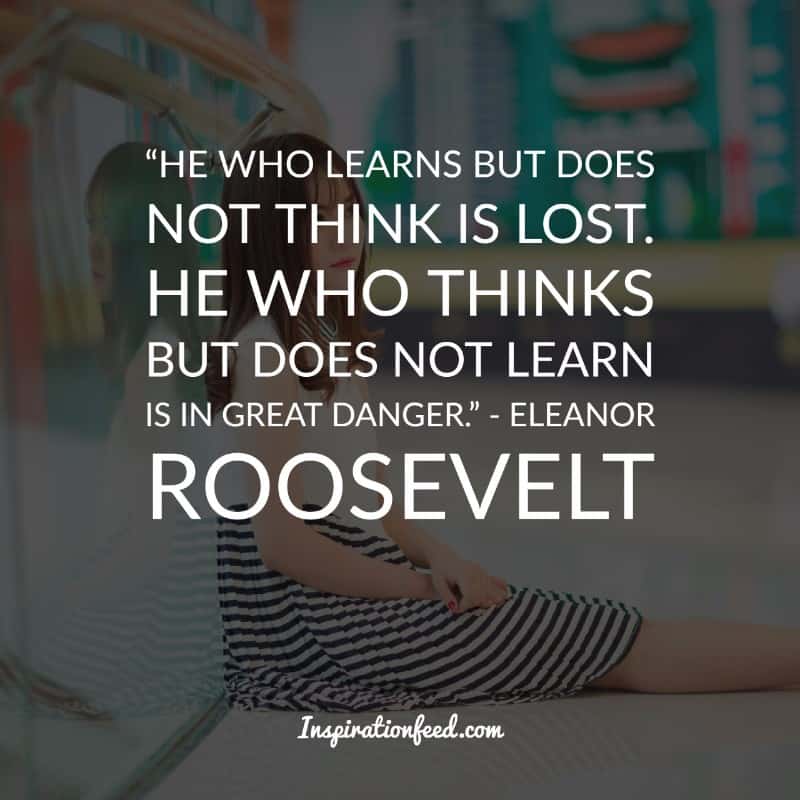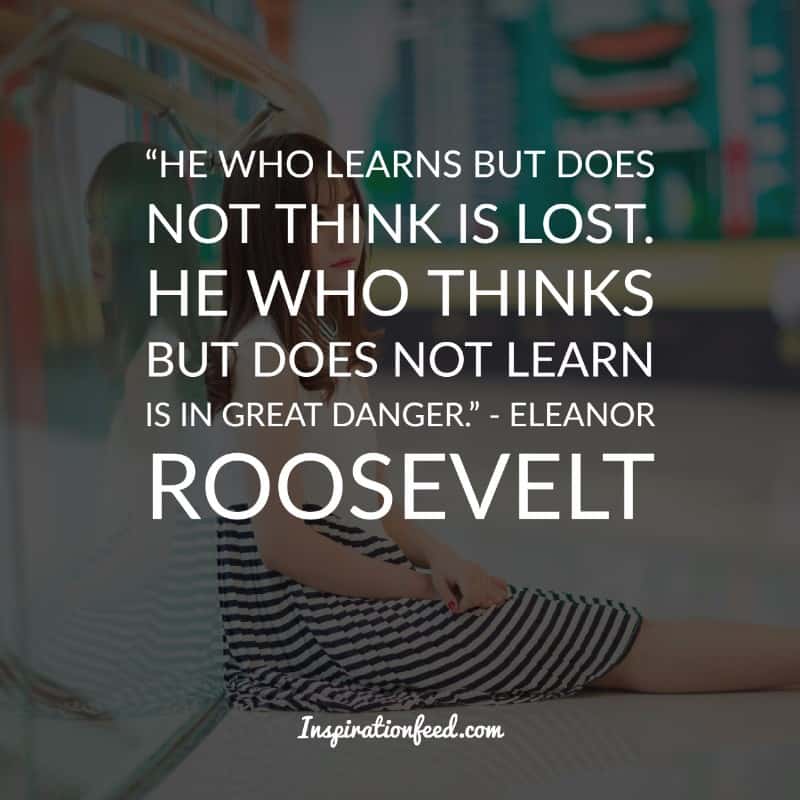 "He who learns but does not think is lost. He who thinks but does not learn is in great danger." – Eleanor Roosevelt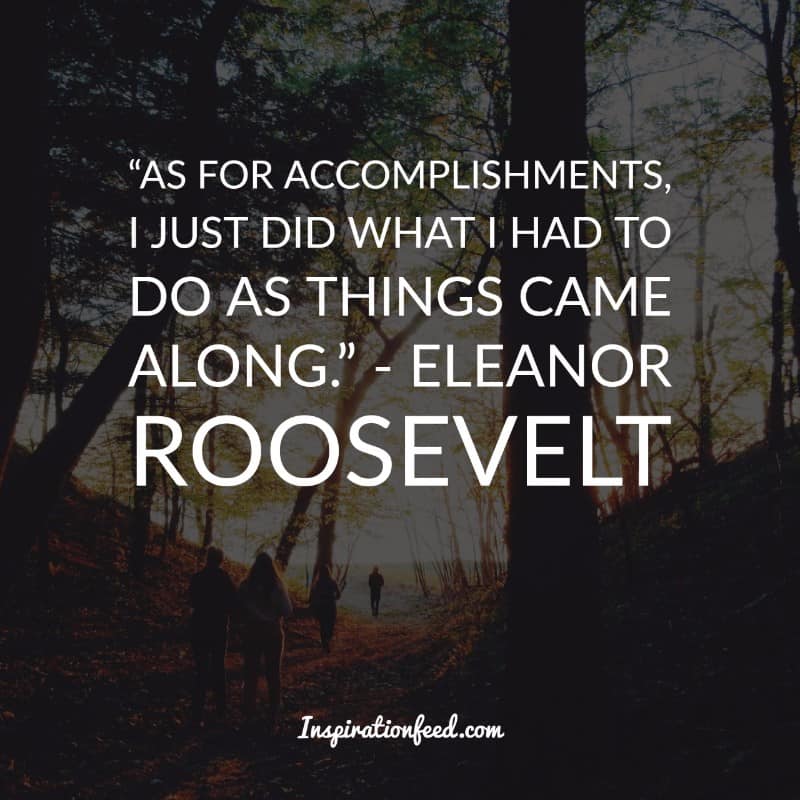 "As for accomplishments, I just did what I had to do as things came along." – Eleanor Roosevelt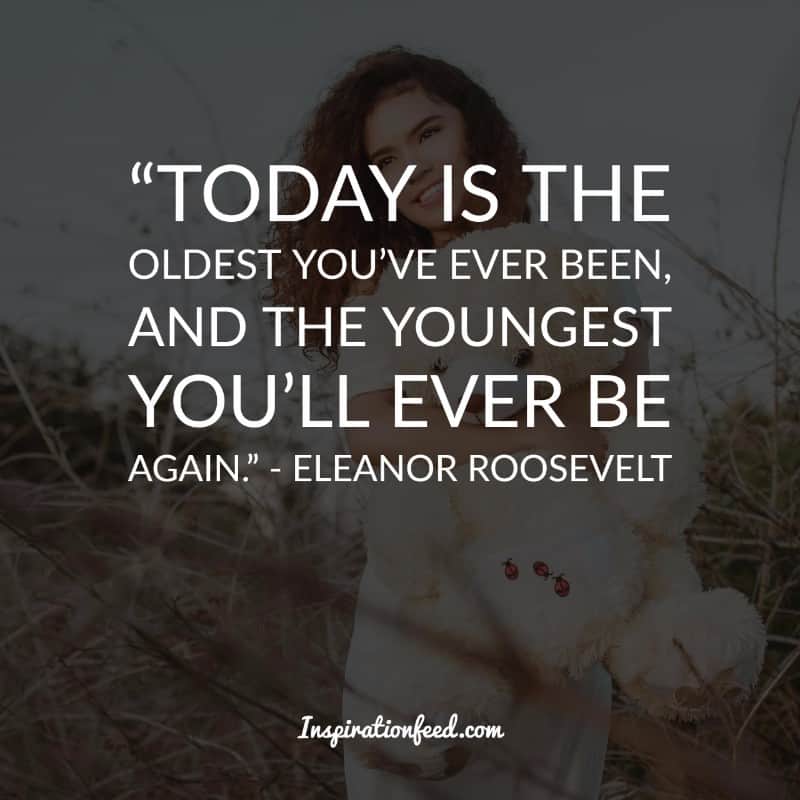 "Today is the oldest you've ever been, and the youngest you'll ever be again." – Eleanor Roosevelt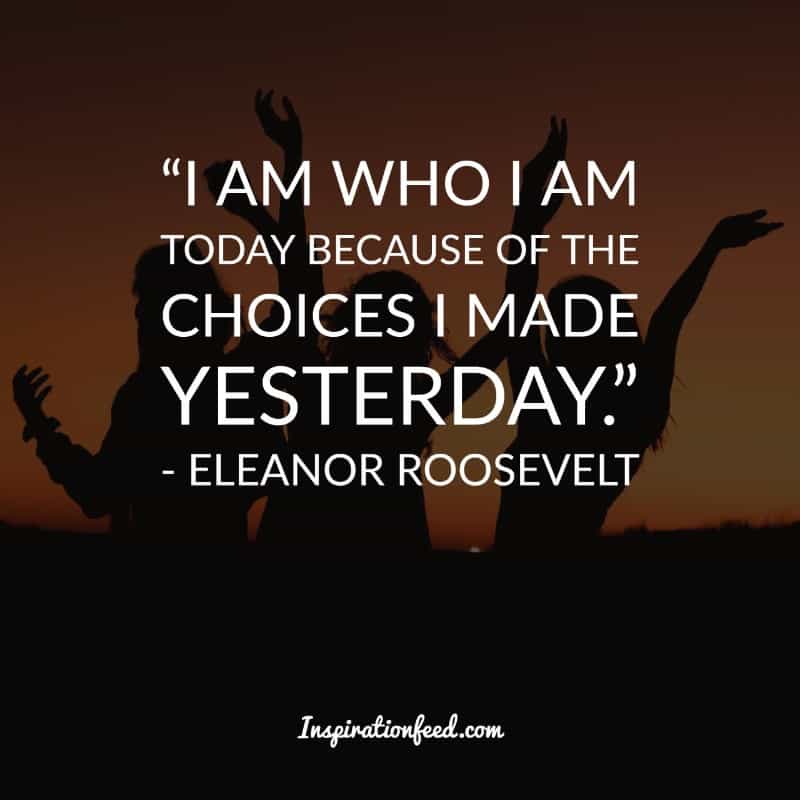 "I am who I am today because of the choices I made yesterday." – Eleanor Roosevelt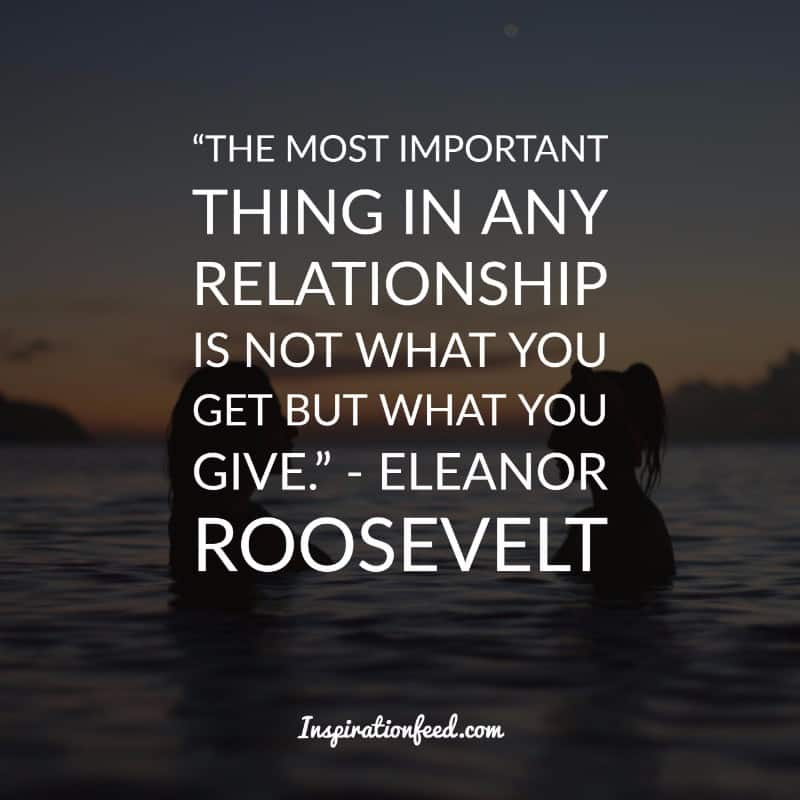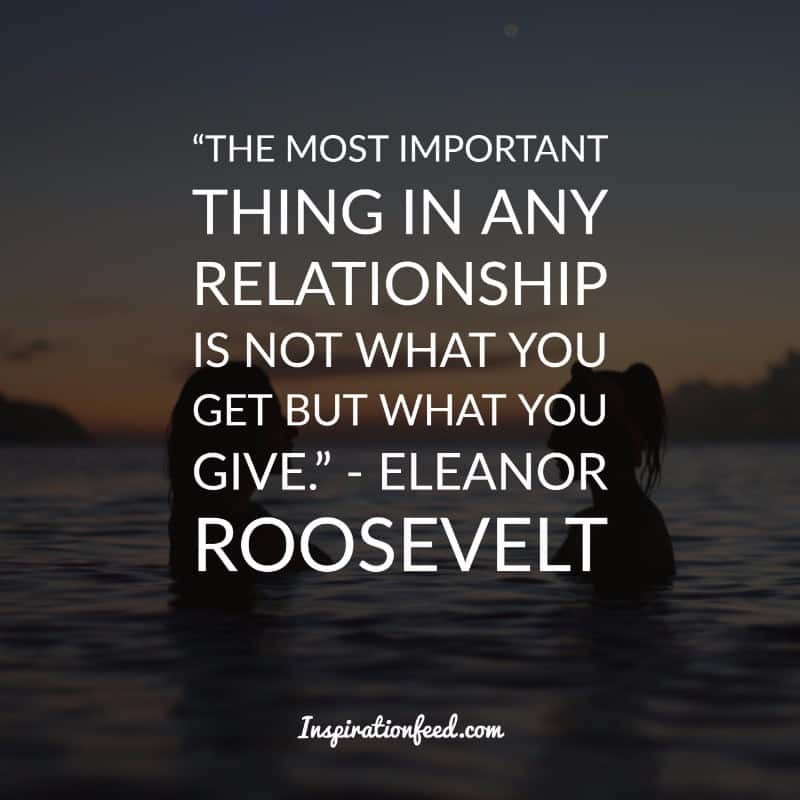 "The most important thing in any relationship is not what you get but what you give." – Eleanor Roosevelt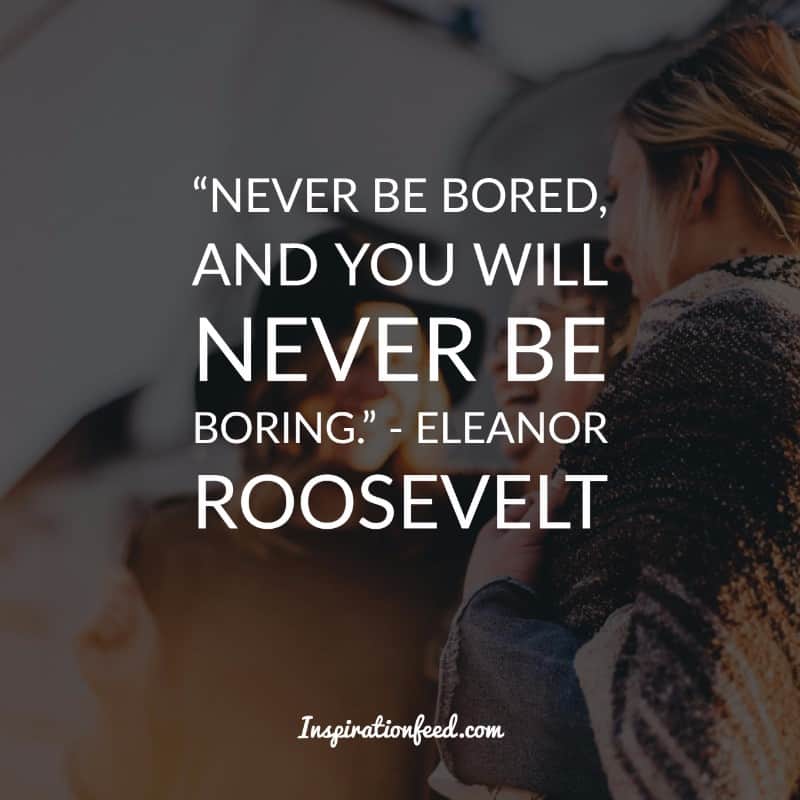 "Never be bored, and you will never be boring." – Eleanor Roosevelt