What's your sign that the holidays are upon us? When you've finally setup the Christmas tree? When the first snow falls? Right after the Macy's Thanksgiving Day Parade?
For many families in the U.S., it's when the Elf on the Shelf shows up.
When did Elf on the Shelf tradition begin?
What began as a self-published book by Carol Aebersold and daughter Chanda Bell is now a beloved Christmas custom. The book entitled, 'The Elf on the Shelf: A Christmas Tradition' was sold by Aebersold and Bell when other publishers turned them down.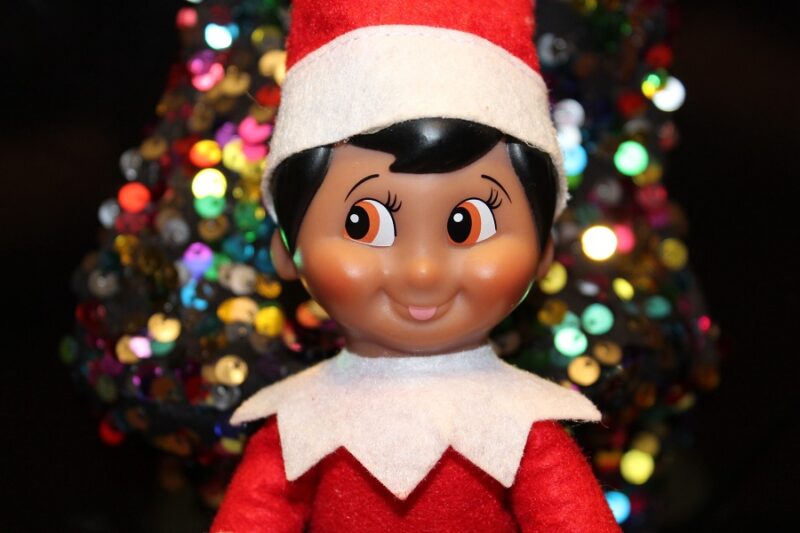 The story is based off of their family's own Scandinavian holiday that began in the 70s. The premise is simple: Scout Elves come down from the North Pole during Scout Elf Return Week (normally the last week of November through December 1) and get adopted by families. By day, the Elves watch the kids. By night, they report to Santa whether they've been 'naughty' or 'nice'.
When the Elves come back to the house, they land on a different place each time. And depending on their personalities, they can be reserved, playful, or even a little roguish. That's why some children catch their Elves doing various things, such as watching TV or messing up the kitchen.
The caveat? Kids can't touch the Elves or the magic disappears. But they can talk to them and ask that their wishes reach Santa during the night. Of course, when Santa appears on Christmas Eve to deliver the gifts, the darling Elves must go with him, too.
And so we say farewell to our Elf on the Shelf – at least, until next year.
Creative and Cheeky Elf on the Shelf Ideas
Ready to get creative this year? Whether you're new to the tradition or not, these #elfontheshelf ideas will get you excited for Christmas:
1. Blame Game
Credits to: A Small Snippet
While Scout Elves are not normally mischievous, it still depends on their personality (and your imagination). This one doubles as a prank on your little ones!
2. Googling Elfie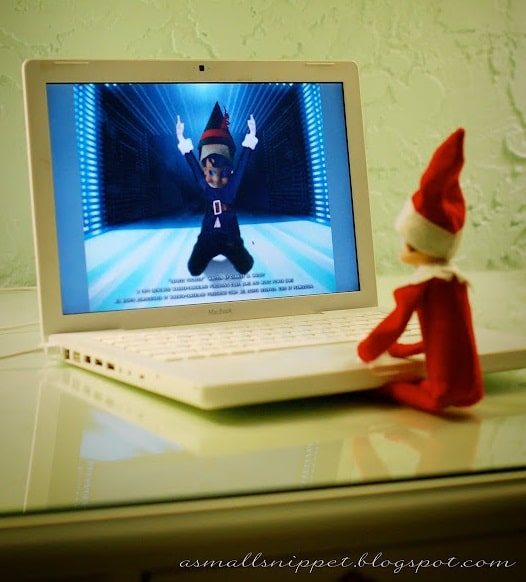 Credits to: A Small Snippet
Santa's Elves are updated with the times. Here we catch him 'Googling' himself. Oops.
3. Rolled Away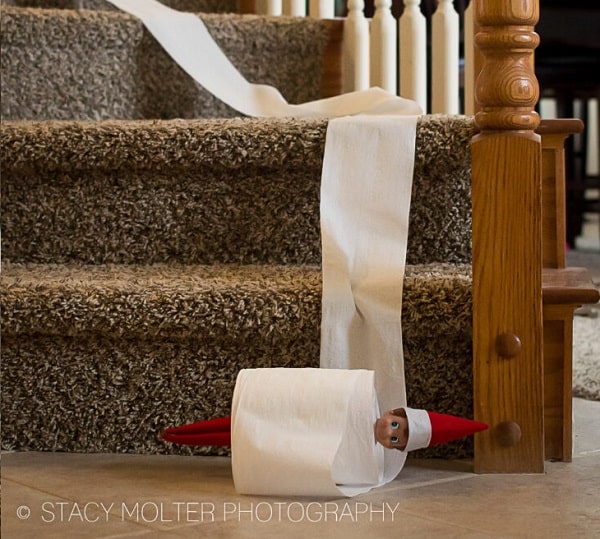 Credits to: California Unpublished
Oh no, what has he gotten himself into this time? Looks like our Elf landed on the wrong room of the house!
4. Thomas Has a Friend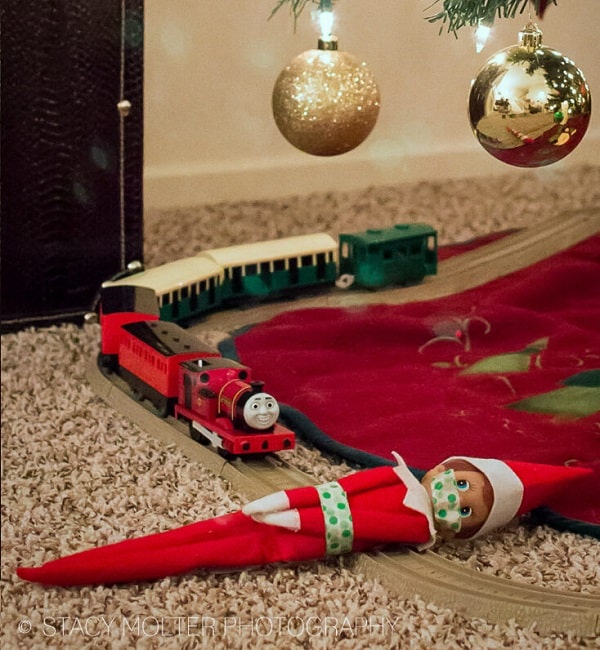 Credits to: California Unpublished
Perhaps this isn't the right way to meet a new friend.
5. Hide and Seek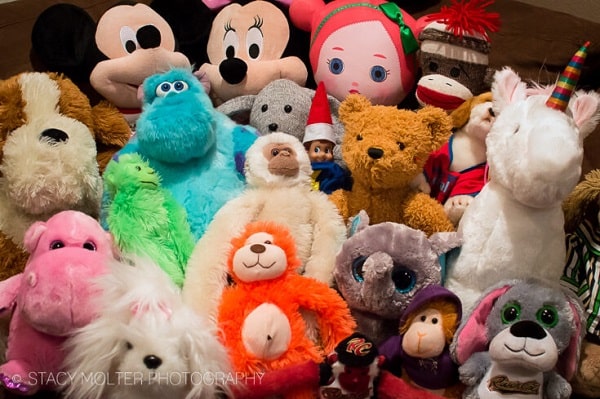 Credits to: California Unpublished
Instead of 'Where's Waldo', this one lets you play 'Where's Elfie' with the kids.
6. Who Wants To Play a Game?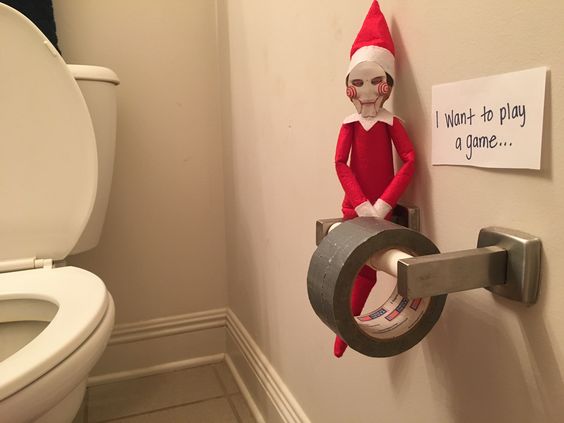 Credits to: Cassie Quezada via Pinterest
Fans of the franchise will certainly have a laugh (or shock?) when they see this in their bathroom in the morning. Definitely a neat prank to play with roomies, teens, or young adults in the household.
7. Scrambled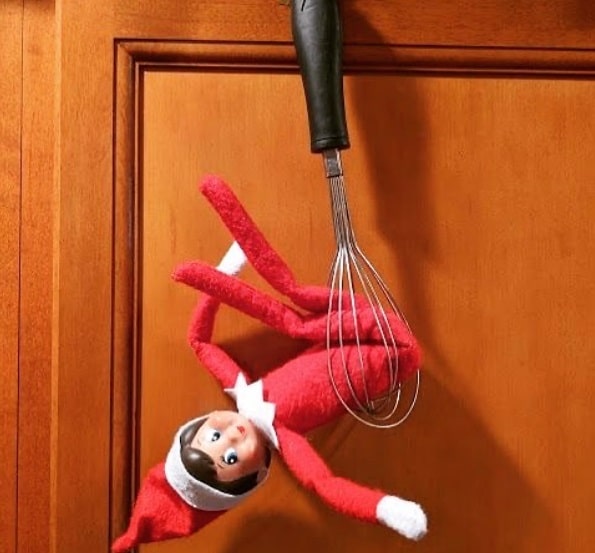 Credits to: Dory and Sammy via Instagram
It seems *someone* got caught while baking some cookies for Santa!
8. Feeling Cute…
Credits to: Elf on the Shelf Shop
…might make cards later. This Scout comes as a set with a mix of decorative tape so you can re-create endless charming scenes like this one.
9. Lovely in Pink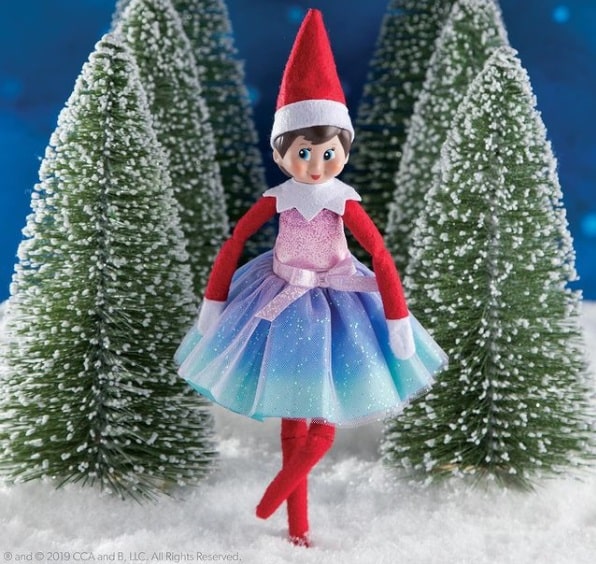 Credits to: Elf on the Shelf
This cute polar princess dress is bound to put your Elf on a festive, glittery mood!
10. Pizza Party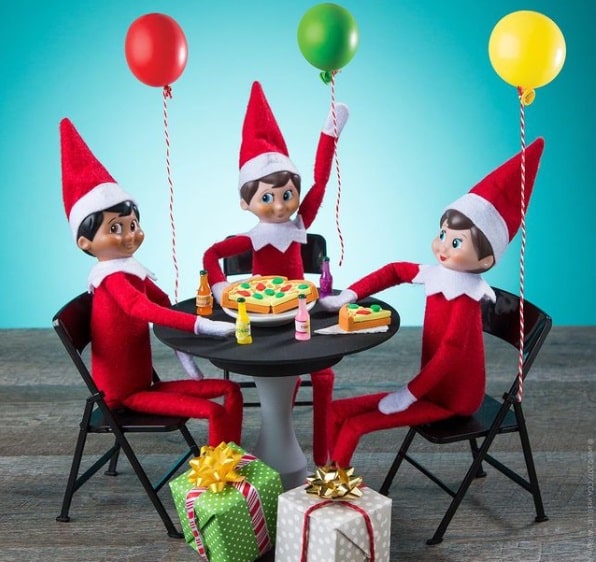 Credits to: Elf on the Shelf via Instagram
If you adopted a few elves from past Christmases, don't forget their birthdays! Gather their fellow Scouts and bring out the pizza.
11. Little Mermaid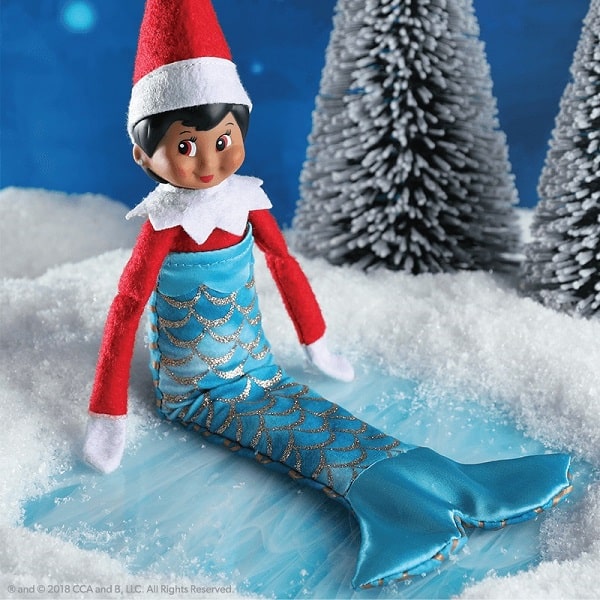 Credits to: Elf on the Shelf Shop
Dress up your Elves in something a little unconventional. After all, holidays are all about letting your imagination run wild.
12. Movie Night
Credits to: Elf on the Shelf
Who doesn't like drive-in movies? By the time your Elf comes back from the North Pole, he'll probably want to indulge in some traditional Christmas films.
13. Quarantine Safety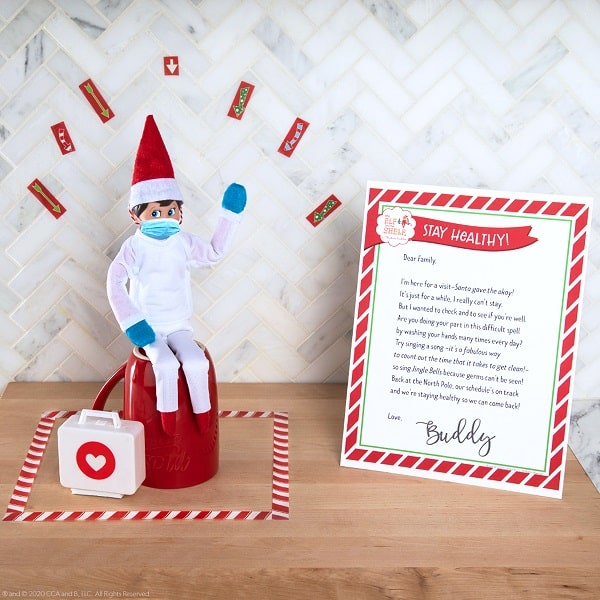 Credits to: Elf on the Shelf
Although Scout Elves don't necessarily become sick, they are still worried about your family. Safety first!
14. Red Nosed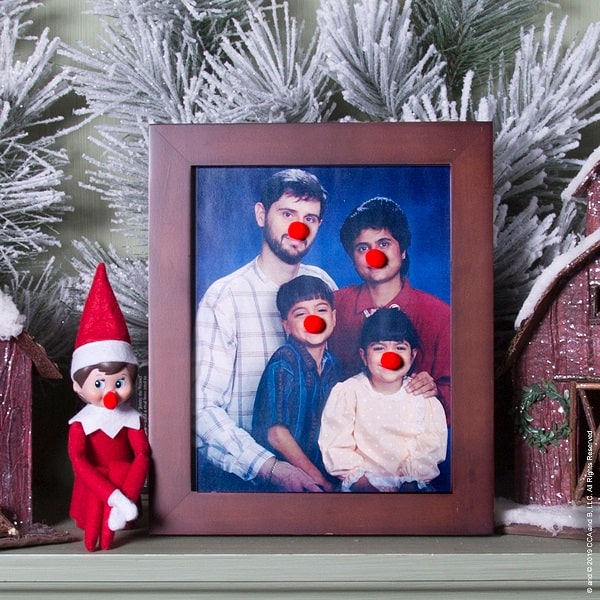 Credits to: Elf on the Shelf
Who put that there? Oh, it's probably just Elfie, clowning around!
15. Upside Down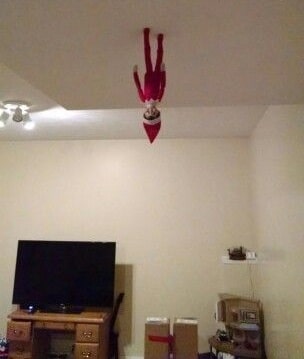 Credits to: Frugal Coupon Living via Pinterest
You and the kids wake up to this. Creepy or cute?
16. Sprinkle Angels
Credits to: funny.elf.on.the.shelf via Instagram
Guess *someone* misses snow and now wants to turn the kitchen into a sprinkle wonderland? (For parents: works with marshmallows, flour, and glitter, too.)
17. Prankster
Credits to: Jedi Craft Girl
Uh oh, Santa's helper is getting a little naughty. Better hide your pens and markers!
18. Frozen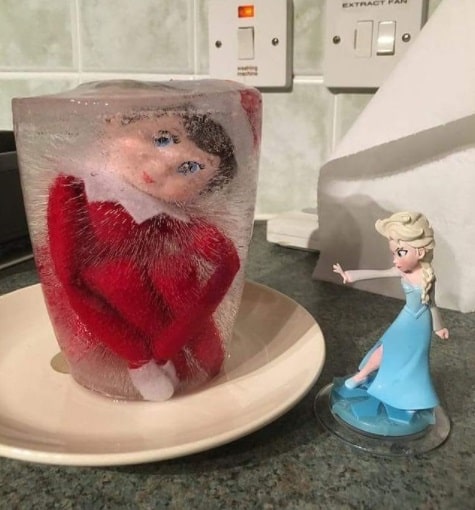 Credits to: Heather Marie Taskovics via Instagram
Looks like winter decided to come early – and Elsa seems to be the culprit.
19. Trapped?
Credits to: Lisa Stout Photography
Did Lotso put our Scout on time-out? That, or he's really helping him get out of a tight situation.
20. The Dark Side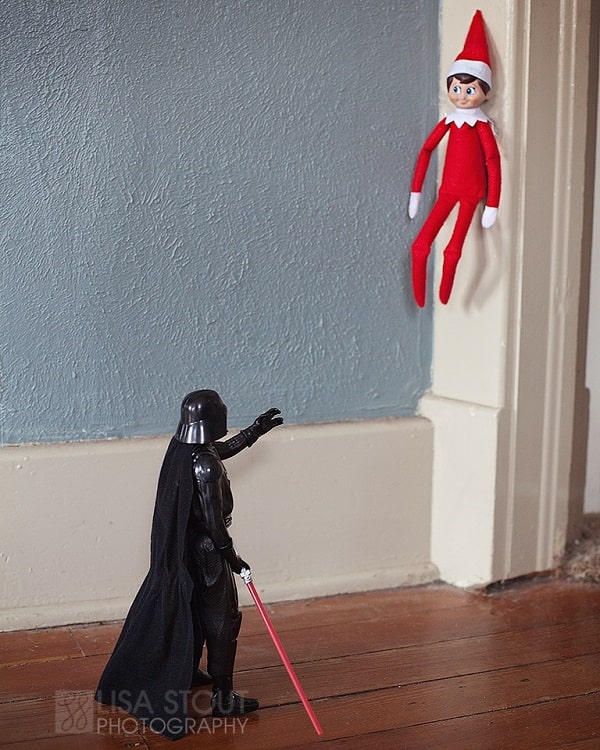 Credits to: Lisa Stout Photography
Should we help or…?
21. Heroics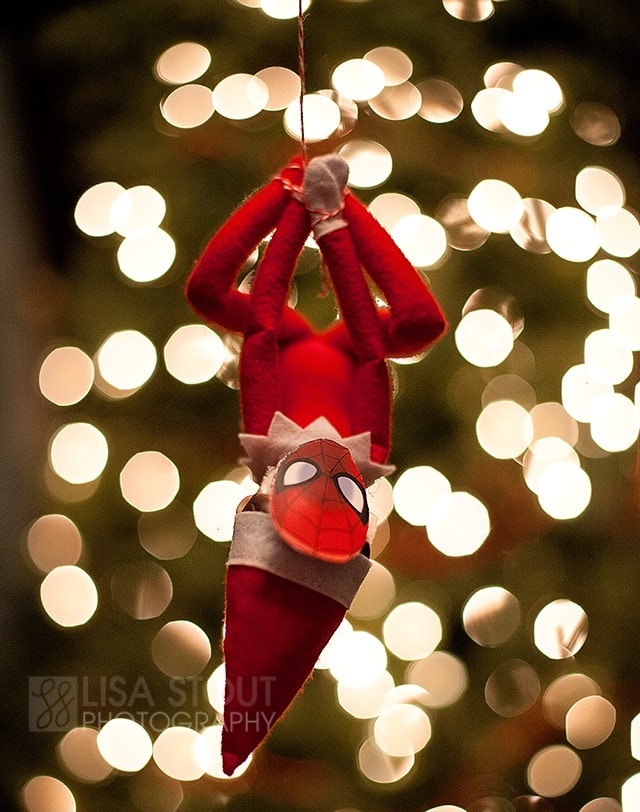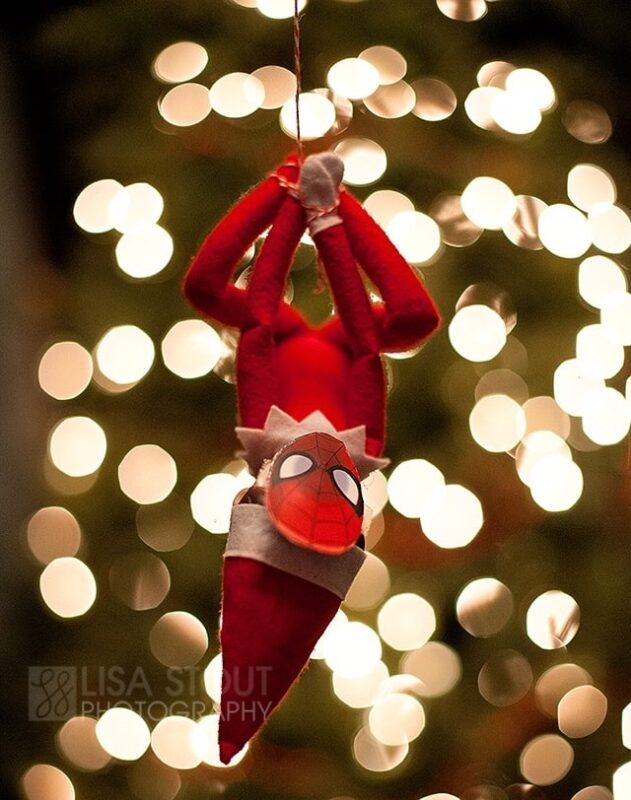 Credits to: Lisa Stout Photography
…With great power comes great responsibility.
22. Barbie and Friends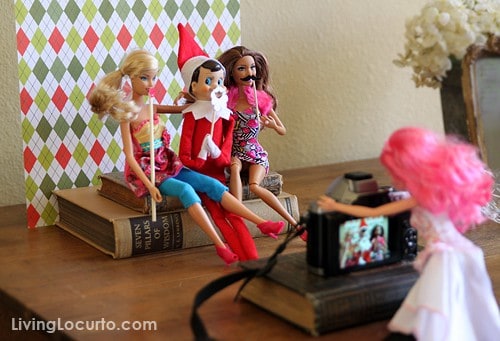 Credits to: Living Locurto
When it comes to having fun, no one knows it better than Barbie and her friends. Just remind your Elf not to have 'too much' fun.
23. To Infinity and Beyond
Credits to: Peace The Elf via Instagram
Woody, Buzz, and the whole gang is about to have a new playmate!
24. Card Games
Credits to: Snapshots of a Sweet Life via Blogspot
Do you think the Scout Elf will win this round? How many games have they been playing while you were asleep? No one knows.
25. Sneak Peek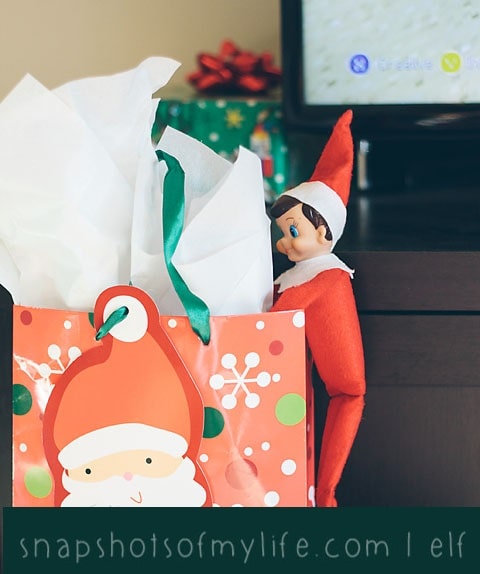 Credits to: Snapshots of a Sweet Life via Blogspot
Hey, no peeking at the gifts, mister!
26. Cookie Hugger
Credits to: Snapshots of a Sweet Life via Blogspot
Did *someone* want a midnight snack and got stuck in the fridge?
27. Hacked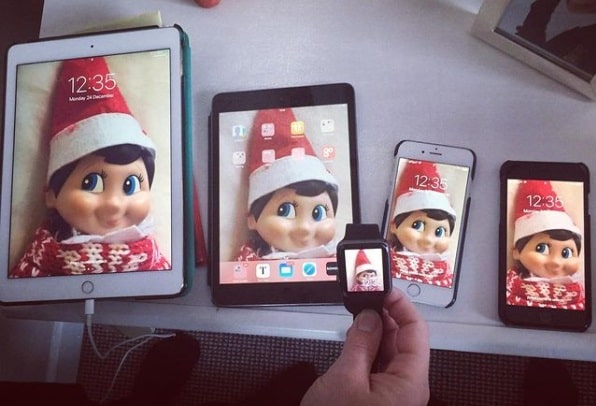 Credits to: thenameisblack via Instagram
You wake up to this on all your gadgets: what do you do?
28. Space Between Us
Credits to: The Original Elf via Instagram
This cool little dude seems to have taken a side trip to space while on his journey to the North Pole. Ask him what he saw!
29. Minecraft Medley
Credits to: The Roberts Family Elves via Instagram
If your kids love Minecraft, then this Elf on the Shelf will make for a fantastic surprise.
30. Farewell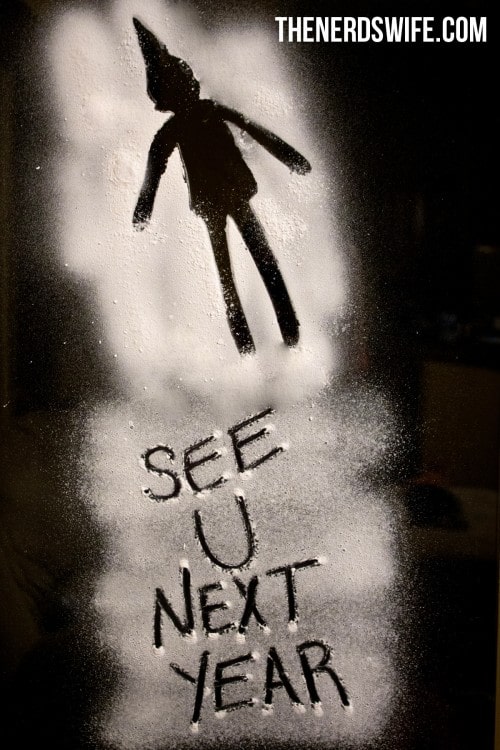 Credits to: The Nerd's Wife
Once all the merry-making is done, it's time for your Scout to say goodbye – at least until next year. Make sure he leaves a note behind for the kids.
Which Elf on the Shelf will you re-create in your home?