Last Updated on March 3, 2023
Who Is Ellen DeGeneres?
Ellen Lee DeGeneres is an American comedian, actor, television host, producer, and writer, who's most recently famous for hosting her syndicated television talk show, The Ellen DeGeneres Show. But even before she launched The Ellen DeGeneres Show in 2003, DeGeneres was already a popular television personality.
She starred in two successful sitcoms – Ellen (1994 – 1998) and The Ellen Show (2001- 2002), and has also featured in several films. DeGeneres came out as a lesbian in 1997 and is an outspoken crusader for LGBT rights.
Quick Facts
| | |
| --- | --- |
| Full Name: | Ellen Lee DeGeneres |
| Popular Name: | Ellen DeGeneres |
| Gender: | Female |
| Birth Date: | January 26, 1958 |
| Age: | 64 years |
| Parents: | Elliot DeGeneres and Elizabeth DeGeneres |
| Siblings: | Vance DeGeneres |
| Birth Place: | Metairie, Louisiana |
| Nationality: | American |
| Ethnicity: | English, French, German, and Irish |
| Education: | Atlanta High School and the University of New Orleans |
| Marital Status: | Married. |
| Sexual Orientation: | Lesbian |
| Wife/Spouse: | Portia de Rossi |
| Children: | None |
| Dating: | N/A |
| Net Worth: | 490 million |
| Source of Wealth: | Acting and Comedy, Television Hosting, Television Production, Writing, and Other Personal Ventures |
| Height: | 5′ 7″ (1.7 m) |
| Weight: | 64 kg; In pounds: 141 lbs. |
Early Life and Career Information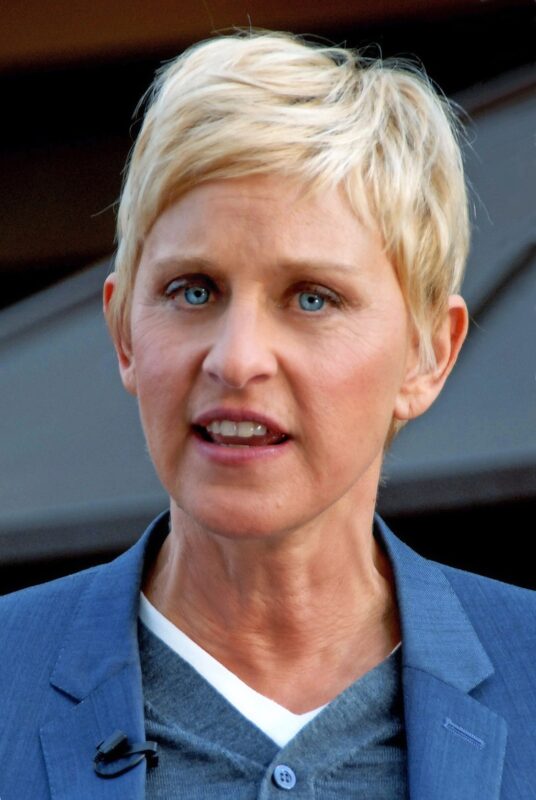 Ellen DeGeneres was born on January 26, 1958 in Metairie, Louisiana, to Elliot DeGeneres and Elizabeth DeGeneres. Her father was an insurance agent whereas her mother was a speech therapist.
DeGeneres attended Atlanta High School and later proceeded to the University of New Orleans. However, she dropped out of the university after just one semester and accepted a clerical job at a local law firm.
Ellen DeGeneres began her acting career in the early 80s by performing stand-up comedy at coffee houses and small clubs. In 1989, she was cast in a Fox sitcom known as Open House and three years later, she landed a role in yet another sitcom, Laurie Hill. DeGeneres continued to grow her brand and hosted two of her own sitcoms before launching The Ellen DeGeneres Show in 2003.
In addition to television hosting, DeGeneres has also starred in a couple of movies, including Mr. Wrong (1996) and The Love Letter (1999).
Ellen DeGeneres Net Worth
As of 2023, Ellen DeGeneres had a net worth of $490 million. She has earned much of her wealth from her successful career in comedy and television hosting, particularly hosting The Ellen DeGeneres Show.
According to Variety, The Ellen DeGeneres Show brings in at least $50 million annually for the accomplished comedian. DeGeneres reportedly earns between $75 million and $90 million annually from her various endeavors. In 2018, she became the first female celebrity to earn $20 million for a stand-up special on Netflix.
The following is a rundown of Ellen DeGeneres' notable earnings over the years:
• 1996 – Earned $2 million playing Martha Alston in the film Mr. Wrong
• 2003 – Earned $15 million from The Ellen DeGeneres Show
• 2010 – Earned $55 million from her various endeavors throughout the year
• 2011 – Earned $45 million from various gigs
• 2013 – Earned a total of $53 million for the year
• 2015 – Earned $18 million from the Ellen DeGeneres Show
• 2016 – Earned $20 million from the Ellen DeGeneres Show
• 2017 – Earned $50 million from the Ellen DeGeneres Show
• 2018 – Earned $87.5 Million, $20 million of which came from her historic deal with Netflix
• 2019 – Earned $75 million from the Ellen DeGeneres Show and other big screen gigs
1. Ellen DeGeneres in Real Estate
In addition to The Ellen DeGeneres Show and other television projects, DeGeneres is a savvy real estate investor. Since 2003, Ellen DeGeneres and her spouse, Portia de Rossi, have flipped more than 20 properties.
Here's a highlight of some of her major real estate transactions over time:
• 2003 – Purchased a home in Hollywood Hills at a cost of $6 million. She sold the property to Will Ferrell three years later for $9 million.
• 2004 – Purchased a midcentury-style house in Hollywood Hills for $1.275 million. She sold the house to actor Heath Ledger a year later at a cost of $2.1 million.
• 2007 – DeGeneres and Portia de Rossi paid $15.75 million for a mansion in Montecito, California. The couple sold the property the same year for $20 million.
• 2008 – Acquired a 9,200- square foot home in Beverly Hills for $29 million and purchased two more surrounding properties. DeGeneres and de Rossi got married in this property before selling it four years on to Ryan Seacrest at a cost of $37 million.
The same year, Ellen DeGeneres acquired another property, a horse ranch in Thousand Oaks, California, for $8.5 million. She incurred some renovation expenses before selling the property in 2013 for $10.85 million.
• 2011 – DeGeneres and de Rossi purchased Brad Pitt's former home in Malibu for $12 million and sold it the following year for $13 million.
• 2012 – The DeGeneres couple acquired the Brody House for about $40 million, which they sold the same year to Sean Parker at a cost of $55 million.
• 2015 – DeGeneres and de Rossi bought another property in Beverly Hills for $16 million and sold the same for $35 million three years later.
• 2018 – The couple invested in two properties – a $15 million mansion in Beverly Hills and a $6.7 ranch in Santa Barbara. They sold the Beverly Hills mansion for $15.5 million within a year of acquiring it and the Santa Barbara ranch for $6.98 million a year later.
• 2019 – The couple purchased a 5-bedroom, 12-bathroom Beverly Hills mansion for $45 million. The home was previously owned by Adam Levine.
2. Ellen DeGeneres Endorsement Deals
Famous for her striking beauty and easygoing personality, it comes as no surprise that numerous companies have since sought brand partnerships with Ellen DeGeneres. DeGeneres' most outstanding brand partnership is her more than 10-year deal with Covergirl Cosmetics.
DeGeneres has also worked with many other brands, such as:
• American Express (AXP)
• Halo Purely for Pets
• J.C. Penny (JCP)
• Olay
• SoJo Studios
• Vitamin Water
3. Other Ventures
Other personal investments by Ellen DeGeneres includes launching her own home décor brand, as well as social media earnings. Her show presently enjoys more than 77.4 million followers on Twitter and 69.5 million on Instagram. Though there are no official reports on how much she makes from social media, it's safe to imagine that she earns decent cash from monetized campaigns on her social media accounts.
Life Lessons from Ellen DeGeneres
1. Follow your happiness
When she came out as a lesbian in 1997, Ellen DeGeneres' professional image suffered a blow due to the contentiousness of media coverage around the issue. However, Ellen was undeterred and the same year she came out, she began a romantic relationship with actor Anne Heche.
2. Fight for what you believe in
DeGeneres is not only an outspoken defender of LGBT rights, she is also a crusader for animal rights and veganism.
3. Use money to make more money
Ellen DeGeneres earns millions annually from her Ellen DeGeneres Show. But she doesn't believe in a single income stream. She has since invested in real estate and mints millions annually from flipping properties.
Quotes by Ellen DeGeneres
"I really don't think I need buns of steel. I'd be happy with buns of cinnamon."
"In the beginning there was nothing. God said, 'Let there be light!' And there was light. There was still nothing, but you could see it a whole lot better."
"Procrastinate now, don't put it off."
"Sometimes you can't see yourself clearly until you see yourself through the eyes of others."
"We use 10% of our brains. Imagine how much we could accomplish if we used the other 60%."
Final Word
Ellen DeGeneres is one of the most resilient women ever to have graced our television screens. She is not only a gifted actor and television host, but also a savvy businesswoman.