Last Updated on April 20, 2022
What's an email signature generator?
An email signature, also known as a signature block, is a custom block of text that automatically comes at the bottom of an email message. Apart from emails, signature blocks are also applied in forum posts and Usenet articles. An email signature generator is simply a tool used to create a free email signature. 
The popularity of email signatures has been on an upward trajectory. But before you join in on the craze, you should begin easy by understanding the importance of incorporating a signature block into your email message.
Why is an Email Signature important?
Personal Branding
The obvious reason why you would want to append a signature block to your emails is that it allows you to add a personal touch to the message. You can embed anything onto the email, from a short custom text to a small picture, graphics, etc. 
Corporate Branding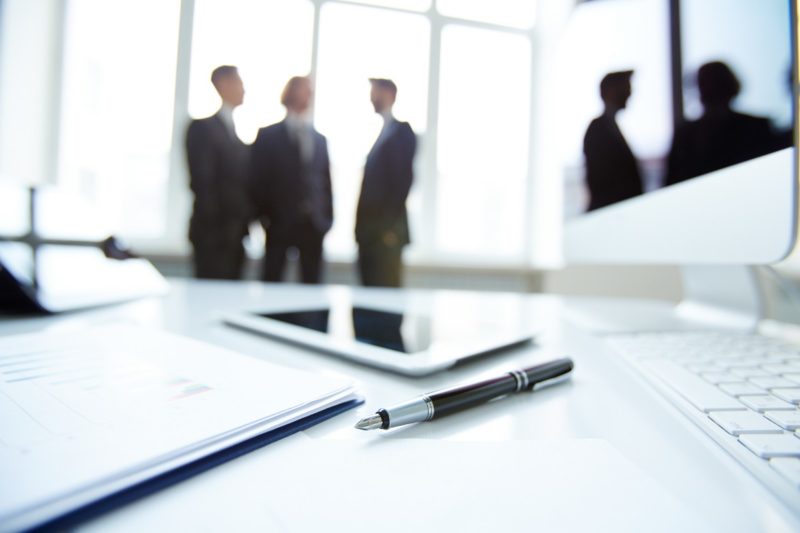 An email signature block is also excellent for branding purposes. It's an ingenious way of reinforcing your company's identity. Even if the recipient only skims through the email, the signature will be too outstanding to be ignored. 
Embodies Some Professionalism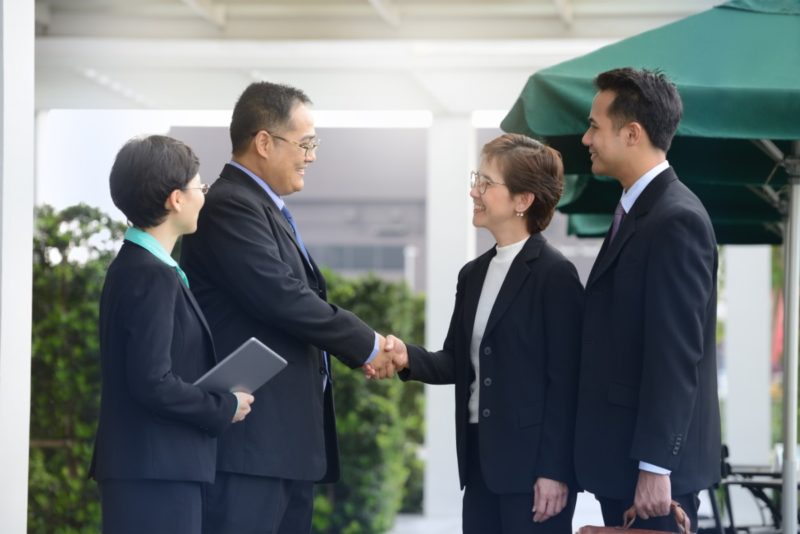 An email signature block is a perfect way of adding a touch of professionalism to your email. Just like in traditional letters, appending a signature lends credibility to the content of the letter. 
Allows You to Add Call to Actions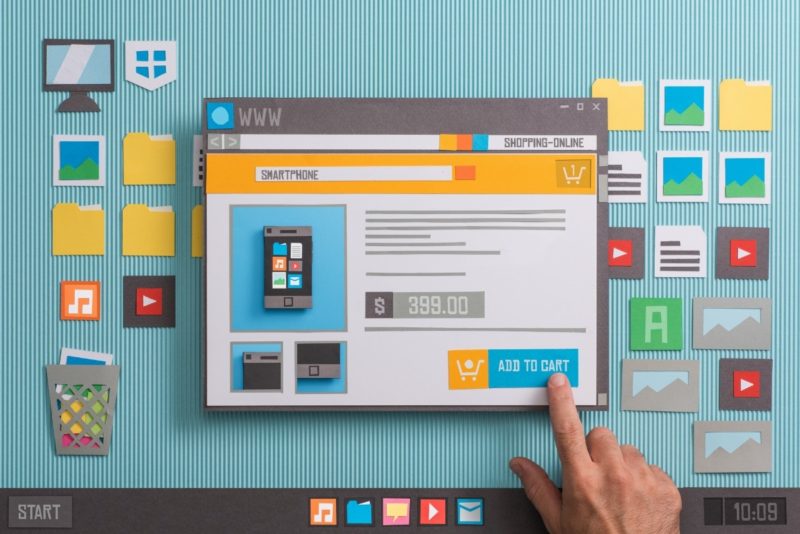 Through a signature block, you can add quick links to your company's web page, your social media platforms, or your contact information through calls to action. The best part is that you can do all that without affecting the beauty of the signature.
Evidently, there are numerous reasons for adding a signature block to your email. However, creating an original and captivating email signature is a tedious and painstaking process.
Fortunately, you can leverage the following tools to generate a signature that will leave a lasting impression on the minds of the email recipient.
Best Tools To Create Email Signatures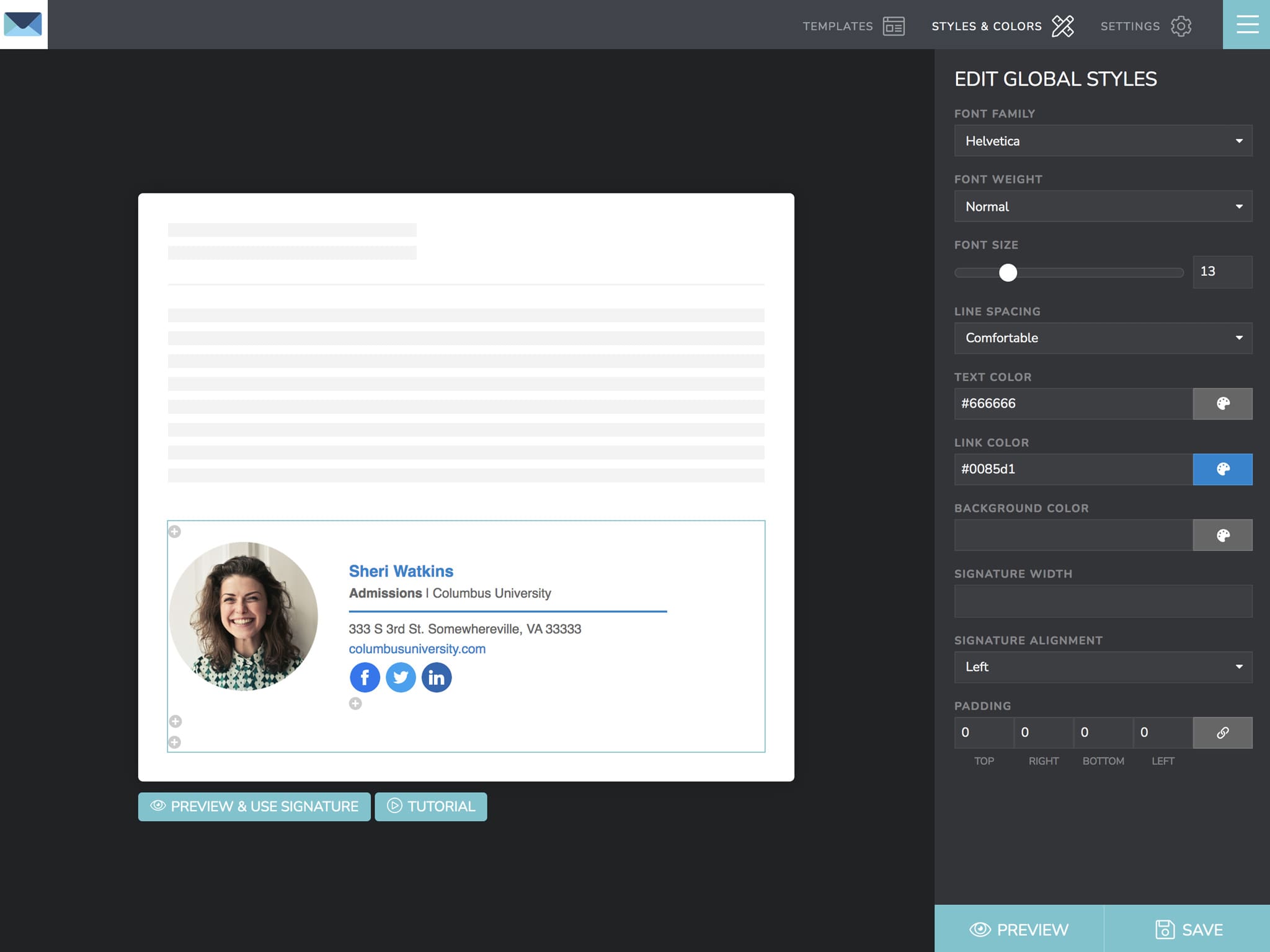 This free email signature tool allows you to create a beautiful and professional email signature in a drag and drop editor. There aren't limits to how many fields can be added or the layout you want. Choose from text, links, social icons, images, CTA buttons, and more. You have fine grain control over fonts, colors, and spacing over everything in your signature.
There are 20+ templates that you can choose from to get you started, but you aren't limited to these you can edit them and completely rearrange them to meet your needs. This is nice for companies that need to match their signature to their branding.
Their free plan is generous enough to make a signature for yourself, with a paid plan you can upgrade to share your signature to your company by converting it to a template and sending out a link to your employees.
HubSpot offers its users lots of flexibility in generating their email signatures, and its signature blocks are acceptable across various email providers, such as Gmail, Yahoo Mail, Outlook, etc. 
To begin, there's an information form where you feed your primary details, which include your personal information. Next, there's another form that allows you to add links to your social media handles. After that, you can personalize the style of the signature block by selecting suitable colors, fonts, and a theme to match. 
Lastly, you can add an image or text call to action on the next form, and wind it up by including the HubSpot Academy qualification that you completed.  
Creating an email signature block with DesignHill is as easy as ABC. Just feed your company details and choose from the numerous style options provided. Next, suggest your preferred calls to action and then enter the links to your social media accounts. Crosscheck your details for errors and click on "create a signature" and voila! 
Try DesignHill today, and uncover why the email signature generator enjoys the approval of some of the world's top brands, such as Entrepreneur, Forbes, and Huffington.
To enjoy Signature Maker's amazing services, the tool will need to capture as many of your details as possible. You'll begin by entering your name, job title, and email address. Then, you'll feed your company name before entering all the addresses associated with the company, from phone numbers to website URL, Avatar URL, physical addresses, and links to your social media. 
Signature Maker generates a real-time review each time you enter those details, which allows you great control of the process.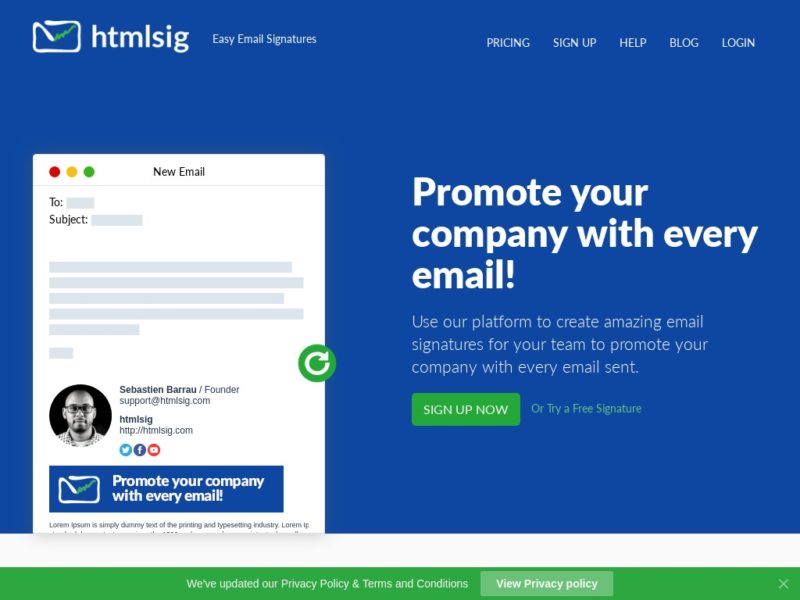 HTMLSig comes in both freemium and premium packages. The tool is especially intended for those looking to generate HTML-based email signatures. As part of building a solid rapport with their clients, HTMLSig allows you to upload images to their database, which they usually delete after a month unless you pay for them. 
But if you aren't ready to take up these premium packages, you can use HTMLSig's freemium option, which is just as effective for email signature generation.
Their free version allows you to generate a single signature. After that, you can tweak your URLs to make the signature capture your hosted images as opposed to those that the tool suggests.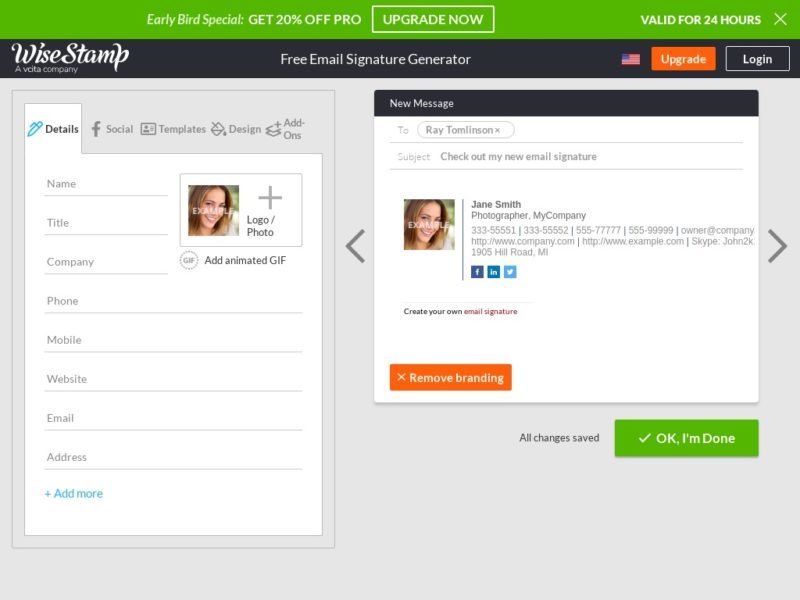 One of the best things about WiseStamp is the fact that it's a web app with numerous features over and above signature generation. WiseStamp offers many templates that you can try out without necessarily having to feed your personal information over and over. That's a convenience you find nowhere else. 
But while the templates are professionally designed, they are somewhat generic. So, if you intend to use WiseStamp email signatures, you may need to introduce more personalized features to fully customize them.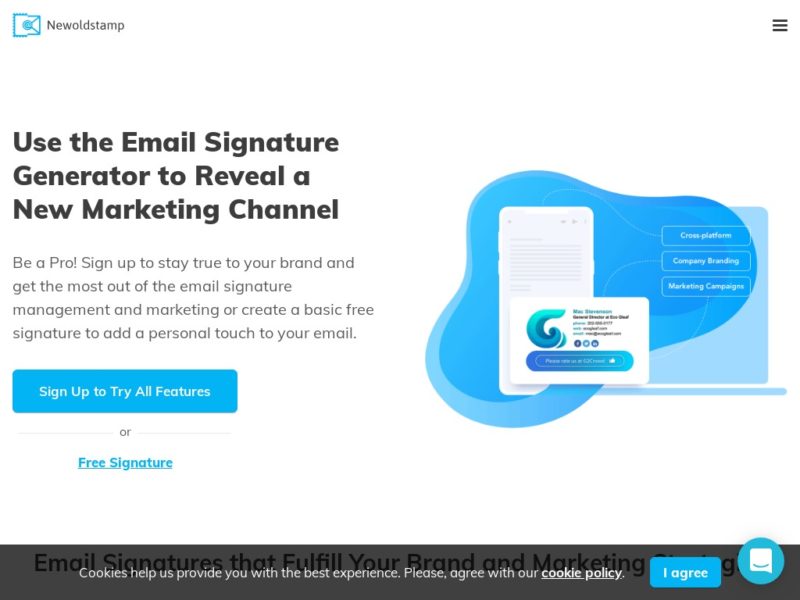 Just like HTMLSig, Newoldstamp, also comes with free and premium options. Newoldstamp is one of the most recommended email signature generators for corporate branding, and understandably so. 
The tool gives you the option of incorporating a promotional banner in the signature block. Besides, you can include a call to action as well as links to your landing page. For organization purposes, there's central management where you can track the email signatures of your team and update them where required.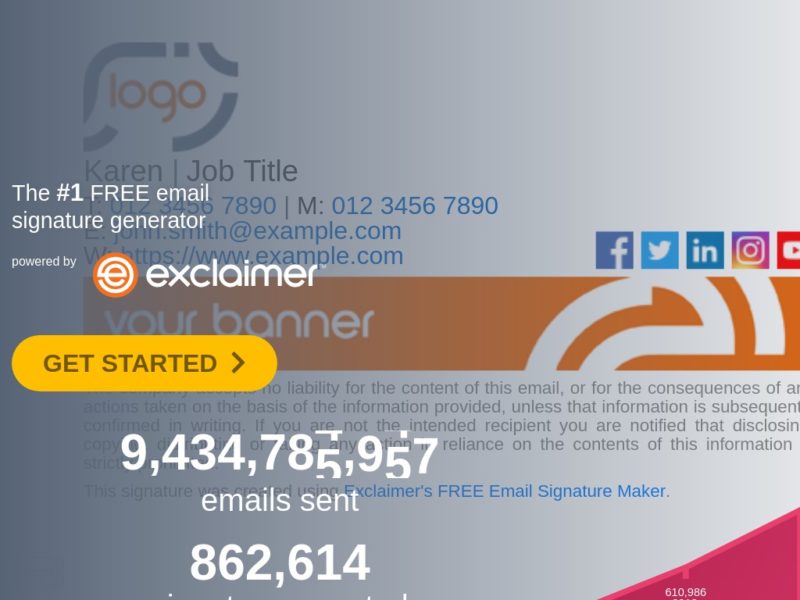 Exclaimer comes with a legal disclaimer. But don't let that turn you off. As you will find out, there are some industries and regions where it's required by law or best practices to add a disclaimer in your email signature. Therefore, this is actually a feature of the tool and not a warning. 
Another notable feature of Exclaimer is the ability to incorporate click-through links in your images. Exclaimer also offers you the flexibility of scaling the fonts to your desired sizes.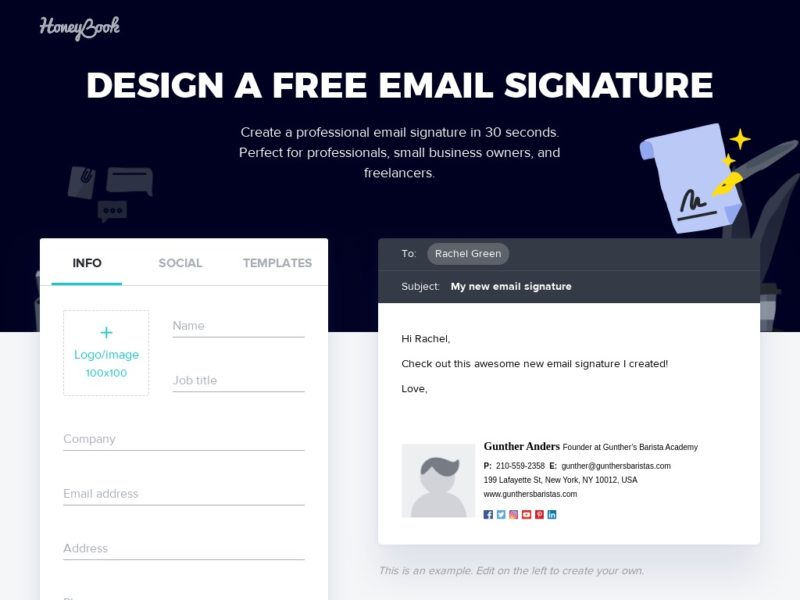 If you're looking for a free email signature generator but have limited time to spare, then your best bet is to choose HoneyBook. The tool generates your signature in as little as 30 seconds. It comes with two simple forms where you can fill out all the details of your company. 
HoneyBook offers up to eight templates that you can experiment with. Of course, there's the flexibility to personalize the templates further to represent your brand. Another thing you'll love about HoneyBook is how simplistic the interface looks.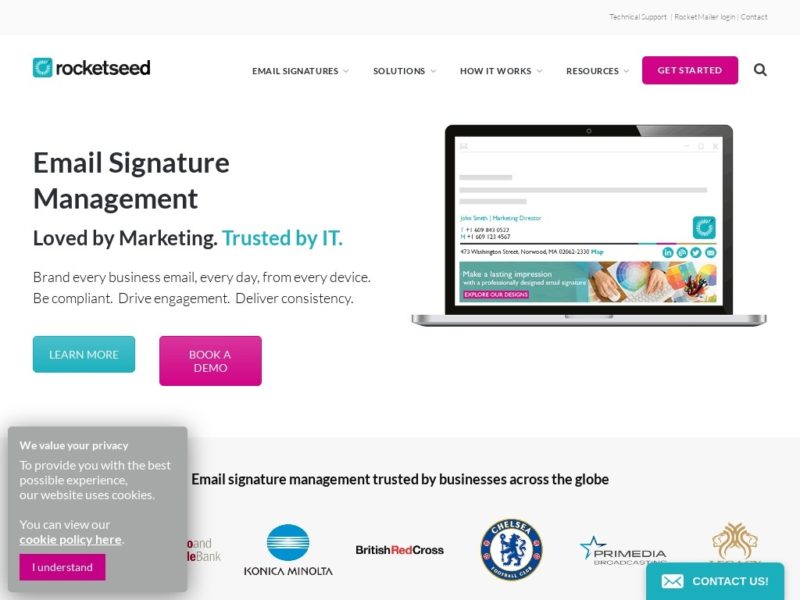 Only a few free email signature generators are as responsive and compatible as Rocketseed is. You can use this tool on many devices, including your mobile device, as well as on various operating systems. 
On top of its basic features, Rocketseed also allows you to incorporate banners into your email, check CTRs, and track the results using their highly-efficient analytics. The tool is remarkably easy to set up too. Chelsea Football Club, Konica Minolta, and Dell EMC are some of the renowned organizations that use Rocketseed.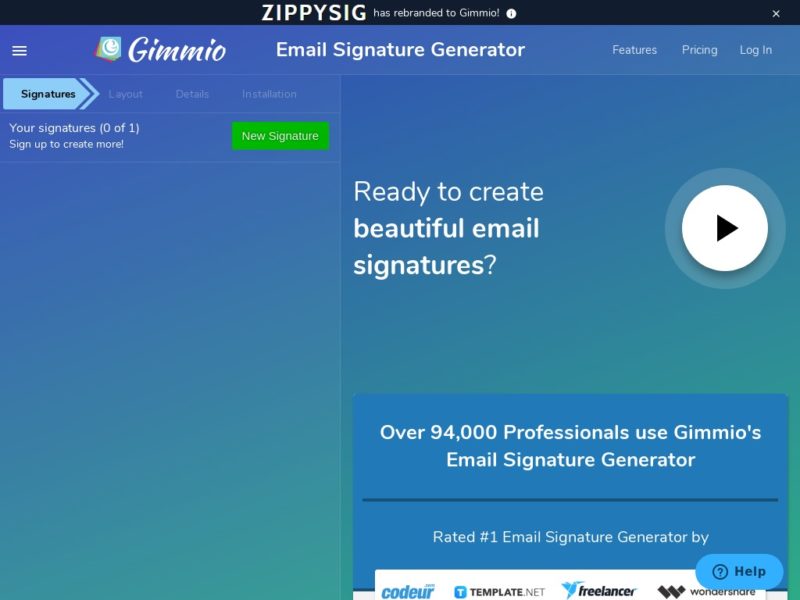 This free email signature creation tool allows you to generate email signature blocks for different people in your email list. You also enjoy advanced customization features, which include over 40 fonts and thousands of social icon variations. 
You can experiment with your preferred layout options, which include the provision for adding columns, incorporating custom banners, or changing the field labels. The platform comes with an interactive and beginner-friendly dashboard, and the support is ever on standby to address your queries.
Each of the free email signature generators that we've reviewed here has its special highlights and drawbacks. Always conduct your due diligence and settle for a tool that's easy to use, as well as one that allows you the flexibility to tweak the signature block to your desired specifications.