Who Is Eminem?
Eminem needs no introduction as far as hip-hop and rap music goes. But for the uninitiated out there, Eminem is a famous American rapper, songwriter, and record producer.
Also known as Marshall Mathers or Slim Shady, Eminem is considered the world's most successful rapper of all time, with sales of his Marshall Mathers LP estimated to be upwards of 35 million copies.
This sensational hip hop artist also enjoys the distinction of being the most successful and wealthiest white rapper in the United States. What sets Slim Shady apart from other musicians is that a huge chunk of his wealth is directly tied to his successful music career.
Quick Facts
| | |
| --- | --- |
| Full Name: | Marshall Mathers |
| Popular Name: | Eminem |
| Gender: | Male |
| Birth Date: | October 17, 1972 |
| Age: | 51 years |
| Parents: | Marshall Bruce Mathers Jr. and Deborah Rae |
| Siblings: | Michael and Sarah (from his father's side after divorce) and Nathan Kane Samara (from his mother's side) |
| Birth Place: | St. Joseph, Missouri |
| Nationality: | American |
| Ethnicity: | English, German, Swiss-German, Scottish, Polish, and Luxembourgian |
| Education: | Lincoln High School |
| Marital Status: | Divorced |
| Sexual Orientation: | Straight |
| Wife/Spouse: | N/A |
| Children: | Hailie Jade Scott (biological daughter with former spouse, Kimberley Scott) Alaina Marie (Kimberley Scott's twin sister, Dawn's daughter), and Whitney Scott (Kimberley's daughter from another relationship) |
| Dating: | N/A |
| Net Worth: | 230 million |
| Source of Wealth: | Rapping, Record Producing, Acting, Endorsement Deals and Personal Investments |
| Height: | 5′ 8″ (1.73 m) |
| Weight: | 69 kg; In pounds: 151 lbs. |
Early Life and Career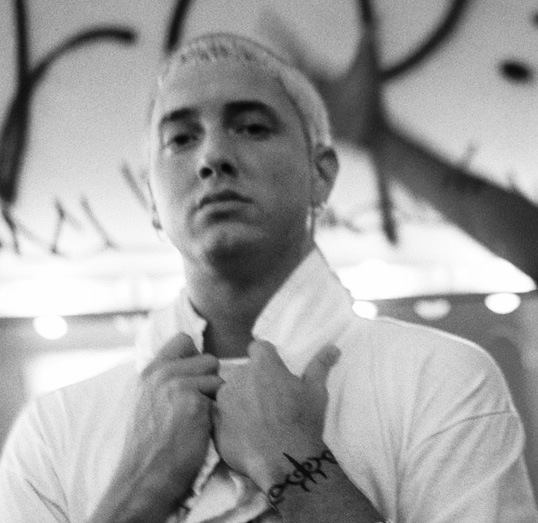 Eminem was born Marshall Mathers on October 17, 1972, in St. Joseph, Missouri, to Marshall Bruce Mathers Jr. and Deborah Rae. Eminem was born as the only child of the Mathers family, and it's reported that his mother almost died in the 73-hour long labor with him. He is of English, as well as Scottish, German, Swiss-German, Luxembourgian, and Polish descent.
His parents were in a band together, known as Daddy Warbucks. However, Eminem's father would later abandon the family and move to California, leaving his mother with the sole responsibility of raising her son. Eminem says that he tried to maintain touch with his father by writing him letters, but all the letters went unanswered.
Bruce remarried in California and even had two children, named Michael and Sarah. At the time, Eminem's mother was also struggling with mental illness and substance abuse, further compounding the young boy's woes.
Eminem's childhood is the literal definition of "coming from a broken home." He and his mother frequently moved between Detroit and Kansas City, before settling on the Eastside of Detroit when Eminem was about 12 years.
Coming from such an unstable family reflected negatively on Eminem's education. He attended Lincoln High School located in Warren, Michigan, between 1986 and 1989.
But due to financial challenges and her mother's mental condition, Eminem switched schools every three months. That made it exceedingly difficult to foster social relationships or even excel in his school work. He never graduated from Lincoln High School, where he dropped out at the age of 17.
As a young kid, Eminem also faced serious bullying, especially on account of his race. At some point, he and his mother were one of the only three white households living in the predominantly black neighborhoods of Detroit.
He was assaulted several times, forcing him to spend most of his time indoors and in seclusion. But the situation indoors wasn't any better. He and his mother fought frequently.
Eminem's poor upbringing is aptly captured in some of his rap music, particularly the "Cleanin' Out My Closet" track where he portrays Debbie as a less-than-ideal mother.
Eminem began his rapping career at the age of 14, along with his high-school friend called Mike Ruby. The duo adopted the stage names Manix and M & M. The latter name would then evolve to Eminem, which he has maintained to date.
Though he faced challenges succeeding in the Detroit's predominantly black rap industry, Eminem enjoyed a vast underground rap audience that appreciated his music. One thing that set Eminem apart from other artists was the excellent rhyme skills that the rapper weaved into most of his songs.
Due to the challenges he faced penetrating the rap industry, his first album, "Infinite" by Web Entertainment, sold less than 1000 copies. However, Eminem wasn't about to look back.
He leveraged the little success he garnered through this album as a springboard into the lucrative hip hop industry. The birth of his daughter, Hailie Jade Scott on December 25th, 1995 further fueled his drive to succeed.
Sometime around 1996, Eminem adopted the name Slim Shady, a sadistic, edgy and violent persona. He rapped about sex, rape, violence, drugs, and murder. In 1998, he was evicted from his home.
He decided to start all over by traveling to Los Angeles, where he competed in the Rap Olympics. Though he came second, his rapping skills piqued the interests of Dr. Dre who agreed to partner with him. From there, his fortunes changed for good.
The following are some of the tracks by Eminem:
• Infinite (1996)
• My Name Is (1998)
• Kim (1999)
• Brain Damage (1999)
• Criminal (2000)
• The Real Slim Shady (2000)
• Lose Yourself (2002)
• Cleaning Out My Closet (2002)
• Mockingbird (2005)
Eminem's Net Worth
Eminem's net worth in 2023 is estimated to be $230 million, most of which has been earned through the sale of his own music tracks. During the peak of his rapping career (between 2000 and 2003), Eminem is reported to have earned at least $100 million from record sales alone. And between 2004 and 2019, the rapper earned at least $280 million, pre-tax.
Eminem has also invested in real estate. One of his notable investments includes a Michigan mansion estate that was acquired in 2003 at a cost of $4, 750,000. The rapper owns a fleet of cars, including a Ferrari 430 Scuderia, Ferrari 599 GTO, Lamborghini Aventador, Porsche Carrera GT, to mention but a few.
Eminem has done endorsement deals for brands like Chrysler and has a YouTube channel, both of which account for a share of his net worth. The artist also owes a portion of his wealth to his short stint in the film industry.
Life Lessons from Eminem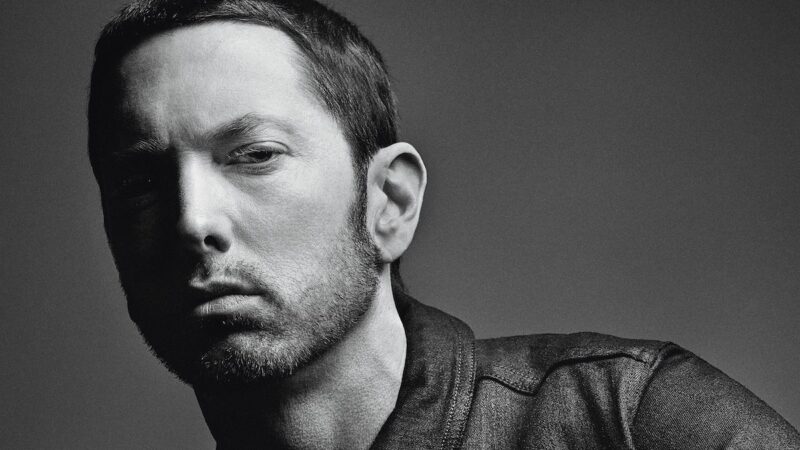 There are numerous life lessons we can learn from Eminem. Most notably, that giving up should never be an option, regardless how tough life is.
Eminem was born in a broken home, abandoned by his father before he was old enough to know him better. And constantly assaulted by his mother who occasionally teetered on the edge of a mental breakdown. But the rapper never gave up. He knew what he wanted and set his eyes on it.
Another lesson we can learn from Eminem is to never let criticism go to your head. During the nascent years of his rapping career in Detroit, he was easy to dismiss. It was virtually impossible for a white rapper to break into the predominantly black Detroit rap scene.
He also fell victim to bullies on account of his skin color and ethnicity. But deep down, Eminem knew he had a talent. He pushed through in spite of criticism, and emerged as the accomplished rapper we know of him today.
Lastly, Eminem has taught us about the importance of bouncing back. At some point, the rapper was nearly bankrupt, having been evicted from his home. But instead of sitting back and wallowing in his financial predicaments, he traveled to Los Angeles to make a fresh start. And that trip was the turnaround moment in his career.
The following are some of the famous quotes by Eminem:
"Everybody has goals, aspirations or whatever, and everybody has been at a point in their life where nobody believed in them."
"I started learning how to not be so angry about things, learning how to count my f—ing blessings instead. By doing that, I've become a happier person, instead of all this self-loathing I was doing for a while."
"If there's not drama and negativity in my life, all my songs will be really wack and boring or something."
"The truth is you don't know what is going to happen tomorrow. Life is a crazy ride, and nothing is guaranteed."
"Trust is hard to come by. That's why my circle is small and tight. I'm kind of funny about making new friends."
Conclusion
Like any artist, Marshall Mathers, aka Eminem, has his flaws, including the controversial nature of his music. However, he remains the most successful white rapper of all time.