Last Updated on January 25, 2022
One of a kind textile can be a huge advantage in designing and creating your own sewing projects. Just imagine – you can print anything onto a fabric of your choice and use it for your sewing project, e.g. clothes, accessories or home decor. There are at least a few options that you can pick from, and we will help you make the right decision. 
Screen printing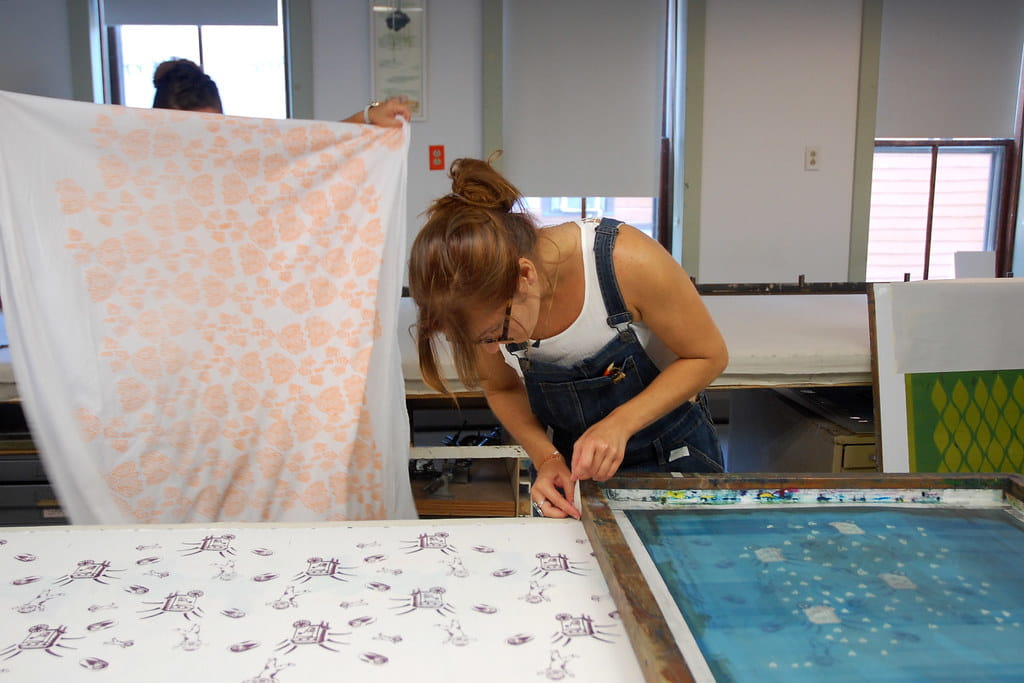 Fabric printing is hardly a novelty. First reported mentions of printing on fabric date back to the Song Dynasty in China, when screen printing has been invented.
Although it still holds a big share of the fabric printing market, it has its limitations and in short, runs is not at all cost-effective. Screen printing, in some capacity, can be done at home using DIY screens and available on the market emulsions and pigments.
But you literally have to get your hands dirty and it can be quite a mess. You'd need a dry but well-ventilated area and a set of bright lights to properly cure your screens. Also, it takes a bit of practice to evenly coat your screen with pigment, so your first prints won't look as good as you'd like.
Then you have to properly wash your screen, to get rid of remaining pigment and not to damage the layer of emulsion on it. On the other hand, if you'd like to contact a screen printing company to order a few t-shirts or tote bags you'd find them quite expensive since even for a single design a custom screen has to be manufactured.  
Block or stamp printing
If you do intend to print your fabric at home by yourself then you can consider block or stamp printing. You just need to have your design made into a stamp, or you can carve your own. Then all is left to do is to find stamping inks that are suitable for fabrics that will be worn and washed multiple times.
You have to work with a limited colour palette, so have that in mind while designing your pattern.  Stamp printing can be a great choice if you want to create custom labels or you want to print a simple repeated design.
But let's face it if you plan a bigger project, where you will need at least a few running metres of fabric, you'd have to spend hours on stamping your design just to create your unique textile.
Not to mention the time needed for cutting and sewing. Also carving your own stamp is quite a challenge on its own, and ordering a custom one takes time, so do take that into consideration before you dive into the block or stamp printing. 
Digital fabric printing
When a stunning result is your highest priority you should consider just ordering a custom printed fabric. Thanks to the digital fabric printing houses like ctnbee.com you can now print as little as few centimetres of your design and as much as whole rolls of fabric.
You don't have to worry about using only a few colours, like in the screen printing. It's a very cost-effective method of printing even in the short runs. You can order many different designs to be printed and it will be cheaper than creating multiple textiles using stamp printing.
The entire hassle of figuring out how to print a complex design or pattern no more stands in the way of your creative liberty. All you need to do is design your pattern or pick one from a vast catalogue.
The prints are sharp and vivid in colour and you cannot feel the pigment on the surface of the fabrics like you can in screen printing. All the materials remain soft, and knitted fabrics do not lose any of the stretch. Prints with proper care don't wash off or fade. 
Smaller and simpler designs can easily be achieved with at-home screen printing supplies and with a block or stamp printing. But if you have a more complex pattern in mind, with different shapes and colours then consider digital fabric printing to achieve the best results possible.