Last Updated on January 24, 2023
Elephants are one of the greatest highlights of any safari. Their big floppy ears, long trunks, and sheer colossal size makes them unmissable in habitats where other large game would easily go unnoticed.
But besides being one of the most iconic beasts on the African plains, elephants have a tender side too. For instance, these behemoths are among the only few wild animals to mourn their dead. And they do so in such a dramatic manner that leaves little doubt as to their sense of grief.
There are plenty more fun facts about elephants to quench your curiosity. And in this article, we unveil the 85 most fascinating things to love about these gentle giants.
Physical Features and Identification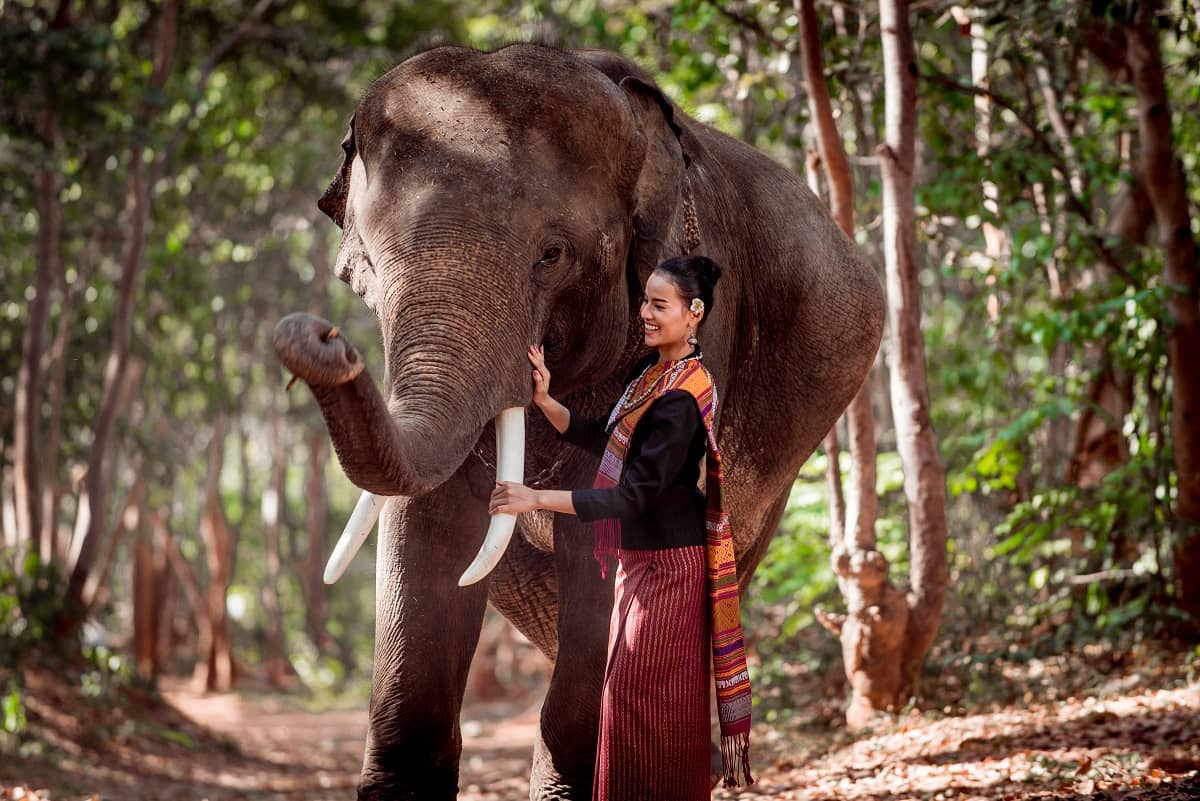 1. Elephants are the largest land animal.
2. A single elephant can weigh more than three cars. The average car weighs around 4,000 pounds (1814 kilograms) while the average elephant weighs about 14,000 pounds (6350) kilograms. So, the impact of an elephant crashing into you is similar to being hit by slightly more than three cars.
3. Elephant calves are equally among the world's largest babies. A baby elephant can weigh as much as 265 pounds (120 kilograms) at birth.
4. Expectedly, nearly every organ of an elephant's body is huge. For instance, an elephant's feet are about 15 to 19 inches (38 to 48 centimeters) long and wide.
5. Elephant feet feature soft padding. This helps support the animal's weight while offering them maximum grip as they maneuver across their habitat.
6. Elephants have five toes in every foot but not every toe has a nail.
7. The African elephant has the largest ears of any living creature.
8. Elephant ears contain thousands of tiny blood vessels through which the animal dissipates heat from its body to the air.
9. Elephants also use their big ears as fans for cooling off the rest of their bodies.
10. You can tell elephant species apart by looking at the shape and size of its ears. The African elephant has large ears that sort of resemble the shape of the African continent whereas the Asian elephant has smaller ears that resemble the shape of the Indian subcontinent.
11. Elephant trunks contain up to 40,000 muscles. For comparison, the entire human body has only 600 muscles.
12. Elephant trunks are the most resourceful appendages in the animal kingdom. They help in sucking up water for drinking, greeting one another, picking and feeling objects, and sounding warnings.
13. You can also tell the different elephant species apart by looking at the shape of the tips of their trunks. African elephants have what look like two fingers at the tip of their trunks whereas the Asian elephants have one.
14. Elephant tusks are actually enlarged incisor teeth.
15. Elephant tusks emerge around the age of two years and continue to grow throughout the animal's life.
16. An elephant's tusks are nearly as versatile as its trunk. They act as weaponry during defense and offense, as well as when prising bark off trees, digging up roots, lifting objects, and gathering food.
17. Elephants can be right-handed or left-handed. Or more accurately, right-tusked or left-tusked.
18. An elephant's dominant tusk is usually smaller due to wear and tear.
19. Elephant tusks cannot grow back once they're damaged, broken, or removed.
20. An elephant's skin is very thick. The skin can be up to 2.5 centimeters thick in certain places.
21. Elephant skin is incredibly sensitive despite its density.
22. Contrary to popular belief, elephants aren't the largest animal on earth. That title goes to the Antarctic blue whale. These monstrous sea creatures can reach lengths of 98 feet and weigh up to 400,000 pounds. That's about the size of 33 elephants.
23. Elephants aren't the tallest animal on the planet either. With their average height of between 2.8 and 3.2 meters, elephants are still shorter than giraffes which can stand up to 6 meters tall from their legs to the tip of their ossicones.
Origin and Etymology
24. The word "elephant" derives from the Latin word 'elephas,' which loosely translates to 'ivory.'
25. African elephants are so named due to the shape of their ears, which is widely described as resembling the African continent.
26. Asian elephants are also named based on the shape of their ears, which is described as resembling the Indian subcontinent.
27. Elephants have been around for more than 55 million years.
28. The hyrax is the elephant's closest living land relative.
29. Elephants share a common ancestor with manatees.
30. More than 300 species related to the elephant have gone extinct over the years.
Taxonomic Classification
31. Elephants belong in the kingdom Animalia. That's the same kingdom as humans.
32. Elephants belong in the phylum chordata. Animals in this kingdom have the backbone as a common evolutionary feature.
33. Like humans, elephants are classified in the class mammalia. Members of this class are characterized by the presence of mammary glands.
34. Elephants are the only surviving animal in the order proboscidea.
35. Elephants are also the only surviving animal in the family elephantoidea.
36. There are only two genera in the family elephantoidea. They include Loxodanta and Elephas.
37. There are only three surviving elephant species. They include the African bush elephant (Loxodonta africanus), the African forest elephant (Loxodonta cyclotis), and the Asian elephant (Elephas maximus).
Habitat and Distribution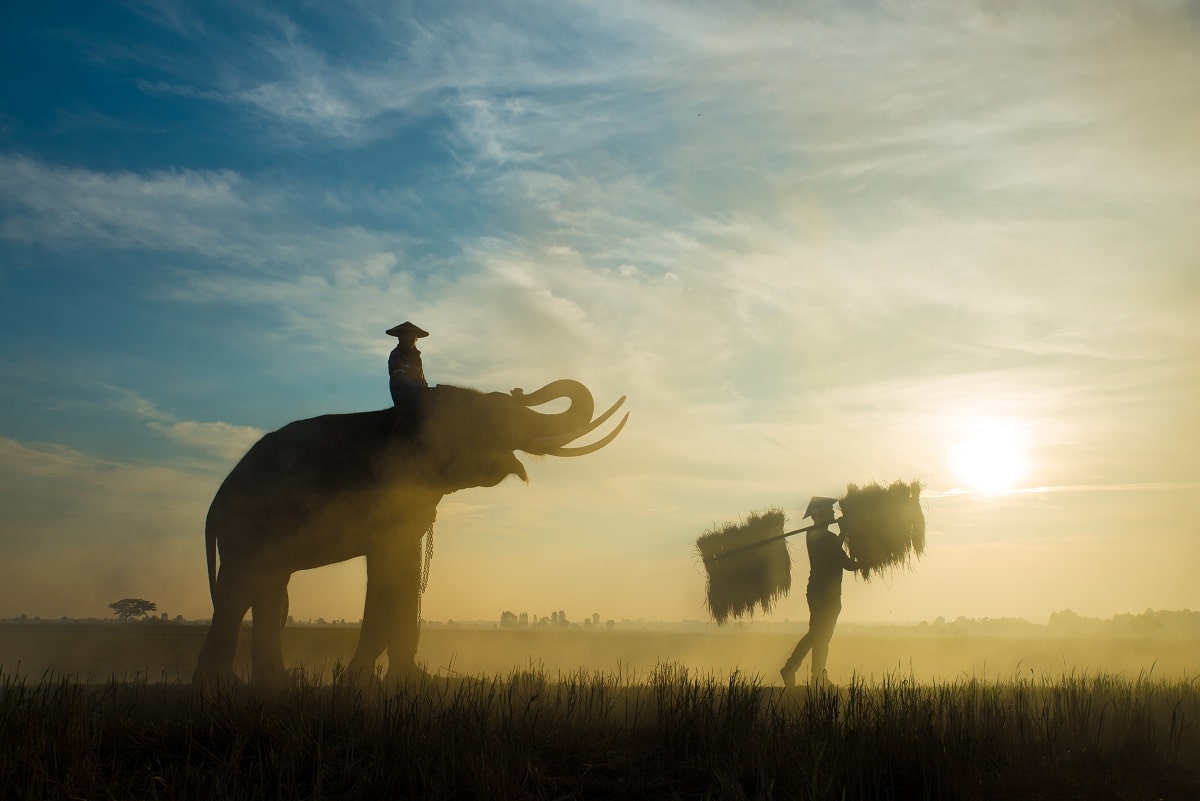 38. Elephants live in a variety of habitats, ranging from savanna grasslands to forests, marshes, and even deserts.
39. As their names imply, the African bush elephant mostly lives in bushy habitats while the African forest elephant prefers forested landscapes.
40. More than 95% of the world's wild elephants are found in sub-Saharan Africa, South Asia, and Southern Asia.
41. The global wild elephant population is estimated to be around 40,000 – 50,000.
42. The African bush elephant and the Asian elephant appear on the International Union for Conservation of Nature (IUCN)'s list of endangered species while the African forest elephant is listed by the same conservation group as critically endangered.
43. Poaching is the biggest threat to the elephant population. These animals are mostly poached for their precious ivory. Unfortunately, obtaining ivory from an elephant also means leaving the animal dead. Continued habitat loss and human-wildlife conflict are other major threats to the wild elephant population.
Feeding and Predation
44. Elephants are obligate herbivores, i.e., they live exclusively on plant matter.
45. Elephants are both grazers and browsers. This means they eat both grass and trees.
46. The elephant's diet consists of grass, leaves, fruit, and roots.
47. Elephants grab their food using their trunks. They first sweep loose items into a pile and then crush the pile into a manageable solid. They then pick up the solid mass using their trunks and put it in their mouths.
48. Elephants never stop eating. These animals can spend up to two-thirds of their day eating.
49. An average adult elephant can consume up to 300 pounds of food in a single day.
50. However, up to half of what an elephant eats leaves its body undigested.
51. Elephant dung is food for a variety of animals, including honey badgers, monkeys, mongooses, and several birds.
52. Elephants require between 18 and 26 gallons or 68.4 to 98.8 liters of water daily.
53. But in hot conditions, an adult elephant can drink as much as 55 gallons or 212 liters of water in a single sitting.
54. Elephants can go up to 4 days without water.
55. Elephants prefer to stay near water holes. However, they can smell water from hundreds of miles away.
56. Given their enormous size, elephants are a formidable animal with few natural predators.
57. However, lions, leopards, and hyenas are known to prey on young and sick elephants. Lions will also gang up to take down a fully-grown elephant.
58. Elephants and rhinos are mortal enemies. These beasts will charge at each other at the slightest opportunity they can find. In fact, elephants are one of the biggest threats to rhino calves.
59. Elephants are also a huge threat to humans. Over 100 people are killed by elephants each year in India alone.
60. However, humans are a greater risk to elephants than they are to humans. An estimated 100 African elephants are killed annually, mostly for their precious tusks.
Movement
61. Elephants are faster than humans. The average speed of an adult elephant is 10 – 15 mph (16 – 24 km/h) while that of an adult human is 8 mph (13 km/h).
62. Like most animals, elephants are able to walk backwards.
Sensory Perception
63. Elephants have rather poor eyesight. These animals can only see objects clearly from 65.6 feet (20 meters) away.
64. However, elephants make up for their poor eyesight with a wider field of view. That's because their eyes are located nearly on opposite sides of their trunks. An elephant's field of view is 313 degrees.
65. Elephants have incredible hearing. They can detect sounds as low as 14 to 16 Hz.
66. Elephants have a keen sense of smell too. In fact, these animals have more scent receptors in their noses than any mammal and can sniff food from scores of miles away.
Socialization and Family Set-ups
67. Elephants are social animals who thrive better in groups.
68. Elephants maintain a fission-fusion society, an arrangement in which several family units frequently come together to socialize.
69. A group of elephants is called a herd.
70. A single elephant herd can contain members up to the fifth generation.
71. Elephants maintain a matriarchal society where the oldest female rules the herd.
72. A male elephant is called a bull, a female elephant a cow, and a baby elephant a calf.
73. Bulls do not make up a typical elephant herd. A bull will leave the family group when it reaches sexual maturity and live alone or with other bulls.
Life Expectancy
74. Elephants can live up to 70 years in the wild and much longer in captivity.
75. The record for the oldest elephant in the world is held by an Asian elephant named Changalloor Dakshayani. Dakshayani died on February 5, 2019, aged 89 years. However, there's an elephant in Madhya Pradesh's Panna Tiger Reserve known as Vatsala of Panna which is believed to be 105 years old. The reason Vatsala of Panna doesn't hold the record for the oldest elephant is that her date of birth isn't accurately documented.
Other Fun Elephant Facts
76. Elephants are used as working animals in Asia. The animals are typically used for dragging logs on land or through the water. In Nepal, forest rangers ride on elephant backs during their routine patrols.
77. Elephants were once used in war. At some point in ancient India and China, elephants constituted permanent army members.
78. Elephants have the longest gestation period of all mammals – 22 months.
79. A baby elephant can stand within 20 minutes of being born, walk within an hour, and be able to keep up with the rest of the herd after two days. Those are remarkable survival skills right there!
80. Elephants never forget. They have a temporal lobe that's larger and denser than that of most people.
81. Due to their retentive memory, elephants are known to suffer post-traumatic stress disorder (PTSD).
82. Elephants mourn the dead. Their grieving ritual mostly includes sniffing and touching the carcass.
83. Elephants can differentiate between multiple languages.
84. Despite their size, elephants are excellent swimmers. No wonder cases of elephant drowning are few and far between.
85. Elephants use dirt as sunscreen. They will first draw water into their trunks and squirt it over their bodies to cool down. They'll then follow by sprinkling dust to create a protective layer from the sun's scorching heat.
Wrap Up
Elephants may be fun to learn about. But they're certainly not fun to mess up with.
The next time you go on a game drive across an elephant-inhabited park or ecosystem, be sure to keep a safe distance. Having 14,000 pounds of pure muscle and bone charging at you is an experience you wouldn't wish on your worst enemy.