Last Updated on January 24, 2023
Tigers are skilled hunters whose arsenal includes flexible muscles, razor-sharp claws, and one of the most powerful bites in the animal kingdom. These predators are known to sneak up on their prey and then pounce with such incredible speeds and accuracy that their targets often do not know what hit them.
Here's a collection of the 70 most astonishing tiger facts to help you understand these elusive Asian cats.
Physical Features and Identification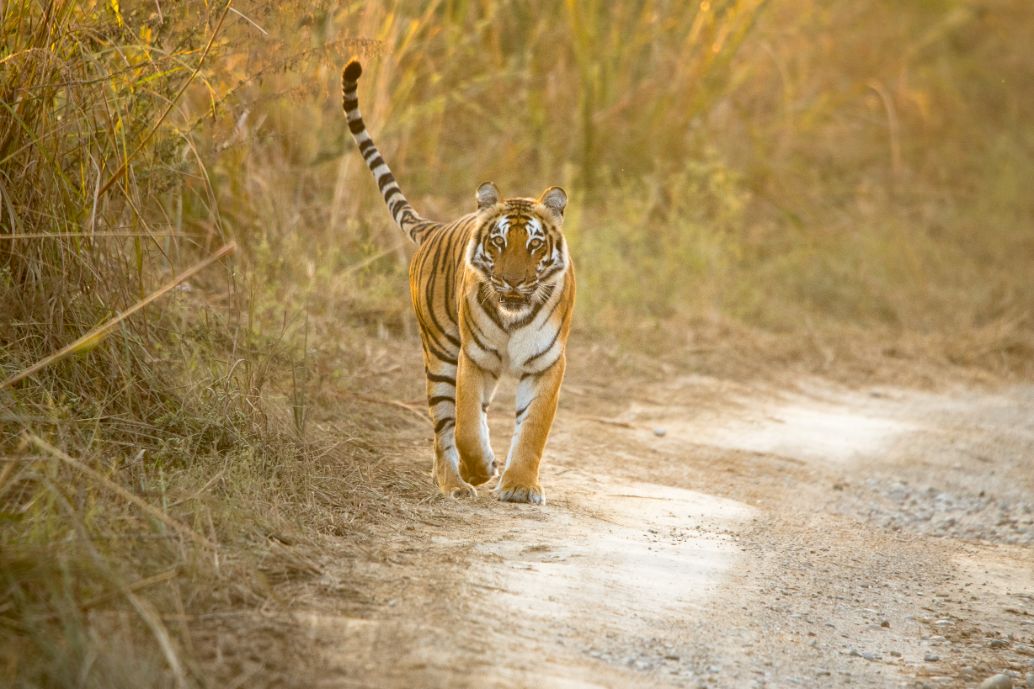 1. Tigers are most recognizable for their orange or reddish-orange fur, bold black stripes, and white undersides.
2. The tiger is the largest living cat, considerably larger than the African lion.
3. A tiger can measure as long as 4.5 – 9.25 feet or 1.4 – 2.8 meters (excluding the tail). For comparison, the African lion measures 0.9 – 1.2 meters (excluding the tail).
4. An adult tiger weighs roughly 220 – 660 pounds or 100 – 300 kilograms. That makes them heavier than the African lion, which typically weighs between 130 and 190 kilograms.
5. The tiger sports a relatively long tail too, 24 – 43 inches or 60 – 110 centimeters.
6. Like most cats, the tiger uses its tail for balance when climbing trees or making sharp turns at high speeds.
7. Tigers also use their tails for communication. A loosely-hanging tail is a sign of relaxation while a twitching tail denotes anger and aggression.
Origin and Etymology
8. The word "tiger" comes from the Middle English word 'tigras,' which derives from the Old French word 'tigre' and Latin word 'tigris.' The Old French and Latin variations of the word may have been borrowed from the Persian word 'tigra' which means "pointed" or "sharp" and the Avestan word 'tigrhi' which means "arrow." Both words resonate with the tiger's speed and leap, although it's unclear if they originally referred to the animal.
9. Tigers have been around for about 2 million years. That's according to tiger fossils that were discovered in South Asia.
10. Like most animals, tigers roamed all planets at some point before their habitat began to shrink.
Taxonomic Classification
11. Tigers belong in the kingdom Animalia. That's pretty much because they're animals and not plants, fungi, or protozoa.
12. Tigers belong in the phylum Chordata. That's the same phylum as humans. Members of this taxonomic group share one fundamental evolutionary feature – the backbone.
13. Tigers belong in the class Mammalia. Again, that's the same taxonomic unit as humans. Animals in this group are essentially mammals. They're distinguishable by the presence of mammary glands.
14. Tigers identify in the order Carnivora. This taxonomic group includes all cat-like and dog-like animals. Other notable members are lions, leopards, cheetahs, hyenas, bears, wolves, raccoons, mongooses, and walruses.
15. The tiger's next taxonomic unit after the order Carnivora is the suborder Feliformia. The Feliformia suborder consists of cat-like carnivorans. They include the domestic cat, lions, leopards, cheetahs, hyenas, pumas, mongooses, and of course the tiger.
16. Tigers belong in the family Felidae. Members of the Felidae family are known as felids and they include tigers, lynxes, servals, cougars, and the European wildcats.
17. From the family Felidae, tigers are next classified in the subfamily Pantherinae. Other noteworthy members of this unit include lions, leopards, and jaguars.
18. Tigers belong in the genus Panthera. Again, that's the same taxonomic unit as lions, leopards, and jaguars. The genus has a total of seven species.
19. The tiger's species name is Panthera tigris.
20. There are two living tiger subspecies. They include the mainland Asian tiger (Panthera tigris tigris) and the Sunda Island tiger (Panthera tigris sondaica).
21. There are three extinct tiger subspecies too. They include the Ngandong tiger (Panthera tigris soloensis), the Wanhsien tiger (Panthera tigris acutidens), and the Trinil tiger (Panthera tigris trinilensis).
Habitat and Distribution
22. Tigers particularly prefer rain forests. However, these cats can thrive in diverse habitats, including savannas, grasslands, and even mangrove swamps.
23. Contrary to popular belief, tigers are not arboreal cats. However, they will climb trees right before mounting a hunt to pick potential prey. The young and sickly make perfect targets. Tigers will also climb trees to feed, nap, or escape danger. Besides, tiger cubs do climb trees to play.
24. There are approximately 13,000 tigers in the world. About 5,000 of these live in the wild whereas 8,000 live in captivity.
25. Asia and Europe (if you consider Russia to be in Europe) account for the entire world's population of wild tigers.
26. India has the highest tiger population by country. However, these graceful cats are also found in Russia, Indonesia, Nepal, Bangladesh, Thailand, Bhutan, Malaysia, China, Myanmar, and Laos.
27. Tigers are listed on the International Union for Conservation of Nature (IUCN)'s Red List of Threatened Species. Habitat destruction and habitat fragmentation are the biggest threats to the tiger population. These cats are also poached for their fur, coat, and bones.
Feeding and Predation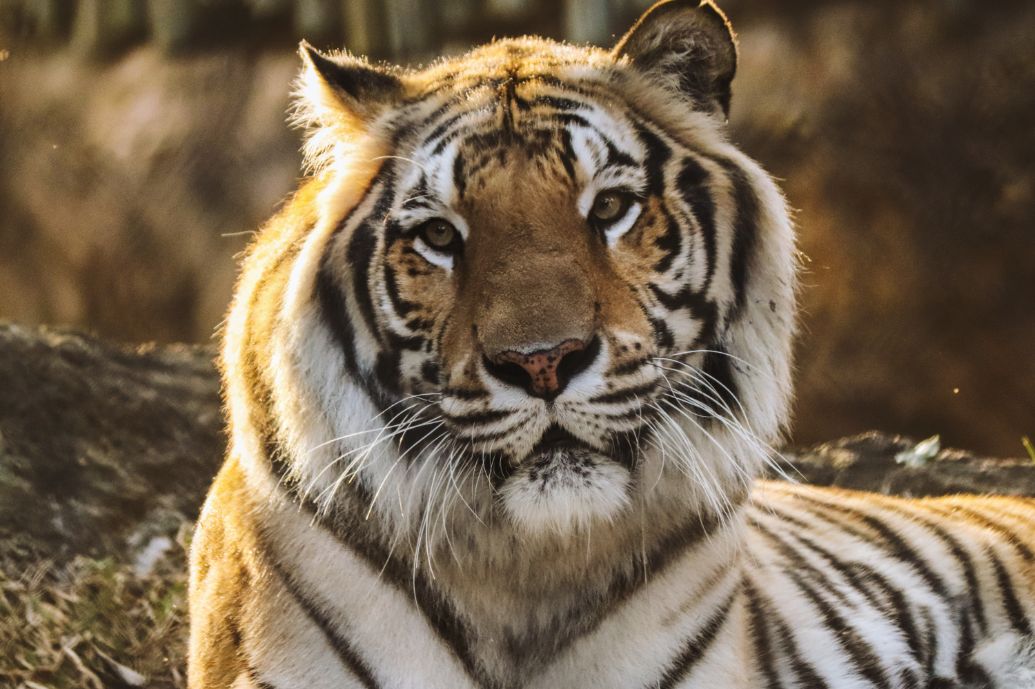 28. Tigers are apex predators who feed on ungulate animals like deer, wild pigs, elk, buffalo, and cattle. A tiger's diet may also include prey as small as termites and as large as elephants.
29. Like all wild cats, tigers are obligate carnivores. They eat only meat. However, like most cats, tigers will nibble on grass occasionally to relieve indigestion.
30. At least half of tigers also respond to catnip, the plant known for lulling cats into a trance.
31. While they prefer to hunt down their own prey, tigers are inherently opportunistic feeders and won't mind stealing food from weaker carnivores.
32. Tigers are also occasionally cannibals. Their cannibalistic side tends to kick in when their natural prey is in short supply.
33. While hunting, tigers mainly rely on their sense of sight and hearing. These cats will cautiously sneak up on their prey from the rear and try to get as close as possible. They'll then pounce and attempt to take down the quarry by inflicting a powerful bite to the neck and/or throat.
34. Tigers have a bite force of 1,050 pounds per square inch (psi). That's slightly more powerful than the African lion's, whose bite force is 1,000 psi.
35. Like most cats, tigers typically approach their quarry from a downwind direction. This prevents their targets from sniffing them out.
36. Also, like most cats, a tiger will rarely press an attack if their prey makes them out before mounting an ambush. However, these animals will also give chase in hunting grounds where it's impossible to stalk their prey.
37. Tigers have an average speed of 49 – 65 km/h. That's about half as fast as the land's fastest animal. For comparison, the cheetah has an impressive speed of 80 – 130 km/h.
38. As apex predators, tigers have nothing to worry about. Apart of course, humans.
Anatomy and Sensory Perception
39. Adult tigers have 30 teeth; 16 in the upper jaw and 14 in the lower jaw. They include 12 incisors, 4 canines, 12 premolars, and 2 molars.
40. A tiger's teeth never stop growing. However, permanent teeth are irreplaceable once lost.
41. Unlike humans, tigers cannot move their jaws from side to side. They can only move their lower jaw up and down.
42. Like most cats, a tiger's tongue is covered in sandpaper-like projections called papillae. These projections help strip fur, feathers, and meat from prey. They're also useful during grooming.
43. A tiger's range of vision is nearly the same as a human's in normal daylight. However, humans are slightly better than tigers at making out details in an object.
44. Tigers have a visual acuity up to six times better than humans at night. That's due to a feature in their eyes called tapetum lucidum, which focuses more light into the eyes.
45. A tiger's field of view also excels ours. While humans have a field of vision of 195 degrees, tigers can see around 295 degrees.
46. However, like most mammals, tigers are color-blind. They can only distinguish red-orange and green tones.
47. A tiger's sense of hearing is far more advanced than a human's. These elusive cats can hear sounds up to up to 60 kHz while humans can only hear sounds about 20 kHz.
48. The tiger's sense of hearing is complemented by the whiskers. A tiger's whiskers are highly sensitive and can detect tiny movements and vibrations in the air. They're useful when navigating in the dark.
49. A tiger's sense of smell is the least effective of its other senses. That's due to the smaller number of odor-detecting cells. Tigers are actually among the few cats who don't use their sense of smell to hunt.
50. Tigers can detect a variety of tastes, including salty, bitter, acidic, and even sweet. But with only 500 taste buds compared to 9,000 for humans, a tiger's sense of taste is also not very acute.
51. Tigers have remarkable memory. Their short-term memory is about 30 times longer than humans.
Life Expectancy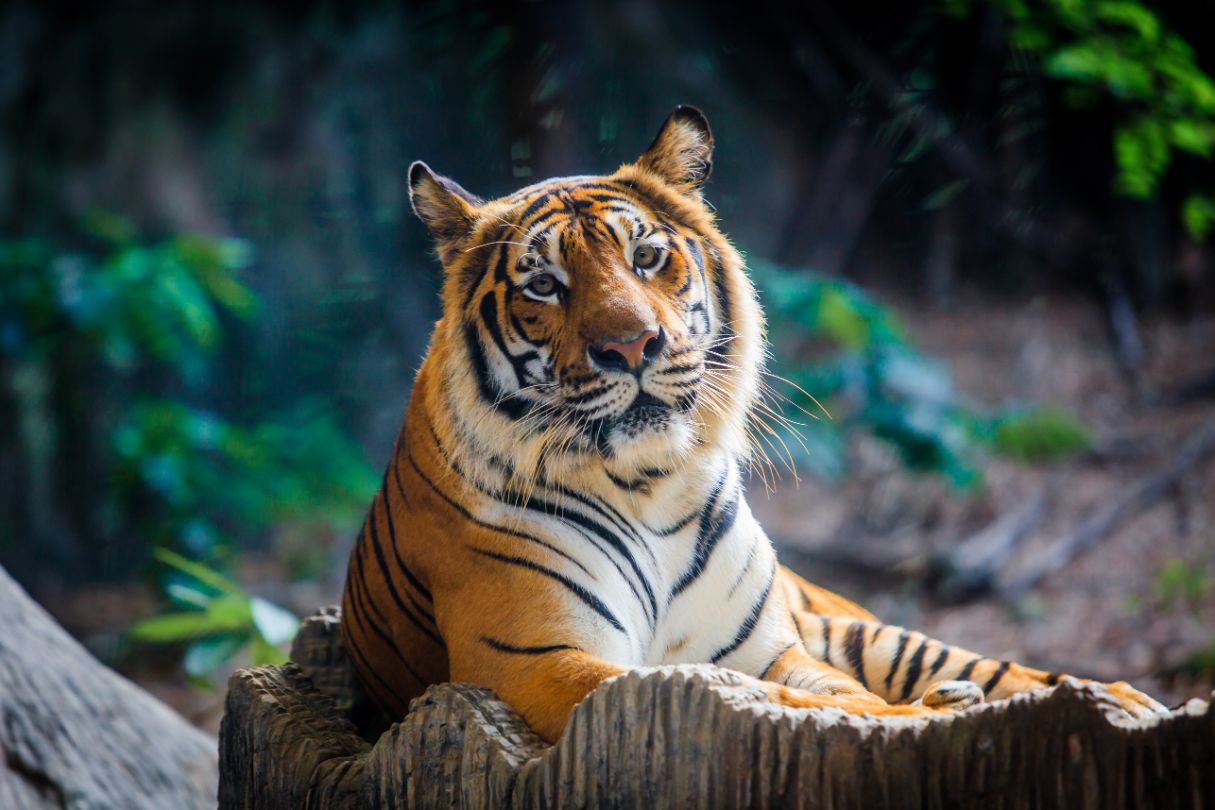 52. Tigers have an average lifespan of 8 – 10 years in the wild. These animals can live even longer in captivity.
53. The oldest tiger in captivity was called Raja. Raja, a Royal Bengal tiger, lived at the South Khairbari Rescue Centre in India's Alipurduar District. He breathed his last on July 11, 2022, aged 25 years 10 months.
Tigers and Humans
54. Tigers are generally wary of humans and try to avoid contact with them at all costs. These cats have no natural preference for people meat, much as humans are an easy target.
55. Nonetheless, old and frail tigers may target humans for food out of depression. Healthy and energetic tigers will also kill humans if they feel threatened.
56. Reports indicate that between 40 and 50 people are killed by tigers annually.
57. However, humans are a greater risk to tigers than they are to us. Conservative estimates indicate that over 100 tigers are killed annually.
Other Fun Tiger Facts
58. A male tiger is called a tiger, a female tiger is called a tigress, while a baby tiger is called a cub.
59. Tigers are one of the loudest animals on the planet. A tiger's roar can be heard from up to 3 kilometers away.
60. Tigers are solitary cats who only stick around each other when mating or raising cubs. They're solitary hunters too.
61. A group of tigers is called a streak or an ambush. Such groups are hard to come by, considering that these animals live and hunt alone.
62. A tiger's stripes are unique, just like human fingerprints. No two stripes look identical and the pattern is unique to each tiger.
63. July 29 is International Tiger Day. This is a special day to recognize the instrumental role these cats play in the ecosystem while also reminding ourselves of the need to conserve them.
64. The tiger is an important part of Asian folklore and traditional art. For instance the Hindu mythology goddess Durga is depicted as riding on a tiger.
65. Tiger's urine smells nice. According to many people who've interacted with these cats before, tiger pee smells like buttered popcorn. However, their poop smells awful.
66. Tigers may identify as cats. But they're excellent swimmers and love to spend their time dipping in streams and puddles.
67. Tigers naturally breed with their kind. However, these animals may also be bred with lions to produce a liger or tigon. Ligers are the product of breeding a lion and a tigress whereas the tigon is the offspring of a tiger and lioness. Ligers are considerably larger than their parents. They can stand around 5 feet tall and weigh one thousand pounds.
68. Female tigers may come into heat throughout the year. But mating tends to be more frequent during the cooler months of November to April in tropical climates and during winter months in temperate regions.
69. Tigresses have a gestation period of 93 – 112 days.
70. Mother tigers typically give birth to 2 – 4 cubs at a time. However, only one usually makes it to adulthood.
Summary
Tigers seldom cross paths with humans. And even when they do, these cats will not go on the offensive unless they truly feel threatened.
So, whether you happen to live within the tiger's native range or are planning a tiger safari, you have no cause for alarm. Just remember not to come too close for comfort.