Last Updated on March 8, 2022
If you're into fashion, you're probably familiar with Instagram. We spend so much time on Instagram that it only makes sense to be able to shop from Instagram.
Smart fashion brands know that their Instagram page isn't just a social media handle for cool photos. Instagram has become a useful tool for brands to show you a look and tell you exactly where to find it.
As regular website exploring becomes less popular with social media, Instagram and social media shopping is becoming more and more desirable. We decided to dive in and see which fashion brands are featuring shopping options. Here are the 20 fashion brands that let you shop their Instagram account!
1. Fashion Nova

Fashion Nova is ahead of the curve with shopping through Instagram. Fashion Nova will let you shop their Instagram account by telling you what's in the shop and what keywords to use in order to find it.
For example, their recent post about their hot new "Very Important Off Shoulder Jumpsuit" is easily findable because they tell you exactly what to search.
They make it super easy to find the exact thing you're looking for – and you can usually find promo codes for 30 – 80% off, along with other discounts as well.
2. Streetwear Steals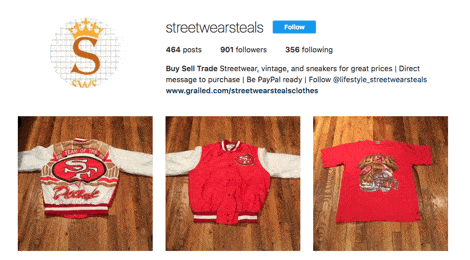 Independent brands are all about selling straight from Instagram. They treat Instagram as their storefront and sell as-is to people looking to shop through the social media platform. For example, Streetwear Steals offers vintage streetwear directly from their Instagram account.
The individual posts encourage direct messaging for purchasing, which means a personal message to the brand in order to buy the garment.
3. Abercrombie & Fitch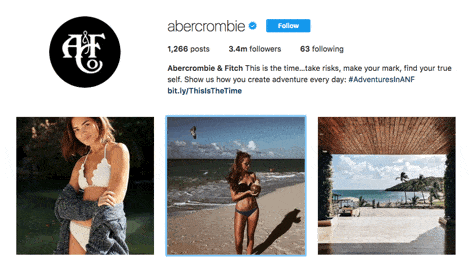 Moving onto something a little different, some brands let you shop straight from their Instagram account buy tapping on to the image and seeing exactly what the product is.
Tap on the photo and a bubble will pop up that will tell you what the garment is called and even how much it costs.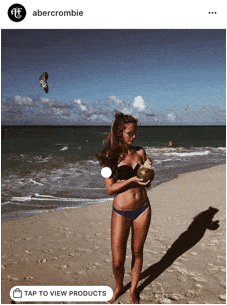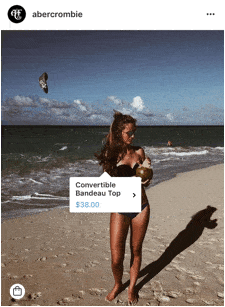 From there you can click on that bubble and it'll take you to a page where you can buy it directly. Once you get taken to that page, you can click "Shop Now" and buy the exact piece.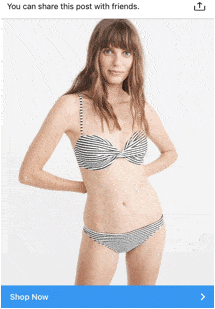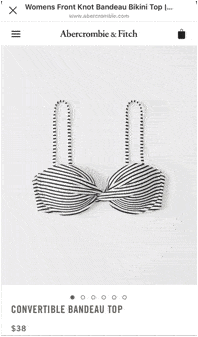 4. Macy's
You can also buy the first-rate quality of Macy's straight from their Instagram page. Simply do the same as you would with Abercrombie & Fitch and link to where you can buy from the Macy's Instagram page.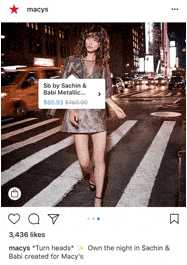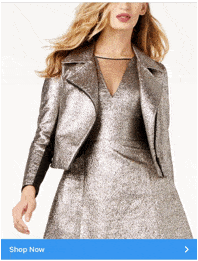 Click on the photo and you'll see the price and a link to shop the item. Social media and fashion brands are blending to make it more convenient for shoppers.
5. Banana Republic
Banana Republic is a top quality brand that makes perfect clothes for the office or happy hour with friends. They're famous for making people look sharp without spending a fortune. Their Instagram page is full of links straight to the buy page of their fashionable garments.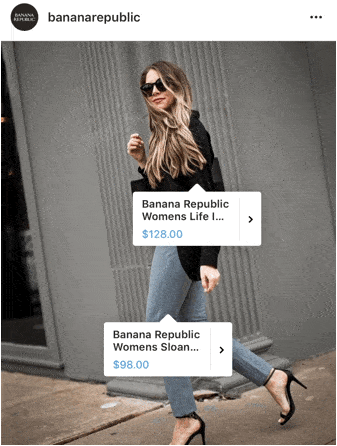 Tap the post on Instagram and you'll get all the info you need. Plus, you can find Banana Republic promo codes here and here to complete your purchase.
6. Marc Jacobs
Another brand that sells from Instagram is Marc Jacobs. This luxury brand lets you know exactly what the product is called and where to buy it on Instagram.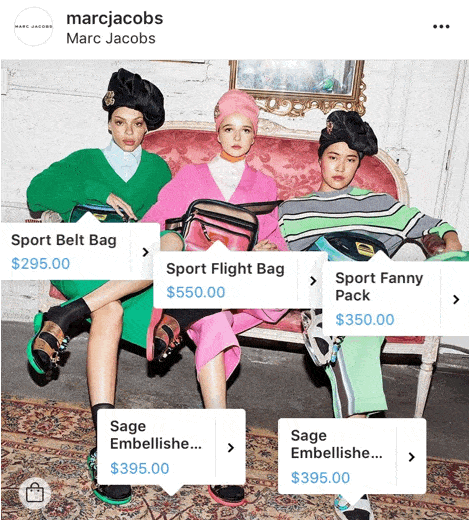 Marc Jacobs is great because it links every. single. item.
7. Michael Kors
Michael Kors is another luxury brand that makes it easy to buy their brand on Instagram. They sell footwear, accessories, men's wear, and more straight from Instagram.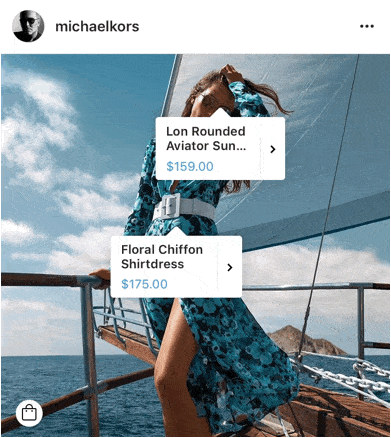 As you can see, you can click the link straight to the Floral Chiffon Shirtdress or the cool Lon Rounded Aviator Sunglasses. It's a perfect way to shop (and you can find Michael Kors discount codes here and here).
8. Madewell
Madewell has the dantiest jewelry and you can find it on their Instagram page. Get those cute party earrings right now by following their social media page!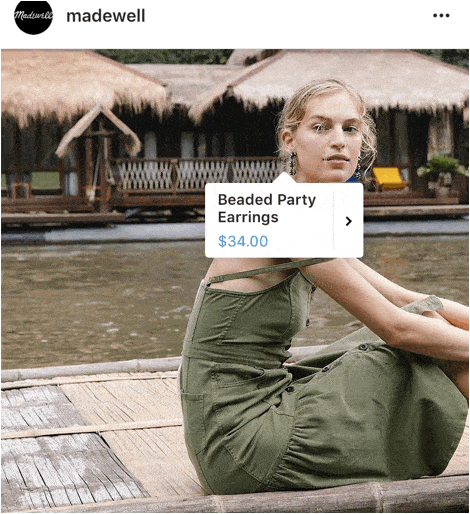 It's so convenient that you get the price right away, so you can keep scrolling if you're not interested rather than clicking on the product and waiting for an official website to load. Remember, always check for Madewell promo codes and discounts first. (codes here and here).
9. Barneys
Get high end pieces straight from Barneys during a casual Instagram scroll. Simply click on the photo on any given Instagram post from Barneys and you'll get a price along with a clickable link.
Get the cutest feather bottom dress and learn about it from following Barneys social media pages.
10. Tory Burch
That unmistakable logo on any sandal, clothing item, or purse is timeless at this point. The logo is sought after by plenty of young people looking for the most in style brand that they can find. Tory Burch seems to transcend decades, always staying in fashion to wear.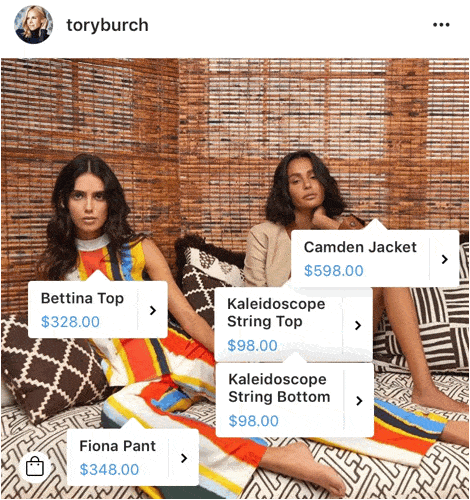 Find Tory Burch's Instagram page and find an easy place to shop without having to visit the website to search. And they usually have a 10% off promo code or other coupon ready and waiting for you.
11. Kate Spade
If you're into a girly, feminine look, then Kate Spade might be a lovely source for purses, clothes, and accessories. They make it easy to get all your girliest stuff by letting you shop their Instagram account.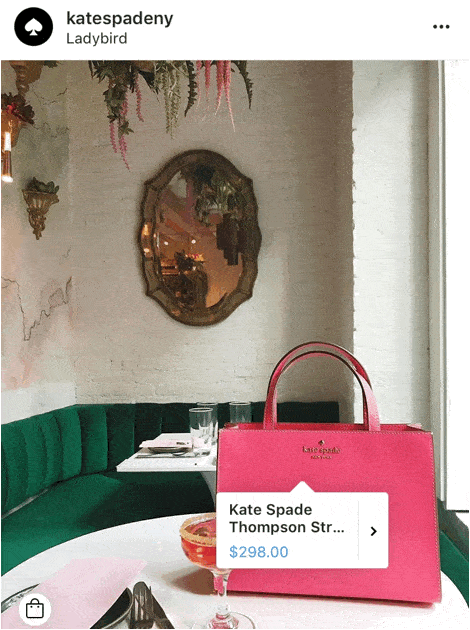 Check out the Kate Spade Instagram page for direct purchasing options, and check out the 15% off Kate Spade codes here and here.
12. Target
Target is getting on the trend of letting you shop straight from their Instagram account.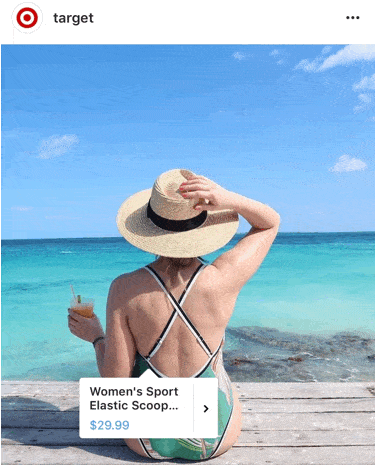 Tap the photo and see the prices of the cutest looking bikini, dress, pair of jeans, and everything else that comes from Target – and get Target coupons here and here to save even more.
13. Sperry
Discover the most classic Sperry shoes without having to visit the website. Sperry posts plenty of pictures of their new shoes directly on their Instagram page. From their Instagram page, buy pairs of shoes that will transcend any trend phases.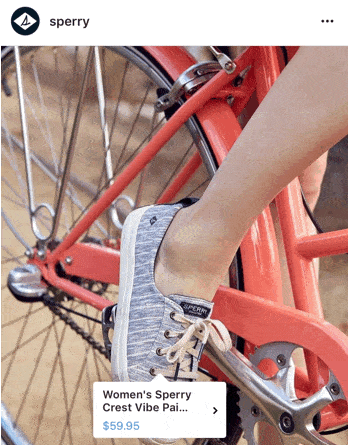 Click on the image and find out exactly what that item costs (codes here and here).
14. Club Monaco
Imagine you're reading a magazine and you could tap your finger on each item the models wearing and see what it costs. It's a dream come true to be able to find out how much an item costs and where to find it with Instagram. Club Monaco lets you shop their Instagram account just with a few simple clicks.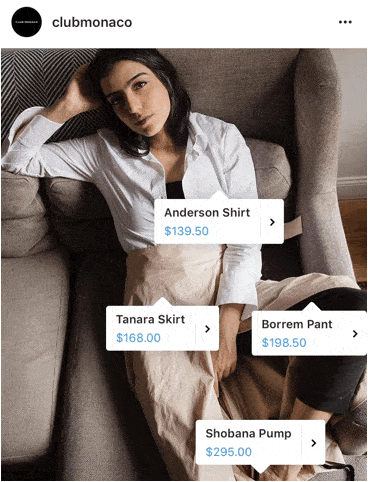 Club Monaco is one of the best fashion brands that lets you shop their Instagram account, and they make it as easy as possible. Check here for 15% off codes, or here for other discounts.
15. Levi's
Since 1853, Levi's has been creating sturdy and attractive looking attire for men and women. It's amazing how far they've come in the fashion industry, and they only continue to thrive.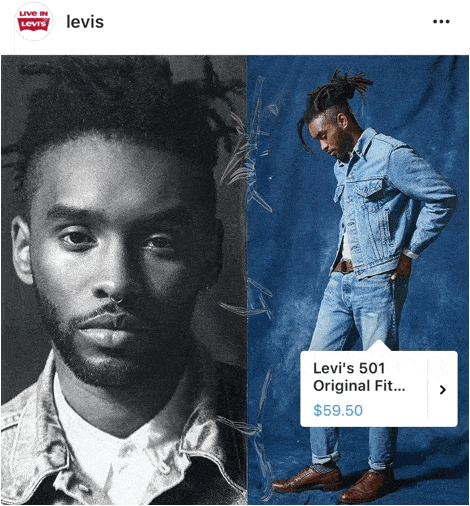 Find where to buy their latest fashions on their Instagram page.
16. American Eagle
Always morphing into the hottest of the trends, American Eagle keeps a stronghold on the American Mall. Preppy casual wear is timeless, and American Eagle carries the style through all sorts of trend phases.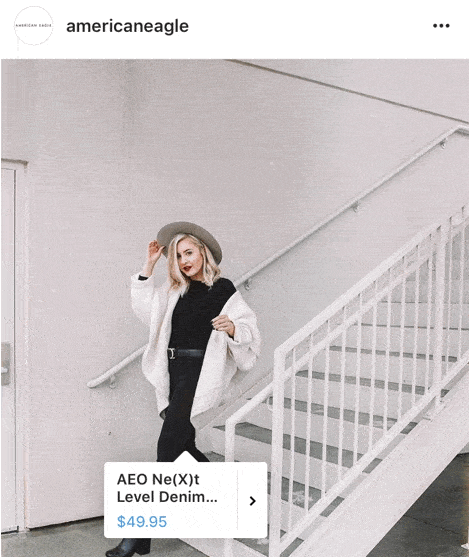 Snag these chic Level Denim pants from American Eagle's Instagram in the easiest way possible.
17. Victoria's Secret
Though not as consistent as other brands, Victoria's Secret will let you shop their Instagram account. Get the cutest undergarments while you're browsing Instagram. It's easy!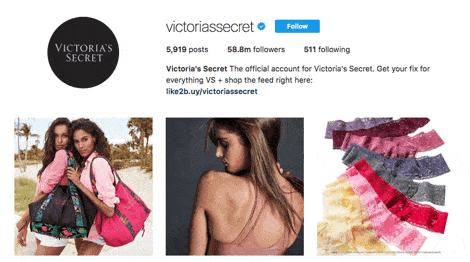 Find the cutest bras, panties, and other unmentionables from the biggest lingerie retailer on the market on their Instagram, and find discounts on those items here or here.
18. H&M
H&M does it similar to some of the fashion brands we mentioned earlier in the list. They will give you the number of the garment to look for on their website from the Instagram page.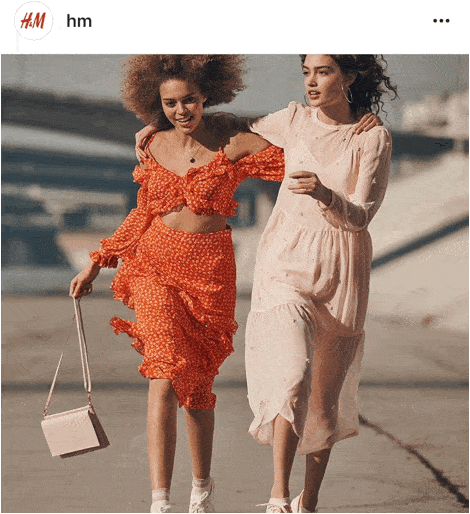 Find a gorgeous dress, that perfect fitting shirt, or those comfy jeans. It's easy if you do it from Instagram, and just as easy to find H&M promo codes and discounts.
19. Express
Always there when you need a stylish interview outfit, Express is the leading affordable professional wear company for men and women.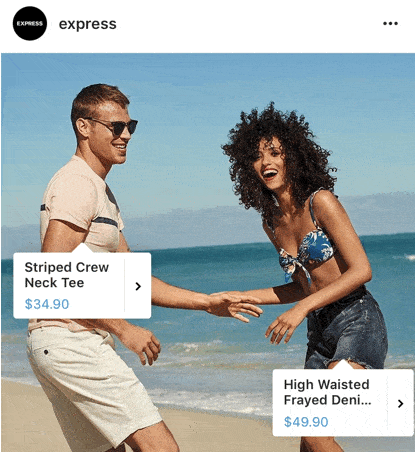 Check out their Instagram page and shop the looks you see on the models.
20. Urban Outfitters
If you're a fan of Urban Outfitters, we have a pleasant surprise for you. Grab exactly what the cool young people are wearing on the Urban Outfitters page of Instagram.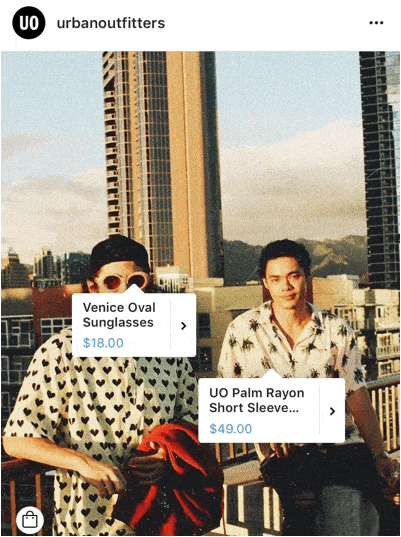 Find sunglasses, sandals, and more – just remember to check for promo codes here and here.
Conclusion
Keep these fashion brands in mind when you're looking for a store that lets you shop their Instagram account. Make shopping in bed even better!