There is nothing more universally loved than flowers. As William Powell classically put it in 1936, nobody needs to know the language of flowers to send your sentiments with it. After all, flowers are the perfect reminder of the beauty in life.
They are not only well-known metaphors for beauty but are also modes of expression for all kinds of emotions – love, sadness, and even regret, to name a few.
Whatever the occasion, there is a flower to celebrate it.
Flowers and Its Meanings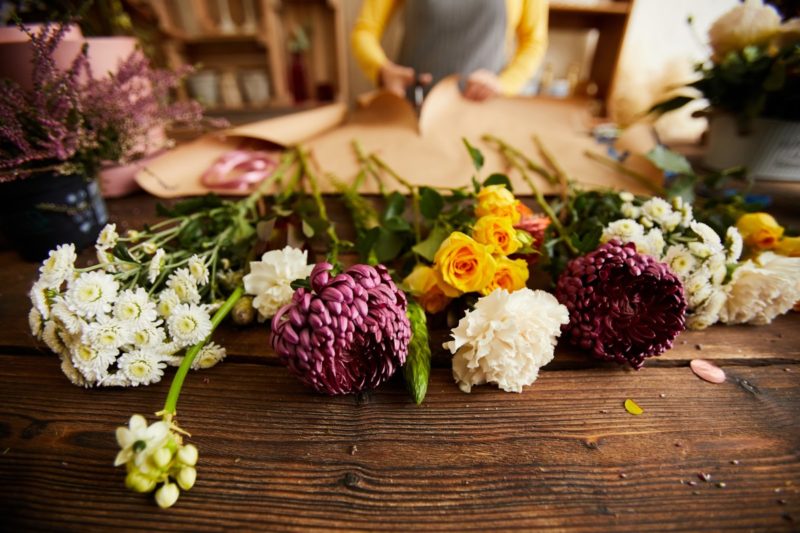 Flowers are a constant at almost any special occasion. When a loved one has a birthday, you send flowers.
When there are special holidays like Valentine's, Mother's Day, or anniversaries – flowers are a common way to send your greetings. But before you send a greeting, it's best to know you are sending the right flower that symbolizes your sentiment.
For example, the classic red rose perfectly conveys love, but did you know to confess your feelings for someone, a red tulip would be more suitable? If you are sending roses to a friend, it's best to send a coral rose. If you've been struck with love at first sight, a lavender rose symbolizes it.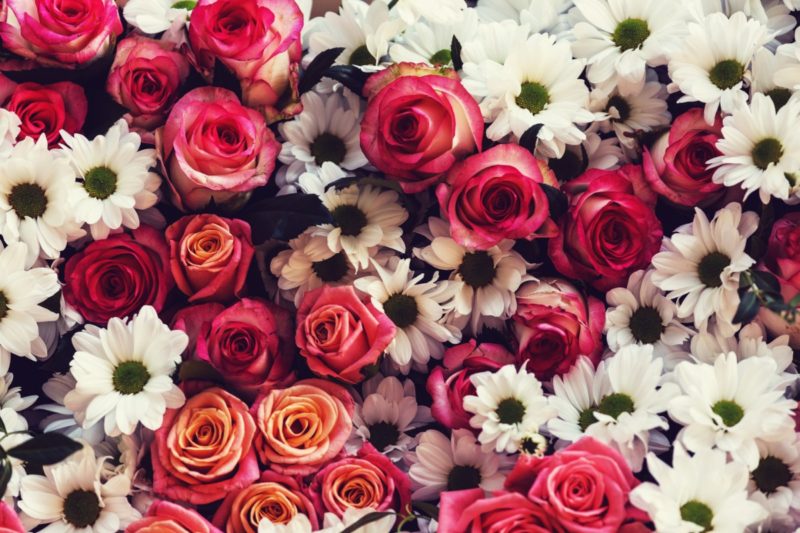 But they aren't just for happy moments. Flowers can also express your negative feelings and condolences for tragic events. Yellow flowers convey jealousy, disappointment and even rejection. Offering a Black-eyed Susan at memorials for victims of tragedies means justice while begonias are a symbol for caution.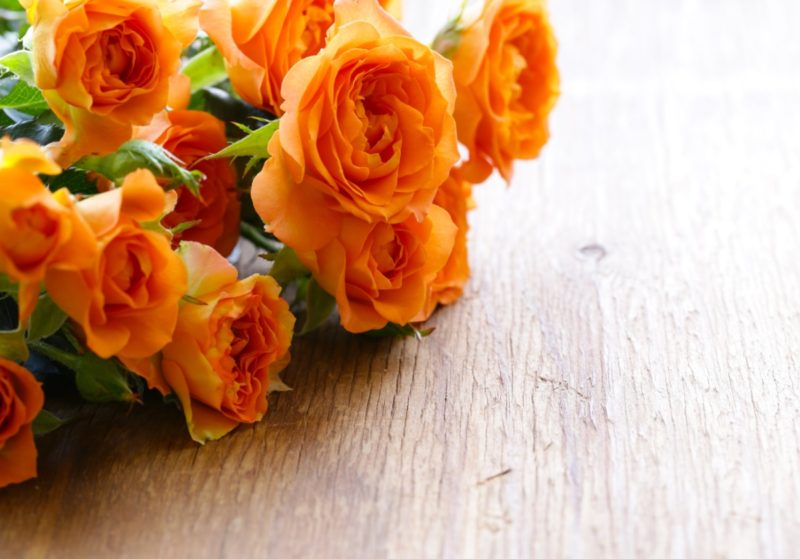 If you're sending some birthday flowers, why not send their birth month flower. For those born in January, choose between a carnation or snowdrop bouquet. Midyear babies of June get the classic rose or honeysuckle while those born during October's fall season get the bright and sunny marigold or the perfectly symmetrical cosmos.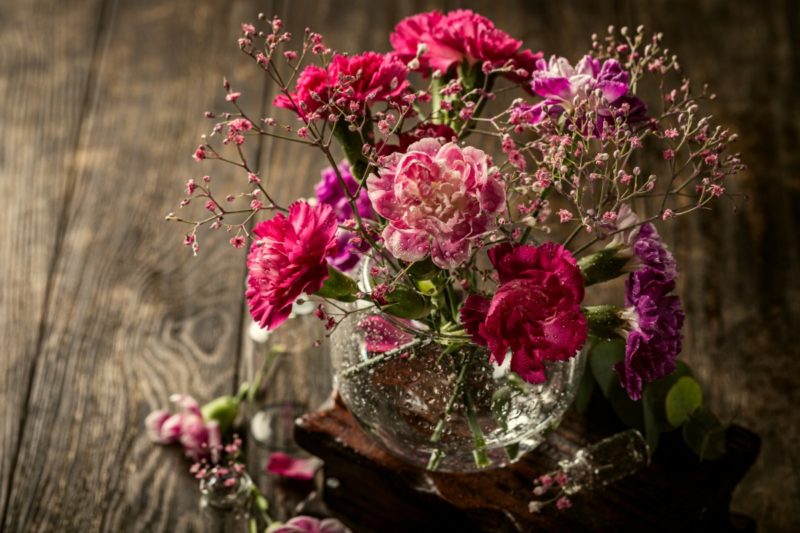 Flowers say so much that even the way it is presented has a meaning. Sending a flower with a positive symbol can mean the opposite if the bouquet was handed upside down. You can even send a wilted bouquet to ensure the message is conveyed clearly!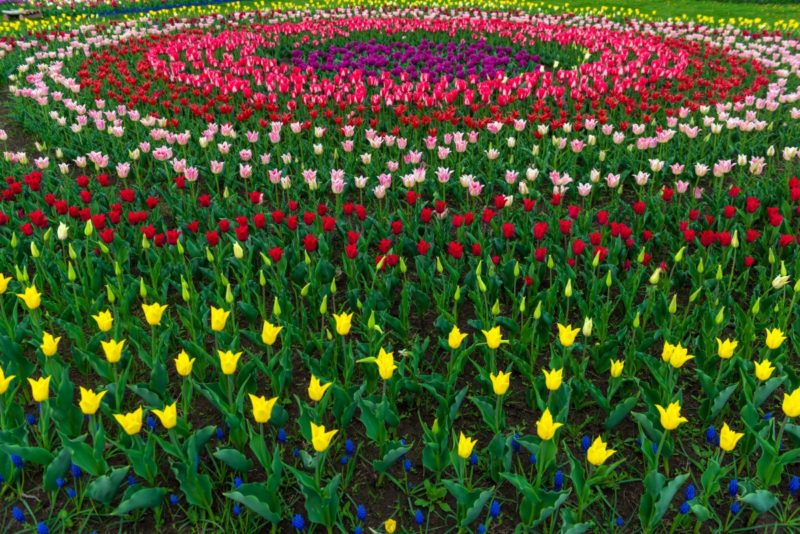 These flower traditions has been practiced for centuries past. Humanity's love for flowers has persisted for so long, and the magnificent gardens in history serve as a testament to it. The massive Hanging Gardens of Babylon, and the Garden of Thebes are just a few.
Throughout history, we all have shared a love for flowers whether in the form of accessories, decorations, or even as a tint for makeup along with berries.
Why We Love Flowers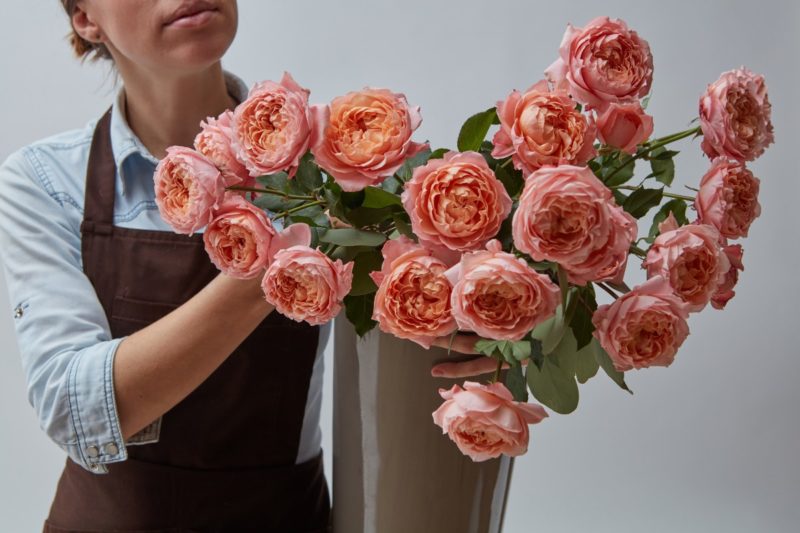 There is no doubt that flowers have been around for centuries, but that doesn't explain why we love them so much or why they make us happy. In 1973, Erich Fromm, a German psychoanalyst, proposed that humans have a natural propensity to have a love of life and living systems. This made him coin the term "biophilia."
Edward O. Wilson, a biodiversity lover and Harvard entomologist took it even further and studied biophilia in terms of flowers and plants. He said that people love flowers because they make us feel connected to nature and new beginnings. Flowers, in particular, are seen as "hopeful" because they remind us of spring and a fresh start once again after a long winter.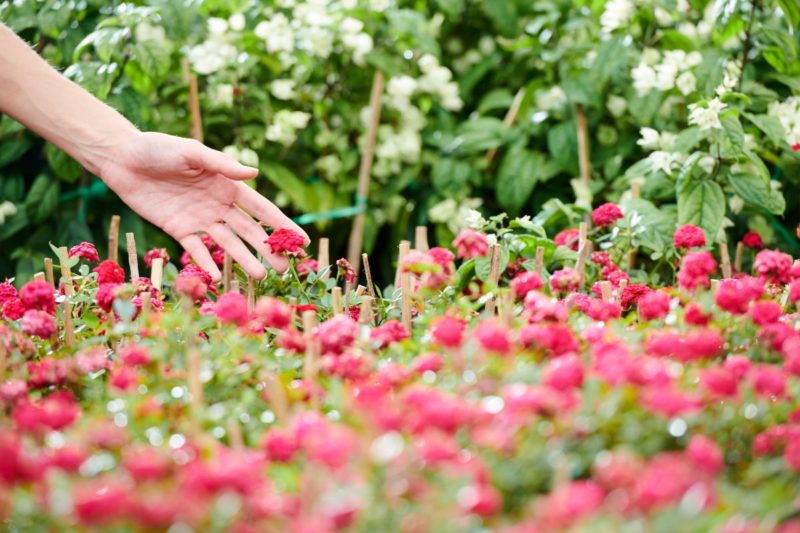 In addition to biophilia and our innate desire to be closer to living organisms like plants, flowers, and the like, there is also a chemical reason why people love flowers. Much like love, flowers cause the body to release happy chemicals like dopamine, serotonin, and oxytocin. 
Combined together, these chemicals make us feel happy. This could be the reason why people like keeping flowers and plants in the home as well. Despite living in concrete jungles, having a flower box in the window gives city dwellers a connection to nature, no matter how sparse and few the blooms are.
A Rose by Any Other Name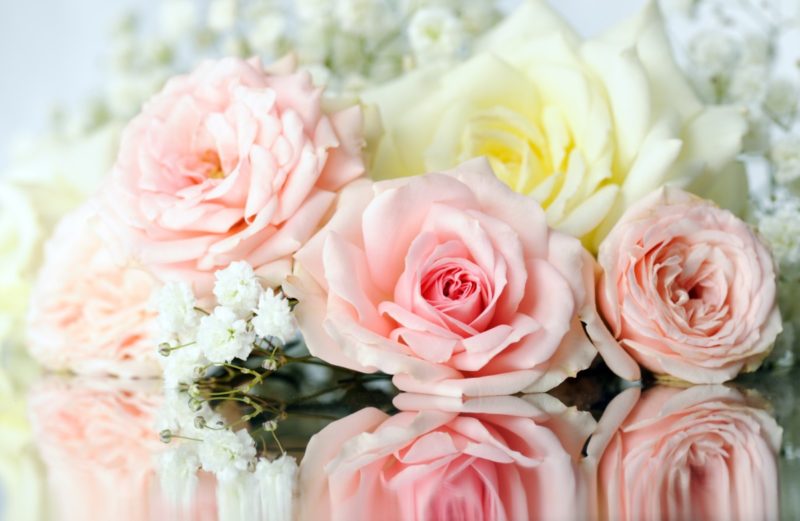 Flowers play a big part in our lives. Whether it's roses for Valentine's, daisies to "get well soon," or lilies and orchids at a wedding, everyone loves a stunning floral arrangement and bright gorgeous flowers. So much so that there are several beautiful sonnets, songs, and phrases about nature's most beautiful blooms.
Here are # beautiful quotes about flowers.
Cute Flower Quotes
"The earth laughs in flowers." – Ralph Waldo Emerson
"She cast her fragrance and her radiance over me. I ought never to have run away from her… I ought to have guessed all the affection that lay behind her poor little stratagems. Flowers are so inconsistent! But I was too young to know how to love her…" – Antoine de Saint-Exupéry, The Little Prince
"Let us dance in the sun, wearing wild flowers in our hair…" – Susan Polis Schutz
"A garden to walk in and immensity to dream in–what more could he ask? A few flowers at his feet and above him the stars." – Victor Hugo, Les Misérables
"I must have flowers, always, and always." – Claude Monet
"She wore flowers in her hair and carried magic secrets in her eyes. She spoke to no one. She spent hours on the riverbank. She smoked cigarettes and had midnight swims…" – Arundhati Roy, The God of Small Things
"I will be the gladdest thing under the sun! I will touch a hundred flowers and not pick one." – Edna St. Vincent Millay
"A weed is but an unloved flower." – Ella Wheeler Wilcox
"Who wants flowers when you're dead? Nobody." – D. Salinger, The Catcher in the Rye
"A flower blossoms for its own joy." – Oscar Wilde
"The violets in the mountains have broken the rocks." – Tennessee Williams, Camino Real
"In joy or sadness, flowers are our constant friends." – Okakura Kakuzo
"People from a planet without flowers would think we must be mad with joy the whole time to have such things about us." – Iris Murdoch
"Butterflies are self propelled flowers." – Robert A. Heinlein
"He said that we belonged together because he was born with a flower and I was born with a butterfly and that flowers and butterflies need each other for survival." – Gemma Malley, The Declaration
"Perfumes are the feelings of flowers." – Heinrich Heine
"Nobody sees a flower – really – it is so small it takes time – we haven't time – and to see takes time, like to have a friend takes time." – Georgia O'Keeffe, Georgia O'Keeffe
"One by one she slew her fears, and then planted a flower garden over their graves." – John Mark Green
"Creating is living doubly. The groping, anxious quest of a Proust, his meticulous collecting of flowers, of wallpapers, and of anxieties, signifies nothing else." – Albert Camus, The Myth of Sisyphus and Other Essays
"I'll cover you in flowers someday, Julie-girl." – Lurlene McDaniel, Don't Die, My Love
"Pick a flower on Earth and you move the farthest star." – Paul A.M. Dirac
"Yes, just like those flowers. There's something strained, but there's beauty in that. Something like that." – Koushun Takami, Battle Royale
"Sometimes I wake up and lie still enough to hear a petal drop from the vase of flowers. Sometimes I lie awake and wish there was someone to hear my falling." – Simon Van Booy, The Illusion of Separateness
"The stems stood tall and straight, one series arranged in a single line, the other in a crudely shaped heart, the final one in the shape of the letter U. I love you." – Lurlene McDaniel, Don't Die, My Love
"I hope that while so many people are out smelling the flowers, someone is taking the time to plant some." – Herbert Rappaport
"Flowers always make people better, happier, and more helpful; they are sunshine, food and medicine to the mind." – Luther Burbank
"One person's weed is another person's wildflower." – Susan Wittig Albert, An Unthymely Death and Other Garden Mysteries
"Gardens and flowers have a way of bringing people together, drawing them from their homes." – Clare Ansberry, The Women of Troy Hill
"The calla lilies are in bloom again. Such a strange flower – suitable to any occasion. I carried them on my wedding day, and now I place them here in memory of something that has died." – Katherine Hepburn, Stage Door (1937)
"Flowers don't tell, they show. That's the way good books should be too."–Stephanie Skeem. Author of Flotsam" – Stephanie Skeem
"The flowers like me back." – John H. Carroll, Rojuun
"It is only goodness which gives extras, and so I say again that we have much to hope from the flowers." – Arthur Conan Doyle, The Naval Treaty
"Writing blooms flowers for mind, which last forever." – Debasish Mridha
"Love is like dried flowers sometimes. Even though you watch the petals shrink and change colour, you cannot help treasuring them." – Munia Khan
"Flowers are the Romeos and the Juliets of the nature!" – Mehmet Murat ildan
"By cultivating the beautiful we scatter the seeds of heavenly flowers, as by doing good we cultivate those that belong to humanity." – Vernon Howard
"Here was a flower (the daisy reflected) strangely like itself and yet utterly unlike itself too. Such a paradox has often been the basis for the most impassioned love." – Thomas M. Disch, The Brave Little Toaster
"Flowers are the beautiful hairs of the Mother Spring! Don't pluck them!" – Mehmet Murat ildan
"What branch does not have its leaves and which twig will not have its flowers?" – Sorin Cerin, Wisdom Collection
"How can there be too many children? That is like saying there are too many flowers." – Mother Teresa
"An enemy is like a man's most prized flower. It brings him joy to see it buried in the ground." – David Gemmell, Echoes of the Great Song
"Leon reads aloud from an article in the Reader's Digest about voting to select a national flower. Leon votes for dandelions. Joseph and Clyde vote for grass." – Milton Rokeach, The Three Christs of Ypsilanti
"I have gathered a posy of other men's flowers and nothing but the thread that binds them is mine own." – John Bartlett
"A few blossoms float into the room. They drop like frayed yellow ribbons on the gray carpet." – Eileen Granfors
"The love of flowers is a consequence of modesty and an accommodation with disappointment. Some things need to go permanently wrong before we can start to admire the stem of a rose or the petals of a bluebell." – Alain de Botton, The Course of Love
"She began to scroll through her Pinterest board. Flowers blossomed on the screen. The golds and ochres first. Golden peonies, apricot honeysuckle, saffron, poppies the color of amber." – Ella Griffin, The Flower Arrangement
"What if the only purpose of a flower is to bloom without the sun. To prove that beauty will grow despite the constant darkness." – Nitya Prakash
"The night was so very still that one should have been able to hear the whisper of roses in blossom—the laughter of daisies—the piping of grasses—many sweet sounds, all tangled up together. The beauty of moonlight on familiar fields irradiated the world." – M. Montgomery, Anne of the Island
"There never yet was flower fair in vain." – James Russell Lowell
"Every bird, every tree, every flower reminds me what a blessing and privilege it is just to be alive." – Marty Rubin
"Flowers were meant to give love and be loved." – Anthony T. Hincks
"Flowers bloom when you are happy!" – Avijeet Das
"Even though we know we'll get hurt by thorns, we still go for flowers." – Rupal Asodaria
"It's the rose in my garden that makes my life so special. And you are my rose." – Anthony T. Hincks
"The stone wall was at her back, a door in the wall on her left and bluebells grew on either side of the seat." – Ellen Read, Love The Gift
"Every flower holds the whole mystery in its short cycle, and in the garden we are never far away from death, the fertilizing, good, creative death." – May Sarton, Journal of a Solitude
"Sunday was made for flowers." – Anthony T. Hincks
"Naivety; is killing the flowers that used to grow inside of you in order to bloom another in someone else's heart…" – Samiha Totanji
"You become very happy when you get a flower! But what about the poor flower? How does it feel? It doesn't feel anything because it is dead, it has been killed for your unethical happiness!" – Mehmet Murat ildan
"Landscaping is a never-ending attempt to make some parts of nature look civilized." – Mokokoma Mokhonoana
"Dusty hydrangeas pale as robins' eggs. Delphiniums iridescent as butterfly wings. Cornflowers the hazy blue of the summer skies." – Ella Griffin, The Flower Arrangement
"Your instincts will always guide you, like the stars." – Holly Ringland, The Lost Flowers of Alice Hart
"Let us be certain of who we want to be. Let us choose for ourselves our path in life, and let us try to strew that path with flowers." – Émilie Du Châtelet
"Mark put his bag on the floor and looked around. Chintz wallpaper with pink roses on a light cream background covered the walls, while drapes of the same pattern fell across French doors that obviously led outside." – Ellen Read, Love The Gift
"Flowers – so beautiful – they seemed like they were smiling." – Mukta Singh-Zocchi, Game of Big Numbers
"A moss-covered path tended its way around the magnolia tree. Mark started along it, his leg brushing against the perennial border where cheerful yellow daffodils nodded their heads in greeting." – Ellen Read, Love The Gift
"Just giving someone flowers, or inhaling their sweet aromas, makes us smile and promotes elevated moods, positive thoughts, and eases social encounters." – Stephen Buchmann, The Reason for Flowers
"Frost kills the flowers that bloom out of season…" – Henry Wadsworth Longfellow, Michael Angelo
"I spent a lifetime in a garden one afternoon." – Craig D. Lounsbrough
"Ideas are living creatures, active and activating, like flowers." – Henry Miller
"All I wanted was to plant poetry in broken places and watch flowers grow." – Jenim Dibie
"Remember that there is always some good in people who love flowers." – Esther Hautzig, The Endless Steppe
"Before they crossed the bridge, they went down to have a look at the chalk stream, which was fringed with reeds, watercress, and yellow flag irises. The water flowing gently over the pebbled bed was gin clear, having been filtered through the Hampshire chalk hills." – Lisa Kleypas, Devil's Daughter
"Rachael could see the lavender fields from where they sat at the kitchen table. They stretched in a purple haze over the landscape, the bright sunshine washing over them. The mauve complimented the blue-grey of the Australian bush in the far distance." – Ellen Read, Broken
"Life is like a garden: it gives you a few things, and you make of them what you can." – Neel Burton
"The problem with wishing was that it only worked with stars and flowers, and neither were at her disposal." – Emory R. Frie, Giant Country
"Women are beautiful flowers. Only when you love them and take good care of them will they fully bloom into the beautiful flowers that they are." – Avijeet Das
"In the garden of love, flowers don't die." – Nitya Prakash
"Flowers only know to fragrance, nothing else. Be that, to beautify, and perfume the feelings of others." – Ehsan Sehgal
"Without you I wouldn't have moved this way, to speak the language of flowers." – Vladimir Nabokov, Letters to Vera
"Maybe what everybody really loves is just our petals." – Jomny Sun, Everyone's a Aliebn When Ur a Aliebn Too
"Looking at morning dew serenading on the petals of flowers is an ecstatic moment! This makes us realize that it is the simple pleasures of life that give us the most happiness!" – Avijeet Das
"If I had a rose for every day I thought of her, I would have a garden full." – Giovannie de Sadeleer
"The perfume of incense reminds us of the pervading influence of virtue, the lamp reminds us of the light of knowledge and the flowers, which soon fade and die, reminds us of impermanence." – Shravasti Dhammika, Good Question Good Answer
"Your fragrance wafts around me all the time!" – Avijeet Das