Last Updated on January 20, 2022
With the overwhelming popularity of Instagram, the bloggers and retailers have to compete for their followers' attention. For many, Instagram stories are a creative and efficient way to promote big events, announce special offers, or simply share their thoughts and news. If you don't have time and proper skills to craft the original story samples in Photoshop, it's always possible to find many great offers online. But even though the World Web is full of free Instagram templates, it's not always easy to pick the ones that complement your content.
But there's no need to worry as we've done the job for you! On this page you'll find an ultimate compilation of 40+ fabulous story templates for Instagram. Having searched through free-psd-template.com, behance.net and other popular resources, we've picked the best of the best. All you need to do is choose an apt pack, download it for free, and customize up to your needs in PS. We're sure that the smart layers and unique designs of each piece will make the editing process fast and intuitive. Enjoy it!
1. 9 Free Instagram Night Party Stories in PSD
Night Party bundle of nine unique templates will make promotion of your event powerful. Neon shine and superb photos in red and black will impress any follower.
2. Friday Party – Free Instagram Stories Template in PSD + Post Template
This playful Instagram sample will easily draw attention to your amazing Friday party. Take a few moments to edit information in Adobe Photoshop, and spread catchy stories that will excite your followers online.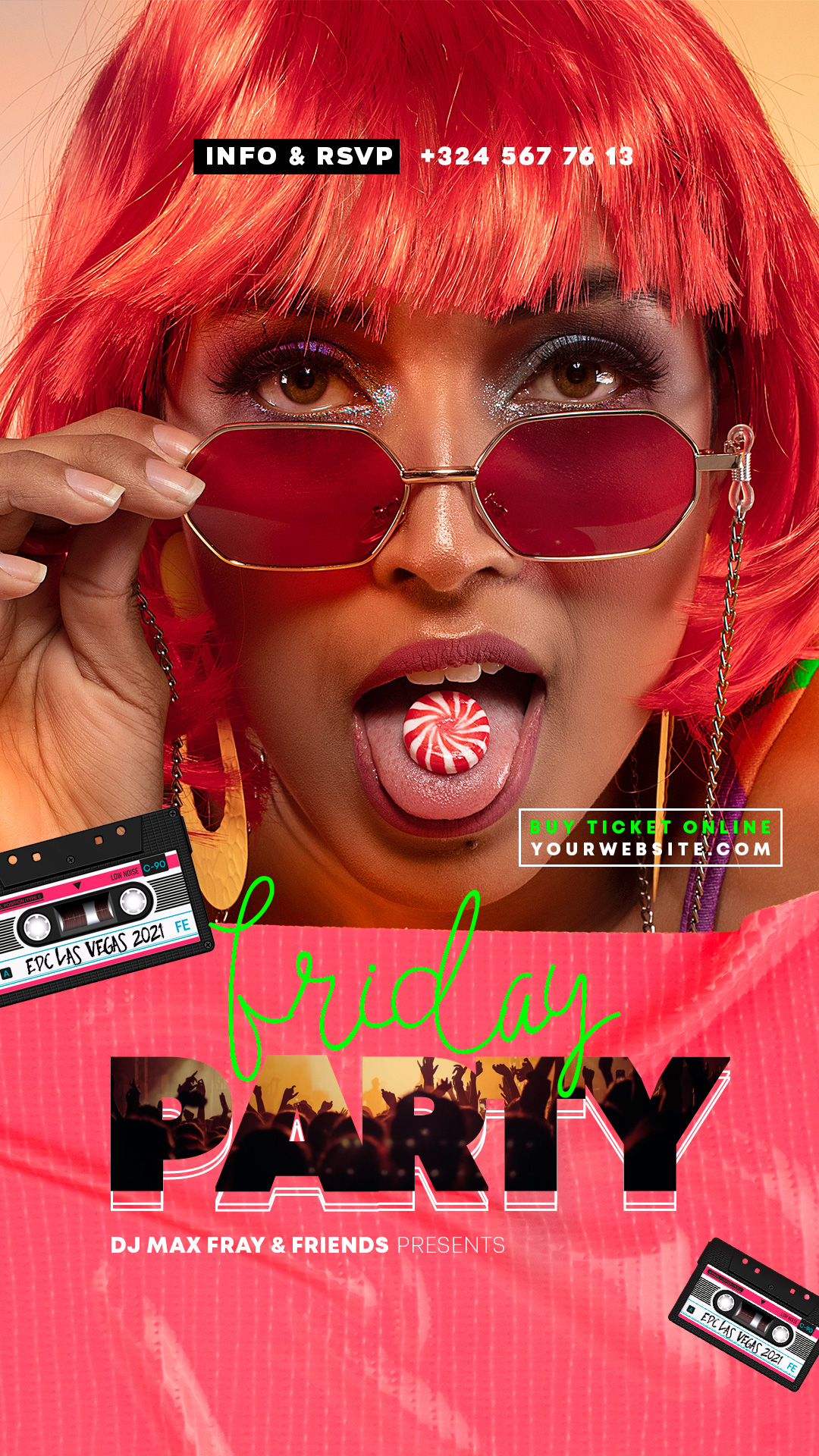 3. 9 Free Party Instagram Stories Templates
Neon shine of these nine incredible party templates will stun everyone on Instagram. Feel free to download this set, and customize its look in PS. Use samples for successful presentation, and get ready to throw a fabulous party!
4. Noir Beauty Instagram Stories
You don't always need a burst of colors to attract your followers' looks. Although this bundle of Noir stories may seem reserved at first, we guarantee that it will have a strong effect on your online community. Save it for free, and adjust effortlessly in Photoshop.
5. Free Fashion Instagram Stories Set PSD
Even the most amazing photos require an apt presentation. Use this set of smart frames to create eye-catching stories for your blog on style and fashion. Minimalistic yet stylish, the templates can be used for most various shots.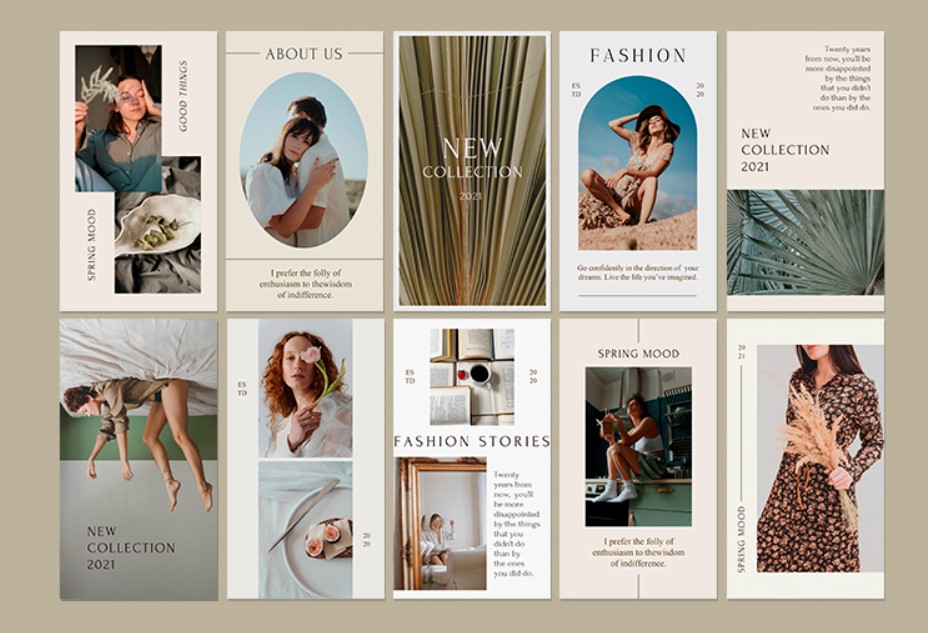 6. Farewell Summer Party – Free Instagram Stories Template in PSD + Post Template
A vivid palette and an image of a summer sunset is what will catch the eyes of your potential guests as soon as they see this wonderful party stories file. Crafted by a creative pro,  the template has smart layers to help you edit it effortlessly in Photoshop.
7. Free Creative Instagram Stories Set Templates in PSD + Vector (.AI+.EPS)
This set of nine inventive samples for Instagram will fascinate your followers. Bright basic colors and out-of-the-box design work awesome for highlighting your message. Don't hesitate to save this free bundle, and free your creativity while customizing it.
8. FREE Animated Instagram Stories
A great advantage of this delicate looking story set is that each one of them has a unique animation effect. Download them free of charge, and enchant your Instagram community with the wonderful messages you have to share.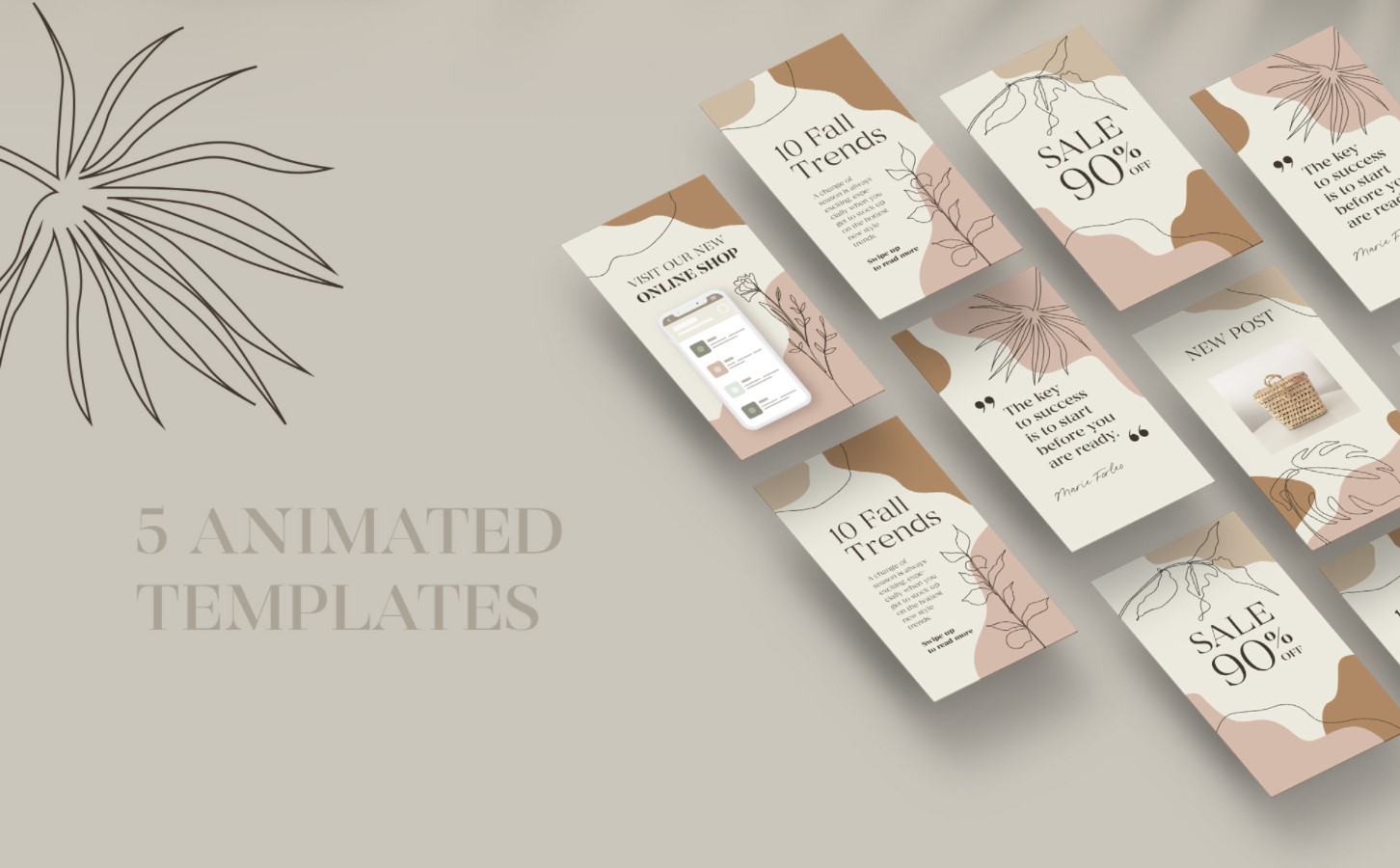 9. Free Nonprofit Instagram Stories Template in PSD
The Earth is our only beloved home, and it needs to be saved today! Spread the powerful messages against pollution using these free Nonprofit Instagram samples. No follower will stay indifferent when they see your stories.
10. Baby Shower – Free Instagram Stories Template in PSD + Post Template
A baby shower is always a special and touching event. Use this sweet file for Instagram to announce the happy celebration, and invite your friends. A bit of easy PS customization will allow you to edit the info, and other details.
11. Free Brand Stories Template in PSD
Smart combination of white, green and yellow makes this story bundle look fresh and pleasant. Use it to present your brand to the online community. We're certain that you will easily reach success!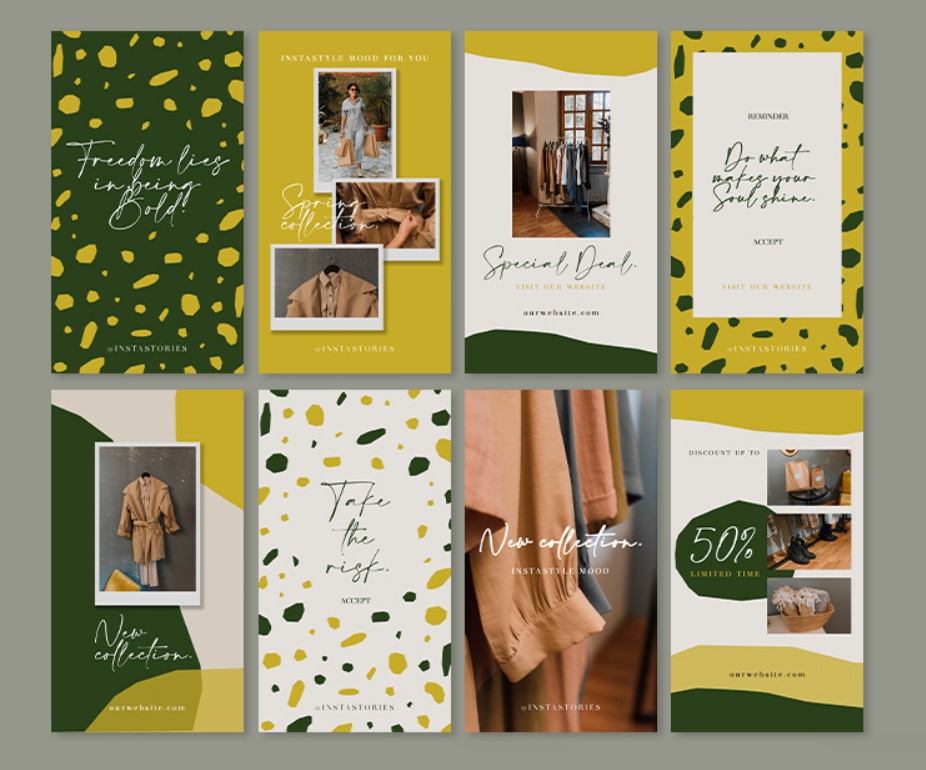 12. Free Instagram Stories Templates
Creative font and stunning images is what makes this free set of Instagram files special. Save them in just one click, and customize within moments in Adobe Photoshop to spread your messages online.
13. Free Hand Drawn Instagram Stories Set Templates in PSD + Vector (.AI+.EPS)
Minimalistic modern look and B&W palette is what can easily attract a lot of followers in your Instagram community. Use this free bundle of Hand Drawn stories, to put a stylish accent on your message.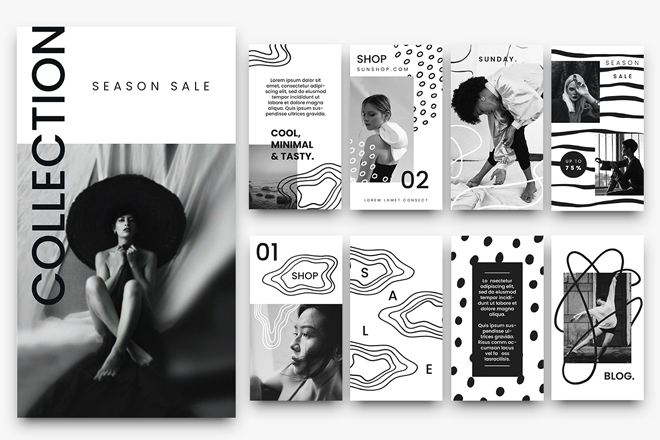 14. Why use Instagram Story Templates + Free Templates Download
Share the calming vibe of unique Icelandic nature with this extensive bundle of professional templates for Instagram. Soft shapes and reserved colors will serve perfectly for different occasions. All you need is to go for some quick adjusting in PS.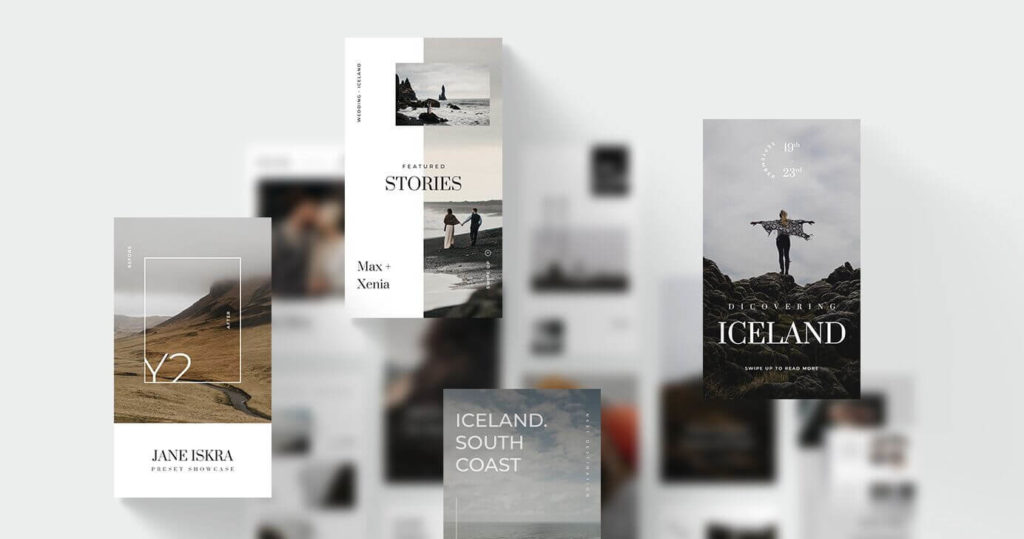 15. Free Collage Instagram Stories Template in PSD
Artsy details, vivid flowers and professional models add individuality to each one of these four free templates. Adjust them to your liking in Photoshop, and fascinate your followers with the stunning stories they won't forget!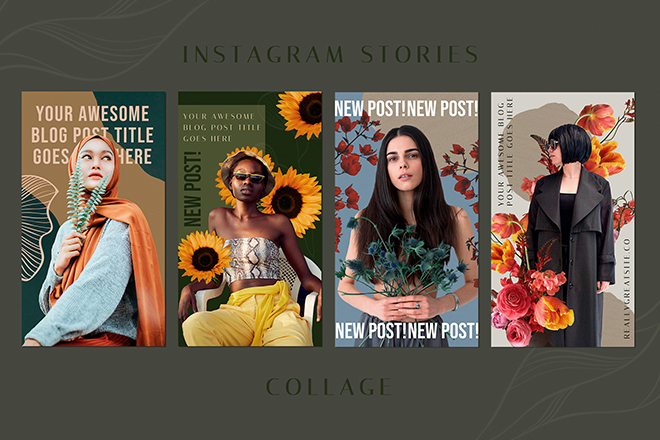 16. Free Instagram Story Templates
Simple yet smart outlay of these stories will help to draw the looks to your message. You can leave these amazing professional photos or add your own images without much effort in Photoshop.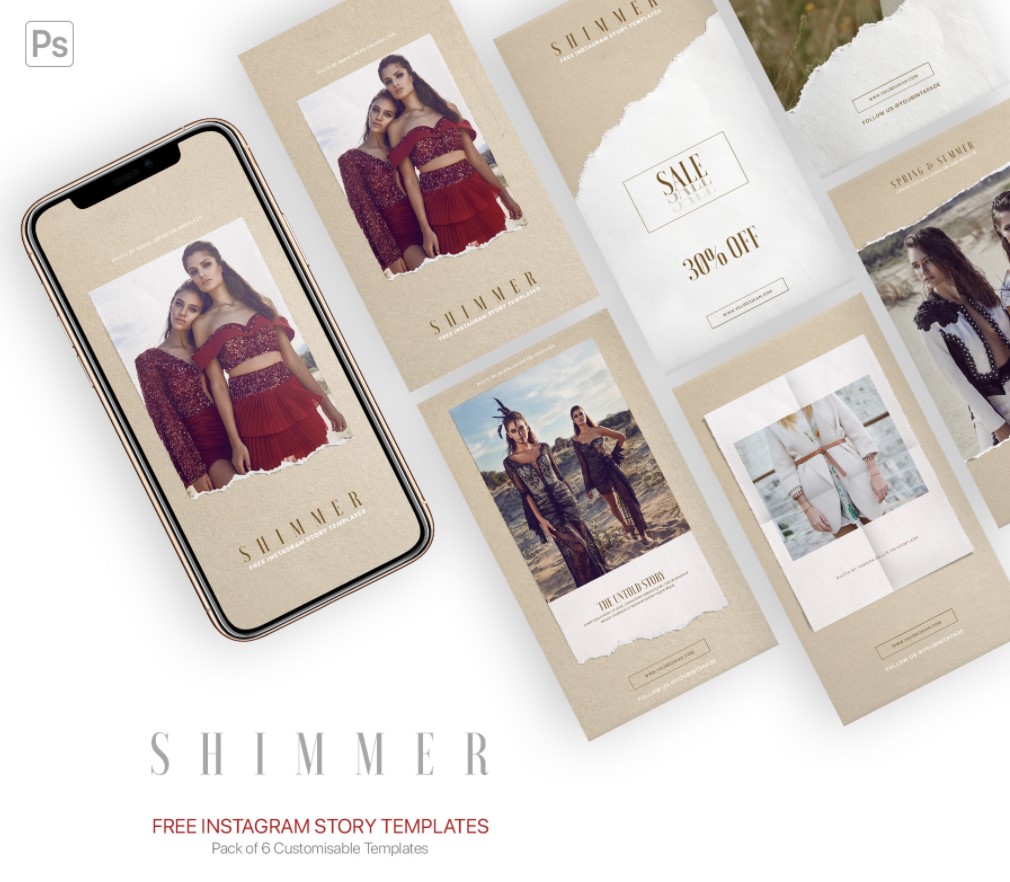 17. Free Aesthetic Instagram Stories In PSD + Vector ( .AI )
Less is more. Our free set of minimalistic templates will add a stylish touch to your Instagram blog. Soft cuts and calm pastel colors can match any messages and photos. Apply Adobe Photoshop to customize these files, and share wonderful stories.
18. Back to School – Free Instagram Stories Template in PSD + Post Template
A noisy party is an awesome way to welcome the new season! Prove that the start of a school year is far from boring. Download this free editable file, and announce your cool event in an eye-catching post.
19. Free Street Fashion Instagram Stories Template in PSD
Use these dashing Instagram templates to state your point and draw the utmost attention to your blog. Striking color accents are a great addition to the bold black and white palette of each file. Some quick PS customization is all you need to get this set ready for posting online.
20. Brown Instagram Templates
Present your photos and posts in a stylish way with this set of classy stories. Warm shades of brown matched with deep blue will easily captivate all followers. Download these amazing freebies now, and customize the smart layout in Photoshop.
21. Free Instagram Blog Banners Template in PSD
We'd like you to pay attention to this free bundle of elegant templates. Pleasant pastels and delicate floral motives will add beauty to your Instagram page. Run Photoshop for easy edits, and share iconic stories with your community.
22. 6 Business Social Templates
Who said that business advertisements should look formal and insipid? Download this top class set of editable Business templates, and share impressive stories. You can inform the followers about a great conference, a meeting, or simply promote your services.
23. 2 Night Club Instagram Templates in PSD
Your fabulous party will stand in the limelight with this set of two exclusive neon templates. Striking colors and outright fonts will leave no guest aside. Apply Adobe Photoshop for free and fast customization.
24. Mansions – Instagram Template
An ample set of square PSD Instagram samples presented here will add a light modern vibe to your stories and posts. With smart outlay and customizable layers of each piece, it won't take long to apply the message and photos of your own.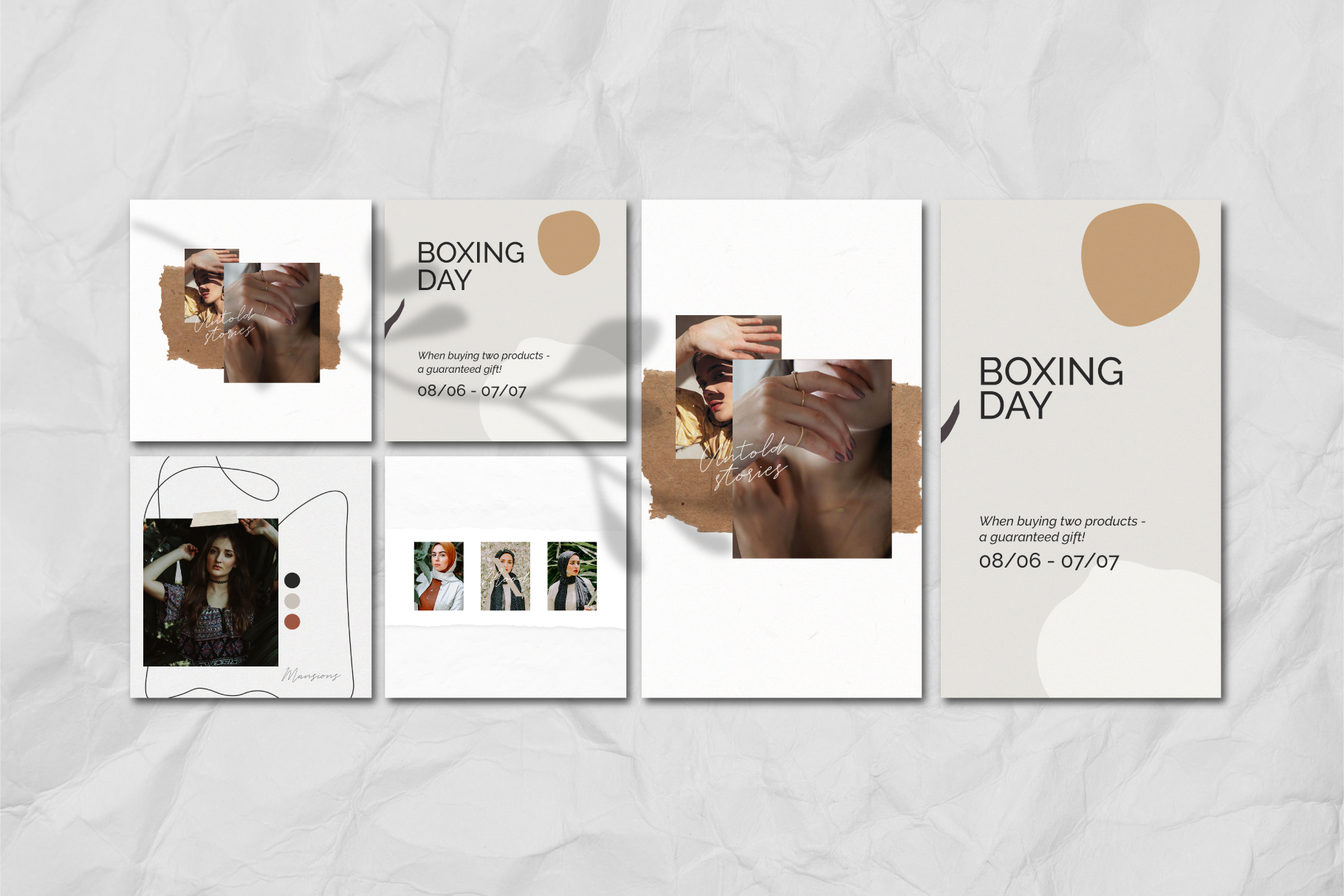 25. Free Instagram Fashion Stories Template Bundle
Your followers are gonna love the contemporary look of these fashion templates. Natural palette and delicate lines make them look original and catchy. Save the whole free bundle in a click, and enjoy the process of creating unique stories in PS.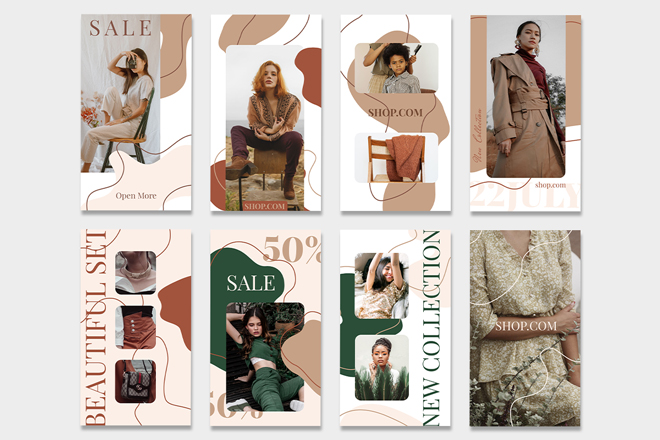 26. Brunch – Free Instagram Stories Template in PSD + Post Template
Delicious treats and relaxed atmosphere of a brunch is yet another reason to look forward to the next weekend. The followers won't miss the chance to visit your amazing place as soon as they see your creative invitation on Instagram stories. Use this designer file, and make simple adjustments in Photoshop.
Related: 17 Lovely Brunch Invitation Ideas To Announce Your Midday Fête
27. Free Business Conference Stories Template in PSD
Use social media to present your major business event with style and class. This jaw dropping bundle of free Business Conference templates will instantly speak out to the Instagram community. Adobe Photoshop will aid you to edit each file without much effort. We guarantee that the results will awe you!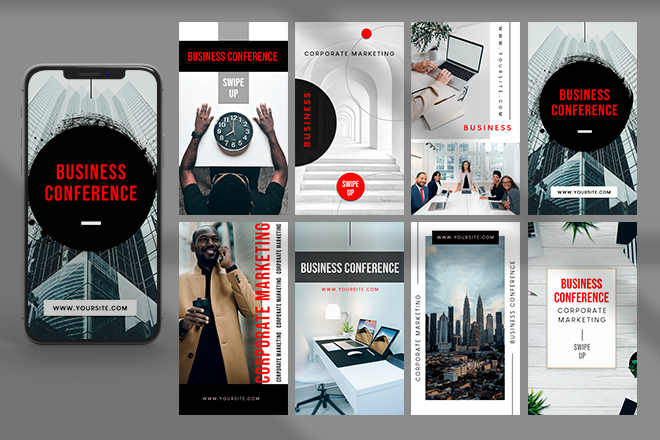 28. Urbanix – Post & Stories Instagram Template
Draw every follower's look with this free pack of sensational Urbanix templates. Striking pink color is what does the trick here. The samples can easily match any shot in your personal Insta blog or a store. Save them on your device now and customize hassle-free in PS.
29. Free Black Friday Instagram Stories Set Template in PSD + Vector (.AI+.EPS)
Red, black and white is a winning combination which will help you to share trendy fashionista stories. Use this cool customizable bundle to announce special offers, and instantly boost the sales in your store.
30. Free Instagram Stories Template Pack
A selection of classy templates is what will help you to share impressive stories within minutes. Don't waste your time creating perfect frames for your shots – simply pick one of these modern looking files which complements your content. Enjoy this pack – it's free and editable in PS.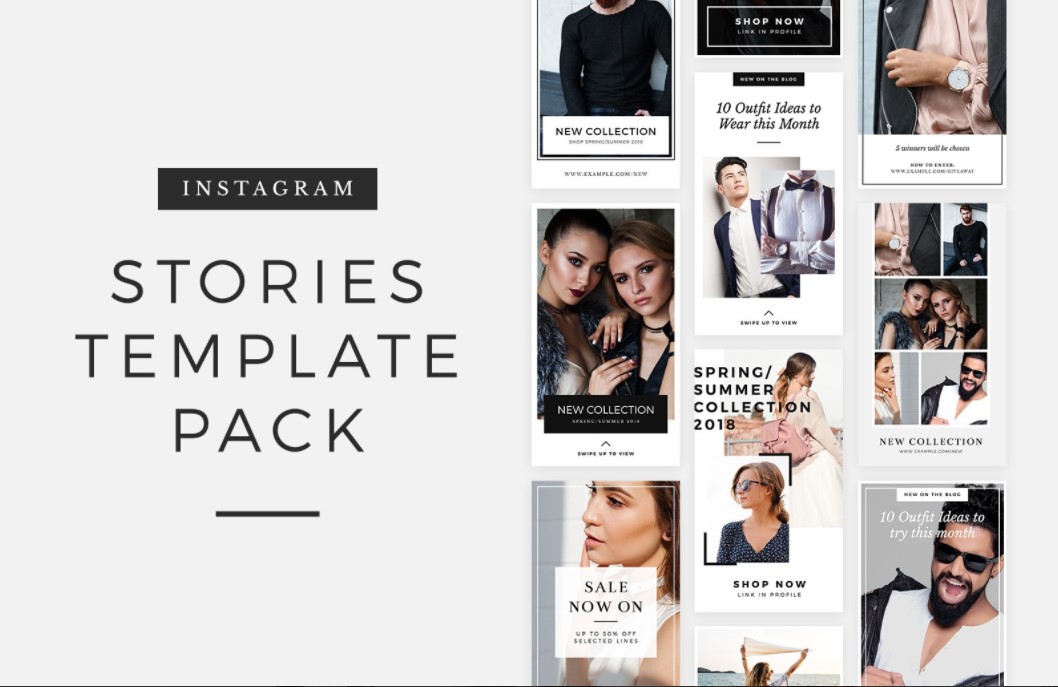 31. Free Vacation Instagram Stories Set Template in PSD
This free bundle of Vacation templates can enchant anyone with the fresh colors and breathtaking sea scenes. Use them to enrich your traveling blog or promote or promote special summer offers of your travel agency. Save the whole set in one click and customize it in Photoshop.
32. DJ Party – Free Instagram Stories Template in PSD + Post Template
Announce a cool night of dancing and the hottest tracks with this free party sample for Instagram. Bold pink writing on the black background will amaze everyone online. Download this stylish stories file now, and apply PS to customize it.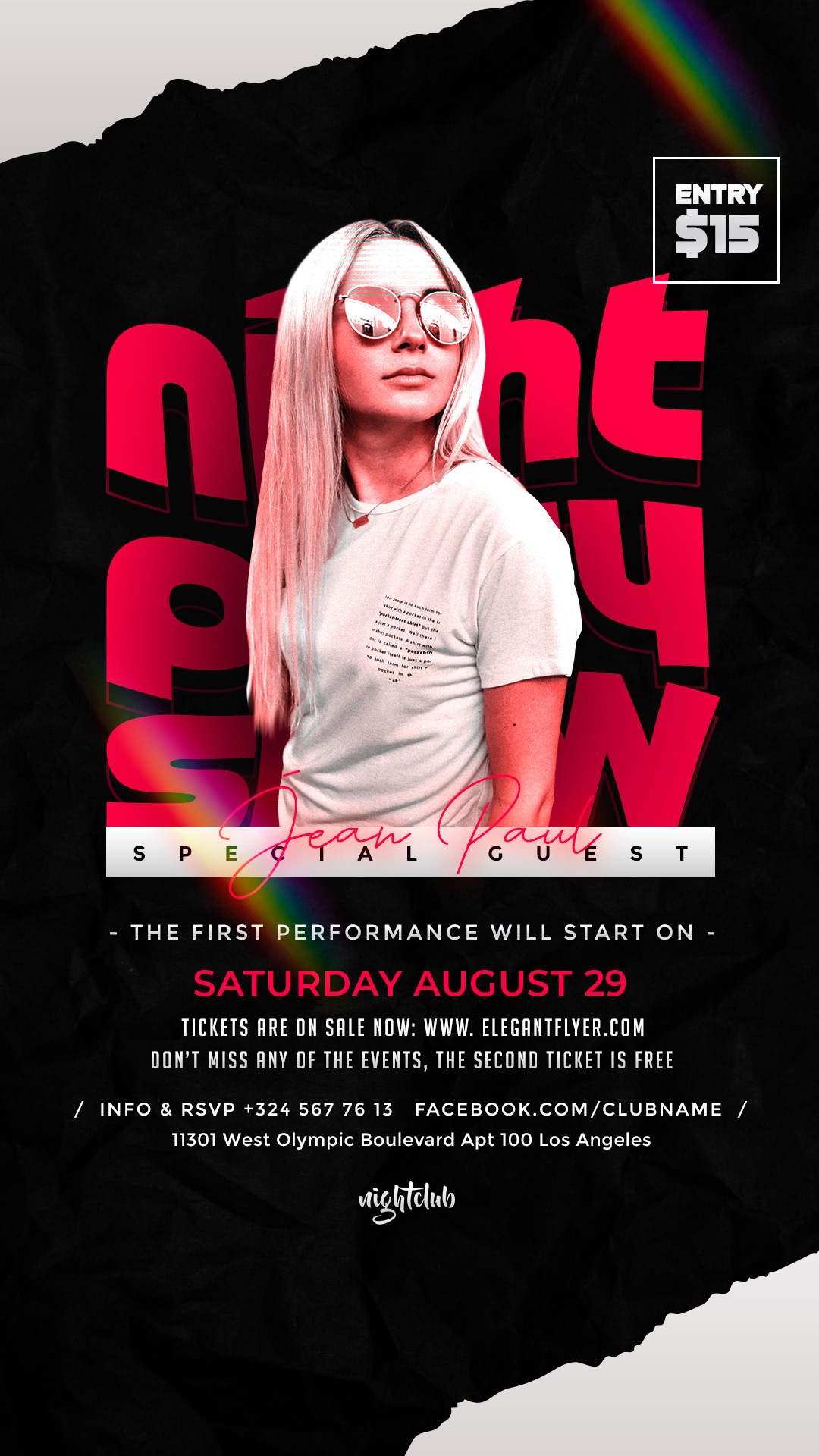 33. Free PSD Interior Instagram Posts and Stories Template
We believe that this in-style bundle of stories will help you with successful presentation of unique interior designs. Soft pastels and ornate writing will perfectly match any contemporary interior. Use the templates free of charge, and update their details in PS.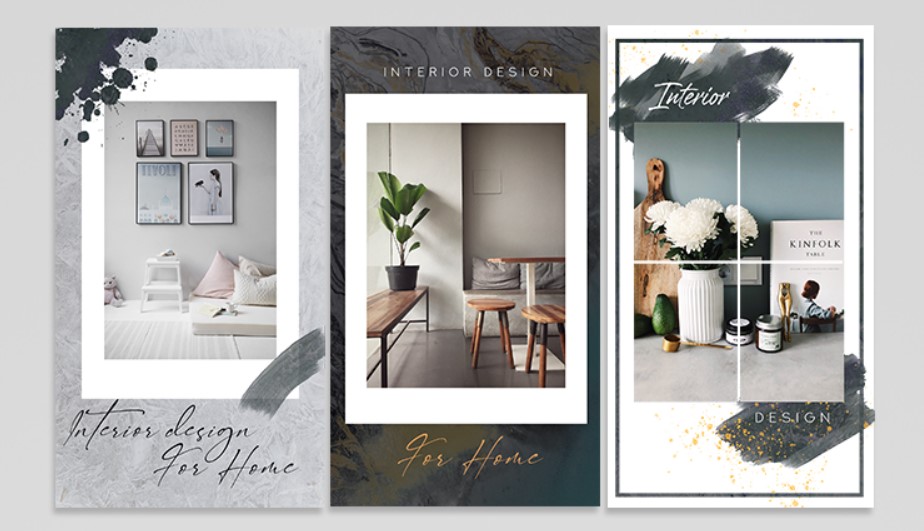 34. Summer Vibes – Free Instagram Stories Template in PSD + Post Template
This cool Instagram story file for a party promotion will gather a crowd of happy people under the roof of your night club. Rich purple palette and glimmering neon accents won't go unnoticed. Save the template for free and use Photoshop to customize its look in no time!
35. Free Pink Instagram Stories Set Template in PSD
Download this free pack of Pink stories to add cuteness to your personal lifestyle blog. Its playful sweet look will put smiles on your followers' faces. Free and customizable, the templates will allow you to share catchy content within moments.
36. Free Insta Stories Banner Set Template
This free pack of collage stories will put a stylish spin on your fashion blog. Cool models and bright colors accentuate the black background. Use Photoshop for some quick edits, and get ready to amaze your online community.
37. White Instagram Stories Pack
This free set of minimalistic multipurpose files will become a wonderful addition to your online Instagram shop or a blog. After some fast adjustments in PS you'll be ready to promote products or share engaging stories.
38. Crazy Party – Free Instagram Stories Template in PSD + Post Template
A fabulous event at your club needs a cool presentation. Use this free dazzling sample to share a trendy story on Instagram. PS will help you to edit the details. All followers will rush to have some crazy fun together!
39. Free Instagram Stories Set Template in PSD
Simplicity is the key. Light natural colors and childlike writing make this array of stories look touching and tender. Save them now for free, customize in PS, and enchant every follower on Instagram.
40. FREE Lovely Blush Instagram Stories
This charming pack of free blush templates will help you to unleash your creativity! Download it free of charge and go for some easy edits in Photoshop, to adjust each file to your content. Your Insta community is gonna love every story you share!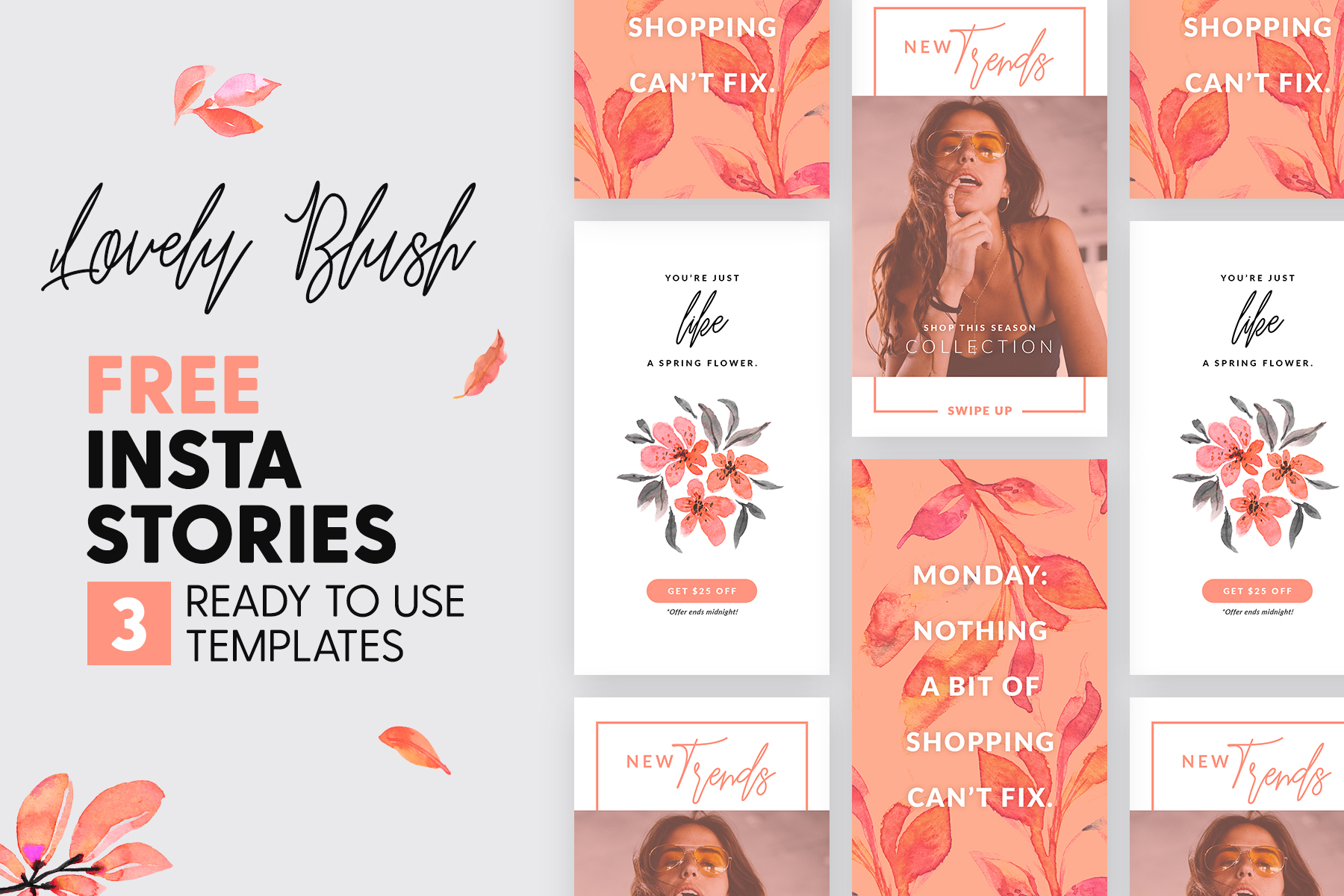 We hope that our compilation impressed you with its diversity and top class designs. Whichever bundle of free instagram story psd templates you pick, it will help you to tailor incredible stories and boost the popularity of your Instagram page.